I love when all of the summer produce starts showing up at the farmer's markets and grocery stores. This week's fresh summer dinner recipes meal plan really highlights the best of summer flavors: corn, nectarines, basil, figs, eggplant, zucchini and summer squash. There are two summer pizzas for you to try- making pizzas on the grill is a must-try. I have this pizza stone which fits great on my grill (but measure your grill and then find a stone that fits), I sprinkle a little cornflour on my pizza paddle for smooth transition and I love how there are no dishes for clean up and how my house stays nice and cool without using the oven. If you haven't been making summer pizzas, really you should give it a try with the nectarine and fig pizzas in this meal plan! There is also a delicious basil bucatini pasta, corn fritters and my all time favorite summer lasagna to enjoy this month. Click here for the grocery list and have a great week!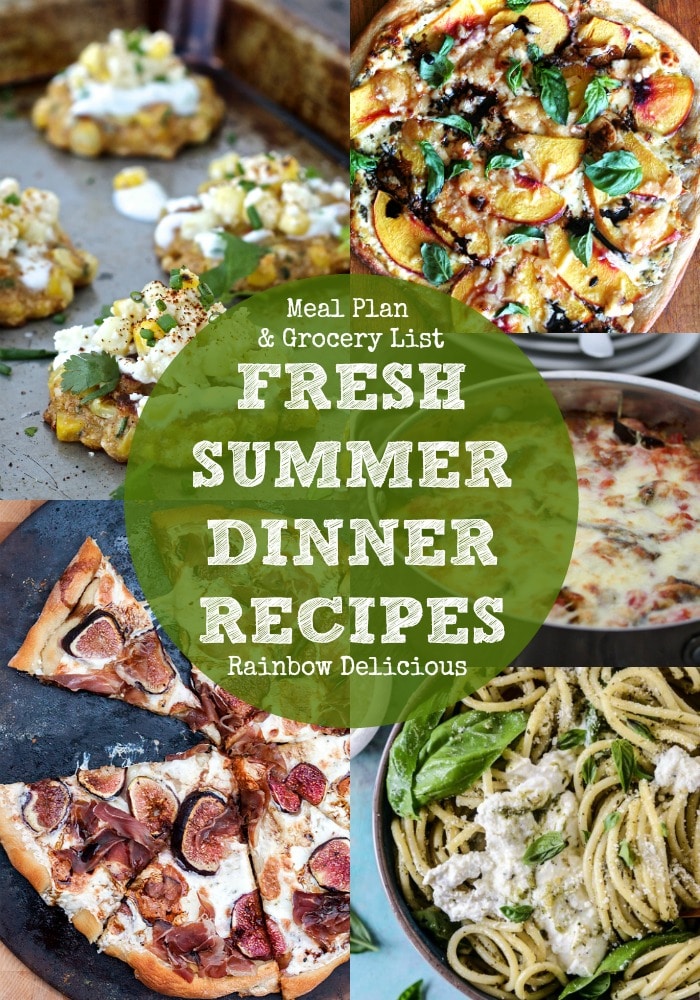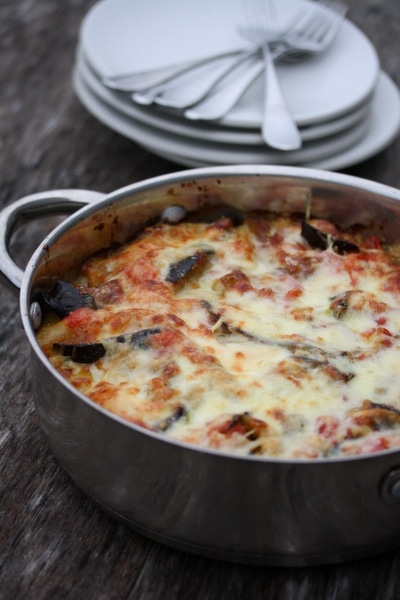 Zucchini Eggplant Lasagna with Fontina from Big Girls Small Kitchen
PrepTime:  15 minutes Cook Time: 1 hour 20 minutes Total Time: 1 hour 35 minutes
Ingredients: olive oil, eggplant, zucchini, salt, plum tomatoes, garlic, no-boil lasagna noodles, ricotta dried oregano, fontina, parmesan.
I make this lasagna every summer and it is seriously one of my favorite recipes ever. I know it takes longer than a lot of typical weeknight meals but you can totally do prep work ahead of time by roasting the vegetables and assembling the lasagna the night before. This is one of those recipes that in my opinion is worth the effort.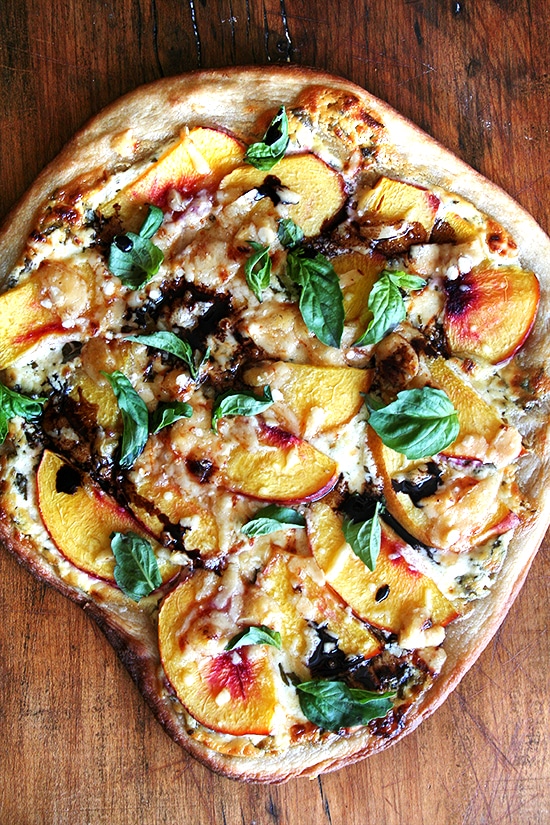 Nectarine Pizza with Fresh Basil and Balsamic Reduction from Alexandra's Cooks
Prep Time: 15 minutes Cooke Time: 10 minutes Total Time: 25 minutes
Ingredients: pizza dough, balsamic reduction, olive oil, your favorite cheese (mozzarella, ricotta, goat cheese), nectarine, parmigianno reggiano shavings, fresh basil.
This is another summer classic that I make every summer. You can play around with the cheeses but I usually stick with mozzarella. I use store-bought pizza dough or my own recipe although this recipe includes a good looking dough recipe as well.


Mexican Street Corn Fritters from The Foodie Physician
Prep Time: 10 minutes Cook Time: 25 minutes Total Time: 35 minutes
Ingredients: fresh corn, fine cornmeal, whole wheat flour, baking powder, chili powder, garlic powder, kosher salt, egg, milk, scallions.chives, lime juice, queso fresco, olive oil, yogurt, cilantro.
I love this unique take on Mexican street corn! These little fritters are kid friendly and so delicious!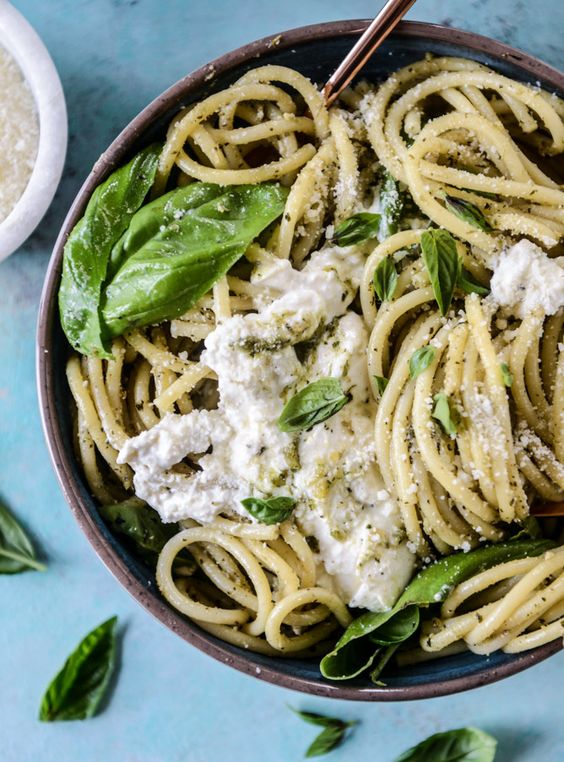 Pesto and Burrata Bucatini from How Sweet It Is
Prep Time: 15 minutes Cook Time: 15 minutes Total Time: 30 minutes
Ingredients: bucatini, burrata cheese, parmesan, fresh basil, pesto (fresh basil, asiago, pine nuts, garlic olive oil, salt, pepper, red pepper flakes).
I'm relatively new to bucatini pasta but I really love it. It is basically hallowed out spaghetti, have you tried it? It's perfect in this recipe with fresh pesto and burrata cheese (which is also a new favorite- fresh mozzarella filled with cream?! Yes, please!) If you are wanting to make this recipe even simpler than just use your own favorite pre-made basil instead of making your own.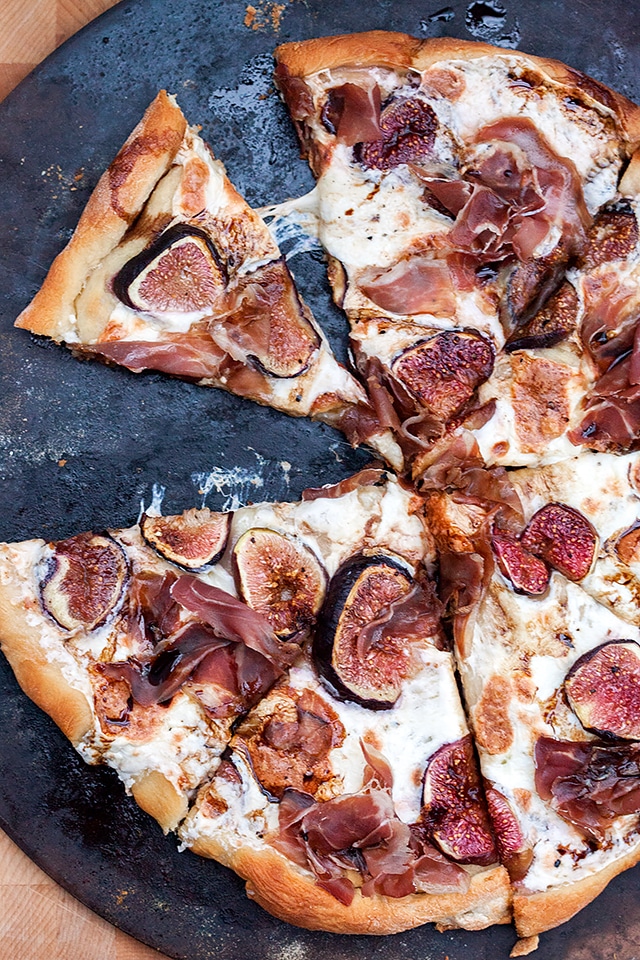 Fig and Prosciutto Pizza with Balsamic Reduction from Spache the Spatula
Prep Time: 10 minutes Cook Time: 20 minute Total Time: 30 minutes
Ingredients: pizza dough ball, olive oil, fresh mozzarella slices, figs, ground pepper, prosciutto, balsamic vinegar.
I always get so excited when I see fresh figs popping up at the market, and this is the perfect way to enjoy them! This pizza is a perfect combo of sweet and salty. I add my prosciutto to the pizza before I cook it because I prefer it a little crisped up.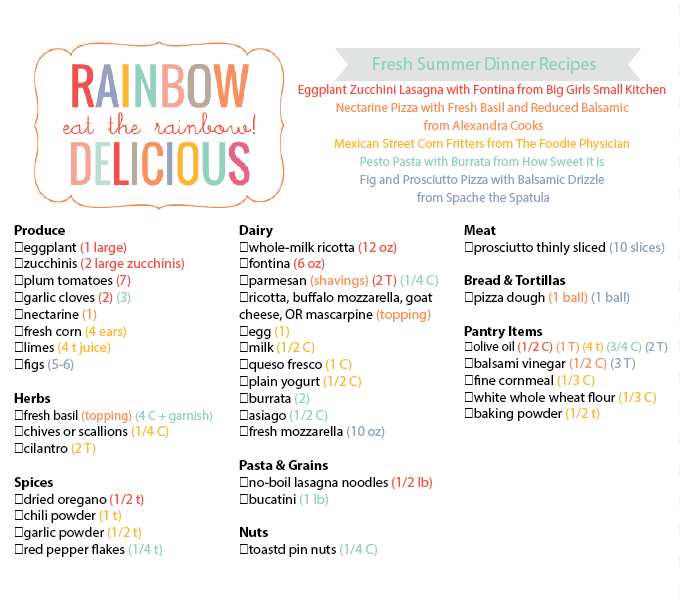 If you make any fresh summer dinner recipes from this week's Rainbow Delicious meal plan please share on instagram using hashtag #rainbowdelicious and tag me @rainbowdelicious, I'd love to see what you are up to in your kitchen!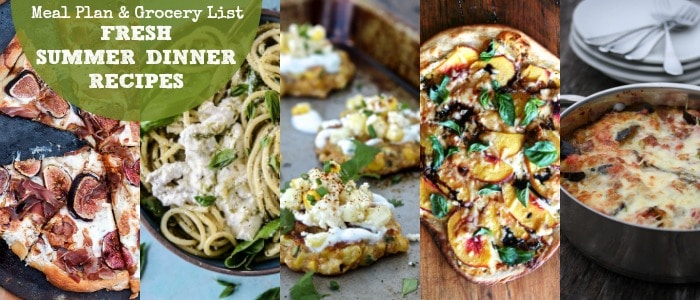 Some links on this site are affiliate links and I may earn a small commission at no cost to you. Thank you!
(Visited 3,768 time, 1 visit today)