Salt Block Cooking Recipes and Tips. Ten tips to help you use your salt block, plus salt block recipes including a watermelon feta mint salad, salt-baked walnut scones, salt block cucumber salad, and salt melted chocolate fondue.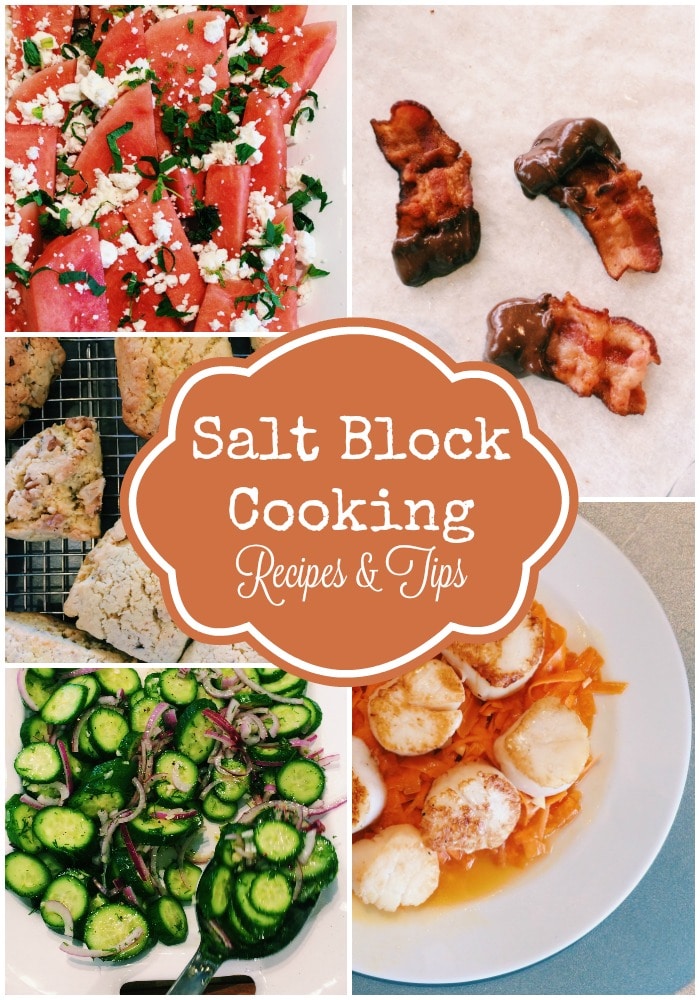 Have you heard of a salt block before? I hadn't until my dad surprised me with one recently and I have been intrigued and in need of salt block cooking recipes & tips ever since. Over the weekend I attended a Sur La Table cooking class with my dad for an early Father's day and birthday gift. If you are interested in buying a salt block to use in your kitchen, have one and need inspiration for how to use it or are just curious about the salt block cooking trend, then this post is for you! I'm excited to share some information I learned in class about what a salt block can be used for, tips on how to use one, recommendations for where to purchase a salt block, and recipe inspiration.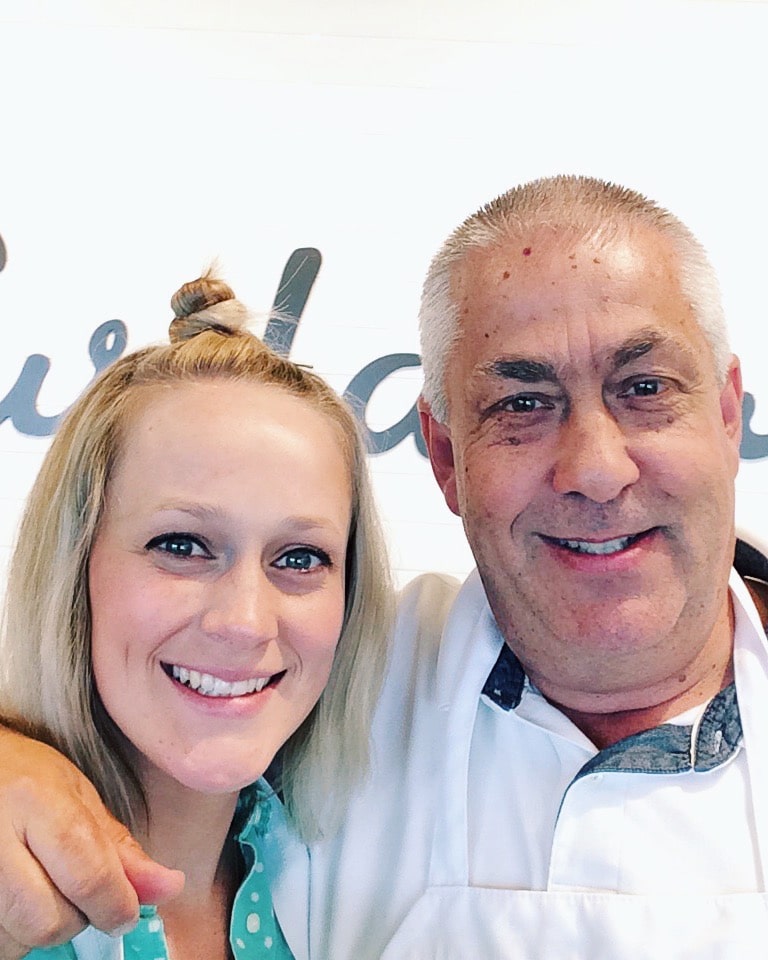 I get a lot of character traits from my dad- a passion to learn new things, a love of cooking and eating, and quality time as a love language- so I knew going to a cooking class with him would be a blast, and it was! Now on to the relevant salt block cooking recipes and tips!
Table of Contents
Salt Blocks
Salt Blocks can be used for cooking, curing, chilling, serving or baking. You bring the temperature slowly to the desired temperature through heating or chilling and then go from there. In my opinion it is not necessarily a super practical or efficient medium for cooking but is a lot of fun and beautiful to use. Our teacher, Chef Manny, kept saying it is really mostly for the "wow factor" in entertaining, and I agree. I really love presenting food in a pleasing way and anyone who knows me well knows I'm kind of obsessed with salt, so I'm going to be using my salt block frequently.
You can scroll through a sampling of different salt block options below. There are different sizes, shapes and shades of color. If you are going to use it for cooking at high heats you want one that is at least 2 inches thick but if you know you only want to use one for chilling and serving then a thinner one is fine. 
You can even order a salt block on Amazon for the best price I've seen.
10 Tips for Using Your Salt Block for Salt Block Cooking Recipes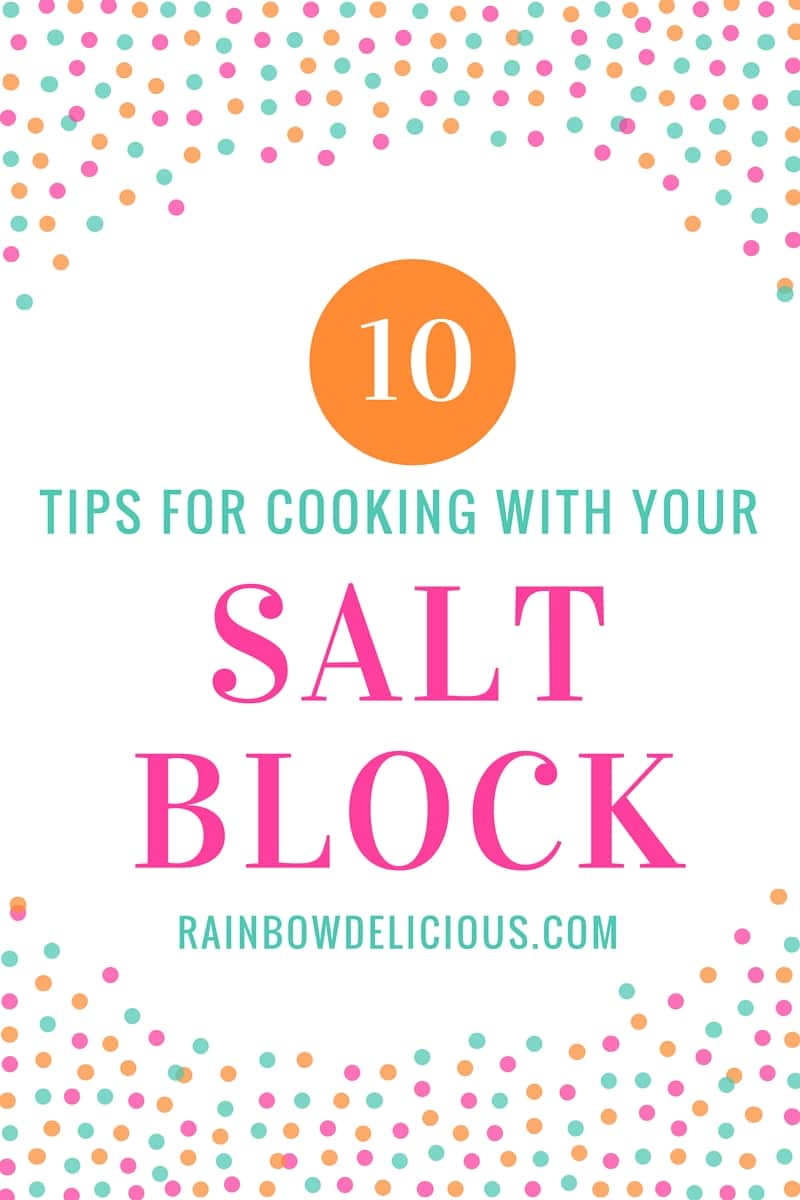 Salt blocks can be used for serving, chilling, curing, cooking or baking.
Don't try to clean it in the dishwasher. It will disappear.
Let the block get to room temperature before you clean it with a sponge or scrubber and water. Repeat until you have scrubbed off any stuck food pieces. Pat dry with clean rag and then sit for a few hours to evaporate off any moisture.
Soap is not needed and in fact could ruin your salt block.
Enjoy the beautiful state your block is in when you first get it; after use it will never return to its original state of splendor.
To use the salt block for chilling or serving cold foods pre-chill in the refrigerator for at least 2 hours
You can use your salt block for cooking on a grill or stovetop. Place block over low heat on gas grill or stovetop for ten minutes, turn heat to medium for 10 minutes, raise heat to medium high for about 20 minutes or more until your block is the desired temperature.
You can tell that the salt block is hot enough to use when you are only able to hold your hand above it for just a few seconds.
It is ideal to use a salt block that is at least 2 inches thick for any high-temperature cooking application.
You can use salt blocks in the oven for baking cookies, scones, pizzas, and more. Just temper the block first by heating it up on the stovetop before placing in the oven.
Salt Block Cooking Recipes

Watermelon Feta Mint Salad  from Mark Bitterman
Salt Block Cooking: 70 Recipes for Grilling, Chilling, Searing, and Serving on Himalayan Salt Blocks

salt block
watermelon slices
feta cheese, crumbled
mint or basil leaves, cut chiffonade style
Pre-chill the salt block in your refrigerator for a minimum of two hours.
Place watermelon slices in an arrangement directly on the salt block. The more the watermelon is touching the salt block the more salty the watermelon will taste.
Sprinkle the feta cheese crumbles over the watermelon, and then garnish with the mint or basil leaves.
Serve and enjoy!
We made about seven different salt block cooking recipes during our two hour class and this watermelon, feta and mint salad was my favorite. I love how beautifully it presents and it tastes amazing with the salt-infused edges. You can serve this salad on the salt block itself but since our class was big after we salted the watermelon edges we served it on a white platter. When I make this again I would definitely serve it on the salt block instead… so pretty! Another amazing salt block salad is this peach Caprese.

Salt-Baked Walnut Scones  from Mark Bitterman
Salt Block Cooking: 70 Recipes for Grilling, Chilling, Searing, and Serving on Himalayan Salt Blocks

salt blocks (2, 12 X 8 inch recommended)
1 1/2 C flour
1/2 C sugar
1 1/2 t baking powder
pinch of salt
6 T unsalted butter, cut into small pieces
6 egg yolks
1/4 C heavy cream
1 C chopped walnuts
Temper your salt block by heating it on your stove top on very low heat to warm to about 125 F – should take about 10-15 minutes. Then place block on heavy baking sheet and put it in the middle rack of the oven. Turn the oven on at 350F and let the stone heat in there for one hour.
In a food processor or kitchenaid combine flour, sugar, baking powder and salt until just combined. Add butter and combine until evenly distributed among the flour mixture. Add egg yolks and cream and mix until blended (Don't over mix). Add the walnuts until combined.
On a floured clean work surface shape the dough into a large circle, then cut it into 8 pieces (like a pizza).
Arrange the scones on the hot salt block and bake until slightly browned and puffed up, approximately 18 minutes.
These scones are sweet, rich and the salted bottom edge really adds a nice touch. You could really use any scone recipe on a salt block though, so get creative! Scones are one of my favorite salt block cooking recipes because you can really taste the salt flavor!

Salt Block Cucumber Salad from Mark Bitterman
Salt Block Cooking: 70 Recipes for Grilling, Chilling, Searing, and Serving on Himalayan Salt Blocks
salt block
4 small Kirby or Persian cucumbers, cut in 1/3 inch slices
2 T olive oil
1 garlic cloves, minced
1/4 small red onion
1/4 t freshly ground black pepper
1 T rice wine vinegar
2 T chopped fresh dill
Place as many cucumber slices on the salt block that you can in a single layer. Let them sit for two minutes and then do the opposite side for 1 minute. Repeat this step until you have cured all the cucumber slices.
Remove the slices from the block and gently wipe off any excess moisture with a paper towel.
Put cucumbers in serving bowl and add olive oil, garlic, onion, black pepper, vinegar and dill to the bowl. Toss to coat and enjoy!
This side salad is so refreshing and can be made a day or two ahead of time… perfect for summer entertaining.

Salt-Melted Chocolate Fondue with Crisp Bacon from Mark Bitterman
Salt Block Cooking: 70 Recipes for Grilling, Chilling, Searing, and Serving on Himalayan Salt Blocks
salt block
thick sliced bacon, cut in half, and cooked until desired crispness
1 C bittersweet chocolate chips
warm bread for dipping
sliced fruit for dipping
Heat the salt block on the stove top on very very low heat to warm to about 125 degrees F; this will take about 10-15 minutes. The block should feel hot to the touch.
Once desired temperature is reached (test this by placing one piece of chocolate on it- it should slowly start to melt) turn off the heat.
Spread chocolate on the salt block, using a spatula.
Serve on the salt block with bacon, warm bread and sliced fruit for dipping (Use a trivet underneath the salt block)
We decided in class that this is a pretty unpractical recipe— it would be simpler just to use a fondue pot, but it is all about unique presentation, so it might still be worth it at your next dinner party?


Sea-Crust Scallops with Thai Lime Dipping Sauce from Mark Bitterman
For this recipe click here.
I'm not really a seafood person but I thought these scallops were delicious! To shred the carrots you can use a potato peeler.
I hope now you have a general idea of what a salt block is, tips on how to use it, and a sampling of salt block cooking recipes to get your own creative juices flowing. If you make any recipes with your salt block, please tag me at @rainbowdelicious on instagram… I'd love to see your creations!
Some links on this site are affiliate links and I may earn a small commission at no cost to you. Thank you!
You'll Also Love These Salt Block Cooking Recipe Posts
If you loved the salt block cooking recipes in this post, we think you might also love some of these recipes:
Slab Chicken All Mattone from My Recipes
Mini Caprese Skewers Served on Salt Block from Williams-Sonoma
Salt Block Asparagus from Simple Healthy Kitchen
Salt Block Seared Shrimp from Home and Plate
Thank you for reading this post on salt block cooking recipes!
(Visited 38,226 time, 1 visit today)