I'm excited to share with you some September recipes featuring end-of-summer produce. I know everyone is already jumping ahead into their yearly Fall obsession with pumpkins but I just want to yell "slow down folks!" It is still technically summer and there is still some time to enjoy tomatoes, corn, eggplant and zucchini during September! I'll be back with some pumpkin and butternut squash recipes soon enough but for now enjoy these five September recipes.
Click here for this week's grocery shopping list.
September Recipes: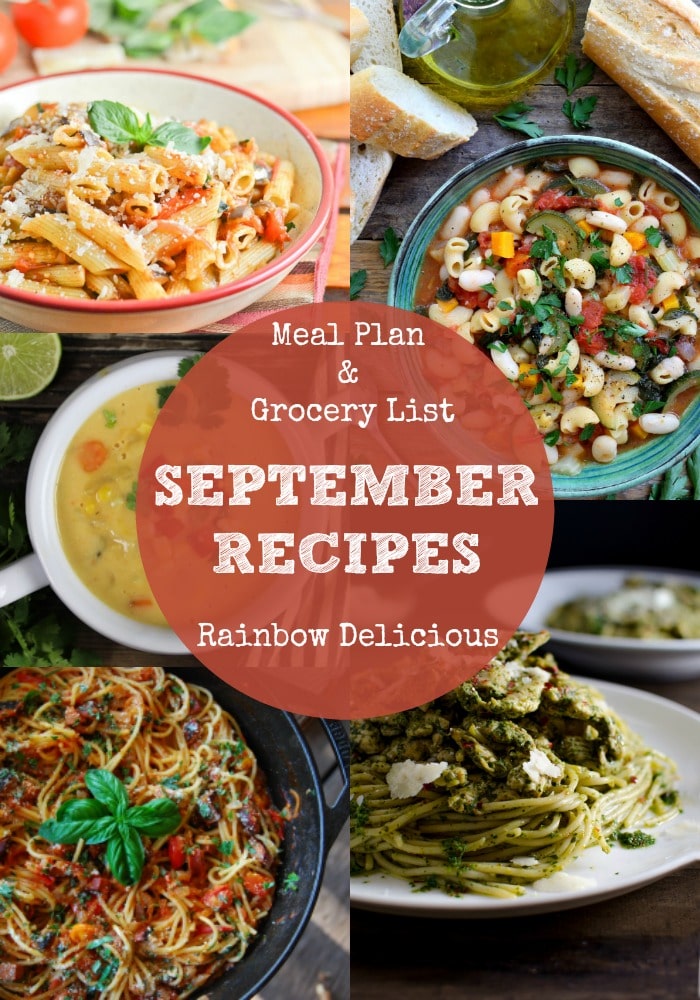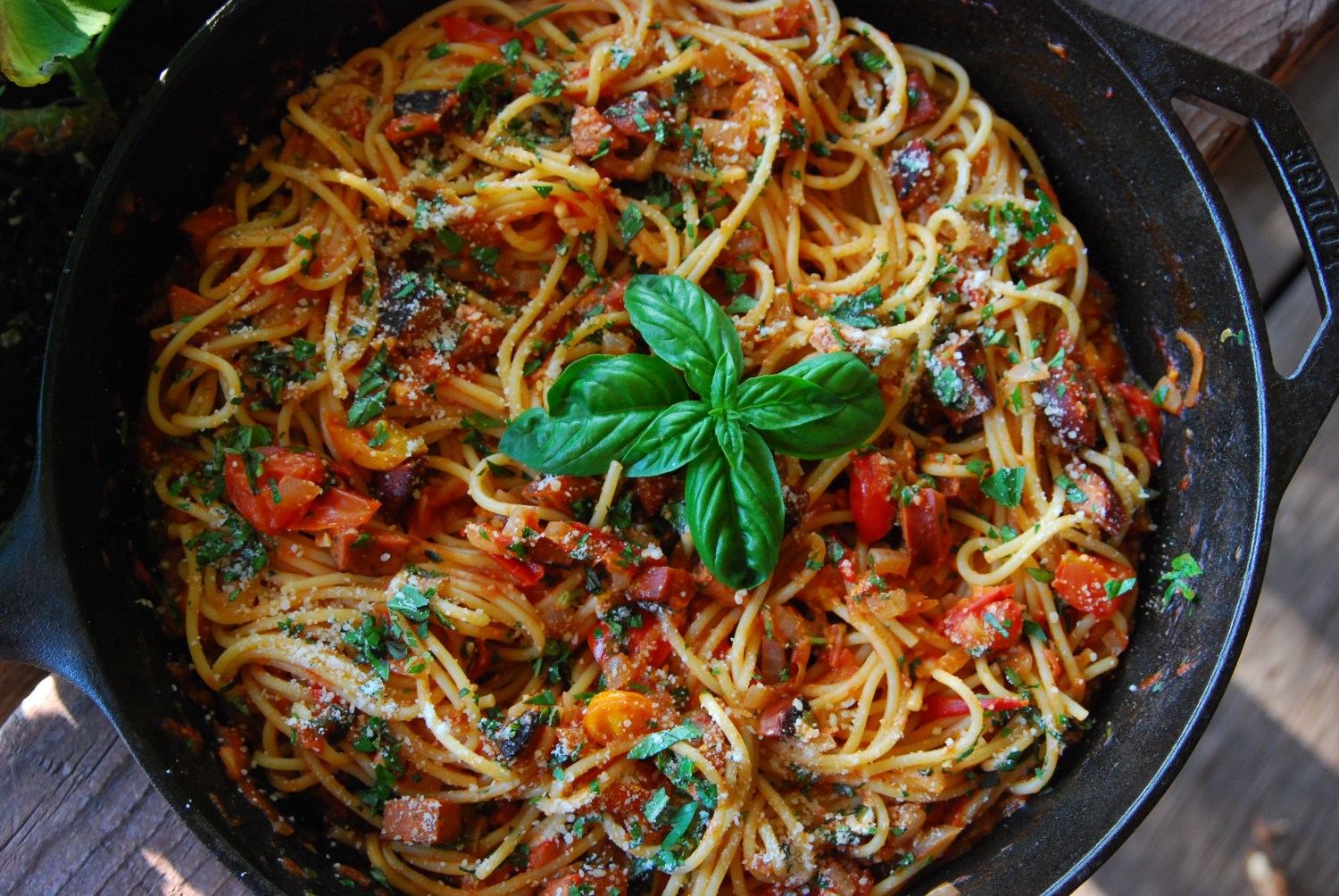 Sausage and Zucchini Pasta from Longbourn Farm
Prep Time: 15 minutes Cook Time: 15 minutes Total Time: 30 minutes
Ingredients: spaghetti or spaghetti squash, sausage, onion, tomatoes, zucchini, garlic, pureed tomatoes, fresh parsley, fresh basil.
I love that this recipe takes only 30 minutes to prepare and has such great ingredients! There are a lot of pastas in this week's meal plan so if you want to lighten it up a little bit you could use spaghetti squash instead of pasta!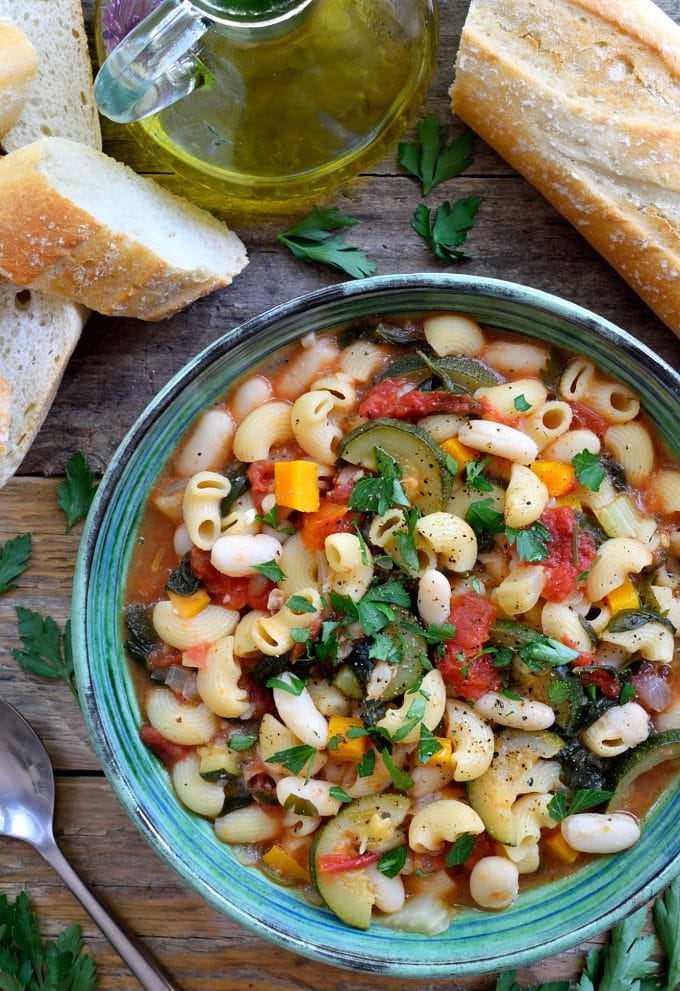 Vegetarian Pasta Fagioli from Cilantro and Citronella
Prep Time: 15 minutes Cook Time: 15 minutes Total Time: 30 minutes
Ingredients: olive oil, onion, carrot, celery, garlic, zucchini, dried basil, whole tomatoes, white beans, baby spinach, vegetable stock, parsley, salt, pepper, short pasta.
Fresh soups are such perfect weeknight meals and make great leftovers the next day for lunch. I love that this soup is loaded with veggies. Parmesan is a great topping if you have any extra on hand.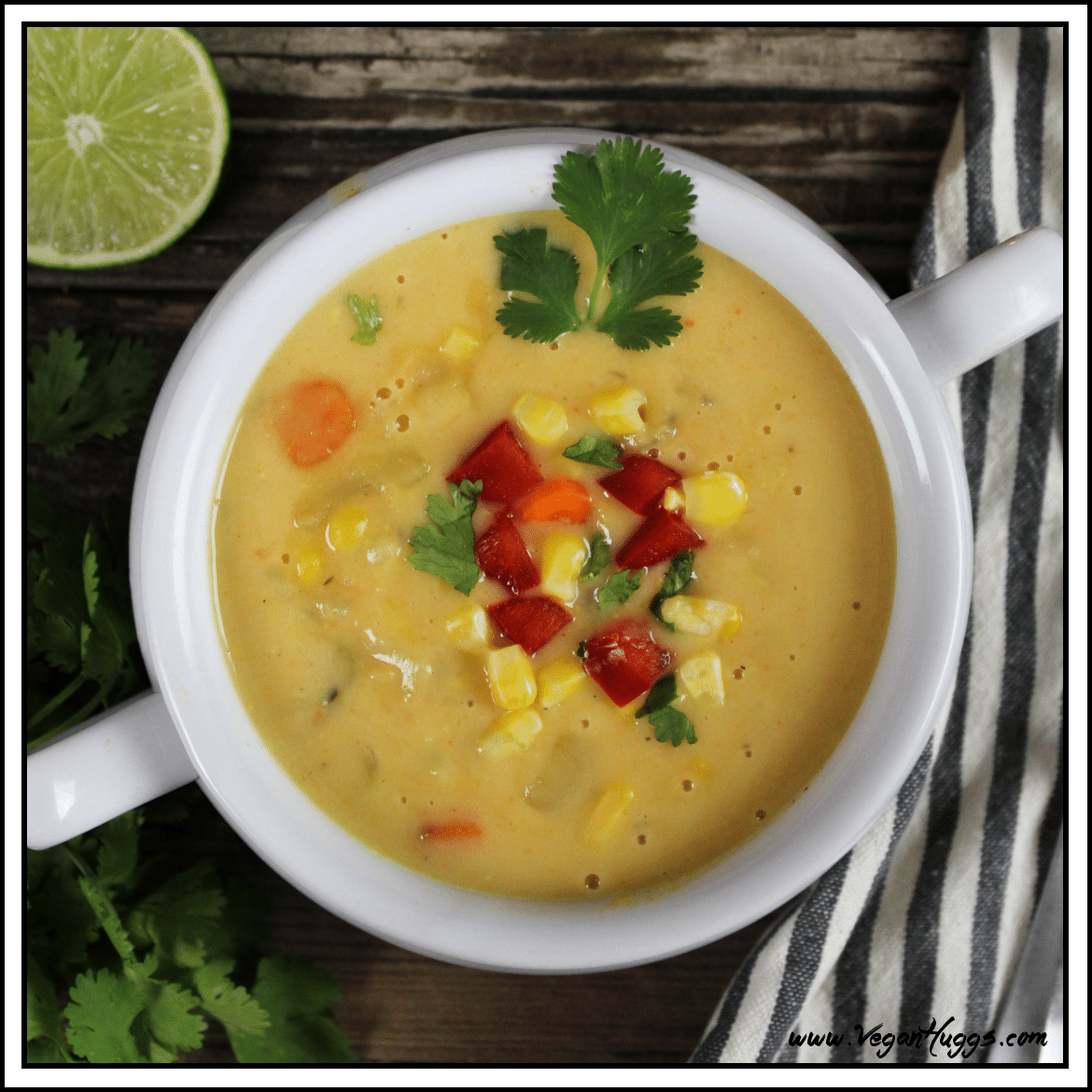 Vegan Potato Leek Corn Chowder from Vegan Huggs
Prep Time: 10 minutes Cook Time: 25 minutes Total Time: 35 minutes
Ingredients: coconut oil or olive oil, large leek, yellow onion, red bell pepper, celery, garlic, dried parsley, dried thyme, sea salt, ground pepper, carrots, potatoes, flour, vegetable broth, bay leaf, corn, coconut milk, lime juice.
Corn chowder is one of my all time favorite soups and this is a great vegan variation of the classic. Loaded with vegetables and herbs this makes a delicious and vibrant dish.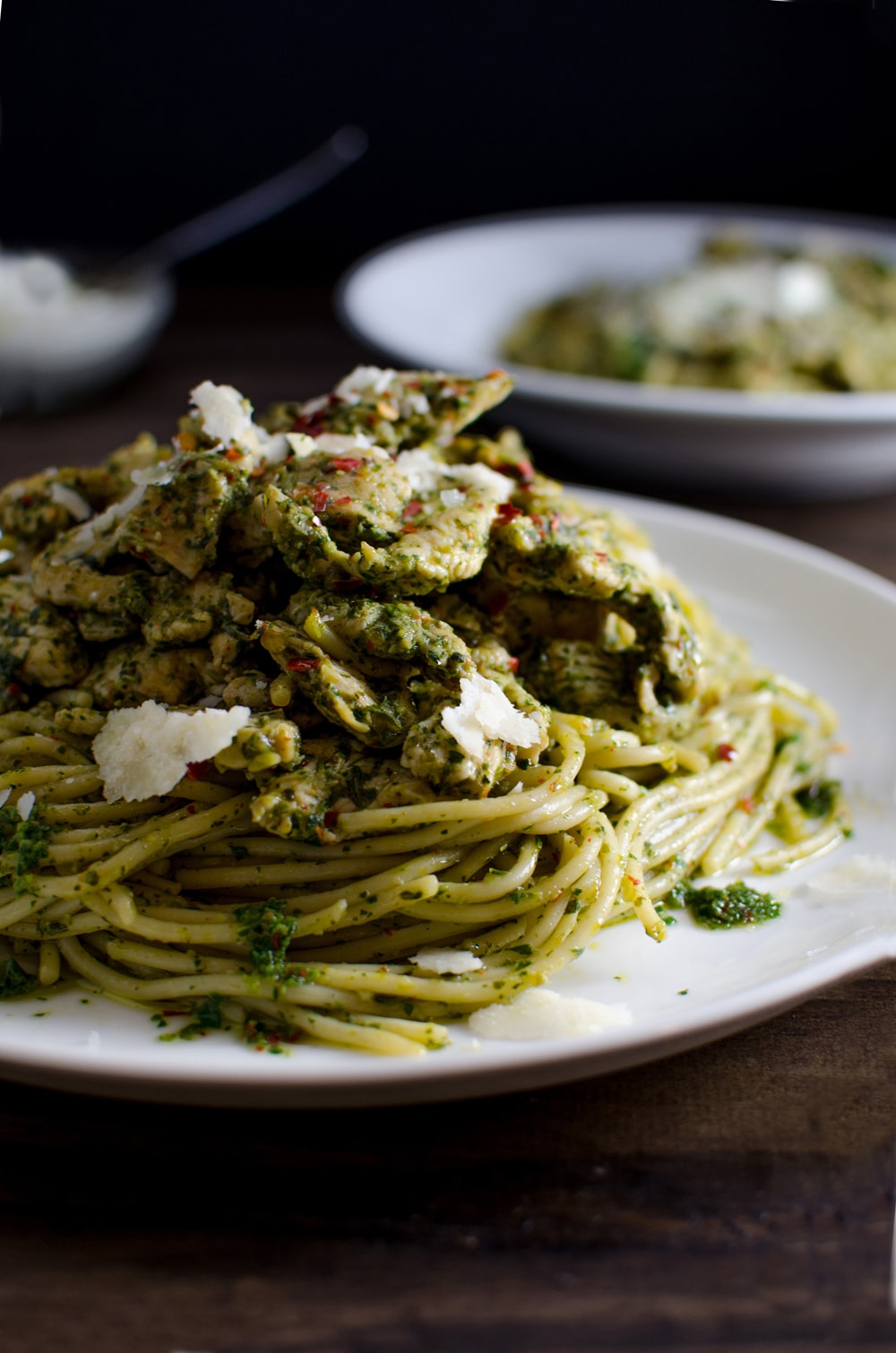 Italian Chicken Pasta Stir Fry from The Flavor Bender
Prep Time: 10 minutes Cook Time: 20 minutes Total Time: 30 minutes
Ingredients: parsley, fresh thyme, basil, cayenne pepper (optional), garlic, red onion, chili flakes, oil, red wine vinegar, white sugar, chicken breasts, oil, spaghetti, ricotta, parmesan.
Another great weeknight dish- chicken and pasta that takes only 30 minutes to prepare! So many delicious herbs combine together to make this a power dish!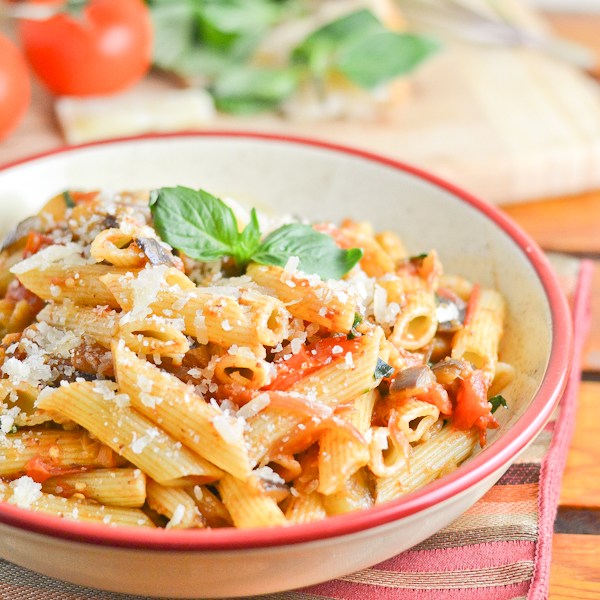 Penne with Tomato, Eggplant and Basil from Salu Salo
Prep Time: 25 minutes Cook Time: 35 minutes Total Time: 1 hour
Ingredients: olive oil, eggplant, salt, red onion, crushed red pepper flakes, tomatoes, garlic, fresh basil, dried penne, Parmigiano Reggiano.
My eggplant didn't grow so well this year in my garden but I can always count on gorgeous varieties at the farmer's market. Eggplant pasta is fresh, delicious and a perfect dish to say good-bye to summer flavors before Fall hits.
If you make any September recipes from this week's Rainbow Delicious meal plan please share on instagram using hashtag #rainbowdelicious & #septemberrecipes and tag me @rainbowdelicious, I'd love to see what you are up to in your kitchen!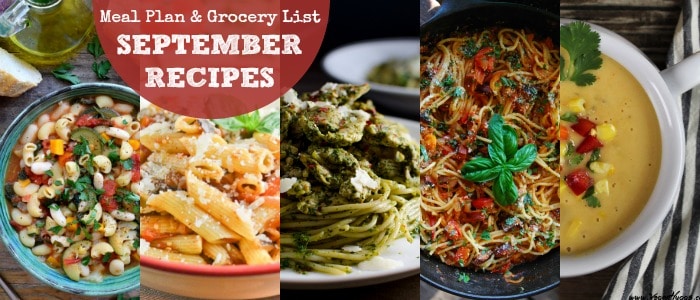 Some links on this site are affiliate links and I may earn a small commission at no cost to you. Thank you!
(Visited 1,070 time, 1 visit today)