Tired of meal planning? These meal plans with free grocery shopping lists will take the stress out of deciding what meals to make for your family! Check out all sorts of meal plans- collections of recipes from some of your favorite bloggers, salad meal plans, crockpot meal plans, vegetarian meal plans, seasonal meal plans, and more!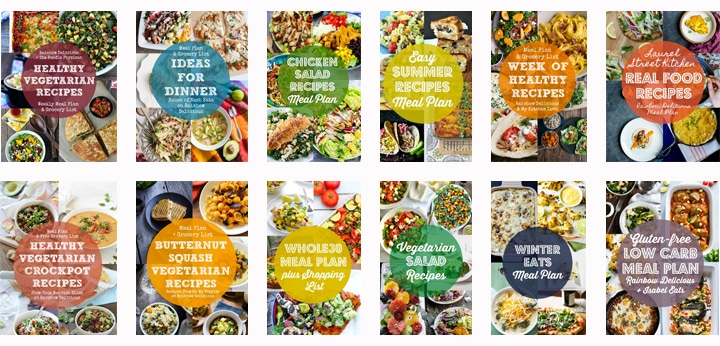 Meal planning can help make life a little easier and having new recipes to try and meals to make is always helpful. With that in mind, I'm excited to share this list of meal plans from my archives to make it easier to refer to and use again and again.
Each meal plan features five colorful recipes and a free printable grocery shopping list. The idea is for you to make all five recipes in the week. Some recipes are salads, some are mains, and some are sides. You can configure them throughout your week however you see fit. When I made these meal plans, I cooked all the meals myself as well. They were a huge help and keeping my menu fresh with new ideas and flavors, and I still use them from time to time.
Meals to Make: Collections from Food Bloggers
Week of Healthy Recipes from My Kitchen Love
Ideas for Dinner from House of Nash Eats
Real Food Recipes with Laurel Street Kitchen
Breakfast for Dinner Ideas from Breakfast for Dinner Blog
Weeknight Dinner Ideas from The Gingered Whisk
Whole Food Meal Plan from Seasonal Cravings
Simple Healthy Eating Plan from C It Nutritionally
Healthy Meal Plan from Get Healthy U
Meal Ideas from Cookie Named Desire
Healthy Dinner Recipes from Lively Table
Healthy Meal Ideas from Love & Zest
Simple Country Recipes from Longbourn Farms
Wholesome Dinner Recipes from Happiness Kitchen
Chicken Dinner Recipes from Whisk it Real Gud
Weeknight Recipes with Culinary Hill
Salad Meal Plans
Amazing Salad Recipes Meal Plan with Dinner at the Zoo
Winter Vegetarian Salad Recipes
Simple Meal Plans: Crockpots & One Pot Wonders
A Week of Healthy Crockpot Recipes
Healthy Vegetarian Crockpot Recipes from Cook, Nourish, Bliss
Vegetarian Meals to Make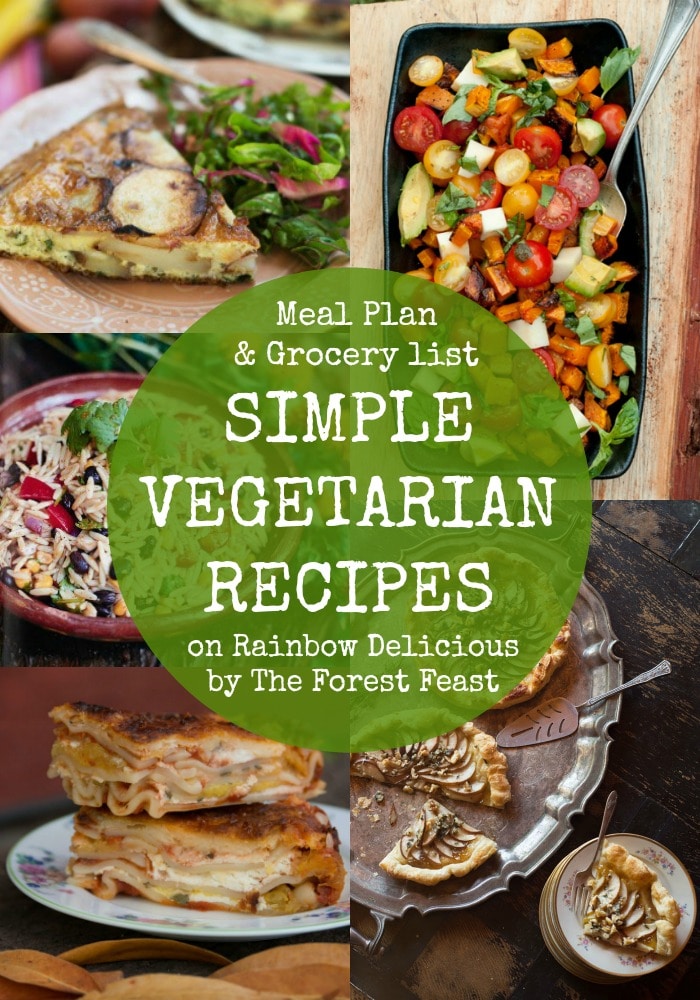 Simple Vegetarian Recipes from Budget Bytes
A Week of Vegetarian Recipes by The Forest Feast
Vegetarian Salad Recipes to Start Your Year Off Right
Healthy Vegetarian Recipes from Vanilla & Bean
Healthy Vegetarian Recipes from Foolproof Living
Simple Vegetarian Recipes from Savory Tooth
Vegetarian Dinner Ideas from Supper with Michelle
Butternut Squash Vegetarian Recipes from Oh My Veggies
Vegetarian Recipe Ideas from The Foodie Physician
Special Diets Meal Plans
Gluten Free Low Carb Meal Plan from Isabela Eats
No Processed Carbs and Limited Dairy Meal Plan
Gluten Free Vegan Recipes from Veggies Save the Day
Dairy Free Vegetarian Recipes from Occasionally Eggs
Easy Vegan Recipes from Rough Measures
Spring Meals to Make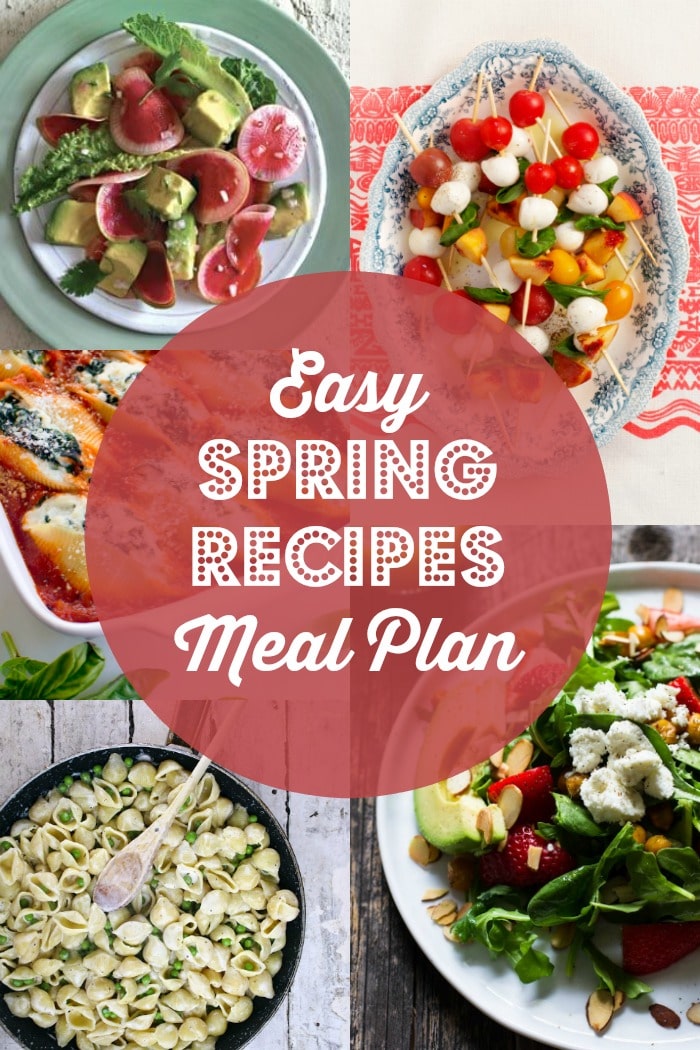 Healthy Spring Recipes Meal Plan
Summer Recipes to Try
Healthy and Easy Dinner Recipes Perfect for Outdoor Dining
Healthy Chicken Dinner Recipes & Salads Meal Plan
A Week of Healthy Salad Recipes
Fall Meals to Make
Fall Dinner Ideas Meal Plan from Home & Plate
Fall Dinner Recipes from Salt & Lavender
Winter Recipes to Try
Winter Family Dinners Meal Plan
Winter Dinner Recipes from Gather & Dine
Recipes for Winter from Modern Proper
If you make any of these recipes or meal plans please share on instagram using hashtag #rainbowdelicious & and tag me at @rainbowdelicious , I'd love to see what you are up to in your kitchen!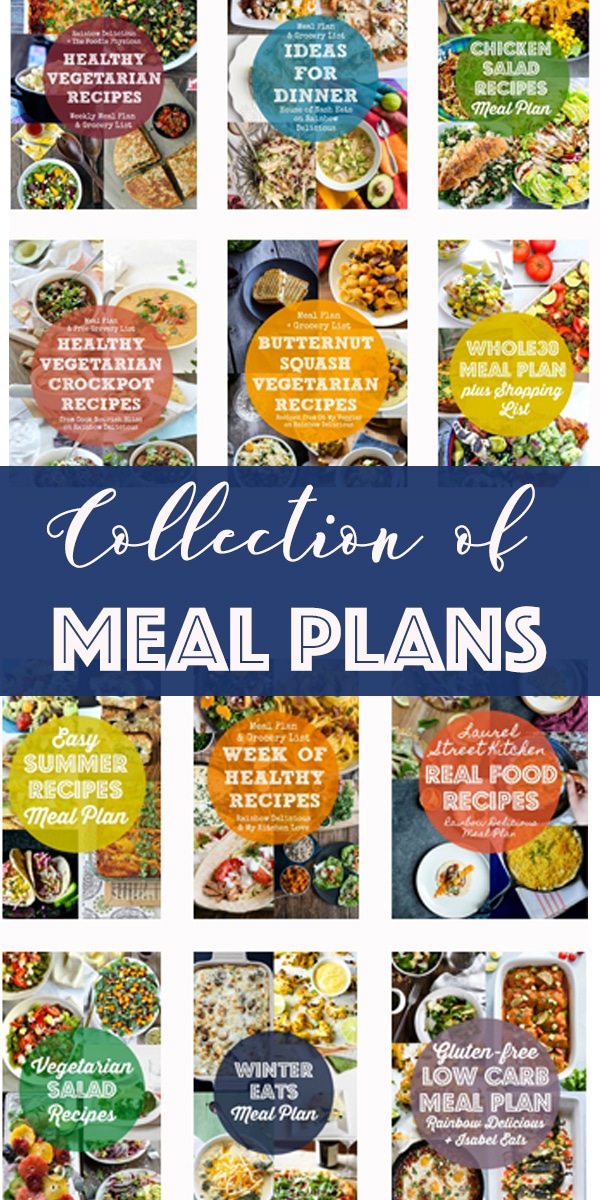 (Visited 3,248 time, 1 visit today)