This week's meal plan with free printable is a chicken salad recipes meal plan. Every meal plan this month has included five delicious salad recipes, in case you missed them, feel free to check them out: vegan salad recipes, vegetarian salad recipes, winter salad recipes and kale salad recipes.
I have been trying hard to eat nourishing foods this month and while I haven't been perfect things are going well and I think I will continue to use these salad meal plans as colorful produce-filled recipe inspiration for the rest of the year. What about you? How has your first month of 2018 gone?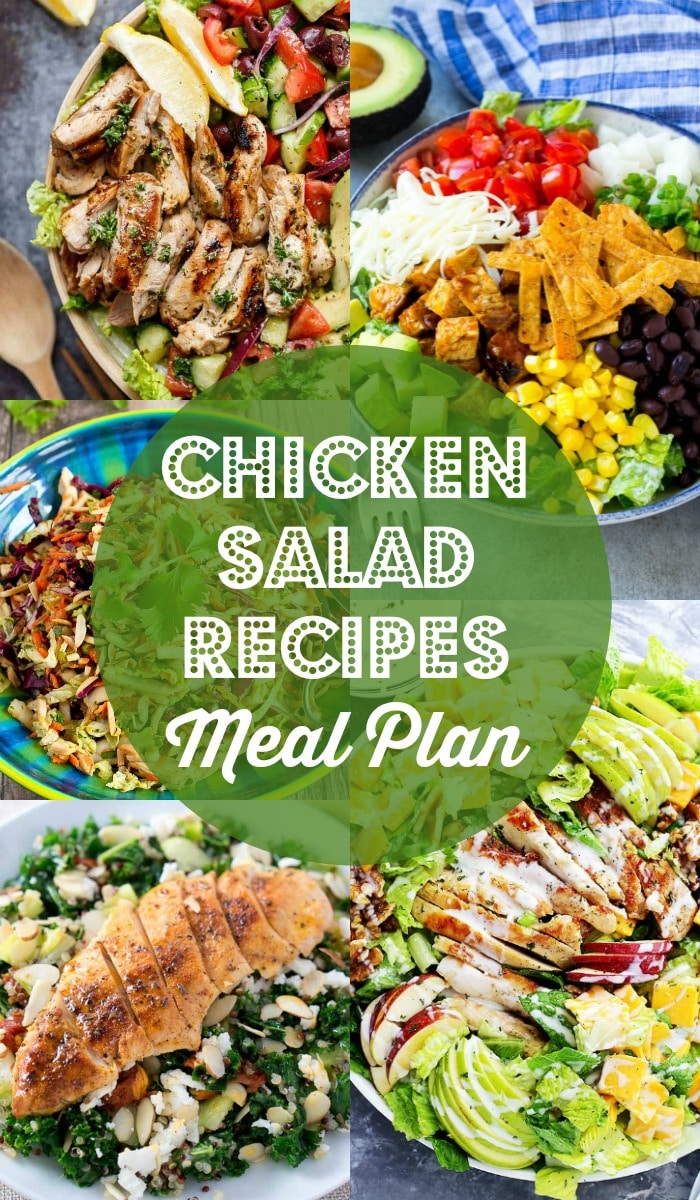 Chicken Salad Recipes Meal Plan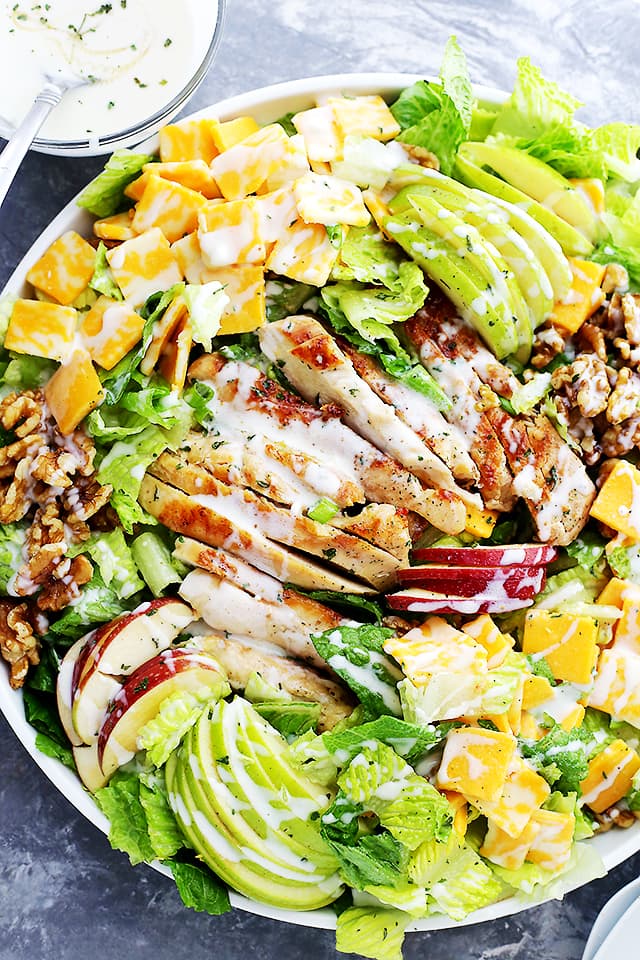 Apples and Cheddar Chicken Salad from Diethood
Prep Time: 15 minutes  Total Time: 15 minutes
Ingredients: romaine hearts, chicken breasts, cheddar, granny smith apples, red delicious apples, walnuts, plain yogurt, eggless mayo, honey, fresh parsley.
Apples and cheddar is one of my favorite flavor combinations. I continue to eat apple sauce alongside macaroni and cheese like I did as a kid… I always thought that was a normal pairing but some people have alerted me in adulthood that it is strange? Do you eat apple sauce with your mac and cheese?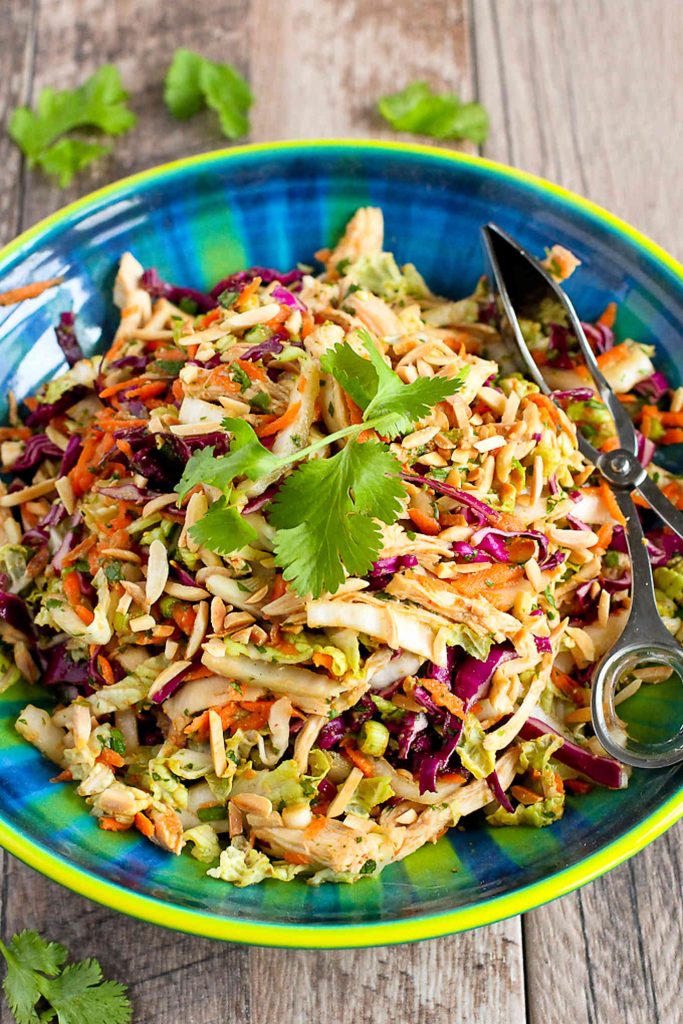 Thai Chicken Salad from Cookin Canuck
Prep Time: 20 minutes  Total Time: 20 minutes
Ingredients: napa cabbage, red cabbage, medium carrots, green onion, cilantro, chicken breast, silvered almonds, lime, peanut butter, soy sauce, honey, fish sauce, rice vinegar, chili garlic sauce.
Sometimes I just crave a good Thai chicken salad, don't you? This recipe would be great for meal prepping lunch salads for the rest of the week (with the dressing on the side).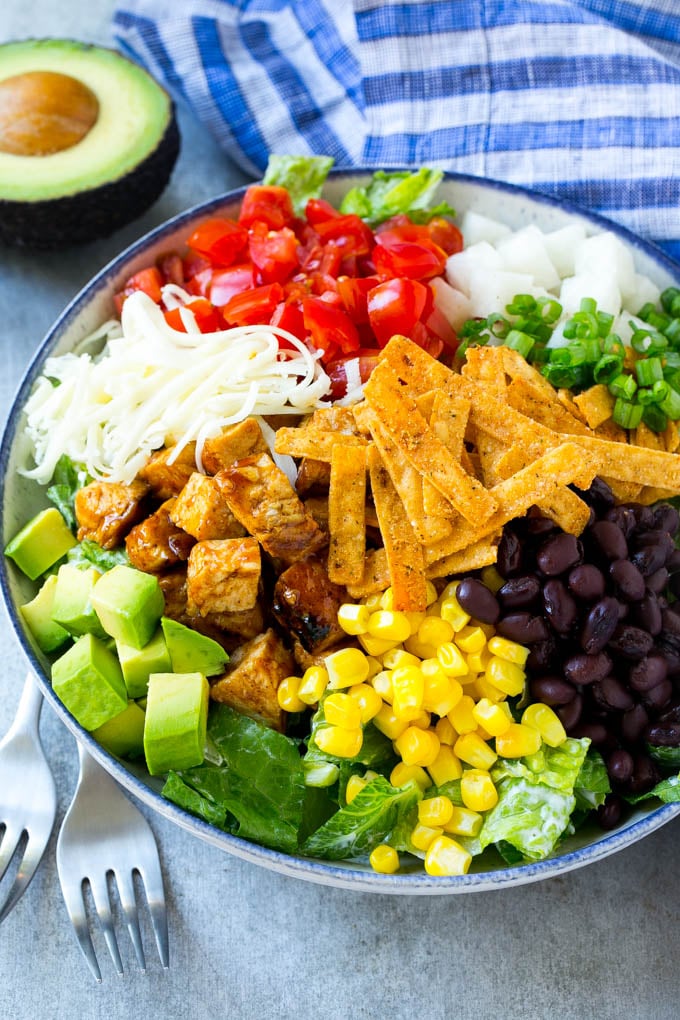 BBQ Chicken Salad from Dinner at the Zoo
Prep Time: 20 minutes  Total Time: 20 minutes
Ingredients: chicken, BBQ sauce, romaine lettuce, ranch dressing, corn, black beans, tomatoes, jicama, Monterey Jack cheese, avocado, green onions, tortilla strips.
I used to always order BBQ salads at restaurants but now I prefer to make them at home even more- this recipe is so good, especially with the addition of jicama! Dinner at the Zoo has other salad recipes that are just as amazing- check out this meal plan featuring more of her recipes.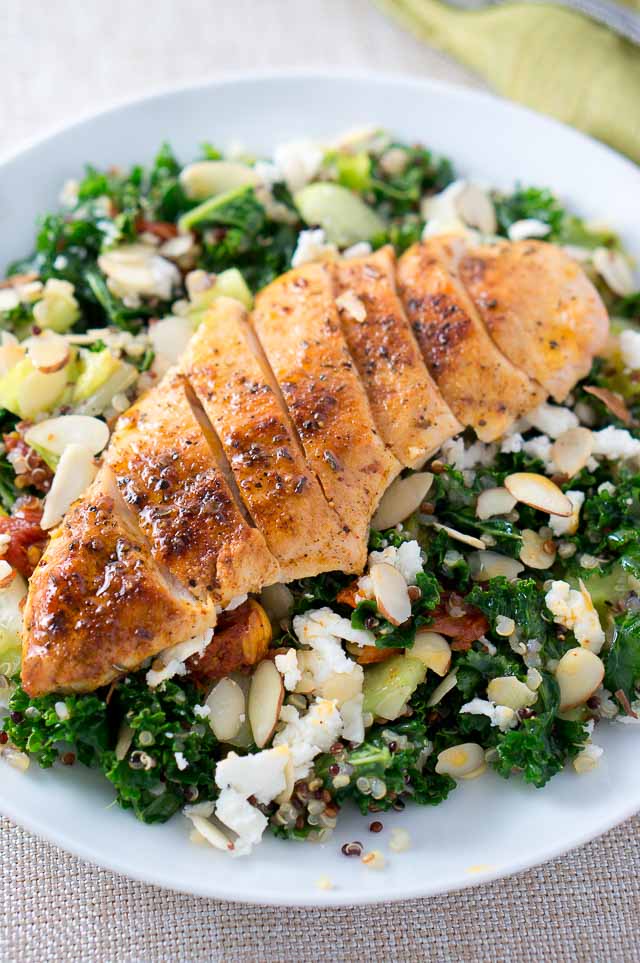 Greek Quinoa Salad with Chicken from Delicious Meets Healthy
Prep Time: 5 minutes Cook Time: 20 minutes Total Time: 25 minutes
Ingredients: quinoa, chicken, kale, olive oil, salt, cucumber, sun dried tomatoes, white wine vinegar, black pepper, sliced almonds, feta cheese.
This is a really healthy but flavorful salad. I love that it includes quinoa, an ingredient I often forget to include in my meals.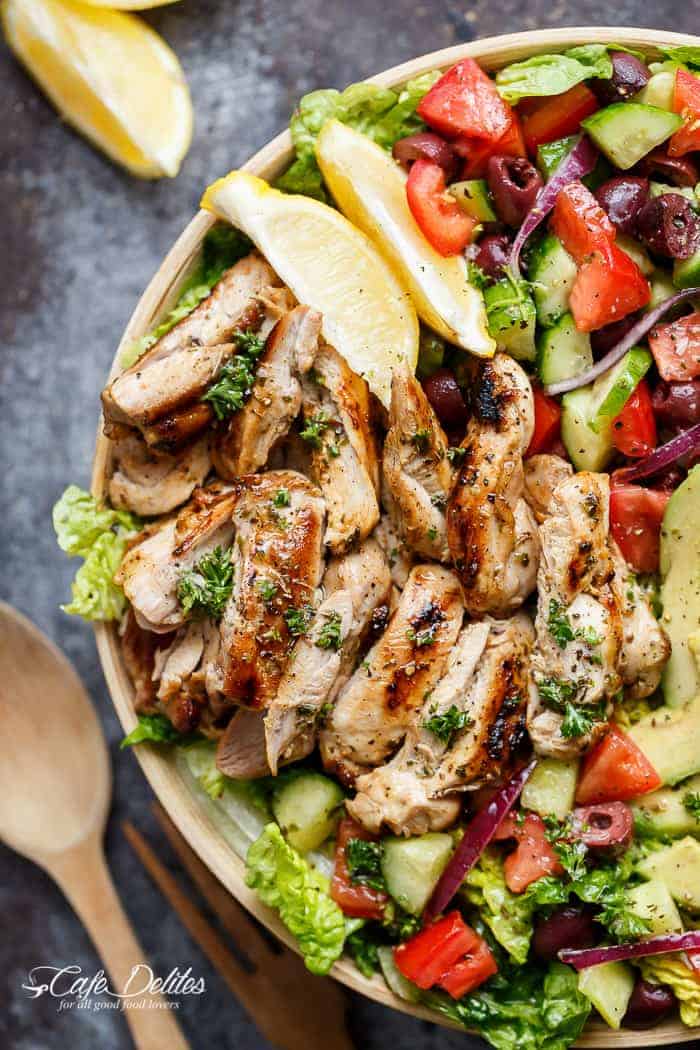 Grilled Lemon Herb Mediterranean Chicken Salad Recipe from Cafe Delites
Prep Time: 10 minutes Cook Time: 15 minutes Total Time: 25 minutes
Ingredients: olive oil, lemon, water, red wine vinegar, parsley, basil, garlic, oregano, romaine, cucumber, Roma tomatoes, red onion, avocado, kalamata olives, lemon wedges.
This marinade/dressing really takes this salad to the next level. I think feta is a nice addition to this salad.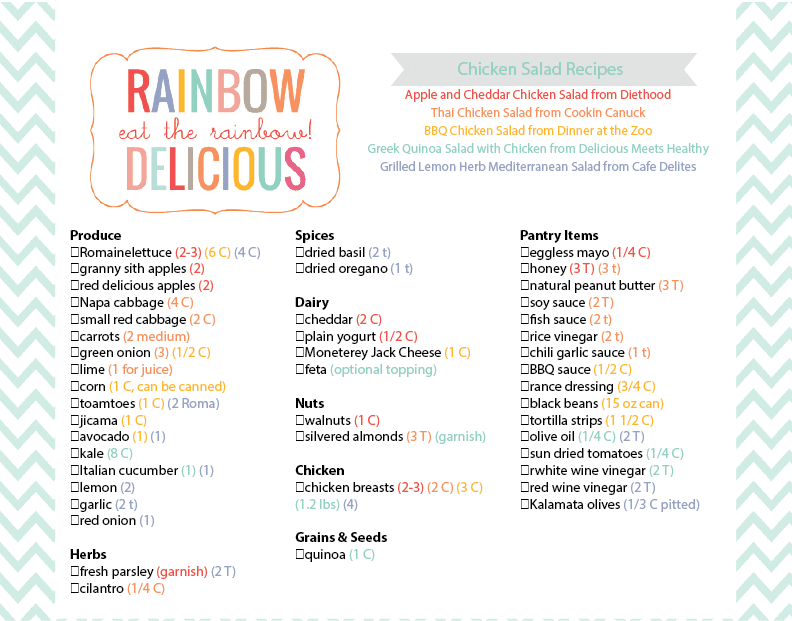 If you make any recipes from this chicken salad recipes meal plan please share on instagram using hashtag #rainbowdelicious & and tag me at @rainbowdelicious , I'd love to see what you are up to in your kitchen!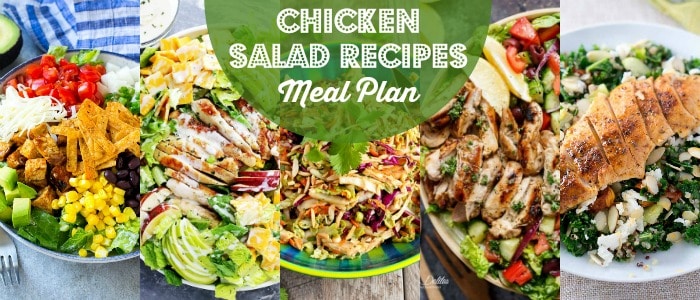 Some links on this site are affiliate links and I may earn a small commission at no cost to you. Thank you!
(Visited 2,199 time, 1 visit today)