Happy First day of 2018! My new years gift to you is this meal plan with five delicious vegetarian salad recipes to start your year off right! In fact, every Monday this month I will be sharing five delicious and healthy salad recipes.
I spent a large chunk of last week trying to plan my year and commit to goals that will help me align my lived experience with my ideals. Instead of making a large resolution for the year I broke it down into month long goals which I'm more comfortable with. This month my 30 day goal is to be better about the night time routine with my kids- specifically to read with them every night after they get their PJ's on, brush their teeth and tidy their rooms.
I love fresh starts, and goal making. What are your goals this year or month? I'm excited to start the year off right and for me that also means eating more greens. I'm hoping that you also want some salad inspiration in your life and for the whole month of January the weekly Meal plans each Monday will feature five amazing salad recipes. The theme for this week's salad meal plan is vegetarian salad recipes but I will also be featuring vegan salad recipes, salad recipes with chicken, winter salad recipes, and kale salad recipes in upcoming weeks. The meal plan comes with a free grocery list if you want to brave making them all, but you can also just pick one or two to try.
As a side note, have you heard of finishing salts? My mom gifted me a foundational set a few years ago and I fell in love- they are basically textured salt crystals that you put on dishes, like salads, before serving. They are, as their name suggests, an amazing "finishing" touch. My favorite for salads are Mark Bitterman Salad Salts– they even come in unique colors. I highly recommend them, they would be amazing on every salad in this week's meal plan!
Click Here for this week's Printable Color Coded Grocery Shopping List! It is a shortcut for making salads a bigger part of your life.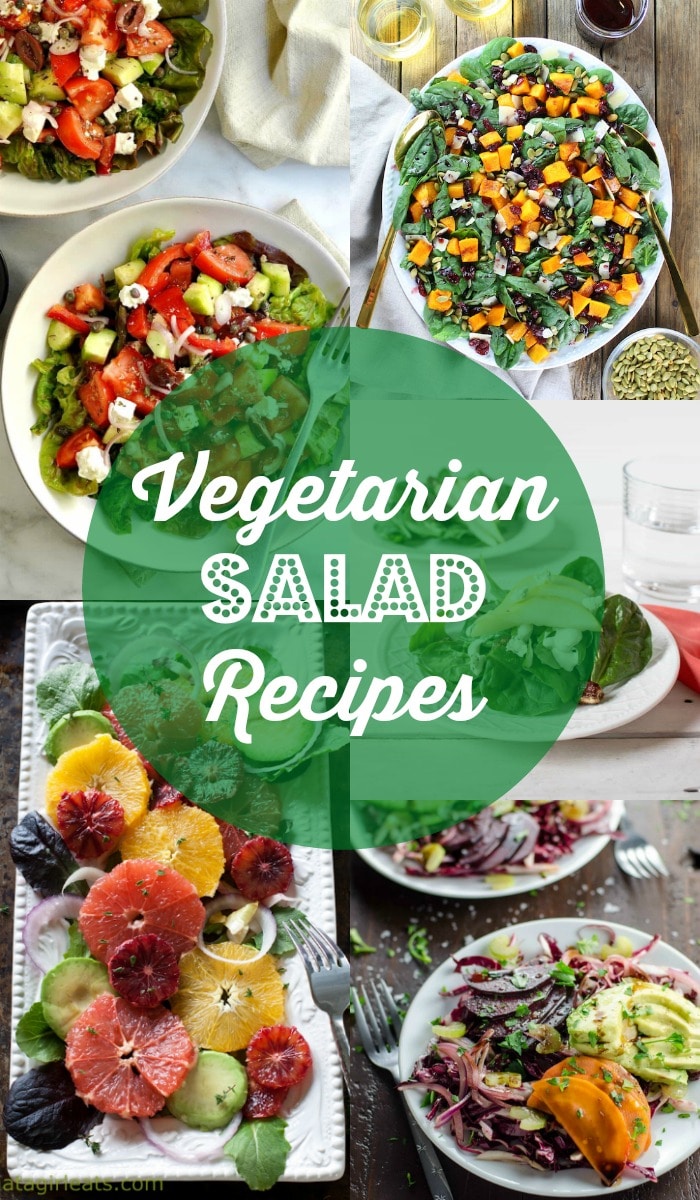 Vegetarian Salad Recipes to Start Your Year off Right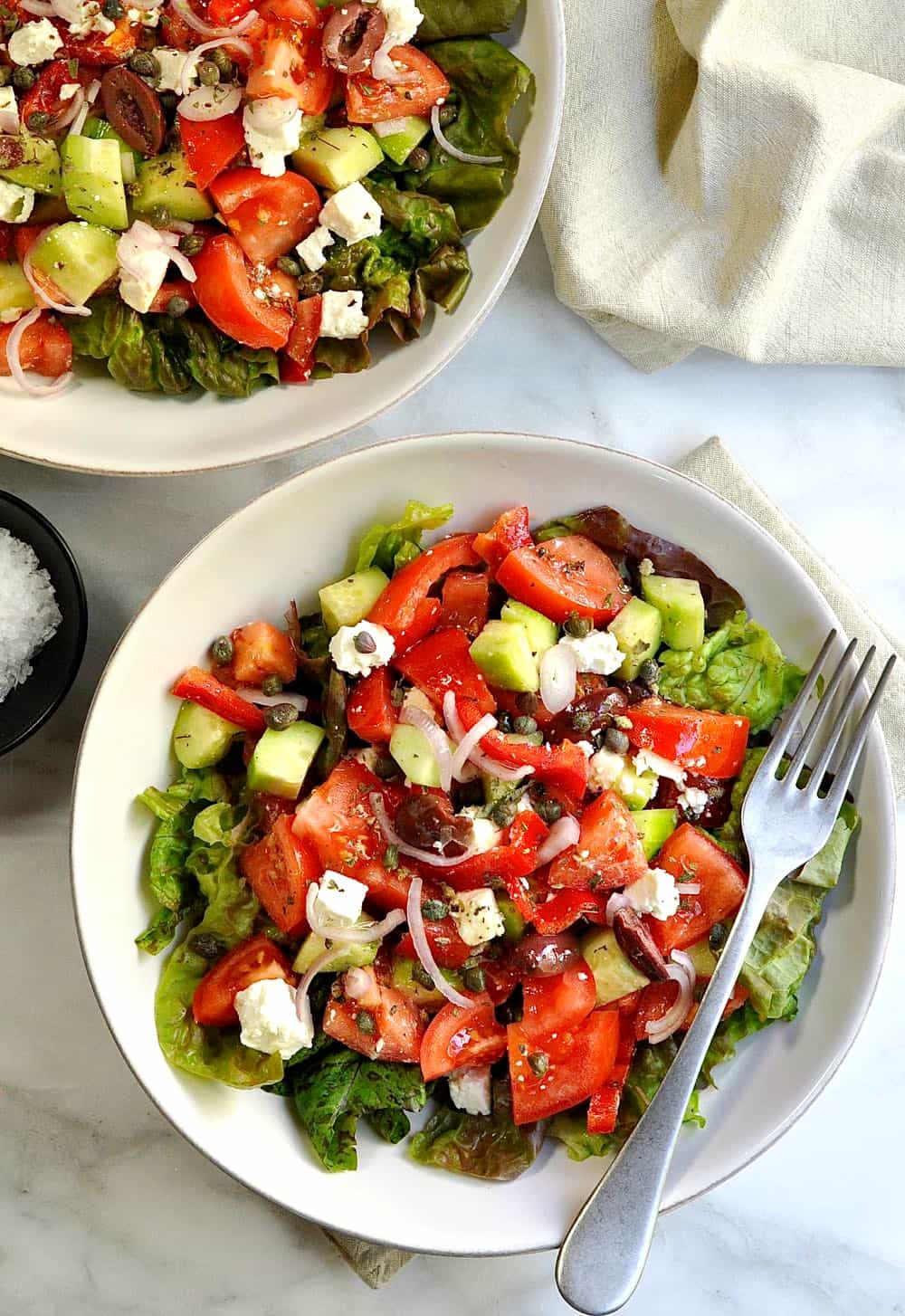 Greek Salad from Pinch and Swirl
Prep Time: 15 minutes  Total Time: 15 minutes 
Ingredients: plum tomatoes, cucumbers, red bell peppers, shallot, kalamata olives, feta, capers, olive oil, oregano, salt and black pepper, butter lettuce.
You can really never go wrong with a Greek salad. One thing that I love about this type of salad is that it holds up well for meal prepped lunches during the week. You can get containers like this from amazon for the salad and these cute containers for the dressings, divide it into smaller servings and then lunch for the next few days is ready to go! You can purchase the salad containers at amazon through the links above, or I also have good luck finding these types of containers for reasonable prices at Home Goods/Marshalls.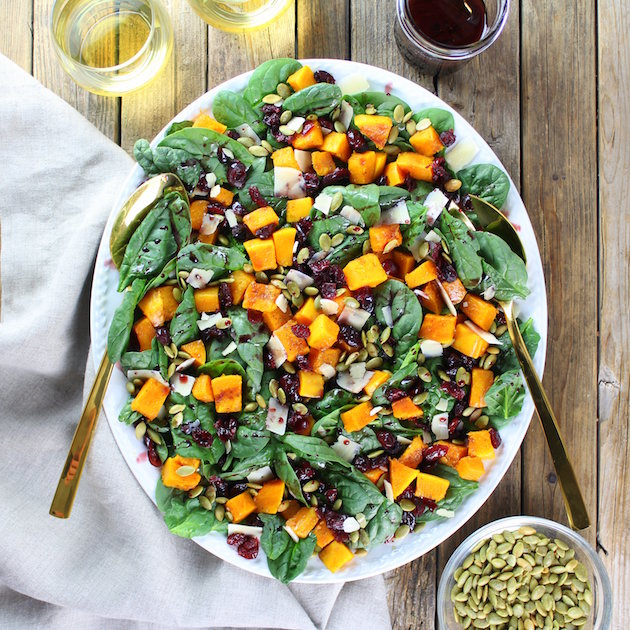 Butternut Squash and Cranberry Spinach Salad from Taste and See
Prep Time: 5 minutes Cook Time: 20 minutes Total Time: 25 minutes
Ingredients: cranberry juice, maple syrup, cabernet sauvignon wine, olive oil, salt and pepper. butternut squash, cranberries, spinach, parmesan, pepitas.
I really enjoy butternut squash this time of year, especially in salads because along with the pepitas it makes a pretty filling salad. If you don't have wine on hand you can substitute a good balsamic vinegar for the dressing and it will still work. If you have leftover butternut squash cubes you might consider trying this delicious butternut squash pasta recipe.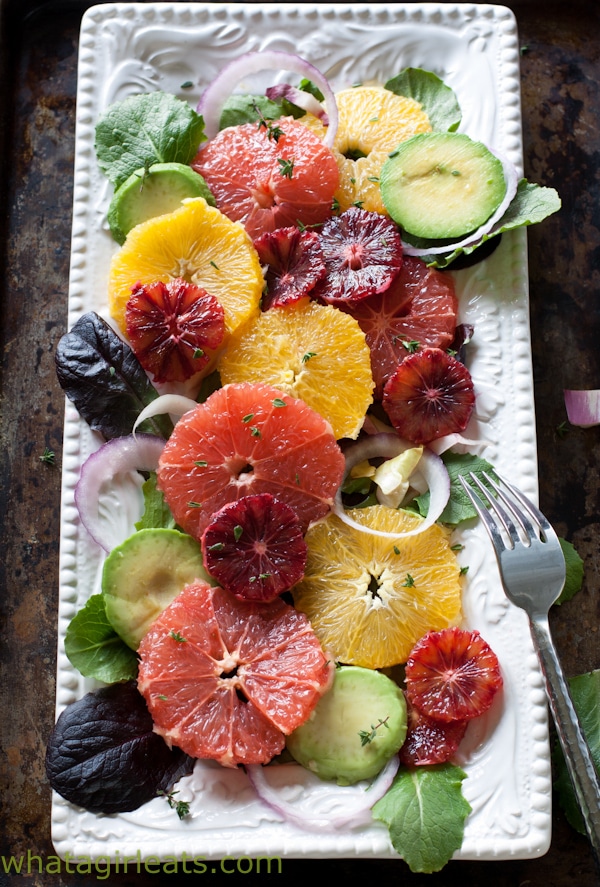 Citrus Salad with Orange Dijon Vinaigrette from What A Girl Eats
Prep Time: 10 minute Total Time: 10 minutes
Ingredients: fresh orange juice, dijon, olive oil, garlic, honey, apple cider vinegar, thyme, salt, black pepper, goat cheese, avocado, purple onion, greens, winter citrus.
The recipe linked has specific directions for the dressing, and for the salad itself you simple layer winter citrus slices, avocado, red onion, and goat cheese. This is such a simple, delicious vegetarian winter salad.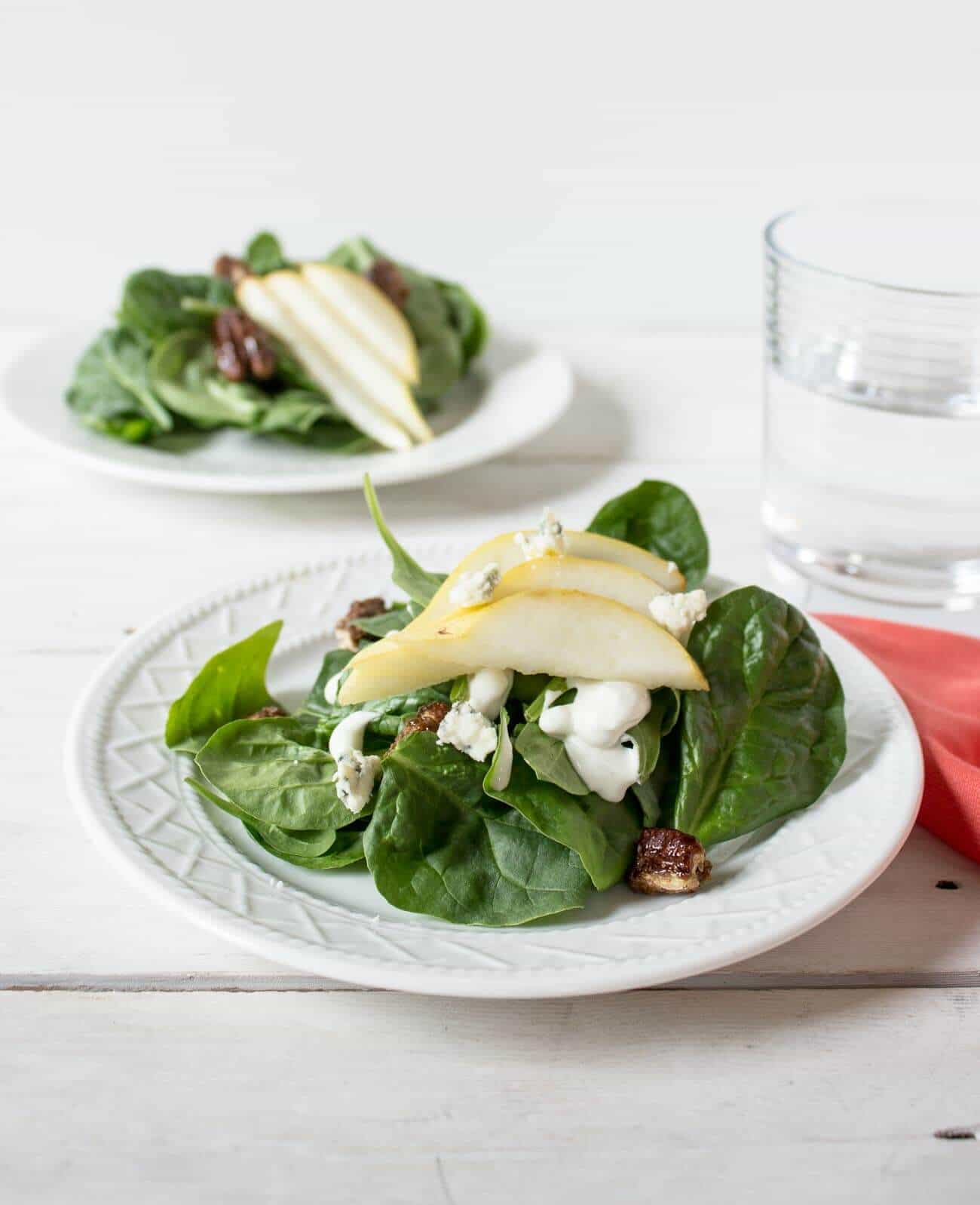 Spinach, Pear and Blue Cheese Salad from Beyond the Chicken Coop
Prep Time: 15 minutes Total Time: 15 minutes
Ingredients: cream, blue cheese, spinach leaves, pear, candied pecans.
This salad only has five ingredients! I love how simple it is to throw together and is perfect as a side with dinner or a light lunch.

Beet Salad with Avocado from Umami Girl
Prep Time: 15 minutes  Total Time: 15 minutes
Ingredients: radicchio, olive oil, balsamic vinegar, raw beets, red onion, celery, walnut, feta, balsamic glaze, flaky sea salt, ground pepper.
Have you tried raw beets in your salad before? I love roasted beets but am surprised by how much I enjoy raw beets in my salad too. I usually slice them very thin with my mandoline slicer or with my spiralizer. This salad is so fresh and vibrant!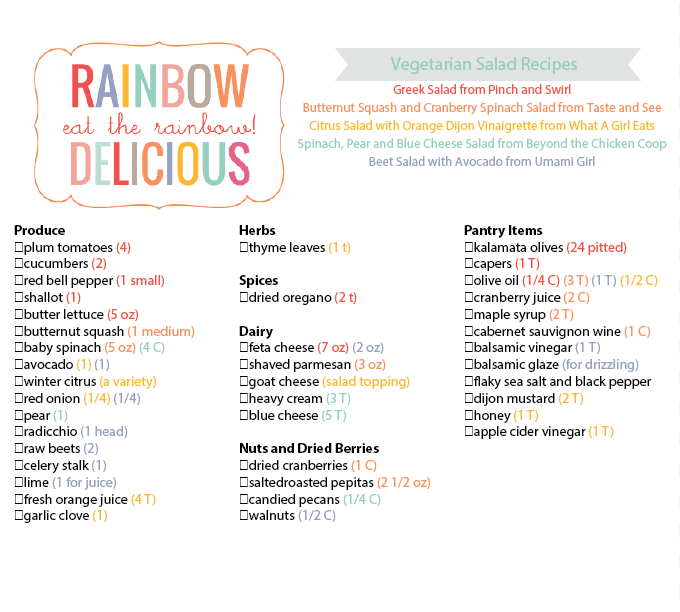 If you make any Vegetarian Salad Recipes to Start Your Year off Right please share on instagram using hashtag #rainbowdelicious & and tag me at @rainbowdelicious , I'd love to see what you are up to in your kitchen!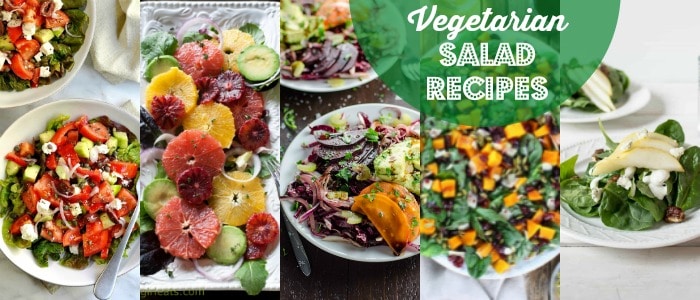 Some links on this site are affiliate links and I may earn a small commission at no cost to you. Thank you!
(Visited 1,083 time, 1 visit today)