Today I'm sharing five vegan salad recipes for you to try this week! This post is mostly dedicated to my sister, Jessica, who is going vegan for the month of January. But I'm sure she is not the only one, and even those of us who don't follow a strict vegan diet can all gain benefits from incorporating more plant-based recipes into our diets!  Every Monday this January I will be sharing five salad recipes to start the year off right. In case you missed the last two weeks check out this kale salad meal plan and these vegetarian salads.  I also recently posted my favorite easy homeade granola recipe which you can add to breakfast parfaits for a quick and flavorful breakfast.
Also, time for a January check-in. How are your new year's resolutions/intentions going so far this year? My first week of January was awesome, I ran a ton, kept my house tidy and stayed on top of dishes and laundry, was more unplugged from electronics, tried some recipes that have been on my to-do list (bone broth and kombucha), read nightly, and got good sleep. I felt on top of the world and like I could do this forever! ha! And now this week I'm pretty exhausted and have fallen behind a little. Is this sounding familiar to anyone else, or is this just me? I'm embracing imperfection while still staying focused on the things that matter to me most- spending time with family, getting enough sleep, and nourishing my body.. Which is why I'm excited to share these vegan salad recipes, including a Mexican chopped salad, rainbow noodle salad, golden beet white bean citrus salad, green kale salad with spicy roasted chickpeas and a healthy Greek salad.
Here is this week's grocery shopping list printable that is color coded. You can take it along with you shopping whether you plan on making all five or just one!
Vegan Salad Recipes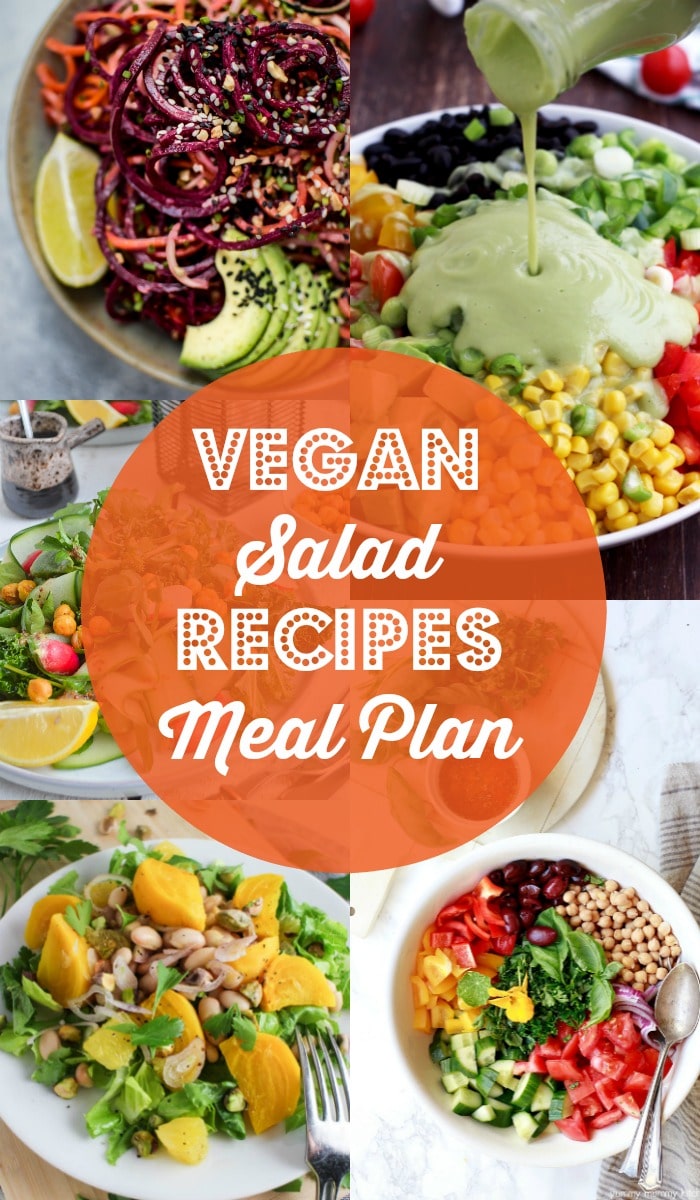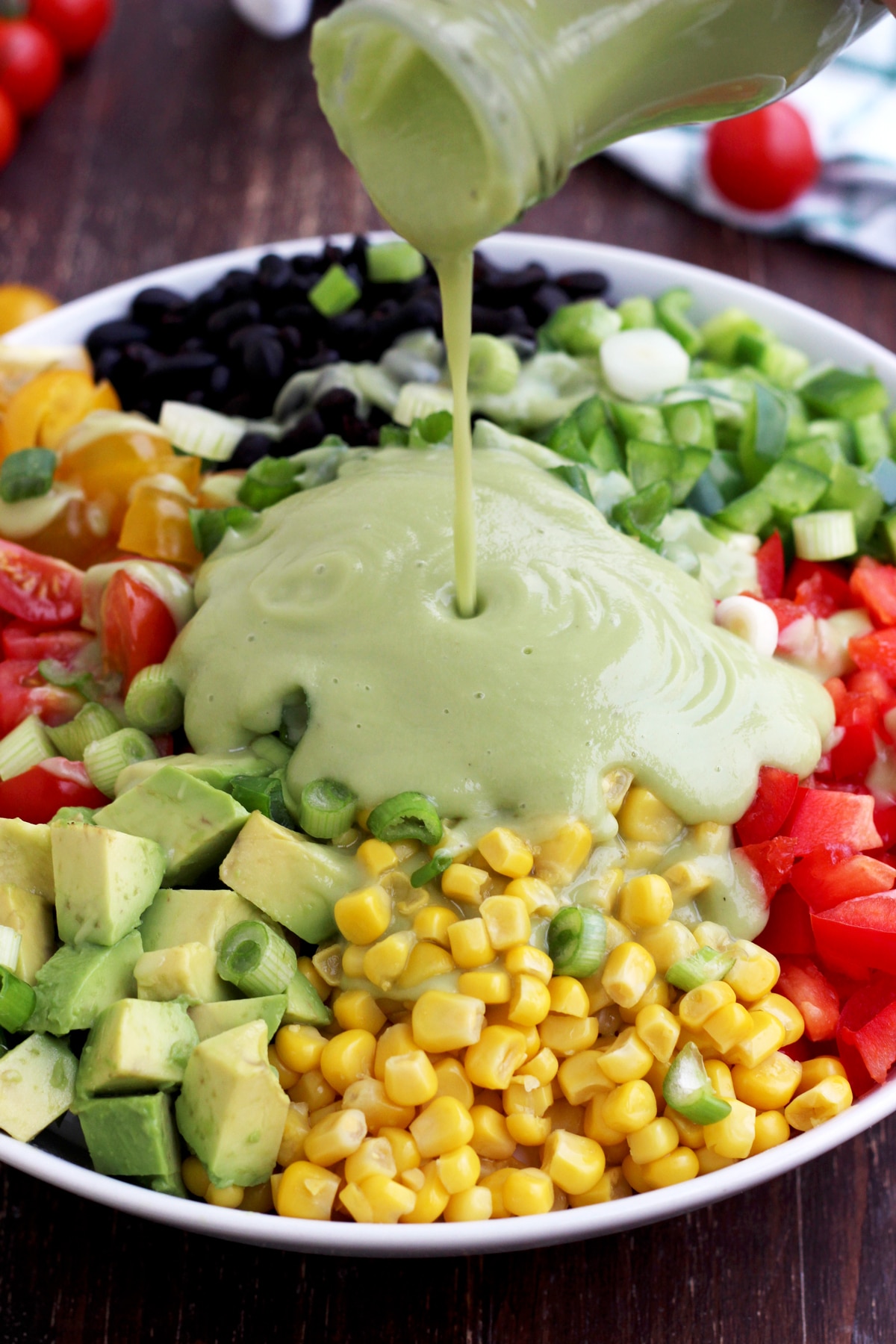 Vegan Mexican Chopped Salad from Happy Kitchen Rocks
Prep Time: 20 minutes Total Time: 20 minutes
Ingredients: olive oil, corn, bell peppers, tomatoes, red onion, scallions, avocado, blackens, avocado, water, olive oil, lime juice, cumin, ground pepper.
I love a good colorful salad like this one! You could definitely make this ahead of time for lunches, just cut open your avocado last minute so it is fresh.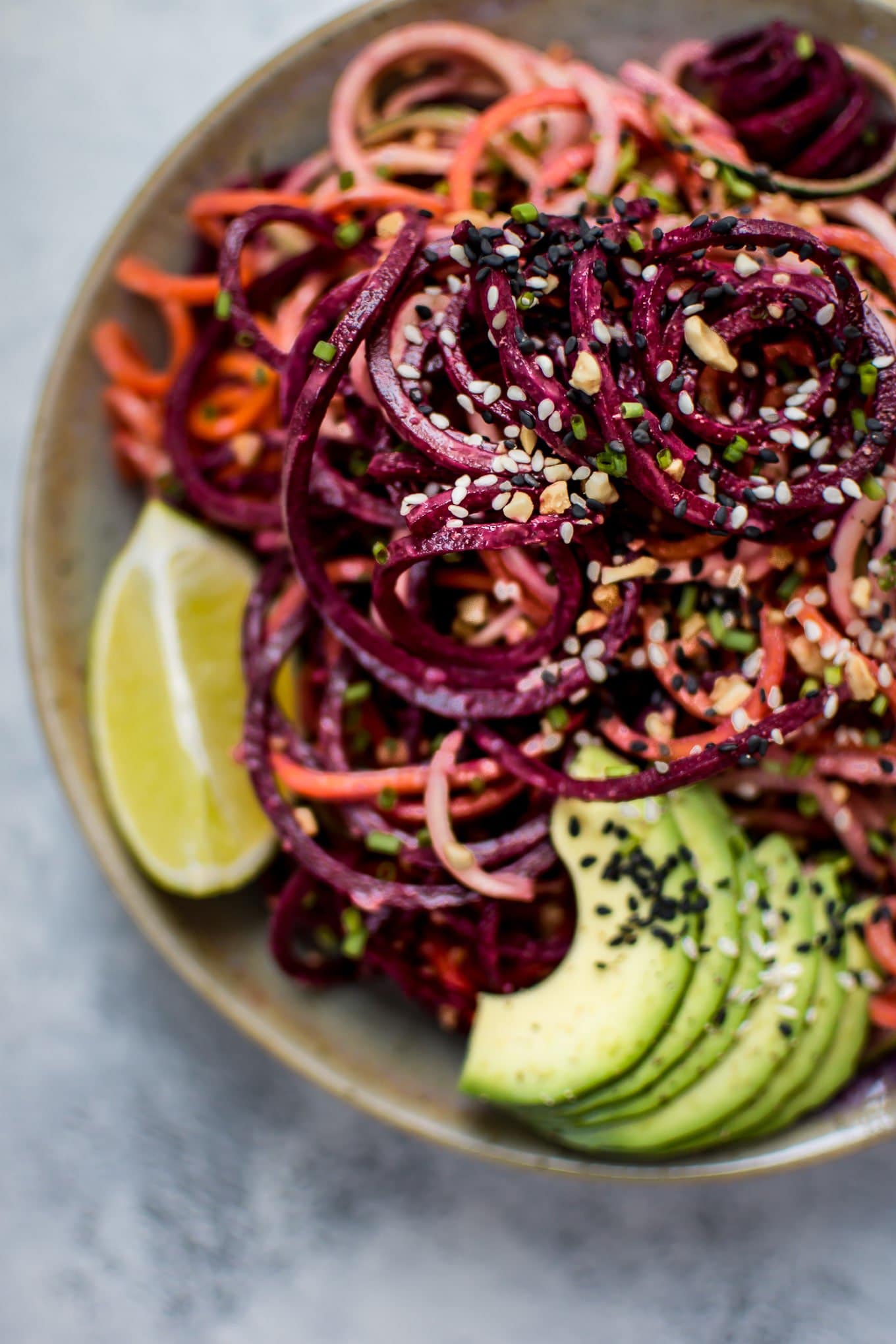 Vegan Rainbow Noodle Salad from Salt and Lavender
Prep Time: 25 minutes Total Time: 25 minutes
Ingredients: beets, zucchini, carrots, granny smith apple, avocado, chopped peanuts, chives, sesame seeds, lime wedges, soy sauce, sesame oil, rice vinegar, lime juice, garlic, brown sugar, avocado.
Spiralized salads are such a fun and unique way to enjoy fresh veggies. I love my paderno spiralizer but there are lots of different spiralizer options online or in kitchen stores. If you are trying to make more salads in your life getting one is a great investment.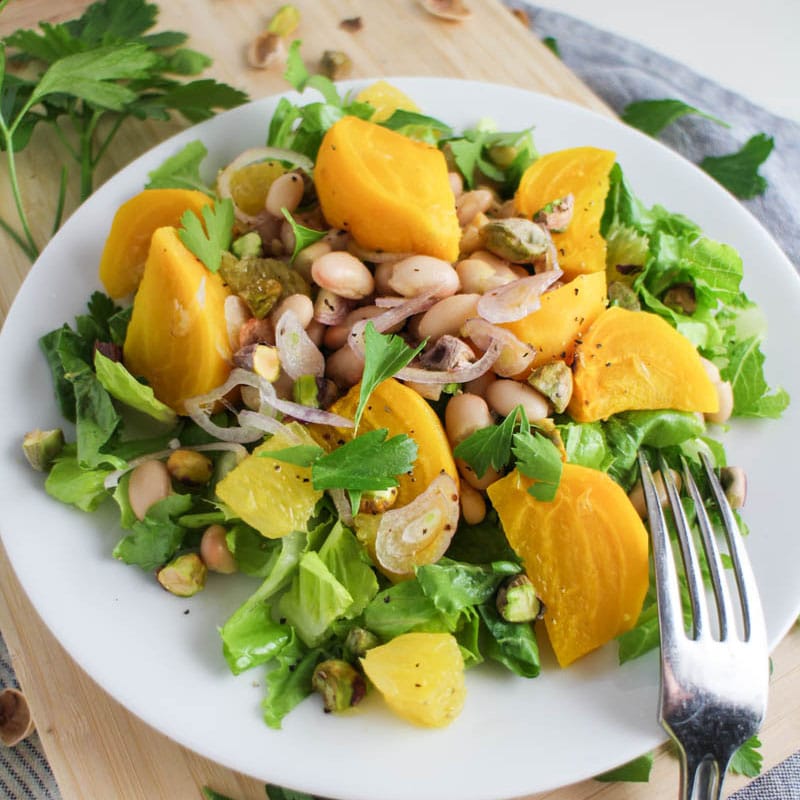 Golden Beet White Bean Orange Salad from Hello Fun Seekers
Prep Time: 10 minutes Cook Time: 45 minutes Total Time: 1 hour 5 minutes
Ingredients: golden beets, large orange, shallot, white beans, pistachios, parsley, white balsamic vinegar, salt, pepper, Romaine lettuce.
I love beet salads and I bet adding some avocado on this salad would be delicious!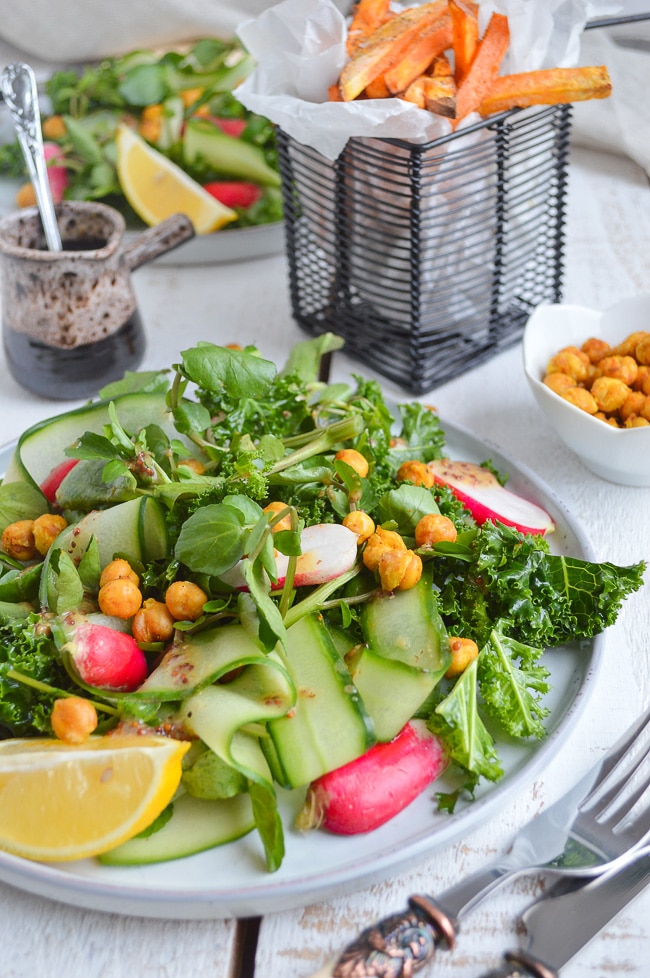 Green Kale Salad with Spicy Roasted Chickpeas from Fit Foodie Nutter
Prep Time: 10 minutes Cook Time: 15 minutes Total Time: 25 minutes
Ingredients: chickpeas, turmeric, coriander, cumin, paprika, salt and pepper, olive oil, kale leaves, lemon, mixed greens, cucumber, radishes, whole grain mustard, lemon, maple.
Talk about a great detox salad! I love all the healthy ingredients in this- kale, lemon, and cucumber.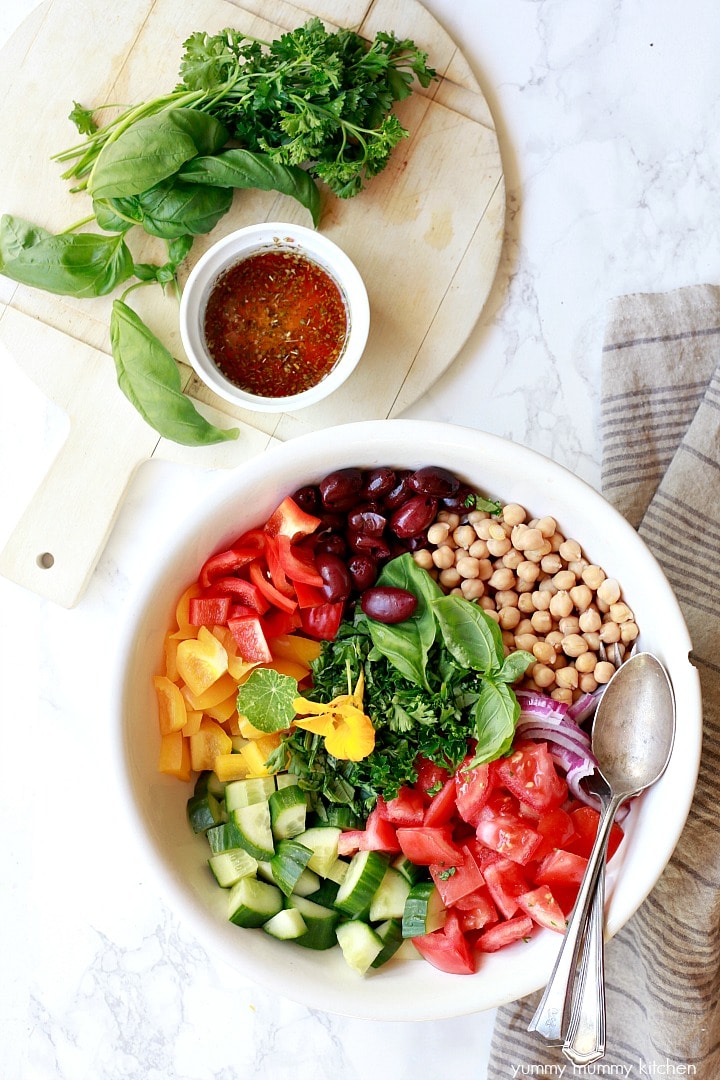 Vegan Greek Salad from Yummy Mummy Kitchen
Prep Time: 15 minutes Total Time: 15 minutes
Ingredients: cucumber, tomatoes, red bell pepper, yellow bell pepper, kalamata olives, red onion, chickpeas, fresh herbs, olive oil, red wine vinegar, dried oregano, salt and pepper.
I love having cucumbers in my salad! If you do too, you might also consider this cucumber halloumi salad from Ripe cookbook. Greek salads are always so refreshing, I normally add feta cheese to my Greek salads but I love that this version replaces those with beans to keep it Vegan.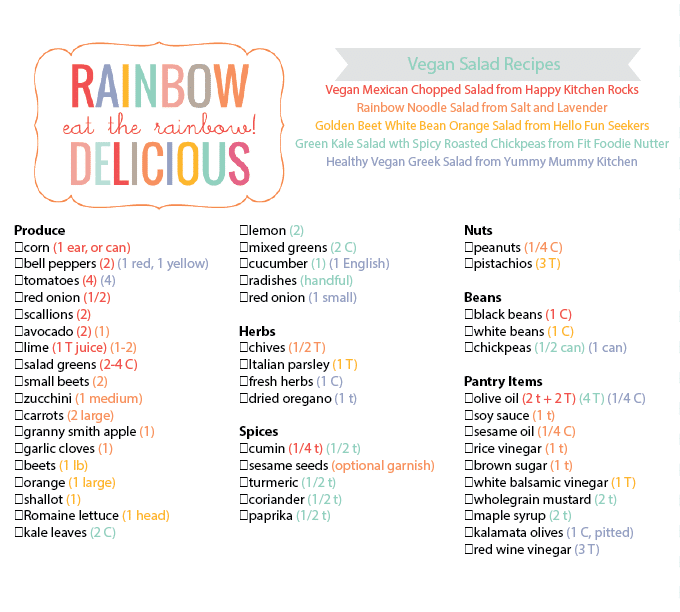 When you make these vegan salad recipes please share on instagram using hashtag #rainbowdelicious & and tag me at @rainbowdelicious , I'd love to see what you are up to in your kitchen!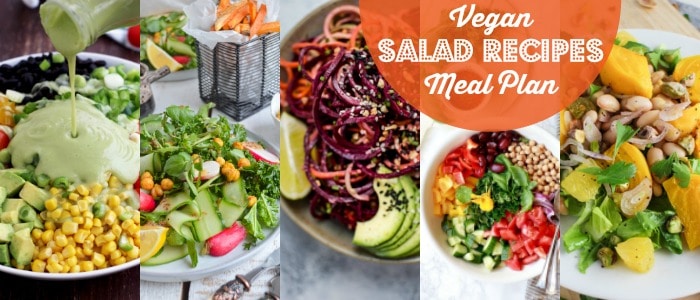 Some links on this site are affiliate links and I may earn a small commission at no cost to you. Thank you!
(Visited 3,551 time, 1 visit today)