For the month of January I'll be sharing five salads with you each Monday! In case you missed it, last week I shared five vegetarian salads as well as a simple chicken and sweet potato tortilla soup you can make in your slow cooker.
You might be wondering why I've decided to dedicate this week to kale salads? We've all heard how kale is a superfood but sometimes I admit that it can be a little intimidating to know what to do with besides just throwing it in a blender for a smoothie. The five kale salad recipes in this week's meal plan Monday are simple to make, and use colorful seasonal ingredients and amazing flavors so you can try out a little more kale in your life this week, and maybe even this year. If you ,like me, have been intimidated by kale then I hope after this week you will be comfortable with picking it up at the Farmer's market or grocery store and knowing what to do with it.
Here is the grocery shopping printable for this week's kale salad recipes from different amazing food blogs. Don't worry, even if you don't want to create all five, it is color coded so it is simple to buy just the ingredients that you will need.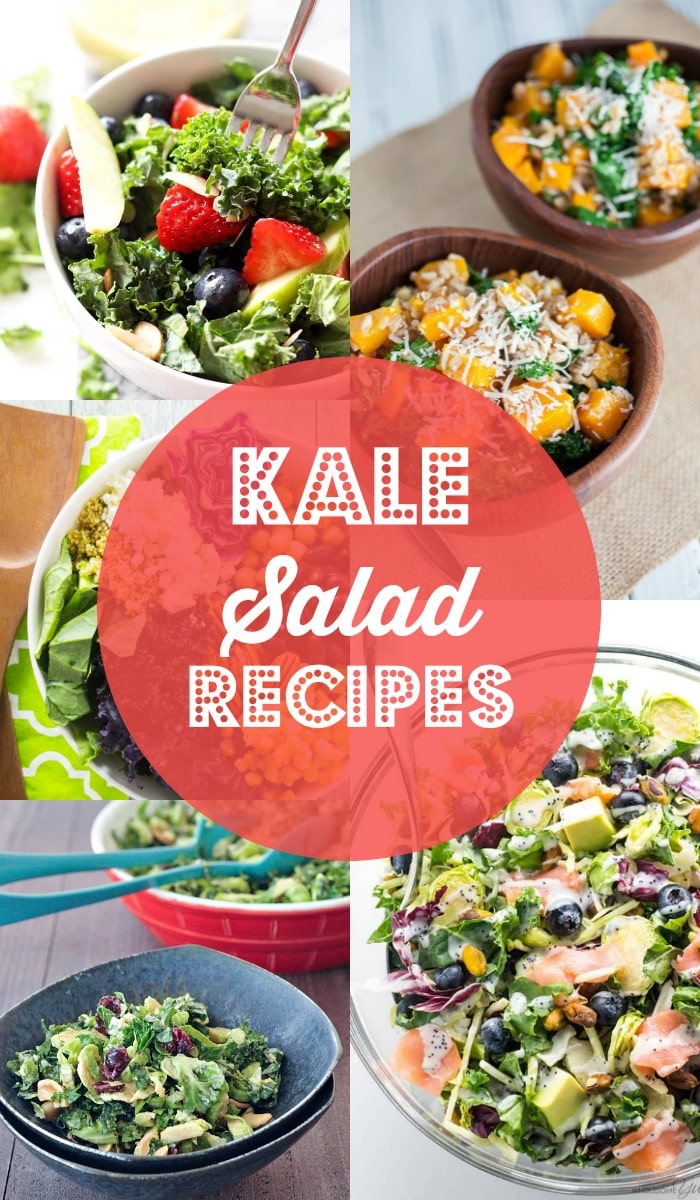 Kale Salad Recipes Meal Plan with Free Printable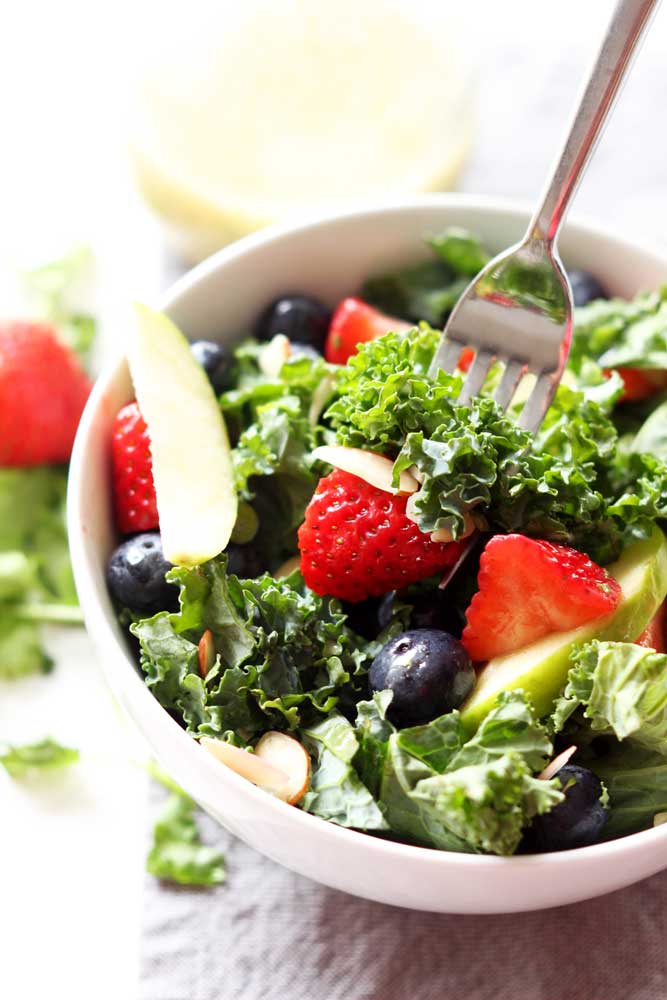 Apple and Berry Chopped Kale Salad with Citrus Vinaigrette from Recipes worth Repeating
Prep Time: 15 minutes  Total Time: 15 minutes
Ingredients: kale, cilantro and parsley, mint, strawberries, blueberries, broccoli, apple, green onion, silvered almonds, avocado, pumpkin seeds, cooked chicken breast. Dressing: lemon juice and zest, orange juice and zest, honey, dijon, basil, olive oil, salt and pepper to taste.
I love how this recipe sneaks a little broccoli in. You can skip the chicken breast entirely if you want this salad to be vegetarian or you can even pick up the pre-cooked chicken breasts from Trader Joes that are perfect for salads.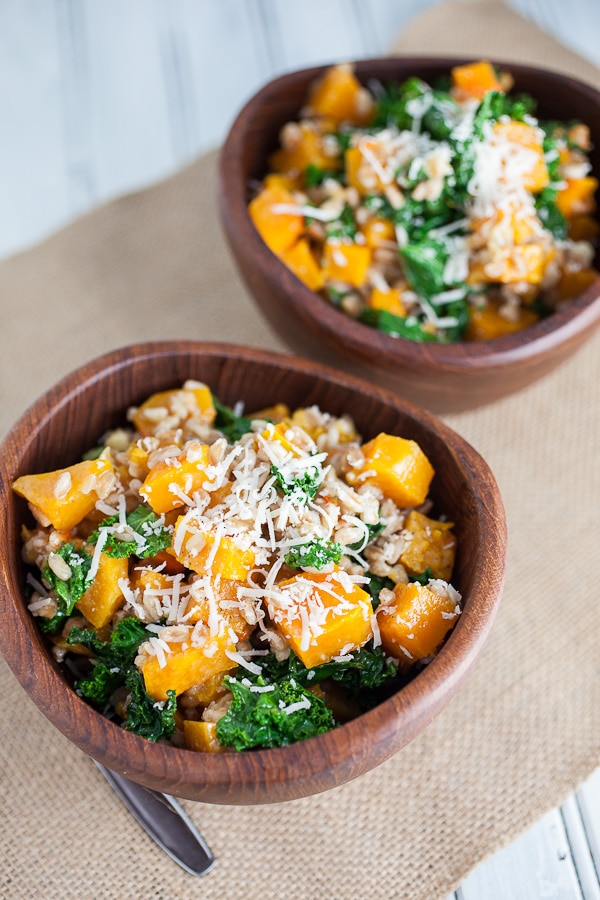 Butternut Squash, Kale and Farro Salad from The Rustic Foodie
Prep Time: 15 minutes Cook Time: 30 minutes Total Time: 45 minutes
Ingredients: dijon, maple, vegetable stock, butternut squash, kale, garlic, quick cook farro, olive oil, salt and pepper, parmesan cheese.
Roasted butternut squash is such a welcome addition to salads in colder weather. And farro is a grain that I always forget about, but it works perfectly with kale and roasted butternut squash. You can buy the quick Farro and Trader Joe's carries 10 minute farro.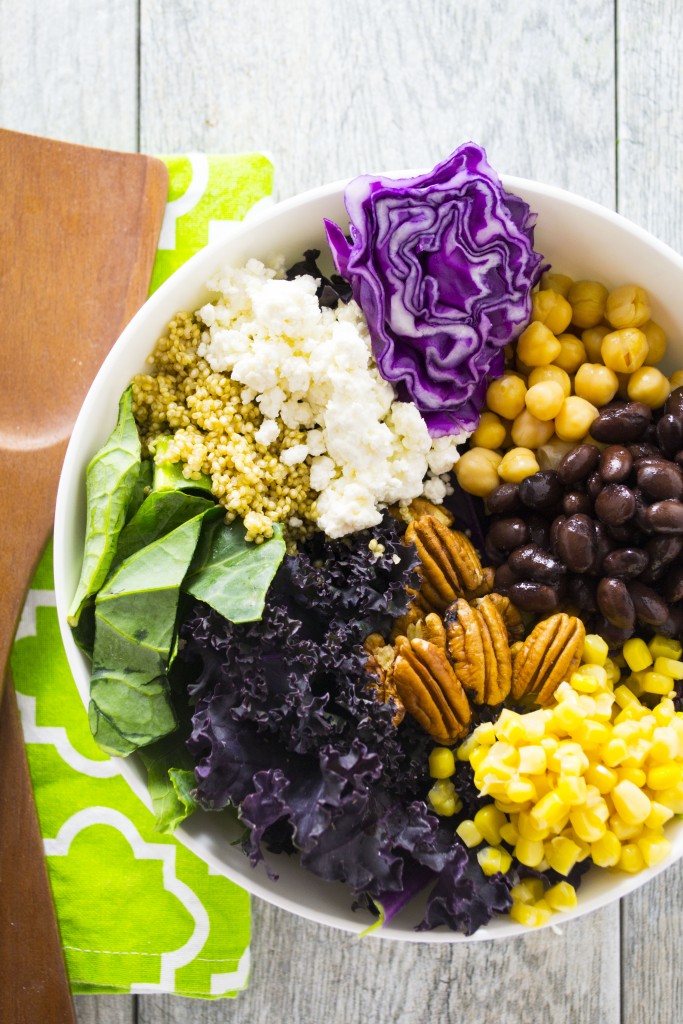 Feel Good Kale Salad from Pack Momma
Prep Time: 15 minutes Total Time: 15 minutes
Ingredients: purple kale, chopped greens, purple cabbage, sweet corn, black beans, chick peas, goat cheese, cranberries, pecans, quinoa.
Talk about a super healthy salad! This recipe would lend will to pre packaged lunches ( with containers like these for the salad and these for the dressing).This salad is delicious topped with your favorite citrus vinaigrette.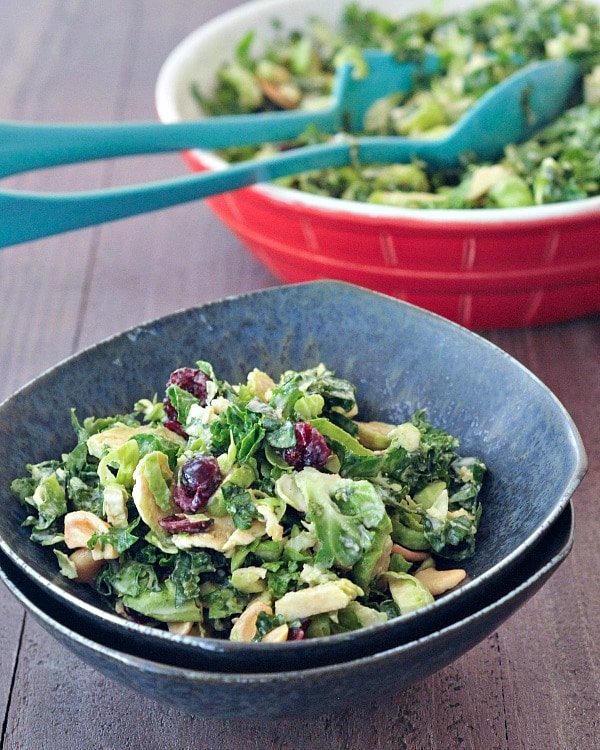 Lemony Brussels and Kale Chiffonade Salad from Spabettie
Prep Time: 15 minutes Total Time: 15 minutes
Ingredients: lemon juice and zest, dijon mustard, maple, apple cider vinegar, sea salt, Brussels, kale, raw cashews, dried cranberries.
This salad doesn't just have kale, but also Brussels sprouts! If you haven't had Brussels sprouts in a salad yet I highly recommend it, and I recommend using a mandolin to get the Brussels sliced thin. This salad is dairy-free, egg-free, soy and oil-free, gluten free and vegan! So if you are hosting a dinner party soon with guests who have any of those diet restrictions this salad would be a great addition to your menu.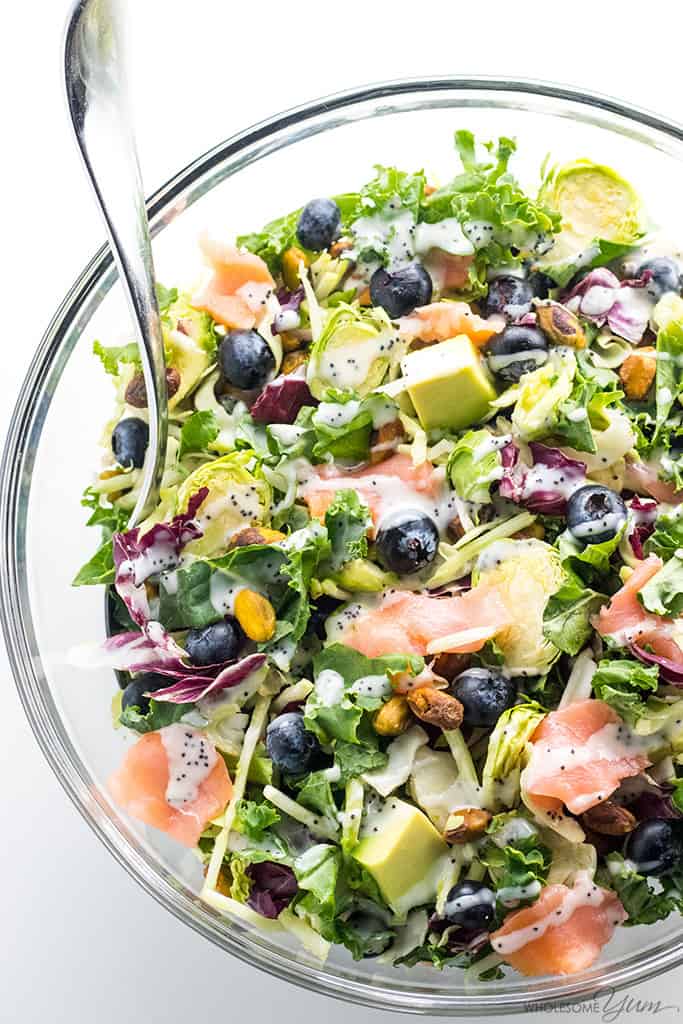 Salmon Kale Superfood Salad Recipe with Creamy Lemon Vinaigrette  from Wholesome Yum
Prep Time: 5 minutes  Total Time: 5 minutes
Ingredients: sweet kale salad mix, smoked salmon, blueberries, pistachios, avocado, mayonnaise, olive oil, lemon juice, garlic powder, honey, poppyseeds.
This superfood salad has all the good stuff- kale, salmon, blueberries, avocado and pistachios. I love how full of flavor this salad is and if you're in a pinch you can use whatever salad dressing you have on hand instead of making your own.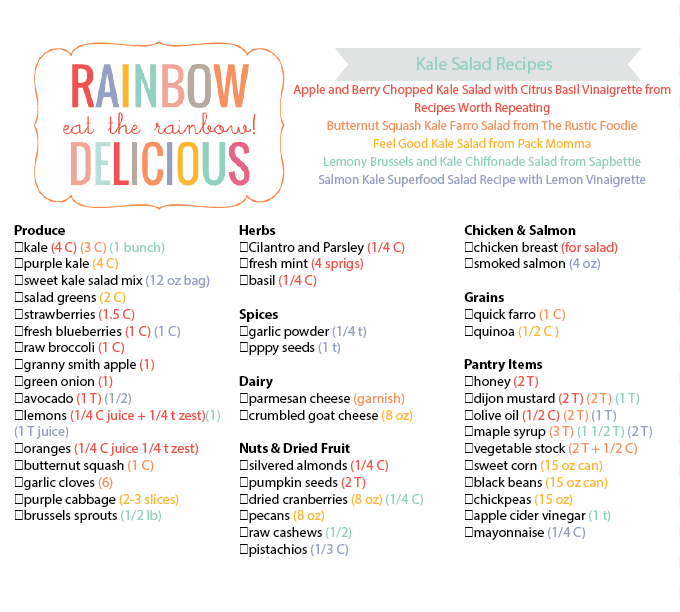 WHen you make these kale salad recipes please share on instagram using hashtag #rainbowdelicious & and tag me at @rainbowdelicious , I'd love to see what you are up to in your kitchen!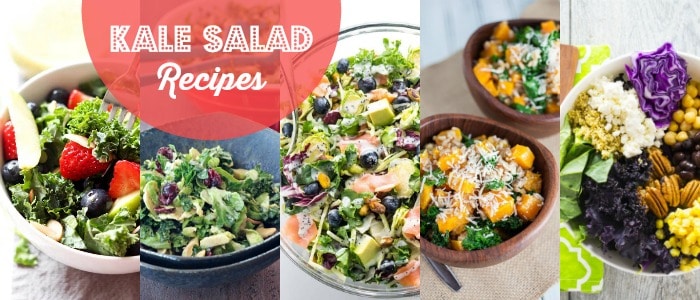 Some links on this site are affiliate links and I may earn a small commission at no cost to you. Thank you!
(Visited 740 time, 1 visit today)