It has taken me a lot of trial and error with multiple granola recipes, but I have finally discovered an easy homemade granola recipe that works for my family that I'm excited to share with you. This recipe is from a generous friend of mine named Cami that I met when I lived in Boulder, Colorado. Cami  was kind enough to share it with me when she noticed on instagram that I was experimenting with granola-making.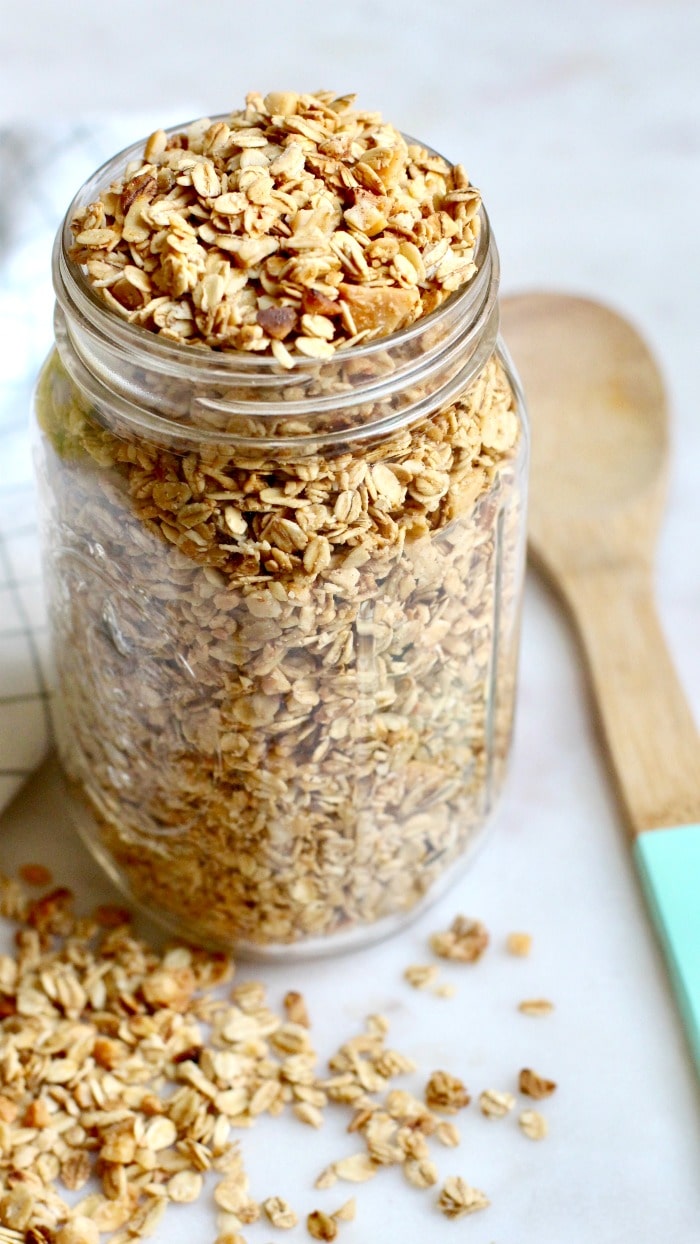 The reasons why I love this recipe more than any other one I've tried is that it has no refined sugar (hello maple syrup), it only needs six ingredients, and it makes my house smell amazing! I'll be honest, my kids don't love it as much as the sugar-packed granola I used to buy from Trader Joe's but it still gets the job done in our morning breakfast parfaits and breakfast bowls. This granola is also a nice DIY gift idea, although we always eat it before I get the chance to share! I normally double the recipe and use two baking pans that I rotate half way through. I hope you enjoy it as much as I do, thanks again Cami for letting me share this awesome recipe!

Easy Homemade Granola Recipe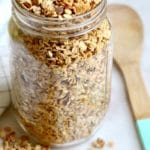 Easy Homemade Granola Recipe
This easy homemade granola recipe has no refined sugar (you use maple syrup or honey), it only needs six ingredients, and it makes the house smell amazing! It is perfect for breakfast and can be flavored with vanilla, maple or almond extract.
Instructions
Mix old fashioned oats, chopped nuts, oil, maple syrup, salt, cinnamon, and vanilla in mixing bowl.

Spread mixture out evenly on baking sheet and bake in preheated oven for 45-50 minutes, stirring once after about 25 minutes.

When it is finished baking, let cool and then store in airtight container.
Nutrition Facts
Easy Homemade Granola Recipe
Amount Per Serving
Calories 351
Calories from Fat 99
% Daily Value*
Total Fat 11g 17%
Sodium 21mg 1%
Potassium 383mg 11%
Total Carbohydrates 51.9g 17%
Protein 10.5g 21%
* Percent Daily Values are based on a 2000 calorie diet.

If you are wondering how you can tell when the granola is finished baking try this tip: take a spoonful of granola out of the oven and give it a minute to let it cool. If it is crispy enough then your granola is done, if it is still soft then it needs more time.

If you make this easy homemade granola recipe please share on instagram using hashtag #rainbowdelicious & and tag me at @rainbowdelicious , I'd love to see what you are up to in your kitchen!

Some links on this site are affiliate links and I may earn a small commission at no cost to you. Thank you!


(Visited 423 time, 1 visit today)