This homemade monkey bread recipe is the perfect weekend activity to make with kids! Watch the homemade dough rise, dip the little dough balls in butter and cinnamon sugar, and enjoy this satisfying and rich treat pull apart style!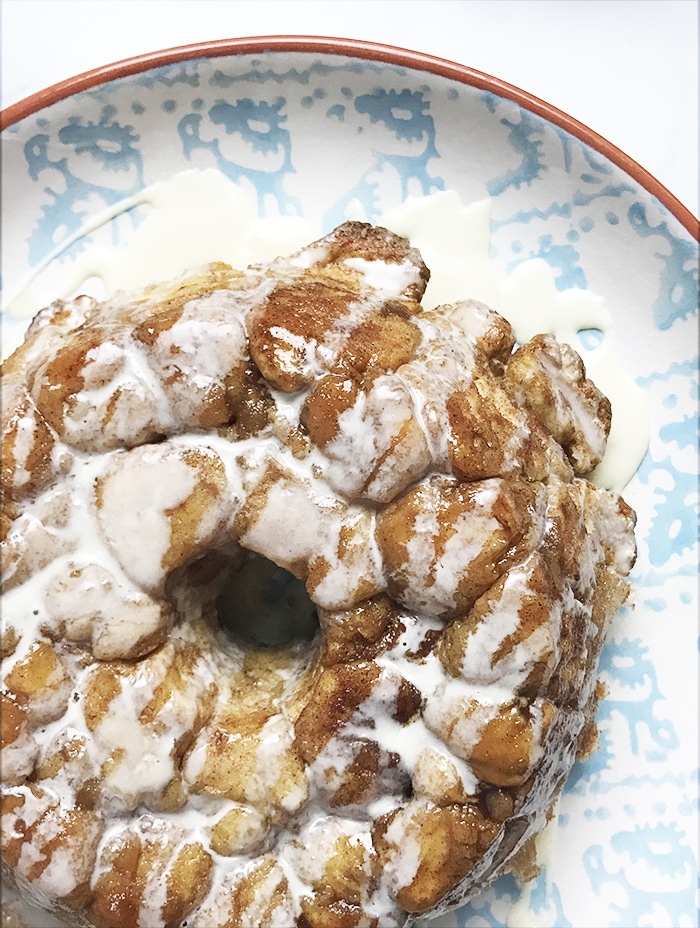 While sheltering-in-place our family, like many families, has had the extra time for baking. This is monkey bread recipe is wonderful family baking project that kids will love because it is pretty hands on and loaded with sugar. I looked at a handful of recipes and decided to go with the version from Sallys Baking Addiction.
Directions
The directions for this homemade monkey bread recipe takes up to a few hours in total but each step is relatively simple.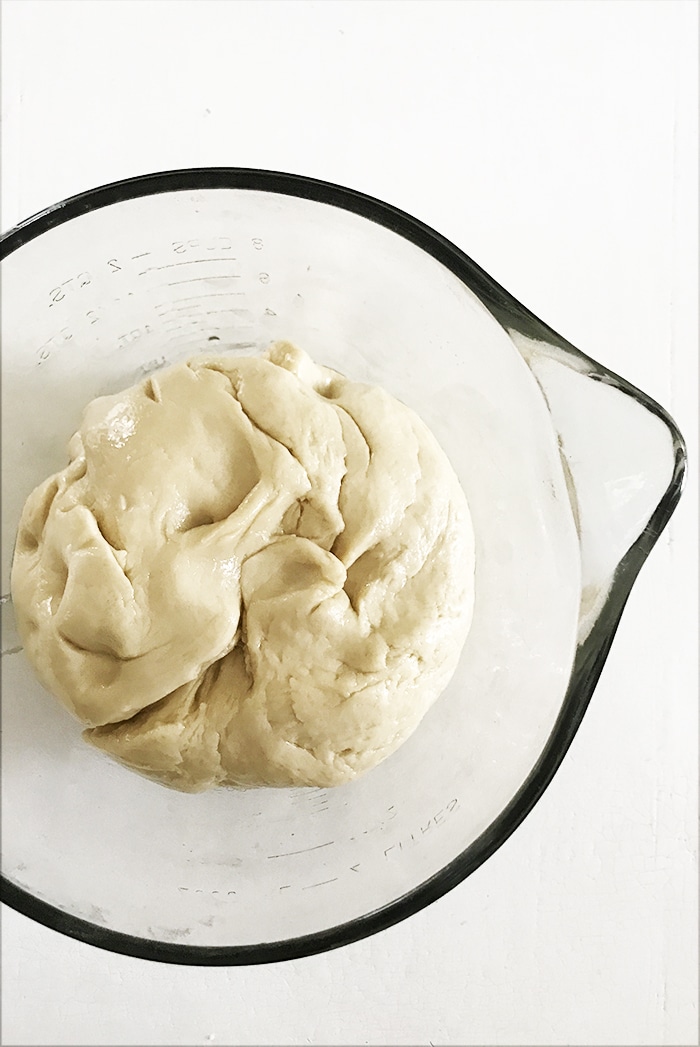 First, you make the homemade dough and let it rise for a few hours. (Use a large bowl! I should have used a bigger bowl than I did for this step, the dough gets so big!!) Then, you punch dough down and break off dough bites to roll in butter and cinnamon sugar.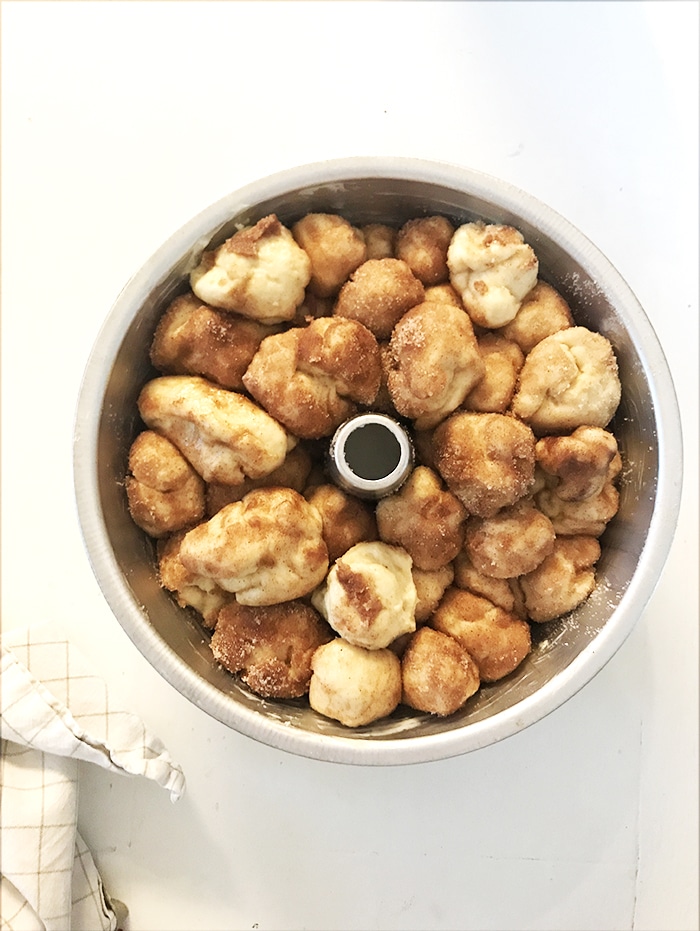 Load up the bundt pan with these sugary bites, let bites rise for twenty minutes, and then pour over the brown sugar glaze. Pop in the oven and bake for about 40 minutes. Once it is out of the oven, invert onto serving platter, add a little icing, and enjoy!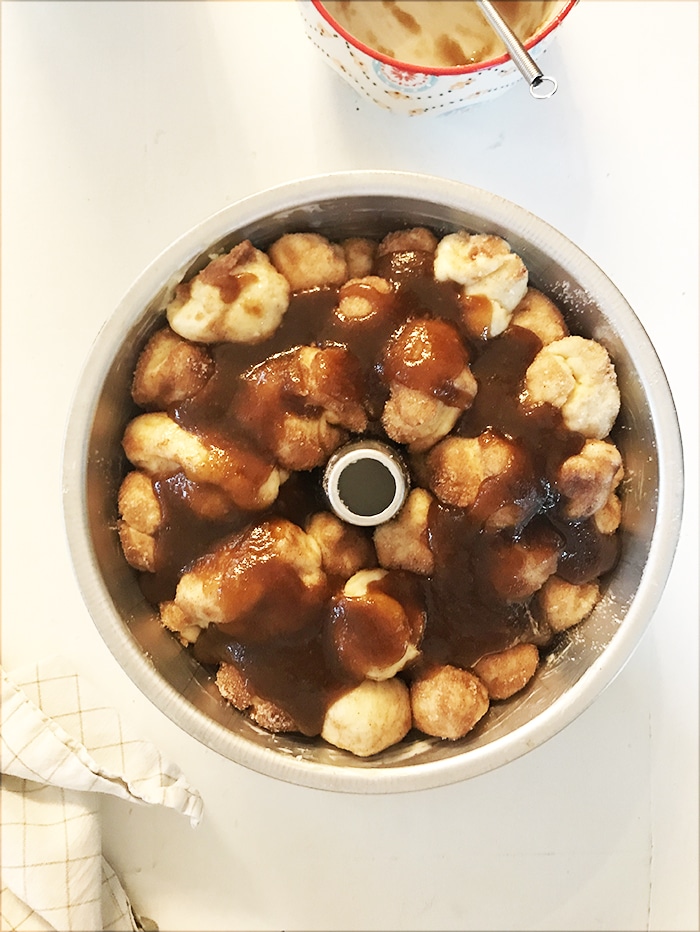 This monkey bread is a ridiculously indulgent treat. I'm usually aiming to be on the healthier side of things so my kids could hardly believe that I was letting them bake and eat such a sugary treat. My five year old kept repeating, "thank you Mom! Just… thank you!!"  while helping to make and eat our latest favorite guilty pleasure!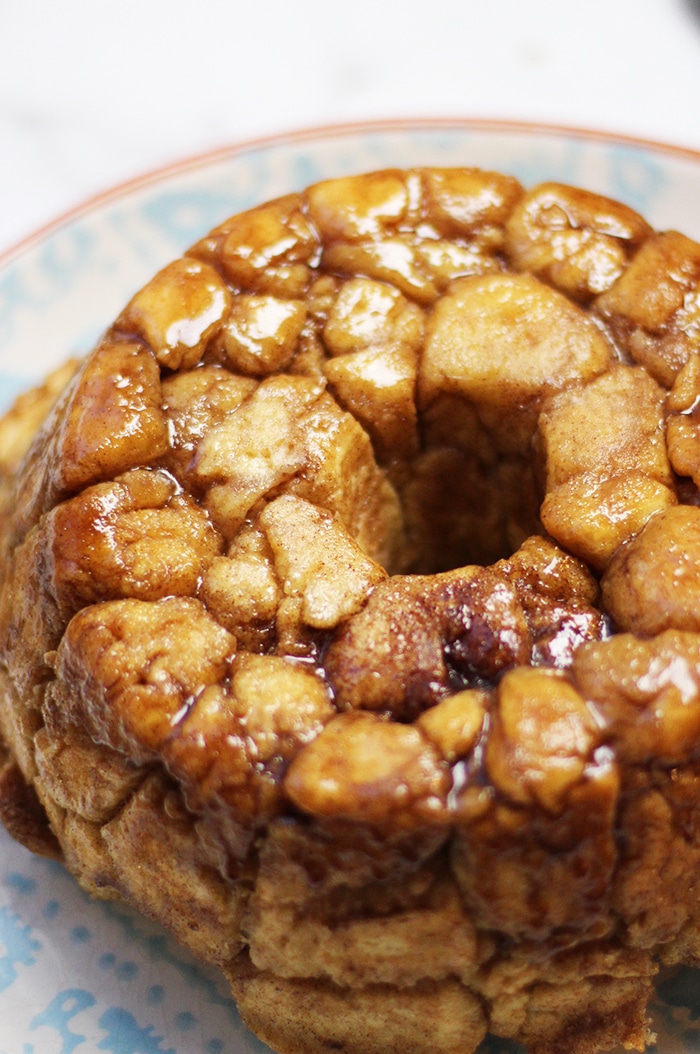 Ingredients for Monkey Bread Recipe
Milk is used in the dough, I used whole organic milk.
Yeast for the dough. You can use a packet of yeast or just measure out 2 1/4 teaspoons.
Sugar lots and lots of sugar!!
Eggs for the dough.
Salt is used in the dough but a little bit of flakey salt would be good as a finishing touch too!
All Purpose Flour can be hard to come by lately but you can't make this recipe without it!
Brown Sugar mixed with butter makes such a delicious caramel like flavor!
Vanilla Extract adds just the right amount of vanilla flavor.
Confectioner's Sugar to make the Icing. Honestly you don't really need the icing, but why not!?
Cream or whole milk is used in the icing.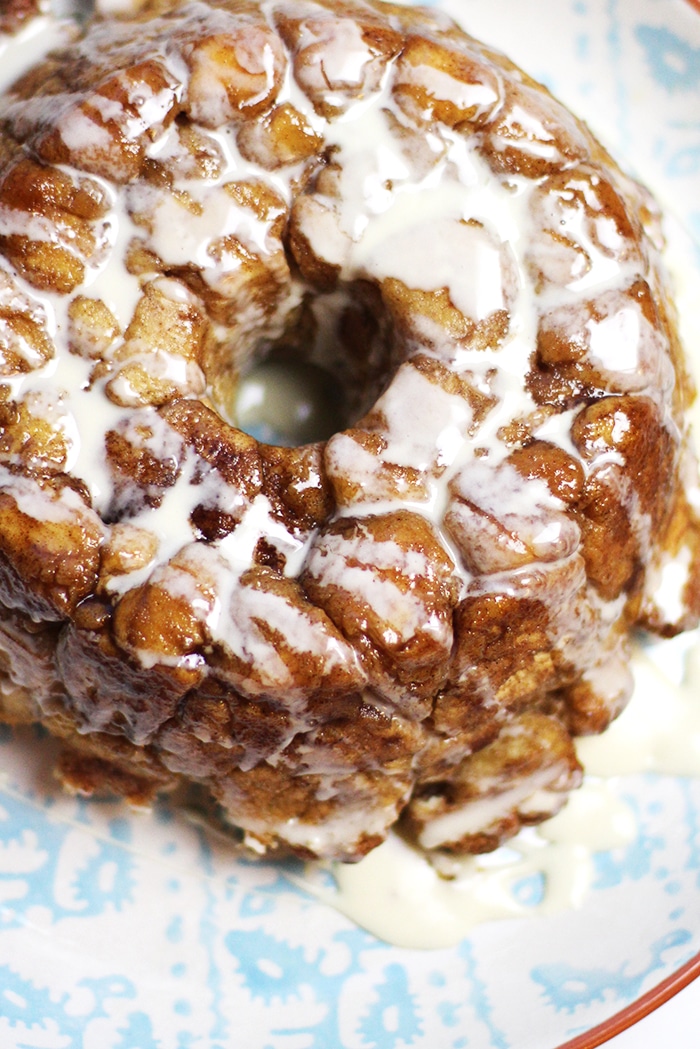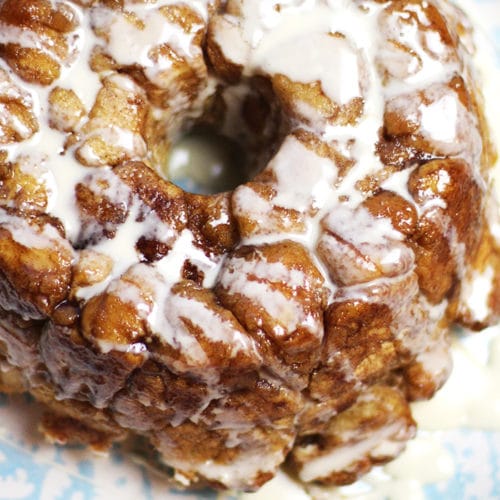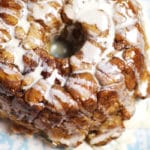 Monkey Bread Recipe
This homemade monkey bread recipe is the perfect weekend activity to make with kids! Kids love to watch the dough rise, dip the little dough balls in butter and cinnamon sugar, and enjoy this satisfying and rich treat pull apart style! Recipe adapted from Sally's Baking Addiction. 
Prep Time
2
hours
40
minutes
Total Time
3
hours
20
minutes
Ingredients
Instructions
Make the Dough
Using a standing electric mixer, combine warm milk, yeast, and sugar using the paddle or dough hook attachment. Cover and let it sit for 5 minutes. 

Add in eggs, butter, salt, and 1 cup flour. Beat for about a minute and then scrape down sides of the bowl using a spatula. Add the remaining flour and beat for a few more minutes. Eventually the dough should bowl away from the sides of bowl in a clean way. Add extra flour if needed, about a tablespoon at a time until sides of the bowl are clean. 
Knead the Dough
Beat for two more minutes in the mixer to knead the dough.
Let Dough Rise
Place dough in a large greased bowl and cover with a clean kitchen towel. Let it rise in a slightly warm environment for about two hours, or until doubled in size. I often let mine raise in a preheated oven of 150 F degrees. Before I put the dough in the oven I turn the oven off and if it feels too hot, I leave the door slightly open. 
Assemble the Monkey Bread
Grease your large bundt pan. 

Melt 1/2 cup butter and set aside in a bowl. In another bowl add granulated sugar, a pinch of salt, and cinnamon and mix well. 

Set the risen dough on the counter, remove the covering, and punch down the down to release the air. 

Pinch of pieces of dough and roll into balls, a little bigger than an inch in diameter. Dip each individual dough ball into the melted butter, and then the cinnamon sugar. Place sugar coated dough ball into the bundt cake and repeat with the remainder of the dough. 

Cover the bundt pan with a clean kitchen towel and let rest for about 20 minutes. 
Make Brown Sugar Glaze + Bake
Preheat the oven to 350 F.

Make brown sugar glaze by melting 1/4 cup butter in small saucepan. Add in brown sugar, cinnamon, and a pinch of salt and whisk to combine. 

Pour brown sugar glaze over the monkey bread.

Place the bundt pan over a baking sheet, so if the monkey bread overflows at all the pan will catch the pieces. Bake monkey bread for 35-40 minutes, or until the top is golden brown and the center pieces are baked through.  

Take out of the oven and let cool for about 5-7 minutes and then invert onto serving platter of choice. 
Ice the Monkey Bread
Whisk confectioner's sugar, cream or whole milk, and vanilla together.

Drizzle icing over the monkey bread platter. Serve and Enjoy!
Nutrition Facts
Monkey Bread Recipe
Amount Per Serving
Calories 535
Calories from Fat 171
% Daily Value*
Fat 19g29%
Cholesterol 75mg25%
Sodium 339mg15%
Potassium 144mg4%
Carbohydrates 85g28%
Protein 7.8g16%
Calcium 65mg7%
Iron 3mg17%
* Percent Daily Values are based on a 2000 calorie diet.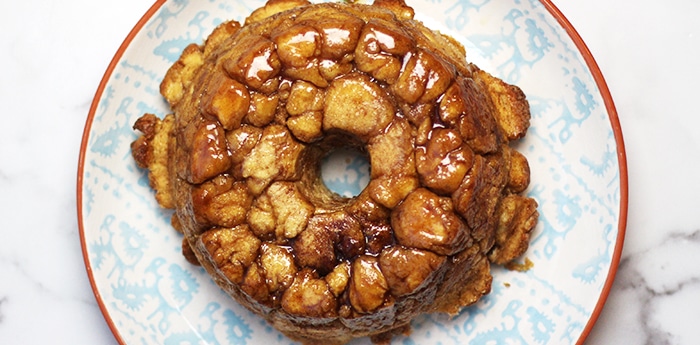 You Might Also Enjoy These Posts/Recipes:
If you make this monkey bread recipe please share on instagram using hashtag #rainbowdelicious & and tag me at @rainbowdelicious , I'd love to see what you are up to in your kitchen!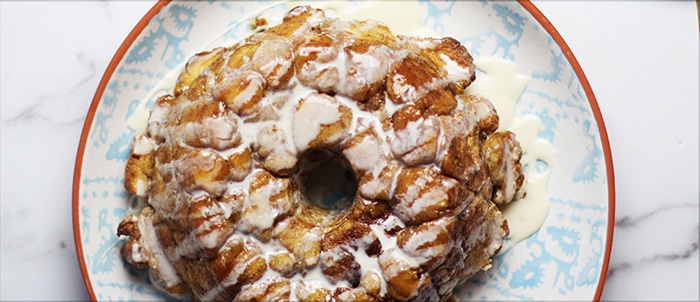 Some links on this site are affiliate links and I may earn a small commission at no cost to you. Thank you!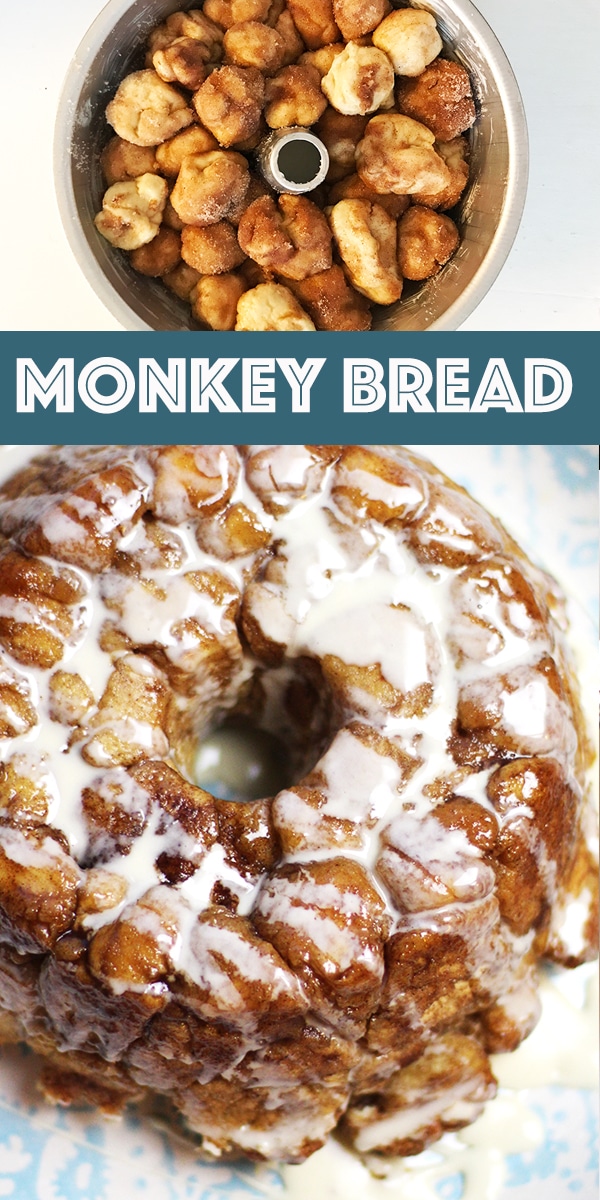 (Visited 2,111 time, 1 visit today)