Impress your family and friends with one of these easy mango desserts at your next gathering. Mangoes are one of the most popular fruit for a reason and their sweet, tropical and, juicy flavor tastes amazing in a variety of desserts.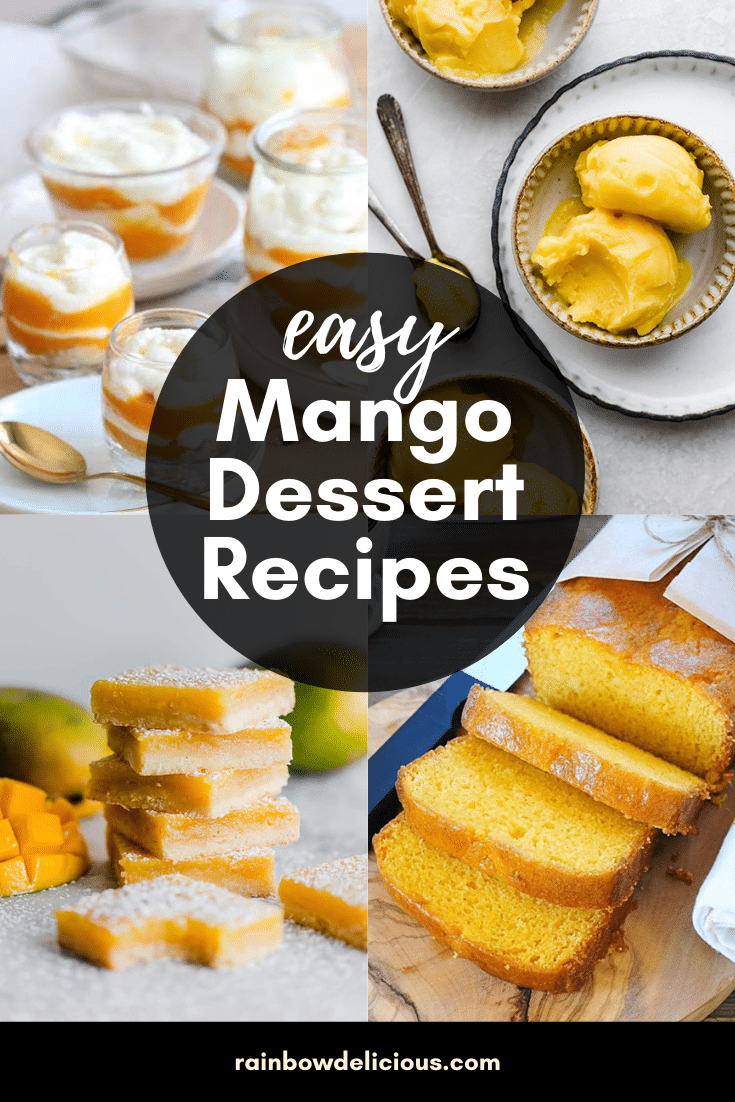 Easy Mango Desserts
Frozen Mango Desserts
You'll love these cold mango desserts! Ice cream and ice pop are easy mango dessert recipes because they are simple to make and can be made ahead of time.
1. Mango Sorbet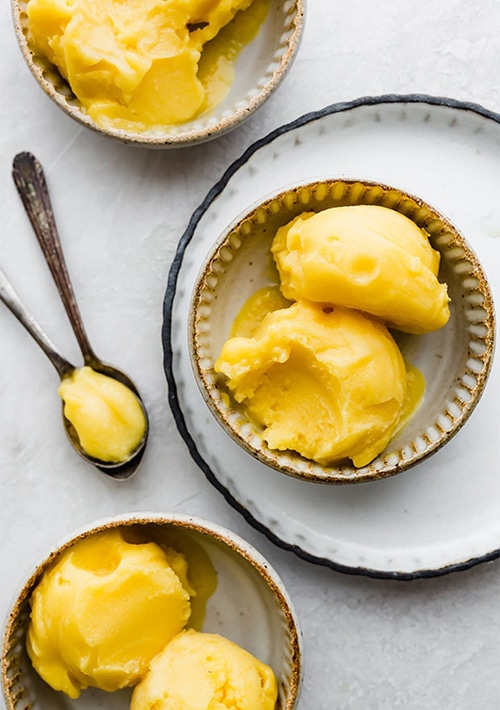 This ice cold, refreshing mango sorbet from Salt & Baker is the perfect treat to enjoy on hot summer days! This sorbet is rich and creamy, I guarantee it'll be the best sorbet you'll ever have!
2. Three Ingredient Mango Ice Cream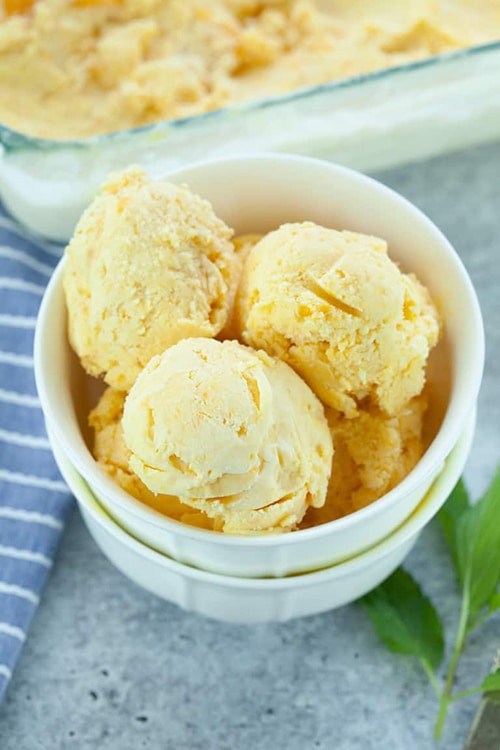 Learn how to make mango ice cream by Recipes from a Pantry in 10 minutes and with just 3 ingredients. This homemade mango ice cream is creamy, dreamy, and full of amazing tropical fruit flavor.
3. Mango Popsicles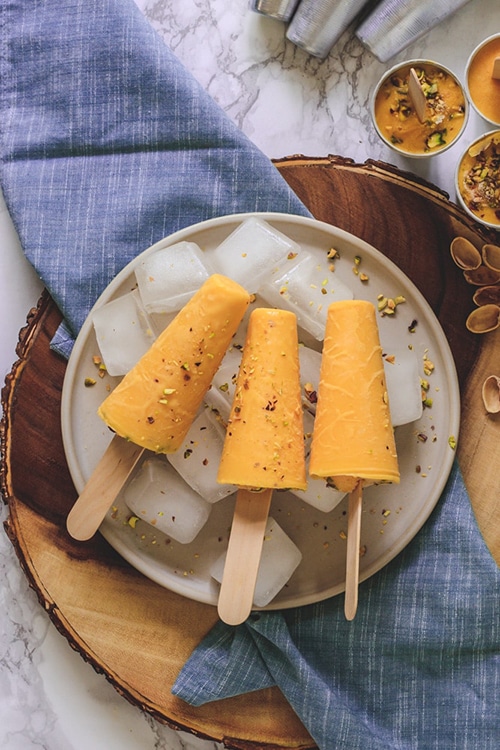 A homemade mango kulfi recipe from Spice Up the Curry that everyone will love! This popsicle is super creamy, rich, dense, loaded with mango flavor and so much better than store-bought! Try it and soon it will become your go-to summer treat.
4. Mango Coconut Striped Popsicles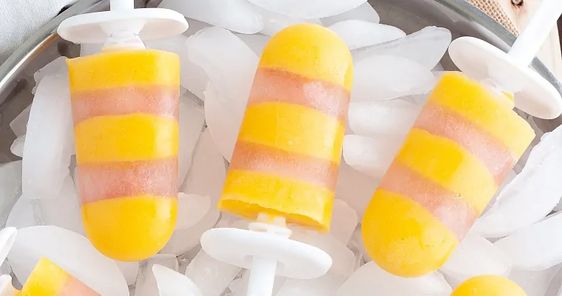 This sweet and refreshing all natural mango popsicle recipe by Plant Well is easy, free of added sugars, and striped with pink coconut water layers!
5. Chocolate Drizzled Mango Yogurt Pops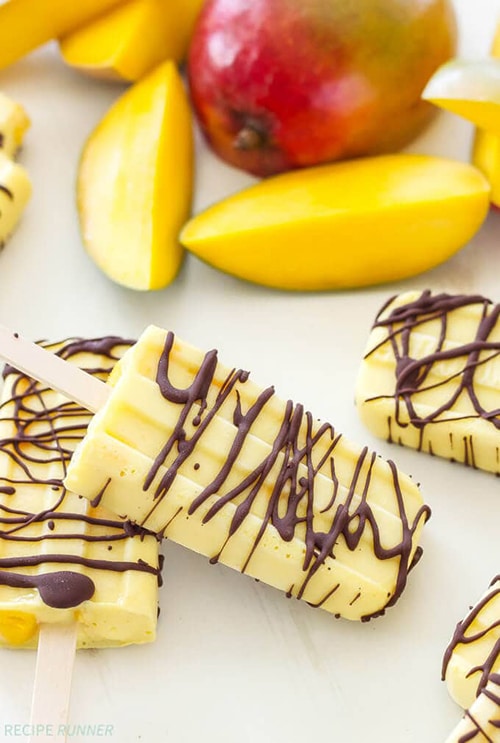 Chocolate Drizzled Mango Yogurt Pops from Spoonful of Flavor are a sweet, frozen treat to cool off with on a hot summer day! Made with healthy ingredients they're perfect for a snack, dessert or even breakfast!
6. Mango Paletas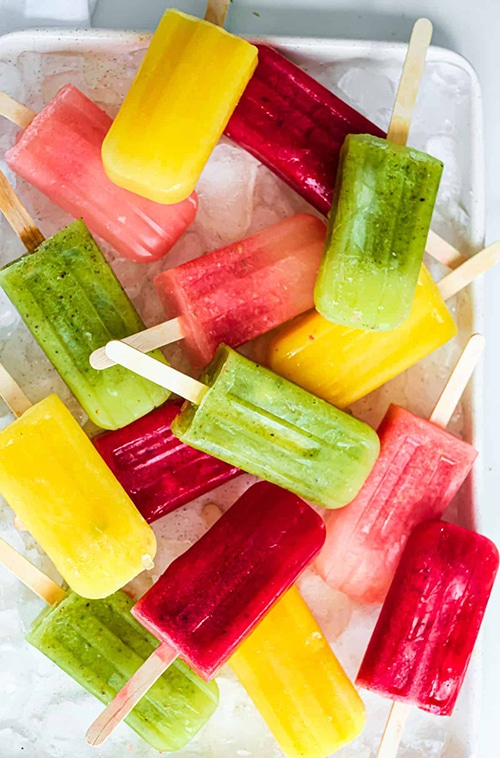 These colorful Mexican Paletas from Budget Delicious are made with only four ingredients, how easy is that? These fruity popsicles are so refreshing on hot summer days and a stress-free dessert and snack since you can make them in advance. This recipe teaches how to make mango paletas, as well as strawberry, watermelon and cucumber/kiwi flavors; You can try it with practically any fruit though!
No-Bake Easy Mango Desserts
When the weather is hot no-bake recipes feel like the most simple and easy mango desserts to try.
7. Mango Chia Seed Pudding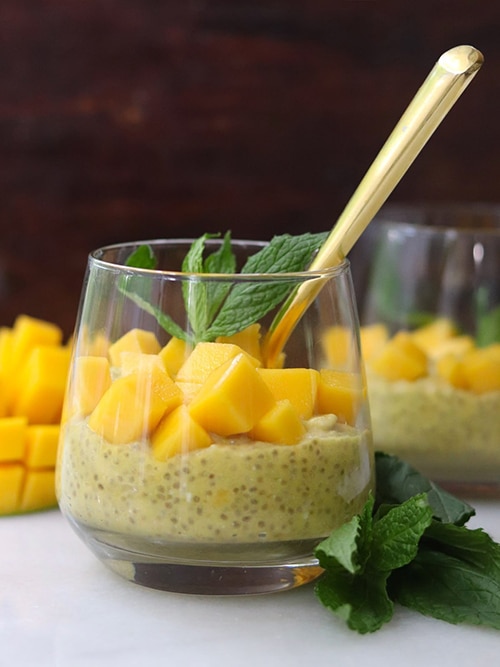 This Mango Chia Pudding recipe from Cook at Home Mom is great for a healthy dessert or side dish. Made with just three ingredients – mango, chia seeds, and coconut milk – it's lightly sweet, super delicious, and easy as can be, not to mention Paleo and Vegan!
8. No Bake Mango Pie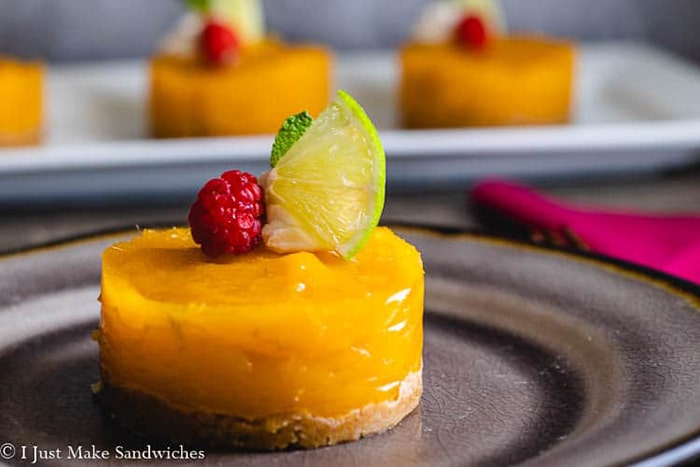 This No-Bake Mango Pie Recipe from I Just Make Sandwiches is all you'll need for warm months! With hints of lime, this mango pie will send you on a mental vacation, away from it all.
9. Mango Cheesecake Parfait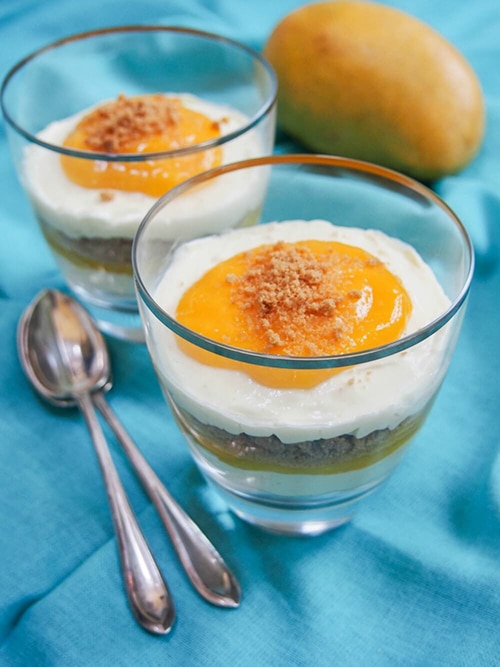 Just a short list of ingredients and a few minutes is all you need for this delicious Mango Cheesecake Parfait by Caroline's Cooking.
10. Mango Mousse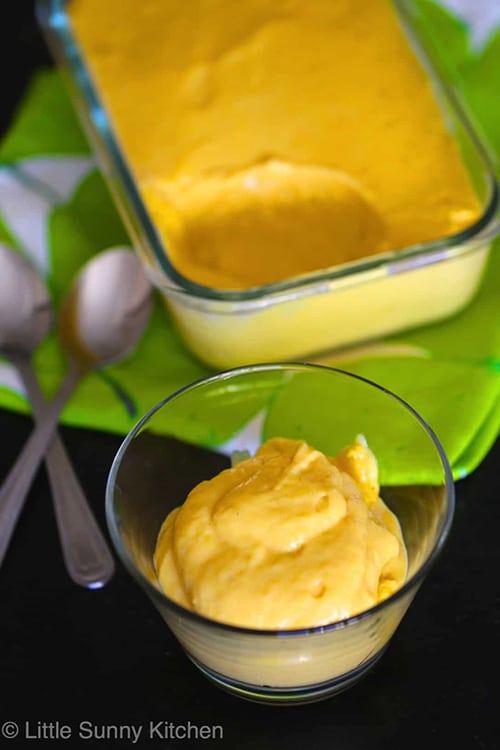 It doesn't get simpler than this 3 ingredient, no bake eggless mango mousse from Little Sunny Kitchen. You will love this quick mango dessert!
11. No Bake Mango Cup Dessert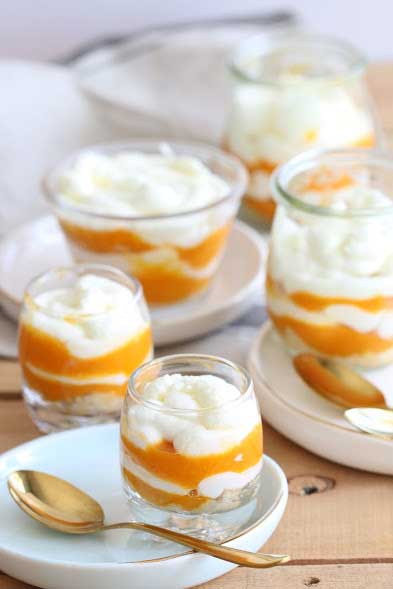 These mango cup desserts by Renana's Kitchen are pretty, delicious and so so simple!
Indian Mango Dessert Recipes
From mango pudding to mango peda, mango desserts from India will satisfy your mango cravings.
12. Mango Pudding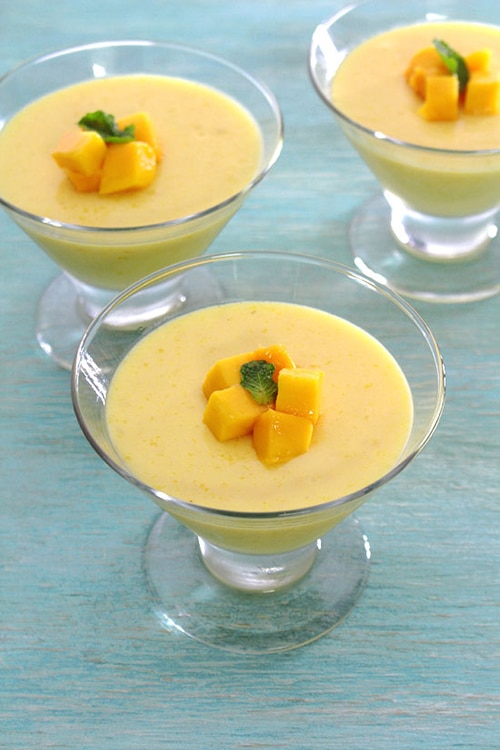 Easy to make, creamy, luscious and vegetarian, this mango pudding recipe from Spice Up the Curry is made with agar agar. This is one of the QUICKEST dessert recipes. Yes, it comes together within 15 minutes only, rest job is done by refrigerator.
13. Mango Peda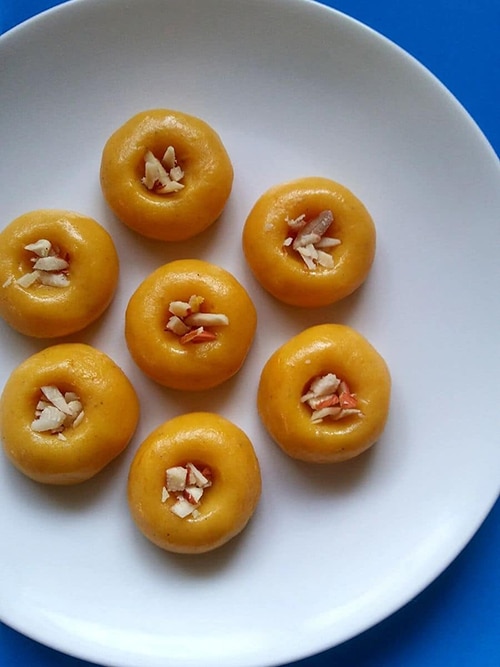 These simple, 3-ingredient, quick mango sweets will be a perfect summer treat for everyone. Mango Peda recipe by Spoons of Flavor.
14. Mango Mastani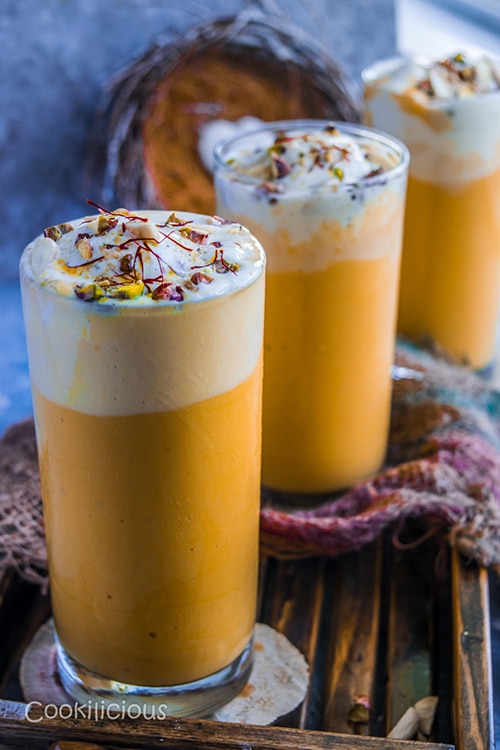 This Mango Mastani recipe from Cookilicious is a rich & creamy milkshake made with mango pulp or fresh Alphonso mangoes, ice cream & nuts. This royal mango drink is a specialty from Pune, India that's perfect for the summers and a quick mango dessert. It really is the best mango juice ever that can be made in just 10 minutes!
Make Ahead Mango Dessert Recipes
These recipes might involve a little baking or cooking, but they can be made ahead which makes them easy mango desserts.
15. Mango Panna Cotta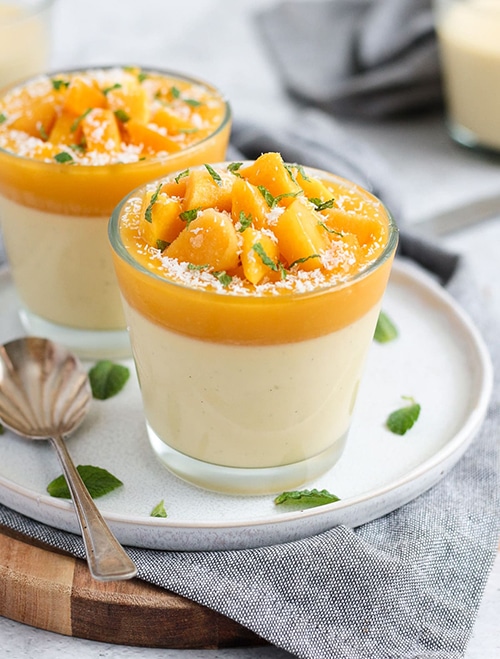 This Double Mango Panna Cotta Recipe from A Baking Journey makes the most delicious and light Summer Dessert. Super creamy and packed with flavor, this Panna Cotta with Mango is a great make-ahead dessert for parties, barbecues and summer gatherings!
16. Mango Crepe Cake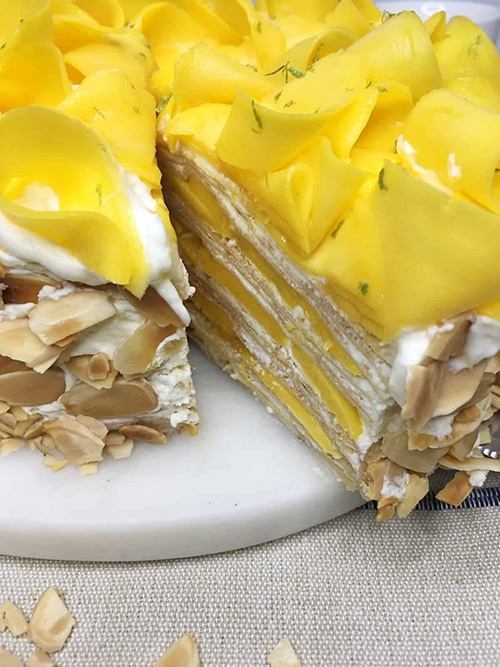 This mango layer crepe cake from Baking like a Chef is the best way to bring sunshine to the table. It also is a delicious way to upgrade humble French crepes.
17. Mango Sticky Rice Thai Dessert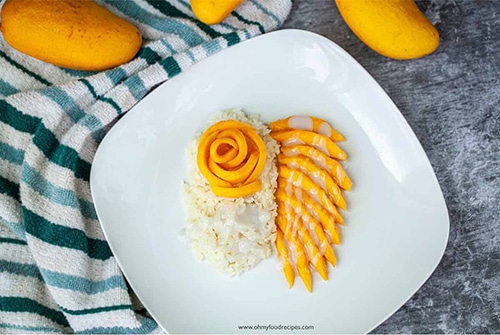 Mango sticky rice is a popular Thai dessert that people will normally order when they eat at a Thai restaurant. This sweet coconut mango sticky rice recipe from Oh My Food Recipes is very easy and delicious!
18. Mango Blackberry Scones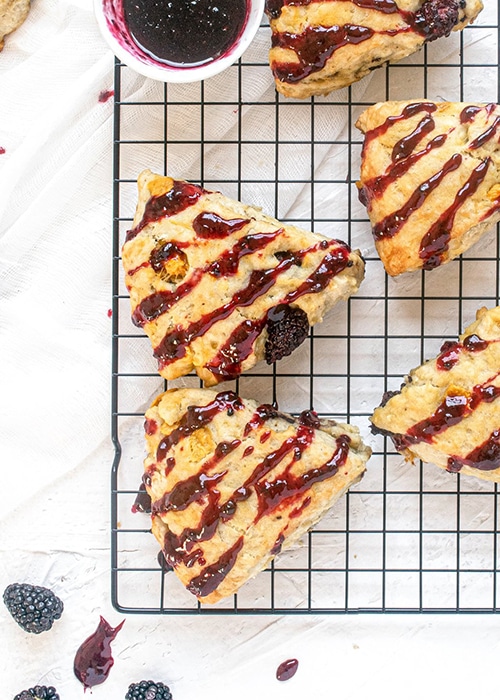 These blackberry mango scones from The Cookie Dough Diaries are thick, soft, and drizzled with a sweet blackberry glaze. They're filled with juicy mangos and blackberries for a perfect treat with coffee or tea!
19. Chocolate Cheesecake with Mango Topping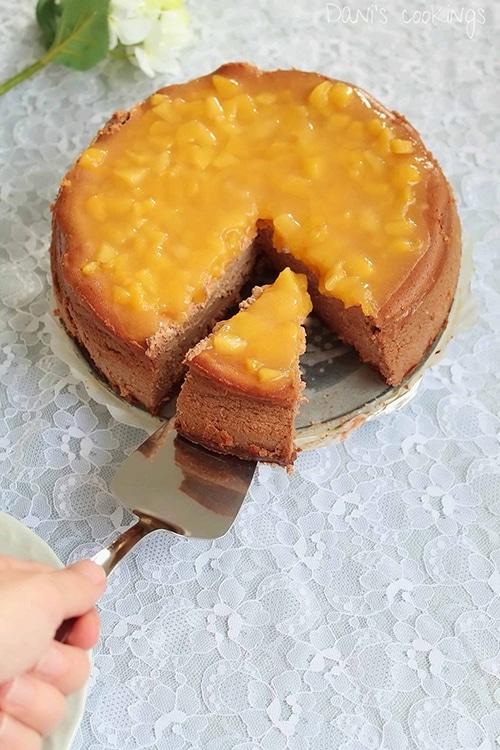 This chocolate cheesecake with mango topping from Dani's Cookings is so delicious! Easy to make baked chocolate cheesecake with a delicious exotic touch.
20. Mango Cake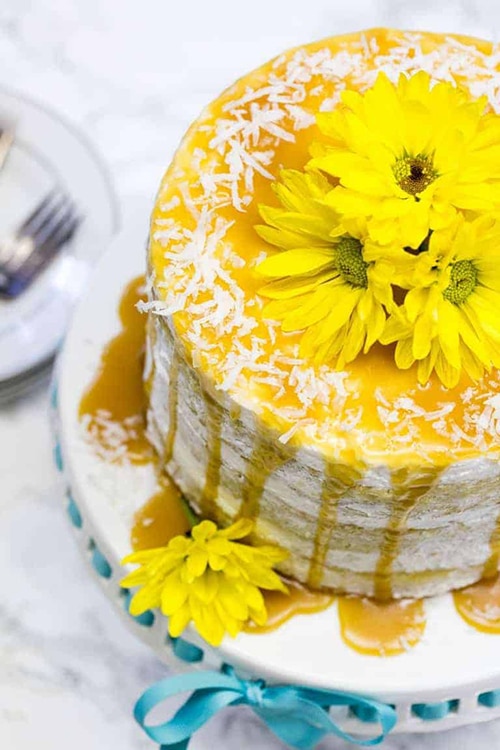 Looking for an easy Mango Cake Recipe? You have found it!! This gorgeous rich tropical Coconut Mango Cake by Recipes from A Pantry is bursting with juicy mango and a velvety coconut caramel sauce, so it's full of exotic flavors in every bite. Check out the easy step-by-step instructions and photos to make your own made from scratch Mango Cake
21. Mango Cheesecake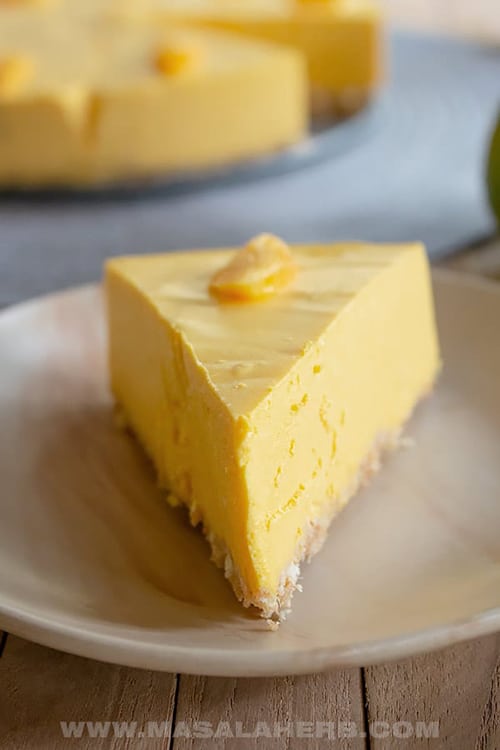 This creamy and simple mango cheesecake from Masala Herb has a crushed cookie base. This is a no bake recipe.
22. Mango Cupcakes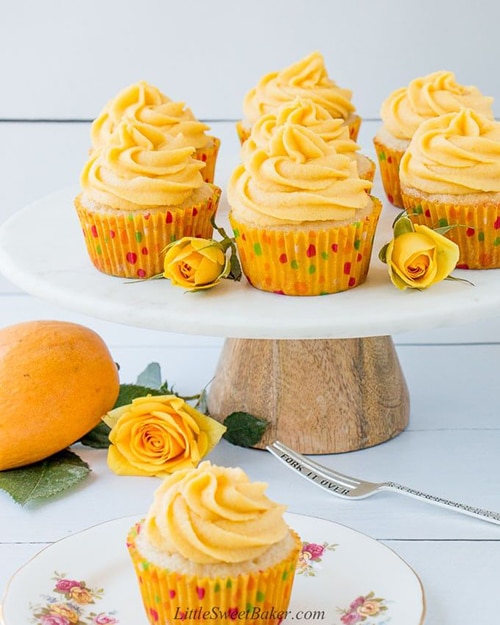 These amazing mango cupcakes from Little Sweet Baker combine the flavors of mango and coconut for a tropical flair. The buttercream frosting is made with a fresh mango reduction for a superb taste of mango. The vanilla cupcake is moist, rich, and buttery with a hint of coconut.
23. Mango Lemon Bars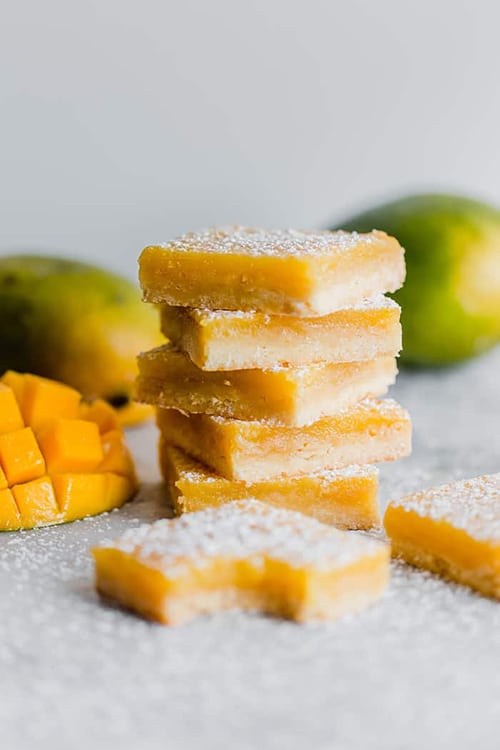 This Mango Lemon Bars Recipe from Grandbaby Cakes transforms the classic lemon bar with the addition of fresh mango resulting in a sweet, creamy filling topped buttery shortbread crust.
24. Mango Coconut Sheet Cake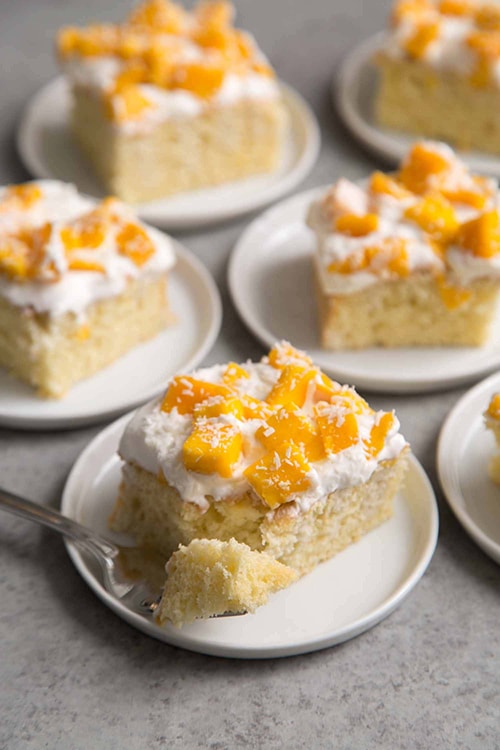 Enjoy a taste of the tropics with this mango coconut sheet cake from The Little Epicurean. Vanilla sponge cake is soaked with coconut milk and topped with fresh mango and dried shredded coconut.
25. Mango Topped Pound Cake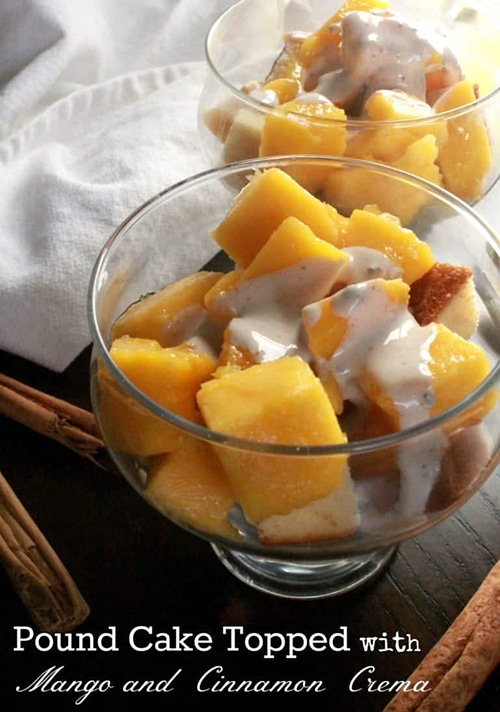 This mango-topped pound cake from Mama Maggie's Kitchen is absolutely delicious and a quick mango dessert.
26. Eggless Mango Cake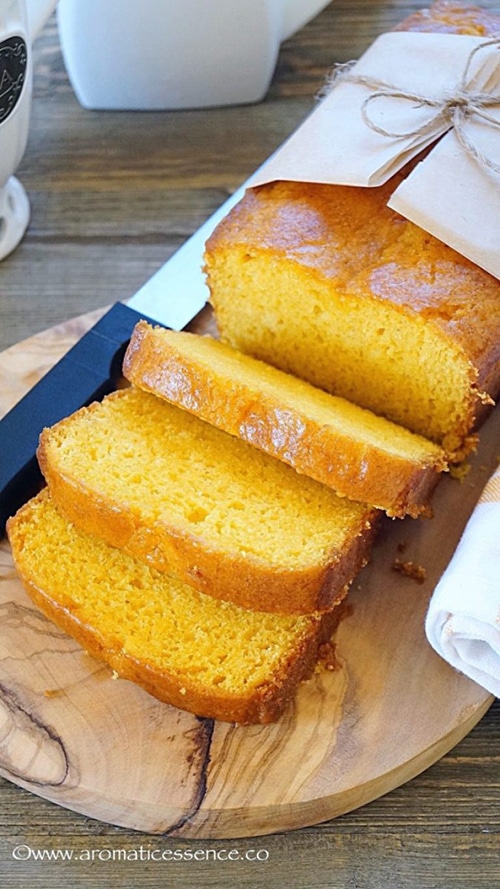 This eggless mango loaf cake from Aromatic Essence is light, moist and delicious! You will love this easy cake recipe!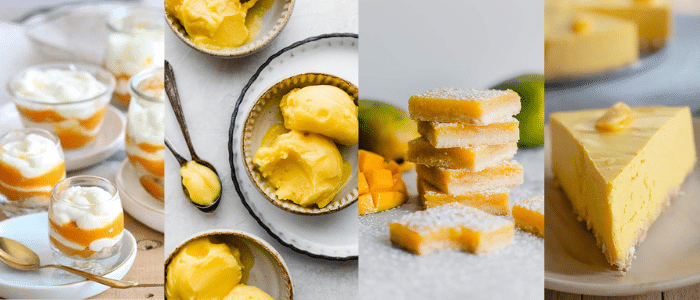 More Posts You'll Love
Persimmon Recipes You Need to Try!
Easy Yogurt Breakfast Parfaits
If you make any of these easy mango desserts please share on instagram using hashtag #rainbowdelicious & and tag me at @rainbowdelicious , I'd love to see what quick mango dessert recipe you make it your kitchen!
Some links on this site are affiliate links and I may earn a small commission at no cost to you. Thank you!
(Visited 23,976 time, 1 visit today)