Persimmon season is here and you are going to love this round-up of 20 sweet and savory persimmon recipes! Smoothies, salads, salsa, desserts, and more!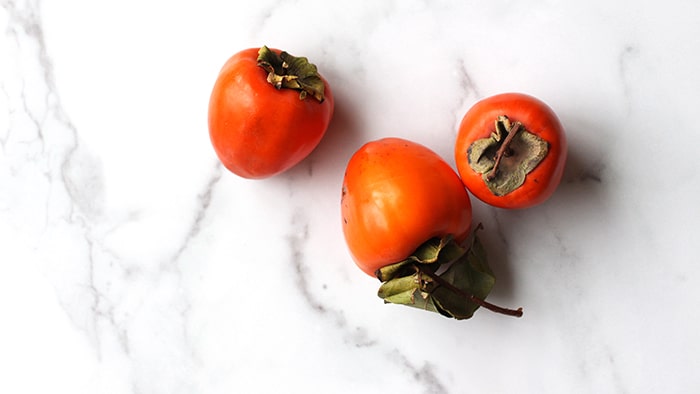 If you haven't tried persimmons, this is your year! Run, don't walk to your nearest farmers market or market and purchase a few persimmons and give them a try. You can eat them plain, add them in savory recipes like salads, or in persimmon dessert recipes like tarts, pudding, and more.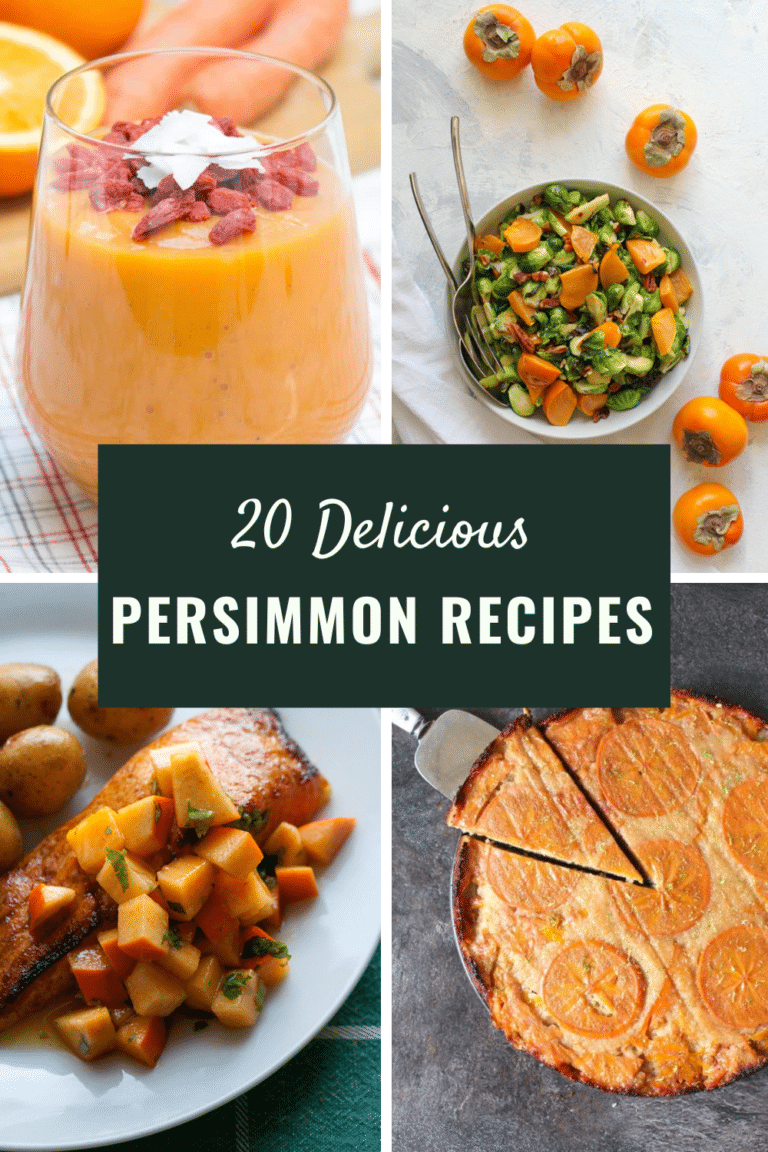 Persimmon Breakfast Recipes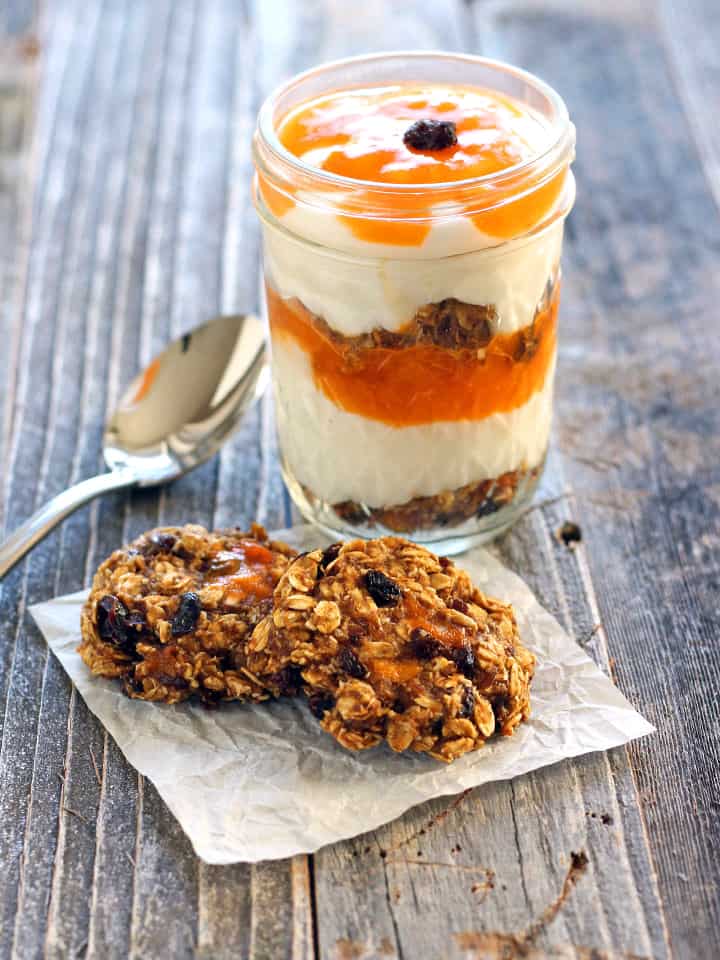 These Persimmon Banana Breakfast Cookies from Toaster Oven Love are a tasty and healthy cookie recipe you can feel good about eating for breakfast!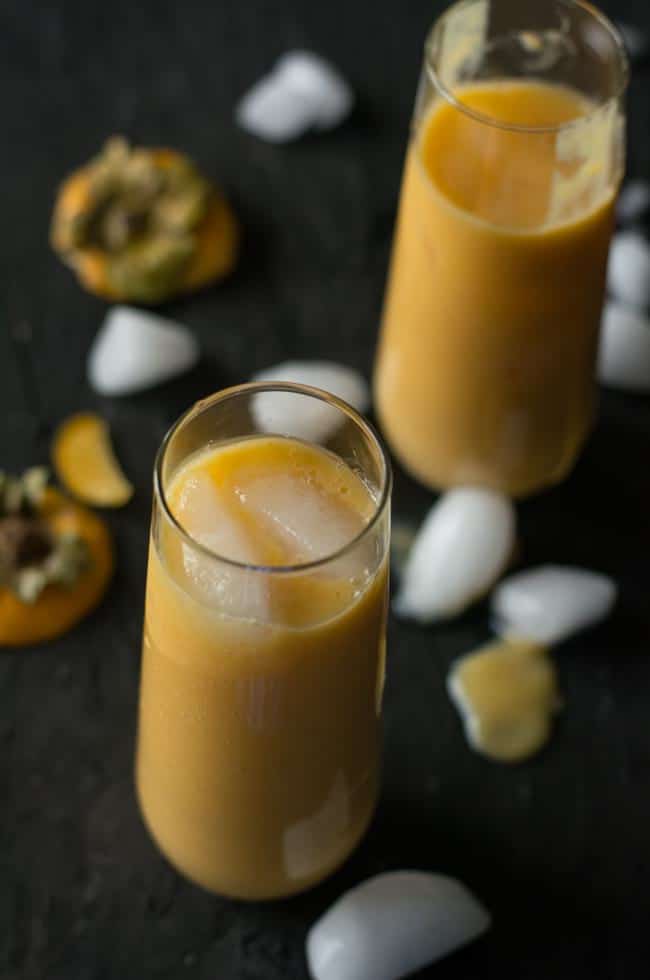 Start your day off right with this Persimmon Ginger Smoothie from Pepper Bowl. It is gluten-free, dairy-free and vegan drink.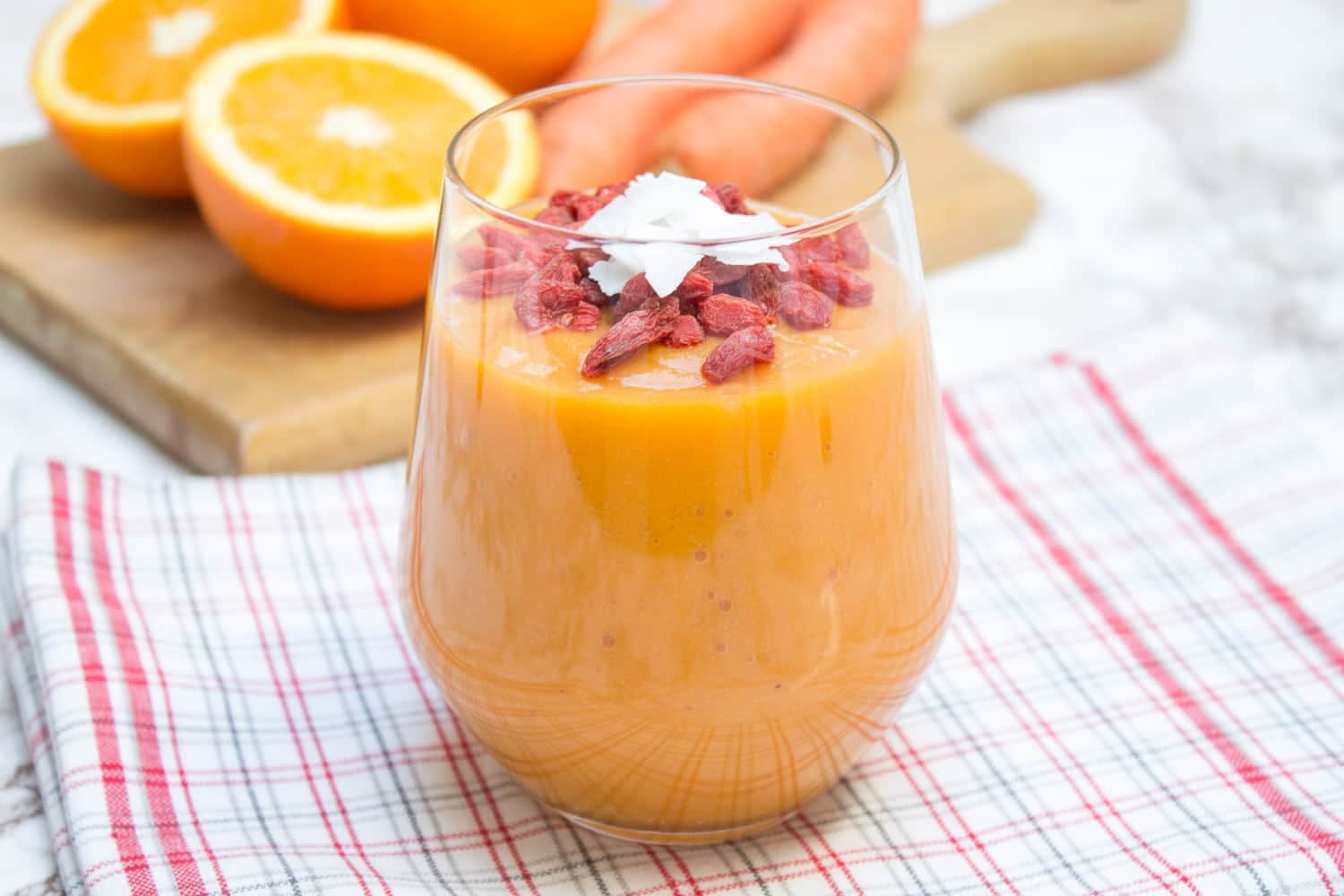 You'll love this naturally sweet and just delightful Orange Carrot Persimmon Smoothie from Natalie's Health.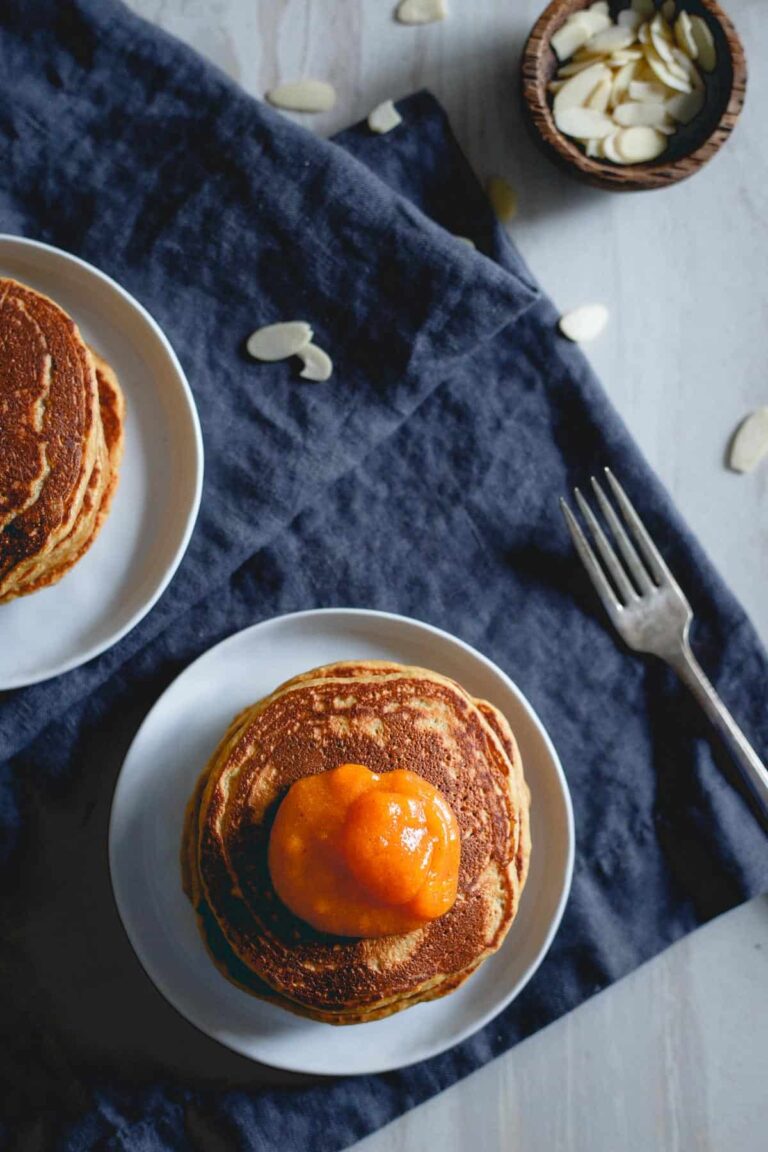 Persimmon Almond Pancakes from Running to the Kitchen are made with persimmon pulp and are a delicious winter breakfast!
Persimmon Salad Recipes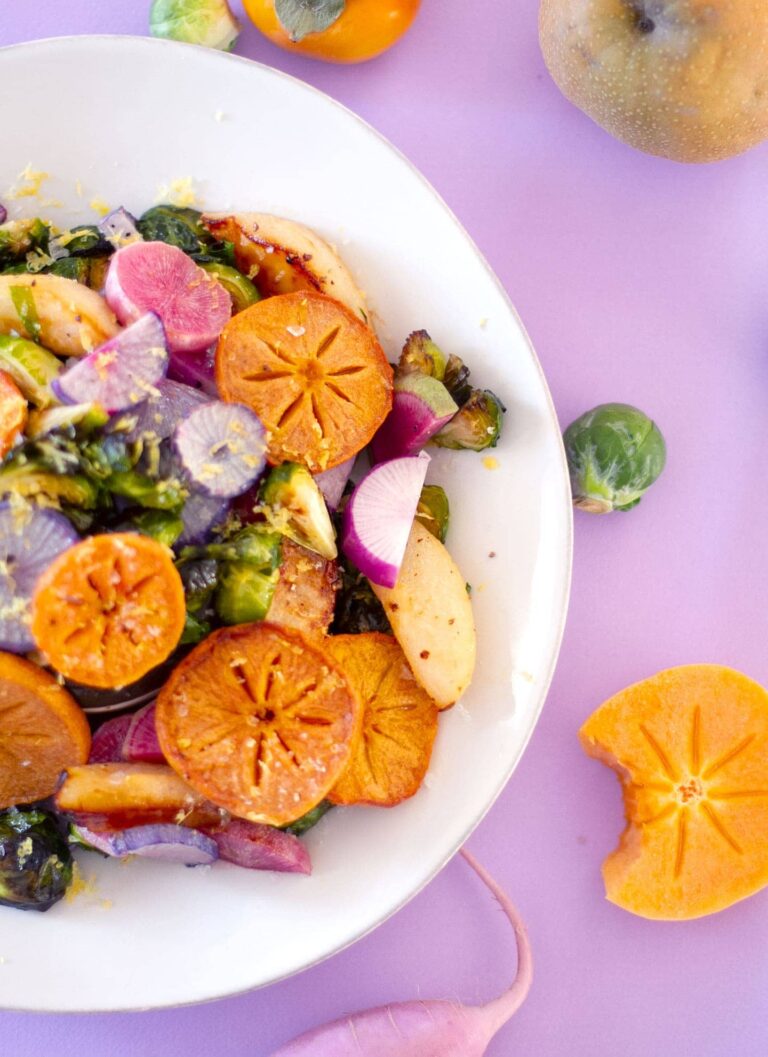 Roasted persimmons, pear, with roasted radish and brussels sprouts from Healthy Feels make a great fall side dish or salad that is both sweet and savory.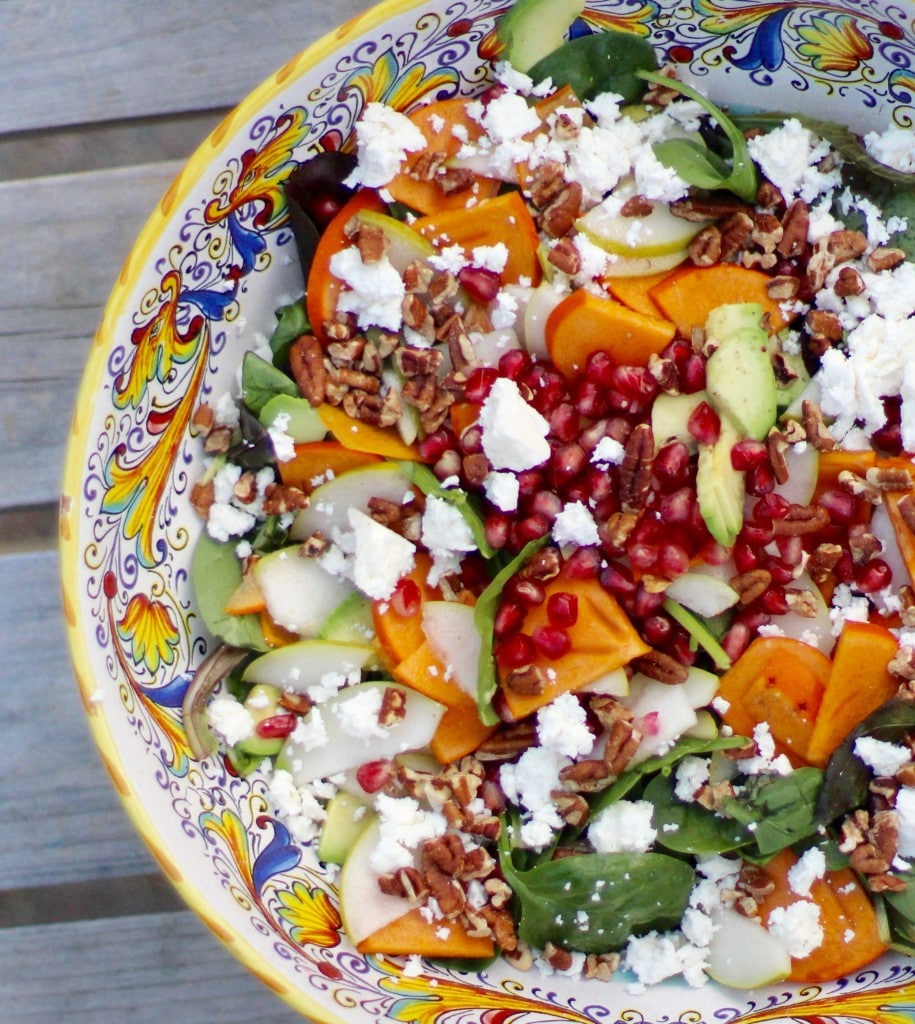 You're going to want to make this Persimmon salad again and again this season. It is loaded with delicious ingredients including persimmons, pears, feta, spinach, and pecans and is one of my favorite persimmon recipes.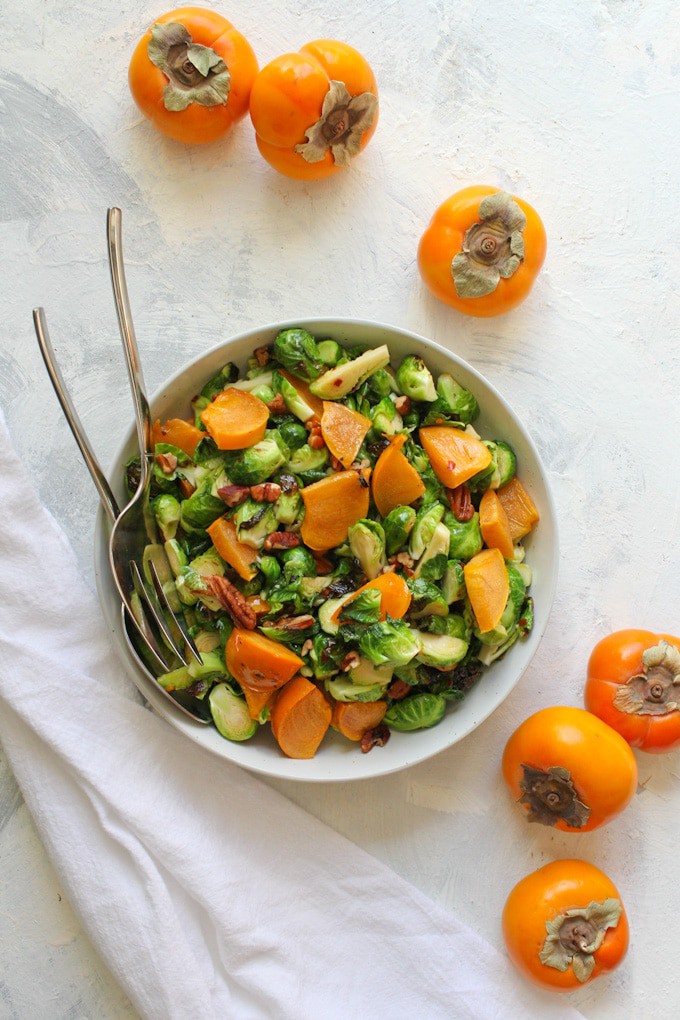 This vegan roasted brussels sprouts salad from Champagne Tastes is tossed with persimmons, pecans, and a maple vinaigrette for an easy and delicious fall harvest salad.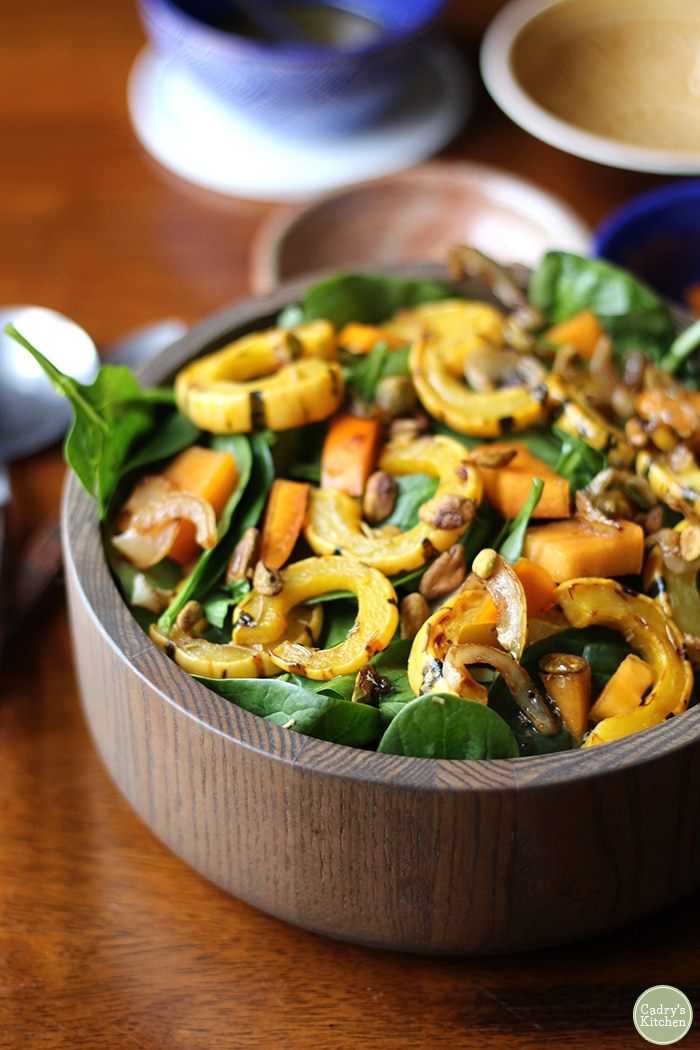 This delicata squash salad with persimmons from Cadry's Kitchen is the perfect seasonal addition to your Thanksgiving spread or fall dinner. Vegan & gluten-free.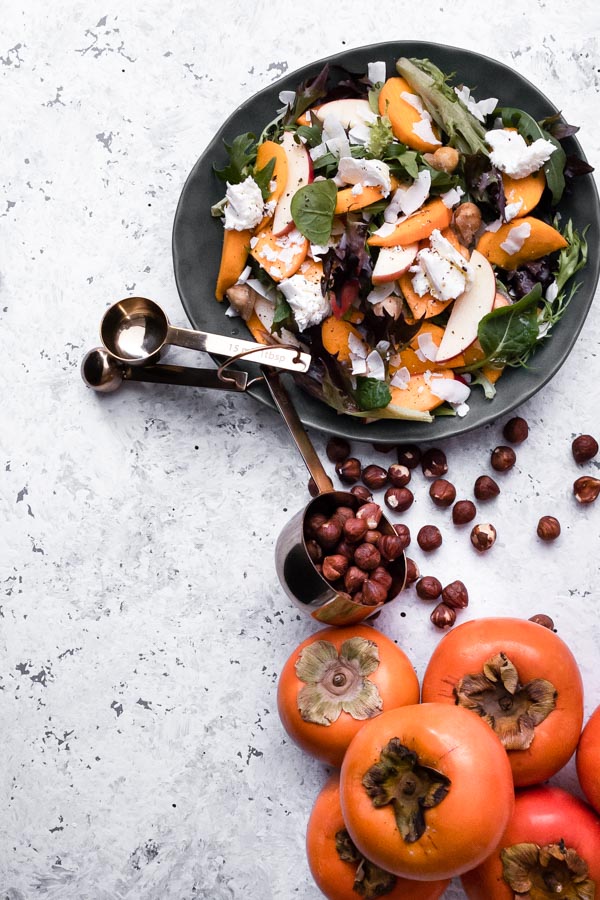 How gorgeous is this Persimmon Salad topped with candied hazelnuts and flaky coconut chips from The Devil Wears Salad?!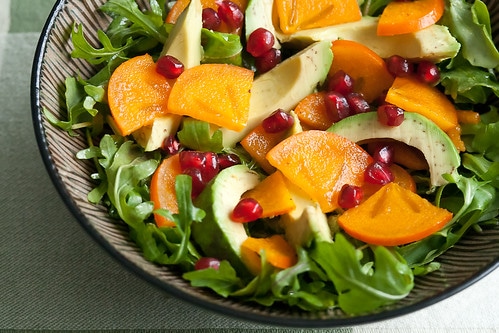 You can't go wrong with this persimmon and avocado salad from Crumb Blog made of thinly sliced wedges of crisp sweet persimmons and buttery avocado wedges on peppery argula greens, scattered with juicy pomegranate jewels and tossed in a tangy Dijon vinaigrette.
Savory Persimmon Recipes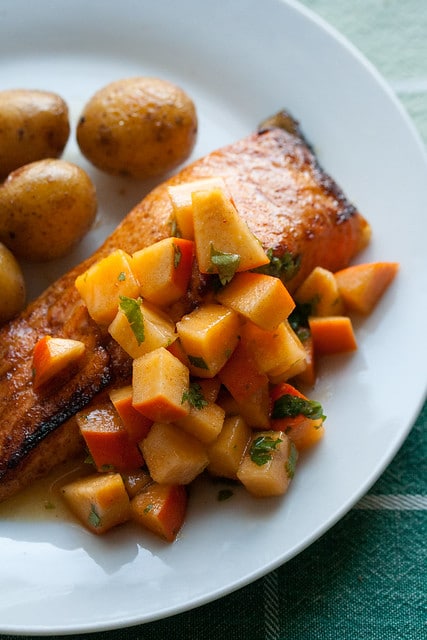 Broiled Salmon with Persimmon Lime Salsa from Crumb Blog pairs perfectly cooked salmon with a refreshing salsa that can brighten up a winter day.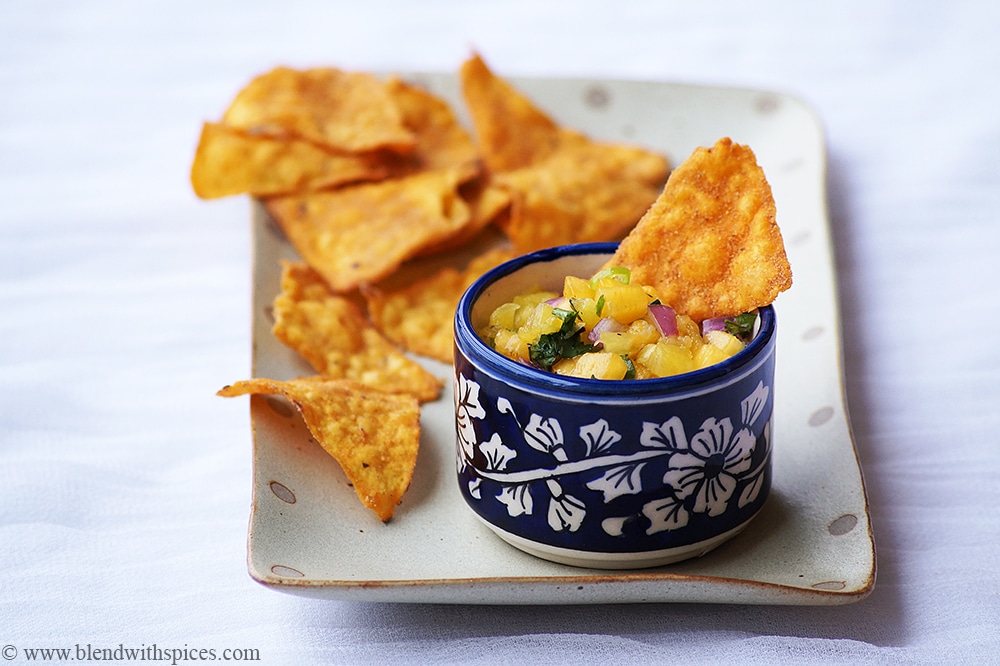 Persimmon Pineapple Salsa from Blend with Spices is a super quick and delicious Mexican condiment and tastes great with nachos or chips. 

Persimmon Goat Cheese Tartlets from Yay for Food are a tasty bite-sized appetizer for your next holiday platter.
Persimmon Dessert Recipes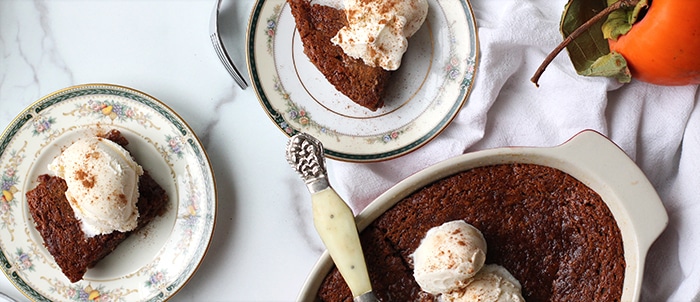 If you haven't tried Persimmon Pudding, now is the time to give this delicious traditional American dessert made with persimmon pulp a try with fresh whipped cream or ice cream on top.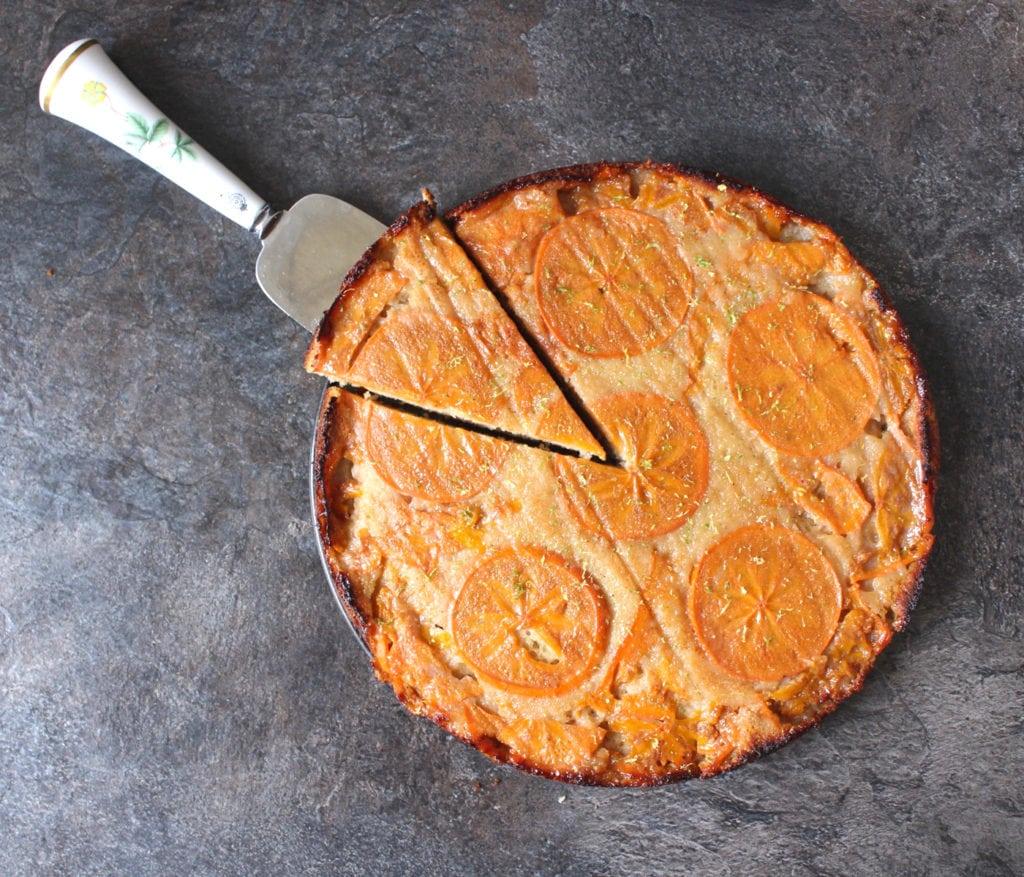 Persimmons taste amazing when caramelized in this beautiful Persimmon Upside-Down Cake from A Baking Journey.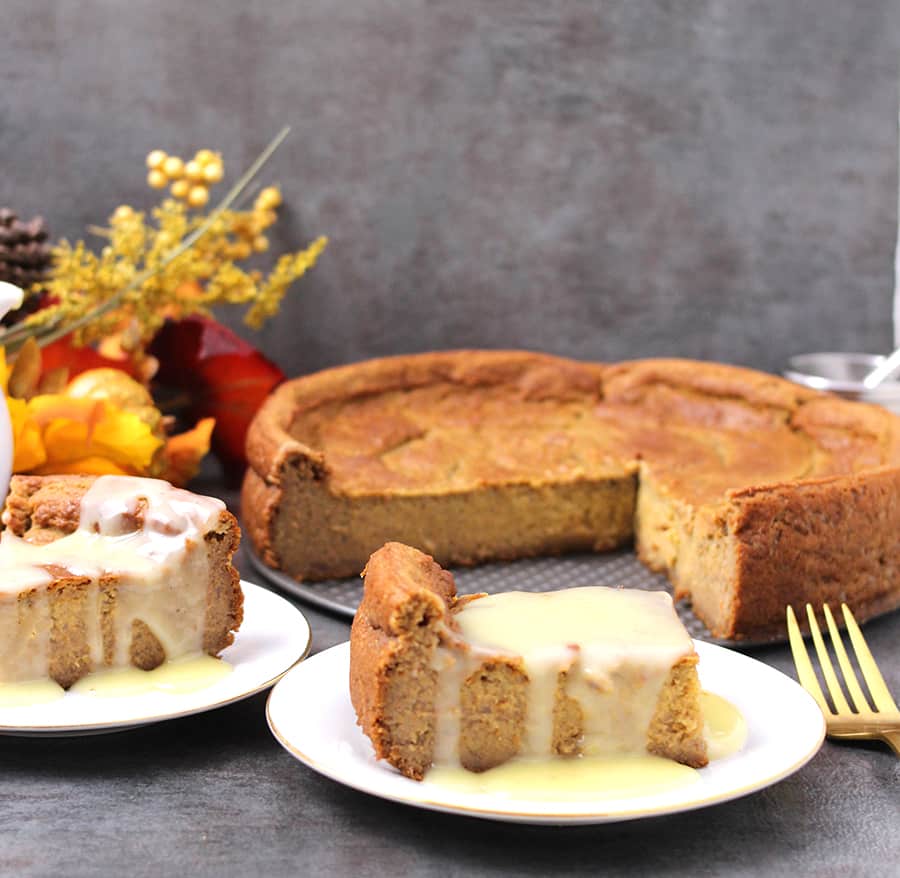 Persimmon Apple Pudding from Cook with Kushi is a rich cake-like, dense, and slightly gooey traditional American dessert served with saffron flavored butter sauce.

This delicious persimmon ginger sorbet from Caroline's Cooking is easy to make and both looks and tastes great, the zingy ginger complimenting the smooth, fragrant persimmon.
More Persimmon Recipes

This Pomegranate and persimmon winter sangria from Salt & Lavender s a refreshing punch that is sure to be a big hit at your holiday party!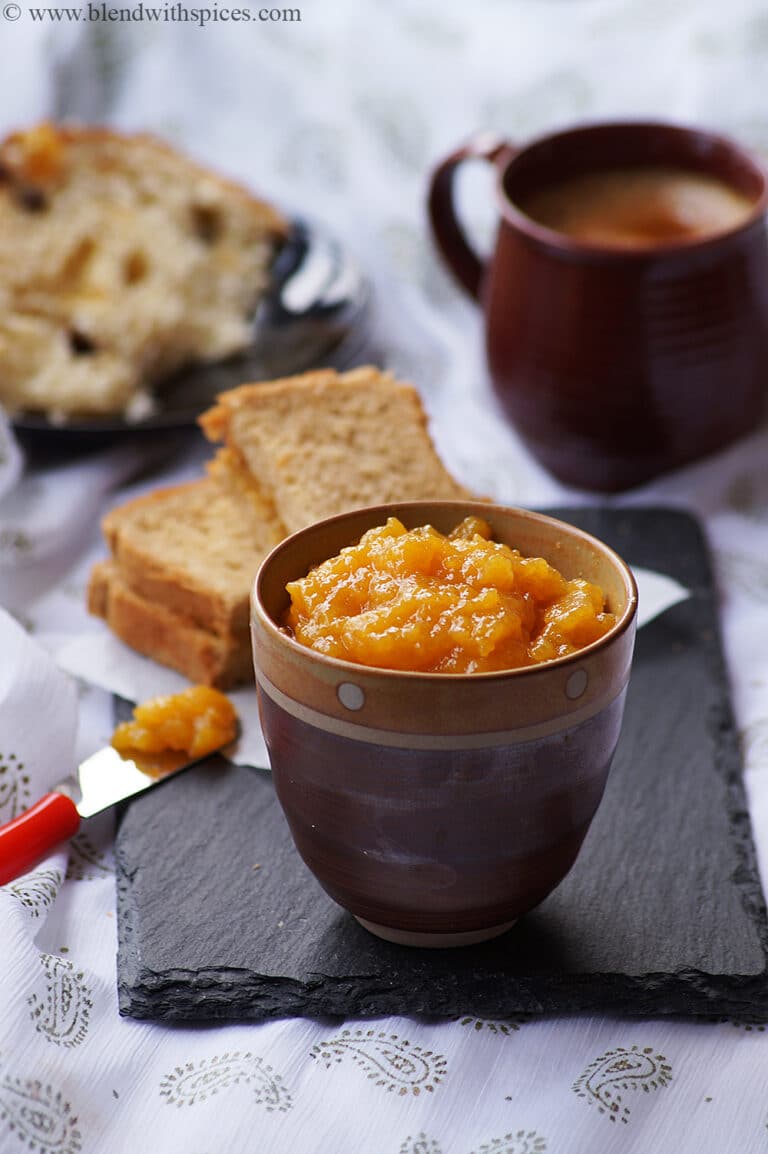 This easy and delicious Three-Ingredient Jam made with persimmons from Blend with Spices would taste amazing on homemade bread.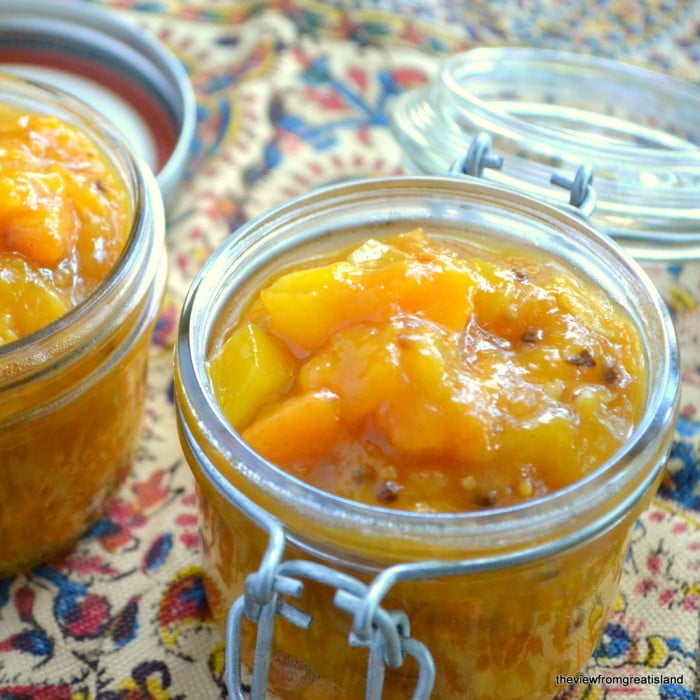 This Spicy Mango Persimmon Chutney from The View from the Great Island is delicious as an appetizer with cheese and crackers.
If you make any of these sweet and savory persimmon recipes please share on instagram using hashtag #rainbowdelicious & and tag me at @rainbowdelicious , I'd love to see what you are up to in your kitchen!
Some links on this site are affiliate links and I may earn a small commission at no cost to you. Thank you!
You'll Also Love These Recipe Round-Ups: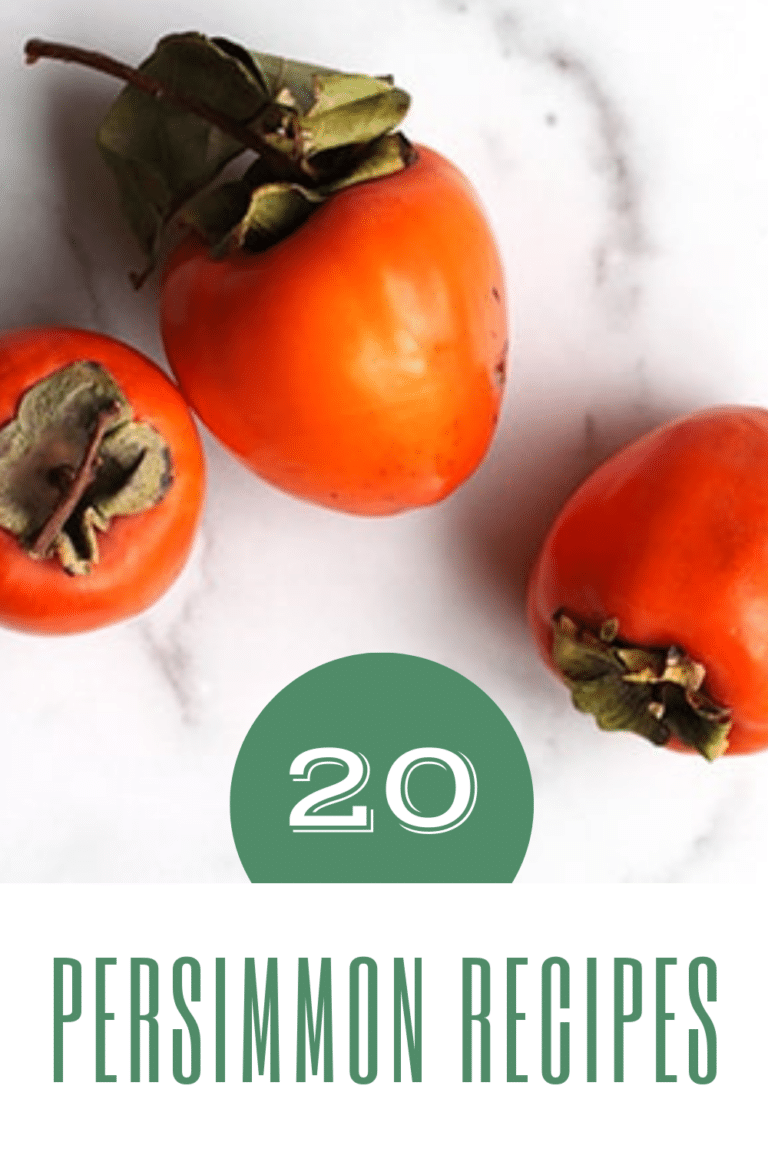 (Visited 5,646 time, 1 visit today)