Breakfast parfaits are a great way to start of day; it tastes like you are eating dessert for breakfast! Layered yogurt, granola, nuts, and fruit make a gorgeous and delicious meal to share with family and friends. You can also swap out yogurt for chia seed pudding or other ingredients. Enjoy the following 24 easy parfait recipes as inspiration for your next breakfast! Let me know which parfait recipe you like best!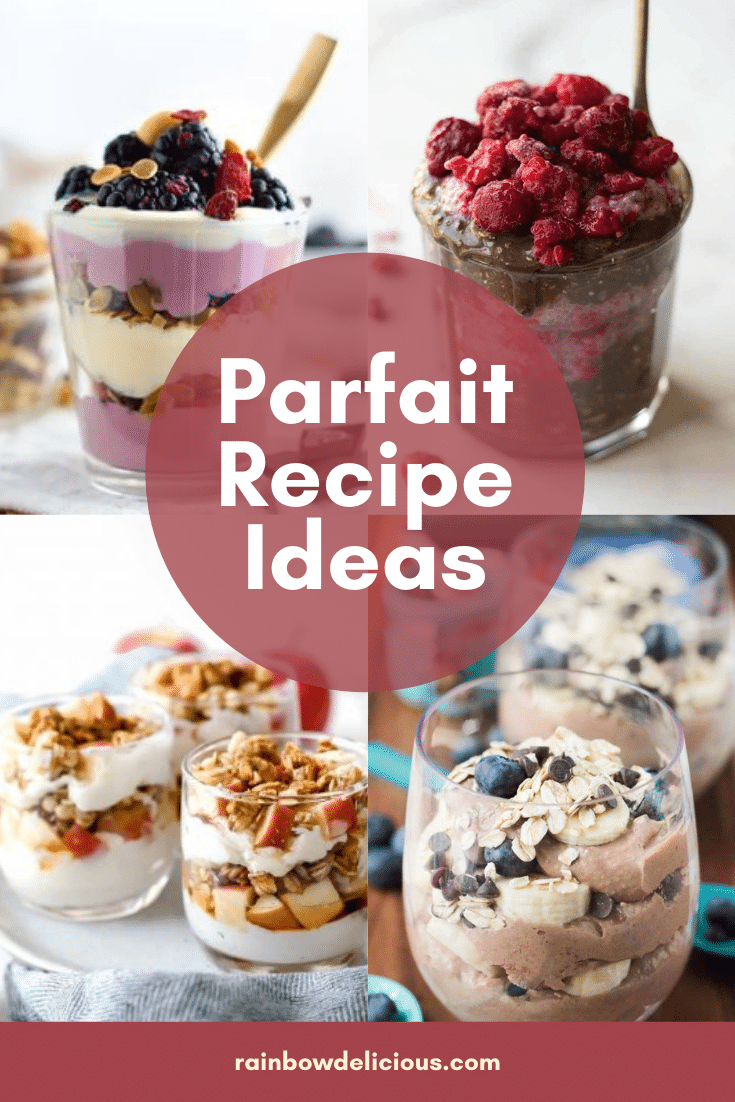 Breakfast Parfaits
I don't know about you but I'm always looking for creative breakfast ideas and breakfast parfaits are an obvious choice… so much versatility and flavor in the following easy parfait recipes!
Yogurt Breakfast Parfaits
Yogurt breakfast parfaits are the most common breakfast parfaits— usually made by layering yogurt, fruit, nuts, or granola. There are so many amazing flavor combinations that the possibilities are endless! You could also make play around with making the following recipes using kefir, which is a probiotic drinkable yogurt. Click here to read my post on how to make your own kefir at home.
1. Healthy Apple Crumble Parfait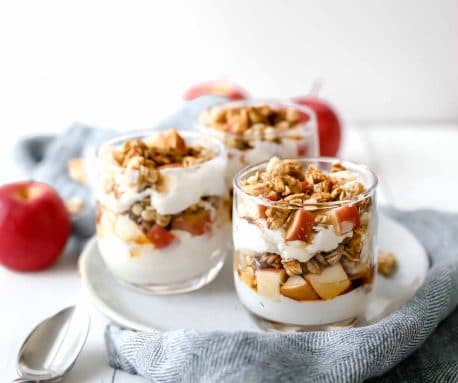 This Healthy Apple Crumble Parfaits from Jar of Lemons takes about 5 minutes TOTAL to make from fridge to first bite. Made with granola, honey, yogurt, and apples, so easy and delicious!
2. Parfait Breakfast Meal Prep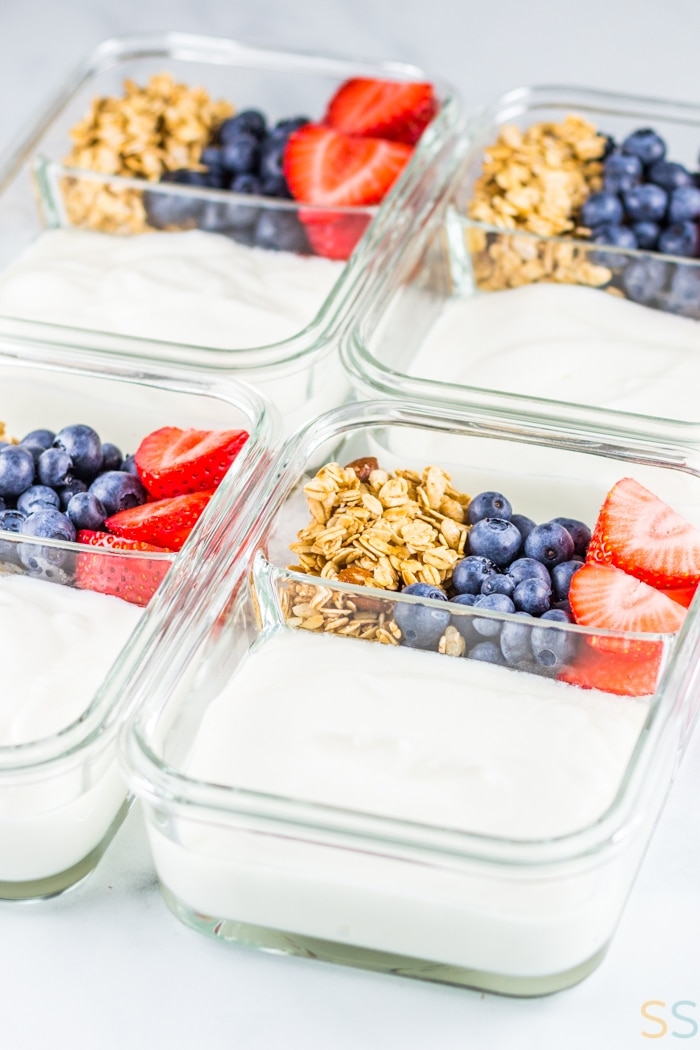 Isn't making breakfast parfaits ahead of time a great idea? Five Minutes and four ingredients is all you need to make a week's worth of yogurt parfait breakfast meal prep from Savor and Savvy.
3. Honey Fig Breakfast Parfait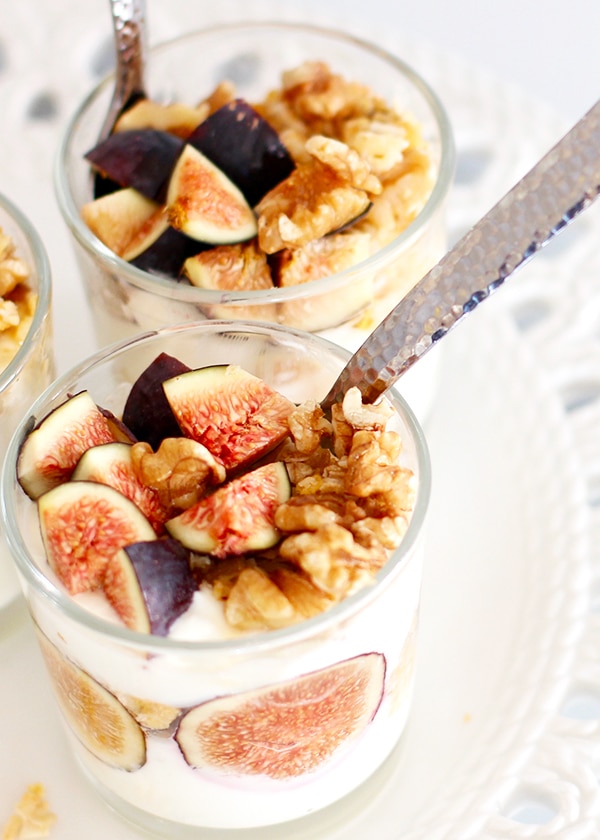 This beautiful layered yogurt honey fig breakfast parfait is the perfect way to start the day. Enjoy this simple, fresh and delicious recipe during fig season! I used black mission figs from Trader Joe's but any figs will do!
4. Blueberry & Strawberry Yogurt Parfaits

If you're looking for a super easy and healthy breakfast recipe, these berry yogurt parfaits from Heavenly Home Cooking will fit the bill perfectly. They come together in a snap. Plus you can assemble them ahead in small mason jars and grab and go on those busy weekday mornings. Ready in less than 10 minutes!
5. Starbucks Copycat Fruit & Yogurt Parfait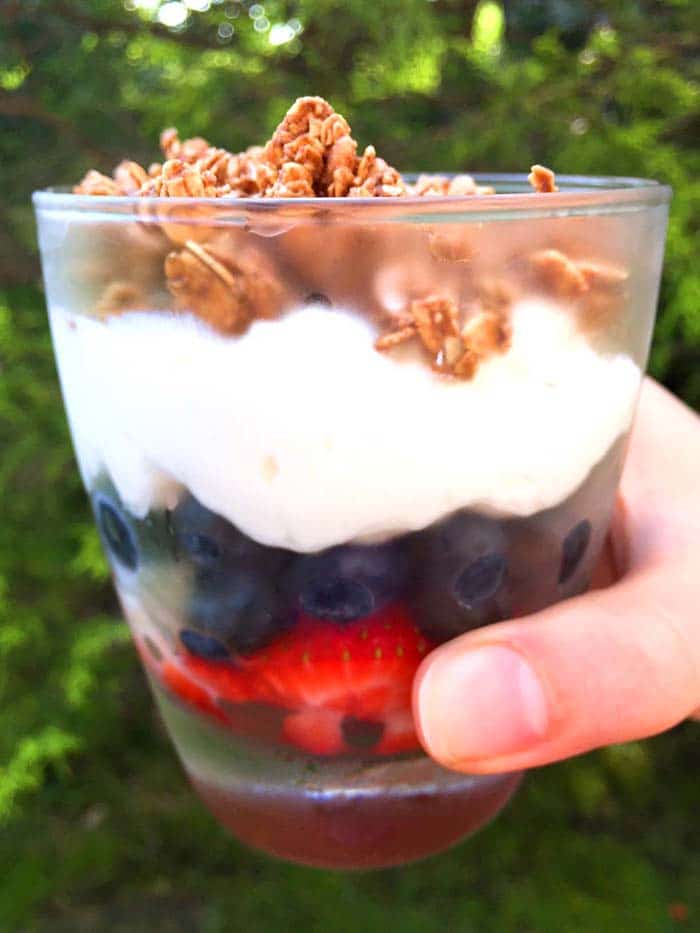 Like the Starbucks yogurt parfait? You can now make it at home at a fraction of a price! Bursting with fresh berries, this fruit and yogurt parfait from Melanie Cooks will become your favorite breakfast! Look at the beautiful layers of this amazing homemade fruit and yogurt parfait! Who needs Starbucks when you can make easy parfait recipes at home?! If you have leftover strawberries, you should bake this delicious layered strawberry cake with fresh whipped cream.
6. Kiwi, Mango and Yogurt Parfait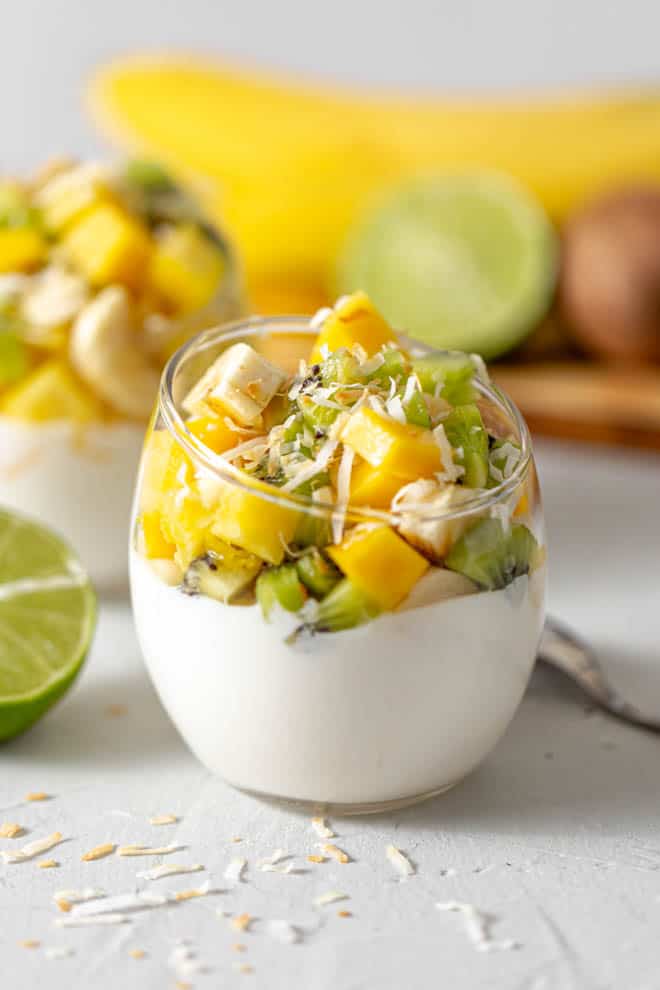 This Fruit and Yogurt Parfait from Spoonful of Flavor is made with Greek yogurt, granola and your choice of fruit to create an easy breakfast or snack! You can make them in advance to save time. 
7. Yogurt Granola Jars with Cherry Sauce
These delicious Yogurt Granola Jars with Cherry Sauce from Two Blue Lemons are simple to make but definitely impress!
8. Easy Healthy Cheesecake in a Jar with Greek Yogurt & Cottage Cheese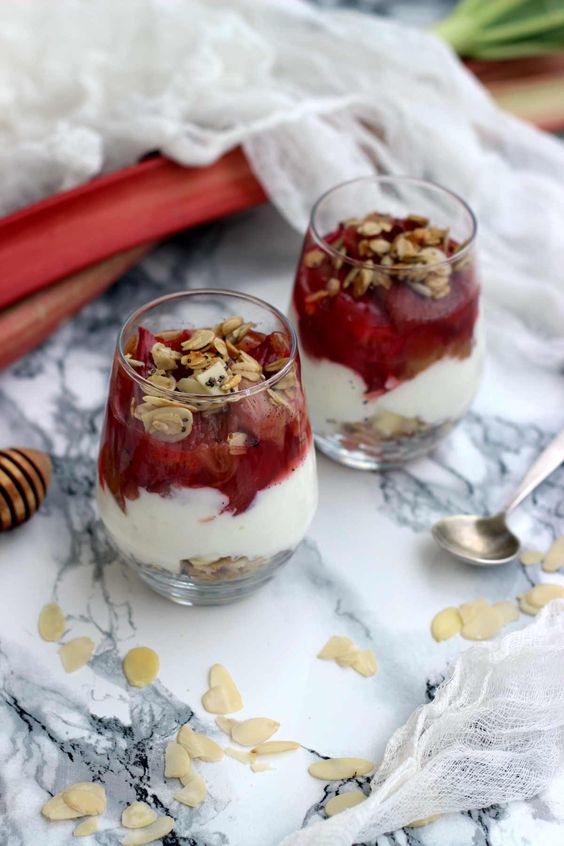 This light, fluffy and delicious Cheesecake in a Jar recipe from My Happy Kitchen is made with skillet granola, cottage cheese Greek yogurt filling and roasted vanilla rhubarb topping. It is healthy, easy and takes 30 minutes to make from start to finish! It makes for a great dessert, takeout snack, breakfast or brunch meal.
9. Berry Greek Yogurt Parfait
Berry Greek Yogurt Parfait from Around Le Globe is simple, swirly and delicious! Perfect way to start off the day and one of the prettiest breakfast parfaits I've ever seen!
10. Lime Avocado Breakfast Parfait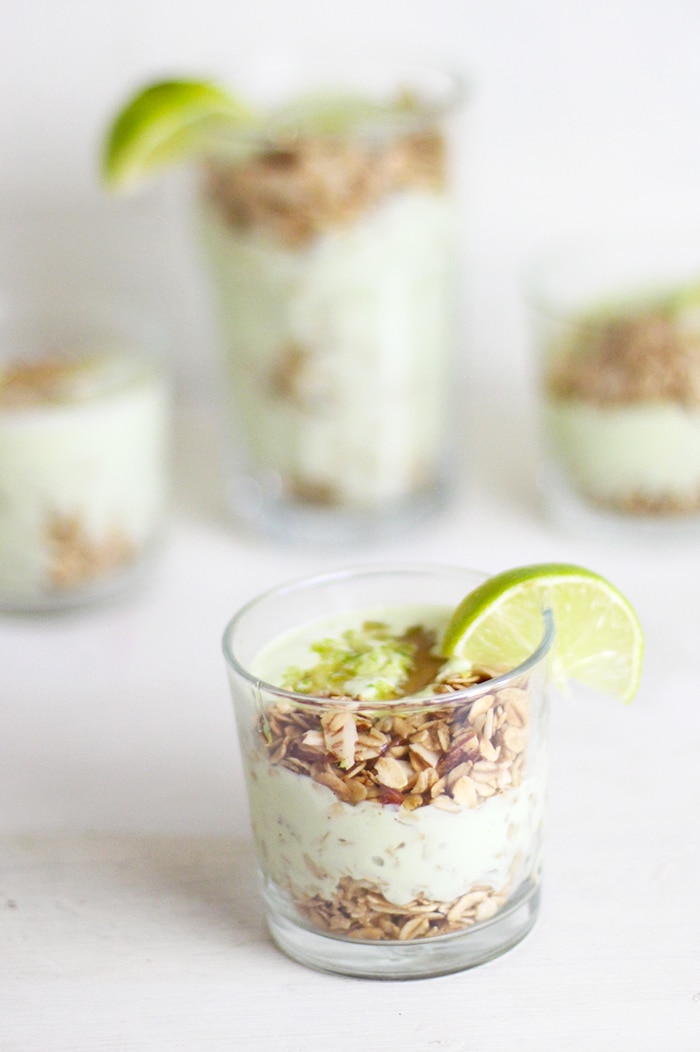 This layered lime avocado yogurt and granola parfait is a perfect way to start you day. It is indulgent, flavorful and nutritious. 
11. Lemon Blueberry Parfait with Honey and Walnuts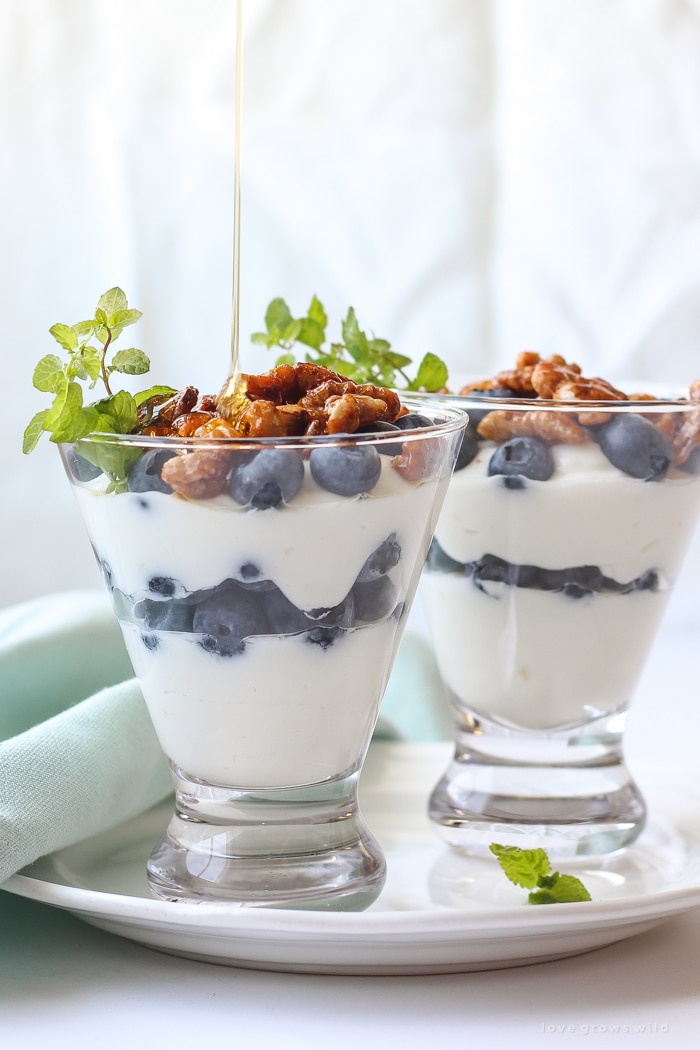 This quick and easy lemon blueberry yogurt parfait from Love Grows Wild is a great way to start the day. Lemon-infused Greek yogurt topped with juicy, fresh blueberries and toasted honey-glazed walnuts.
12. Raspberry Parfait
This Raspberry Parfait from Gobo Root is so unique! Instead of using granola it uses spelt rhubarb squares instead, combined with lemon yogurt and fresh raspberries.
13. Traditional Strawberry Granola Parfait
This traditional Fruit and Yogurt Parfait from Kevin and Amanda is the perfect breakfast, snack or even dessert! It's so easy to put together, recruit your kids in the kitchen to help with easy parfait recipes like this one!
14. Fruit and Chocolate Parfait
This Healthy Homemade Granola Parfait from Yummy Healthy Easy is made with a coconut oil granola recipe. The parfait is layered with granola, dark chocolate, Greek yogurt and berries – delicious!
Mascarpone Parfaits
If you love mascarpone cheese you can add to you next batch of breakfast parfaits for a rich and creamy option.
15. Strawberry Mascarpone Parfaits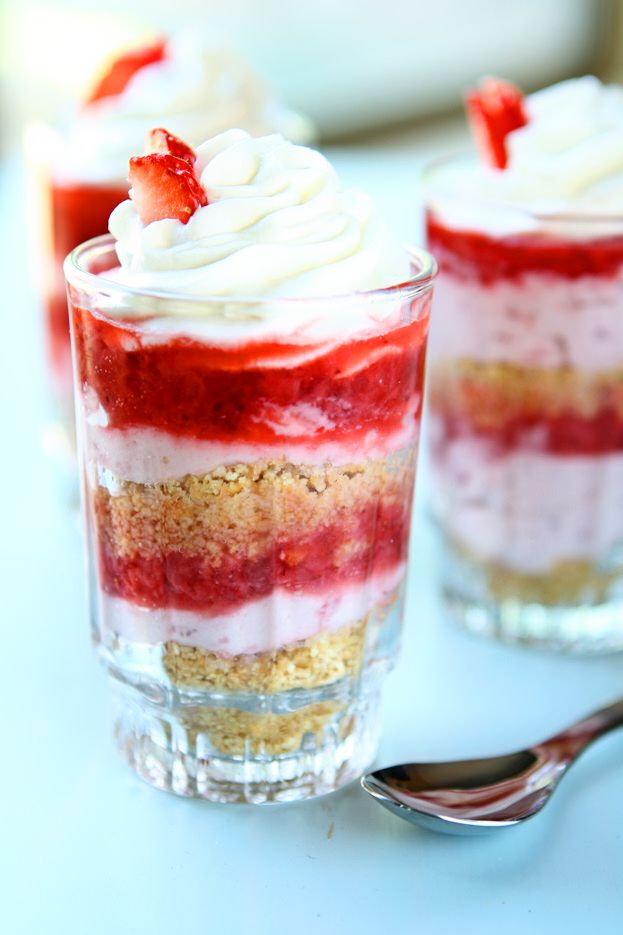 You'll love these simple, light, creamy and delicious strawberry parfaits from Heavenly Home Cooking. Ingredients include fresh strawberries, mascarpone cheese and sweetened whipped cream.
Chia Seed Parfaits
Another great way to make breakfast parfaits is to swap out yogurt for chia seeds. You'll love these chia pudding parfait ideas.
16. Banana Peanut Butter Chia Seed Parfait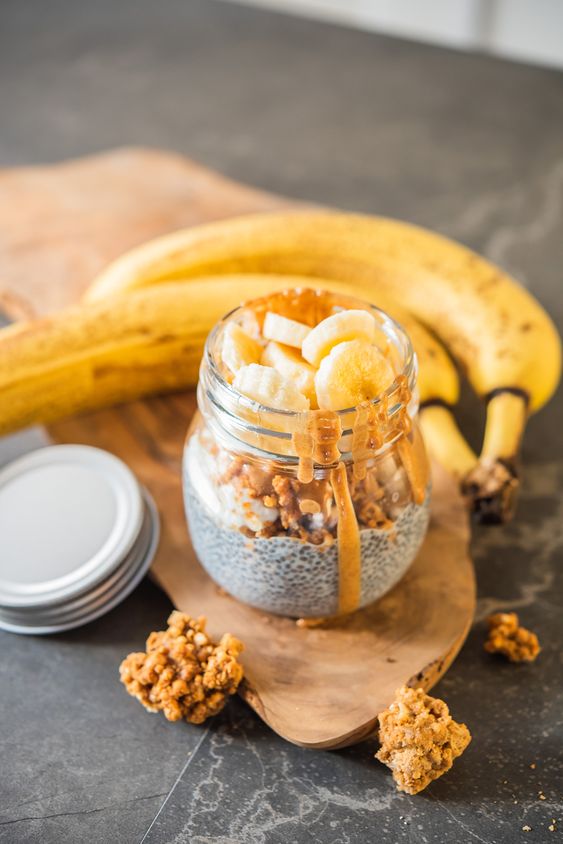 This Banana Peanut Butter Chia Seed Parfait from Cuisine and Travel is so delicious it almost tastes like dessert, but make no mistake, this make ahead breakfast packs a whopping 26g of protein!
17. Tropical Vegan Acai Chia Seed Pudding Parfait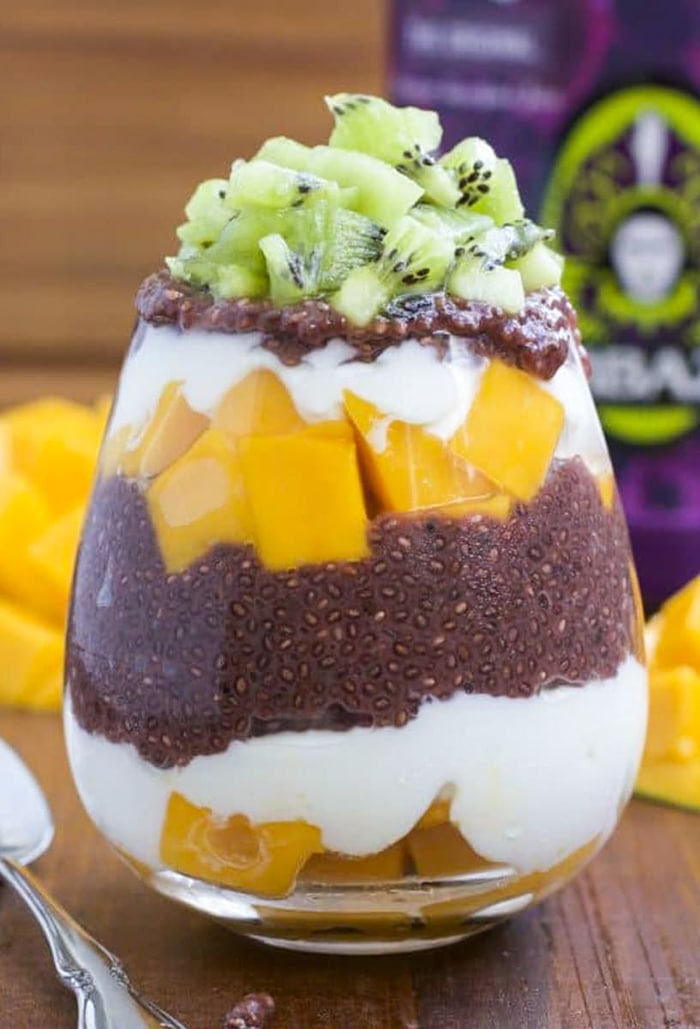 This tropical vegan parfait from Stacey Homemaker is filled with vibrant layers of creamy coconut yogurt, sweet mango chunks, tart acai chia seed pudding, and a tangy kiwi topping! Switch up your usual breakfast or snack with this easy to make and tasty, protein-rich treat. If you have extra mango, be sure to check out my round-up of easy mango desserts, which includes these yummy mango popsicles. Also, if you are into acai lately, definitely try out my delicious acai breakfast bowl!
18. Chocolate Overnight Oat & Raspberry Chia Pudding Parfaits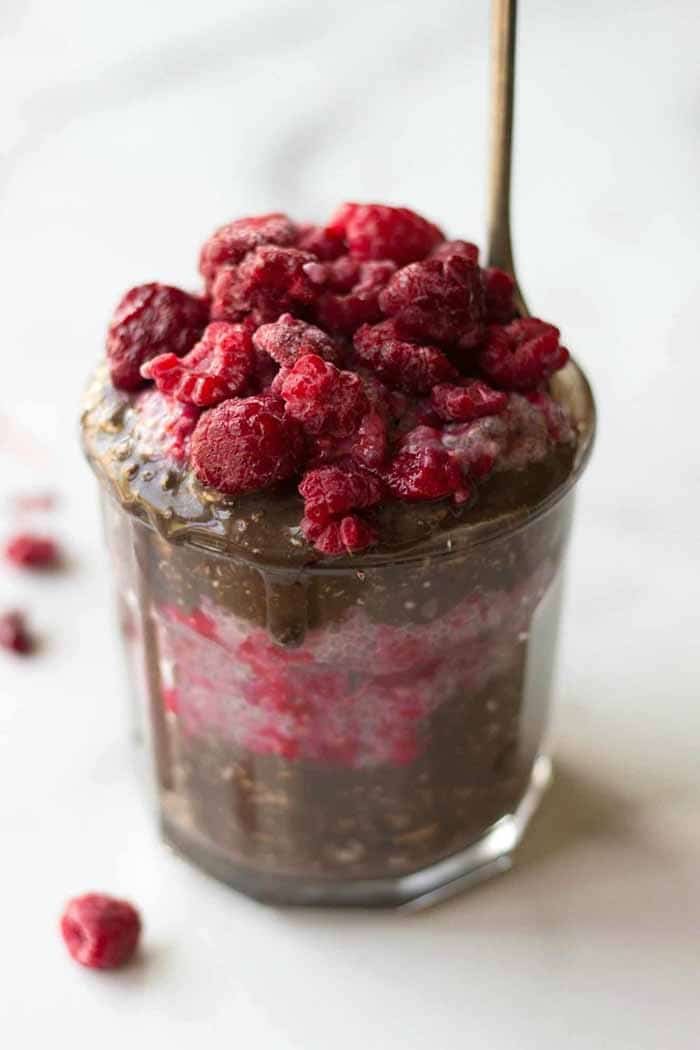 A combo of two favorites make for the best parfait! Chia seed pudding with raspberries and dark chocolate overnight oats from The Gourmet RD are layered and topped with more fresh raspberries.
19. Chocolate Chia Pudding Trifle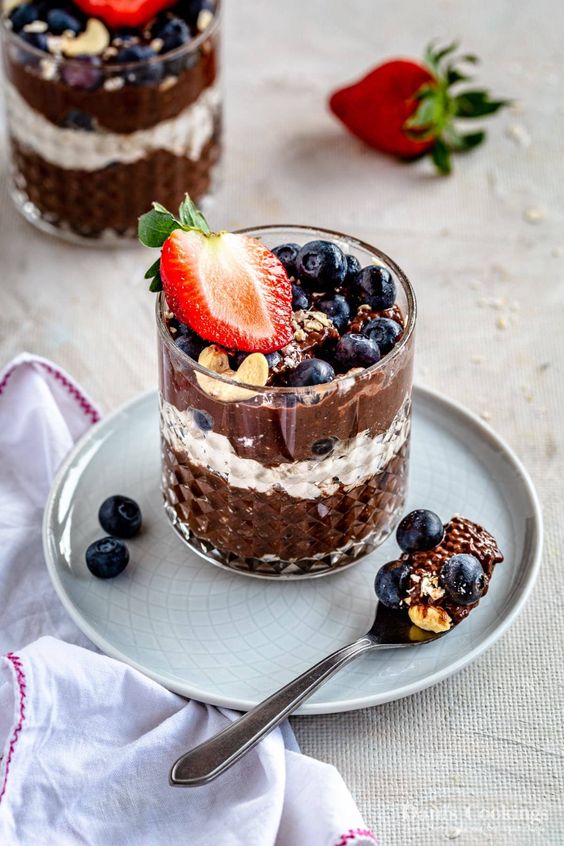 Chocolate Chia Pudding Trifle from Dani's Cookings is a layered breakfast or dessert made with healthy ingredients. It is made with chia, cashew nuts, blueberries and oats and is a chia seed parfait you'll want to make again and again!
20. Chocolate Orange Chia Seed Parfait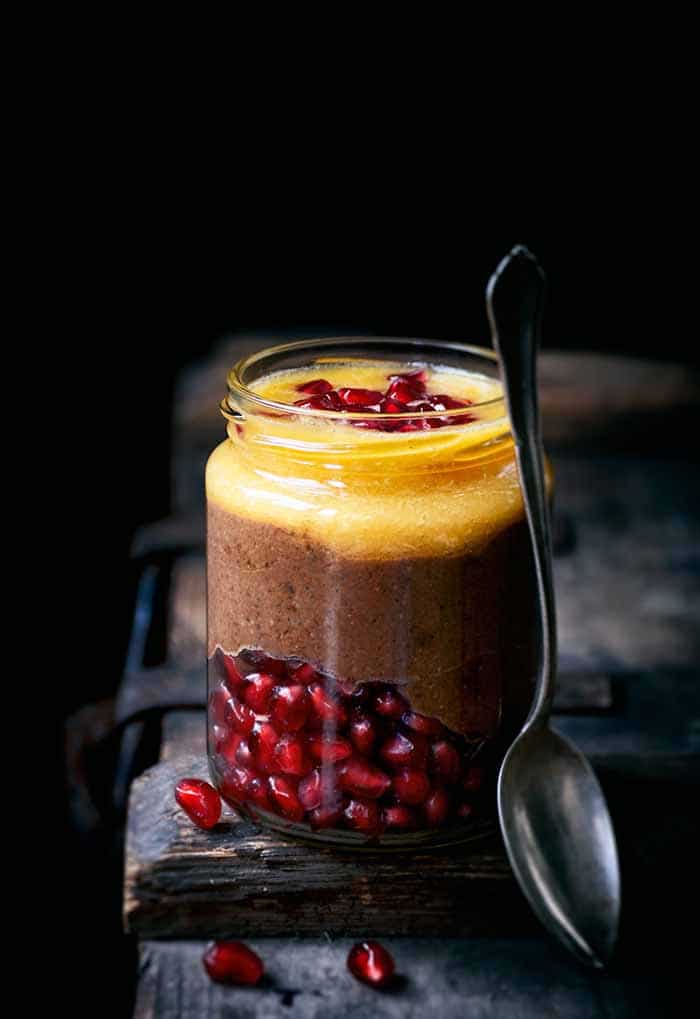 Flavored with orange zest, this blended chocolate orange chia pudding from Occasionally Eggs parfait from is topped with fresh orange juice and pomegranate for a healthy breakfast treat.
21. Coconut Chia Seed Parfait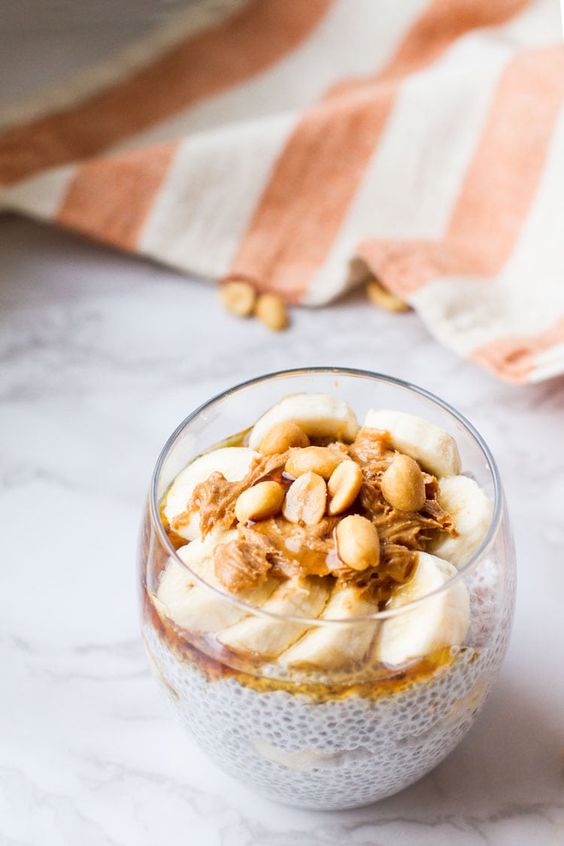 Creamy coconut chia seed parfait from Ginger with Spice topped with slices of banana, peanut butter, salted peanuts and maple syrup for a sweet, yet healthy meal.
Healthy Breakfast Parfait Recipes
Here are some healthy breakfast parfait alternatives include using non dairy yogurts, using quinoa instead of granola, and skipping added sugar.
22. Chocolate Nice Cream Breakfast Parfait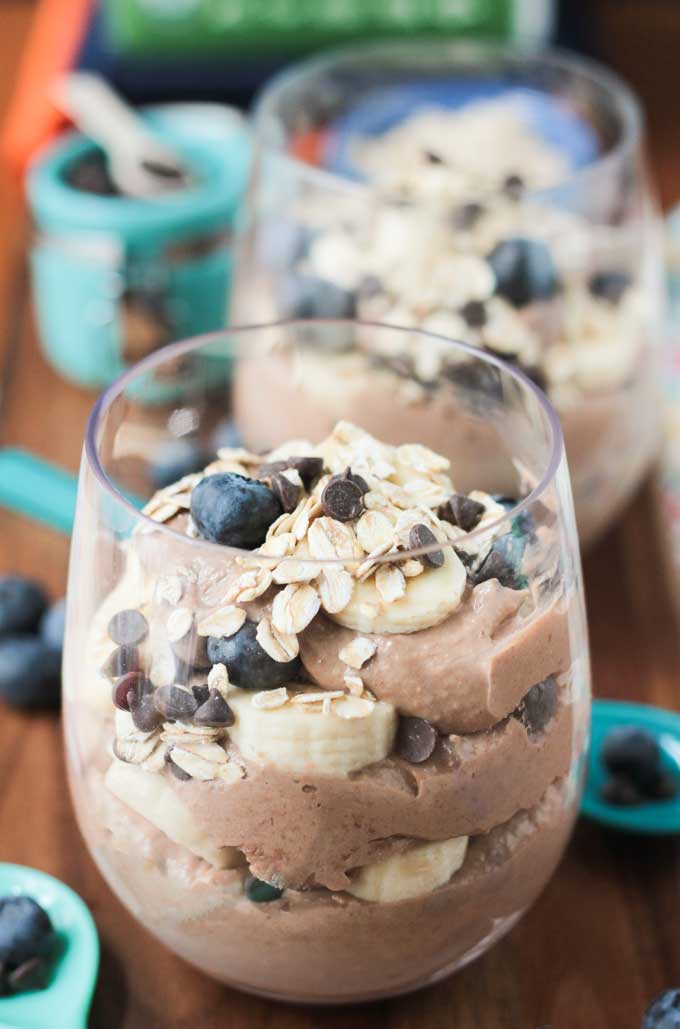 Chocolate ice cream healthy enough for breakfast? That's right! This dairy free treat is packed with protein and healthy ingredients, zero sugar, and easily made in your food processor! This Chocolate Nice Cream Parfait from Veggie Inspired is perfect any time of day!
23. Vegan Breakfast Parfait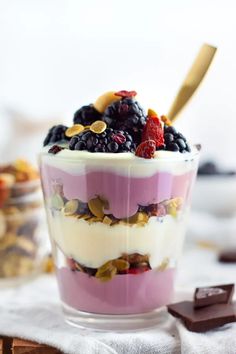 This simple, healthy and quick vegan breakfast parfait from Plant Well is perfect for busy mornings! With layers of vanilla and strawberry yogurt, granola and berries! Who doesn't love easy parfait recipes like this?!
24. Strawberries and Cream Yogurt Quinoa Parfaits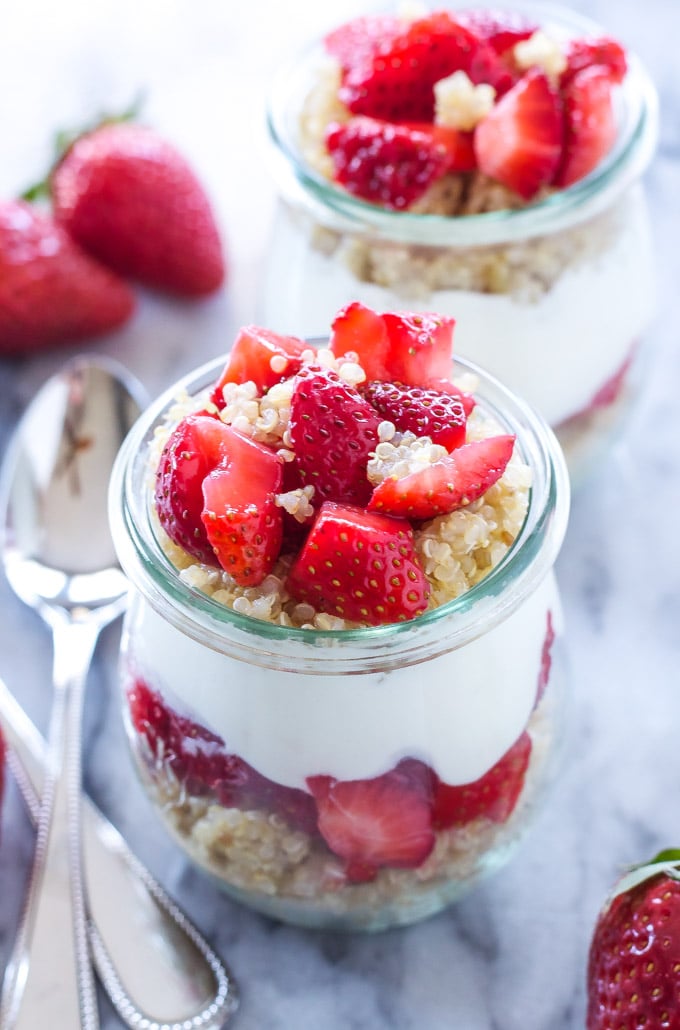 These Strawberries and Cream Yogurt Quinoa Parfait Recipe are a delicious and easy to make breakfast, snack or healthy dessert! Layers of maple syrup sweetened quinoa, vanilla Greek yogurt and fresh strawberries. You can't go wrong!
Which parfait recipe is your favorite? I'd love to hear in the comments!
You'll Also Love these Unique Pancake Recipes!
If you make any parfait recipes for breakfast this week please snap a photo and share on instagram using hashtag #rainbowdelicious and tag me @rainbowdelicious, I'd love to see how your easy parfait recipes turn out! Subscribe below to get weekly recipe inspiration delivered to your inbox.

Some links on this site are affiliate links and I may earn a small commission at no cost to you. Thank you!
You'll Also Love These Posts
If you love these easy parfait recipes you might also enjoy the following
Oatmeal Recipes you need to try!
Unique Lemonade Flavors You'll Love!
Editors Note: This post was originally published in 2014 and has been completed revamped and updated for accuracy and comprehensiveness
(Visited 73,063 time, 1 visit today)