Unique pancake recipes make the world go round and are a great way to start your morning.  From pumpkin oat, to gingerbread, to lemon ricotta pancakes, to rainbow pancakes you are sure to find breakfast pancakes ideas that you will love!

We've all probably make regular pancakes so many times at this point that we can recite a basic recipe from memory… add some flour, a tablespoon or two of sugar, a teaspoon baking soda or some baking powder, pinch of salt, milk, eggs, vegetable oil, a tsp vanilla extract, and whisk together until barely combined. Cook on a greased griddle over medium heat until golden brown on both sides and serve with maple syrup, berries, and powdered sugar.
Traditional pancakes are delicious, don't get me wrong, but sometimes the kids and I want to experiment and make different types of pancakes that are a little "extra."
I'm always on the search for creative pancake ideas because my kids love them and I love variety. We love to try out creative pancake ideas on the weekend and take our time having fun with the process. That is where is this recipe round up comes in. I hope you are able to find some unique pancake recipe inspiration from this list. There are pancakes flavors for everyone!
Dessert Inspired Pancake Recipes
1. Tiramisu Pancakes

These tiramisu pancakes from The Simple Sweet Life are the perfect addition to your weekend breakfast or brunch plans! This recipe has fluffy pancakes are filled with a mascarpone, espresso and brandy filling and topped with a rich chocolate sauce.
2. Chocolate Chip Oatmeal Cookie Pancakes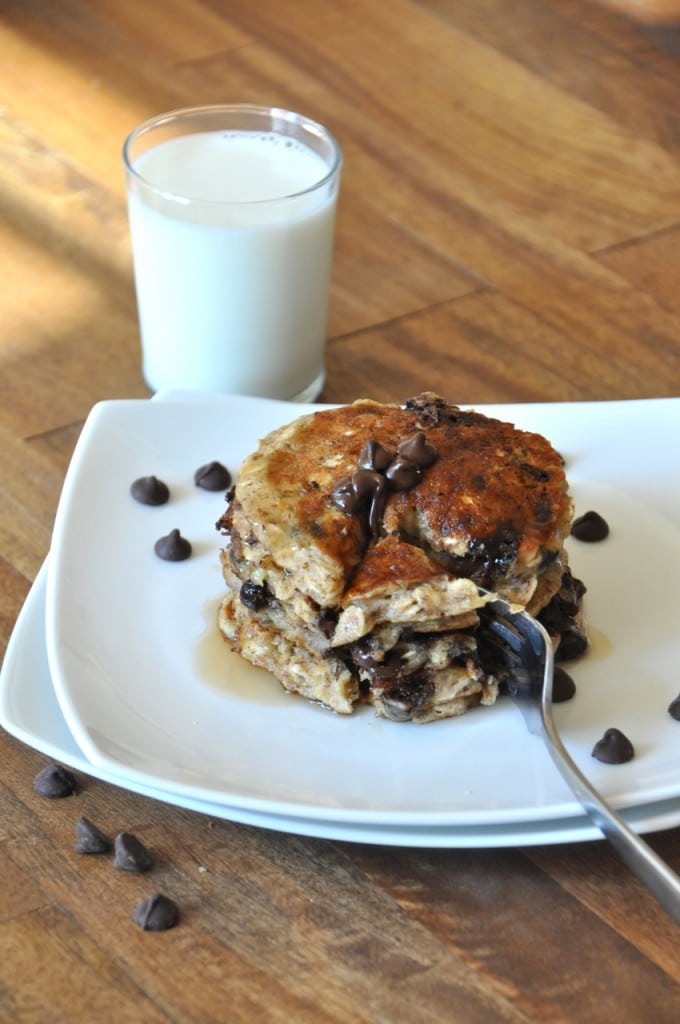 You'll love these easy, 15-minute, 1-Bowl Vegan Chocolate Chip Oatmeal Cookie Pancakes from Minimalist Baker that taste just like an oatmeal chocolate chip cookie! Bonus: these are butter- and refined-sugar-free.
3. Bananas Foster Pancakes

These moist and sweet bananas foster pancakes from A Food Lover's Kitchen turn dessert into a satisfyingly sweet breakfast, with caramelized bananas and sticky sweet butter and brown sugar syrup.
4. Pumpkin Cheesecake Pancakes

These pancake recipe from The Simple Sweet life is the breakfast fall dreams are made of! It has moist pumpkin pancakes filled with a sweet cheesecake filling topped with coarsely chopped hazelnuts and a light drizzle of maple syrup.
5. Strawberry Shortcake Pancakes

Strawberry Shortcake Pancakes from Hezzi D's Books and Cooks are delicious cinnamon pancakes topped with homemade strawberry syrup, strawberries, and whipped cream.
6. Orange Chocolate Pancakes

Sometimes you're just in the mood to get fancy with your breakfast. These Orange Chocolate Pancakes from The Powdered Apron with Cranberry Syrup are just as delicious as they are beautiful.
7. Pineapple Upside Down Pancakes

Pineapple upside down pancakes from 4 Sons R Us take all the yummy flavors of this decadent cake and put them in French pancake form. Pineapple upside down pancakes will turn any breakfast or brunch into something special and satisfy any sweet tooth.
8. Funfetti Pancakes with Vanilla Butter Glaze

Pretty Funfetti Pancakes from The Gracious Wife are made from scratch with rainbow sprinkles and drizzled with a vanilla butter glaze. They give you a reason to celebrate every morning! Aren't these such cute pancakes?!
9. Pumpkin Spice Pancakes with Cream Cheese Frosting

You'd have to decide if this is breakfast or dessert. These pumpkin and cream cheese frosting gourmet pancakes from My Diaspora Kitchen check all the boxes and are so yummy.
10. Strawberry Cheesecake Pancakes

You can't go wrong with these light and fluffy pancakes filled with cream cheese and topped with homemade strawberry sauce from Art From my Table.
11. S'Mores Chocolate Chip Pancakes

These fluffy S'Mores Chocolate Chip Pancakes with chocolate ganache and marshmallow syrup from Flavor Mosaic make a fun breakfast for the whole family! Of all the fun pancake recipes this is one of my faves!
12. Healthy Chocolate Pancake Recipe

An easy healthy chocolate pancake recipe from Sim's Home Kitchen is perfect for chocolate lovers and anyone looking to spice up their pancakes! Serve with, cream, berries and more.
13. Mocha Pancakes with Coffee Glaze

These Mocha Pancakes with Coffee Glaze from Three Olive's Branch are a fun breakfast treat! Coffee chocolate pancakes are topped with a coffee glaze for a sweet and fun breakfast to make.
14. Hot Chocolate Pancakes

Hot Chocolate Pancakes from Three Olive's Branch are a great way to have dessert for breakfast! Chocolate pancakes are topped with a marshmallow sauce.
15. Whole Wheat Streusel Pancakes

100% Whole Wheat Streusel Pancakes from Chef Savvy made with Greek yogurt, cinnamon and vanilla. Topped with a buttery cinnamon streusel.
16. Oreo Pancakes

If you've had your eye on the Oreo Pancakes at IHOP but haven't really had the chance to stop in and try them then make them yourself! These Oreo pancakes from The food Hussy are delicious and easy!
17. Carrot Cake Pancakes

Who says you can't have cake for breakfast? These carrot cake pancakes from Mindee's Cooking Obsession are to die for! Drizzled with cream cheese syrup they are every bit as good as carrot cake…maybe even better!
18. Very Berry Pancakes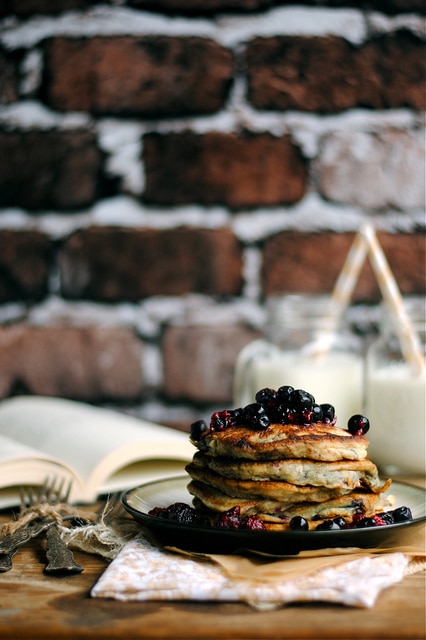 Can't go wrong with these delicious Very Berry Pancakes from How to Simplify.
Eggless Pancakes
22. Extra Fluffy Eggless Pancakes

The BEST Eggless Pancakes Recipe from Spice up the Curry! These are perfectly soft and extra fluffy that you won't believe that these pancakes are made without eggs. Keep reading for tips and tricks to make them perfect every single time.
Savory Pancake Recipes
54. Savory Spinach Feta Pancakes

Try this savory spinach feta pancake for breakfast from Divalicious Recipes if you don't have a sweet tooth.
Other Creative Pancake Ideas
75. Coconut Milk Pancakes

Dazzle your family with these incredibly fluffy and delicious Coconut Milk Pancakes from Clean Eating Kitchen that are dairy-free and made using canned coconut milk. This recipe can also be made gluten-free and is the perfect weekend treat.
76. Whole Wheat Almond Poppyseed Pancakes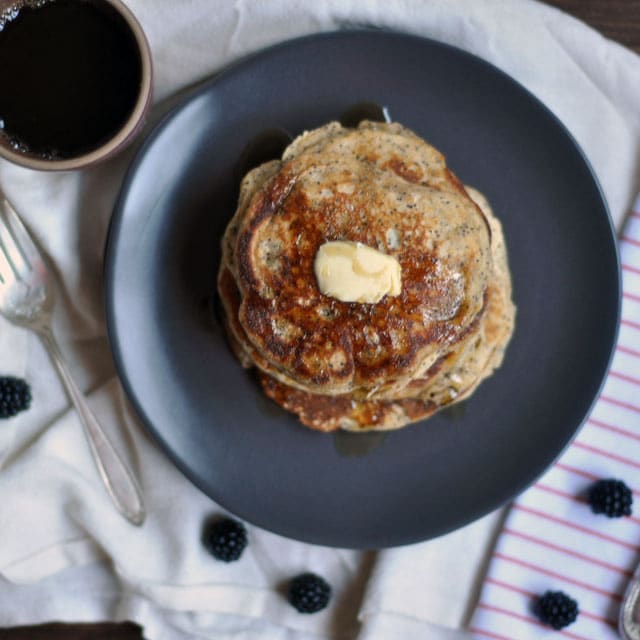 These Whole Wheat Almond Poppyseed Pancakes from Turntable Kitchen are the perfect way to start out a leisurely weekend morning.
77. Bacon Pancakes

Bacon pancakes from My Diaspora Kitchen make for a tasty and filling breakfast. Easy to make and so delicious. The unique combo of sweet and salty in these flavored pancakes cannot be beaten.
78. Cardamom Pancakes

You need to try these cardamom pancakes from A Cedar Spoon. Yogurt transforms a simple whisk-up batter into the lightest, fluffiest, tenderest, and most magical pancakes imaginable. Any extra batter keeps nicely in a covered jar in the fridge for 2 or 3 days.
79. Fluffy Cottage Cheese Pancakes

Fluffy cottage cheese pancakes from 4 Sons R Us are a delicious breakfast or brunch option. Light and fluffy, this recipe will have you making it over and over whenever you want a protein packed way to start your day!
80. Rainbow Pancakes

Last but not least, these vegan rainbow pancakes from Seitan Beats your Meats are simple to make for a fun weekend breakfast! Kids will enjoy mixing all of the colors.
More Breakfast Ideas
If you love creative pancake recipes, you might also enjoy even more breakfast ideas Here is a sample breakfast menu that serves as inspiration to branch out a little in the kitchen in the morning!

When you any of these unique pancake recipes please share on instagram using hashtag #rainbowdelicious & and tag me at @rainbowdelicious , I'd love to see the creative pancake recipes you are cooking up in your kitchen! 
Editors Note: This post was originally published in 2014 and has been completed revamped and updated for accuracy and comprehensiveness.
(Visited 24,885 time, 1 visit today)