Unique pancake recipes make the world go round and are a great way to start your morning.  From pumpkin oat, to gingerbread, to lemon ricotta pancakes, to rainbow pancakes you are sure to find breakfast pancakes ideas that you will love!

We've all probably make regular pancakes so many times at this point that we can recite a basic recipe from memory… add some flour, a tablespoon or two of sugar, a teaspoon baking soda or some baking powder, pinch of salt, milk, eggs, vegetable oil, a tsp vanilla extract, and whisk together until barely combined. Cook on a greased griddle over medium heat until golden brown on both sides and serve with maple syrup, berries, and powdered sugar.
Traditional pancakes are delicious, don't get me wrong, but sometimes the kids and I want to experiment and make different types of pancakes that are a little "extra."
I'm always on the search for creative pancake ideas because my kids love them and I love variety. We love to try out creative pancake ideas on the weekend and take our time having fun with the process. That is where is this recipe round up comes in. I hope you are able to find some unique pancake recipe inspiration from this list. There are pancakes flavors for everyone!
Dessert Inspired Pancake Recipes
1. Tiramisu Pancakes

These tiramisu pancakes from The Simple Sweet Life are the perfect addition to your weekend breakfast or brunch plans! This recipe has fluffy pancakes are filled with a mascarpone, espresso and brandy filling and topped with a rich chocolate sauce.
2. Chocolate Chip Oatmeal Cookie Pancakes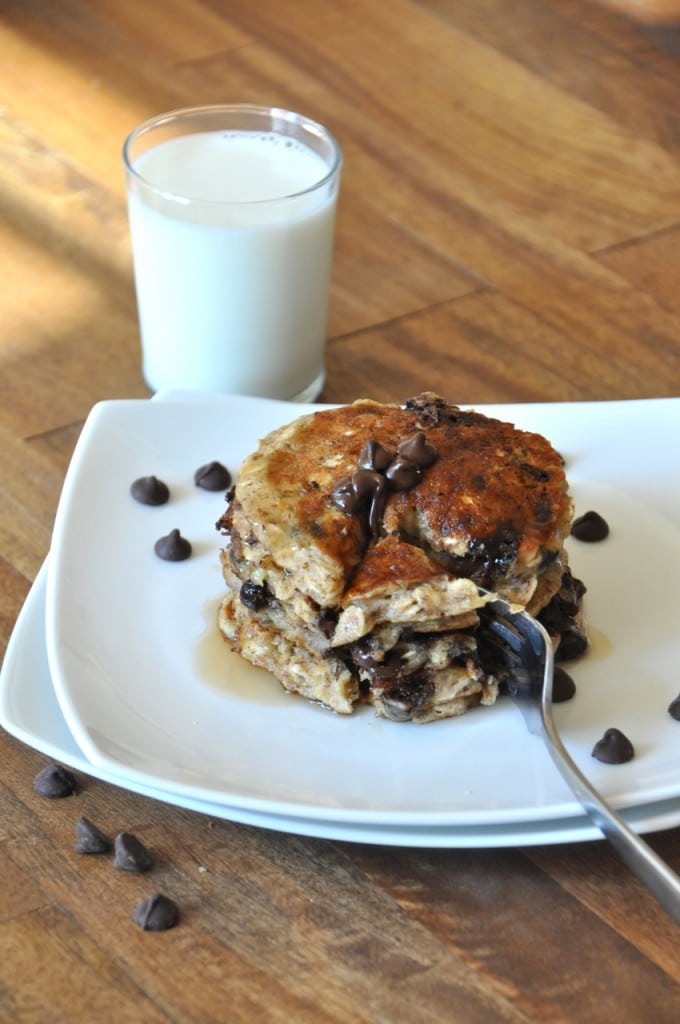 You'll love these easy, 15-minute, 1-Bowl Vegan Chocolate Chip Oatmeal Cookie Pancakes from Minimalist Baker that taste just like an oatmeal chocolate chip cookie! Bonus: these are butter- and refined-sugar-free.
3. Bananas Foster Pancakes

These moist and sweet bananas foster pancakes from A Food Lover's Kitchen turn dessert into a satisfyingly sweet breakfast, with caramelized bananas and sticky sweet butter and brown sugar syrup.
4. Pumpkin Cheesecake Pancakes

These pancake recipe from The Simple Sweet life is the breakfast fall dreams are made of! It has moist pumpkin pancakes filled with a sweet cheesecake filling topped with coarsely chopped hazelnuts and a light drizzle of maple syrup.
5. Strawberry Shortcake Pancakes

Strawberry Shortcake Pancakes from Hezzi D's Books and Cooks are delicious cinnamon pancakes topped with homemade strawberry syrup, strawberries, and whipped cream.
6. Orange Chocolate Pancakes

Sometimes you're just in the mood to get fancy with your breakfast. These Orange Chocolate Pancakes from The Powdered Apron with Cranberry Syrup are just as delicious as they are beautiful.
7. Pineapple Upside Down Pancakes

Pineapple upside down pancakes from 4 Sons R Us take all the yummy flavors of this decadent cake and put them in French pancake form. Pineapple upside down pancakes will turn any breakfast or brunch into something special and satisfy any sweet tooth.
8. Funfetti Pancakes with Vanilla Butter Glaze

Pretty Funfetti Pancakes from The Gracious Wife are made from scratch with rainbow sprinkles and drizzled with a vanilla butter glaze. They give you a reason to celebrate every morning! Aren't these such cute pancakes?!
9. Pumpkin Spice Pancakes with Cream Cheese Frosting

You'd have to decide if this is breakfast or dessert. These pumpkin and cream cheese frosting gourmet pancakes from My Diaspora Kitchen check all the boxes and are so yummy.
10. Strawberry Cheesecake Pancakes

You can't go wrong with these light and fluffy pancakes filled with cream cheese and topped with homemade strawberry sauce from Art From my Table.
11. S'Mores Chocolate Chip Pancakes

These fluffy S'Mores Chocolate Chip Pancakes with chocolate ganache and marshmallow syrup from Flavor Mosaic make a fun breakfast for the whole family! Of all the fun pancake recipes this is one of my faves!
12. Healthy Chocolate Pancake Recipe

An easy healthy chocolate pancake recipe from Sim's Home Kitchen is perfect for chocolate lovers and anyone looking to spice up their pancakes! Serve with, cream, berries and more.
13. Mocha Pancakes with Coffee Glaze

These Mocha Pancakes with Coffee Glaze from Three Olive's Branch are a fun breakfast treat! Coffee chocolate pancakes are topped with a coffee glaze for a sweet and fun breakfast to make.
14. Hot Chocolate Pancakes

Hot Chocolate Pancakes from Three Olive's Branch are a great way to have dessert for breakfast! Chocolate pancakes are topped with a marshmallow sauce.
15. Whole Wheat Streusel Pancakes

100% Whole Wheat Streusel Pancakes from Chef Savvy made with Greek yogurt, cinnamon and vanilla. Topped with a buttery cinnamon streusel.
16. Oreo Pancakes

If you've had your eye on the Oreo Pancakes at IHOP but haven't really had the chance to stop in and try them then make them yourself! These Oreo pancakes from The food Hussy are delicious and easy!
17. Carrot Cake Pancakes

Who says you can't have cake for breakfast? These carrot cake pancakes from Mindee's Cooking Obsession are to die for! Drizzled with cream cheese syrup they are every bit as good as carrot cake…maybe even better!
18. Very Berry Pancakes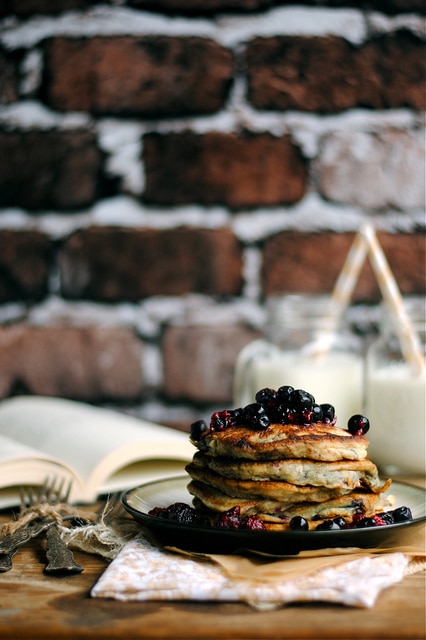 Can't go wrong with these delicious Very Berry Pancakes from How to Simplify.
Buttermilk Pancake Recipes
19. Lemon Buttermilk Pancakes with Earl Grey Crème Anglaise

Would you look at this fancy pancakes recipe? Introducing the perfect start to your day: Easy Lemon Buttermilk Pancakes with Earl Grey Crème Anglaise from Food Worth Feed. We're talking about tall, fluffy stacks of citrusy buttermilk pancakes adorned with a silky, Earl Grey custard sauce. That sauce is rich, floral and creamy with an oh-so-smooth texture that can't be beat.
20. Ube Buttermilk Pancakes Recipe

Ube pancakes from The Unlikely Baker are your favorite buttermilk pancakes bursting with the ube flavor you love. Made with ube halaya or ube jam, it's sweet, soft, fluffy. A delicious way to start the day.
21. Cinnamon Toast Crunch Buttermilk Pancakes

Cinnamon Toast Crunch pancakes from 4 Sons R Us are the breakfast you need to have on your table this and every weekend. A classic buttermilk pancake recipe gets a major upgrade with everyone's favorite cereal. It's a sweet spin on breakfast that will have everyone at your table begging for more
Eggless Pancakes
22. Extra Fluffy Eggless Pancakes

The BEST Eggless Pancakes Recipe from Spice up the Curry! These are perfectly soft and extra fluffy that you won't believe that these pancakes are made without eggs. Keep reading for tips and tricks to make them perfect every single time.
23. Eggless & Vegan Giant Blueberry Pancake

This giant Blueberry Pancake from is A Virtual Vegan is made in a skillet. It's incredibly thick and fluffy and made with no eggs!
24. Eggless Blueberry Banana Quark Pancakes

You'll love these Easy banana blueberry quark pancakes from Fat Rainbow.
Sourdough Pancakes
25. Lemon Poppy Seed Sourdough Pancakes

These lemon poppy seed sourdough pancakes from Barley & Sage are stuffed with poppy seeds and topped with a bright, lemony icing!
26. Sourdough Pumpkin Pancakes

These sourdough pumpkin pancakes from Barley & Sage are light, fluffy, and perfectly spiced. Topped with homemade whipped cream, chopped pecans, and honey.
27. Extra Fluffy Sourdough Pancakes

These sourdough pancakes from Milk and Pop are free of eggs, so if you're looking for an eggless pancake recipe, you've just found your new favorite! In fact, these are vegan sourdough pancakes, free of any milk, buttermilk or butter
28. Sourdough Blueberry Pancakes

These sourdough blueberry pancakes from Champagne Tastes are a fluffy, delicious breakfast! They're made with sourdough discard, milk kefir (or buttermilk), flour and fresh or frozen berries. Blueberry buttermilk pancakes always hit the spot!
29. Gluten Free Sourdough Pancakes

These gluten-free sourdough pancakes from Champagne Tastes are an extra-fluffy, delicious breakfast! They're made with sourdough discard, milk kefir (or buttermilk) and eggs
Green Pancake Recipes
30. Spinach Pancakes

These naturally green pancakes from Spabettie can be enjoyed as a sweet stack and a savory sandwich bread. kids of all ages love these!
31. Spinach Oatmeal Green Pancakes

These Gluten-Free Spinach Oatmeal Pancakes from Joy Food Sunshine are a fun, healthy breakfast recipe full of nutritious ingredients like spinach, oatmeal and Greek yogurt that your kids will love!
Ricotta Pancake Recipes
32. Blueberry Lemon Ricotta Pancakes

These blueberry lemon ricotta pancakes from Flouring Kitchen are moist AND fluffy. With the most wonderful milky flavor from the ricotta, pops of gooey blueberries, and some zing from the lemon zest.
33. Banana Walnut & Ricotta Buttermilk Pancakes

These super fluffy ricotta pancakes from The Pyper's Kitchen are full of delicious banana walnut flavor.
34. Lemon Ricotta Pancakes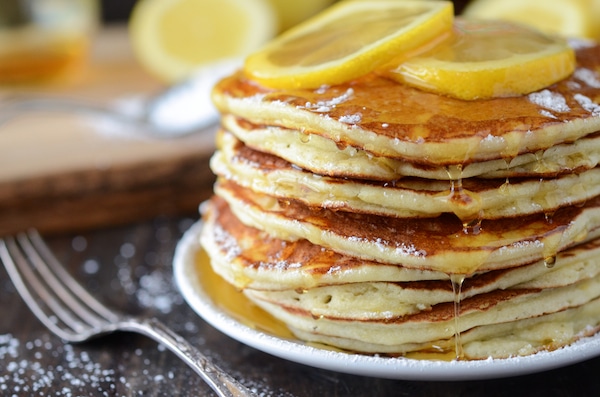 These lemon ricotta pancakes from the Notice Chef Blog are a fantastic Sunday morning breakfast or brunch. They're everything a perfect pancake should be: light, fluffy, and covered in maple syrup!
Gluten Free Pancake Recipes
35. Sweet Potato Oatmeal Pancakes

These gluten free Sweet Potato Oatmeal Pancakes from Big Delicious Life make a hearty and delicious breakfast. They're slightly sweet and perfect topped with some crunchy pecans and a drizzle of maple syrup or honey.
36. Gluten Free Buckwheat and Pear Pancakes

Gluten free buckwheat pancakes with fresh pears from Fearless Dining are the perfect start to a weekend. This healthy buckwheat pancakes recipe makes fluffy gluten free pancakes that hold syrup perfectly.
37. Gluten Free Apple Cider Pancakes

I'm drooling over these Chocolate Chip Apple Cider Pancakes with Stewed Apples from The Healthful Ideas. The ultimate fall pancakes. Delicious, soft, fluffy, gluten-free pancakes with fall spiced apples and maple syrup.
Pancakes Made with Unique Flours, Grains, and Legumes
38. Vegan Buckwheat Pancakes

These vegan buckwheat pancakes from The Dizzy Cook are food allergy friendly! The key is the combination of flours so you don't have an overwhelming buckwheat flavor, but reap all the healthy benefits like more protein, fiber, and energy.
39. Buckwheat Pancakes

These fluffy Banana Buckwheat Pancakes from A Baking Journey are a deliciously light and naturally Gluten Free Pancake recipe, packed with hidden fruits! These easy banana pancakes made with buckwheat flour are perfect if you are looking for a healthier pancake recipe.
40. Zucchini Oat Flour Pancakes

Sneak some extra veggies into these Zucchini Oat Flour Pancakes from Lemons and Zest and enjoy your favorite sweet bread for breakfast. Made with hearty oats, crunchy pecans, a hint of cinnamon and all the flavor! No one will guess there are veggies in these!
41. Cassava Flour Pancakes

These fluffy pancakes from Organically Addison are uniquely made with Cassava flour! They are naturally Paleo, grain free and nut free. They taste like classic pancakes but they're made with wholesome ingredients!
42. Coconut Chia Lime Pancakes

A tropical taste of coconut and lime with these coconut flour and chia pancakes from Divalicious Recipes makes a healthy start to the day.
43. Rice Flour Pancakes

You only need 3 ingredients to make these delicious allergy-friendly Rice Flour Pancakes from Clean Eating Kitchen. They're vegan, gluten-free, and perfect for a weekend treat.
44. Almond Flour Sheet Pan Pancakes

Light, fluffy, and made in just a fraction of the time! These almond flour sheet pan pancakes from A Life of Happenstance have a delicious cinnamon swirl and are perfect for feeding a crowd or those mornings you don't want to stand over the griddle.
45. Vegan Banana Pancakes with Chickpea Flour

These pancakes from My Plantiful Cooking are made from chickpea flour, making them naturally high in protein! Super easy to make, vegan and freezable too.
46. Pumpkin Oat Pancakes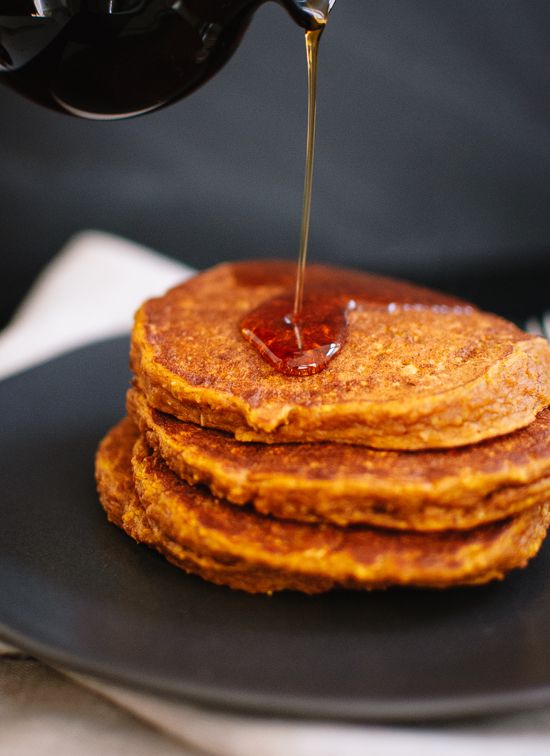 These fluffy, healthy Pumpkin Oat Pancakes from Cookie and Kate are laced with hearty oats and warming spices. Since they are made with oat flour, they are gluten free!
47. Overnight Banana Spelt Pancakes

Soft, delicious and the healthiest spelt pancakes from Yang's Nourishing Kitchen that you'll want to make over and over again. Overnight soaking and fermenting of the batter improve nutritional value and digestibility.
48. Quinoa Pancakes

Quinoa pancakes from Beyond the Coop are a delicious homemade pancake with added cooked quinoa to the batter.
49. Leftover Oatmeal Blender Pancakes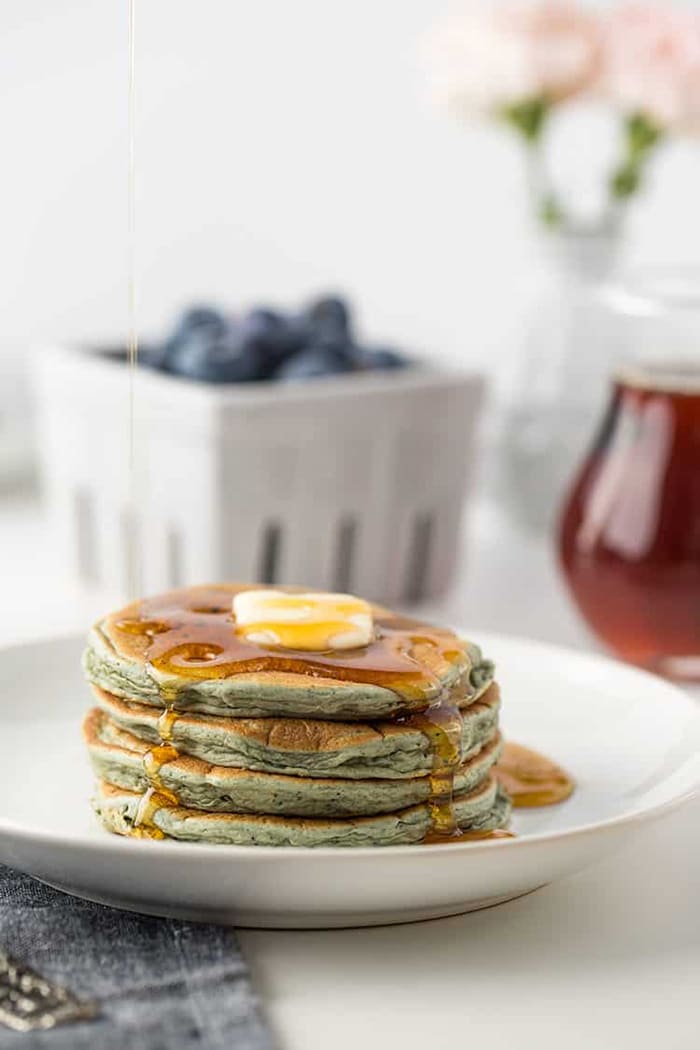 Got leftover oatmeal you don't want to go to waste? Use it in these easy blender pancakes from Make Ahead Meal Mom for a delicious and nutritious, and cost-saving, easy breakfast option!
50. Rye Chocolate Orange Pancakes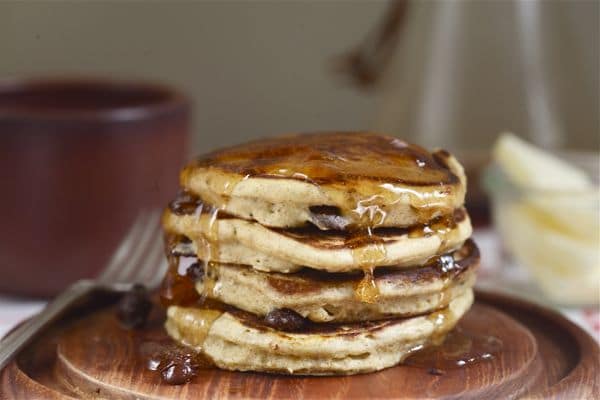 You'll love these Rye Chocolate Orange Pancakes from A Cozy Kitchen. The earthy flavor from the rye paired with the refreshing, sweet flavor from the orange is like a lil' explosion in your mouth.
51. Polenta Berry Pancakes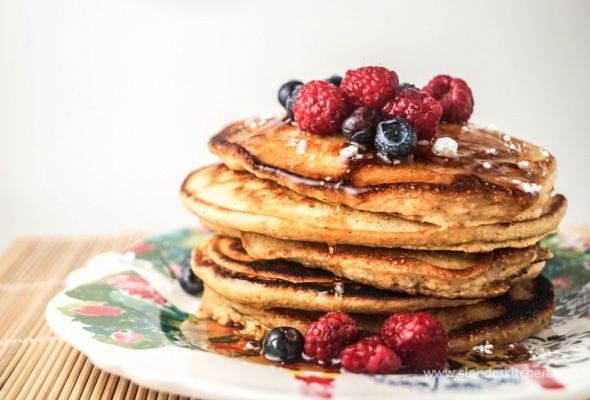 Packed with polenta and fresh berries, these Polenta Berry Pancakes from Slender Kitchen make a hearty and delicious twist on a traditional pancake. Imagine a pancake and a corn muffin had a beautiful baby.
Protein Packed Pancake Recipes
52. Vegan Protein Pancakes

Can you guess why these vegan pancakes from My Pure Plants are they called protein pancakes? No, there aren't any protein powders, but all natural red lentils.
53. Banana Lentil Pancakes

These protein dense pancakes from This Healthy Kitchen are made using lentils!! They're perfect for breakfast or dinner, completely wholesome and seriously mouth watering!
Savory Pancake Recipes
54. Savory Spinach Feta Pancakes

Try this savory spinach feta pancake for breakfast from Divalicious Recipes if you don't have a sweet tooth.
55. Savory Cheese Pancakes

These Savory Cheese Pancakes from A Baking Journey make a delicious and original dish to serve with your favorite toppings for breakfast, brunch or even lunch. The fluffy Cheese Savory Pancakes made with Sour Cream are super easy and quick to make – and they are not just reserved for the weekend!
56. Vegan Lentil Spinach Savory Pancakes

Switch up your pancake game with these protein dense dinner pancakes from This Healthy Kitchen. Loaded with spinach and scallions, savory seasoning and a red lentil base.
57. Corn Pancakes with Bacon

These easy Corn Pancakes from Lemon Blossoms are loaded with sweet corn and crispy bacon and have the right balance of sweet and savory flavors. Light and delicious!
58. Savory Masa Pancakes

With Hatch green chile and sweet corn, these fluffy Savory Masa Pancakes with Hatch Green Chile and Corn from Beyond Mere Sustenance are perfect for brunch (or any meal)! A simple avocado crema provides a creamy and delicious finish, and they're quick and easy to make.
59. Bacon and Chive Pancakes

These bacon and chives pancakes from Eat the Love are a total crowd pleasure. With an entire slice of bacon in each pancake, they make an impressive breakfast or brunch item but are easy to make.
Banana Pancakes
60. Banana Caramel Pancakes

These easy caramelized banana pancakes from Scrummy Lane are simple, they're fluffy, and they're smothered in buttery caramel-y bananas. They're a perfect romantic or casual breakfast for two – or more!
61. Banana Pancakes with Peanut Butter Syrup

Breakfast or Brunch doesn't have to just mean bacon and eggs. These banana peanut butter pancakes from 4 Sons R Us will take an otherwise ordinary family breakfast from simple to extraordinary with hardly any extra effort at all.
62. Banana Bread Pancakes

Bring two favorite breakfast meals together with banana bread pancakes from Sonshine Kitchen. They are easy, healthy, and only need one pan!
63. Three Ingredient Sugar Free Banana Pancakes

This super easy and healthy 3 Ingredients Banana Pancakes recipe from A Baking Journey is the proof that breakfasts don't have to be complicated to be delicious. These quick Sugar-Free Banana Pancakes will be ready in less than 20 minutes and kids LOVE them!
Pancake Recipes from Around the World
64. Traditional Irish Potato Pancakes

One of the best pancakes you'll ever have, Irish boxty from Christina's Cucina are great for breakfast, lunch or dinner! Fill them or eat them plain, everyone will love them!
65. Serabi Kuah / Indonesian Pancakes

Serabi Kuah is Indonesian pancake that you enjoy with palm sugar syrup and coconut milk. This pancake recipe from So Yummy Recipes has coconut milk that makes it creamy and simply delicious.
66. Fluffy Japanese Pancakes

This Fluffy Soufflé like Japanese Pancake recipe from Lemon Blossoms makes thick, soft fluffy pancakes sure to make your breakfast extra special!
Mini Pancake Dippers / Cereal Pancakes
67. Gluten Free Banana Pancake Dippers

These pancake dippers from The Helpful GF are simple, easy, and kids love them! Make them gluten-free, vegan, or paleo depending on the pancake mix of choice.
68. Pumpkin Spice Sourdough Cereal Pancakes

Sourdough Pumpkin Spice Cereal Pancakes from Milk and Pop are cereal-sized pancakes that will give you the best fall breakfast vibes!
69. Gluten Free Vegan Mini Lemon Pancakes

These adorable lemon pancakes from G Free Foodie are gluten, dairy, and egg free but are still light and fluffy and get nice and golden from coconut oil.
Festive Holiday Pancake Recipes
70. Fall Apple Pancakes

Apple Pancakes from A Cedar Spoon are a savory and sweet fall pancake recipe. You will love these light, fluffy and flavorful pancakes that use apple butter and warm cinnamon. Top the finished pancakes with diced apples and pecans along with maple syrup.
71. Eggnog Pancakes

Add some joy to your breakfast table with these festive and fluffy eggnog pancakes from Trendgredient, served with a cinnamon nutmeg whipped butter and hot drunken maple syrup.
72. Cinnamon Swirl Eggnog Pancakes

These eggnog infused pancakes from Eat the Love get a fun little swirl of rummy cinnamon nutmeg brown sugar.
73. Whole Wheat Gingerbread Pancakes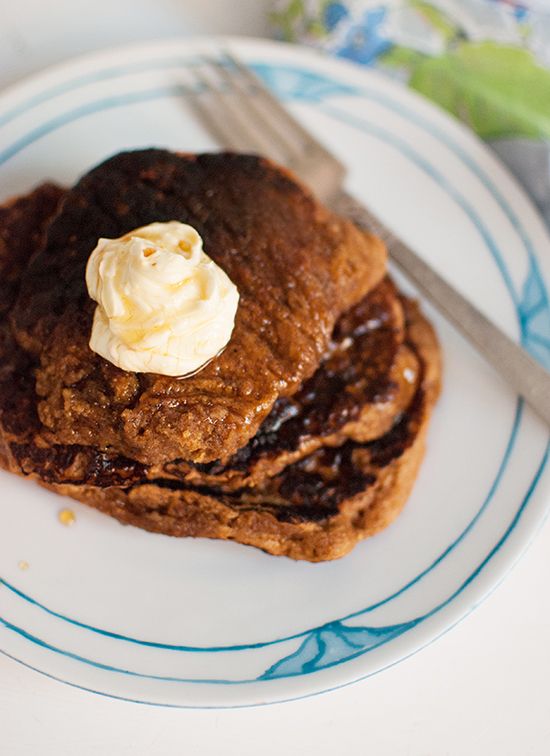 These Whole Wheat Gingerbread Pancakes from Cookie and Kate are fluffy and comforting.Top with maple syrup and a dollop of almond butter or a dollop of orange cream cheese.
74. Pink Ombre Pancakes

These pancakes from The Farm Girl Gabs with various hues of pink are the perfect way to celebrate Valentine's Day.
Other Creative Pancake Ideas
75. Coconut Milk Pancakes

Dazzle your family with these incredibly fluffy and delicious Coconut Milk Pancakes from Clean Eating Kitchen that are dairy-free and made using canned coconut milk. This recipe can also be made gluten-free and is the perfect weekend treat.
76. Whole Wheat Almond Poppyseed Pancakes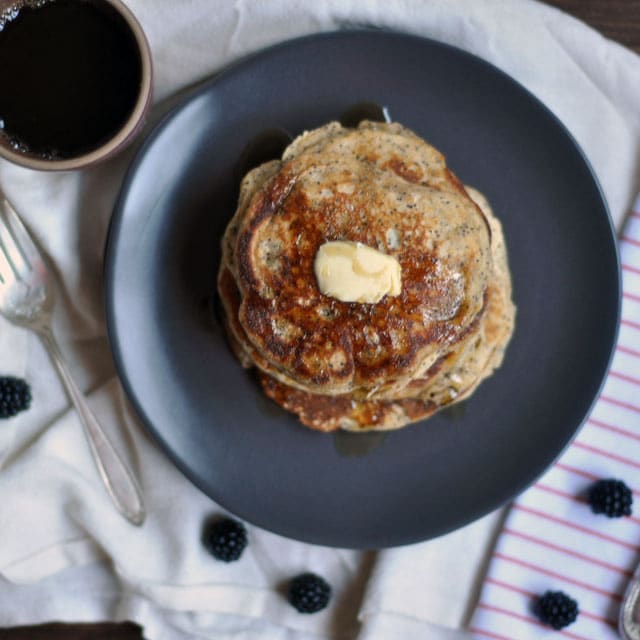 These Whole Wheat Almond Poppyseed Pancakes from Turntable Kitchen are the perfect way to start out a leisurely weekend morning.
77. Bacon Pancakes

Bacon pancakes from My Diaspora Kitchen make for a tasty and filling breakfast. Easy to make and so delicious. The unique combo of sweet and salty in these flavored pancakes cannot be beaten.
78. Cardamom Pancakes

You need to try these cardamom pancakes from A Cedar Spoon. Yogurt transforms a simple whisk-up batter into the lightest, fluffiest, tenderest, and most magical pancakes imaginable. Any extra batter keeps nicely in a covered jar in the fridge for 2 or 3 days.
79. Fluffy Cottage Cheese Pancakes

Fluffy cottage cheese pancakes from 4 Sons R Us are a delicious breakfast or brunch option. Light and fluffy, this recipe will have you making it over and over whenever you want a protein packed way to start your day!
80. Rainbow Pancakes

Last but not least, these vegan rainbow pancakes from Seitan Beats your Meats are simple to make for a fun weekend breakfast! Kids will enjoy mixing all of the colors.
More Breakfast Ideas
If you love creative pancake recipes, you might also enjoy even more breakfast ideas Here is a sample breakfast menu that serves as inspiration to branch out a little in the kitchen in the morning!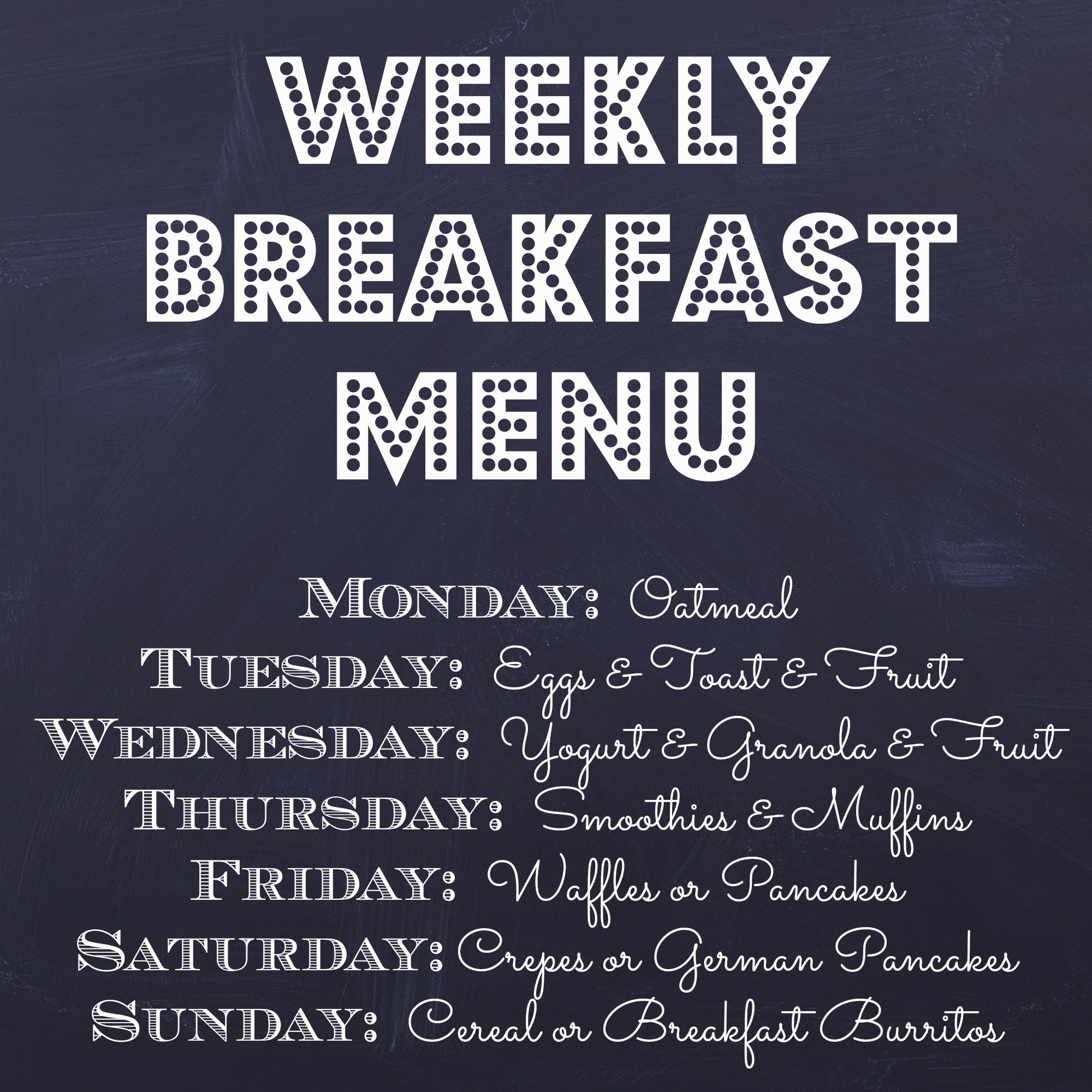 When you any of these unique pancake recipes please share on instagram using hashtag #rainbowdelicious & and tag me at @rainbowdelicious , I'd love to see the creative pancake recipes you are cooking up in your kitchen! 
Editors Note: This post was originally published in 2014 and has been completed revamped and updated for accuracy and comprehensiveness.
(Visited 2,353 time, 1 visit today)