Jump to Video
Jump to Recipe
Pineapple, ginger, lemon, apple, spinach/kale and wheat grass combined together make an intensely flavorful and nutrient-packed detox green pineapple smoothie that you will want to make again and again!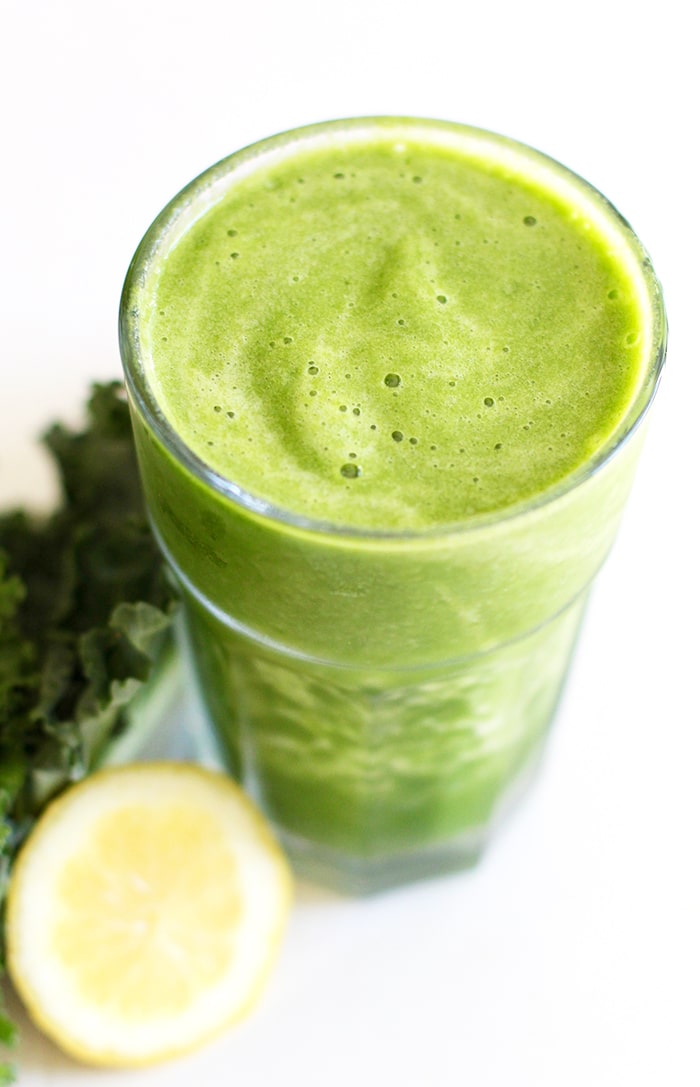 Making this detox smoothie is simple, all you need is some fresh or frozen pineapple chunks, some leafy greens like spinach or kale, peeled fresh ginger, one peeled lemon, a green apple, and wheatgrass.
This flavor combo is very fresh and the ingredients offer wonderful health benefits.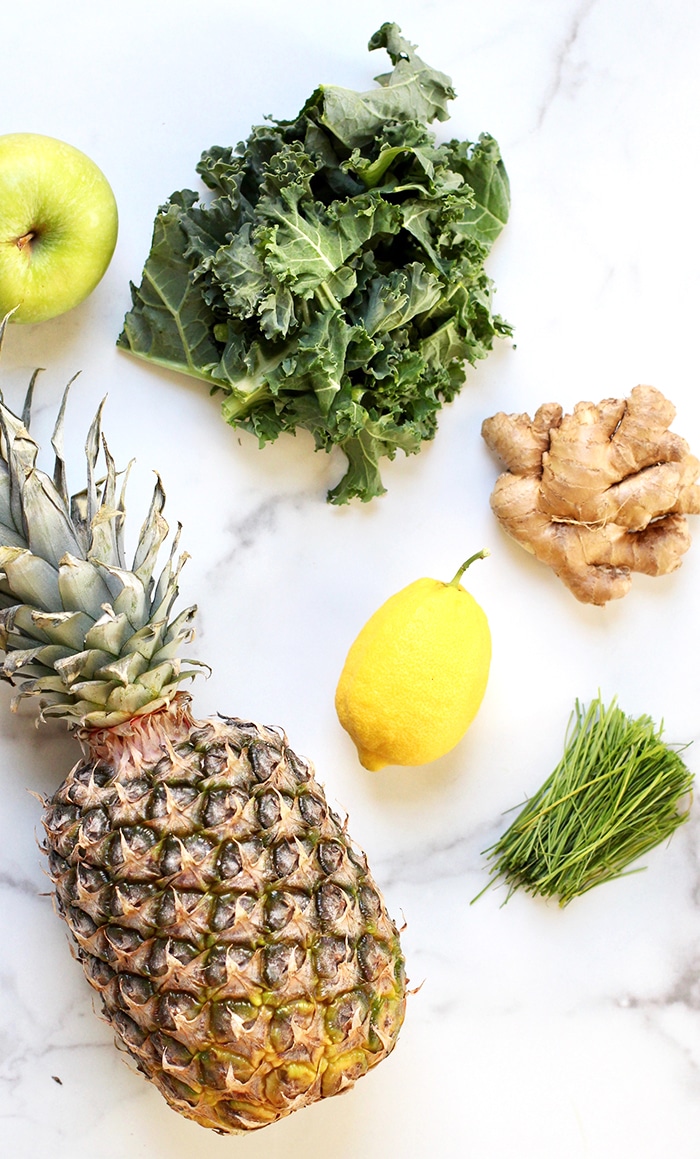 Detox Green Pineapple Smoothie Ingredients
Pineapple adds sweet flavor to this smoothie but also amazing health benefits-  the fruit contains bromelian, a rich source of enzymes that benefit digestion and in reducing inflammation.
Ginger is known for its ability to soothe an upset stomach, ease nausea and aiding in digestion, plus it adds amazing flavor.
Lemon adds a nice distinctive sourness to this smoothie that balances out the sweet pineapple. The citrus is a staple in many detox folk remedies and is a great source of vitamin C, an antioxidant and anti-inflammatory agent.
Apple adds a little sweet and sour tartness to this smoothie, I use granny smith apple but you can substitute with different apples that you like.
Kale or Spinach are a base of this green smoothie because we all need more leafy greens in our life!
Wheatgrass is more commonly used in juicing but I also like to add fresh wheatgrass to my smoothies. wheatgrass is believed to help cleanse the lymph system, restore balance, and help remove toxic metals from your cells. It is optional for this recipe, so if you have difficulty finding fresh wheatgrass simply leave out.

Water, coconut water and ice can also be added to this smoothie to get your desired consistency!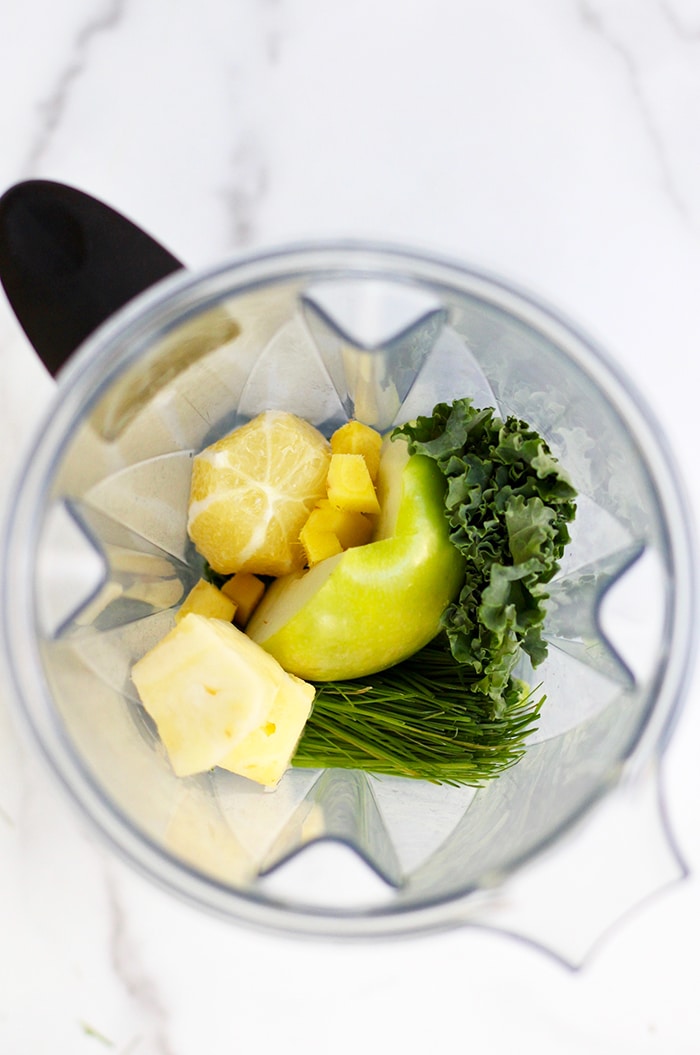 How to Make Detox Green Pineapple Smoothie
Making this smoothie is very simple. Add the pineapple chunks, peeled ginger, cut apple, kale or spinach, wheatgrass and lemon to your high-power blender, I use a vitamix. Blend and add up to 1/2 cup of water or coconut water until it reaches a consistency that allows it to blend thoroughly.
Next, add up to a cup of ice until the smoothie is your desired consistency. Pour between two large glasses or four small glasses and enjoy!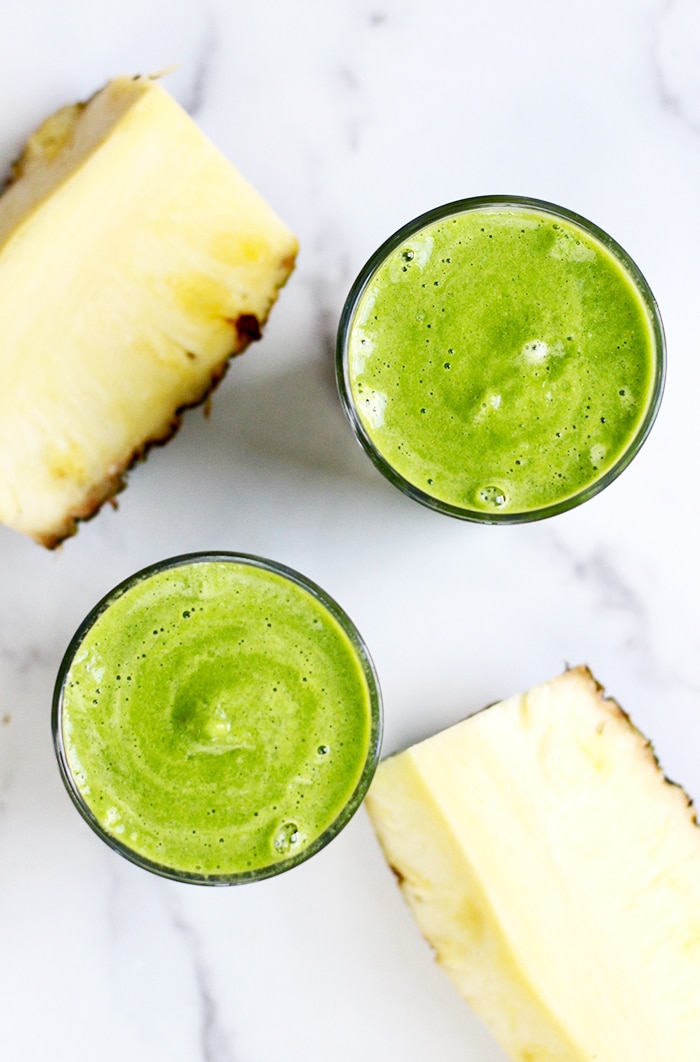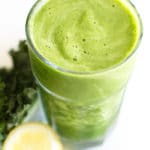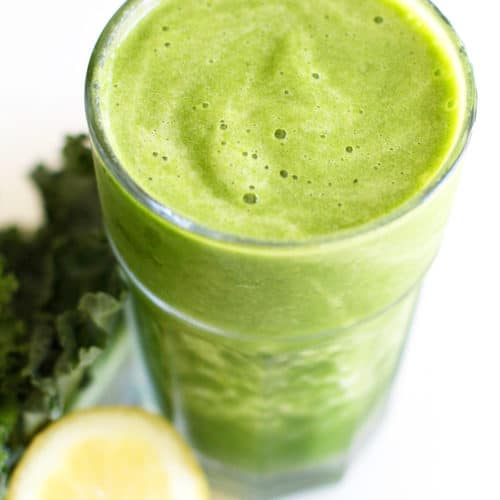 Detox Green Pineapple Smoothie
Pineapple, ginger, lemon, apple, spinach/kale and wheat grass combined together make an intensely flavorful and nutrient packed detox smoothie that you will want to make again and again!
Ingredients
1

cup

pineapple

fresh or frozen

2

cups

kale or spinach leaves

1.5

inches

ginger

peeled

1

small lemon

peeled

1/2

green apple

1

handful

wheatgrass

1/2

cup

water or coconut water

ice cubes
Instructions
Add spinach, wheatgrass (if using), ginger, apple, lemon, and pineapple to blender and blend until smooth. If extra liquid is needed (especially if you are using frozen instead of fresh pineapple) add up to 1/2 up of water or coconut water.

If desired, add up to 1 cup of ice cubes and blend until you have your preferred consistency.

Enjoy your detox smoothie!
Recipe Video
Nutrition Facts
Detox Green Pineapple Smoothie
Amount Per Serving
Calories 128
Calories from Fat 3
% Daily Value*
Fat 0.3g0%
Sodium 95mg4%
Potassium 690mg20%
Carbohydrates 31.4g10%
Protein 3.4g7%
Calcium 124mg12%
Iron 2mg11%
* Percent Daily Values are based on a 2000 calorie diet.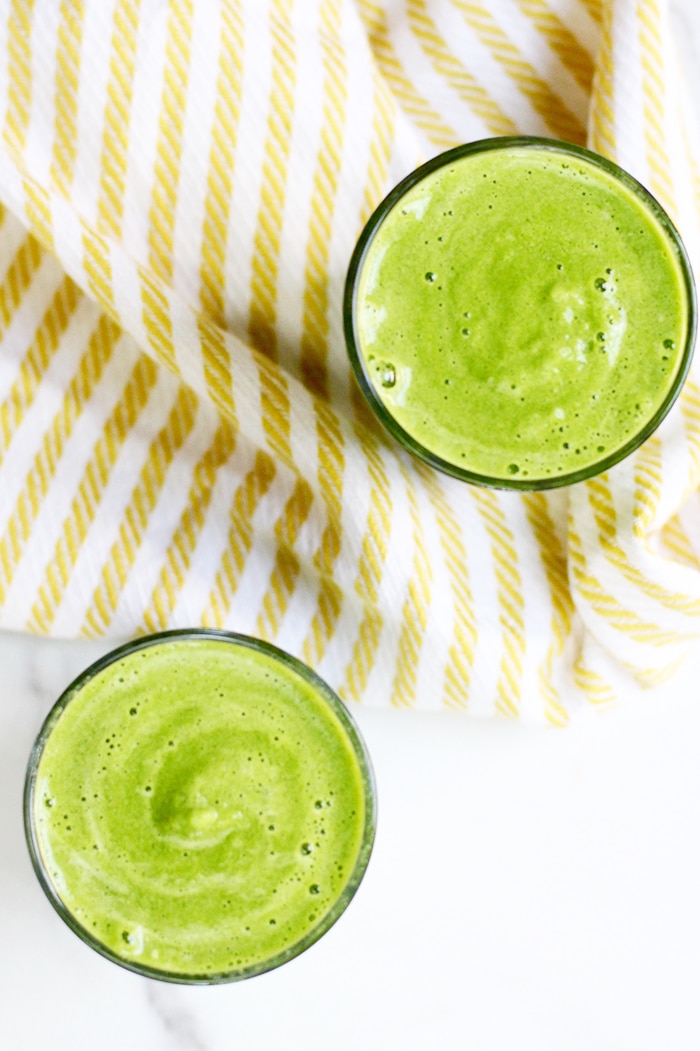 You May Also Enjoy These Posts:
Pomegranate & Berry Smoothie with SmoothieBox (Use Code RAINBOW for $15 off your first box!)
Raspberry Kefir Walnut Smoothie
If you make this refreshing detox pineapple smoothie please share on instagram using hashtag #rainbowdelicious & and tag me at @rainbowdelicious , I'd love to see what you are up to in your kitchen!

Some links on this site are affiliate links and I may earn a small commission at no cost to you. Thank you!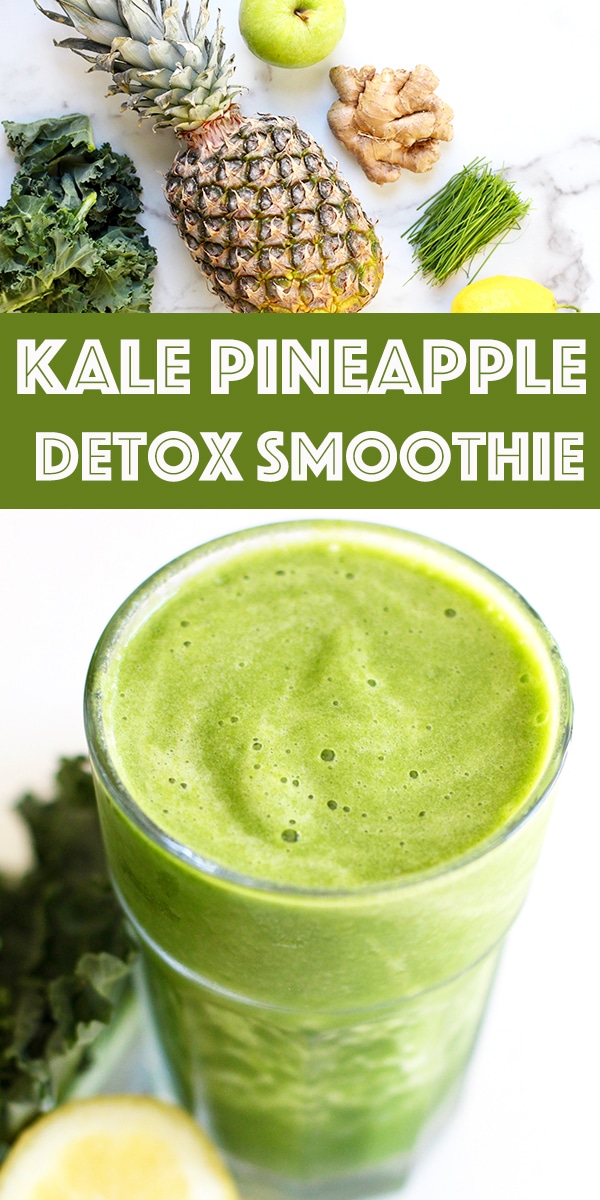 FAQ
Does it matter what types of greens I use in this smoothie? Feel free to use whatever greens you'd like in this smoothie. It I normally made with kale or spinach, but you can also do swiss chard, or other greens you have on hand.
Should I add the lemon in with the peel or without the peel? This is a mater of personal preference. When I make this smoothie I actually prefer to leave the peel on, but if I'm making it for my kids I cut off the peels; the flavor of the rind can be too strong for some people. Be sure to wash the lemon before adding to the smoothie if you decide not to remove the peel.
How do I prevent my smoothie from being too watery? For this smoothie if you don't want it to be too liquid-like, using frozen pineapple instead of fresh is a good choice. Also, add only enough coconut water to get everything to blend well, and then add some ice to get your perfect consistency.
Jump to Video
(Visited 28,075 time, 1 visit today)