You'll want to enjoy this refreshing virgin mojito mocktail recipe all summer long. Fresh lime juice, mint leaves, and sparkling water or club soda combine to make a mojito mocktail that is gorgeous and delicious.
Jump to Recipe
Jump to Video

I started planting mint in my garden a few years ago and even though I use fresh mint regularly it has still pretty much taken over. This is a common garden situation, but I'm not complaining because I love to use mint in drink recipes, especially these virgin mojitos and mint chia seed limeade. Nothing beats the combo of fresh lime juice, a little simple syrup, mint leaves, and sparkling water in this mojito mocktail.
Virgin Mojito Ingredients

Here's what You'll Need for this Refreshing Virgin Mojito
Fresh Mint: This is the most important part of the mojito. Nothing beats the presentation and flavor from fresh mint. For each tall glass you will want between 8-12 fresh mint leaves. You can muddle or simply "slap" the leaves together in your palm before adding to your drink. I find that muddling can sometimes leave the mint tasting a bit bitter, and like toothpaste, while simply slapping the leaves in your palm and then giving it a good stir with a bar spoon or long wooden spoon keeps the mint flavor vibrant and fresh.
Fresh Limes: Fresh lime juice gives this virgin mojito that sweet-tart flavor that we all love. I use a hand press to squeeze juice from the limes and also like to add a lime wedges as a garnish. For a tall glass, you'll need juice from about 1 1/2 limes. To make a "lemon mojito" simply substitute lime juice with lemon juice.
Simple Syrup: Simple syrup is used to sweeten this non alcoholic mojito recipe. Simple syrup is made by heating equal parts sugar and water until sugar is dissolved. Once cooled, you can store simple syrup in a sealed glass jar in the refrigerator for one month. You can make a mint simple syrup by adding equal parts sugar, water and mint leaves to a saucepan over medium heat until sugar is dissolved. Strain the leaves out before storing and this virgin mojito syrup should last in the refrigerator for one month as well.
Sparkling Water: adds carbonation to this refreshing drink but you can substitute with other carbonated beverages like club soda, ginger ale, or even sprite.

You'll also need
Tall glasses, highball glasses are great for this recipe
Bar Spoon
Straws, optional
Citrus juicer
How to Make Virgin Mojito Mocktail

Virgin mojito recipe step by step instructions
This recipe only takes a few mins to make and is a huge hit for kids and adults alike. The first thing you need to do is make simple syrup. This can be made ahead of time and in a large batch so you won't have to make it every time you want a sweetened mocktail. To make the simple syrup simply heat up equal parts sugar and water in a saucepan over medium. I usually do 1 cup water and 1 cup sugar, but you can make a bigger or smaller amount to suits your needs. Once simple syrup has cooled you can store it in your refrigerator for up to a month.
Next, gather the rest of your ingredients, fresh mint, limes for juicing, and sparkling water.
Add 8-12 mint leaves per glass, first slapping the mint leaves gently in your palm to release oils. Add simple syrup and lime to each glass. Fill the glass with ice, and top with sparkling water. Use a bar spoon to give it a good stir, and garnish with fresh lime wedges if you'd like.
That's it! after trying many virgin mojitos at home, this is the ratio I stick with, but you can also customize this recipe to your liking. If you want it to be a bit sweeter, add more simple syrup. If you would like it more minty, add a few more mint leaves next time. If you like it extra tart, you can always add more lime. I hope you enjoy this virgin mojito!

FAQ
How many limes do you need to make 30 ml of juice?
Generally one lime makes about 2 tablespoons, or 30 ml of fresh lime juice.
Can I use lemon instead of lime in a virgin mojito?
Yes, you can. Substitute lemon for lime to make this a virgin lemon mojito.
Is a virgin mojito alcoholic?
No. While a traditional alcoholic mojito has similar ingredients, a virgin mojito leaves out the white rum, while keeping the rest of the flavors which include lime juice, soda water, and mint.
Is virgin mojito a mocktail ?
Yes, it is. A mocktail is simply an alcohol free drink consisting of a mixture of fruit juices or other soft drinks, and virgin mojitos are a mixture of lime juice and soda water without alcohol.
Is a virgin mojito good for health?
Some of the ingredients innthis mojito mocktail recipe are good for health, namely the lime juice and mint. Limes are high in vitamin C and antioxidants, while mint is rich in antioxidants, menthol and phytonutrients.
Can I use sprite instead of sparkling water in this alcohol free mojito?
You can customize your virgin mojito with sprite, club soda or ginger ale in place of sparkling water in this mocktail mojito recipe.
Can you add fruit to your virgin mojito?
You can customize your class mojito mocktail by adding fresh fruit such as fresh blackberries. Simply add fresh blackberries and crush them witha little white sugar before adding the rest of the ingredients. You could also do this with fresh raspberries.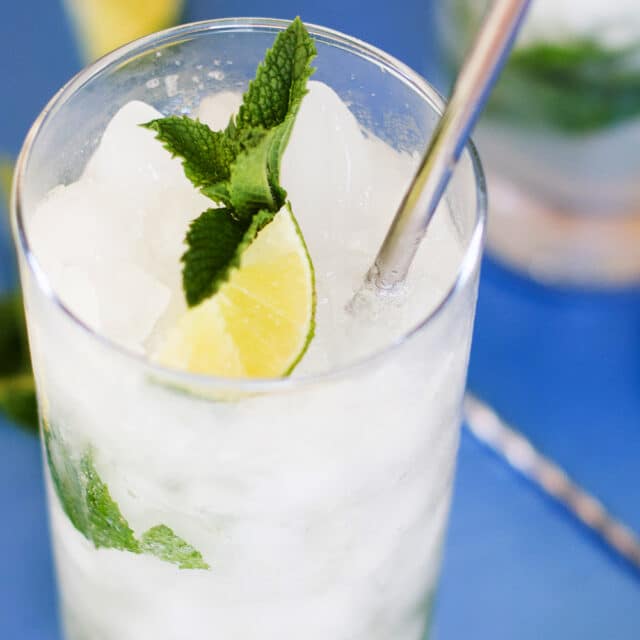 Virgin Mojito Mocktail Recipe
You'll want to enjoy this refreshing virgin mojito mocktail recipe all summer long. Fresh lime juice, mint leaves, and sparkling water or club soda combine to make a mojito mocktail that is gorgeous and delicious.
Ingredients
8

fresh mint leaves

25

ml

simple syrup

1

lime

juiced

about 2 tablespoons, or 30 ml

crushed ice

1/4

cup

sparkling water

about 60 ml
Instructions
Gather ingredients. Slap 8 mint leaves in your palm, this helps bring out the fresh minty flavor. Add mint leaves to tall glass.

Add 35 ml simple syrup, juice from 1 lime, and crushed ice to glass. Give it a good stir with a bar stool. Top with 1/4 cup sparkling water and garnish with lime wedge and fresh mint.
Recipe Video
Recipe Notes
Any nutritional information on RainbowDelicious.com should only be used as a general guideline. This information is provided as a courtesy and there is no guarantee that the information will be completely accurate. The nutritional labels are a product of online calculators such as (but not limited to) Verywellfit.com   Although RainbowDelicious.com attempts to provide accurate nutritional information, these figures should be considered only as estimates. Varying factors such as product types or brands purchased, natural fluctuations in fresh produce, and the way ingredients are processed change the effective nutritional information in any given recipe.
Nutrition Facts
Virgin Mojito Mocktail Recipe
Amount Per Serving (1 g)
Calories 124
Calories from Fat 1
% Daily Value*
Fat 0.1g0%
Sodium 29mg1%
Potassium 125mg4%
Carbohydrates 33g11%
Protein 0.6g1%
Calcium 45mg5%
Iron 2mg11%
* Percent Daily Values are based on a 2000 calorie diet.
You'll Also Love These Recipes
If you make this mojito virgin recipe please snap a photo and share on instagram using hashtag #rainbowdelicious and tag me @rainbowdelicious, I'd love to see how it turns out! If you'd like to have more food and drink recipes and delicious content emailed to your inbox please subscribe in the sidebar!
Some links on this site are affiliate links and I may earn a small commission at no cost to you. Thank you!
(Visited 1,388 time, 1 visit today)