Today I'm excited to share with you unique oatmeal recipes that you are going to want to try this year. Who knew there were so many create oatmeal recipes? From crockpot oats to baked oats, there is an oatmeal recipe for everyone. If you've been wondering what to do with oats for breakfast, the following unique oatmeal recipes have you covered!
Unique Oatmeal Recipes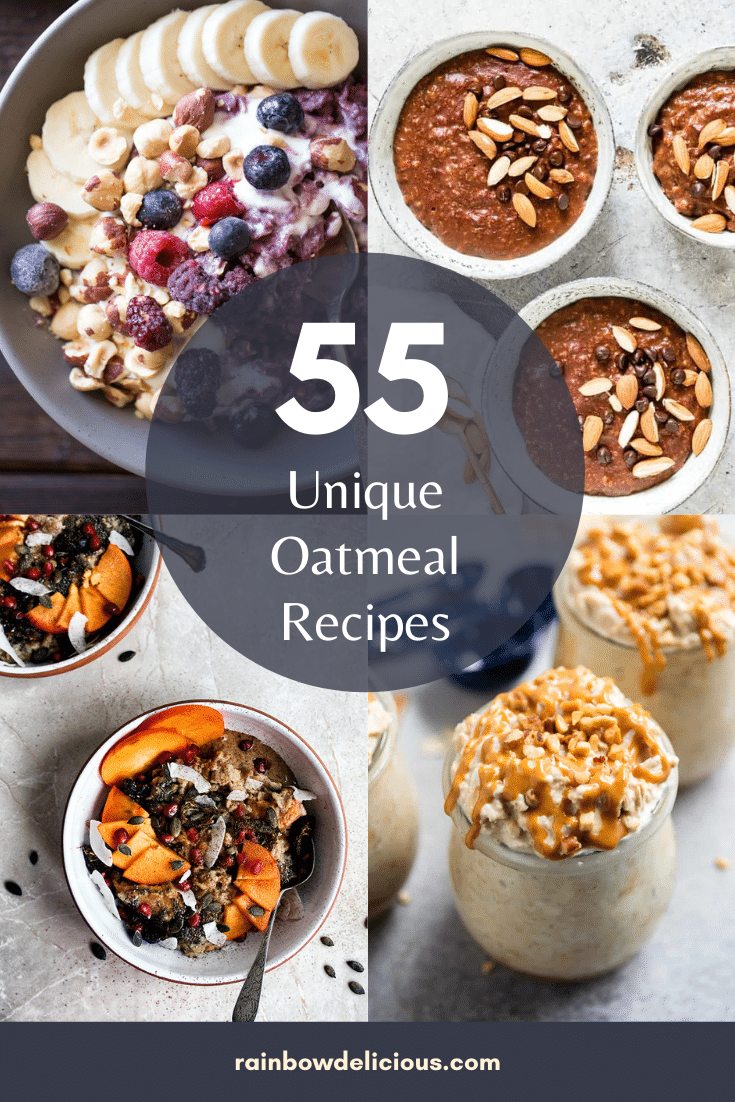 Creative Oatmeal Bowl Recipes
Warm oatmeal in a bowl is a great way to start your day, but it doesn't have to be bland! Enjoy these unique oatmeal recipes topped with fruits and other flavors.
1. Peaches and Cream Oatmeal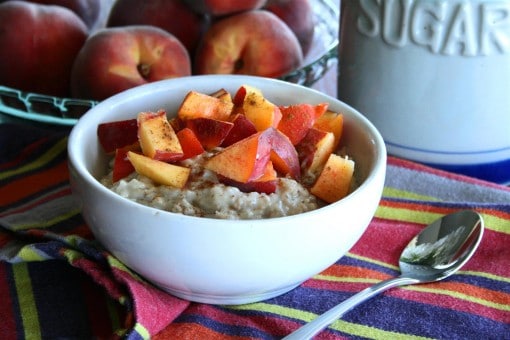 Peaches and Cream Protein Oatmeal from Colourful Palate  tastes amazing with fresh peaches when they are in season but you could also thaw frozen peaches to enjoy this oatmeal all year round.
2. Cinnamon Roll Oatmeal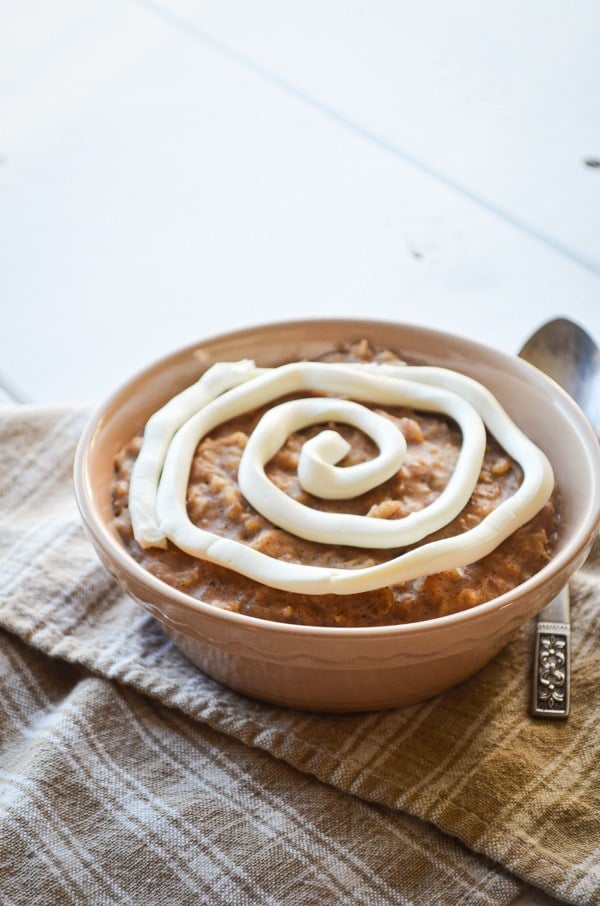 This Cinnamon Roll Oatmeal from Little Home in the Making is the perfect compromise between good for you, and good to eat! Indulge in all the flavors of a cinnamon roll, packed into a comforting bowl of healthy oatmeal. If you love cinnamon recipes, check out this monkey bread recipe.
3. Banana Peanut Butter Oatmeal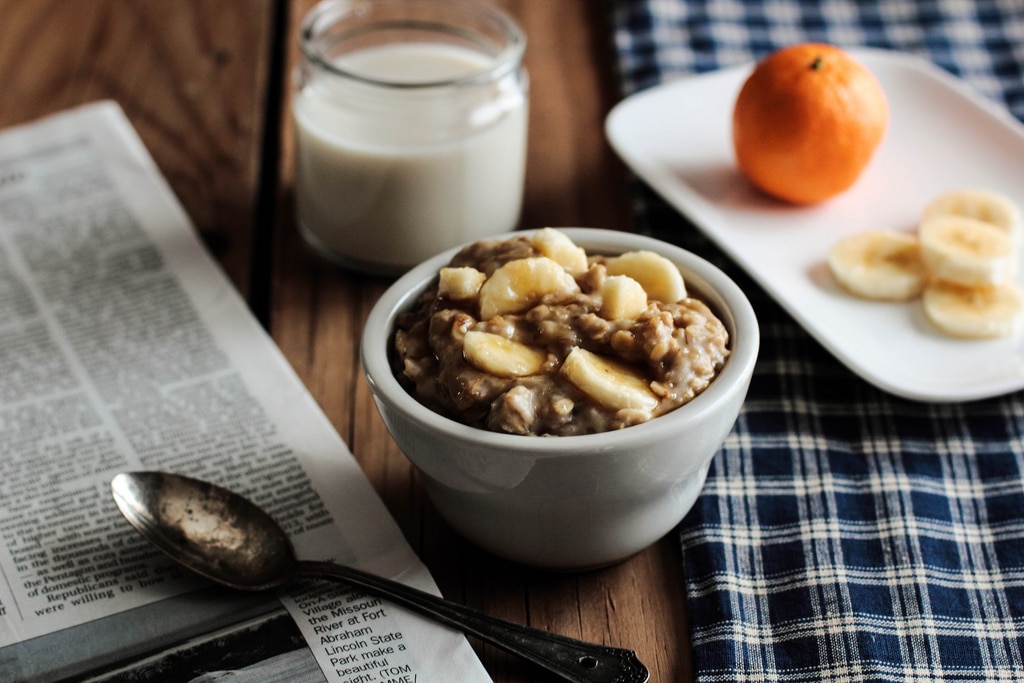 Peanut Butter Banana Oatmeal from Pastry Affair  peanut butter in your morning oatmeal is a great way to get a little extra protein into your day.
4. Berry Oatmeal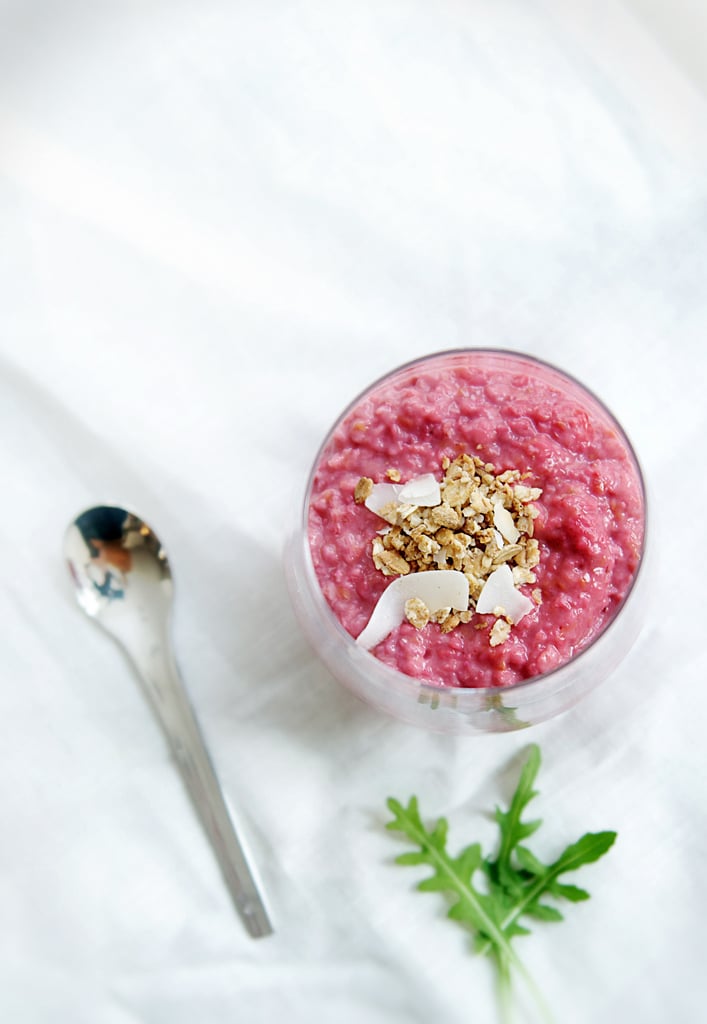 Berry Oatmeal from What Should I Eat For Breakfast Today  Say good-bye to the boring brown color of traditional oatmeal and hello to this gorgeous, vibrant bring pink oatmeal loaded with antioxidants from the berries.
5. Triple Berry Oatmeal Breakfast Bowl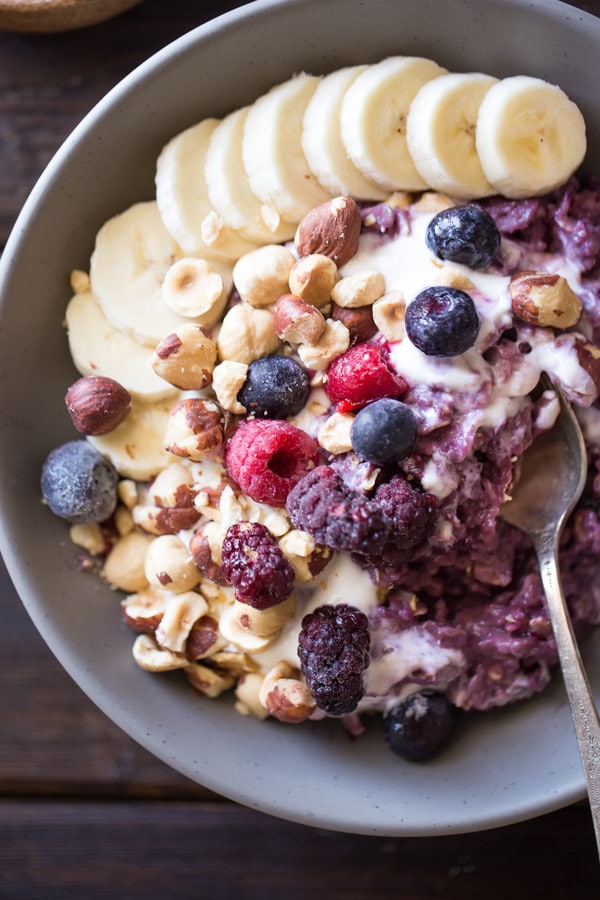 I can't think of a better way to start the day than to dig into one of these triple berry oatmeal breakfast bowls from Lovely Little Kitchen.
6. Peanut Butter Cookie Oatmeal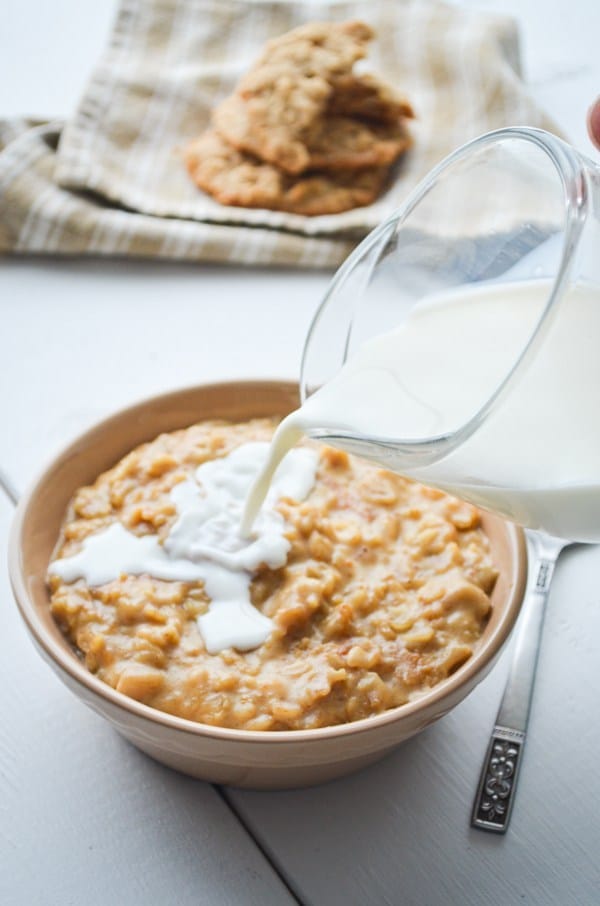 This delicious peanut butter oatmeal from Little Home in the Making tastes JUST like a peanut butter cookie, and is loaded with natural protein and healthy fats. It will be your new breakfast time favorite!
7. Nutella Oatmeal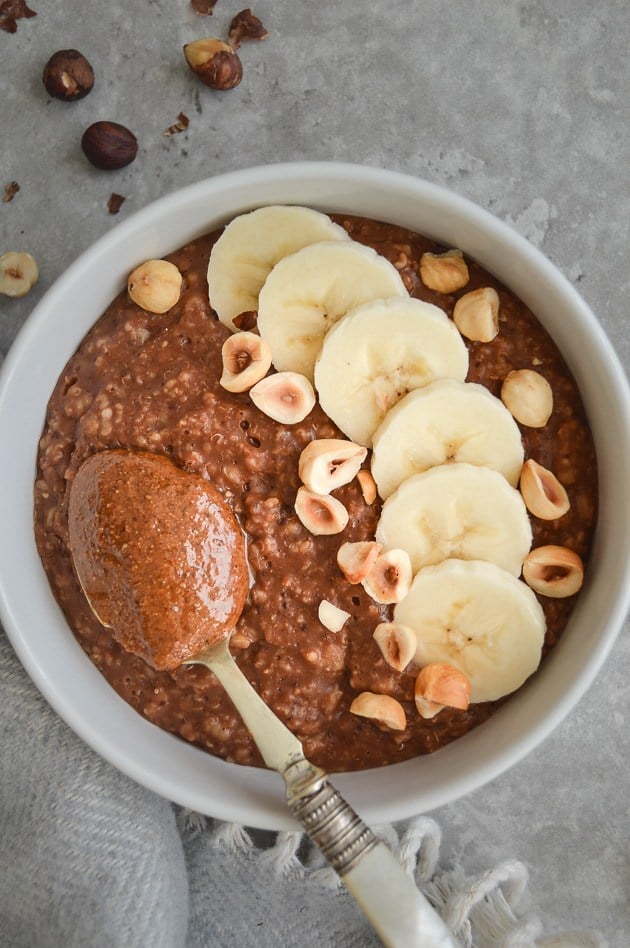 Nutella oatmeal from fit Foodie Nutter is a comforting & cozy porridge bowl with a chocolate Nutella-like twist. A perfect comfort breakfast for any time of the year.
8. Roasted Grape Oatmeal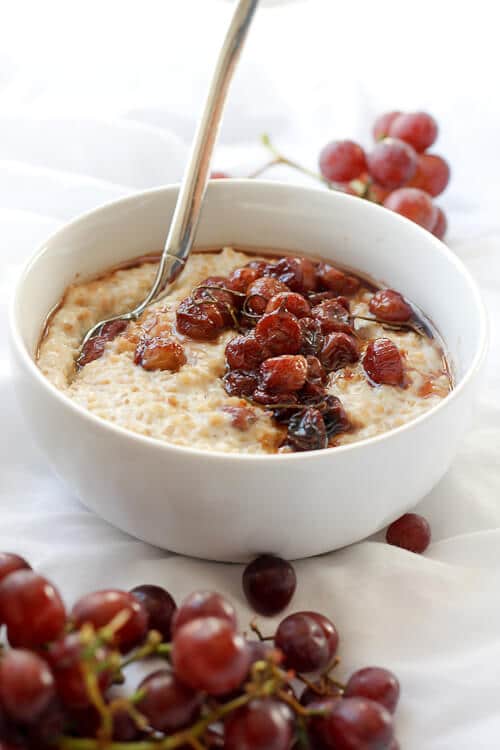 This easy vegan Roasted Grape Oatmeal from Champagne Tastes is a flavor-packed, sweet and savory breakfast (or brunch) that's ready in 30 minutes.
9. Persimmon Porridge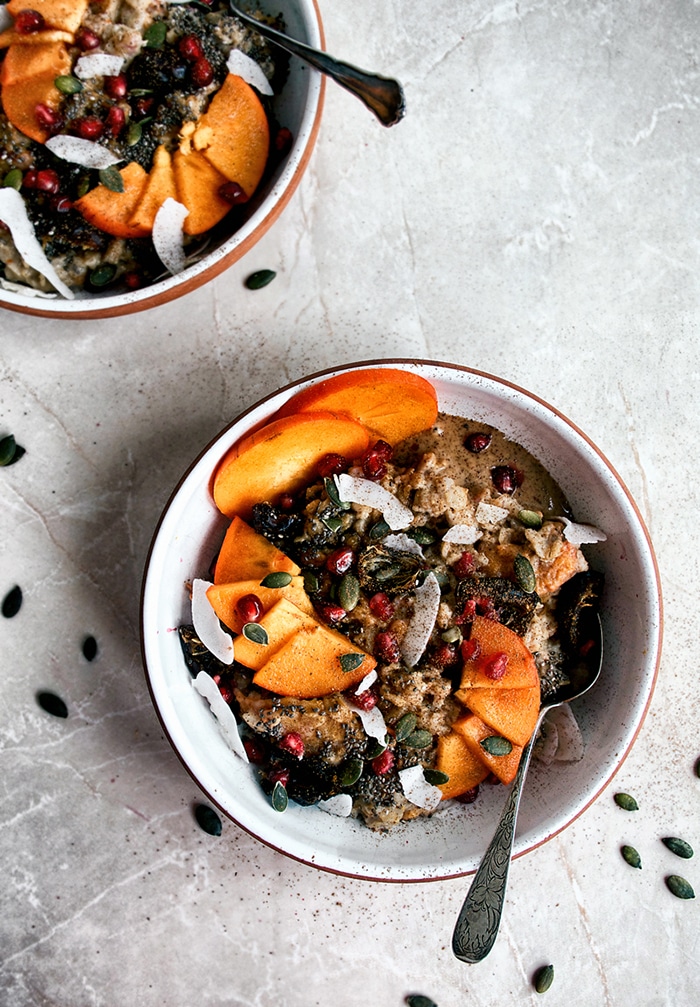 Cooking the fruit alongside oats in this creamy persimmon porridge from Occasionally Eggs adds sweetness and a little winter flair to your breakfast oatmeal. Click here for more delicious persimmon recipes.
10. Peanut Butter and Blueberry Oatmeal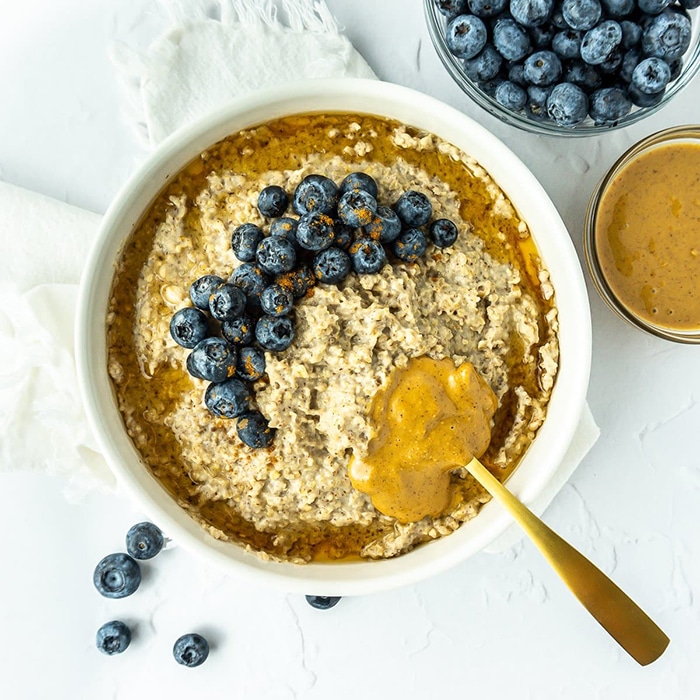 This PB & blueberry oatmeal from Easy Chickpeasy has it all: sweet, salty, rich, comforting, and extra fluffy. Adding aquafaba to the steel cut oats gives this oatmeal a super satisfying fluffy texture!
Baked Oatmeal
There are so many wonderful unique oatmeal recipes to choose from that are baked. Bonus: it makes your house smell amazing while it's in the oven!
11. Apple Cinnamon Baked Oatmeal with Walnuts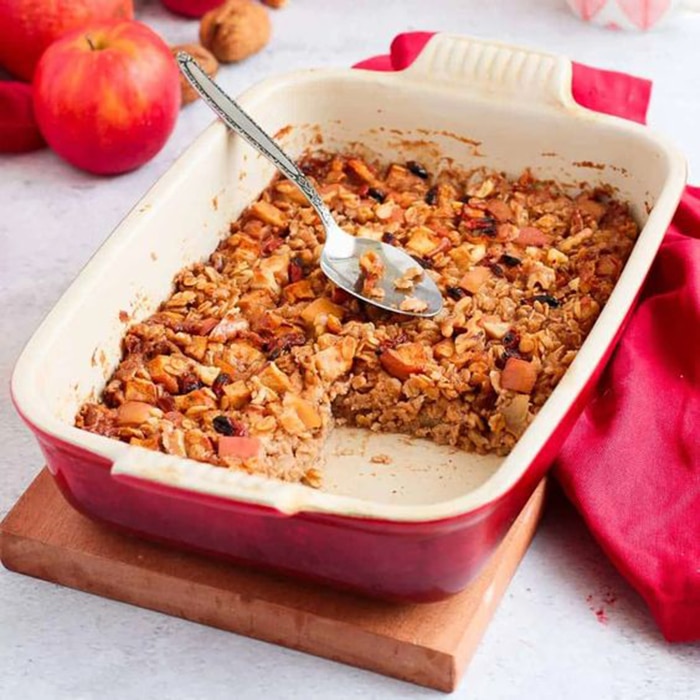 This Apple Cinnamon Baked Oatmeal with Walnuts from A Baking Journey makes the most delicious Fall and Winter Breakfast that is perfect for the Holidays. Super quick and easy to prepare with no eggs and no refined sugar, this healthy apple baked oatmeal can be made in advance and kept in the fridge for days!
12. Blueberry Coconut Baked Steel Cut Oatmeal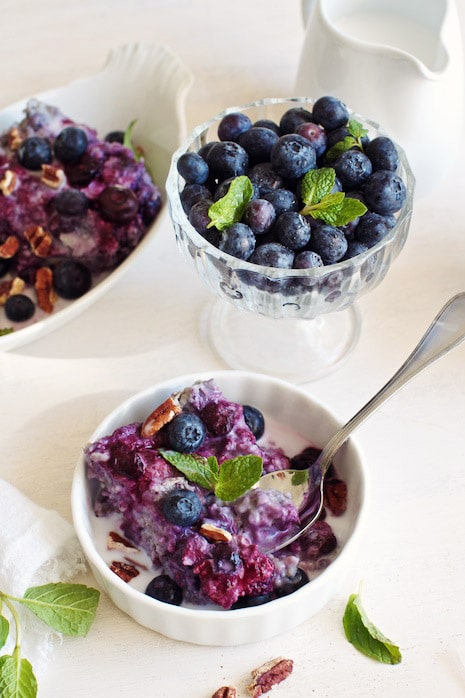 Blueberry Coconut Baked Steel Cut Oatmeal from Marla Meridith Blueberry and coconut combine to create awesome flavor in this unique oatmeal recipe.
13. Breakfast Baked Oatmeal Cake

This baked oatmeal cake from Salt & Baker is great breakfast option for weekdays AND weekends. It comes together quickly and you can customize it to your liking by adding your favorite toppings. A few of our favorites are sweetened shredded coconut, nuts, chocolate chips, and hemp hearts.
14. Pineapple Baked Oatmeal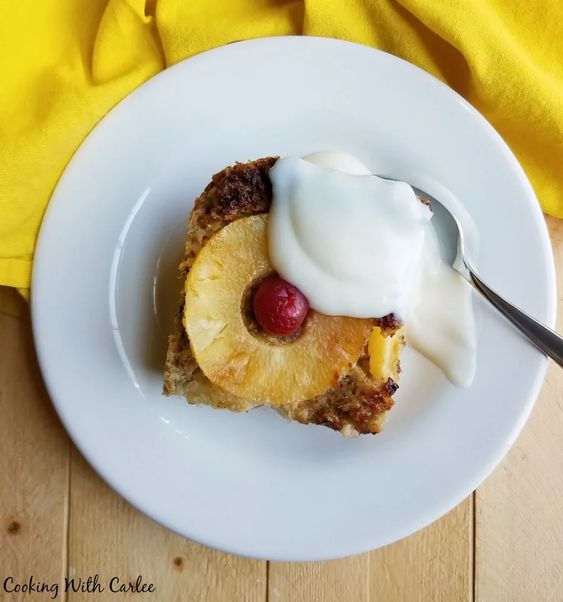 Take a bite of the tropics with this fun breakfast! This pineapple baked oatmeal from Cooking with Carlee has a great creamy texture but is hearty enough to be cut into pieces. It is just sweet enough to taste like a treat but is a pretty healthy way to start the day!
15. Chocolate Banana Baked Oatmeal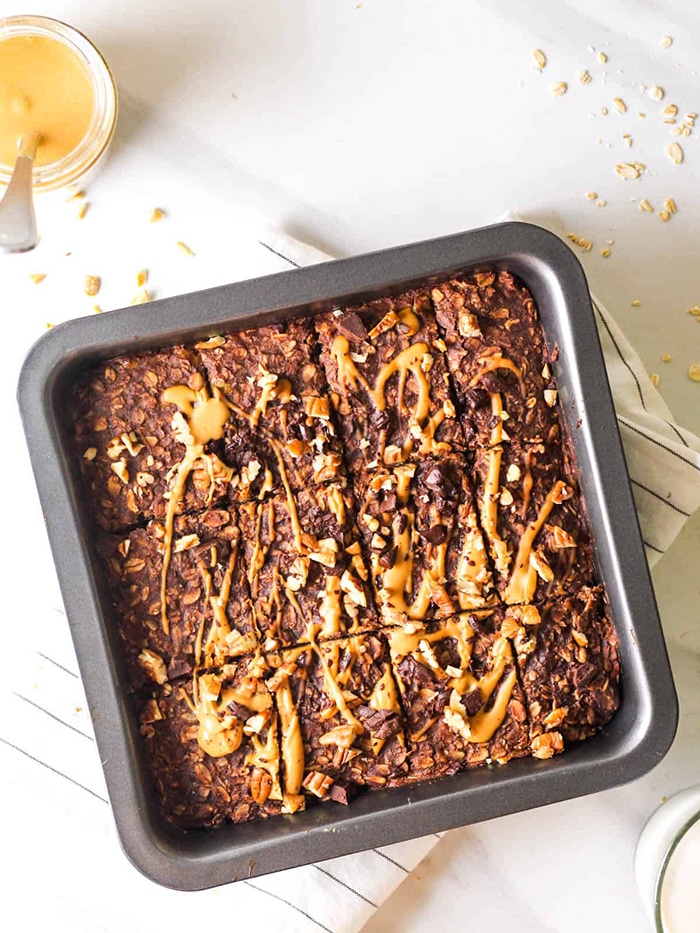 This chocolate banana baked oatmeal from My Plantiful Cooking is vegan & only requires 5 ingredients. Perfect as an on-the-go breakfast or snack!
16. Amish Baked Oatmeal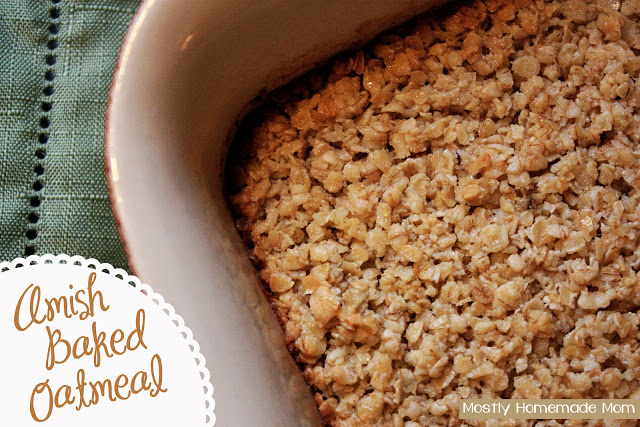 Amish Baked Oatmeal from Mostly Homemade Mom Baking the oatmeal makes the morning routine so simple!
17. Baked Pear Oatmeal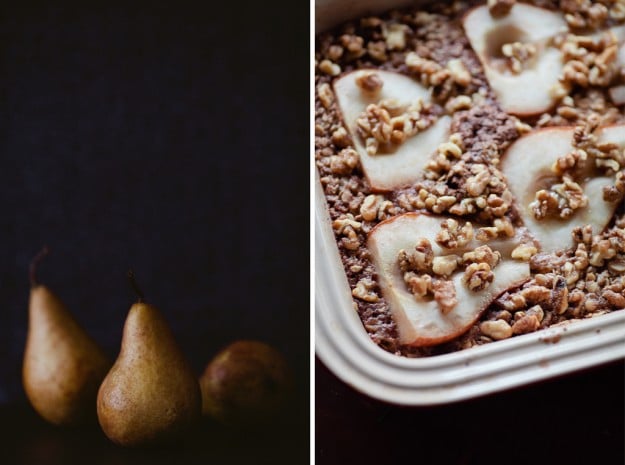 Baked Oatmeal with Roasted Pears from Not Without Salt  It's almost like having dessert for breakfast and it is oh-so-good.
18. Brownie Baked Oatmeal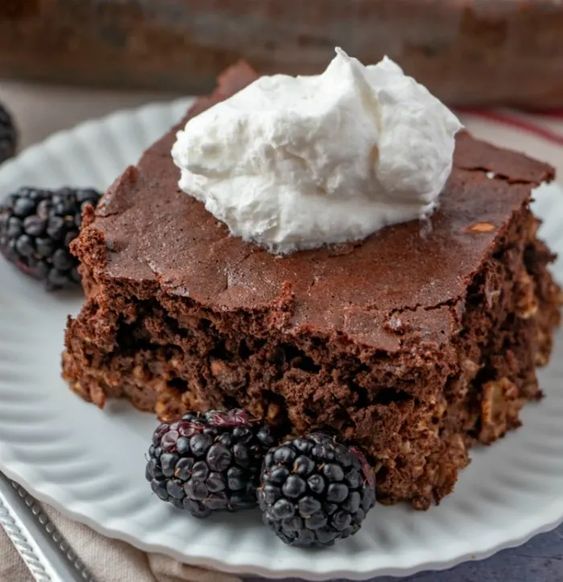 The taste of brownies is now an acceptable breakfast. This brownie baked oatmeal from Cooking with Carlee is really loaded with oats and yogurt. Go ahead and make some, I dare you!
19. Strawberry Banana Oatmeal Bake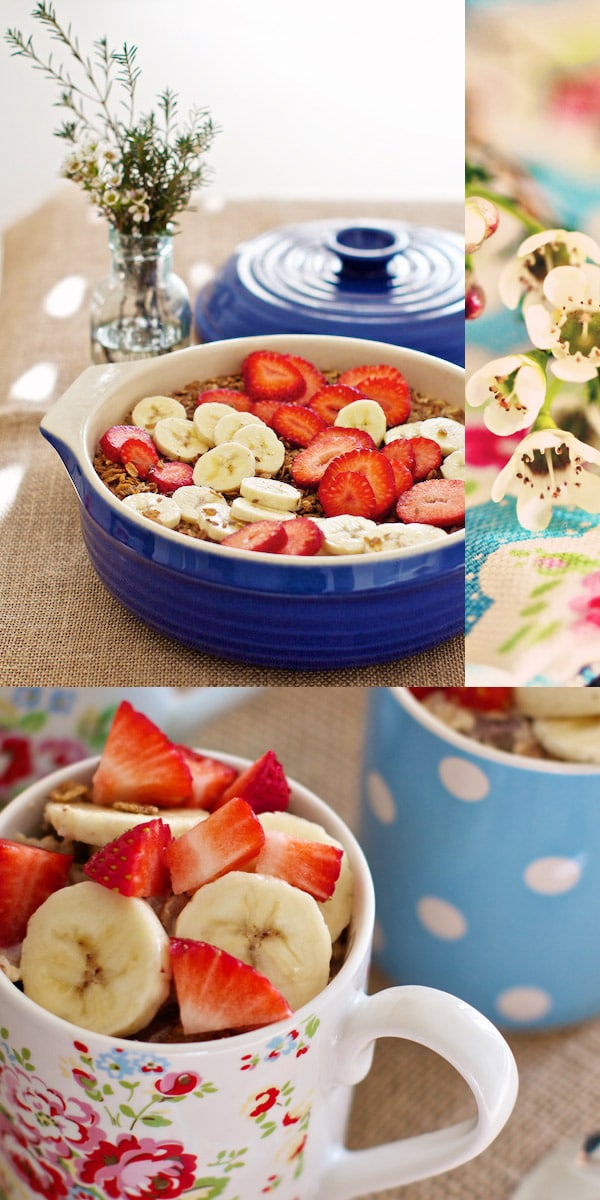 Strawberry Banana Breakfast Bake from Marla Meridith  This recipes combines the ease of baked oatmeal with the freshness of topped fruits.
20. Meyer Lemon & Blueberry Baked Oatmeal

Meyer Lemon Blueberry Baked Oatmeal from Prevention RD  You can never go wrong with the classic blueberry and lemon flavor combo.
Slow Cooker & Instant Pot Oatmeal
Unique oatmeal recipes can even be made in your instant pot and slow cooker!
21. Slow Cooker Apple Cinnamon Oatmeal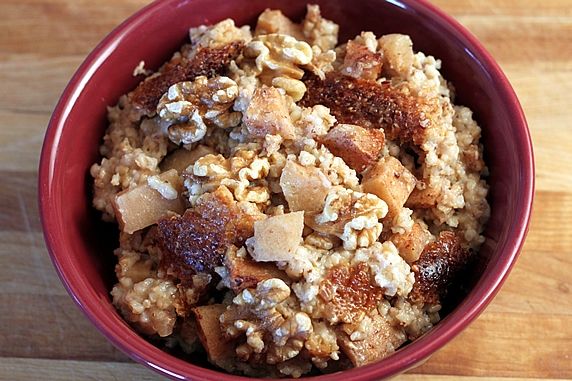 Slow Cooker Apple Cinnamon Oatmeal from The Yummy Life Using a crockpot for breakfast is such an obvious idea, I don't know why I don't do it more often!
22. Slow Cooker Overnight Pecan Pie Oatmeal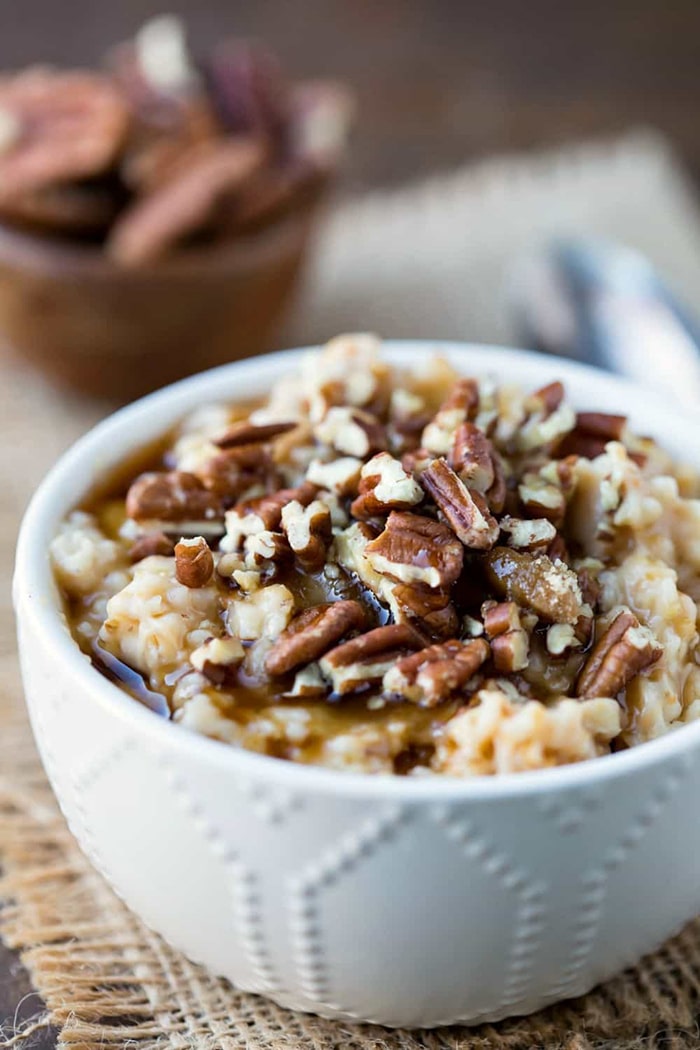 This Slow Cooker Overnight Pecan Pie Oatmeal Recipe from I heart Eating is a make-ahead breakfast that takes maple & brown sugar oatmeal up a few notches!
23. Instant Pot Chocolate Oatmeal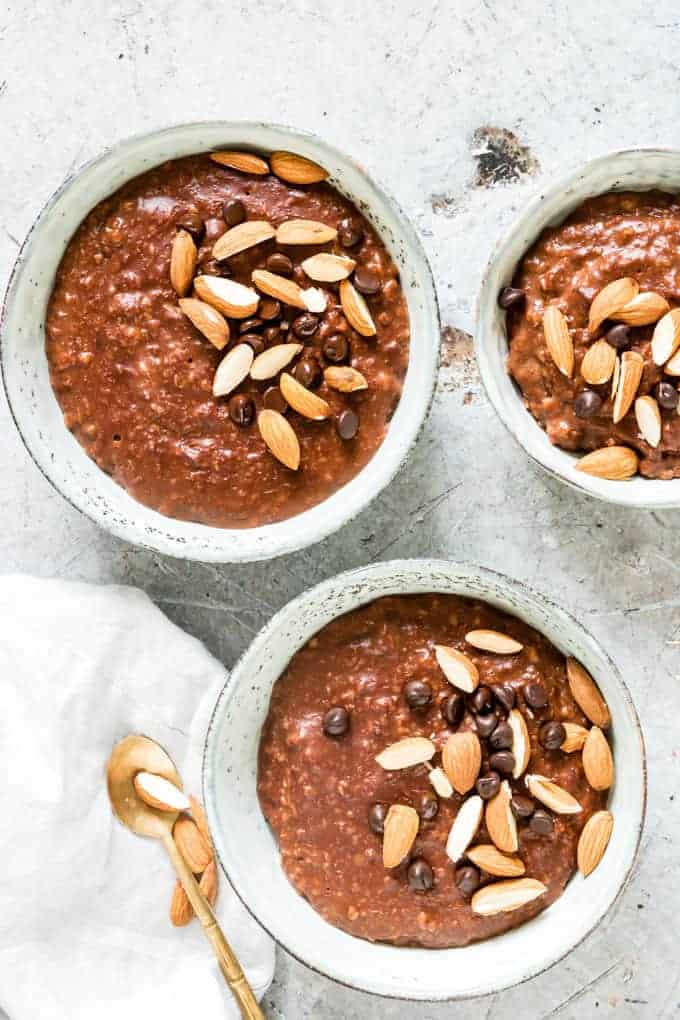 This easy Instant Pot Oatmeal with Chocolate recipe by Recipes from A Pantry will produce glorious, chocolate-y oatmeal that is perfect for breakfast all year round. Don't like chocolate? Not a problem – omit the cocoa powder and flavor it however you'd like!

24. Instant Pot Peaches and Cream Oatmeal
Peaches and cream oatmeal from Longbourn Farm is easy to make in the Instant Pot or Pressure Cooker! Filling, fruity, and ready for eating when you are.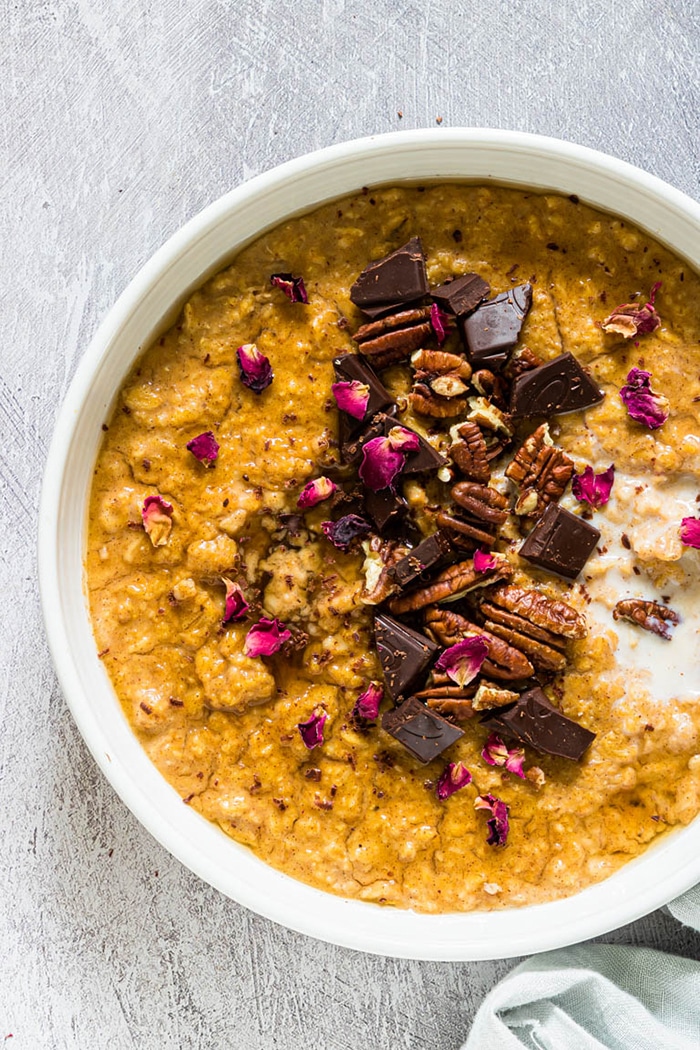 25. Instant Pot Pumpkin Oatmeal
This filling Instant Pot Pumpkin Oatmeal by Recipes from a Pantry is full of fall flavor! Easy to make ahead with a few ingredients and great for busy morning breakfasts and meal prep
Overnight Oats
Of all the ways to enjoy oatmeal, overnight oats might have my favorite unique oatmeal recipes! Bonus: They are so simple and perfect for busy mornings when you don't have time to stand over a stove.
26. Birthday Cake Overnight Oats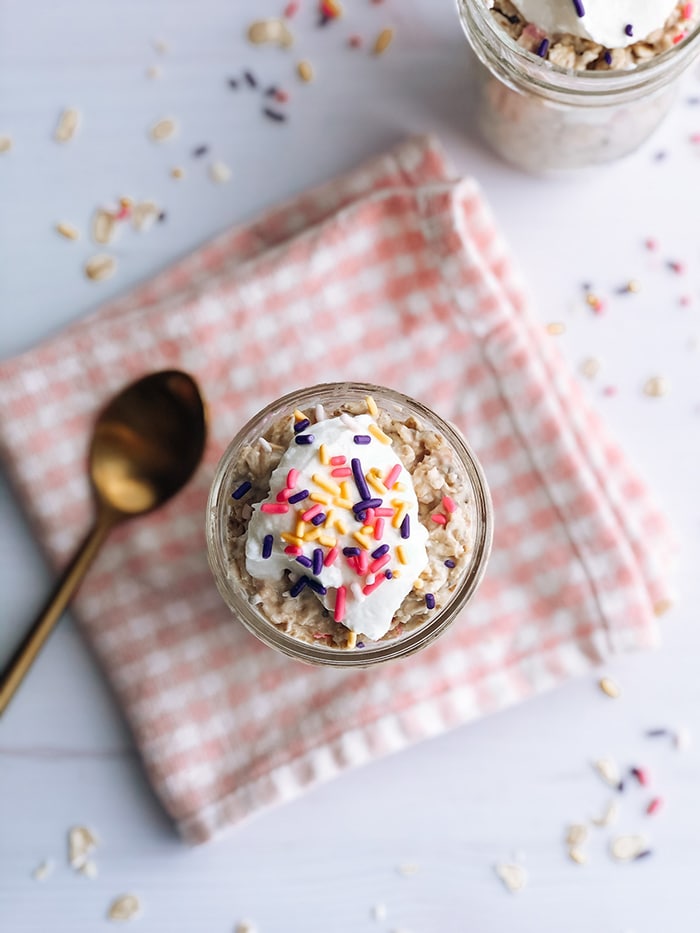 It doesn't have to be your birthday to enjoy these delicious birthday cake overnight oats from A Healthy Toast. Deceptively healthy, you'll love waking up to a jar of birthday cake overnight oats.
27. Basic Protein Overnight Oats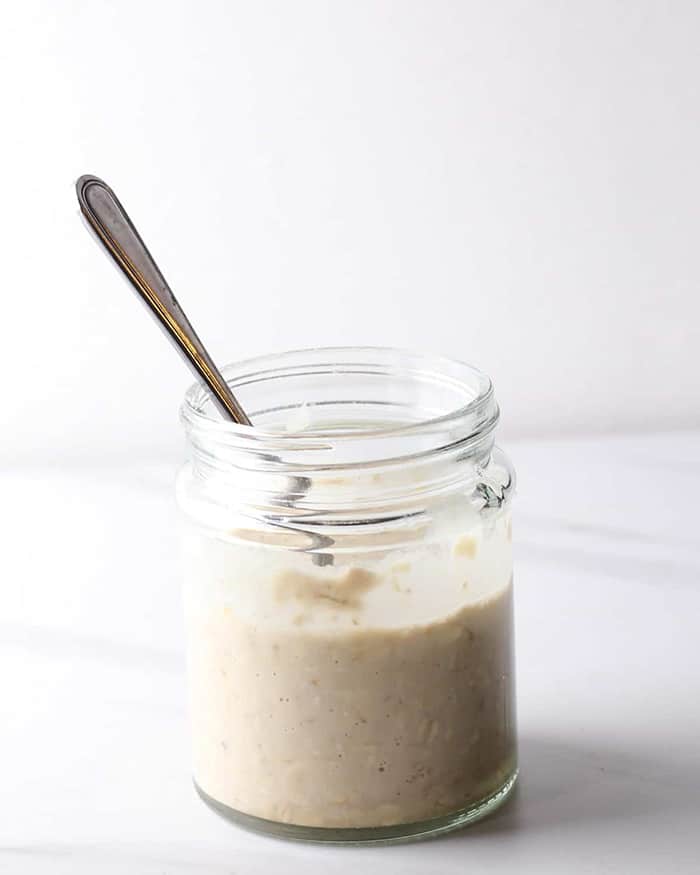 This basic overnight oats with protein powder from My Plantiful Cooking is packed with at least 15g of protein, healthy and will definitely keep you satisfied for hours.
28. Peanut Butter Cheesecake Overnight Oats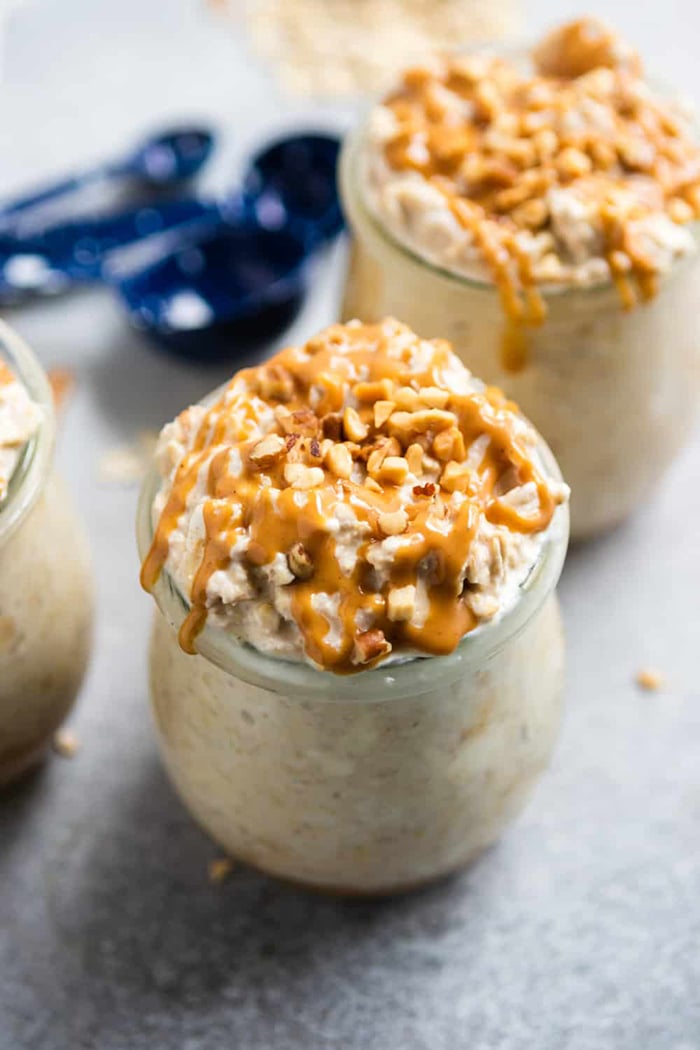 Mornings that start with peanut butter are always the best. These Peanut Butter Cheesecake Overnight Oats from Lemon and Zest are a perfect ready to go breakfast that you will look forward to waking up to. 5 minutes to prep and ready when you wake up!
29. Overnight Oats with Plum and Raspberry Compote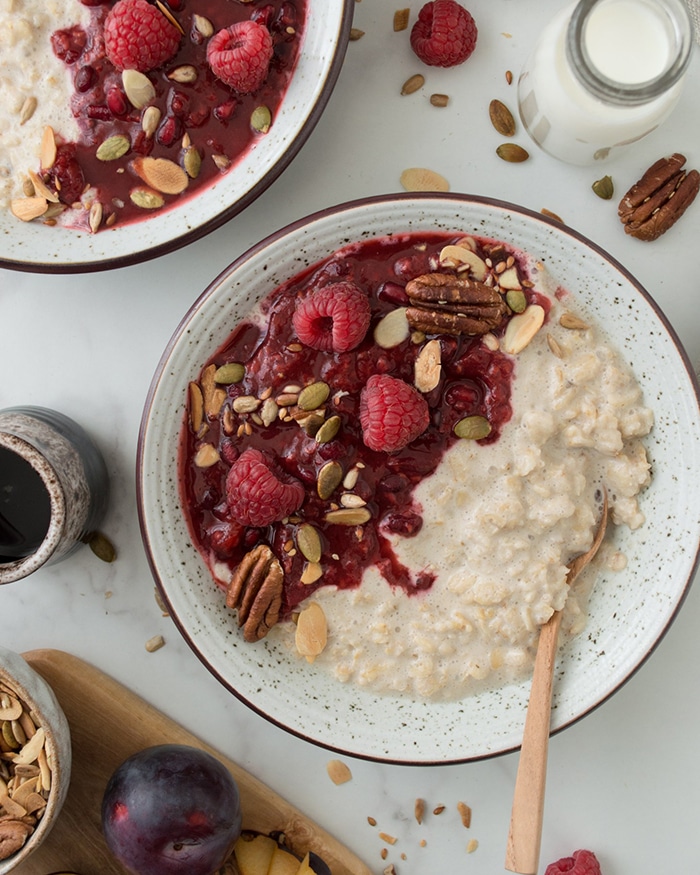 Kickstart your day with this healthy yet quick & easy overnight Plum Raspberry oats recipe from Fit Foodie Nutter. It only takes minutes to prepare the night before, which makes it a great fuss free breakfast on the go.
30. Overnight Pumpkin Oatmeal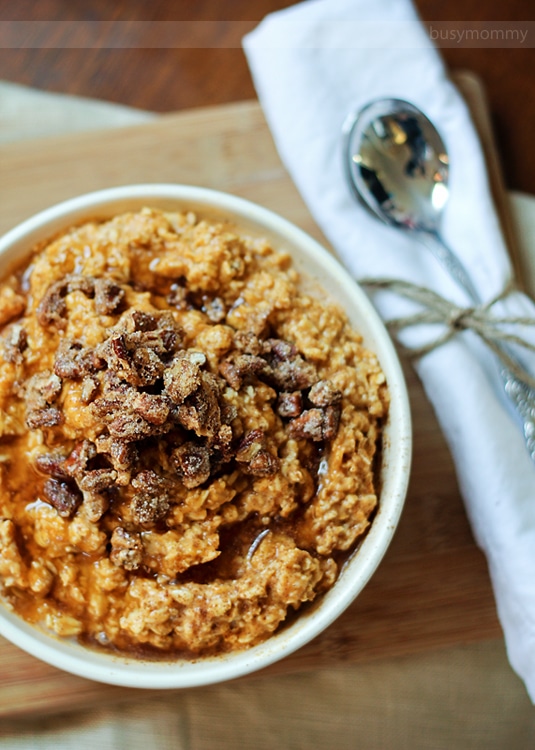 Overnight Pumpkin Oatmeal with Cinnamon Sugar Pecans from Busy Mommy  Pumpkin is finding its way into all recipes in one way or another, it makes sense to give it a try in oatmeal too.
31. Creamy Mango Lassi Overnight Oats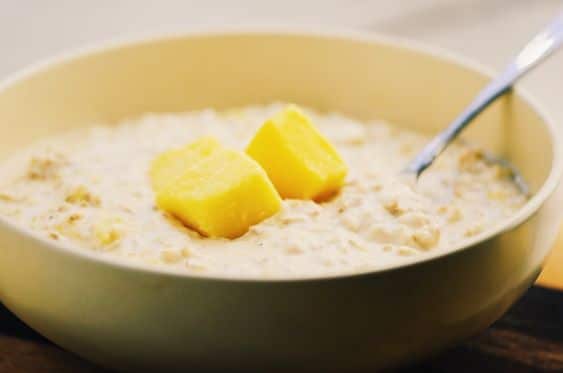 These healthy and flavorful Creamy Mango Lassi Overnight Oats from Moon and Spoon and Yum make for one delicious and filling gluten-free breakfast reminiscent of the famous Indian beverage.
32. Cold Brew Overnight Oats

Coffee and breakfast all in one? These Vanilla Cold Brew Coffee Overnight Oats from Lemon and Zest are the perfect breakfast combination! This recipe is simple, healthy and so delicious–all the fuel you need to start the day!
33. Blueberry Overnight Oats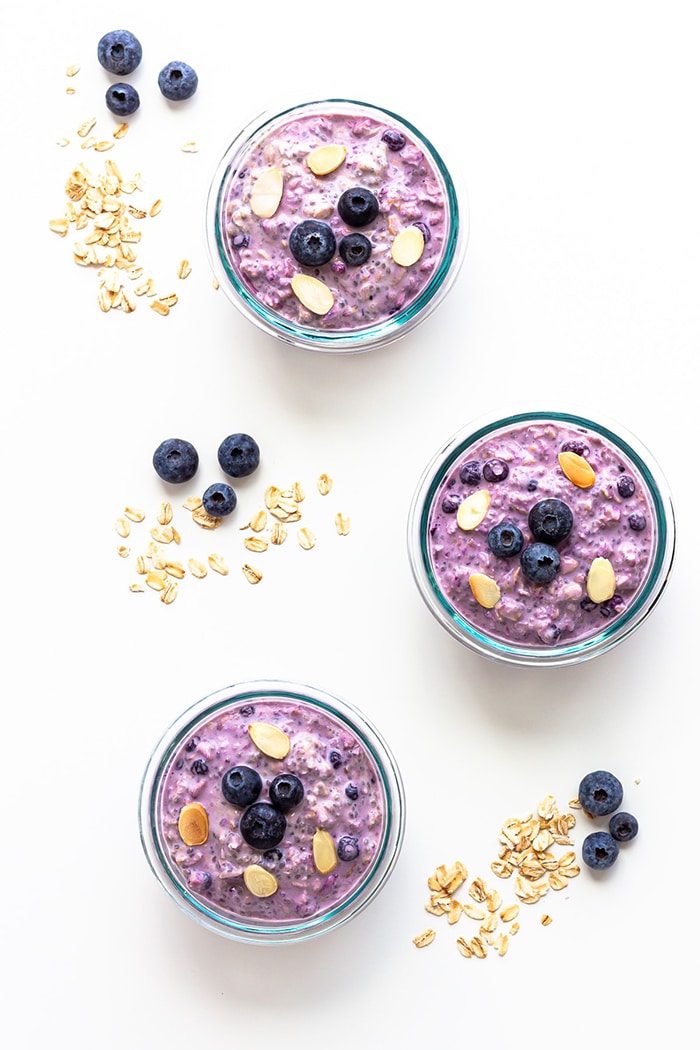 This Blueberry Overnight Oats recipe from Maple and Mango is delicious, healthy and can be prepped in 5 minutes. An easy, make ahead breakfast option perfect for those busy mornings!
34. Banana Overnight Oats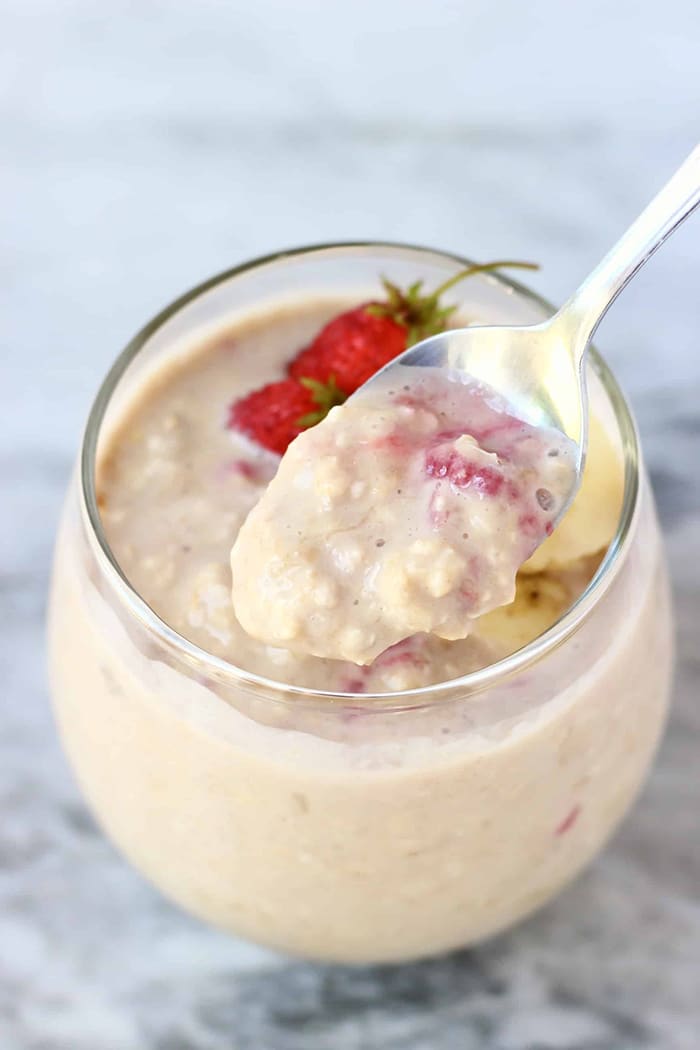 These Banana Overnight Oats from Rhian's Recipes are the best healthy yet filling make-ahead breakfast! They're rich, creamy, perfectly chewy, satisfying and nutritious. They're high in fibre, take just 5 minutes to make and taste like banana bread or banana cake!
35. Lemon Poppy Seed Overnight Oats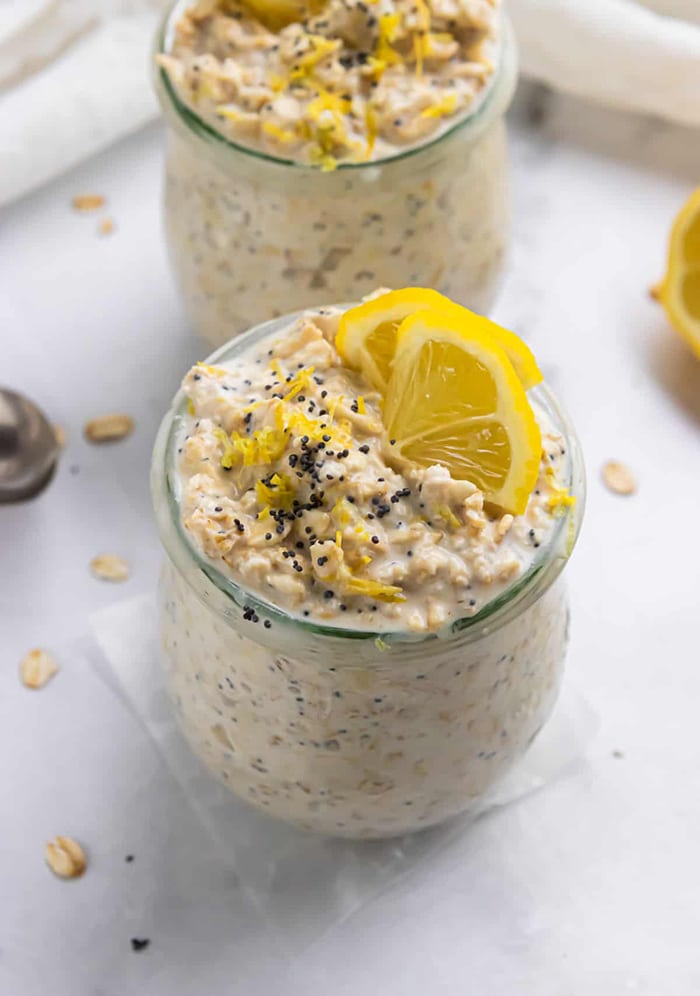 If you love unique oatmeal recipes, these Lemon Poppy Seed Overnight Oats from Lemon and Zest may just be your new favorite! A refreshing burst of lemon and the crunch of poppy seeds will get you ready for your day!
36. Cherry Chocolate Overnight Oats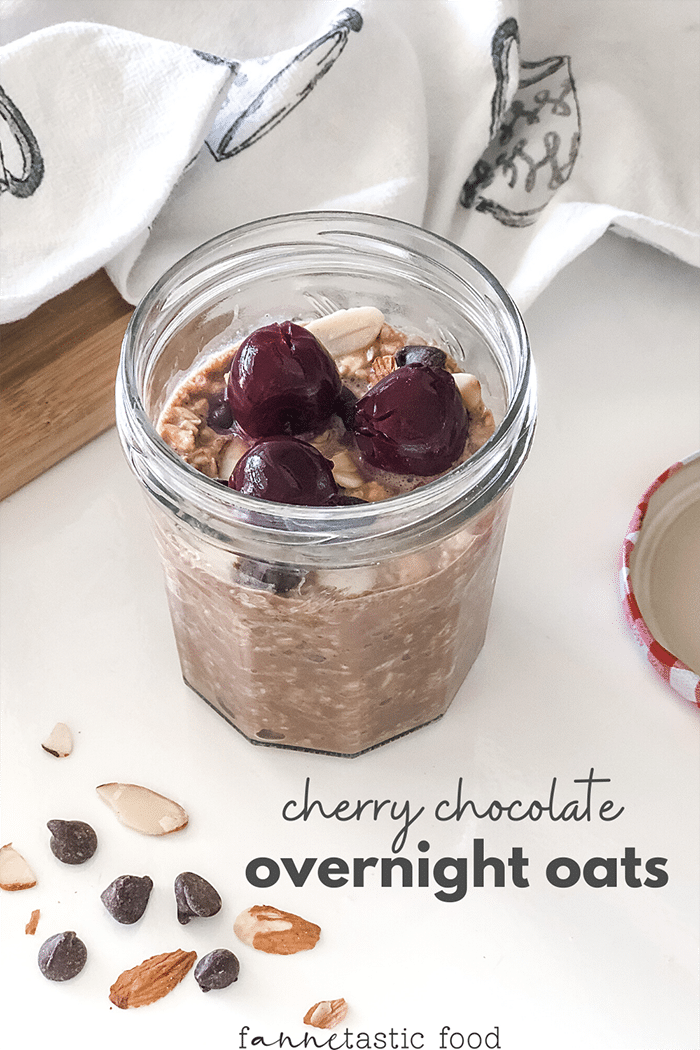 These cherry chocolate overnight oats from Fannetastic Food feature crunchy almonds and chocolate chips for a dreamy breakfast. Easy to prep ahead and so tasty!
37. Overnight Paleo Oatmeal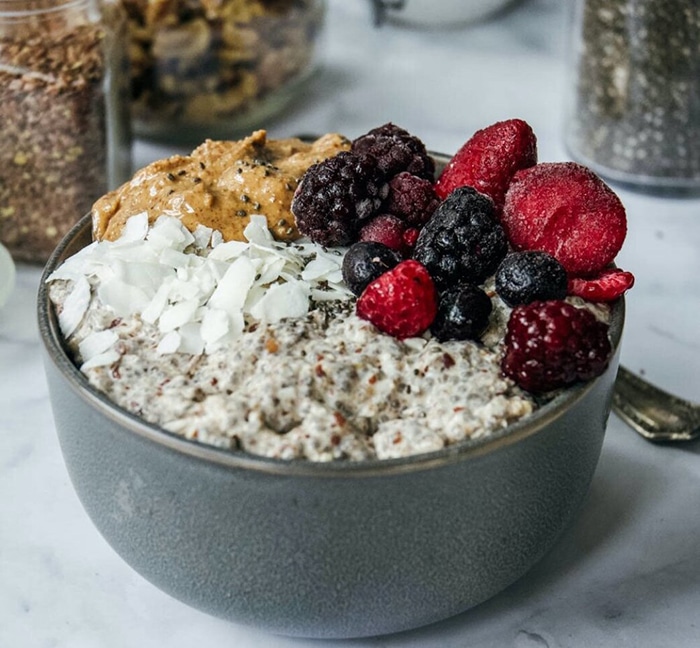 If you're following a grain free lifestyle and miss having a hearty bowl of oatmeal in the morning, here is a simple overnight oatmeal from Calm Eats that's nutrient dense and gluten and grain free. It can be topped with your favorite nuts, seeds, nut butters, berries or bananas.
Savory Oatmeal Recipes
Maybe the most unique oatmeal recipes of all are savory oatmeal recipes. Who knew you could add eggs, avocado, greens, and other veggies to your oatmeal!?
38. Savory Oatmeal with Eggs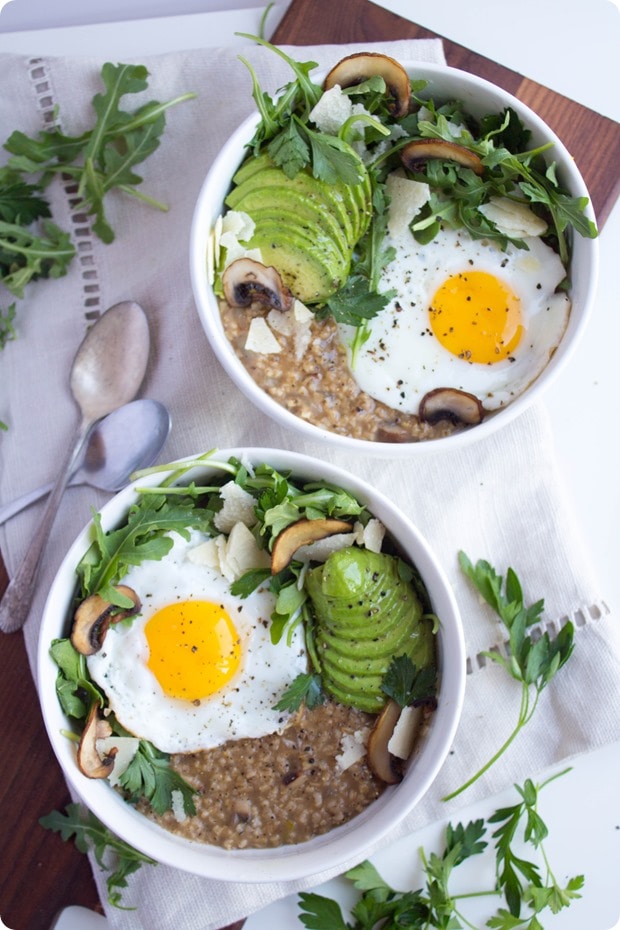 This savory oatmeal from Fannetastic Food with eggs, avocado, and arugula is a hearty, satisfying breakfast! Easy to make and packed with nutrients.
39. Arugula Steel Cut Oats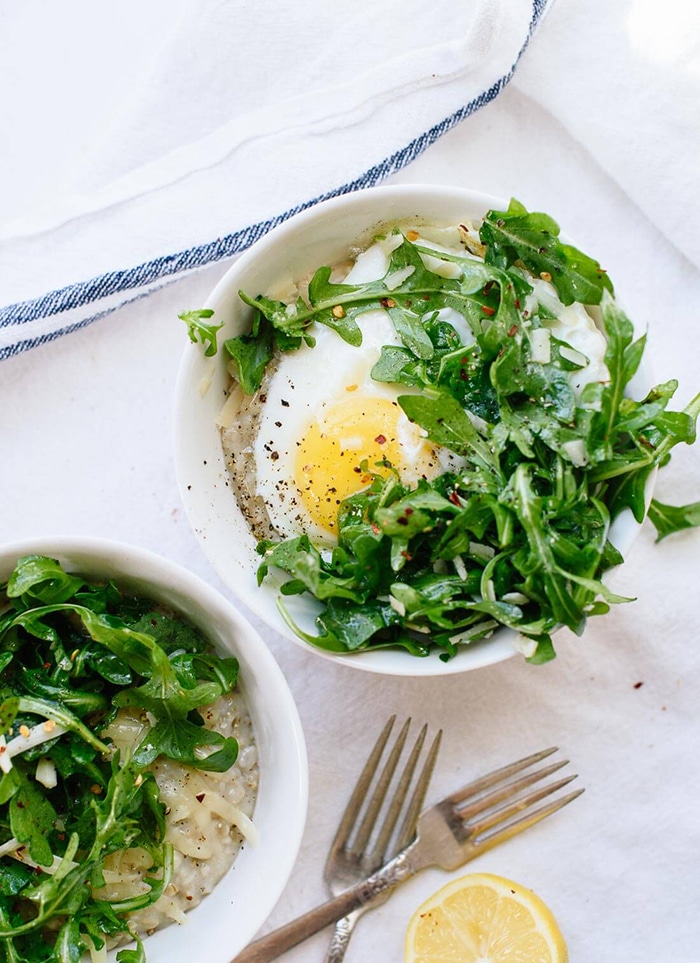 Another dish that tastes amazing topped with arugula? Steel cut oats! This arugula and egg topped steel cut oats recipe from Cookie and Kate is a great way to start your day!
40. Oatmeal with Tempeh Bacon and Avocado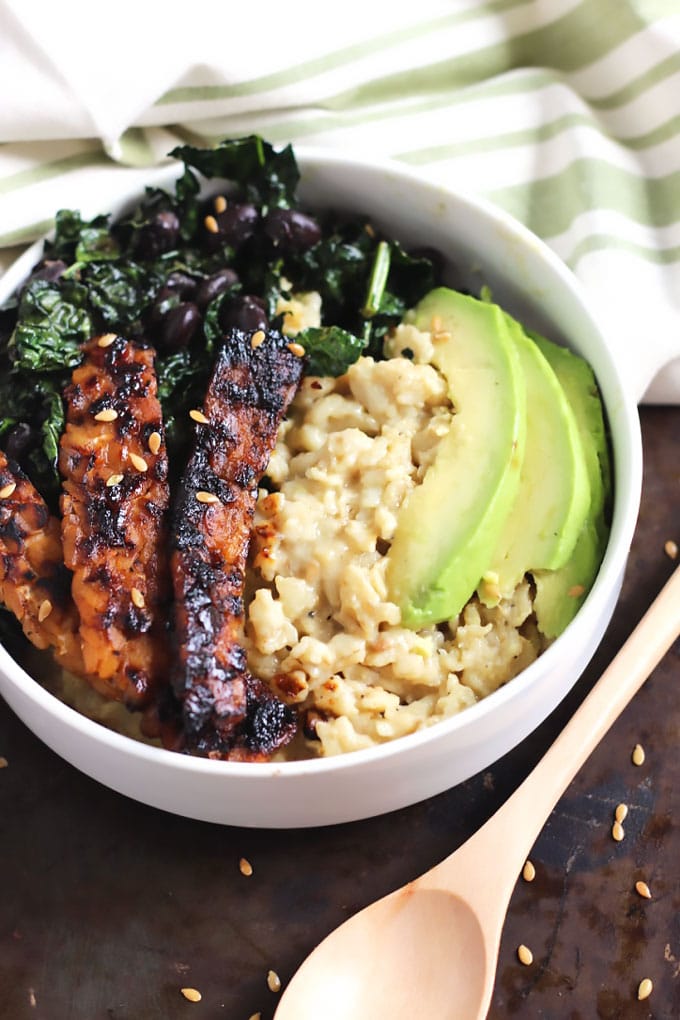 If you are vegan you'll want to try this this savory oatmeal with tempeh bacon from Emilie Eats.
41. Savory Oatmeal with Garlicky Kale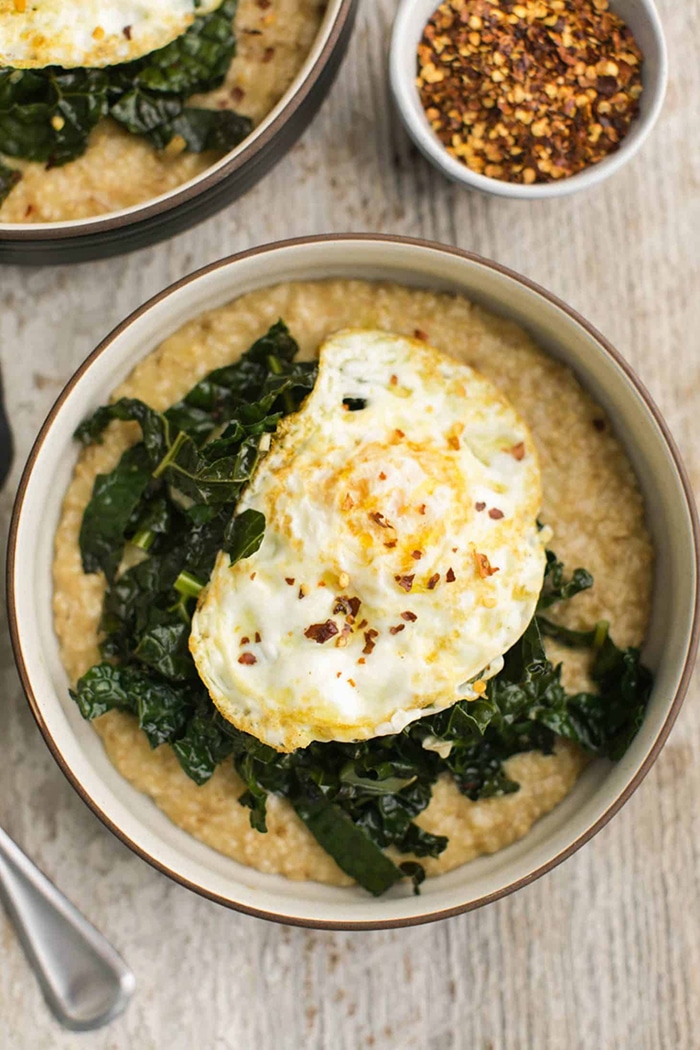 This oatmeal with garlicky kale and egg from Naturally Ella is a great way to kick off your day!
42. Savory Cheddar Oatmeal Breakfast Bowls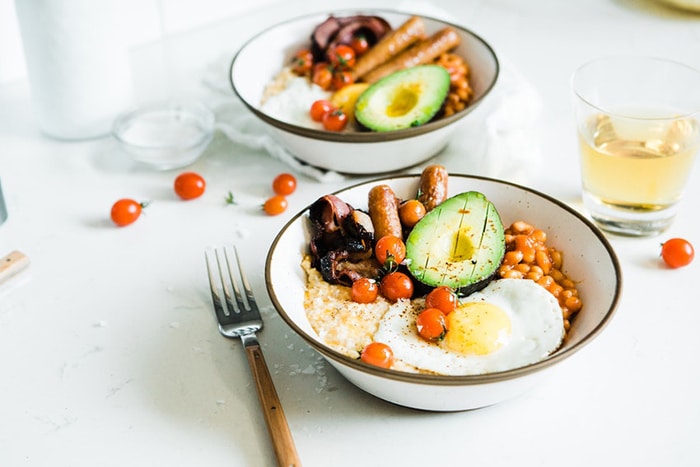 This savory oatmeal breakfast bowl from The Inspired Home is packed with breakfast faves like sausage, eggs, cheddar, and even baked beans! You can customize it to fit your taste.
Other Breakfast Recipes with Oats
There are so many unique oatmeal recipes that go beyond a bowl, including baking recipes with oats… muffins, cookies, cakes, and more! If you are wondering what to do with oats besides oatmeal, here are a few suggestions.
43. Banana Oatmeal Muffins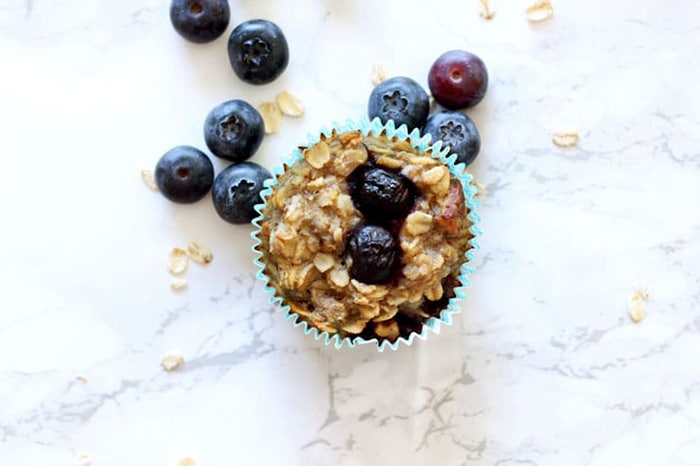 These banana oatmeal muffins from Recipes Worth Repeating are perfect for breakfast on the go! Made with only simple and natural ingredients, these healthy oat muffins are easy to make and are great for breakfast or a light afternoon snack.
44. Leftover Oatmeal Blender Pancakes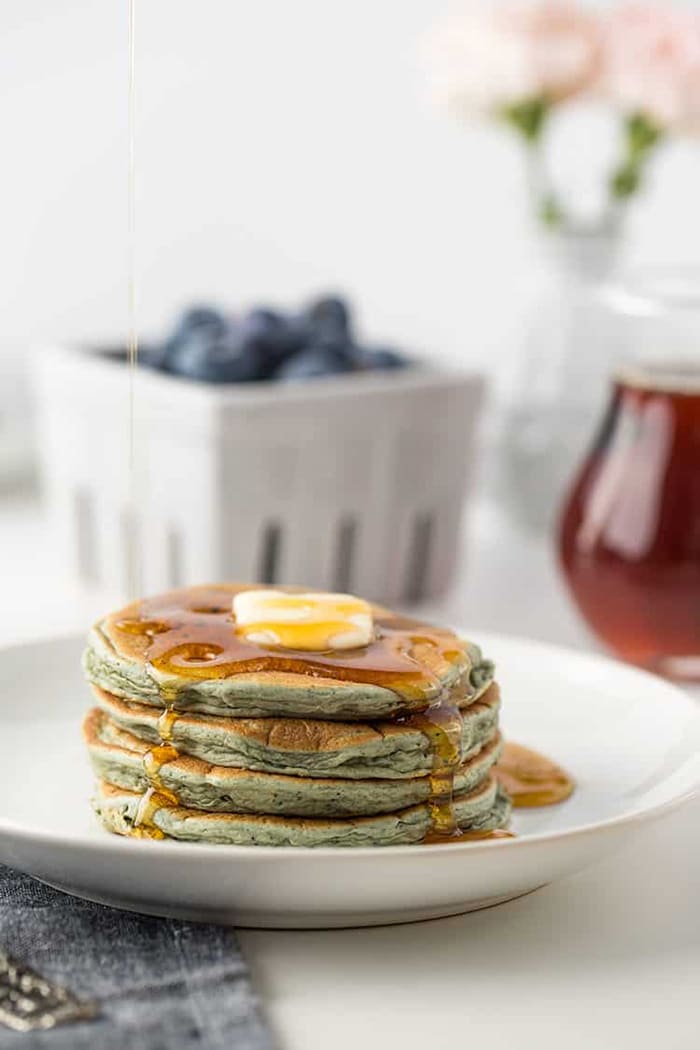 Got leftover oatmeal you don't want to go to waste? Use it in these easy blender pancakes from Make Ahead Meal Mom for a delicious and nutritious, and cost-saving, easy breakfast option!
45. Banana Oatmeal Waffles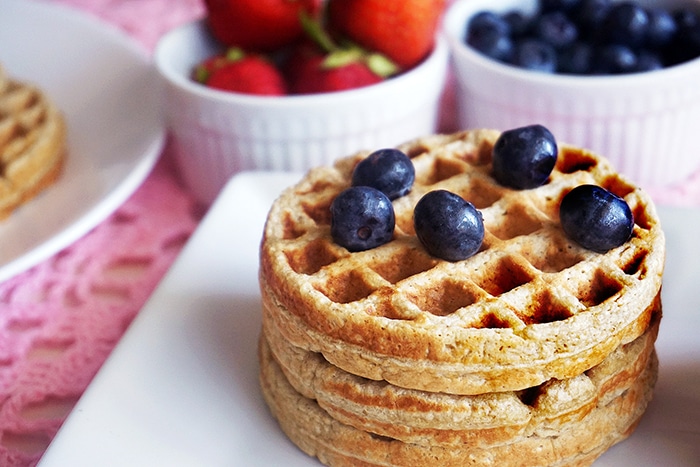 The Banana Oatmeal Waffles from Live Laugh Love are a great healthy breakfast option to start your day with something delicious. The best part is these don't contain any refined flour or added sweetener, just choose your toppings and enjoy the goodness!
46. Pumpkin Baked Oatmeal Cups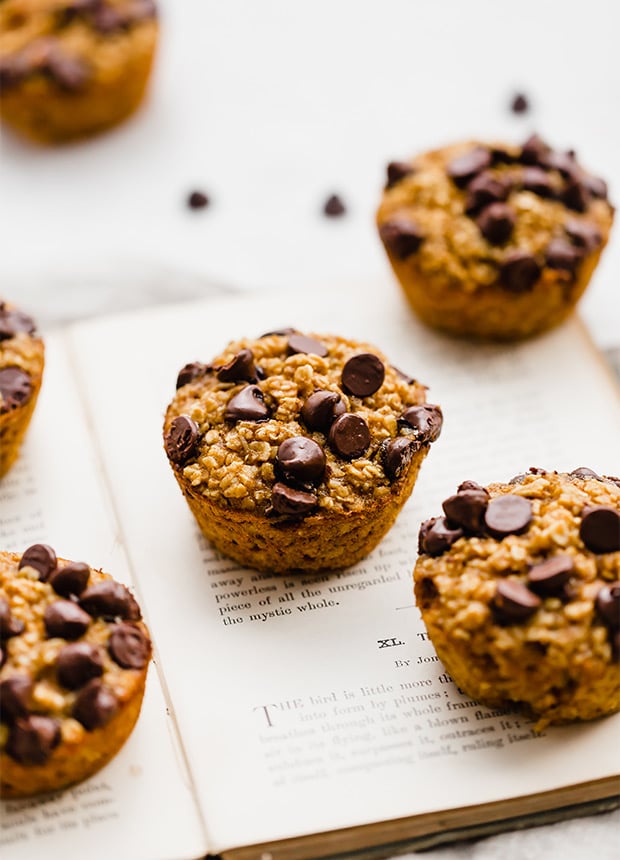 Pumpkin Baked Oatmeal Cups from Salt & Baker are super tasty and loaded with pumpkin puree and delicious fall spices! But don't worry, you don't need to wait until the weather cools down to make these. Your family can enjoy these pumpkin oatmeal cups year round!
47. Peanut Butter Oatmeal Energy Balls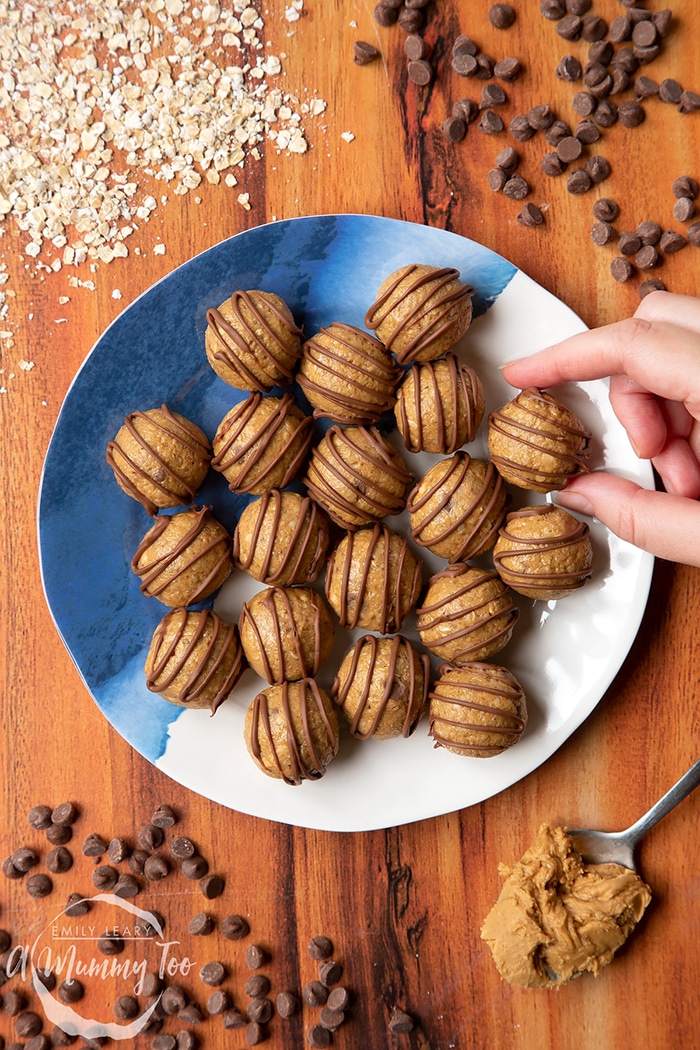 If you want tasty bites of energy in a flash, you'll love these 3 ingredient peanut butter oatmeal balls from A Mummy Too.
48. Blueberry Oatmeal Kefir Smoothie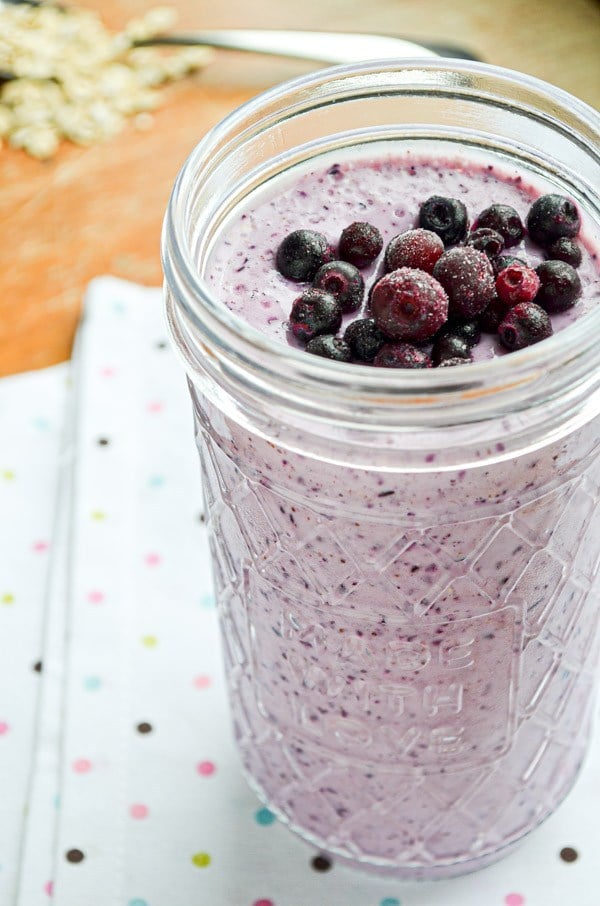 This Blueberry Oatmeal Kefir Smoothie from Little Home in the Making is loaded with probiotics and fiber. This healthy breakfast is the perfect way to start your day! Click here to learn how to make your own kefir at home!
49. Cinnamon Apple and Oat Ice Cream

This cinnamon, apple and oat milk ice cream from Keep Calm and Eat Ice Cream is so creamy and delicious, its just like your favorite bowl of porridge but better! Ice cream for breakfast anyone?
50. Blueberry Oatmeal Crumb Cake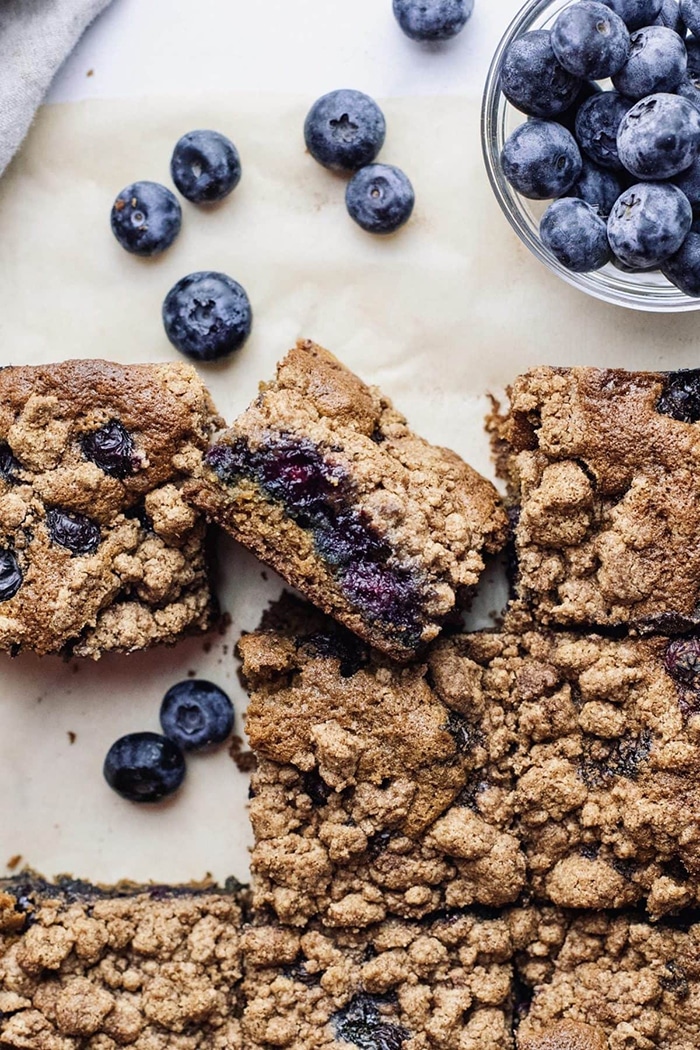 Every bite of this blueberry crumb cake from A Simple Palate is divine! It's moist, not overly sweet, and filled with bursting blueberries. A true crowd-pleasing dessert made with hearty oat flour and unrefined sugar!
51. Yeasted Oats Waffles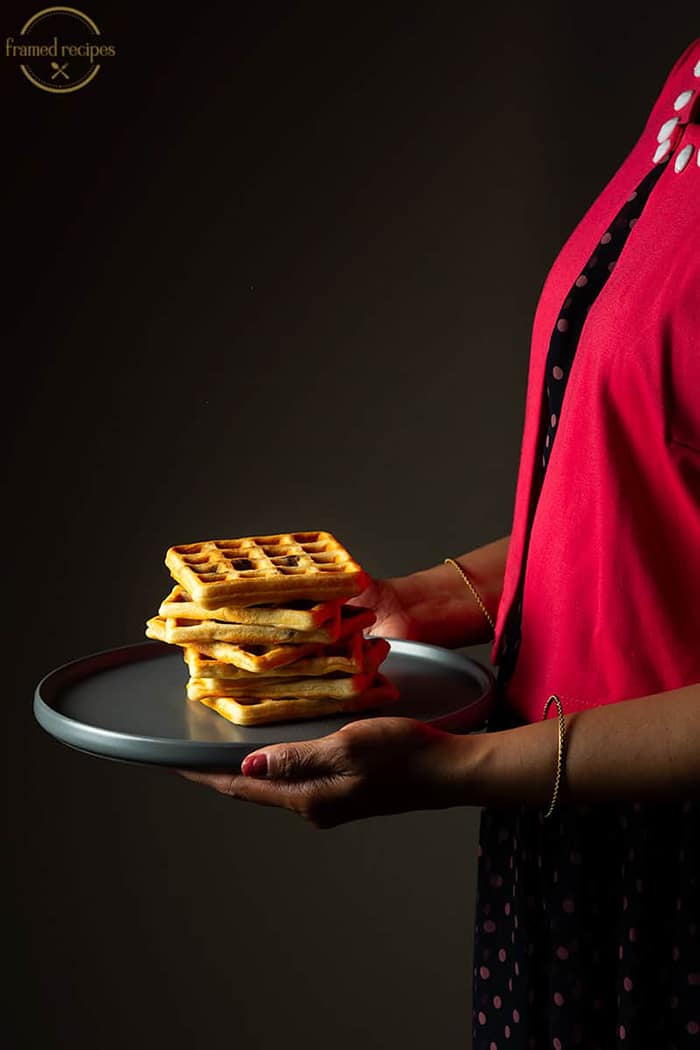 Make these yeasted oats waffles from Framed Recipes for your holiday brunch or a weekend indulgent breakfast. The mildly sweet yeast-leavened batter is turned into waffles – to make it a mouth-watering breakfast/brunch – it will bring a smile to your face. They are delicious and take very little time to mix and prepare. You can make them soft or crispy according to your liking. Top these yeasted waffles with your favorite topping and enjoy a delicious brunch with your loved ones.
52. Breakfast Oat Muffins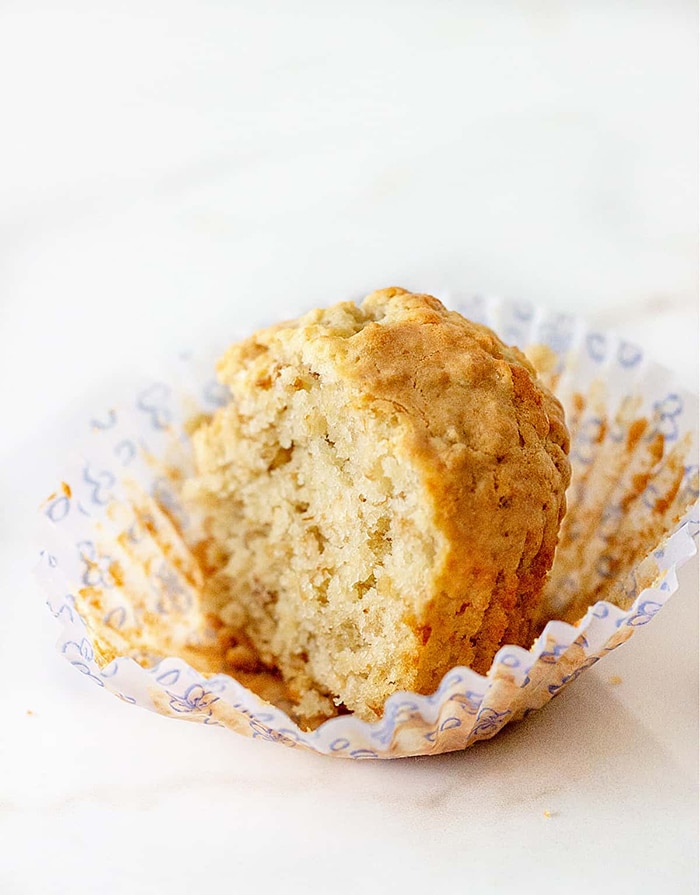 I know you'll love these Breakfast Oat Muffins from Vintage Kitchen Notes because these are everything we want in a breakfast muffin: moist, fluffy, and super easy to make! They can be frozen and reheated to order, and are fantastic warm with a dollop of butter and jam or honey.
53. Simple Clementine Cake with Oats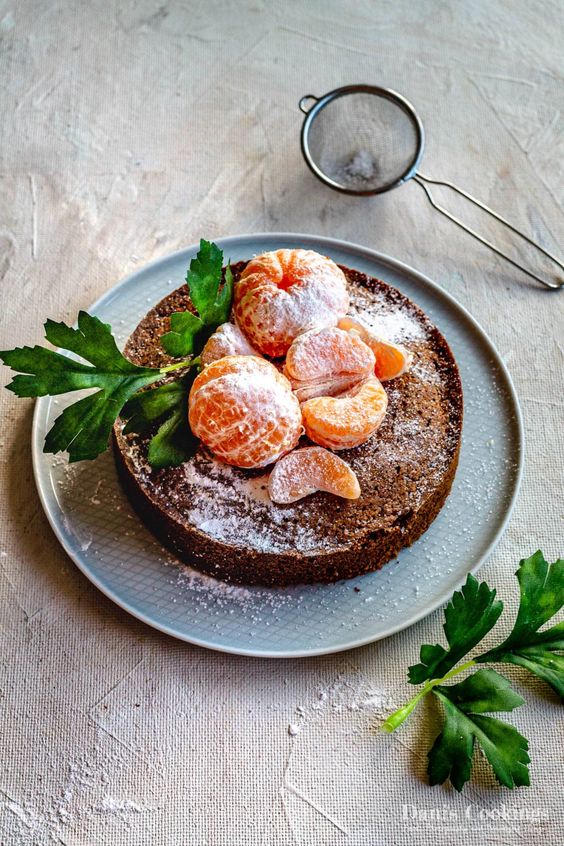 This very simple and yet tasty clementine cake with oats and almonds from Dani's Cooking is gluten, dairy and sugar-free.
54. Banana Oatmeal Fitness Cookies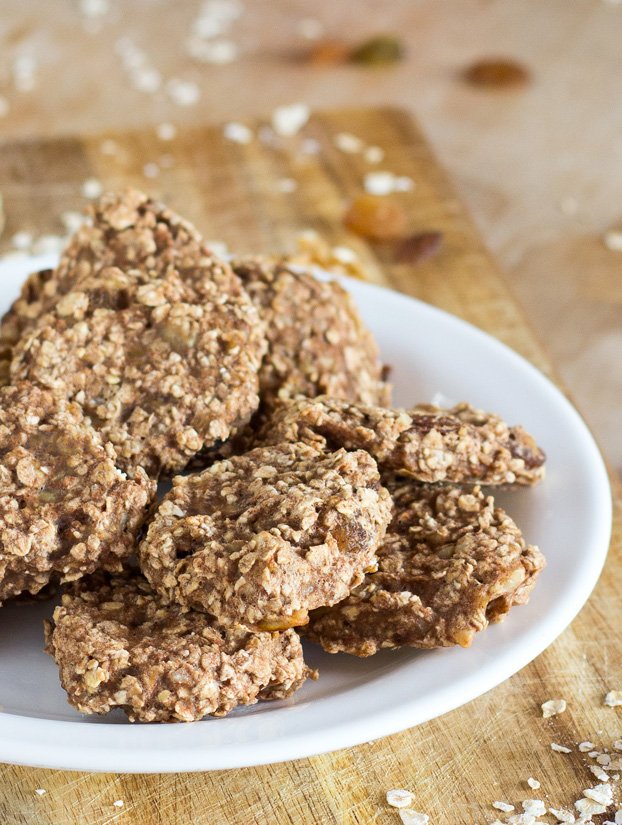 2 Ingredient Cookies. Just mix bananas and oats and bake them for 15 minutes. These Banana Oatmeal Fitness Cookies from Hurry the Food Up are perfect for when you need an energy boost on the go. Enjoy!
55. Berry Egg Oatmeal for Dogs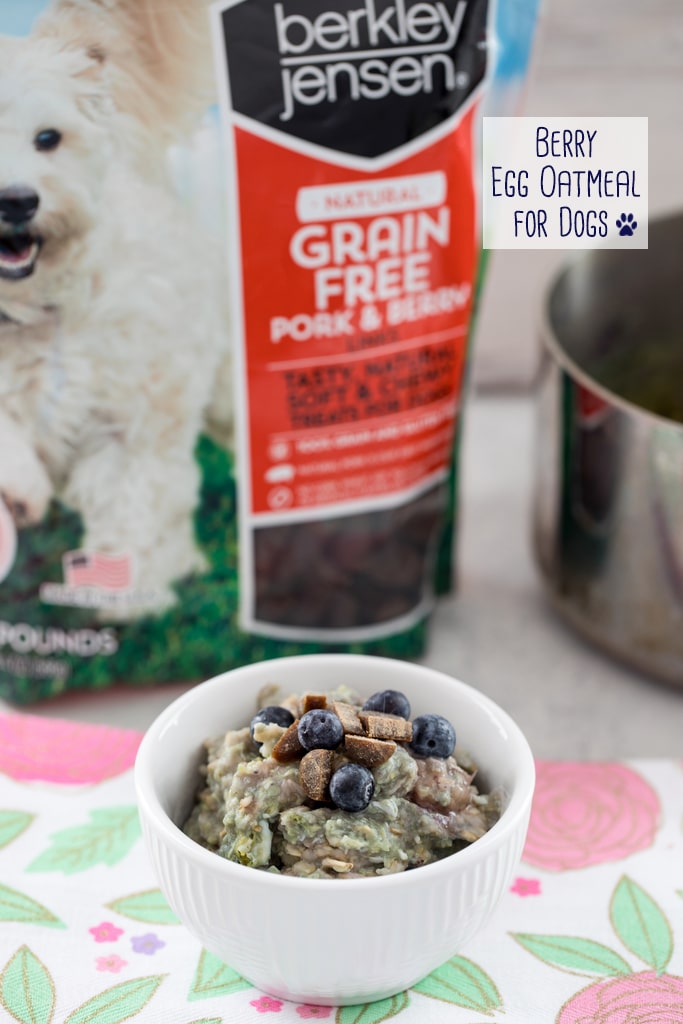 We don't want furry friends to feel left out… This Berry Egg Oatmeal for dogs fromWe are not Martha is a fiber and protein-packed breakfast made with love… Top with some treats for an extra special meal for your furry friend!
What are your favorite unique oatmeal recipes? Do you have a breakfast menu plan that you normally follow?
You'll also love these Unique Pancake Recipes
If you make any of these unique oatmeal recipes please share on instagram using hashtag #rainbowdelicious and tag me at @rainbowdelicious , I'd love to see what you are up to in your kitchen!
Some links on this site are affiliate links and I may earn a small commission at no cost to you. Thank you!
Editors Note: This Unique Oatmeal Recipes post was originally published in 2017 and has been completed revamped and updated for accuracy and comprehensiveness.
(Visited 16,070 time, 1 visit today)