Fourth of July is one of the best holidays to prepare food for because all the best 4th of July snacks and ecipes include fresh berries! I hope you have something fun planned to celebrate Independence Day and that you get a change to eat some patriotic dishes!

4th of July Snacks & Recipes
Fourth of July is right around the corner and if you are looking for some 4th of July snacks you've come to the right post! From Appetizers, to salads, to finger foods, to desserts, you'll find some 4th of July snack ideas that show off the red white and blue this summer!
What makes a snack recipe good for the 4th of July?
Basically if you can add red white and blue to any recipe, it makes it a great addition 4th of July snacks! Since fourth of July is in summer, using fresh and fruit ingredients is always a plus. As you'll see in this easy Fourth of July recipes round-up that tons of recipes can be re-imagined for the Fourth of July including bruschettas, cakes, cheesecakes, fruit salads, pancake stacks, salads, salsa, jellos, and more!
4th of July Snacks & Finger Foods
1. Red White and Blue Puppy Chow

Red White and Blue Puppy Chow from Three Olives Branch is a sweet and salty snack perfect for your celebration! These would even work great as 4th of July beach snacks because they travel well.
2. Patriotic White Chocolate Dipped Pretzels

These easy to make chocolate covered pretzels from Beyond the Chicken Coop are perfect for any summertime celebration. Your kids will want to make this 4th July snacks even after the holiday is over!
3. Rice Krispie Treat Stars

These Rice Krispie Treat Stars from Emily Fabulous are such an easy dessert you can make to celebrate the Fourth of July, Memorial Day, or just for fun! This recipe takes the classic treat and adds a red, white, and blue twist!
4. Yogurt and Berry Mini Tarts

These simple and delicious Fresh Berry Yogurt Tarts from The Urben Life are the ultimate summer dessert! You'll be crunching on these crispy bites in 10 minutes or less and it will be one of your favorite finger foods for 4th of July.
5. Red Beet Hummus

This Creamy and red 5 Minute Beet Hummus from Jessica in the Kitchen includes roasted beets which makes a creamy and velvet smooth and absolutely delicious unique hummus. It's great as a snack or dip, and is vegan and gluten free!
6. Patriotic Trail Mix

The kids will have fun mixing up this simple but delicious trail mix from Loving Homeschool with Patriotic red, white and blue colors! They will have even more fun eating it and it is one of the most kid friendly appetizers for the 4th of July!
4th of July Snacks on a Stick
7. Patriotic Berry Skewers with Cream Cheese Dip

Bring this festive kid-friendly dessert to your next 4th of July BBQ! Red, White & Blue Berry Skewers from Sugar and Snap Peas are easy 4th of July snacks that can be customized several different ways. It's sure to please both kids and adults and could work well on a July fourth appetizers spread.
8. Fourth of July Dessert Fruit Pops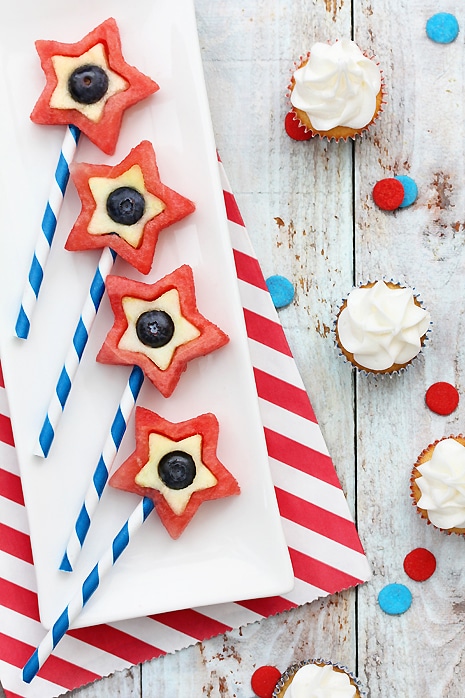 These are almost too cute to eat, but trust me, you'll want to still eat these Fourth of July Dessert Fruit Pops from Bakers Royale.
9. Fourth of July Fruit Skewers with Marshmallows

Kids love to make and eat these Fourth of July Fruit skewers with Marshmallows. All you need are wooden skewers, blueberries, raspberries and marshmallows for these 4th of July snacks on sticks.
10. Red White and Blue Fruit Kebabs

Red, White and Blue Fruit Kabobs from Two Healthy Kitchens are surprisingly easy to make and great for snackin'! And, with our easy tips, you can spin them two ways: as either a refreshing pre-meal appetizer with a sweet Yogurt Dip, or as a light but decadent dessert with cake and Chocolate Lava Dip! This is a perfect recipe if you're looking for healthy 4th of July food recipes.
11. Easy Flag Fruit Kebabs

These easy Flag Fruit Kabobs from Cheese Curd in Paradise are simple healthy snack or party treat. Served with a vanilla coconut strawberry dipping sauce these are a patriotic party must-have!
Fourth of July Appetizers
12. Patriotic Charcuterie Board

You'll love this eye-catching red, white, and blue charcuterie board from Tasty Oven, made with your favorite red white and blue foods!
13. 4th of July Appetizer Fruit and Cheese Platter

This 4th of July Fruit and Cheese Platter from Delightfully Low Carb is just what any 4th of July party needs to make it festive and colorful. This is a must-have addition to your July 4th appetizers.
14. Blueberry, Strawberry and Jicama Salsa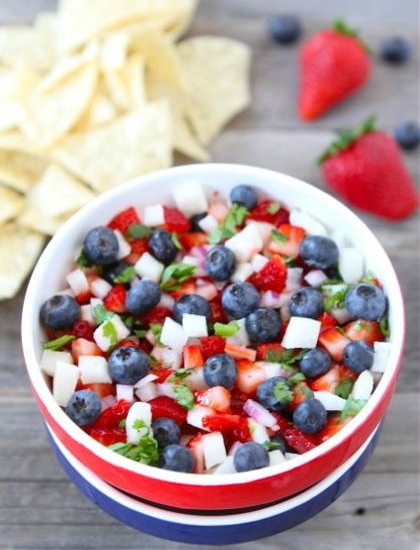 Even your salsa can be red, white and blue with this Blueberry, Strawberry and Jicama Salsa from Two Peas and Their Pod. The presentation is so beautiful and the flavor is unique!
Patriotic Puddings & Jellos
15. Red White and Blue Jello Shots

These red white and blue jello shots from Keep Calm and Eat Ice Cream are an easy and impressive treat for a patriotic party or BBQ. Make them boozy for adults or alcohol free for the kids.
16. Bomb Pop Jello Shots

These bomb Pop Jello Shots from Cheese Curd in Paradise are an adult twist on a summer favorite.
17. Patriotic Jello Cups

These red, white, and blue Jello cups with cream from Simple Living Recipes are super easy to make and will please kids and adults. Add this to your 4th of July snack ideas ASAP!
18. Patriotic Pudding Cups

These Patriotic Pudding Cups from Dancing through the Rain are a fourth of July recipe that is super easy to make! With very few ingredients, these red white & blue desserts will be a hit!
19. Berry Caprese Bruschetta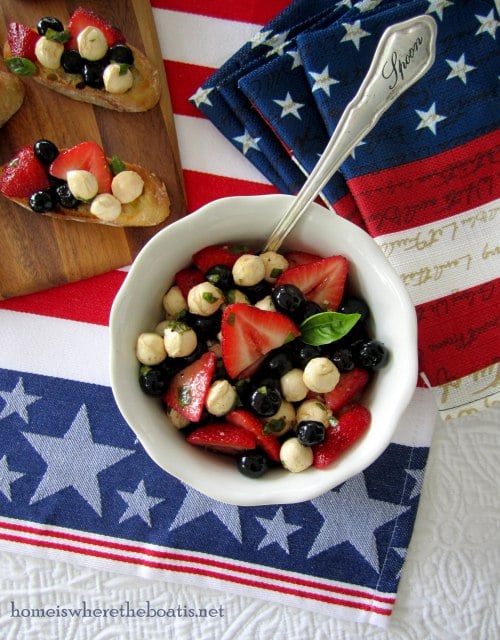 Berry Caprese Bruschetta from Home is Where the Boat Is Is a patriotic twist on a classic caprese, and makes the cutest crostinis! If you like festive crostinis you might also enjoy these fig burrata crostinis. And for more unique Caprese recipes, check out this round-up.
Frozen 4th of July Treats
20. Fresh Strawberry Popsicles

These fresh strawberry popsicles from Keep Calm and Eat Ice Cream are bursting with strawberry flavor. With whole fruit and no refined sugar they are a great snack for kids and kids at heart.
21. Strawberry Yogurt Popsicles

These simple 3-ingredient homemade strawberry yogurt popsicles are easy to make and a huge hit! All you need are strawberry slices, Greek yogurt, and brown sugar. Mix these ingredients, scoop into popsicle molds and freeze overnight for an amazing snack for hot days! You could do half blueberries, half strawberries to make them red, white and blue!
22. Frozen Yogurt Bark

Frozen yogurt bark topped with mixed berries and crushed pistachios from Little Sunny Kitchen are super easy, delicious and a refreshing no-cook recipe that is perfect for breakfast, snack or dessert!
23. Frozen Banana Berry Cake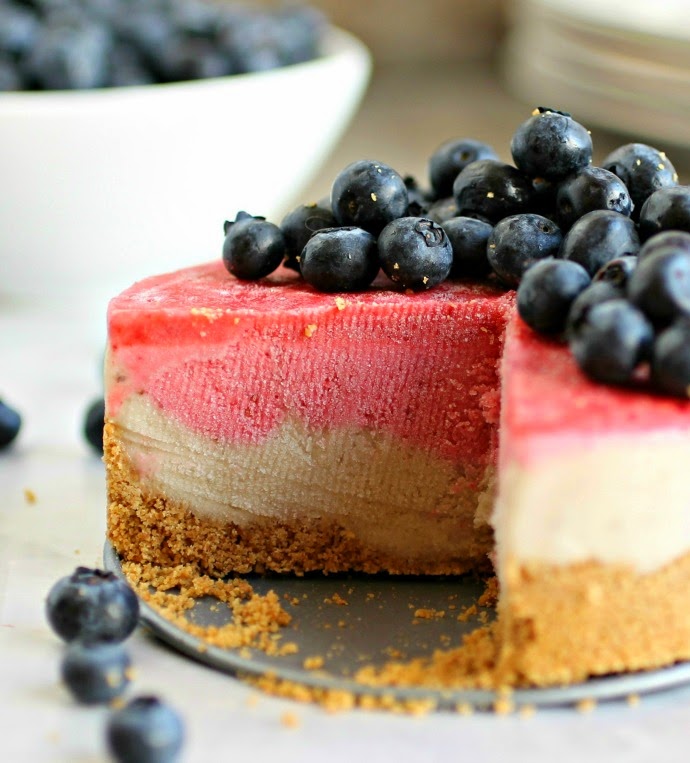 It doesn't get much prettier than this Frozen Banana Berry Cake from Hungry Couple NYC! You could add a bit of whipped cream on top when serving, too!
24. Patriotic Marble Ice Cream

This super easy marble ice cream recipe from My Diaspora Kitchen is perfect for the Fourth of July! It's no churn so you won't be needing an ice cream maker.
25. Patriotic Vodka Berry Sorbet

This easy vodka berry sorbet from Health Starts in the Kitchen requires the simplest, most basic of ingredients and will take you just minutes to make.
Fourth of July Dessert Cake and Cupcake Recipes
26. Strawberry Cake with Fresh Whipped Cream

You''ll want to make this layered strawberry cake with fresh whipped cream for your next patriotic holiday. This easy homemade recipe is made from scratch and a family favorite. You could add some fresh blueberries too.
27. Red White and Blue Marble Cake

Easy red, white, and blue marble bundt cake recipe from I Heart Eating! This moist vanilla bundt cake makes a perfect 4th of July treat.
28. Triple Berry Layered Lemon Cream Cake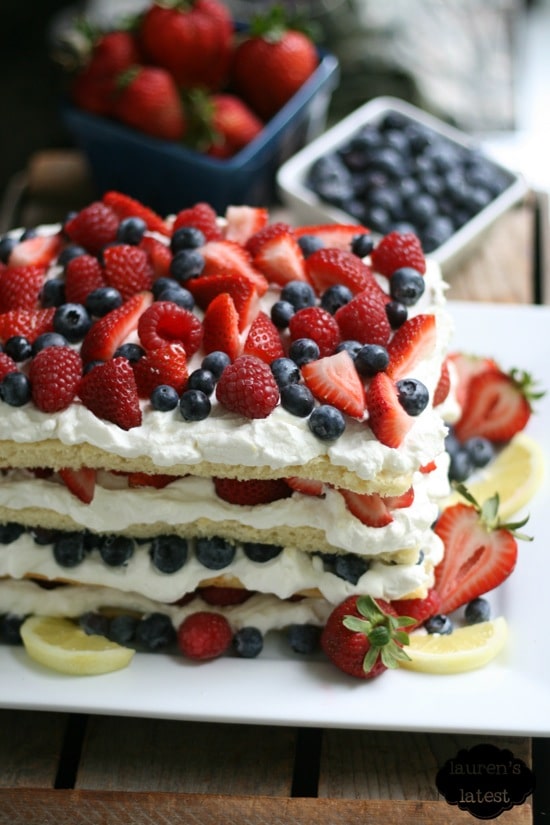 Lemon and berries make the perfect combo in this Triple Berry Layered Lemon Cream Cake from Lauren's Latest.
29. Blueberry Strawberry Shortcake

This blueberry strawberry shortcake from Waiting for Blanc Mange is the perfect treat for your fourth of July festivities! Packed with fresh berries, cream and cake this is sure to make a fabulous red, white and blue showstopper to share with the whole family!
30. Mini Vanilla Patriotic Cake

How cute is this little cake in red, white and blue from The Organic Kitchen! Moist, delicious and just the right size.
31. Vegan Strawberry Blueberry Cheesecake

So luscious and creamy and yet this Strawberry and Blueberry "Cheese-like" Cake from Savory Spin is totally gluten and dairy free!
32. Red White and Blue Cupcakes

These red, white and blue cupcakes from Meals by Molly are made with a light, fluffy vanilla cake and topped with a vanilla whipped buttercream swirled frosting.
4th of July Baked Goods
33. Cherry Turnovers

Flaky cherry turnovers from Confetti and Bliss are a childhood summer staple! This cherry hand pie recipe features light, crisp, buttery layers with amazing flake. This fruit-filled pastry is worthy of the best bakery in town. It's super easy to make!
34. Blueberry Puff Pastry Stars

Fresh blueberries and a delicious cream cheese filling make these blueberry puff pastry stars from Emily Fabulous start irresistible.
35. Strawberry and Cream Cheese Turnovers

These Strawberries and Cream Cheese Turnovers from Masala and Chai are the ideal handheld individual treats for your next patriotic breakfast with a hot cup of tea or dessert with a heaping scoop of ice cream! They're layered with tangy cream cheese, sweet homemade jammy spiced strawberries, and baked to golden perfection in a buttery flaky puff pastry crust!
36. Patriotic Crumble Bars

Nibble on something sweet this holiday! These easy berry crumble bars from Sula and Spice are made patriotic with strawberries and blueberries. Loved by young and old!
37. Blueberry Scones

These blueberry scones would be a great way to start off your patriotic holiday! Serve with some clotted cream and strawberries to get the complete red, white, and blue!
38. Patriotic Mini Pavlovas

Whip up these family friendly, colorful Red White and Blue Mini Pavlovas from Budget Delicious for a fun dessert for 4th Of July, Memorial Day and over the summer with just 5 minutes of prep. Doesn't get cuter than these 4th of July snacks in pavlova form!
4th of July Salads
39. Cookie Cutter Fruit Salad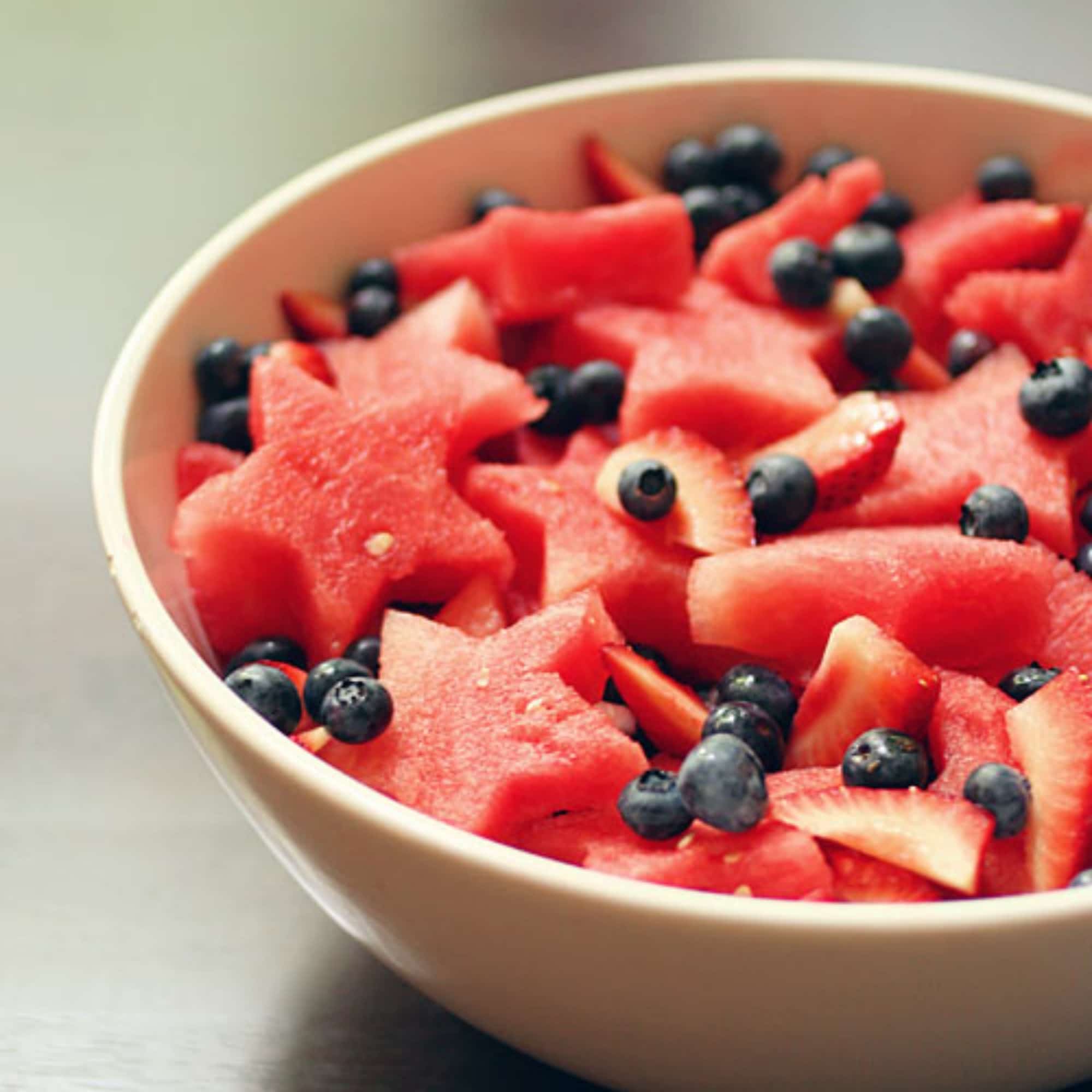 Cookie Cutter Fruit Salad from Wit and Whistle  is such a simple a cute patriotic salad! You can get reasonably priced star cookie cutters here, and a little dragon fruit could add a fun pop of white to this salad.
40. Strawberry Blueberry and Goat Cheese Spinach Salad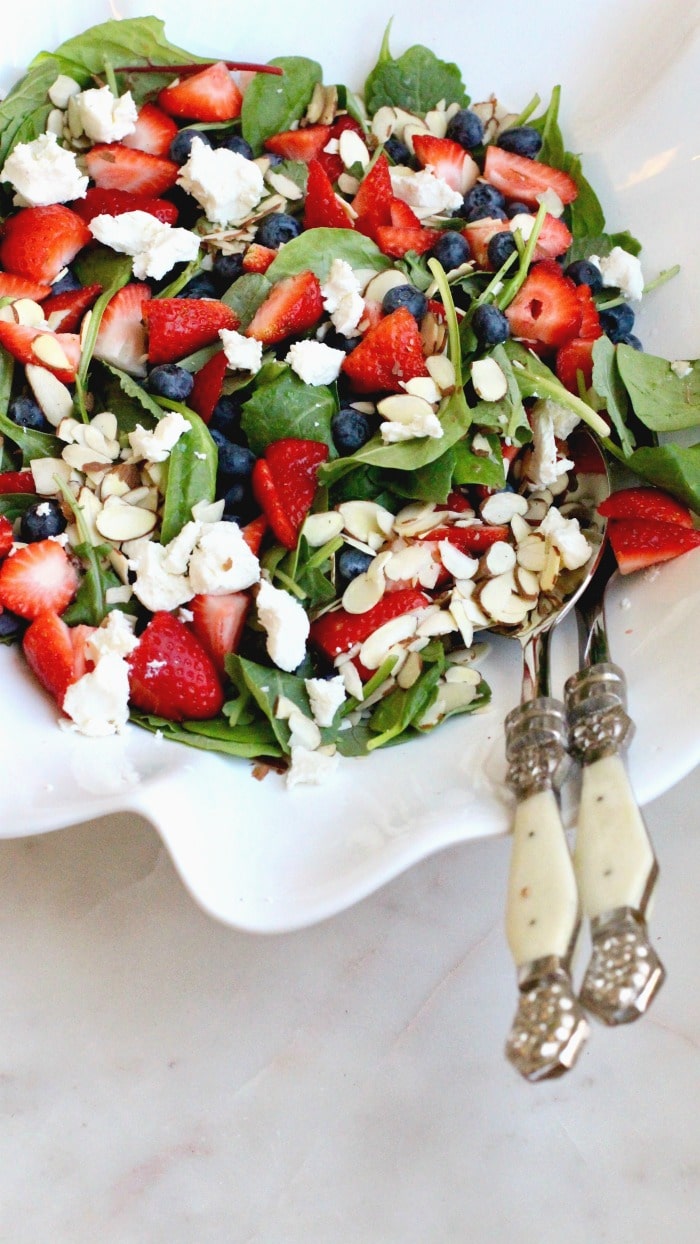 If you are looking for a healthy and patriotic side dish for your Fourth of July BBQ, look no further than this Strawberry Blueberry and Goat Cheese Spinach Salad
41. Berry Fruit Salad

Berry Fruit Salad from Kathryn's Kitchen Blog is made with fresh berries, a light and refreshing honey lime poppy seed dressing and topped with apple shaped stars. This patriotic fruit salad is perfect addition to your appetizers for fourth of July.
42. Fourth of July Berry and Mozzarella Salad

This fresh and delicious patriotic salad from The Jam Jar Kitchen combines strawberries, blueberries and mozzarella cheese for a red, white and blue side dish perfect for the 4th of July! Topped with toasted pine nuts, fresh basil and balsamic vinaigrette this Caprese inspired salad is sure to wow your friends and family!
43. Watermelon Blueberry Salad

This Red, White and Blue Watermelon Blueberry Salad from Tasty Galaxy is perfect for the 4th of July! Ready in 10 minutes, this is a simple and fun snack to enjoy for the 4th of July.
4th of July "Flag" Recipes
44. Patriotic Snack Cakes

These American Flag Snack Cakes from Dancing through the Rain are perfect for your next Memorial Day, 4th of July or Labor Day gathering! An easy patriotic dessert!
45. 4th of July Brownie Flag

You can't go wrong with this July 4th Brownie Flag from A Mummy Too. A gorgeous fudgy, nutty and deeply chocolatey brownie, decorated with fresh fruit to look like the flag of the United States of America.
46. Flag Cake

You'll love this Flag Cake from Delicious Table with patriotic red, white, and blue marble cake inside topped with "bakery-style" cake frosting that is soooo fluffy and not too sweet.
47. American Flag Cheesecake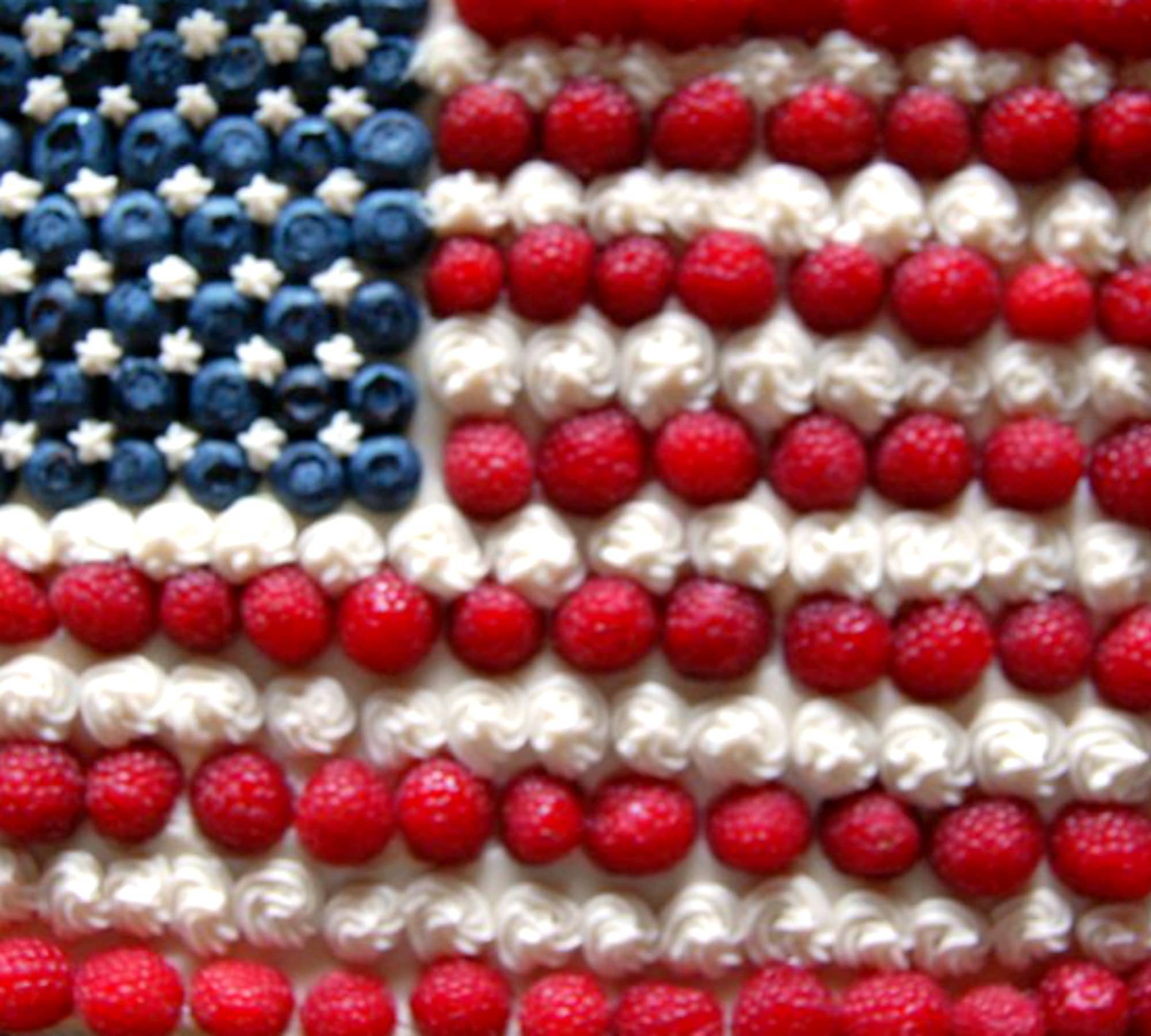 Simply add some berries and a little whipped cream to cheesecake to make this beautiful patriotic dessert! Grandma's Cheesecake from Rainbow Delicious is a family favorite in my home!
48. American Flag Taco 4th of July Chip Dip

Everybody loves this taco dip from Sula and Spice! And this one if easy to decorate with red white and blue for the most patriotic snack on any table! Add this to your spread of appetizers for 4th of July!
4th of July Fruit "Pizzas"
49. Watermelon Pizza

This quick and easy watermelon pizza recipe from Wholesome Yum with berries, and cream cheese icing makes a perfect healthy summer dessert. Ready in 10 minutes!
50. Fourth of July Fruit Pizza

This sweet 4th of July fruit pizza from A Food Lovers Kitchen combines fresh fruit and a tangy cream cheese frosting with a soft cookie crust. It's super quick to make, delicious, and perfect for any fruit-lover.
4th Of July Breakfast Snacks & Recipes
51. Red White and Blueberry Smoothies

Start your holiday of with this Red, White, and Blueberry Smoothie from Tara's Multicultural Table! Blueberry, Banana Yogurt, and Strawberry Smoothies are layered in clear glasses for a fun and festive drink.
52. Patriotic Pancake Stacks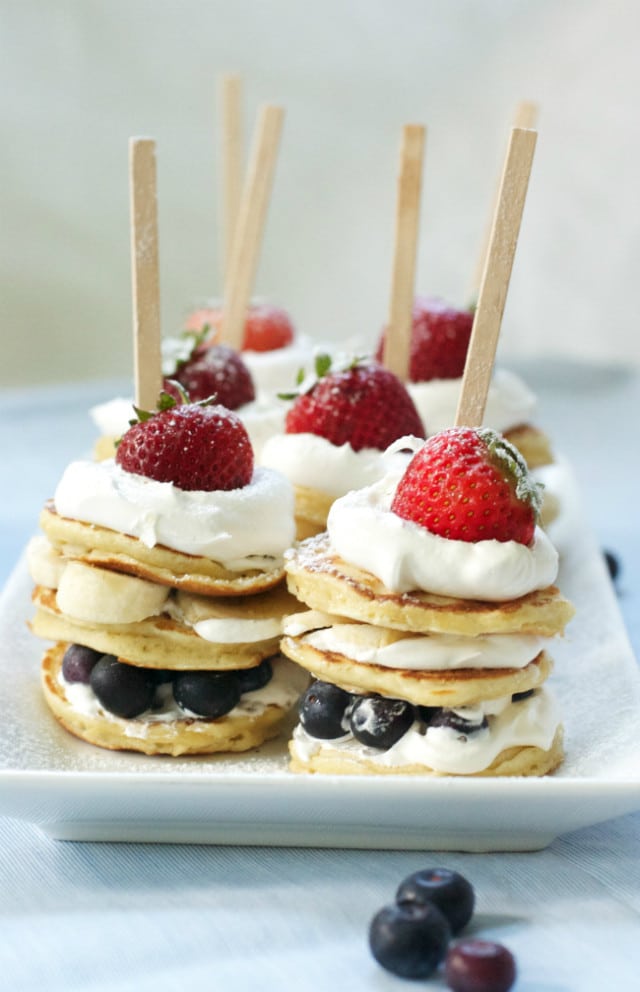 There is no better way to start of your Fourth of July morning than with these adorable Patriotic Pancake Stacks from Modern Parents Messy Kids
53. Patriotic Tartlets

The cutest little Fruit Tarts from Jar of Lemons are made with blueberries and strawberries, perfect for Fourth of July! These patriotic tarts not only look the part but they taste incredible and better yet they're super healthy!
54. Mixed Berry Yogurt Parfait

This quick and easy mixed berry yogurt parfait recipe from The Urben Life comes together with creamy dairy free yogurt, fresh raspberries and blackberries, plus crunchy granola. Perfect addition to your fourth of July snacks.
55. Star Donuts

Hello Star-Shaped Doughnuts from Tara's Multicultural Table! These festive yeast-based doughnuts are topped with vanilla, strawberry, and blueberry glaze along with plenty of sprinkles.
56. Easy Granola Parfaits

These Easy Granola Parfaits from Make Ahead Meal Mom are a great way to change up your morning breakfast routine! Make these extra healthy by making your own peanut butter granola. Definitely kid-approved and definitely delicious!
57. Berries & Cream Parfaits

These berries and cream parfaits from Bright Eyed Baker are naturally red, white, and blue, sweet but light, and so easy to make! Takes less than 30 minutes!
4th of July Cookies
58. Red White and Blue Berry Macarons

These red, white, and blue berry macarons have a plain macaron shell and are filled with cream cheese frosting and homemade blueberry and strawberry jam! Kids and adults alike will love these 4th of July snacks!
59. Patriotic Meringue Cookies

Patriotic meringue cookies from Confetti and Bliss are fun, whimsical 4th of July desserts. Spirals of red, white and blue make these 4th of July cookies extra special. These tasty treats begin with a 3-ingredient Swiss meringue that's quick to assemble!
60. Red White and Blue Pinwheel Cookies

These fabulous red, white, and blue cookies from Ann's Entitled Life are perfect for the 4th of July, Memorial Day, or any other patriotic holiday. Whether you are packing a picnic, having a backyard BBQ, or want something special to take to an Independence Day gathering, these terrific cookies – that can be frozen (raw) for up to three months prior to baking – are what your holiday celebration needs!
61. Patriotic M & M Cookies

These Patriotic M&M Sugar Cookies from Delicious Table are decorated with red, white, and blue M&Ms, icing stripes, and star sprinkles. Great 4th of July snacks for beach, picnics, pool parties.
No-Bake 4th of July Snacks & Treats
62. Fresh Raspberry White Chocolate Bark

This simple to make fresh raspberry white chocolate bark recipe is made with only two ingredients, and is delicious and beautiful! It is a perfect dessert for Fourth of July, especially if you add some blueberries!
63. Strawberries with Cream Cheese Filling

Strawberries with cream cheese filling from Healthy World Cuisine is an easy low carb no bake dessert with creamy lemon cheesecake stuffed in juicy sweet strawberries. Perfect for a 4th of July holiday, a romantic evening or any time you want a cool treat.
64. Macerated Berries and Sour Whipped Cream

A delicious, easy recipe for patriotic holidays, these Macerated Berries with Sour Whipped Cream from The Organic Kitchen will be a crowd favorite! Serve alone or on top of ice cream, scones, or cake.
65. Red White and Blue White Chocolate Dipped Strawberries

The sweetest little patriotic treats from The Short Order Cook are a fun & easy recipe to make this 4th of July. These red, white, & blue chocolate-covered strawberries are colorful & delish.
66. Patriotic Bark

This Patriotic Bark from Loving Homeschool is a pretty and easy to make dessert with sweet and salty flavors and patriotic red, white and blue colors.
67. Sugar Cookie Truffles

These NO-BAKE Sugar Cookie Truffles from Kathryn's Kitchen Blog are made with Golden Oreo cookies, cream cheese, and drenched in white chocolate and coated with sprinkles! These truffles make the best 4th of July finger foods dessert and are super easy to make!
68. No Bake Mini Cheesecake Parfaits

These creamy little individually sized desserts from Upstate Ramblings take only 15 minutes to make and are perfect for a party. Top with blueberries, strawberries for patriotic 4th of July treat or your favorite seasonal fruit any time of the year.
69. Red, White and Blueberry Trifle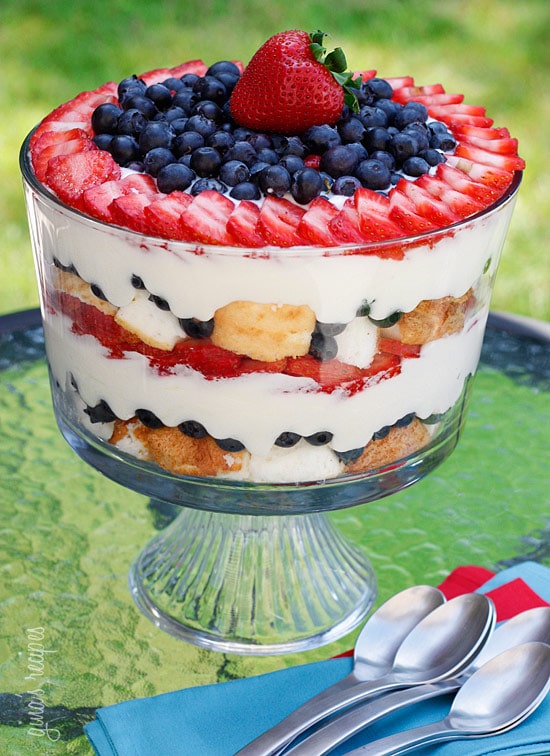 Another great patriotic dessert is this Red, White and Blueberry Trifle from Skinnytaste. This is so easy to put together that kids could help too!
70. Patriotic White Chocolate Stars

These red white and blue white chocolate stars from Drug Store Divas are one of the easiest chocolates you'll ever make!
Have a great Independence Day! I hope you enjoy all of these patriotic recipes for your Fourth of July get together!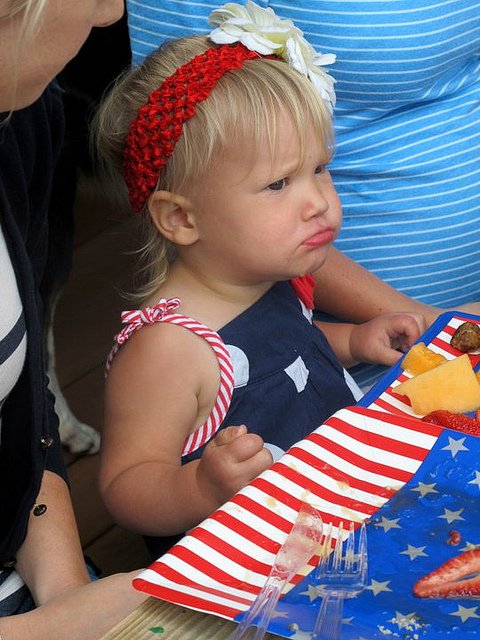 Check out the Fourth of July Rainbow Delicious Pinterest Board for more easy Fourth of July recipes.
If you make any easy 4th of July snacks from this round-up please share on instagram using hashtag #rainbowdelicious & #fourthofjulyrecipes and tag me @rainbowdelicious, I'd love to see what you are up to in your kitchen!
Some links on this site are affiliate links and I may earn a small commission at no cost to you. Thank you!

More Posts You'll Love
If you loved these easy 4th of July snacks recipes, You Will Also Love These Posts:
For more amazing recipes check out the Rainbow Delicious Recipe Index.

(Visited 76,649 time, 1 visit today)