Today I'm excited to share unique caprese salads and recipe variations with you. Anyone who knows me well knows that I'm pretty obsessed with caprese salads. When I need to make lunch just for me that is usually what I make and also a favorite to bring to dinner parties. You just can't go wrong in my opinion with the traditional caprese: plump heirloom tomatoes thickly sliced layered with fresh mozzarella and basil and drizzled with reduced balsamic, olive oil, salt and pepper. Seriously, that is heaven right there.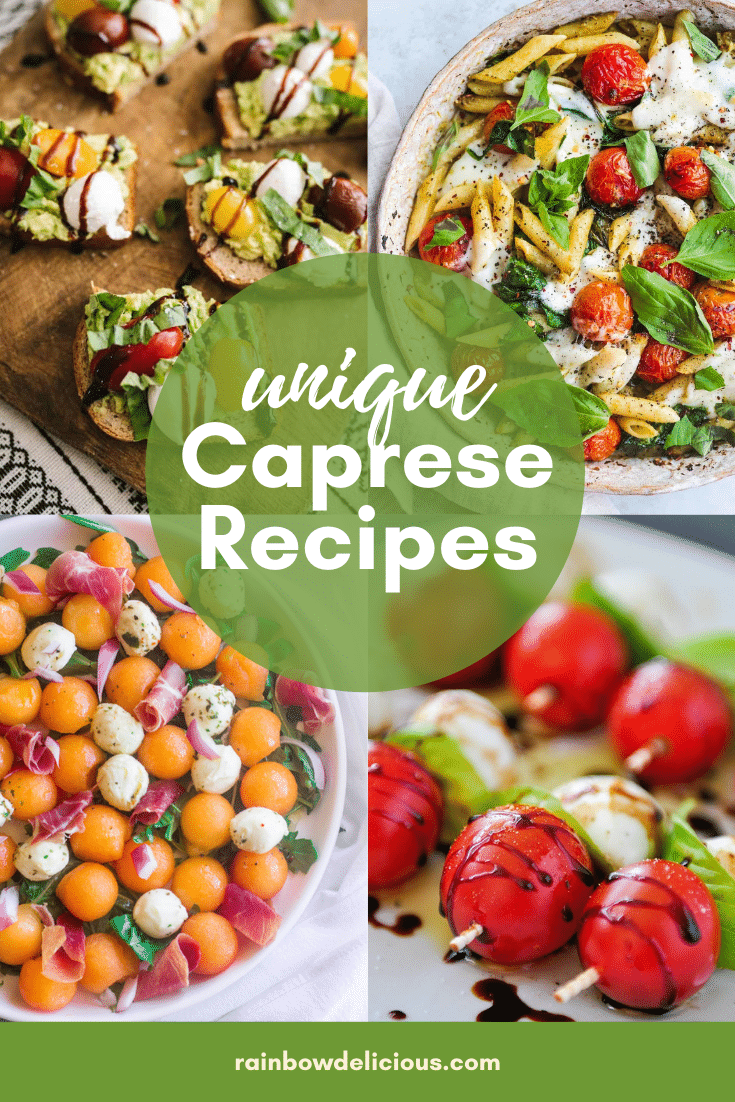 But let's be honest, when tomatoes are out of season (I am always so sad when this time rolls around) a traditional caprese is just not the same. So what can we make for our lunches and dinner parties when tomatoes aren't in peak season? Or what about when we want to dress our traditional caprese up a bit? These are important questions, and don't worry, I have you covered with these unique caprese recipe variations. Scroll down for caprese salad variations ranging from unique caprese salads, to chicken caprese recipes, to pasta caprese recipes, caprese skewers, to unique caprese appetizer recipes.
Unique Caprese Recipes
Fresh Fruits and Vegetables Caprese Salad Variations
Recipes for unique caprese salads range from swapping out tomatoes for another fruit or vegetable, to adding bacon or prosciutto, or more! If you love a traditional caprese, you have to try these create caprese salad variations with fruit!
1. Caprese Salad with Homemade Cornbread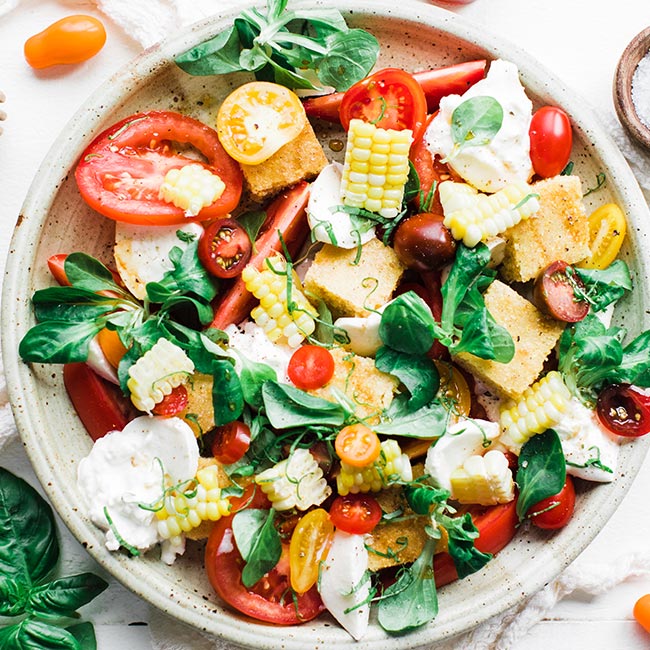 This Caprese Salad with Homemade Cornbread from Billy Parisi just screams summer! Adding corn to this caprese salad variation is so brilliant!
2. Watermelon Burrata Caprese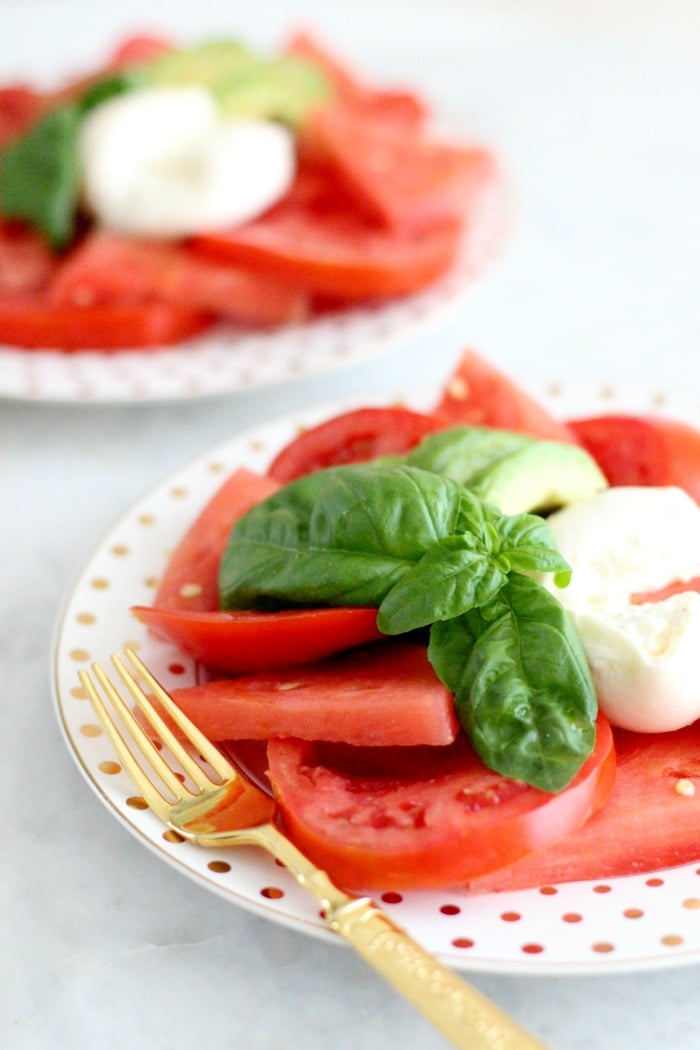 This Watermelon Avocado Burrata Caprese Salad from Rainbow Delicious is perfect during peak watermelon season! You could also add some crab for protein.
3. Strawberry Caprese with Walnuts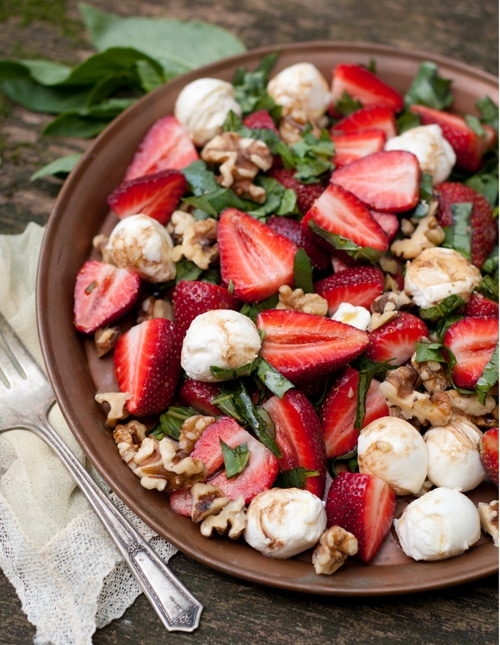 Strawberry Caprese from Edible San Francisco is a unique take on a caprese and would make a delicious appetizer at any summer picnic.
4. Honey Grilled Watermelon Caprese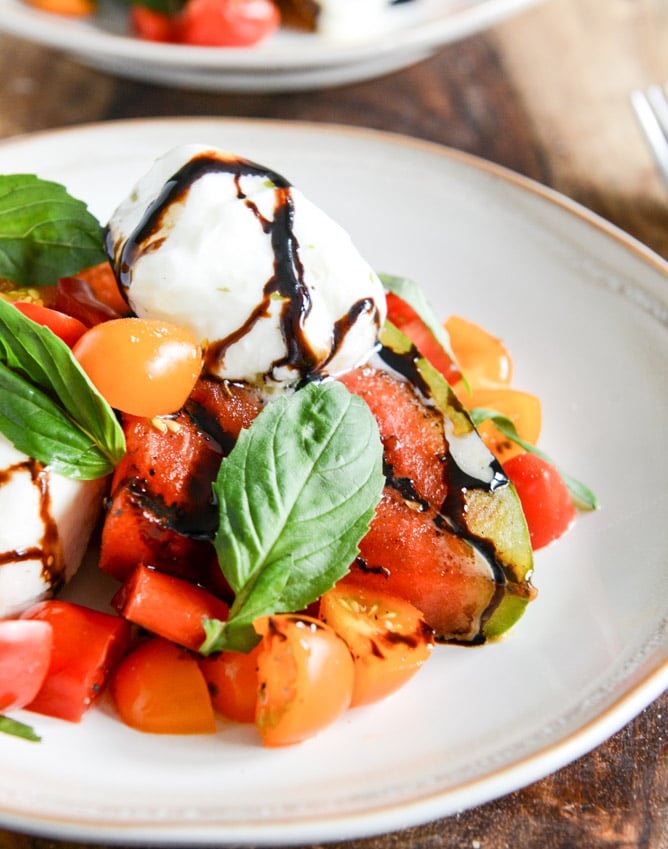 Honey Grilled Watermelon Caprese Salad from How Sweet Eats because who doesn't need a little grilled watermelon in their lives?!
5. Peach Caprese Salad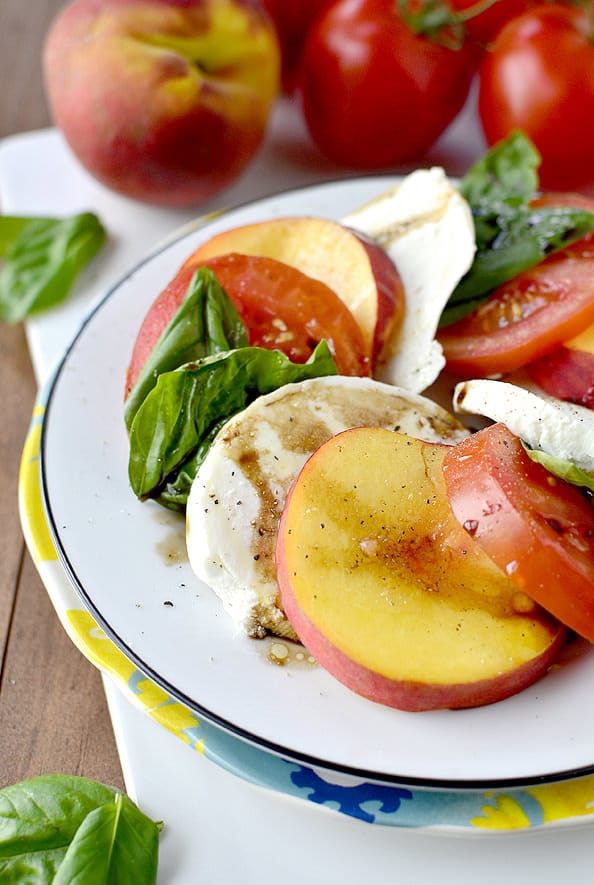 Peach Caprese Salad from Iowa Girl Eats makes you wonder why peaches aren't ALWAYS added to unique caprese salads… the flavors here are a match made in heaven and is one of the best unique caprese salads there is!
6. Fig Caprese Salad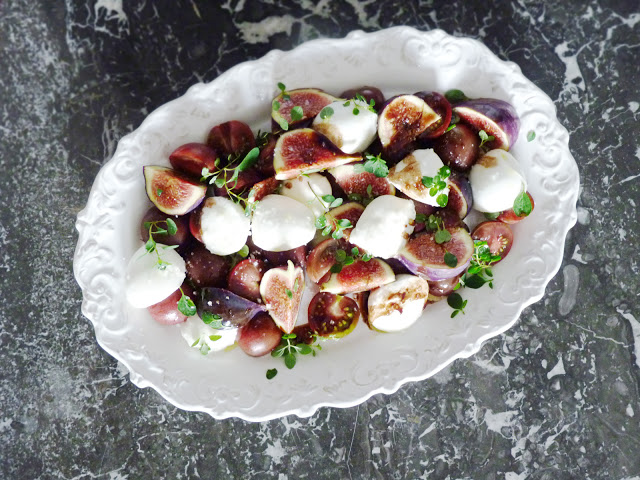 Fig, Heirloom Tomato and Buffalo Mozzarella Caprese Salad from Fork and Flower is a must-try during fresh fig season.
7. Persimmon Caprese


If you are craving unique caprese salads during winter you must try this Wintery Kaki Persimmon and Pomegranate Caprese Salad from Fork and Flower… so good!
8. Sweet Cherry Caprese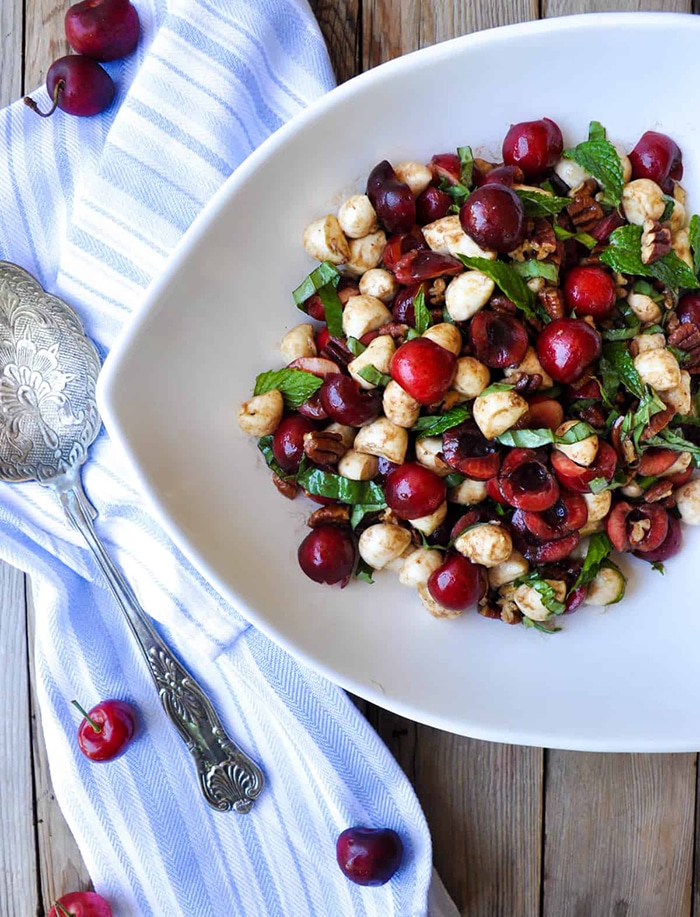 This Sweet Cheery Caprese from California Grown is truly delicious. The tartness of the cherries plus beautifully with the soft cheese and herbal basil and mint.
9. Spiralized Zucchini Caprese Salad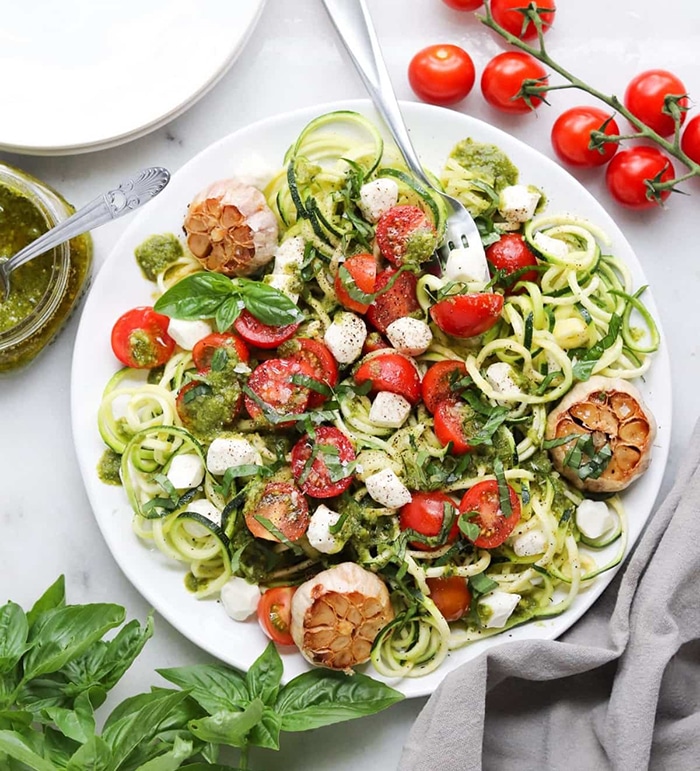 Spiralized Zucchini Caprese Salad from Coot at Home is a totally delicious and super simple dish of garden grown zucchini, sweet cherry tomatoes, fresh mozzarella pearls, drizzled with herby basil pesto, and served with roasted whole garlic cloves. Adding zucchini spirals to unique caprese salads is a great way to get extra veggie servings in!
10. Melon Prosciutto Caprese Salad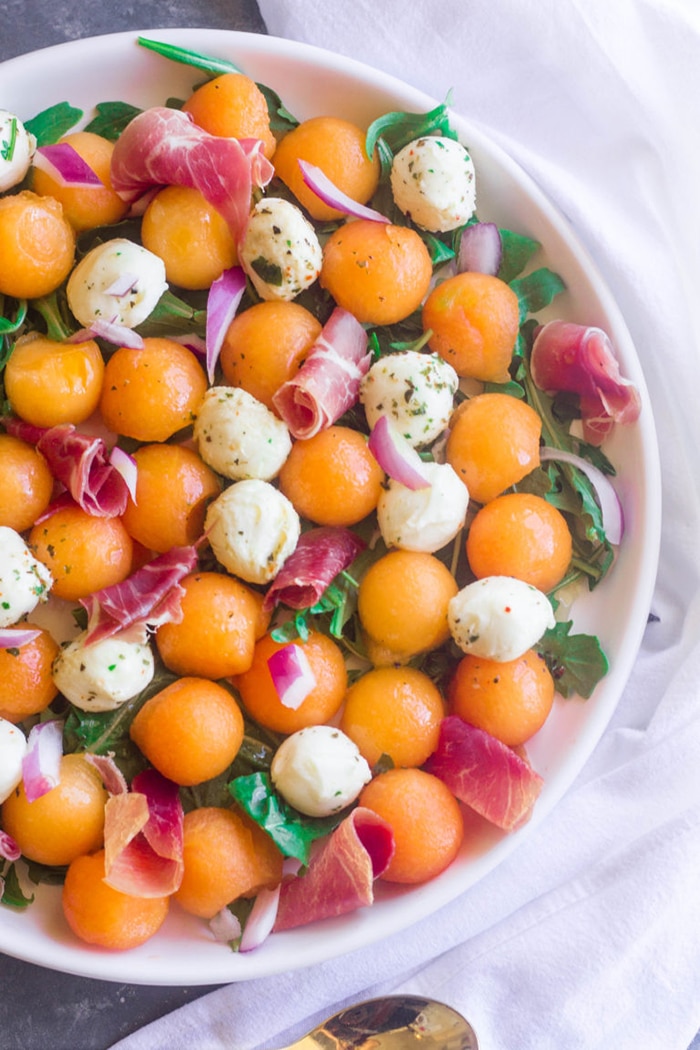 You'll love this melon prosciutto caprese salad from Kathryn's Kitchen; it brings summer to your plate! Sweet bites of melon, creamy bites of mozzarella and salty bites of prosciutto all in one big bite!
11. Avocado Caprese Salad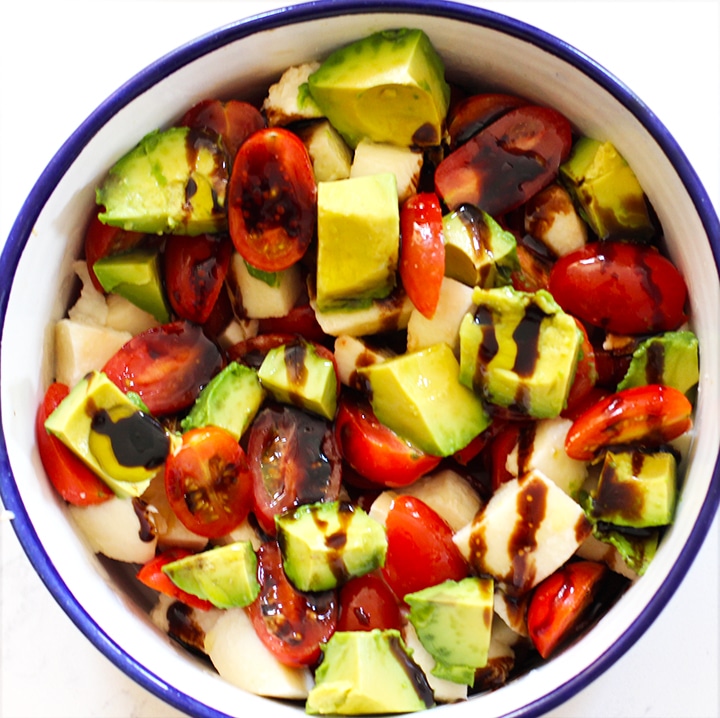 This avocado caprese salad recipe combines halved grape tomatoes, fresh mozzarella, avocado, basil chiffonades, aged balsamic, and extra virgin olive oil for the perfect summer lunch or side dish. This recipe is easy to make, vegetarian, and full for flavor.
12. Tomato Prosciutto Caprese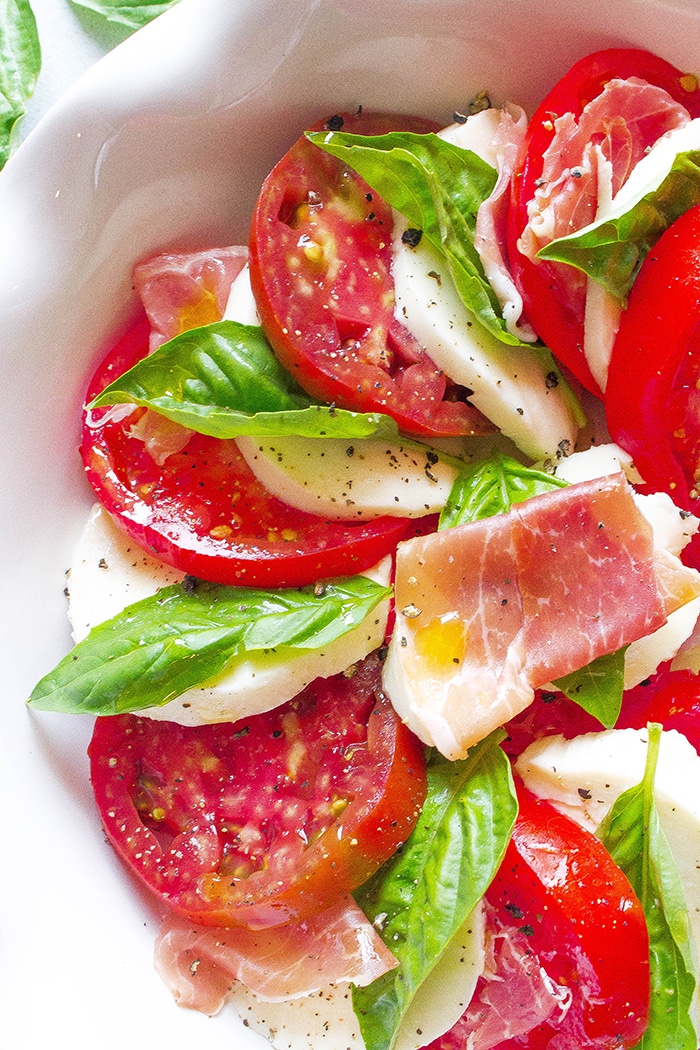 Garden fresh tomatoes, creamy mozzarella cheese and salty prosciutto makes this salad a winner! This tomato prosciutto caprese from Kathryn's Kitchen is acceptable all year round!
13. Roasted Cherry Tomato Caprese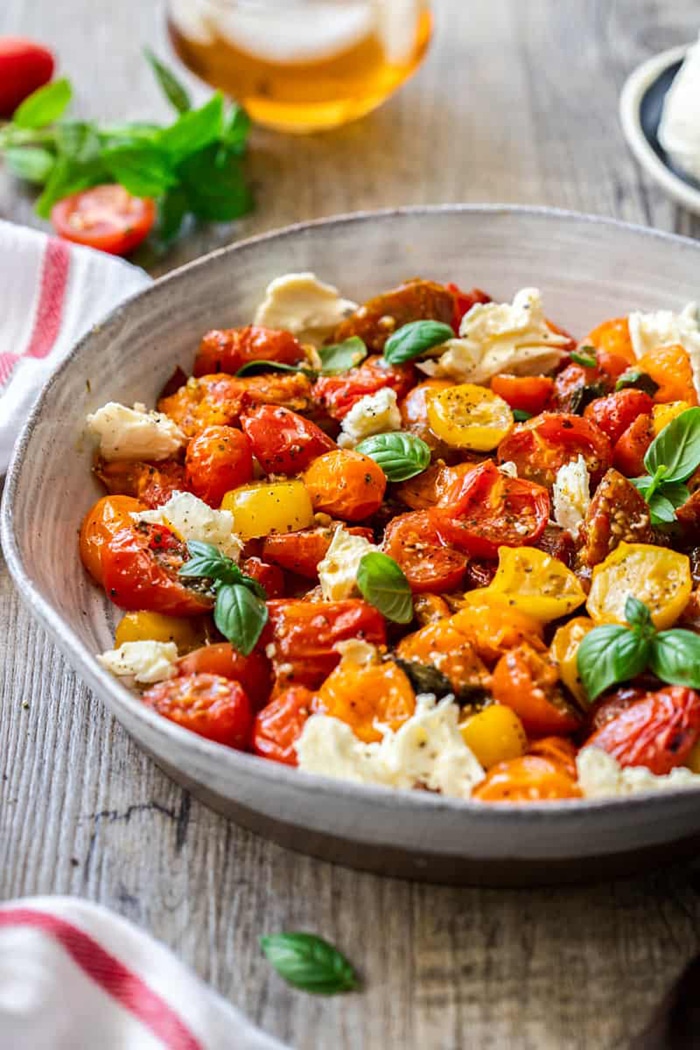 Bursting with flavor, this Roasted Cherry Tomato Caprese Salad from It's Not Complicated is delightful. Enjoy all year round with some crusty bread!
14. Salt Block Peach Caprese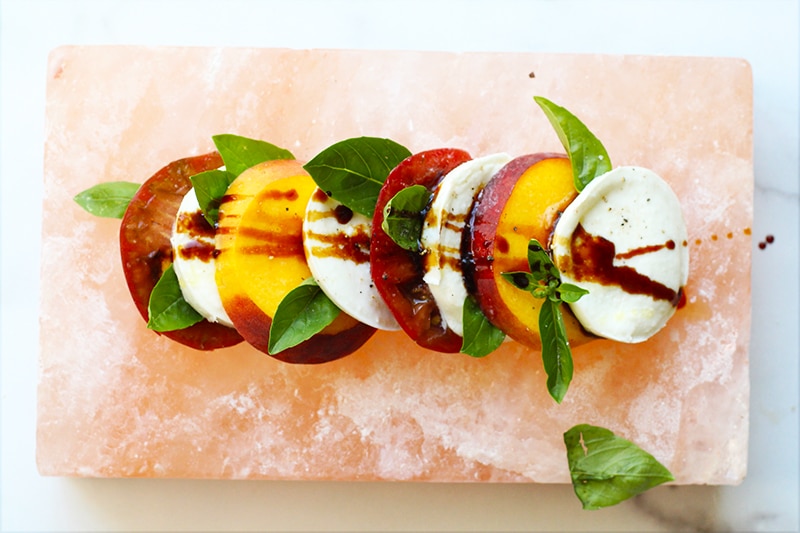 You can't go wrong with this salt block peach Caprese recipe. It's a slight variation on a classic Caprese, alternating tomato and peach slices with fresh mozzarella and basil. This simple vegetarian side or starter is easy to make and full of flavor. It is beautiful served on a salt block, but you can also simply serve on a platter.
15. Italian Caprese Pasta Salad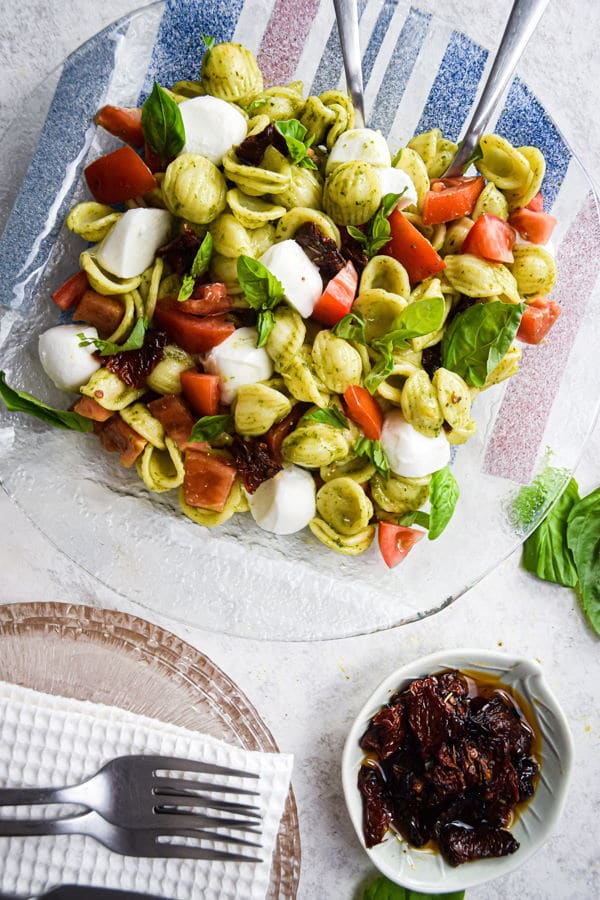 This Caprese pasta salad from In The Kitch takes a classic summer dish and adds a delicious Italian twist!
16. Kale Caprese Salad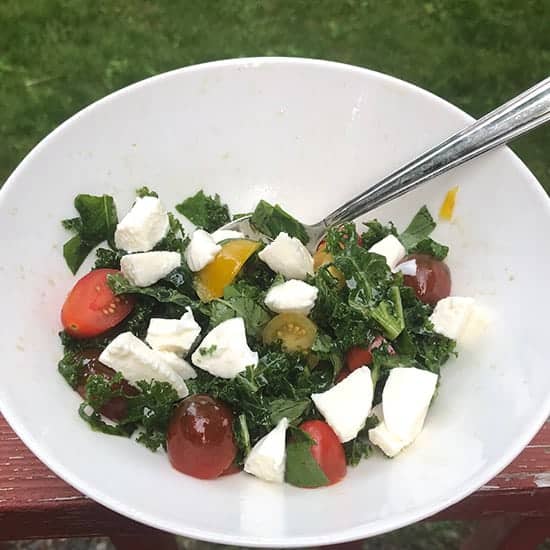 Thinly sliced kale along with traditional Caprese salad ingredients–basil, tomatoes and mozzarella–combine for a healthy and hearty Kale Caprese Salad from Cooking Chat Food. Enjoy along with grilled meats and other summer food.
17. Meal Prep Caprese Arugula Salad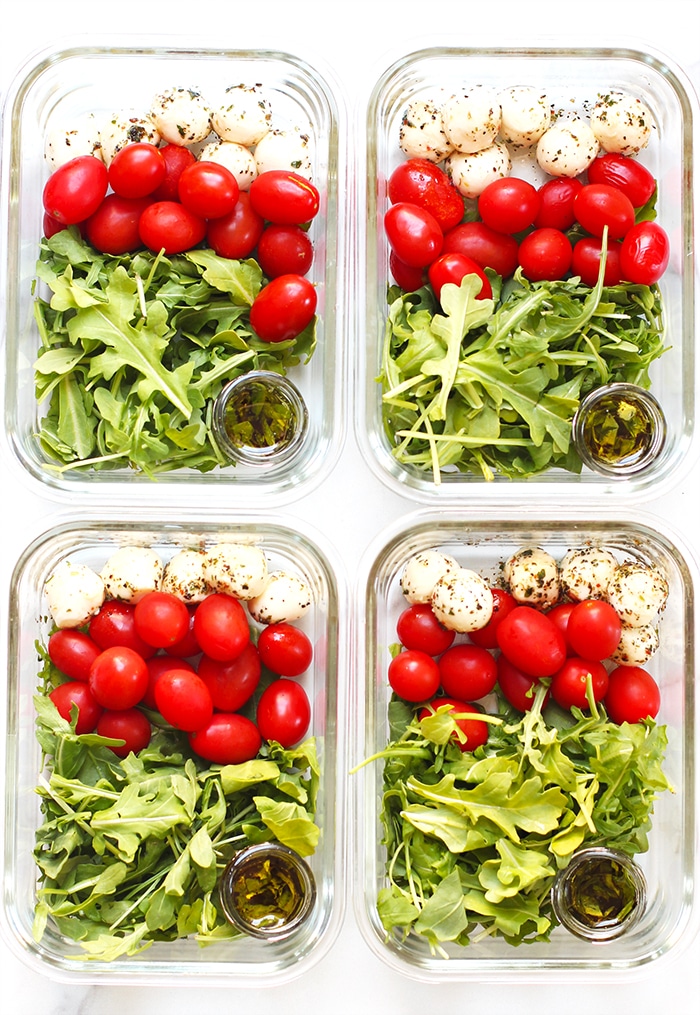 This meal prep caprese arugula salad is an easy make-ahead lunch for the week. Marinated mozzarella cheese balls, vibrant and peppery arugula, ripened red grape tomatoes and a basil balsamic come together to make this simple but flavorful meal.
Caprese Skewers
Nothing beats delicious unique caprese salads, except for caprese salad skewers! These caprese skewers are full of flavor, look beautiful, and are great for picnics and potlucks.
18. Melon Caprese Skewers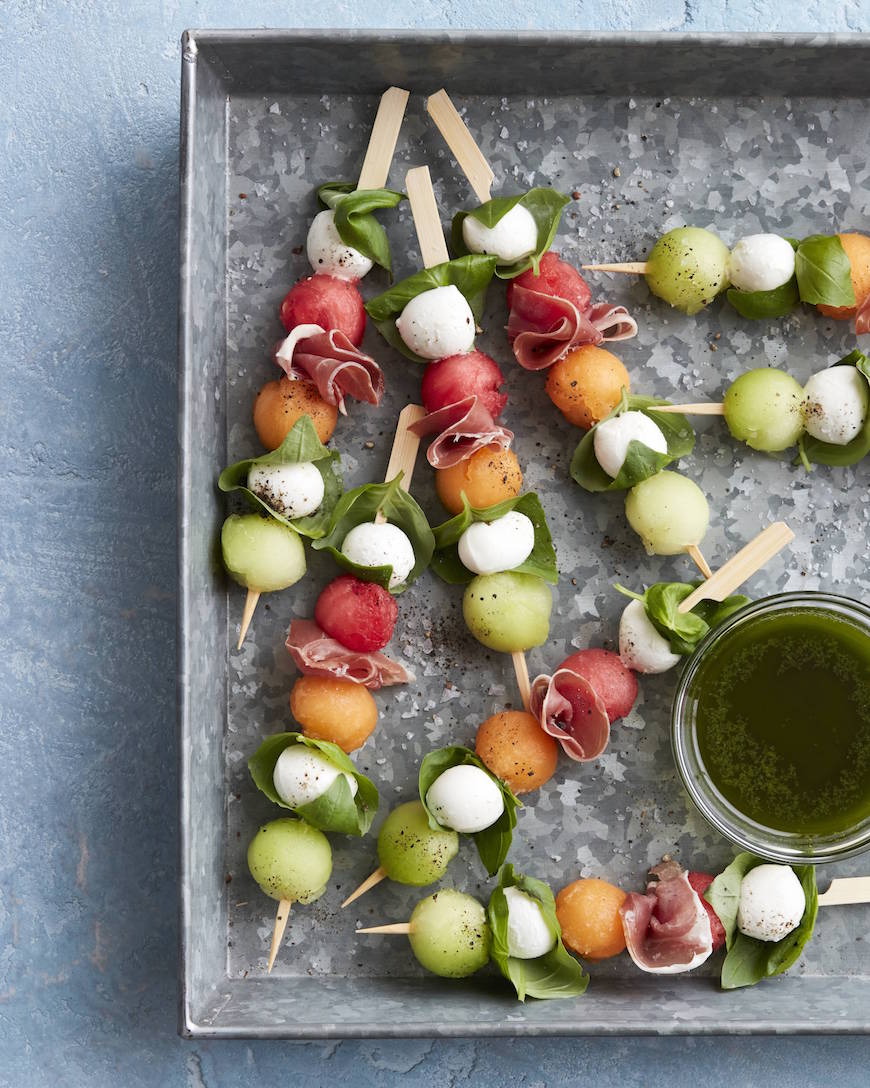 Aren't these Melon Caprese Skewers from What's Gaby Cooking just the prettiest!?
19. Caprese Salad Skewers with Pasta & Bacon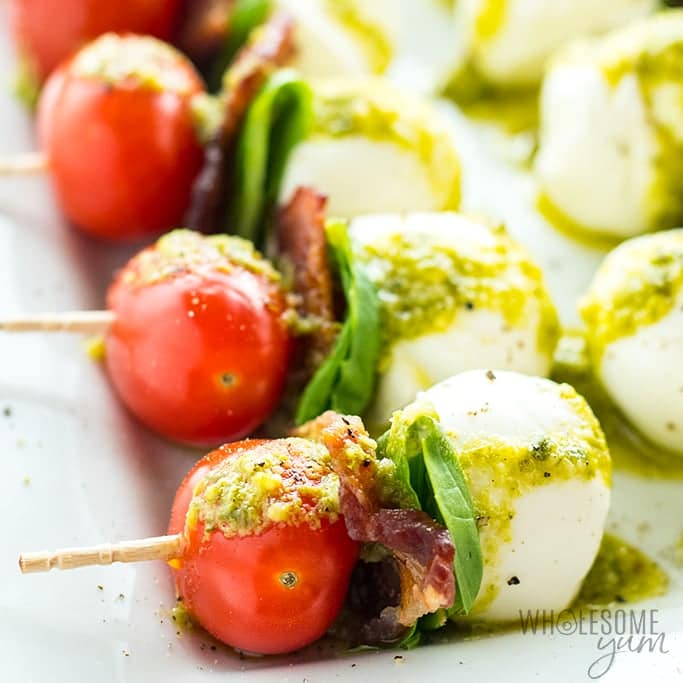 This easy mini Caprese salad skewers recipe from Wholesome Yum with pesto and bacon needs just 6 ingredients! It's a quick and healthy appetizer everyone will love.
20. Caprese Salad Skewers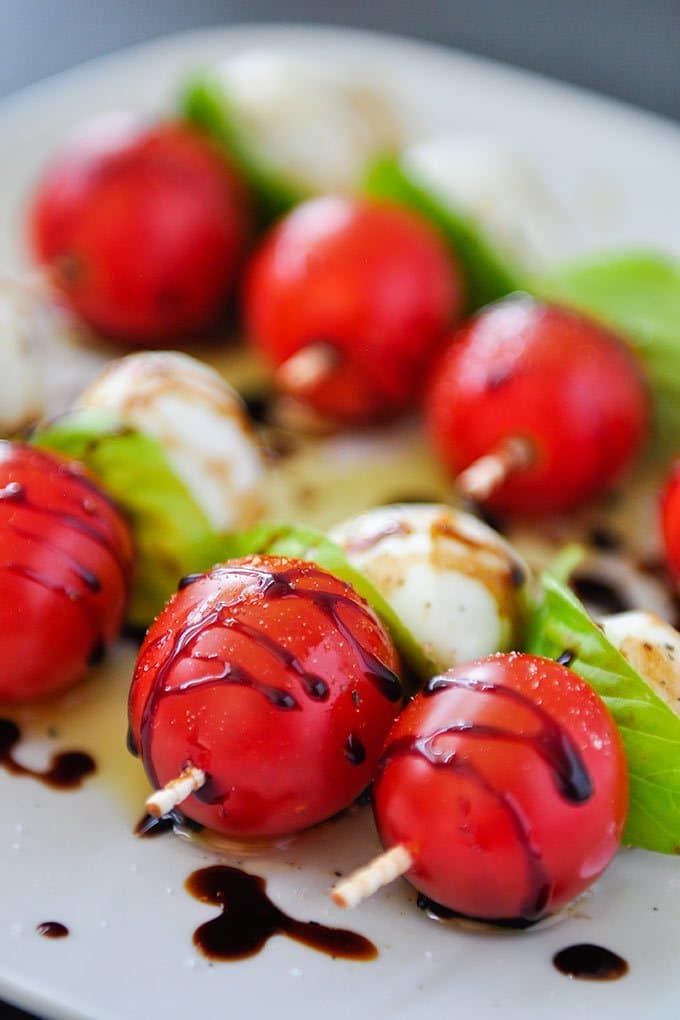 Caprese Salad Skewers from Home Cooked Harvest with juicy tomatoes, crisp basil, and creamy mozzarella are rich with bold flavors and so easy to make. Top caprese skewers with a good-quality, buttery extra-virgin olive oil, thick balsamic glaze, salt, and freshly ground pepper.
Caprese Appetizer Recipes
21. Fig Burrata Caprese Appetizer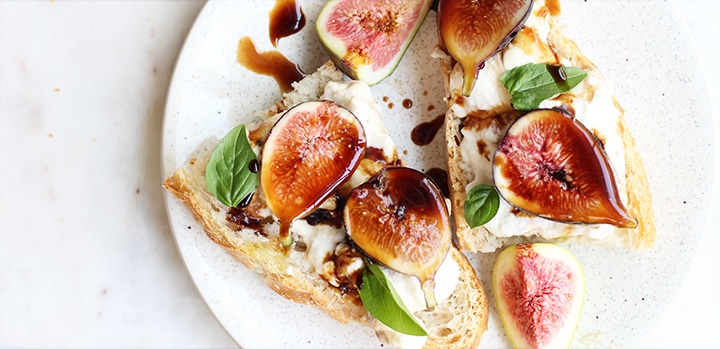 Make the most of fig season with the fig burrata Caprese appetizer! Fresh burrata, figs, basil, olive oil, balsamic glaze, salt and pepper taste amazing on their own or scooped onto a slice of your favorite bread!
22. Caprese Bruschetta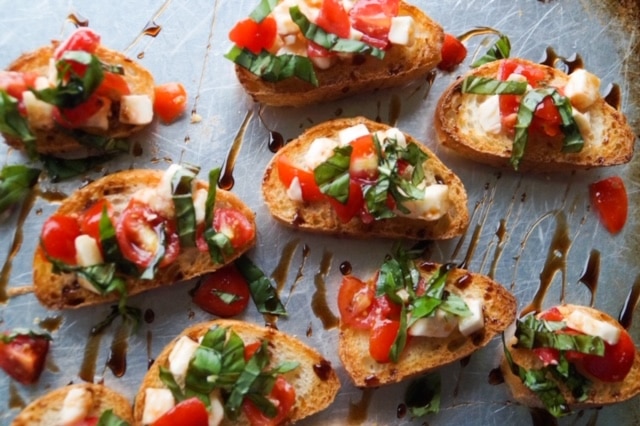 Kids love this refreshing Caprese bruschetta from Carrots and Cookies served as a healthy snack or appetizer. It's super easy to make and will be devoured in no time!
23. Prosciutto-Wrapped Caprese Salad Bites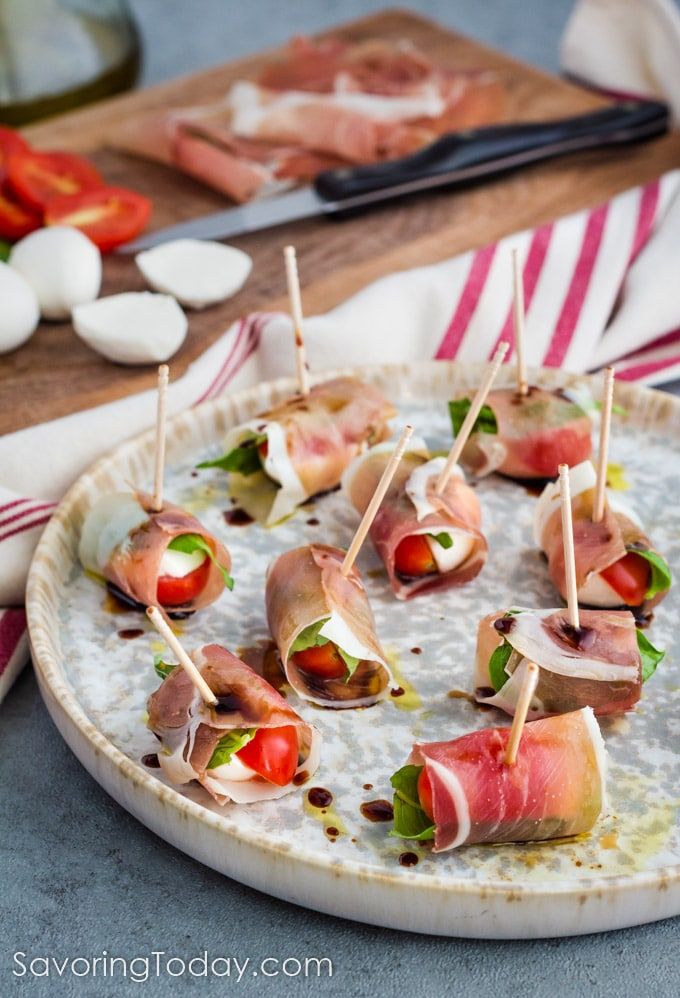 This Prosciutto-Wrapped Caprese Salad Bites Appetizer from Savoring Today makes party food easy and effortless. Just four ingredients and a few minutes of prep and you're all set to impress
24. Puff Pastry Caprese Bites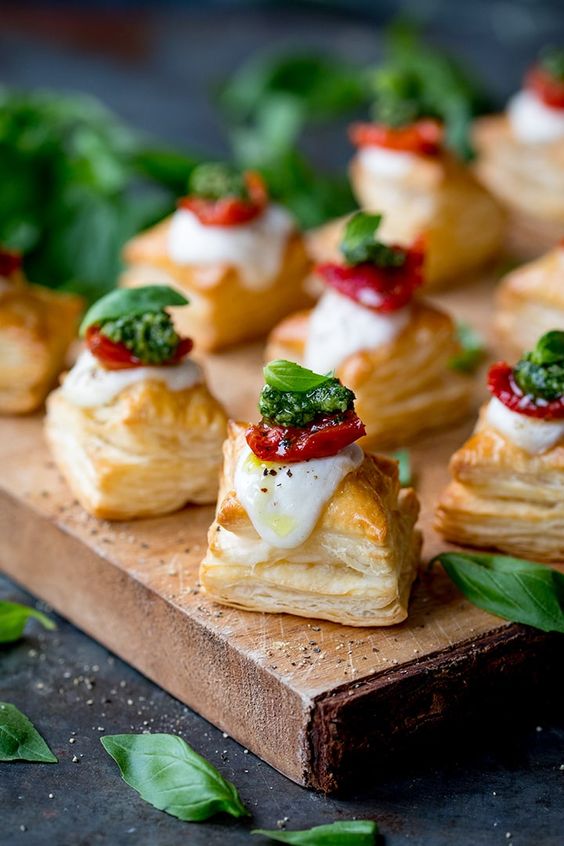 These puff pastry caprese bites from Kitchen Sanctuary, made using ready-rolled puff pastry, are quick, simple and eye-catching. Perfect for any party table!
25. Caprese Avocado Toast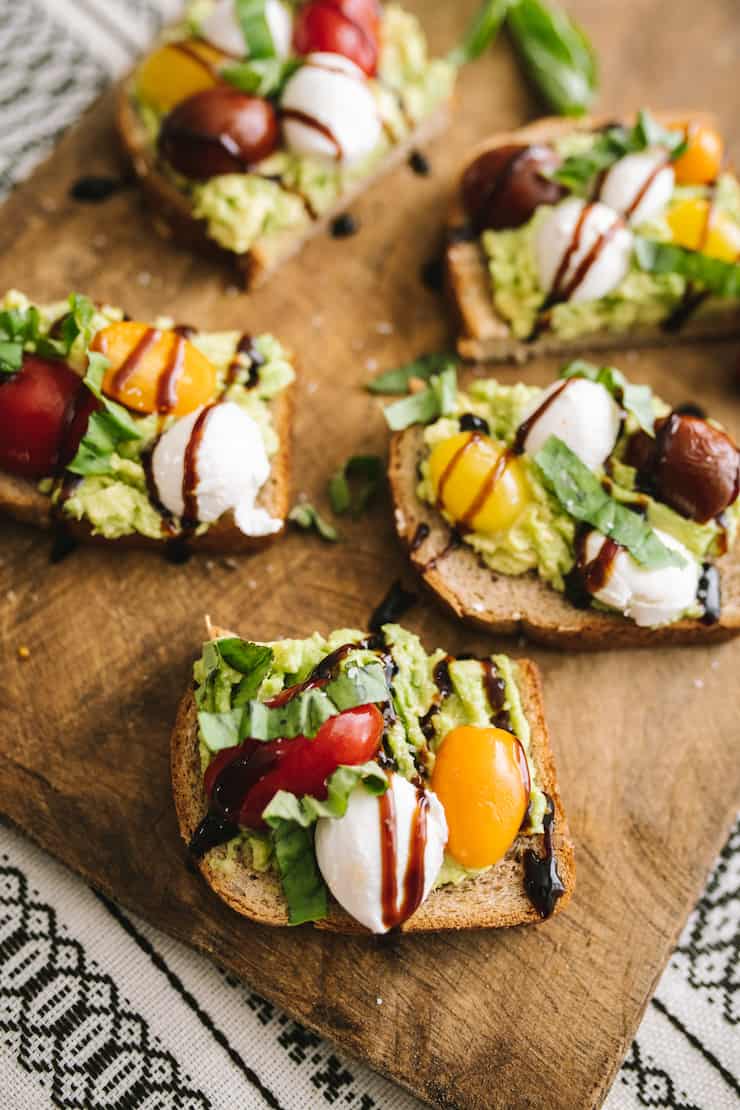 This heart-healthy Caprese Avocado Toast  from Muy Bueno Cookbook with a caprese twist is perfect for an appetizer.
26. Keto Crustless Caprese Quiche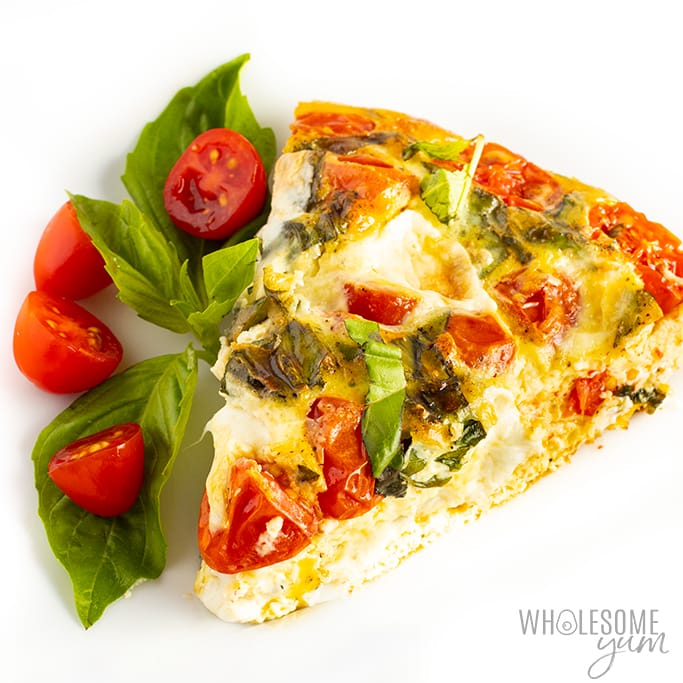 This easy caprese crustless quiche recipe from Wholesome Yum is packed with tomatoes, basil and gooey cheese. It will become one of your go-to quiche recipes for brunch.
27. Baked Caprese Dip

Caprese in dip form?! Yes please! This caprese dip from Home Made Interest is a perfect appetizer for your next gathering.
28. Instant Pot Caprese Egg Bites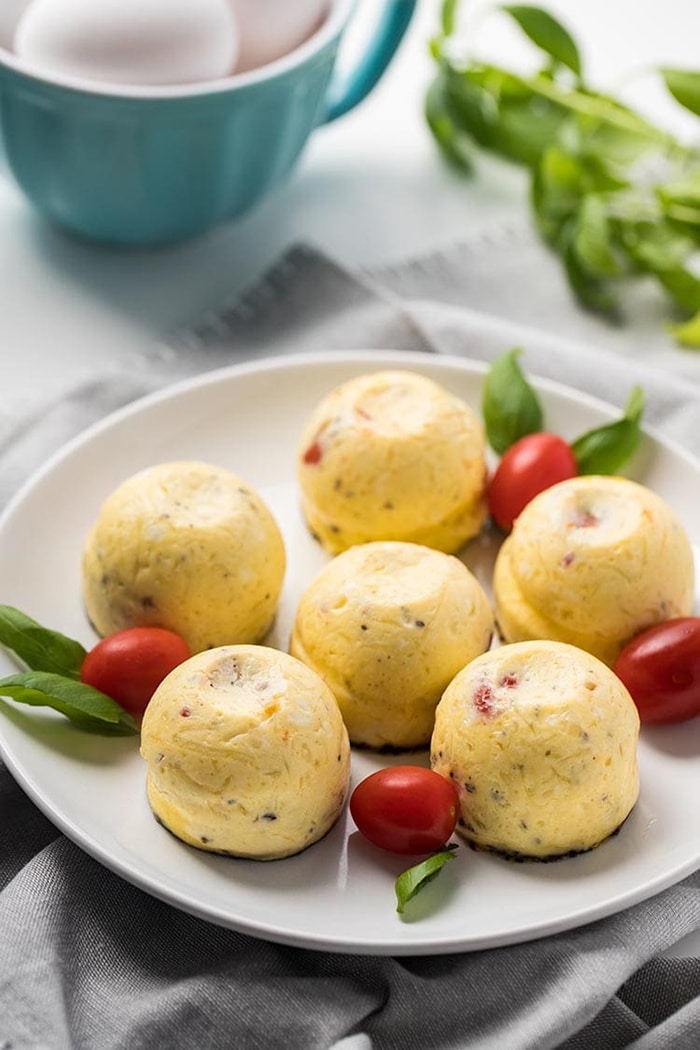 A delightful twist on the classic caprese salad, these Keto Instant Pot Caprese Egg Bites from Make-Ahead Meal Mom are so fast and easy to make in your pressure cooker! They are freezer friendly, so you can make a bunch and freeze them for future breakfasts! And they are keto, low-carb, and gluten-free!
29. Traditional Caprese on a Salt Block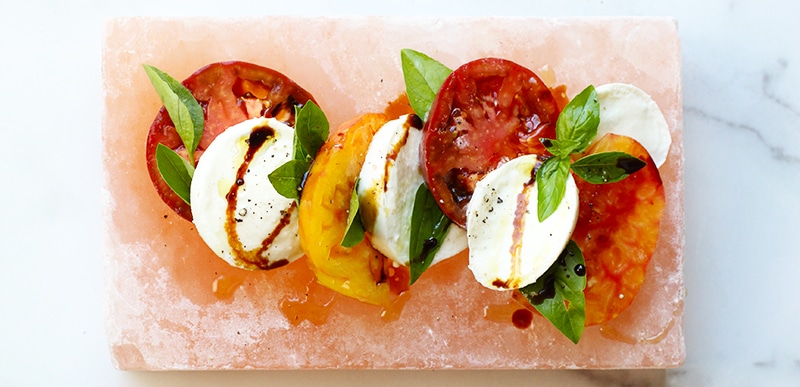 This classic caprese salad on a salt block is such a beautiful appetizer! The salt block serves as both a serving platter and also adds extra salty flavor to the tomatoes and mozzarella. You can't go wrong with this easy, light, no-cook, vegetarian starter.
Chicken Caprese Recipes
30. Chicken Pesto Caprese Pizza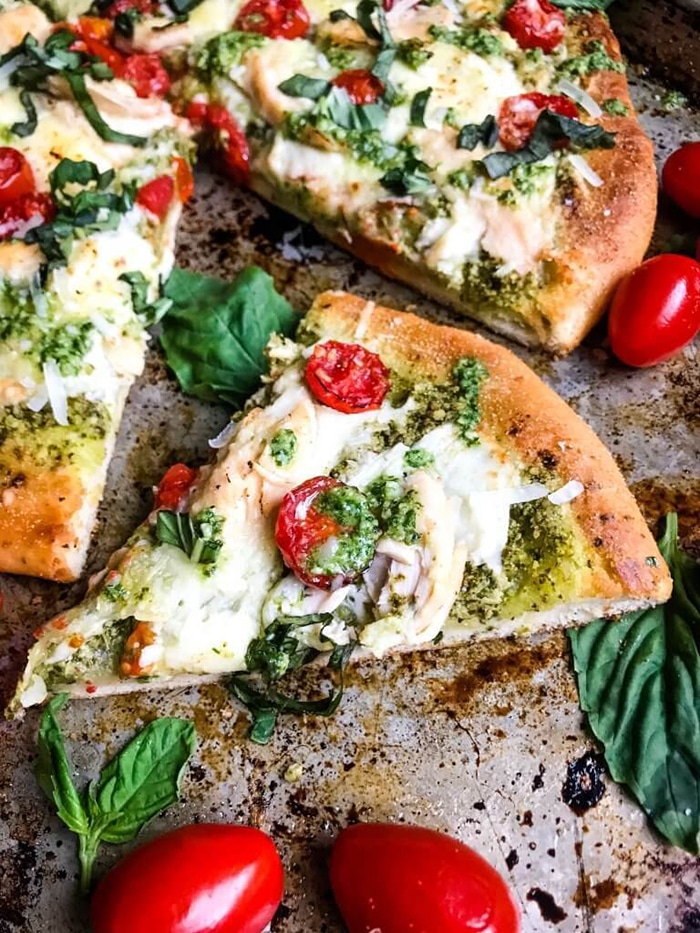 Homemade Chicken Pesto Caprese Pizza from Three Olives Branch is ready from start to finish, including homemade dough, in just 30 minutes! Yum!
31. Stone Fruit Caprese with Grilled Chicken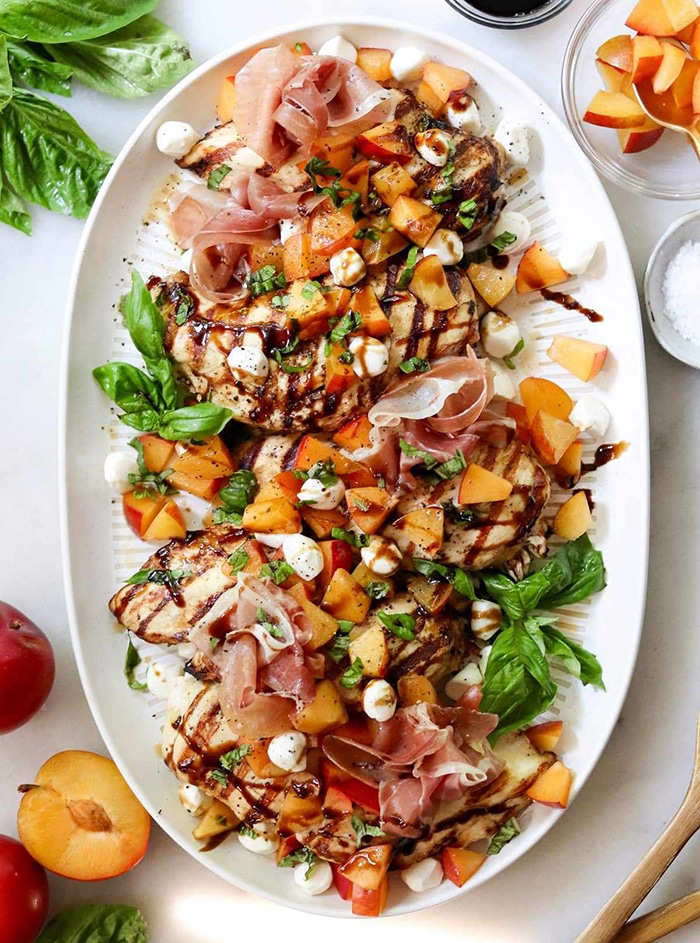 This Stone Fruit Caprese Chicken recipe from Cook at Home Mom has all the beautiful flavors of summer in just one dish! It's made gluten friendly with marinated grilled chicken, sweet apriums, mozzarella cheese, basil, prosciutto, and balsamic reduction. Adding chicken to unique caprese salads makes for a full meal!
32. Caprese Chicken and Zucchini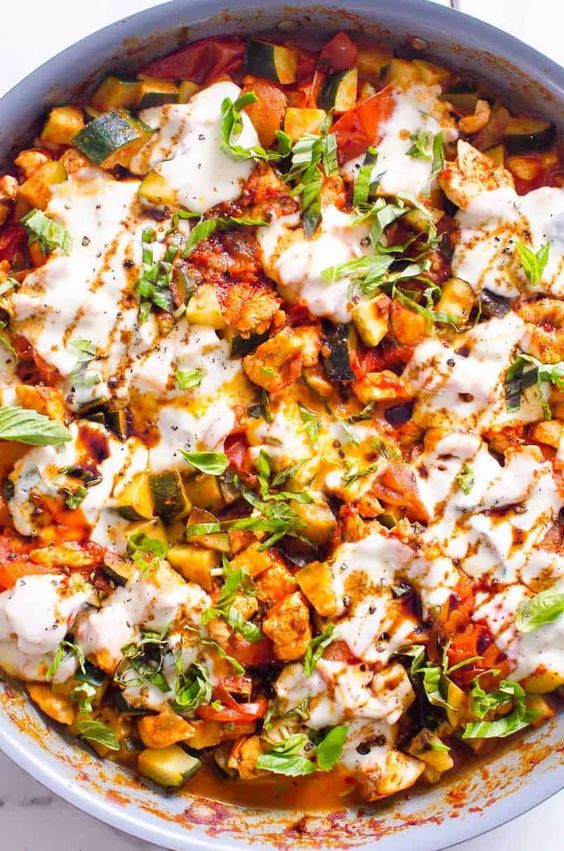 Caprese Chicken and Zucchini from I Food Real cooked in fresh tomato sauce, with melted buffalo mozzarella cheese on top and garnished with basil. Serve on its own for easy low carb dinner or with spaghetti for a family meal.
33. Air-Fried Caprese Chicken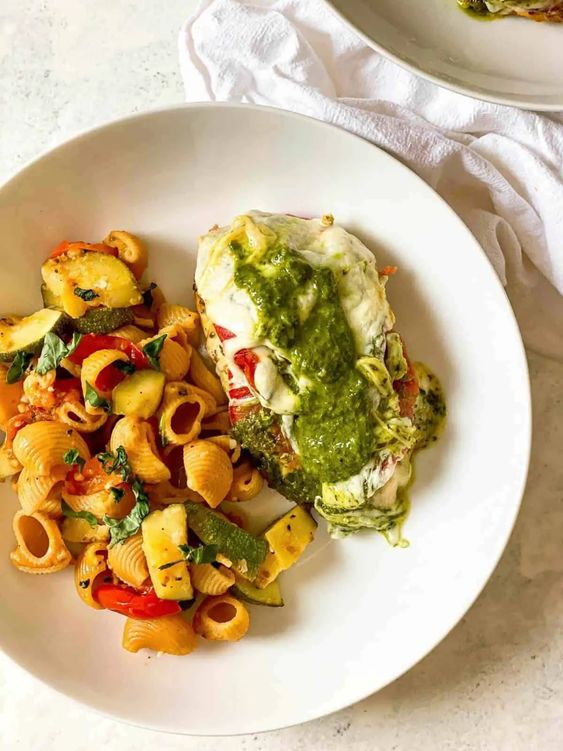 This 30 Minute Air-Fried Caprese Chicken Recipe from Real Food with Sara is the perfect warm-weather dinner. Ripe tomatoes, fresh mozzarella and a simple basil and spinach pesto top chicken breasts and pair great with your favorite pasta for a meal everyone will love!
34. Sheet Pan Caprese Chicken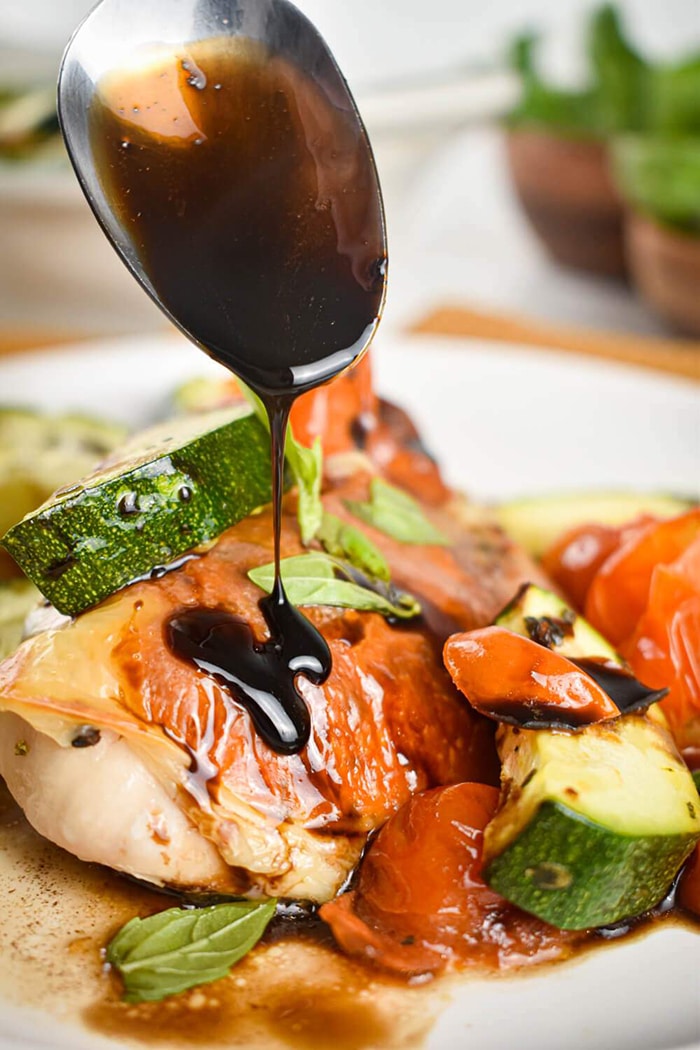 This easy Chicken Caprese sheet pan meal from Slender Kitchen is quick and delicious. Make it with fresh tomatoes or canned tomatoes, any veggies you like, and there are so many ways to serve it.
Fish Caprese Recipes
35. Salmon Caprese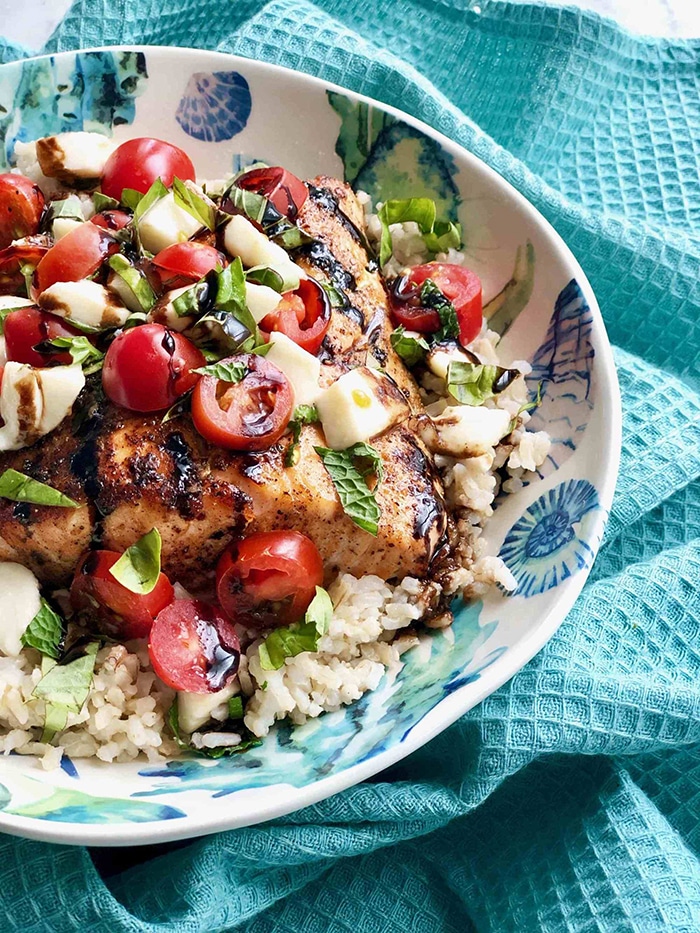 Salmon Caprese from Quiche my Grits takes seafood to the next level. The combination of salmon, tomatoes, mozzarella, basil, and balsamic glaze is amazing!
36. Caprese Orzo with Shrimp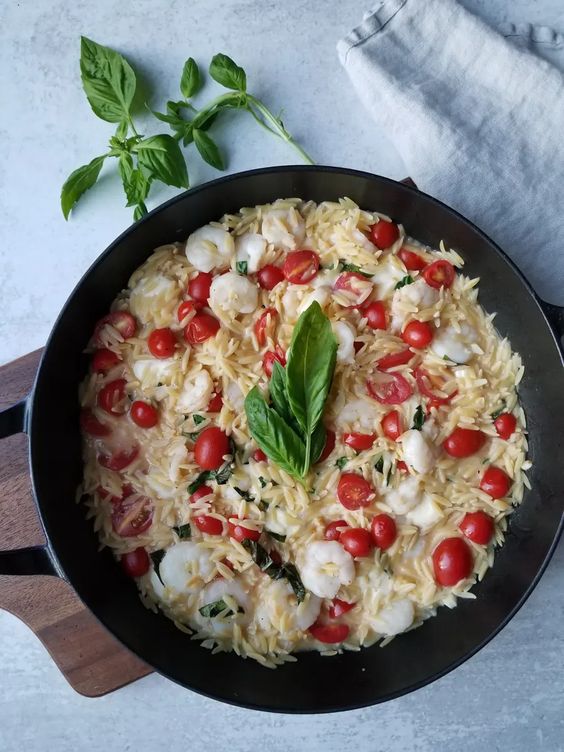 Caprese orzo with shrimp from Casual Foodist tastes like summer and uses just one skillet.
Caprese Pasta Recipes
Turn a caprese salad into a main course by adding pasta to your caprese, for a meal the whole family will love!
37. Caprese Chicken Pasta Salad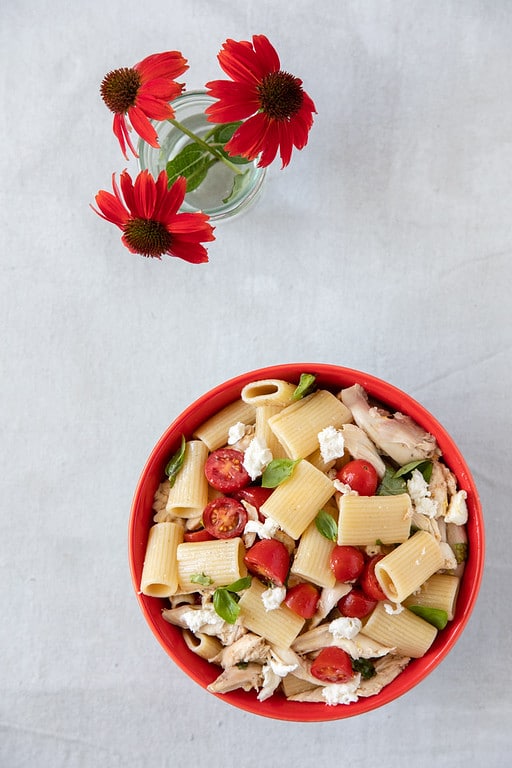 All the flavors of a Caprese Salad in this Chicken Pasta Salad from Sidewalk Shoes! So easy to make and so delicious!
38. Caprese Ravioli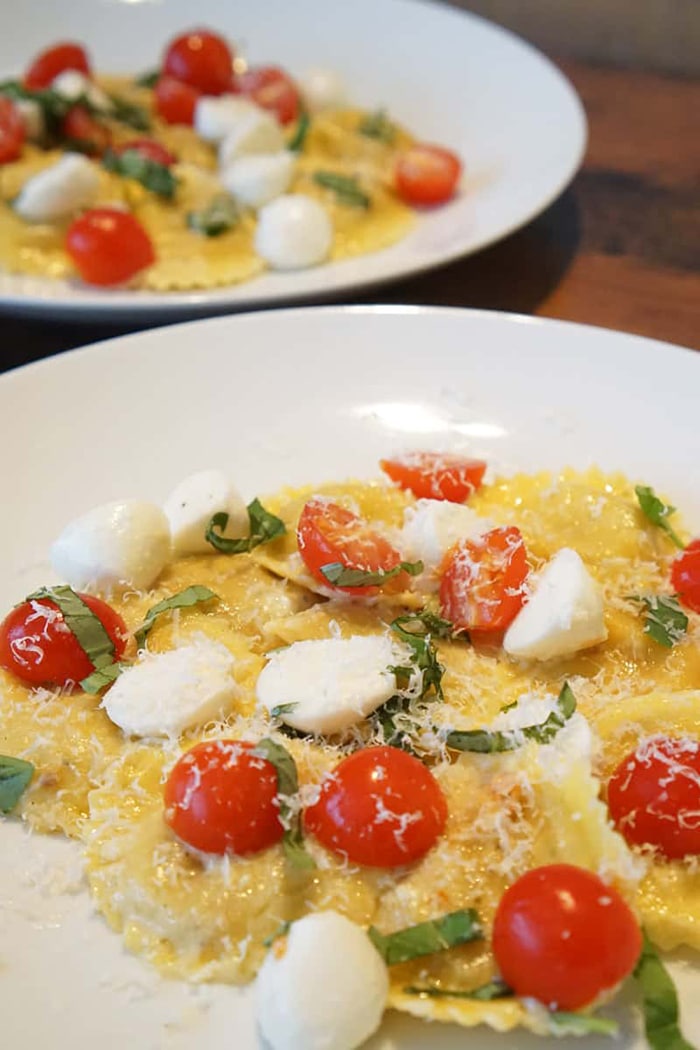 Turn a fresh and summery caprese salad into a main dish with this colorful caprese ravioli recipe from A Food Lovers Kitchen. It's perfect for a light and easy springtime meal.
39. Caprese Pasta Bake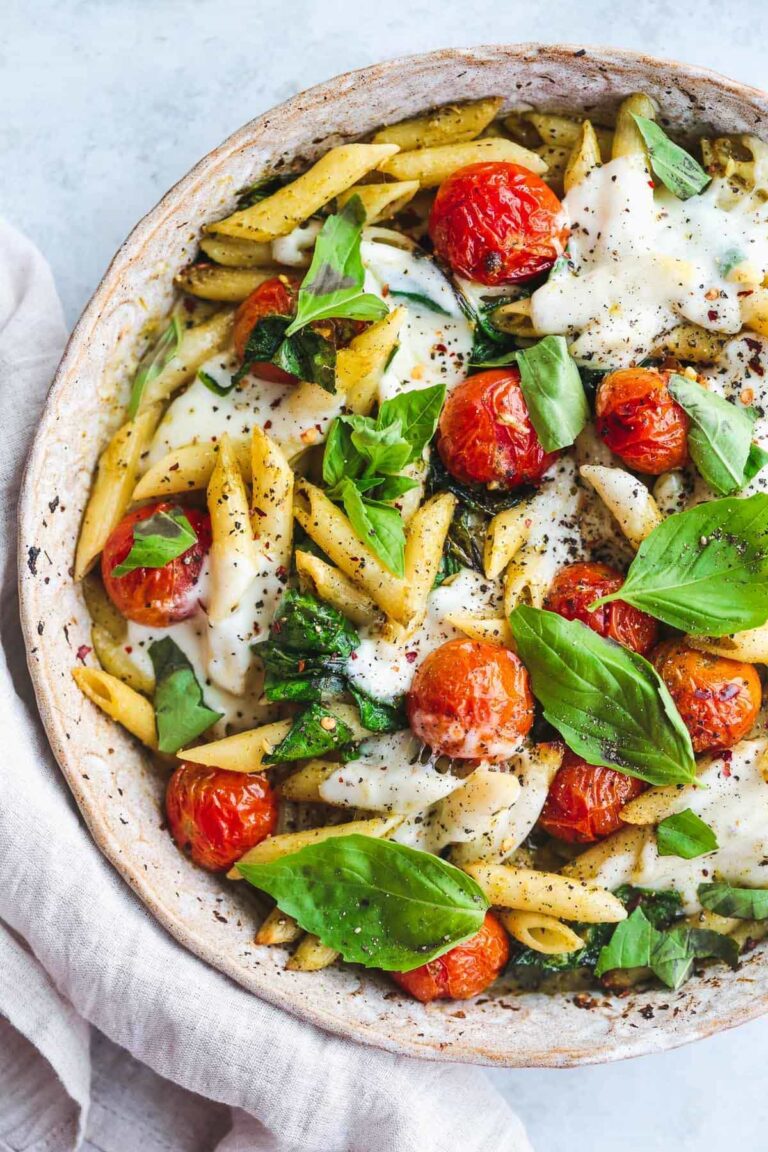 This Caprese pasta bake from Little Sunny Kitchen is an easy dump-and-bake summer recipe that the whole family will love! Ready in under 20 minutes, this recipe is so easy to throw together and perfect for a quick dinner, a picnic, or for your packed lunch!
40. Garlicky Caprese Pasta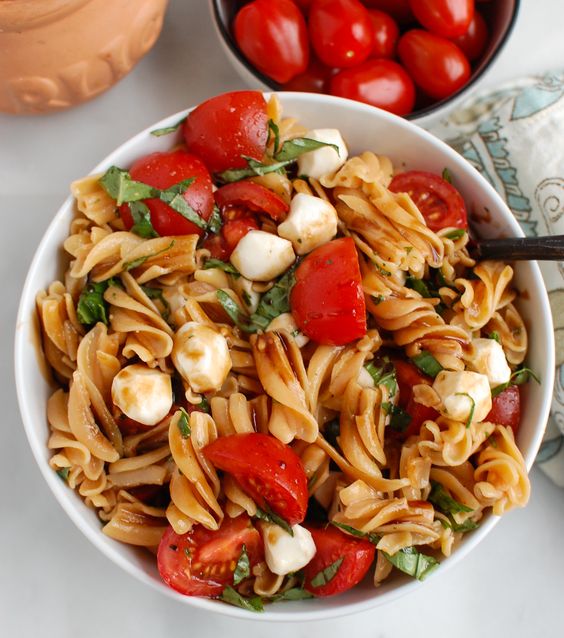 This Caprese Pasta from A Cedar Spoon is a recipe you can eat warm or cold. Pasta is mixed with garlic, fresh tomatoes, mozzarella cheese, basil and coated in a delicious extra virgin olive oil and balsamic vinegar dressing. Your guests will love this as a main dish or a cold salad paired with grilled meats or seafood!
Other Caprese Variations
41. Caprese Quinoa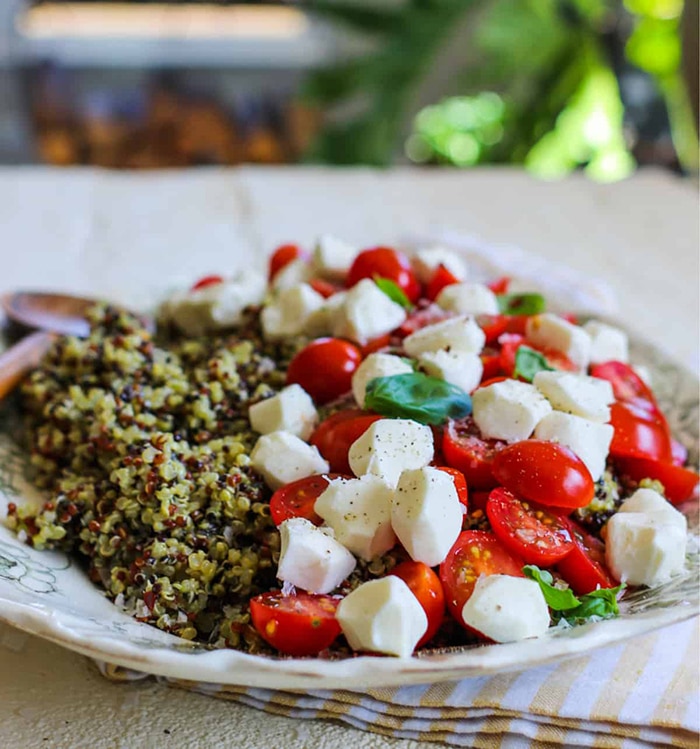 This Easy Pesto Quinoa with Tomatoes & Fresh Mozzarella from G-Free Foodie is a tasty main dish or side salad that comes together in a snap. It's loaded with all the delicious flavors of Caprese salad, but the addition of quinoa makes it filling – and satisfying.
42. Caprese Panini Sandwich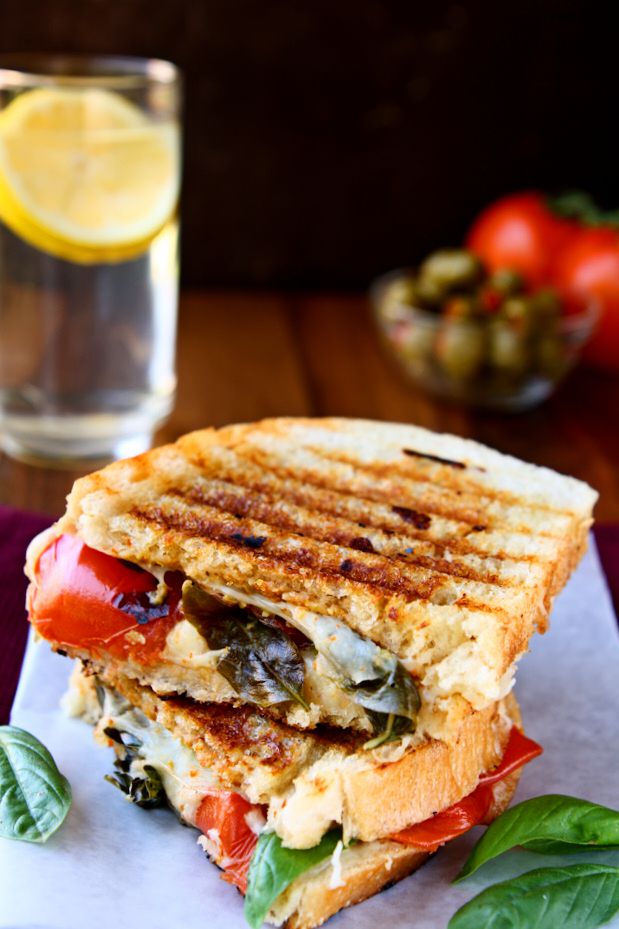 The classic flavors of a Caprese salad from Heavenly Home Cooking all wrapped up in a crisp panini sandwich grilled to perfection.
43. Caprese Pesto Risotto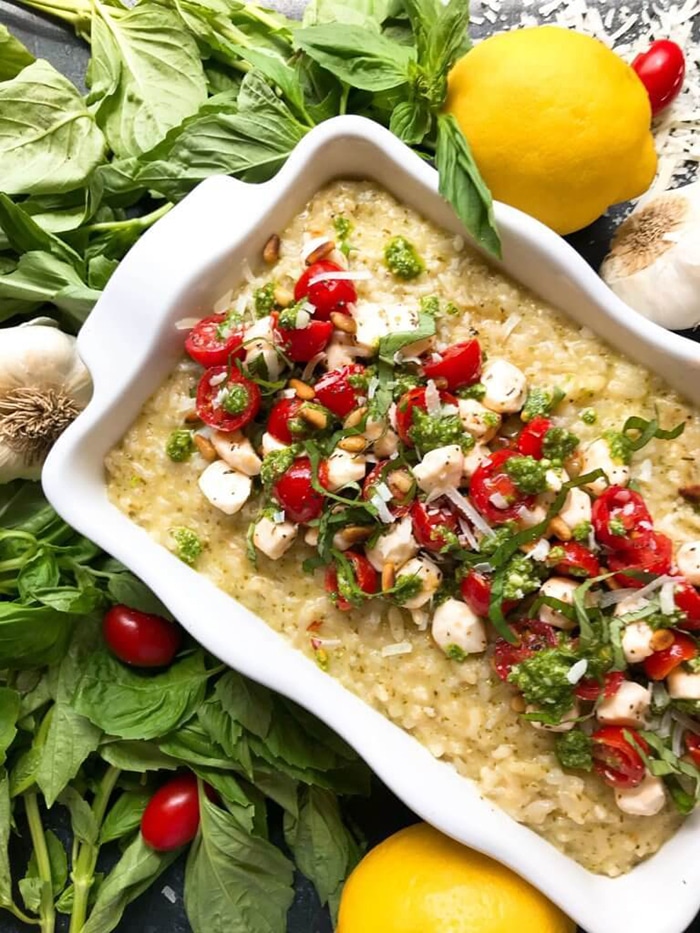 Bring the amazing flavors of caprese to this Caprese Pesto Risotto from Three Olives Branch. Flavored with basil pesto and fresh caprese flavors.
Holiday Caprese Salads
Impress your holiday dinner guests with unique caprese salads inspired by the holiday season! The red and green color combination are perfect for Christmas.
44. Candy Cane Caprese Salad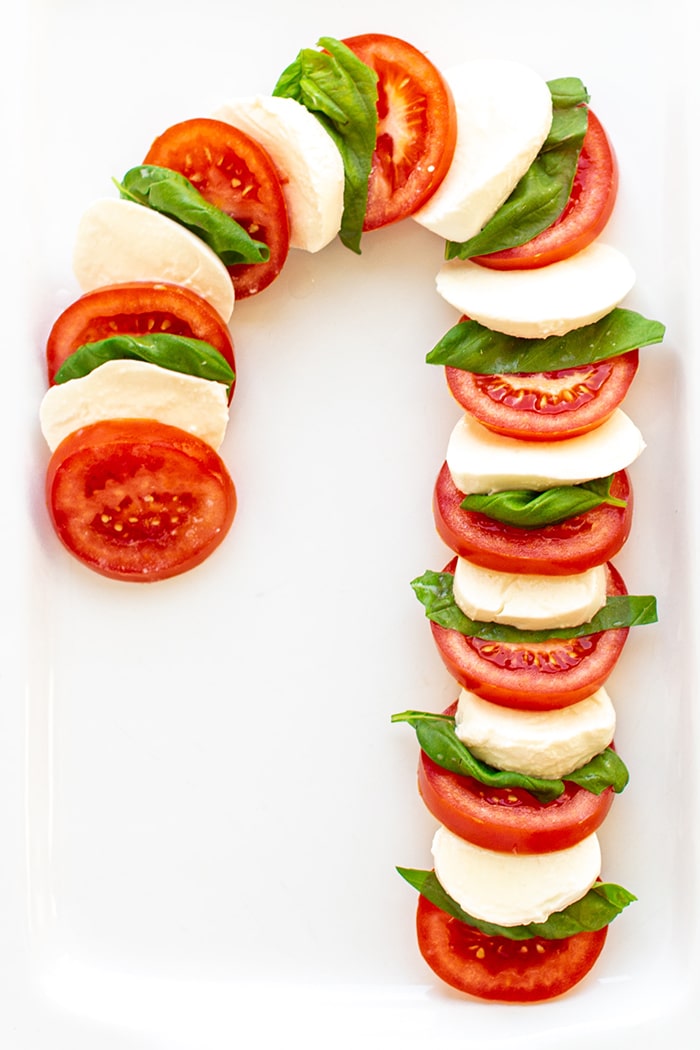 This Christmas Caprese Salad from Maple and Mango consists of tomatoes, bocconcini and fresh basil arranged in the shape of a candy cane. A delicious, simple salad that will add a fun, festive touch to your holiday table!
45.Christmas Antipasta Wreath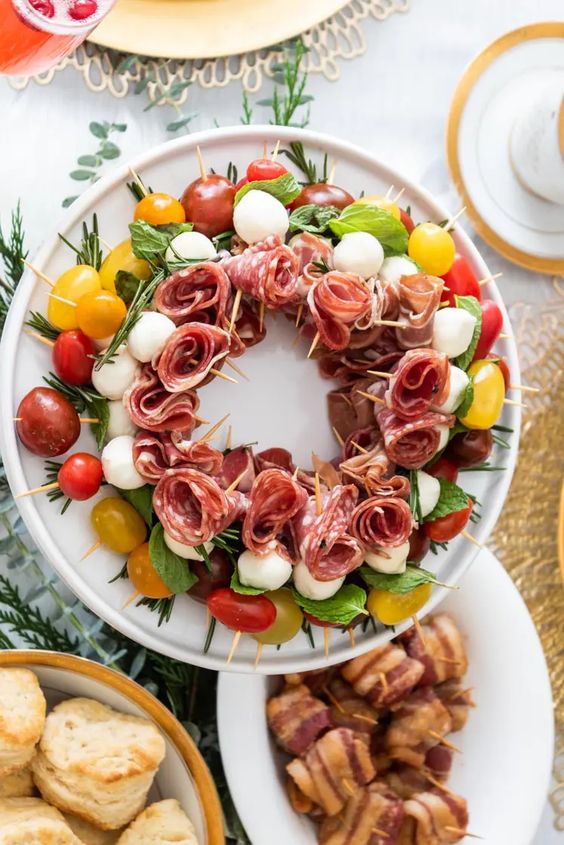 This spin on Caprese salad as a antipasta wreath from Jennifer Maune is beautiful and tasty, which makes a great appetizer not only for Christmas but year round.
If you make any of these unique caprese salads please snap a photo and share on instagram using hashtag #rainbowdelicious and tag me @rainbowdelicious, I'd love to see how it turns out! Subscribe below to get weekly recipe inspiration delivered to your inbox.

Some links on this site are affiliate links and I may earn a small commission at no cost to you. Thank you!
You'll Also Love These Posts
Editors Note: This post was originally published in 2016 and has been completed revamped and updated for accuracy and comprehensiveness.
(Visited 23,529 time, 1 visit today)