You are going to love this collection of savory galettes! If you've ever been interested in making a savory galette, we've got you covered with tips and tricks, and recipe ideas ranging from meaty galettes, to vegetarian galettes, to gluten-free options.
What exactly is a savory galette, you might be wondering? A savory galette is a round pastry filled with ingredients like vegetables, cheese, and herbs, and then baked on a baking sheet. You can cut it into pieces like you would a pizza or pie, and enjoy! I'm all about savory galettes because there are endless options to enjoy. I hope you try this rustic free-form pie dish at your next gathering.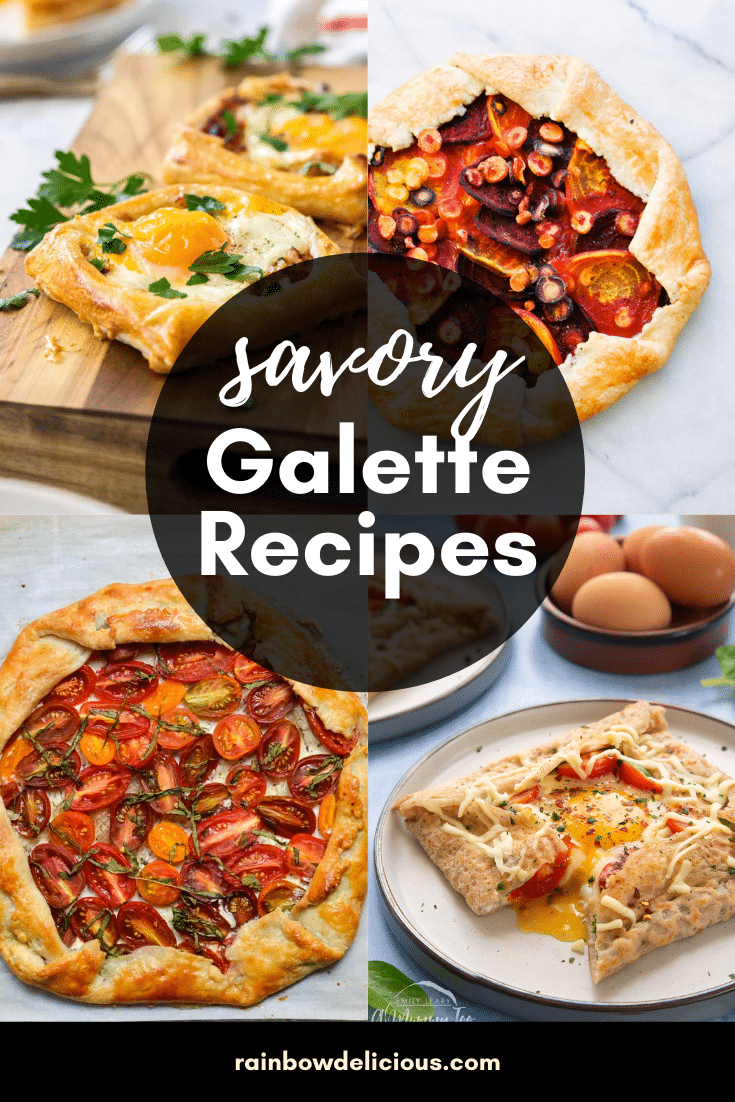 Savory galette recipes are pretty simple once you get the hang of making the crust, which you fold over the edge of the filling and then finish off with an egg wash. Galettes can be simplified by using a store bought crust. You can make sweet or savory galettes and can pretty much bake any fruit or veggie in one of these free form pies.
10 Tips for Making Savory Galettes
Get creative with the crust. You can use a store bought pie crust, a homemade dough, or even make your savory galette with puff pastry dough! This extra flaky pastry dough is always a hit. You can also make gluten free savory galettes by using gluten-free flour in the dough.. Whether you use store-bought or homemade dough most galettes require you fold over the edge of the filling with dough and then finish off with an egg wash.
Use high quality ingredients. Because a galette usually uses just a handful of ingredients, the quality of the ingredients really matters. Use peak-season produce and herbs, and high-quality meats & cheeses.
Let go of perfectionism when it comes to galette-making. Galettes are meant to be free-formed and rustic, so do your best to shape it how you'd like, but don't be hard on yourself if it isn't symmetrical… the flavor will be still be amazing.
Enjoy Savory Galettes any time of day. galettes can easily be made for breakfast, lunch, or dinner. And of course there are so many sweet galettes for dessert as well.
Allow your savory galette to cool for 5-10 minutes before serving. This helps the galettes to set and then you can serve while still hot or at room temperature.
Make a savory galette without a recipe. While following recipes are a great way to initially familiarize yourself with the galette making process, eventually you may feel empowered to try out your own creations.
Pair savory galettes with a salad, or something light. Galettes are often on the rich and heavy side, so a side salad balances your meal.
Serve savory galettes as a meal or an appetizer. You can serve large slices of savory galette as a main course, or in smaller portions for a delicious appetizer.
Line your baking sheet with parchment paper before baking Savory Galettes to prevent sticking.
Take a picture of your savory galettes. Galettes are just so photogenic, they deserve to be photographed and shown off, don't you think? Also, I'd love to see your savory galettes, please share with me by tagging me on social media @rainbowdelicious #rainbowdelicious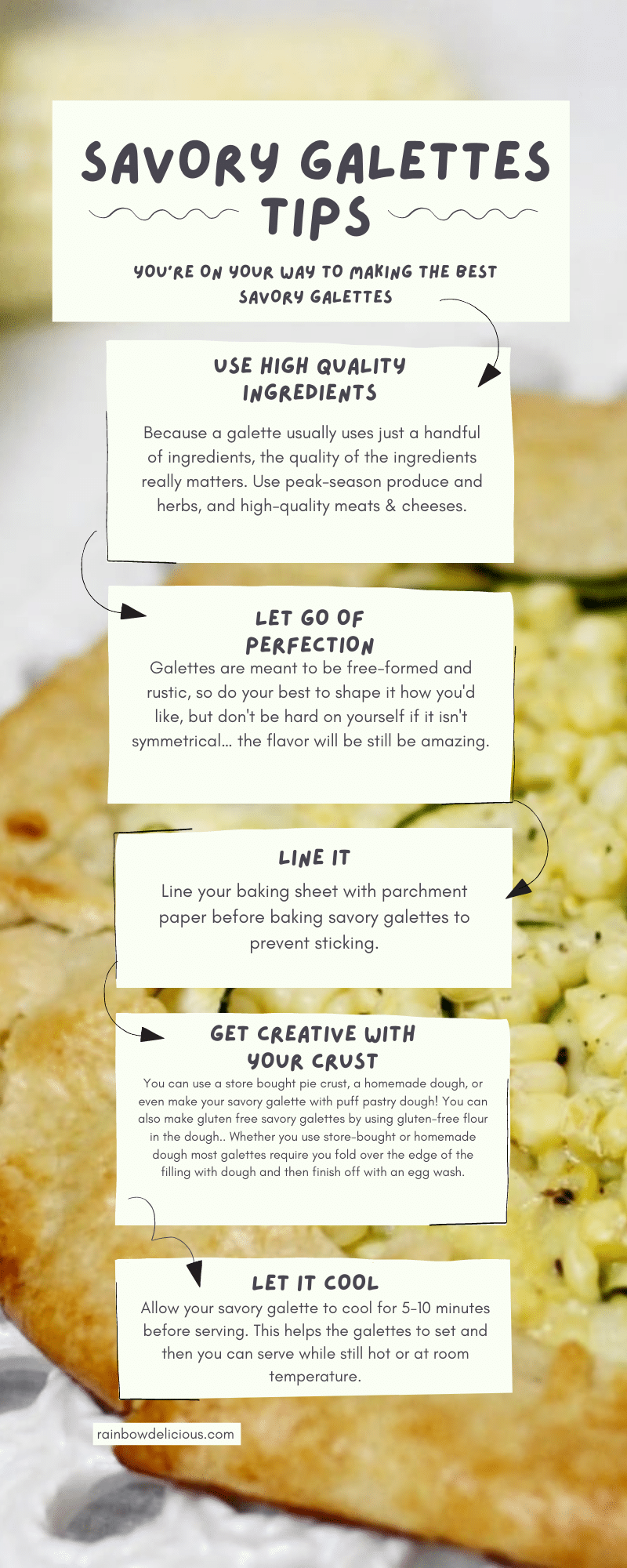 Savory Galettes
1. Tomato Prosciutto & Goat Cheese Galette Recipe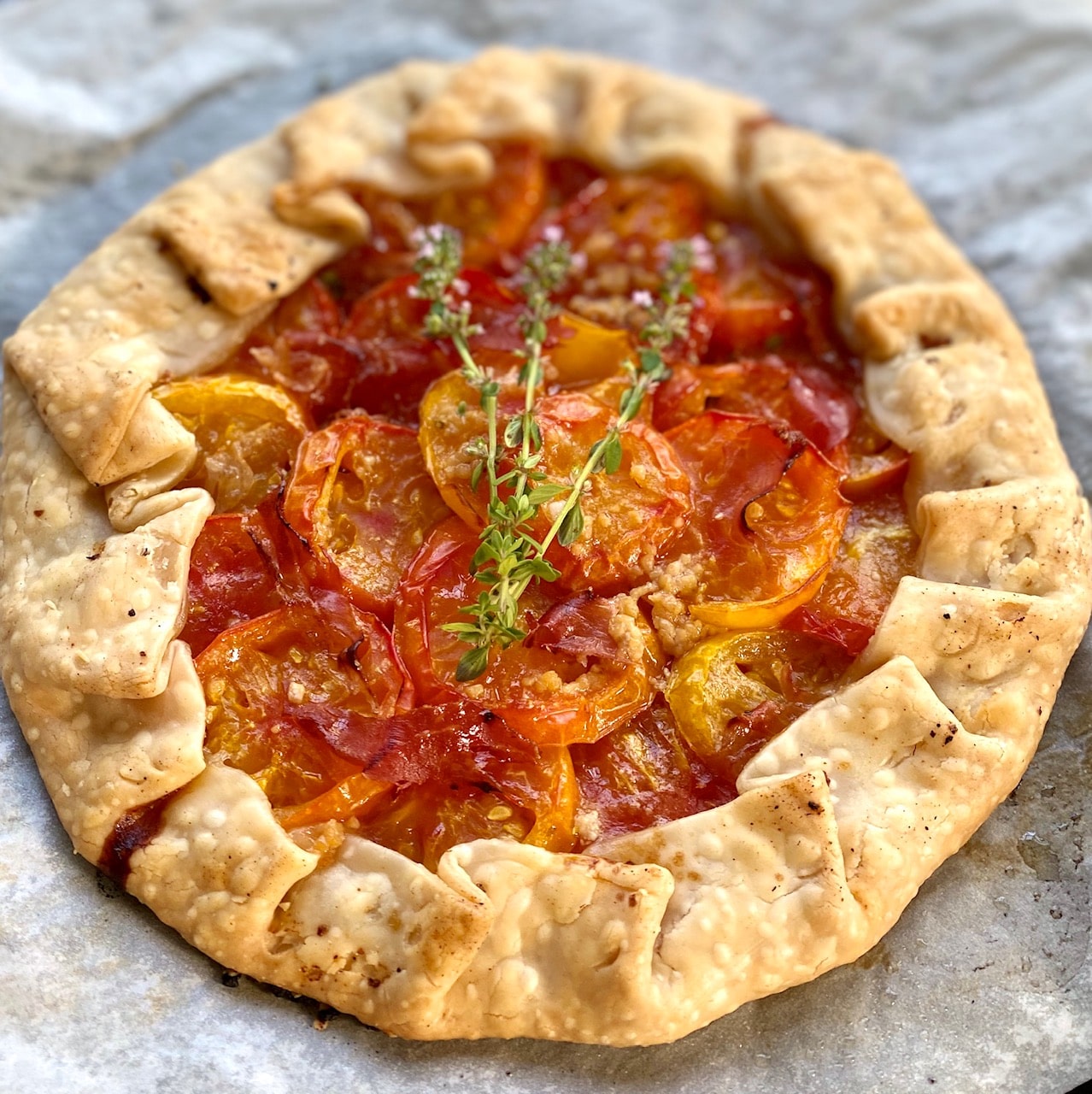 Heirloom tomatoes, prosciutto, and goat cheese are tucked into a rustic pastry crust to make this gorgeous tomato galette from The Art of Food and Wine. Easy to make and sure to wow your family and friends.
2. Pear, Prosciutto, Onion, Blue Cheese and Walnut Galette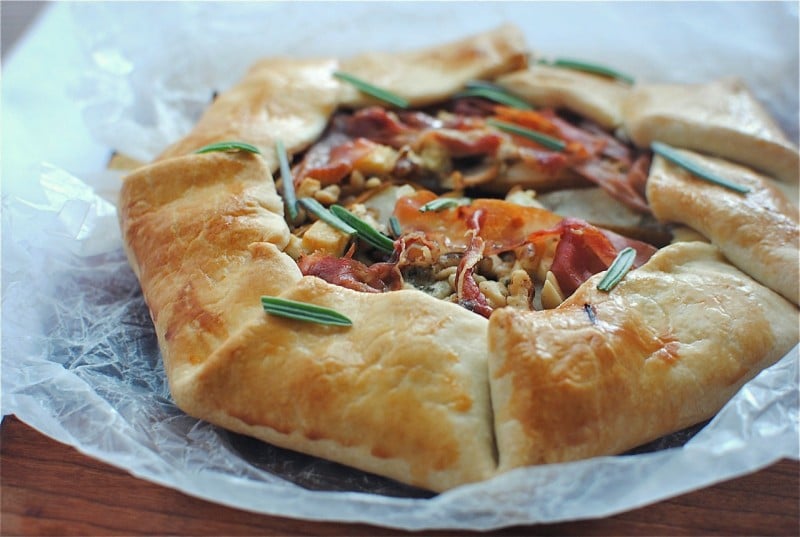 You will love this pear, prosciutto, onion, blue cheese and walnut galette from Bev Cooks.  
3. Rustic Prosciutto and Kale Galette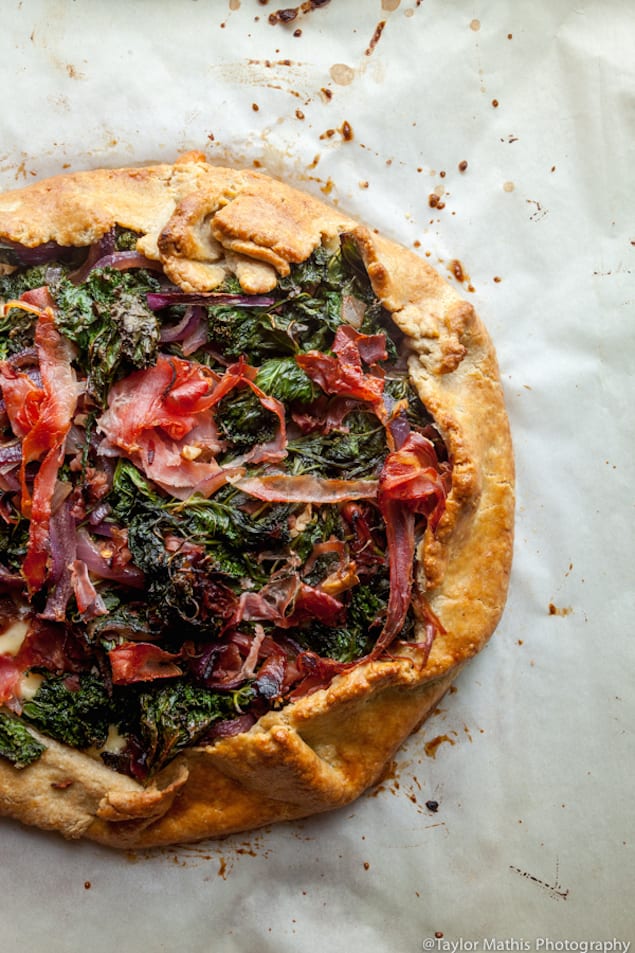 This rustic prosciutto and kale galette from Honest Cooking has a buttery cayenne crust filled with greens, mustard, and cheese.
4. Gouda & Ham Galette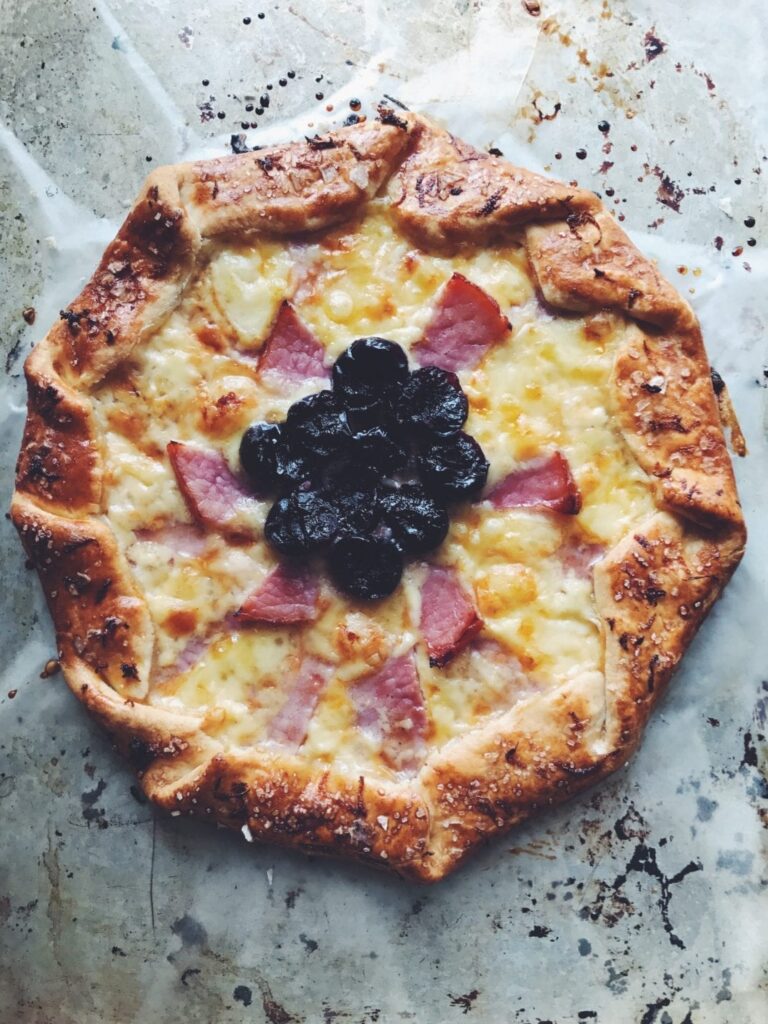 Walk, don't run to make this Gouda Ham Galette from Grilled Cheese Social. What's not to love about smoked ham and bourbon gouda in galette form?
5. Sausage Zucchini Galette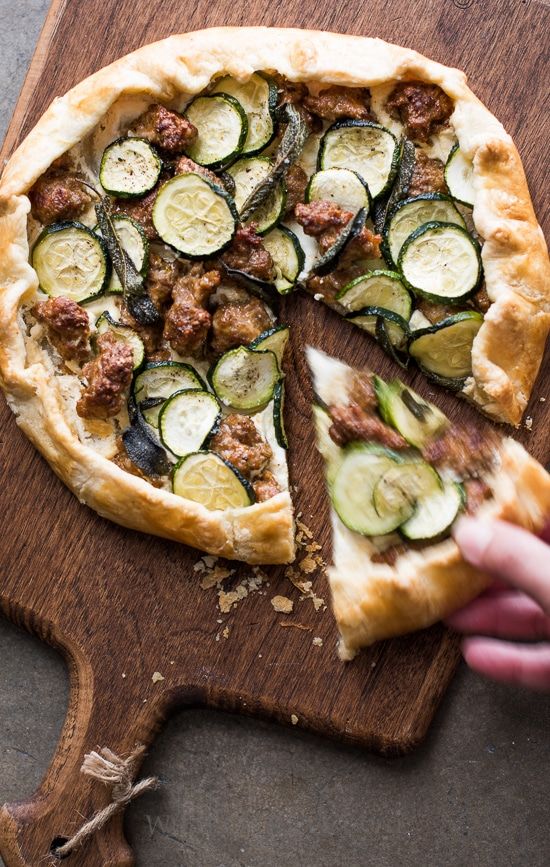 This beautiful sausage and zucchini galette from White on Rice Couple is drool-worthy!
Vegetarian Savory Galettes
6. Burst Tomato Galette with Corn and Zucchini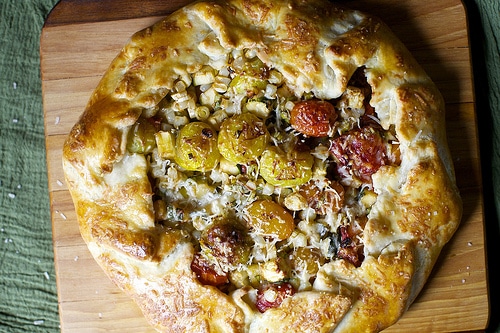 This burst tomato galette with corn and zucchini from Smitten Kitchen was the first savory galette I ever made and it is a real winner!
7. Savory Tomato Galette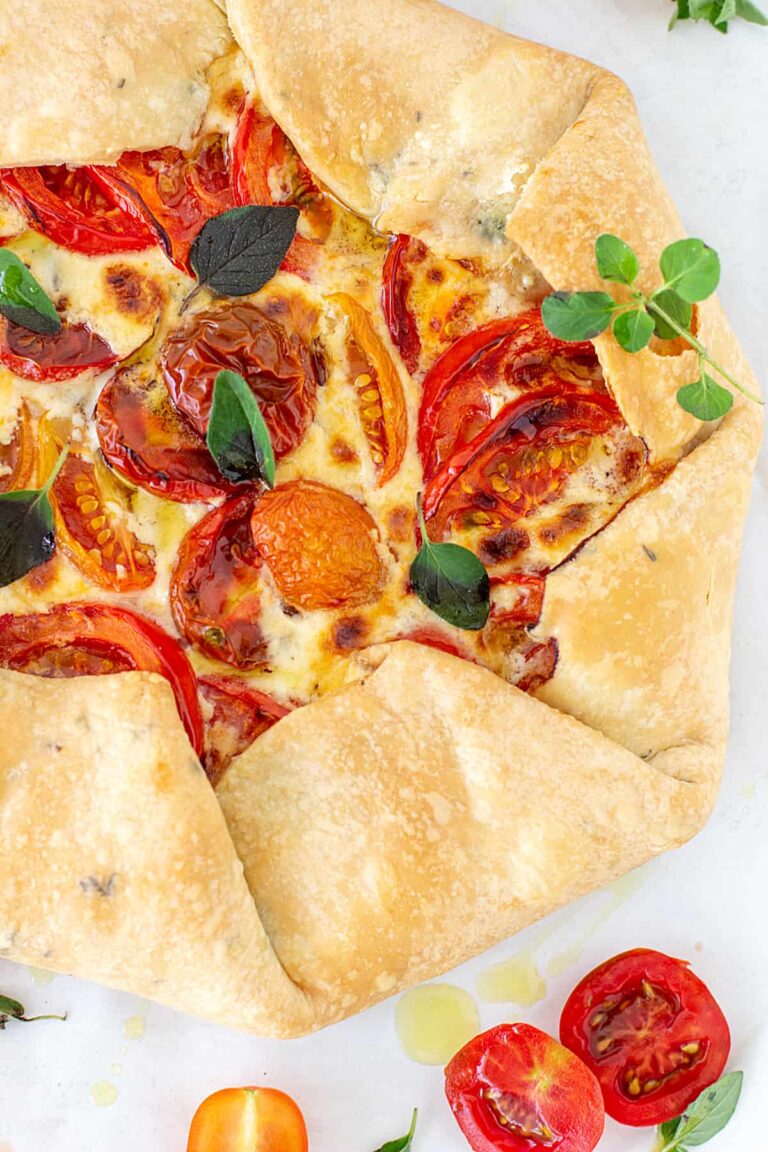 Juicy tomatoes star in this free-form pie recipe from Vintage Kitchen Notes. A layer of creamy cheese, a buttery herb crust, and ripe, bursting-with-flavor tomatoes! This is the easiest way to use pie crust and so delicious for warmer months.
8. Brussels Sprout and Grape Galette from Oh My Veggies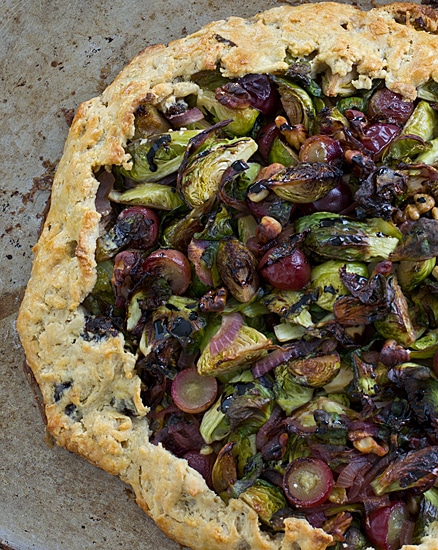 This Brussels sprout and grape galette from Oh My Veggies is a unique flavor combination, but it totally works!
9. Spinach and Feta Galettes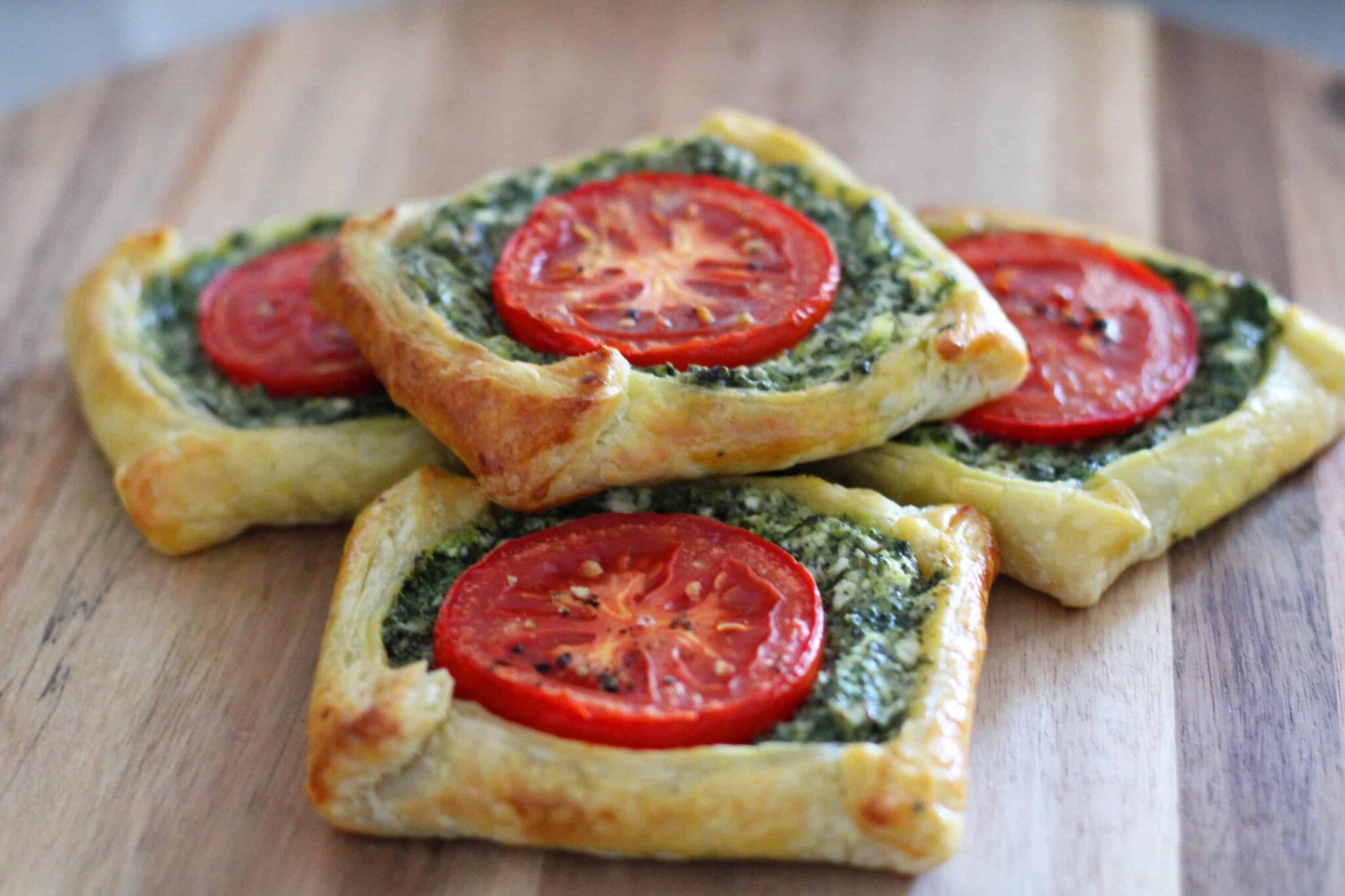 Enjoy the delicious flavors of these easy to prepare Spinach and Feta Galettes from It's Not Complicated. They're great hot or cold and ideal to serve with a green salad.
10. Tomato & Goat Cheese Galette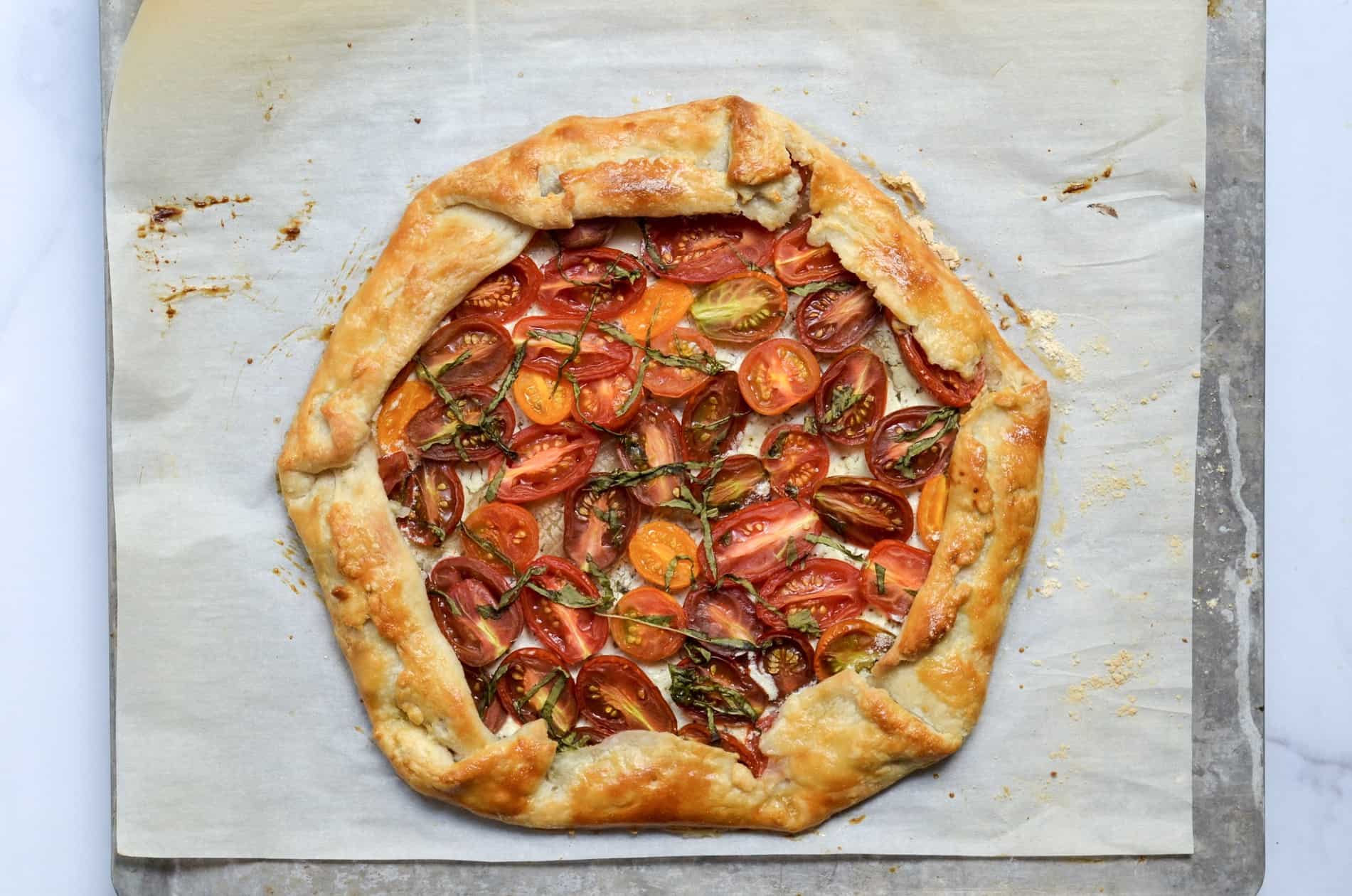 The tartness of the goat cheese and the juiciness of fresh tomatoes on a flake, buttery crust, make this tomato galette from Worn Slap Out a favorite.
11. Grilled Eggplant, Pepper and Feta Galettes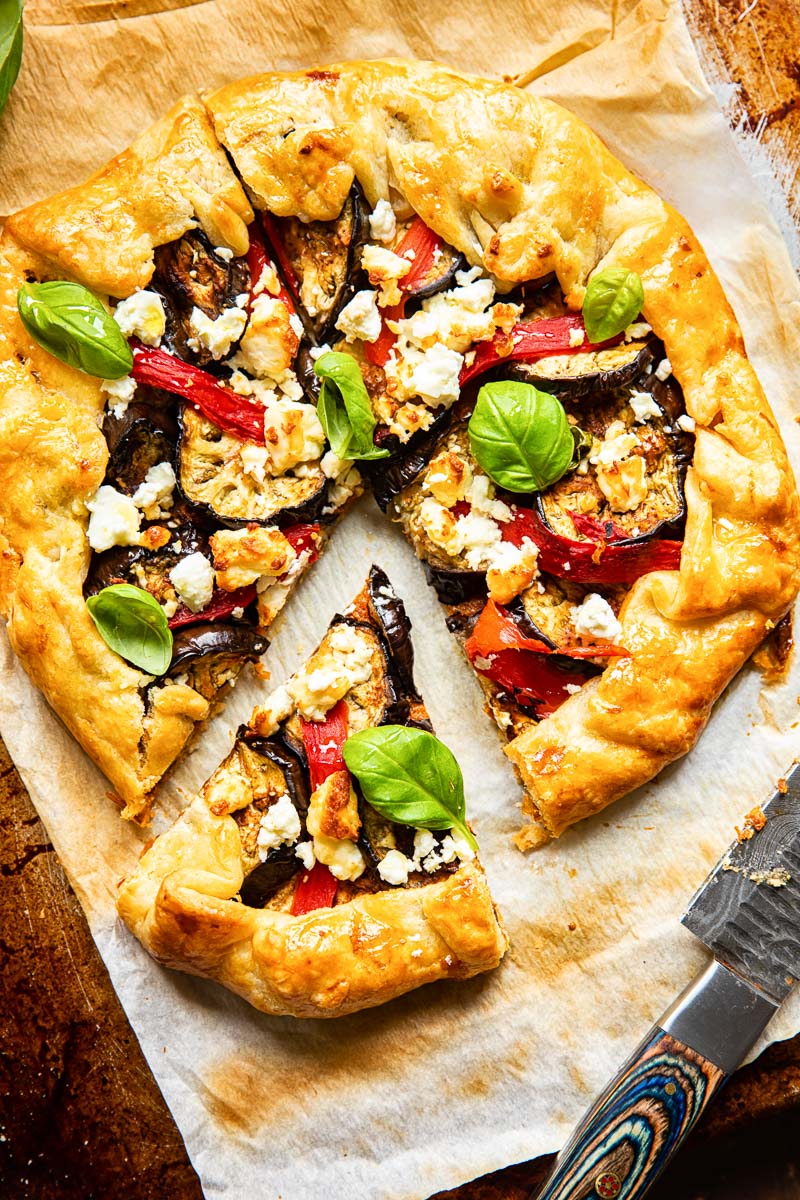 This savory galette with eggplant, red pepper and feta from The Veg Connection is so easy to make and incredibly delicious. It has ingredients bursting with flavor, including rich eggplant, sweet roasted red peppers and tangy feta.
12. Spring Vegetable Vegan Galette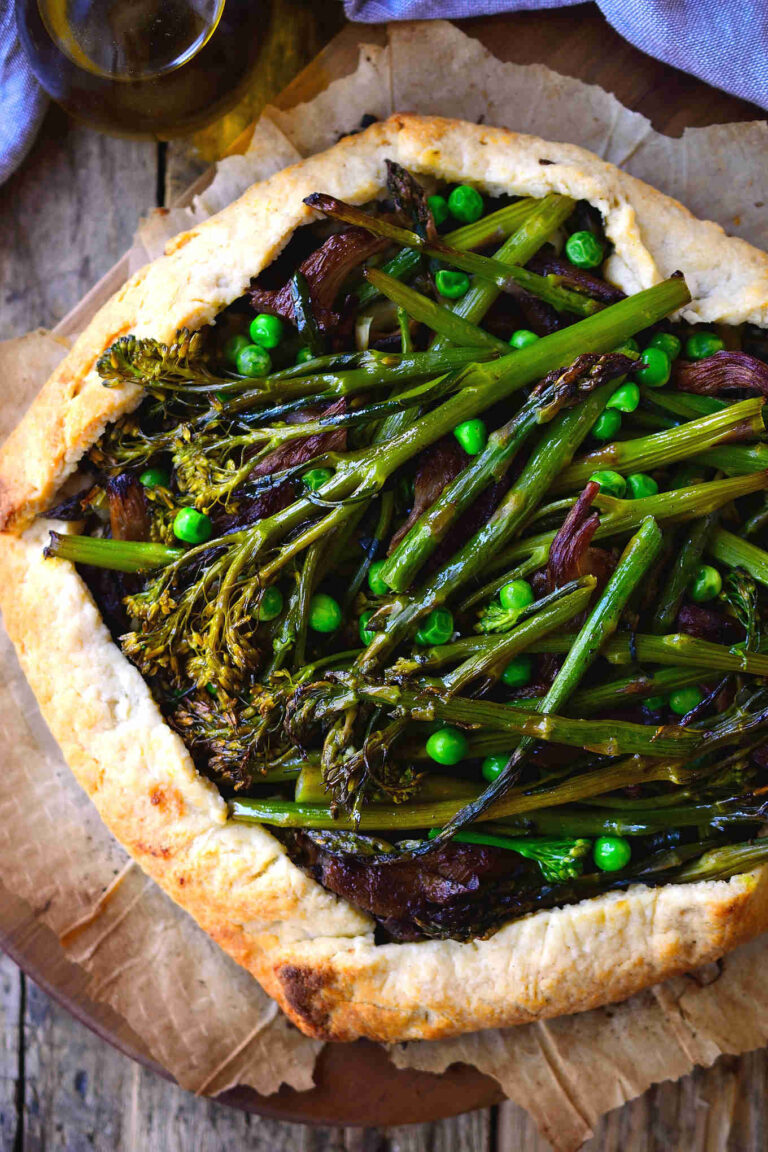 This vegan galette from Cilantro and Citronella encompasses all the flavors of spring with fresh asparagus, broccolini and garden peas on a bed of kale and vegan ricotta cheese.
13. Tomato Galette with Basil Whipped Feta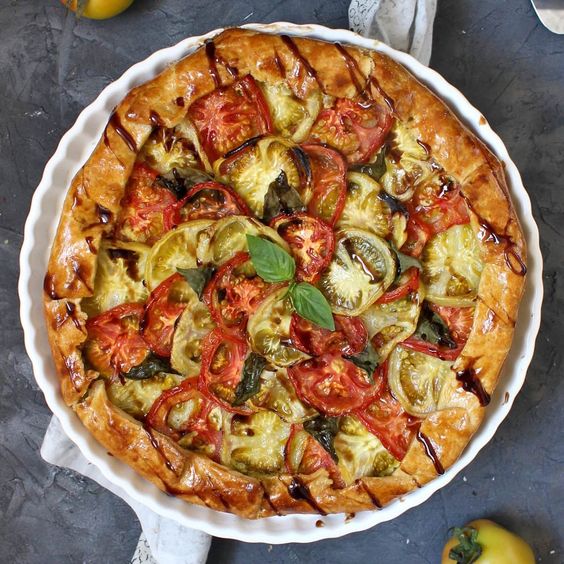 Got some Tomatoes that are starting to go bad and some Feta Cheese left in the fridge? Make this delicious Savory Tomato Galette with Basil and Whipped Feta from A Baking Journey for lunch or dinner!
14. Beet and Carrot Galette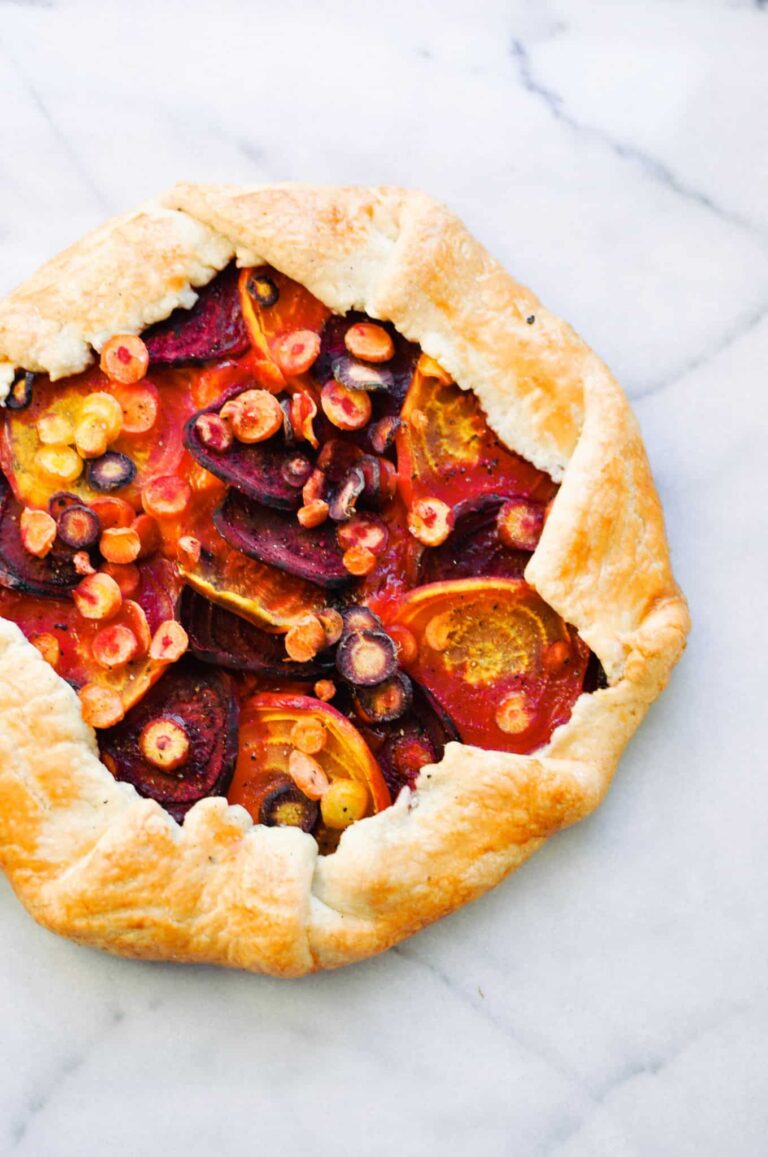 This savory galette recipe from This Healthy Table features beets, carrots, and gouda and is rustic, earthy, and delicious.
15, Butternut Squash, Leek, and Brie Galette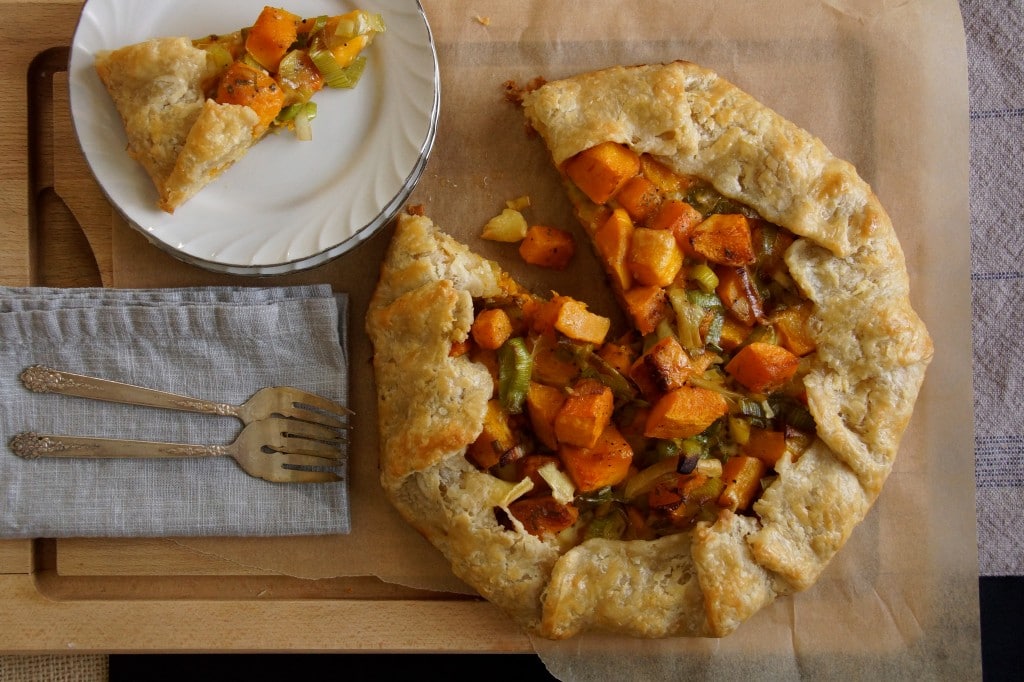 This butternut squash, leek, and brie galette from Strawberry Plum is what Fall dreams are made of!
16. Savory Mushroom Galette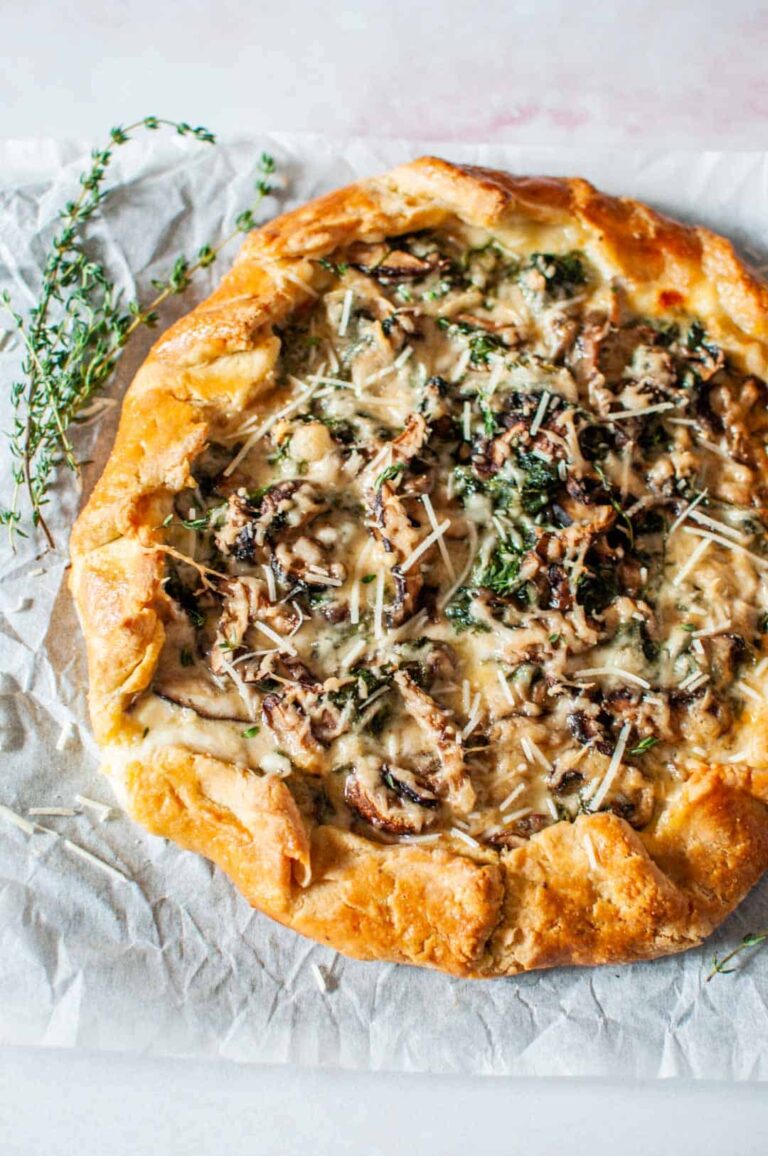 This mushroom galette with mozzarella and spinach from This Healthy Table is a delicious savory galette. It's wonderfully delicious and makes for an impressive dinner party or holiday dish.
17. Heirloom Tomato Galette with Herbs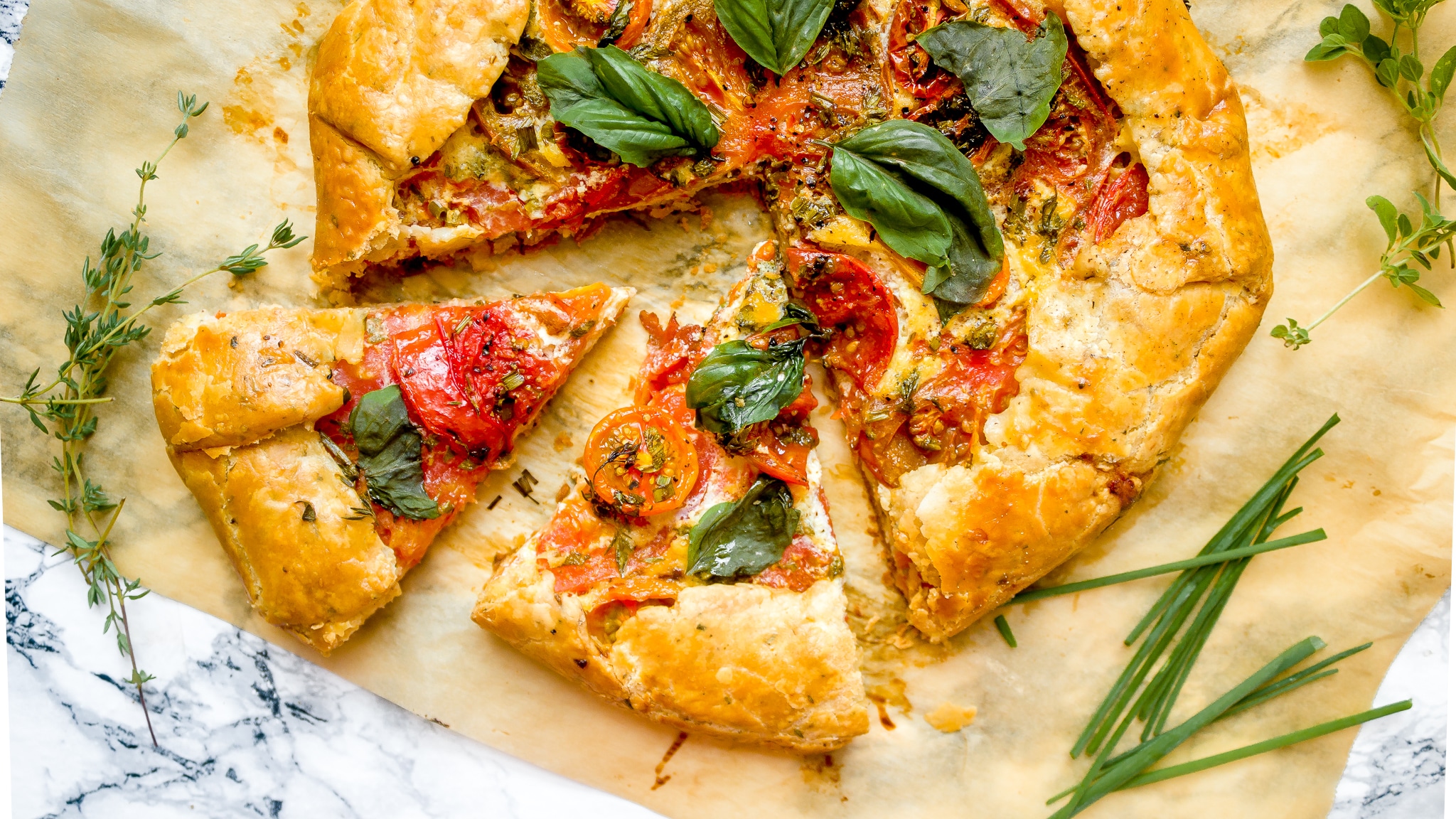 This delicious galette recipe from Chenée Today brings together an herbed crust, bright ricotta filling, and heirloom tomatoes for a beautiful summertime meal!
18. Butternut Squash Galette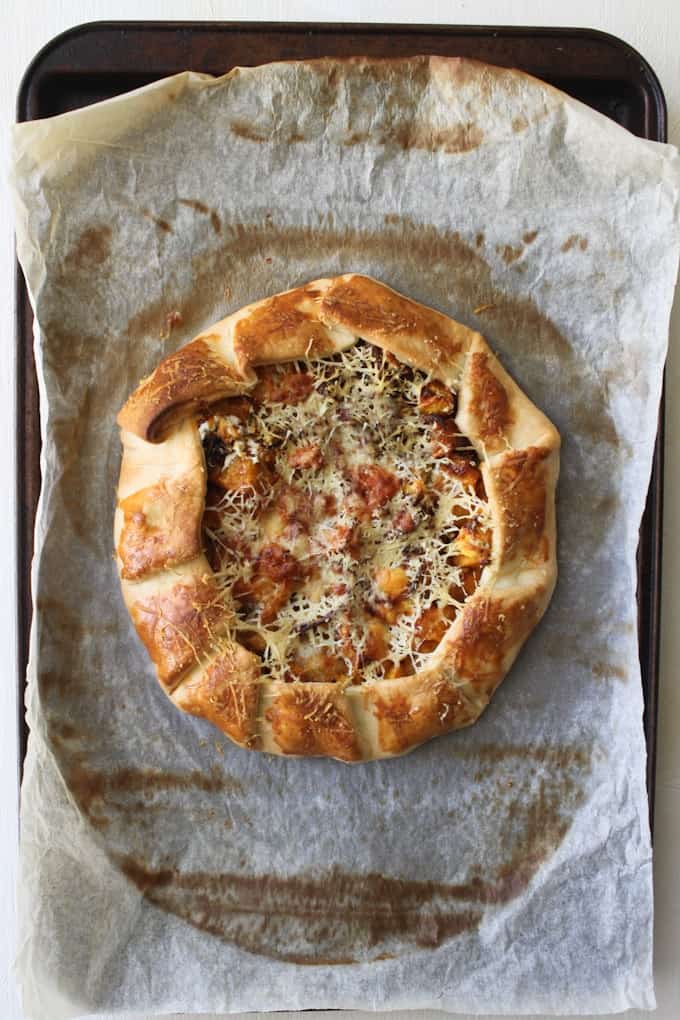 This Butternut Squash Galette from Champagne Tastes is perfect for fall and winter! It's filled with caramelized onions and goat cheese, wrapped in a Parmesan crust, and topped with a bourbon drizzle.
19. Kale, Corn, and Feta Galette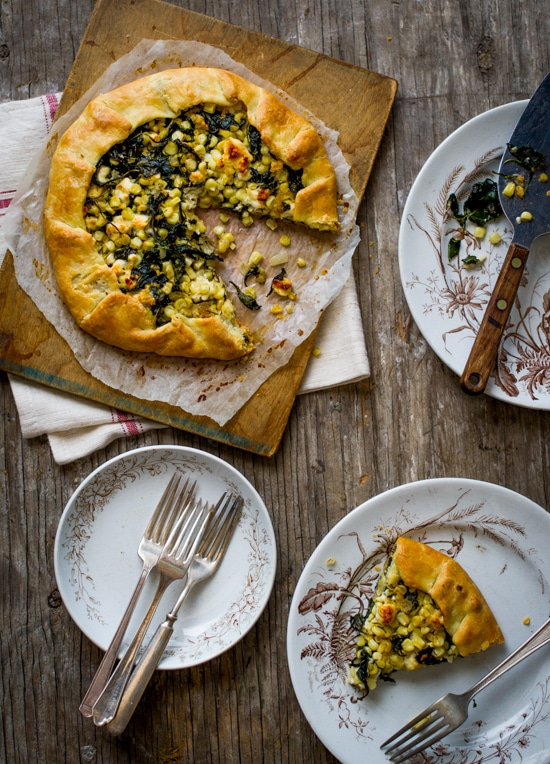 This kale, corn, and feta galette from White on Rice Couple makes for a super satisfying summer lunch!
20. Asparagus and Mushroom Puff Pastry Galette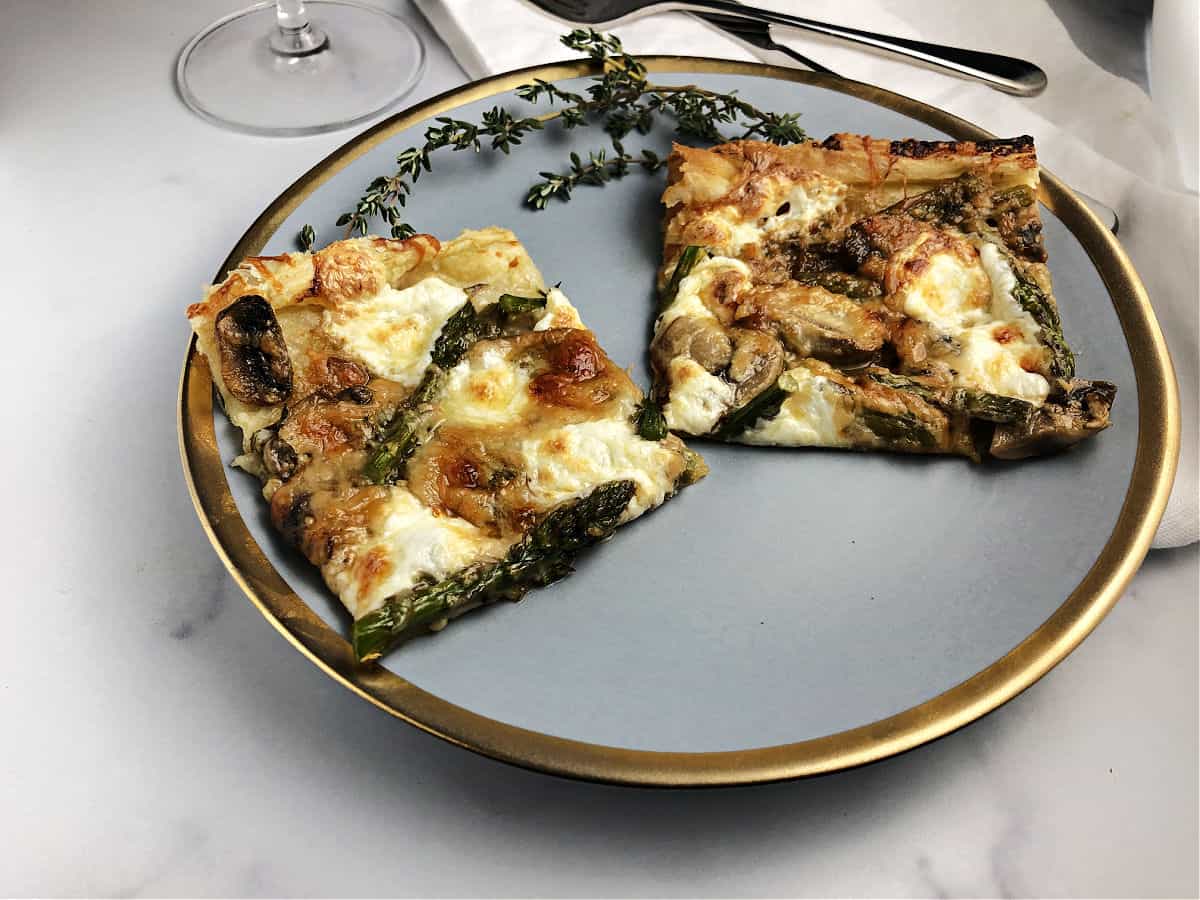 This puff pastry galette from Sulaa and Spinace is both delicious and easy. Aspaaragus and mushrooms in a velvety cheese sauce atop a puff pastry crust. Delightful!
21. Sweet Potato Galette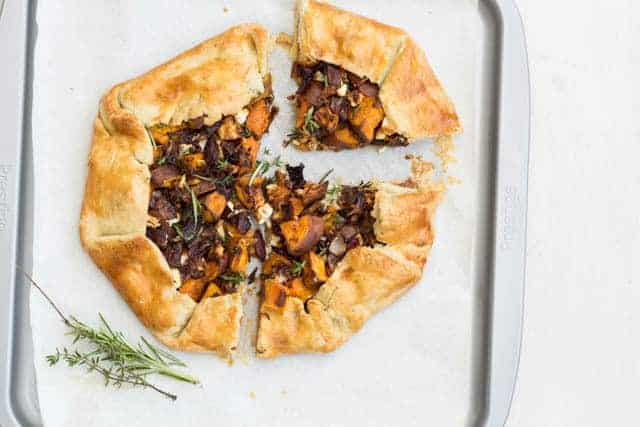 If you are a sweet potato fan you need to try this sweet potato galette by Recipes from a Pantry. Think pastry that is easy to make (thank you food processor) and even easier to shape – aka free form. The more rustic looking the galette ends up, the better. If that is not enough to convince you then think endless topping combinations
22. Cheesy Corn Summer Galette Recipe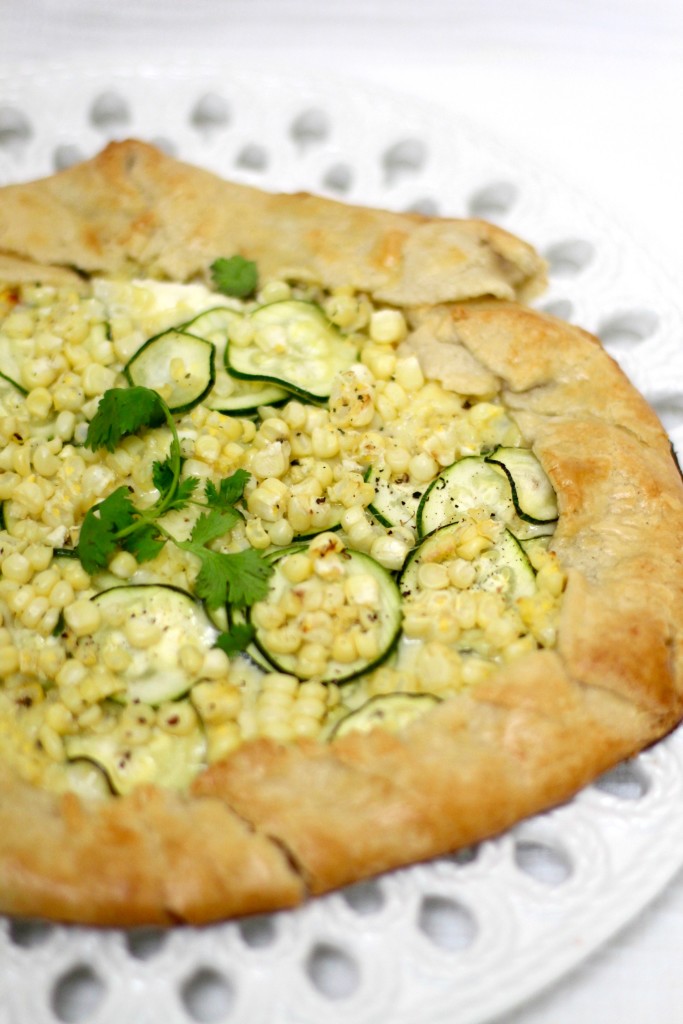 Cheesy Zucchini Corn Summer Galette Recipe is a simple and delicious weeknight recipe using feta, Monterey jack, cream cheese, fresh corn and zucchini.
23. Fennel and Onion Galette with Gruyere Crust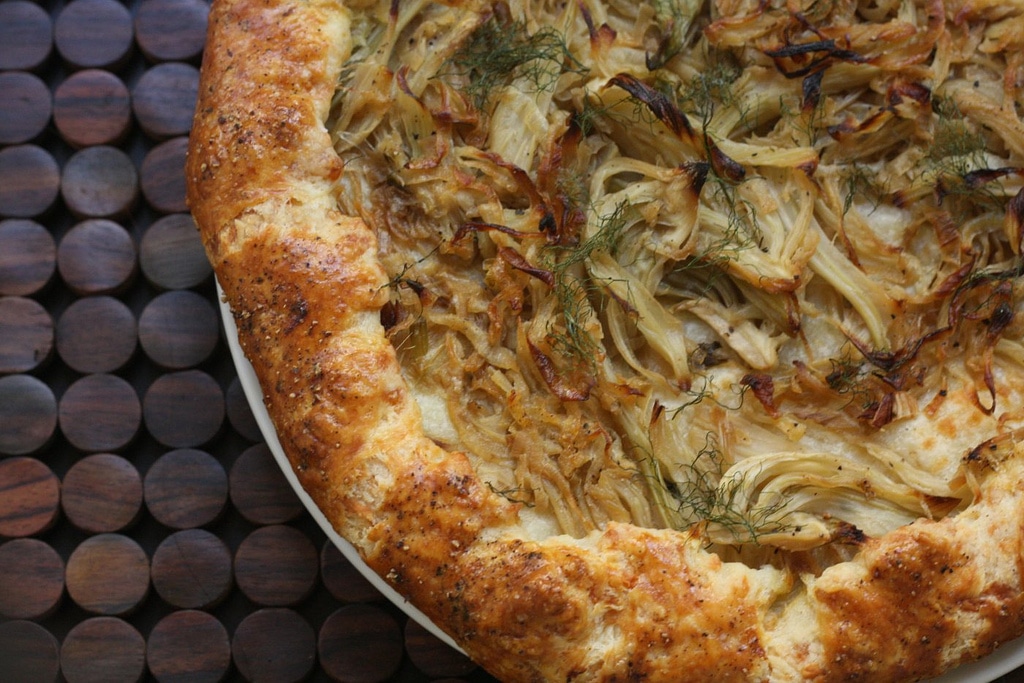 This fennel and onion galette with gruyere crust from Food52 is rich and delicious and perfect for a simple winter dinner. If you love Fennel, check out this fennel recipe round up! https://rainbowdelicious.com/foods-by-color-fennel-recipes/
24. Delicata, Chard and Mushroom Galette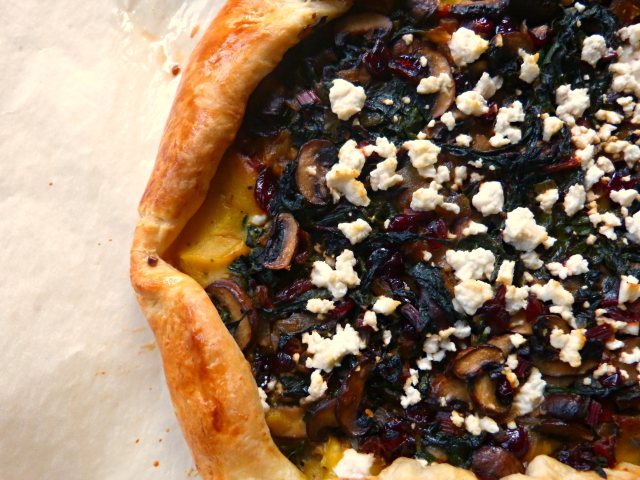 This delicata, chard and mushroom galette from Life Tastes Good is a delicious flavor combo.
Breakfast Galettes
25. Bacon & Egg Galettes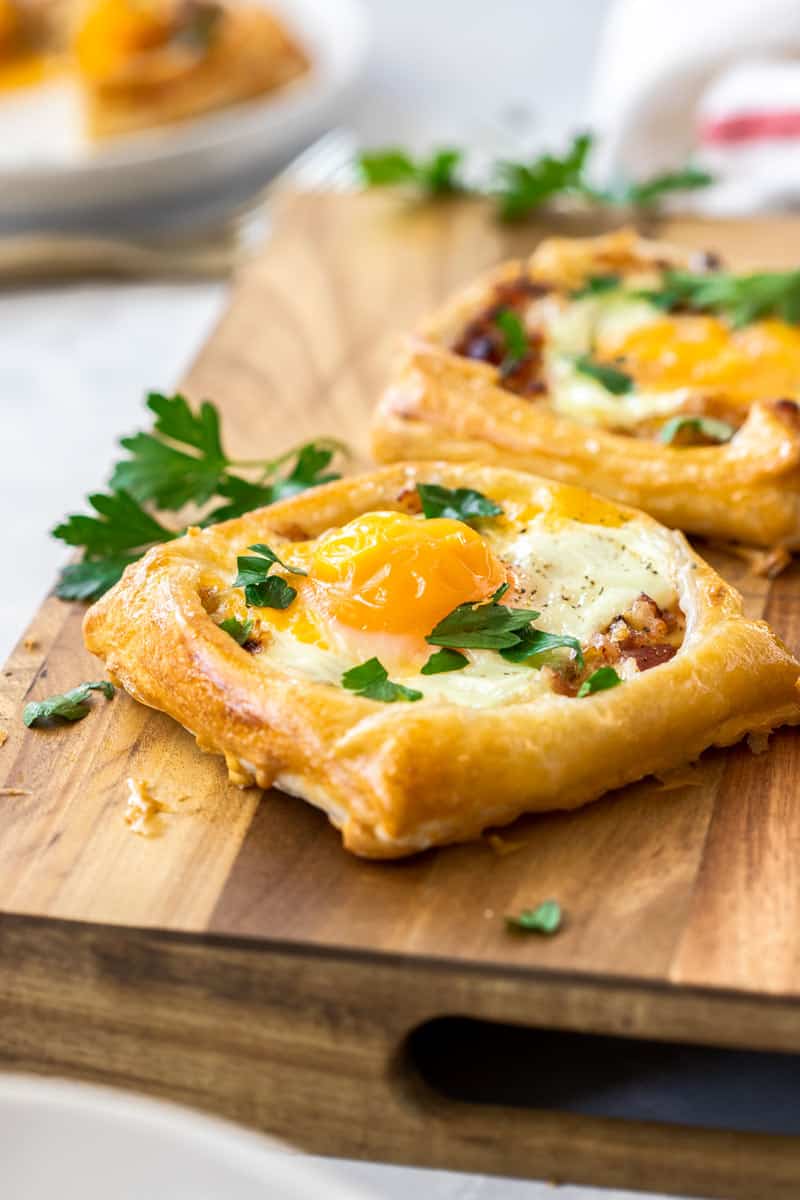 These easy Bacon and Egg Puff Pastry Galettes from It's not Complicated Recipes are an ideal weekend brunch idea!
Gluten Free Galettes
27. Mushroom Beet and Blue Cheese Galette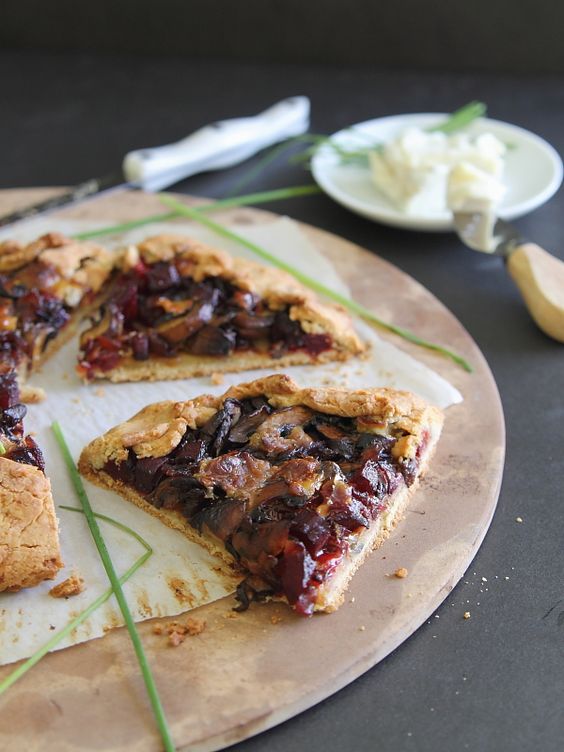 This mushroom beet and blue cheese galette from Running to the Kitchen has a flaky and buttery gluten free exterior filled with deep savory flavors.
27. Buckwheat Galettes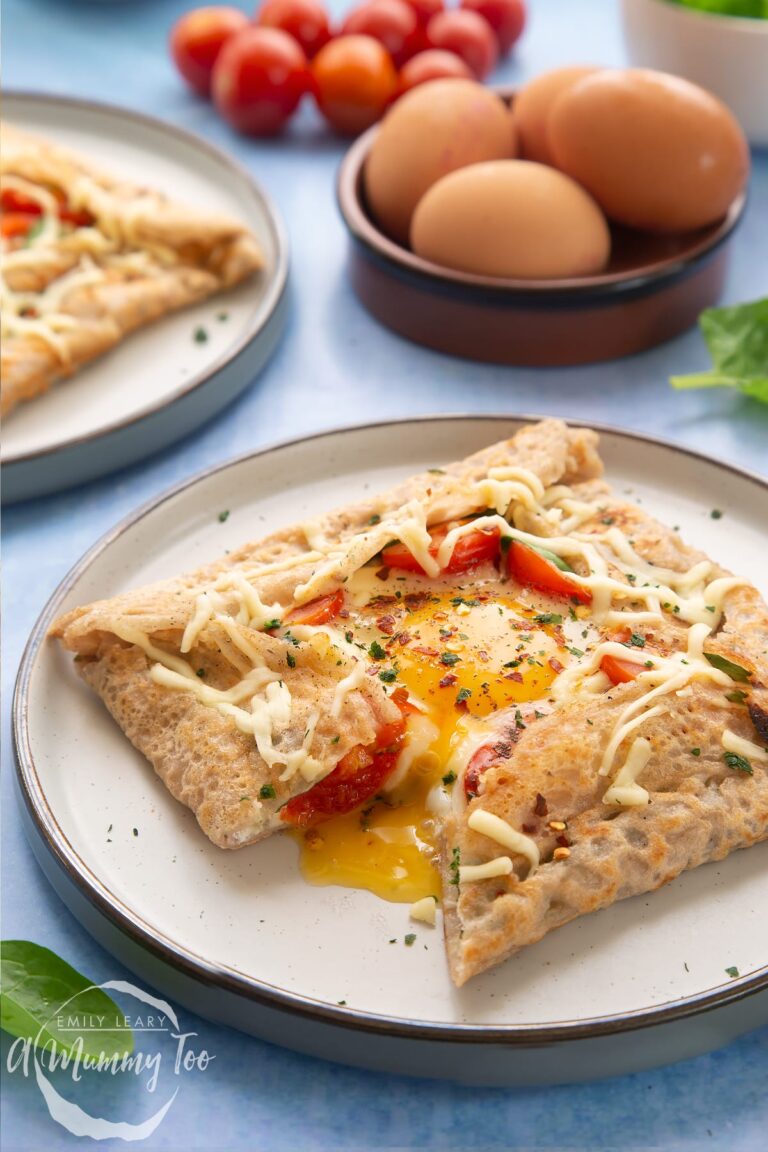 These deliciously thin and delicate buckwheat crepes from A Mummy Too are filled with cherry tomatoes, fresh spinach, eggs and mozzarella, making them the perfect breakfast buckwheat galettes.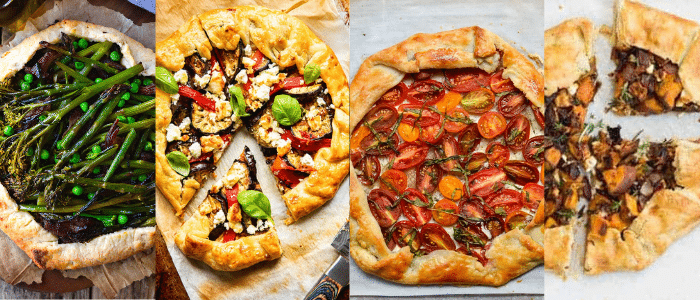 I hope you enjoy these savory galettes!
You Will Also Love These Posts
If you make any of these savory galettes please snap a photo and share on instagram using hashtag #rainbowdelicious and tag me @rainbowdelicious, I'd love to view how it turns out! Also, I'm on pinterest, and would love to connect with you there too!
Editors Note: This post was originally published in 2013 and has been completed revamped and updated for accuracy and comprehensiveness
Some links on this cooking site are affiliate links and I may earn a small commission at no cost to you. Thank you!
(Visited 34,514 time, 1 visit today)