For the last three years I've planted a garden and one plant that usually does well for me is zucchini. In fact, sometimes I get so much zucchini that I don't know what to do with it! I can only eat it sautéed as a side dish so many nights before I'm over it. What about you? If you garden to you get an overabundance of zucchini too? I like to play around with a variation of zucchini recipes to keep my family and I interested in the veggie (chocolate zucchini bread + zucchini fettuccine are two of my faves) and my most fave recent zucchini recipe is the cheesy zucchini corn summer galette recipe that I'm excited to share with you today!
Galettes are wonderful as main dishes or desserts and are a favorite weeknight meal of mine because they are so simple. You can make your own crust or buy pre-made to speed things up a bit. I use the Trader Joe's pie crust when I take the pre-made route. This cheesy zucchini corn summer galette recipe features three cheeses that work beautifully together: cream cheese, feta and Monterey jack. Top the cheese with thinly sliced zucchini (I use this mandolin but you could also just use your favorite knife), fresh corn, cracked pepper and you are good to go!
I love galettes so much that I am actually teaching a 60 minute course on sweet and savory galette making at the SLC Pinners Conference November 4-5.  If you live near Salt Lake or happen to be in the area that weekend you should definitely come. I'd love to meet you and talk galettes and all things cooking! Use promo code RAINBOW when buying your ticket to receive a 10% discount to attend classes or the code FREESHOPPING which will get you free access to the trade show floor, but no classes.
Cheesy Zucchini Corn Summer Galette Recipe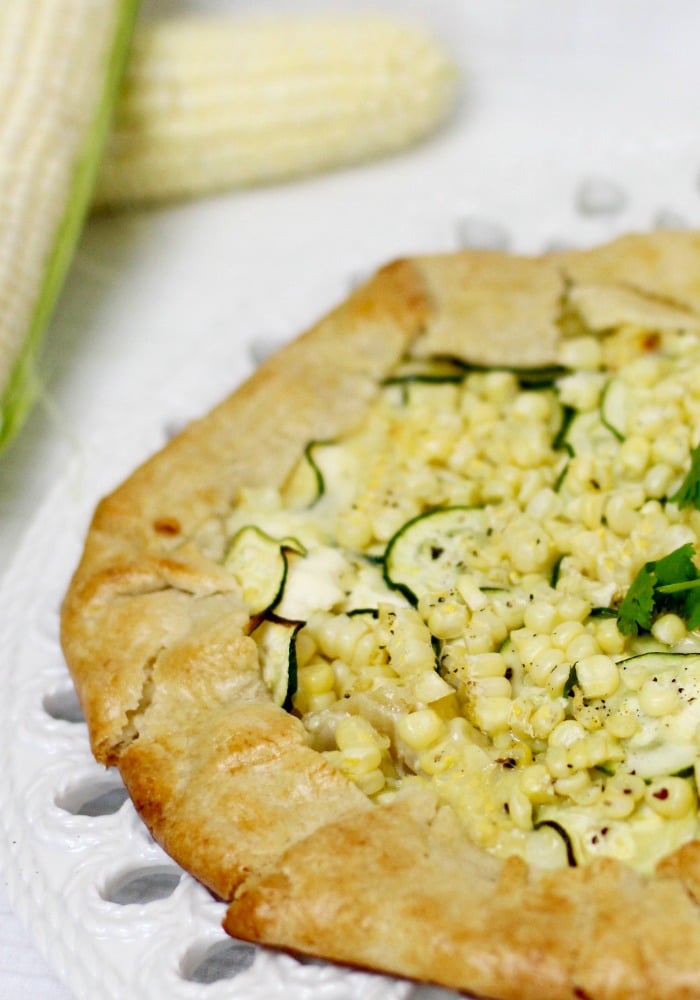 Cheesy Zucchini Corn Summer Galette Recipe
Ingredients
pie crust dough
1 T olive oil
1/2 white onion, diced
1 ear fresh corn, kernels cut off
1 medium sized zucchini, thinly sliced
1 oz cream cheese
2 oz Monterey Jack, shredded
1 oz feta, crumbled
salt & freshly cracked pepper
1 egg, lightly beaten with a little water added to make an egg wash
cilantro, optional topping
Instructions
Preheat oven to 400°F.
In a small skillet heat olive oil over medium high heat. Add onion and cook until translucent, about five minutes. Set aside.
Roll out pie dough and transfer onto a baking sheet lined with parchment or a silpat mat.
Spread onion mixture into the center of the rolled out pie dough and spread evenly, leaving a 2 1/2 inch perimeter around the dough.
Dot the cream cheese and sprinkle the feta crumbles and Monterey jack cheese on top of the onion mixture, maintaining the 2 1/2 inch dough perimeter.
Top with corn kernels and thinly sliced zucchini.
Season with salt and freshly cracked pepper to taste. I don't add very much salt due to the saltiness of the cheese.
Fold the edges over and brush with egg wash.
Bake for 20 to 25 minutes or until the crust is a nice golden brown.
Allow galette to cool for 5 minutes and garnish with cilantro before serving.
Enjoy!
https://rainbowdelicious.com/cheesy-zucchini-corn-summer-galette-recipe/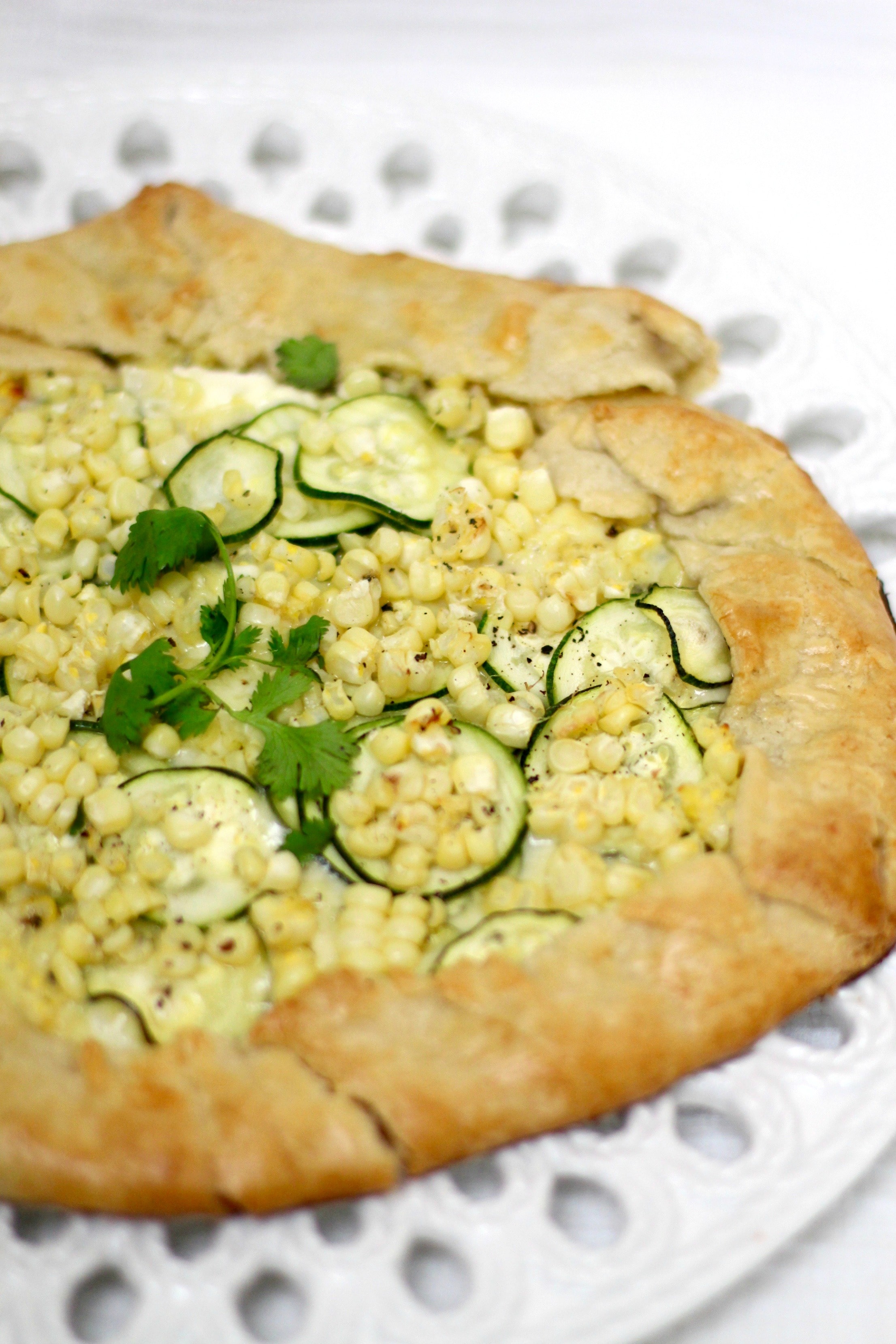 If you make this cheesy zucchini corn galette recipe please snap a photo and share on instagram using hashtag #rainbowdelicious and tag me @rainbowdelicious, I'd love to see how it turns out! Subscribe below to get weekly recipe inspiration delivered to your inbox.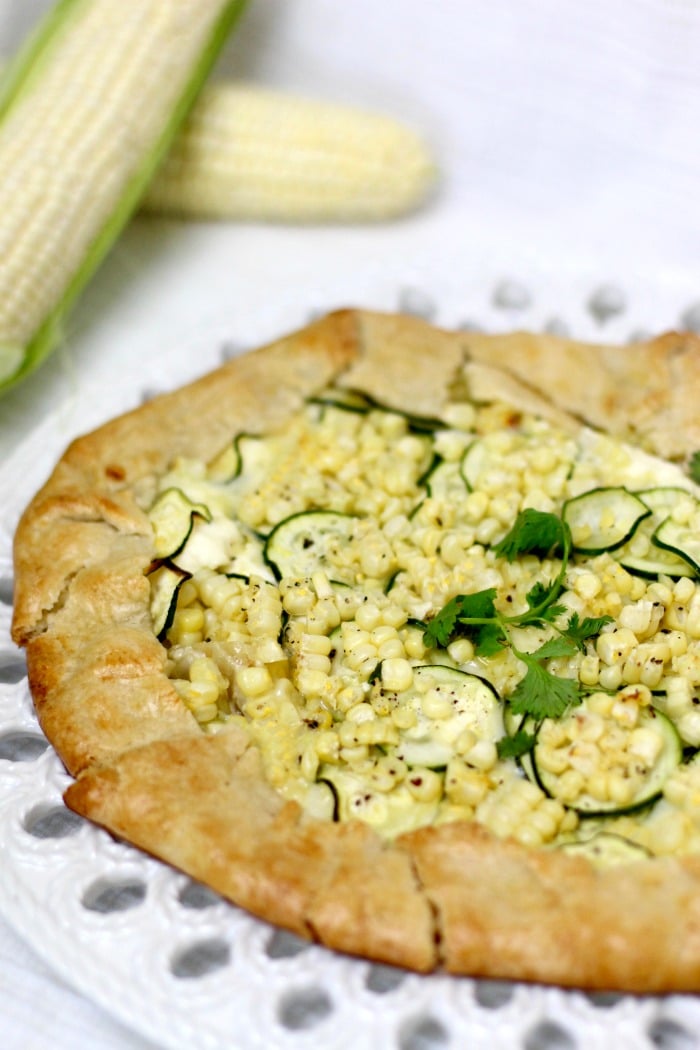 (Visited 230 time, 1 visit today)