This week I'm sharing with you another five salad recipes, as promised! All five winter salad recipes feature flavors from the season- pears, citrus, parsnips, persimmons, pomegranates and more. Enjoy this week's recipes and this week's printable grocery shopping list to help making meal planning and shopping easier for you this week. This week is all vegetarian except for pancetta in the parsnip salad- simply omit to keep this meal plan vegetarian.
In case you missed it, every Monday this January I have been posting salad-themed meal plans to start this year off right. Past meal weeks included vegan salad recipes, kale salad recipes, and vegetarian salad recipes.
Also, this weekend I went to the Winter Fancy Food Show in San Francisco and I'm excited to share with you a list of some of my favorite brands I discovered there!
Winter Salad Recipes Meal Plan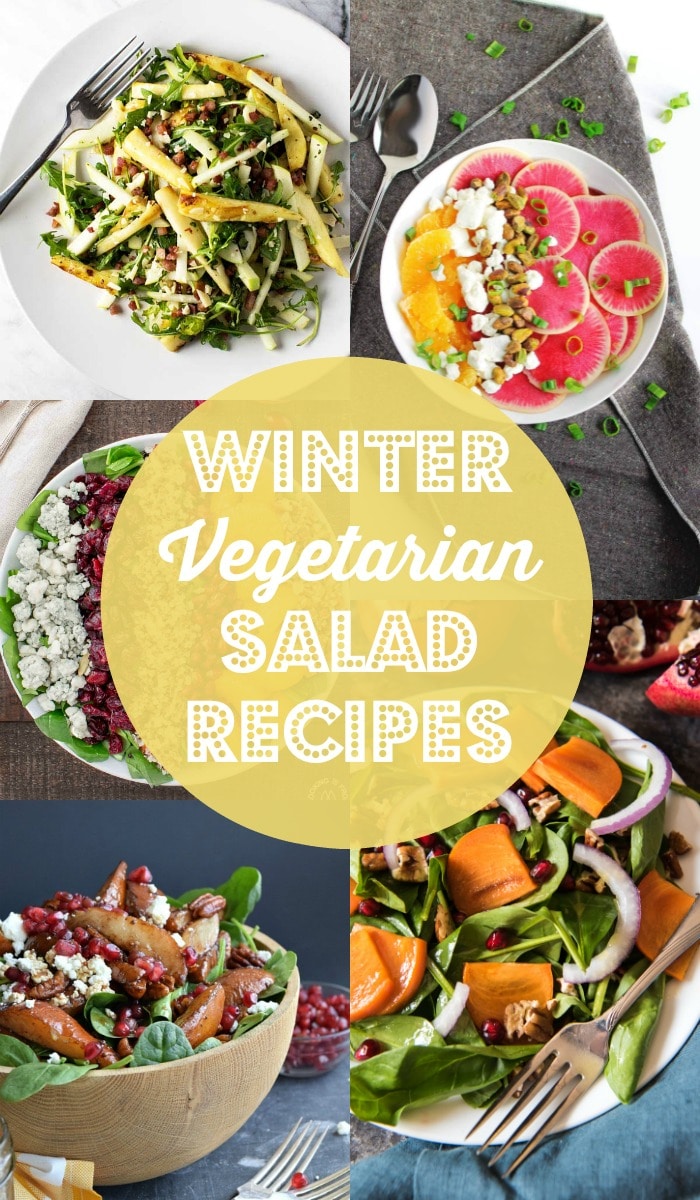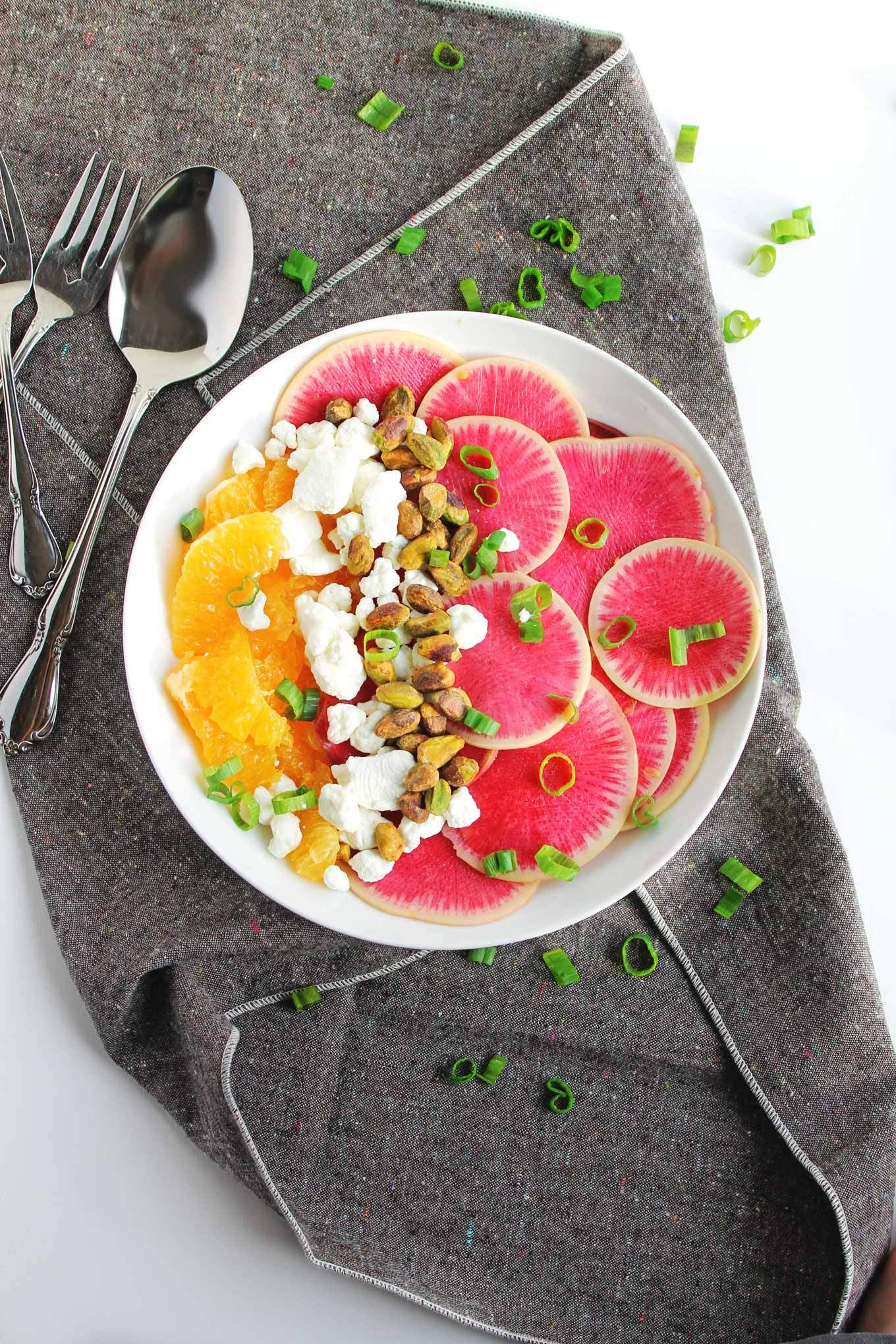 Watermelon Radish Salad with Citrus, Goat Cheese and Pistachios from Rhubarbarians 
Prep Time: 35 minutes Total Time: 35 minutes
Ingredients: navel oranges, watermelon radishes, white vinegar, honey, salt and pepper, goat cheese, pistachios, green onion.
This salad is almost too pretty to eat but is also too delicious not to eat! I love watermelon radishes, especially the way they look and I keep getting them in my produce box from Imperfect Produce ( a food delivery box available in California that I have been enjoying!)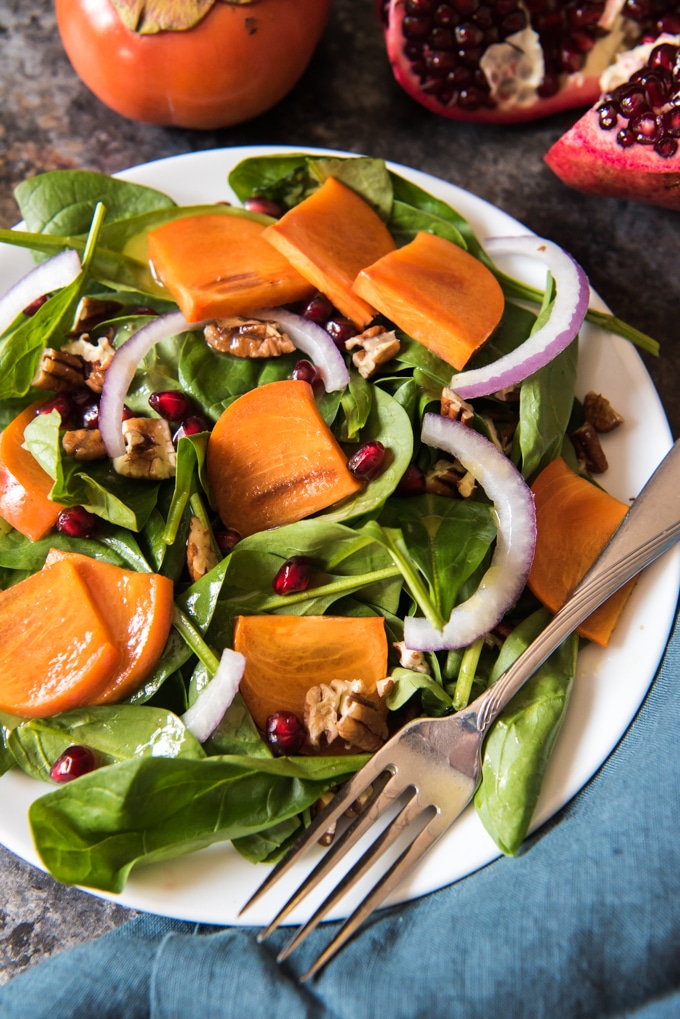 Persimmon Pomegranate and Spinach Salad with Maple Citrus Vinaigrette from House of Nash Eats
Prep Time: 15 minutes Total Time: 15 minutes
Ingredients: spinach, Fuyu persimmons, pomegranate seeds, toasted pecans, red onions, orange juice, apple cider vinegar, maple syrup, lime juice, cinnamon, olive oil, salt and pepper.
Persimmon season winds down in February so hurry and make this salad while you still can! Persimmons are one of my favorite winter fruits and this salad combo is delicious.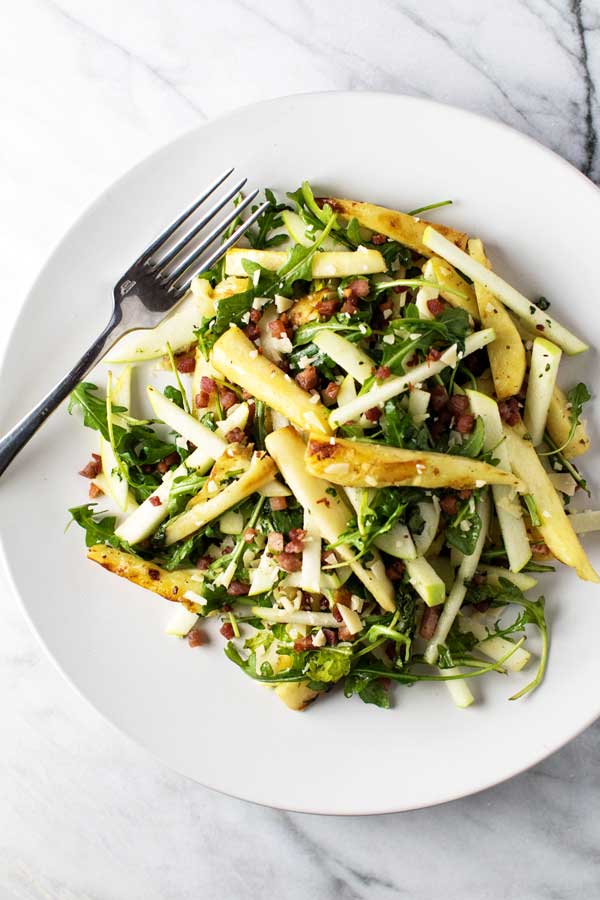 Roasted Parsnip Salad from Girl Gone Gourmet
Prep Time: 15 minutes Cook Time: 15 minutes Total Time: 30 minutes
Ingredients: olive oil, parsnips, salt, arugula, apple, Parmesan cheese, pancetta (omit to keep recipe vegetarian)
I never really know what to do with parsnips so I love that this salad recipes provides a solution to that problem. This salad recipe is healthy and seasonal goodness.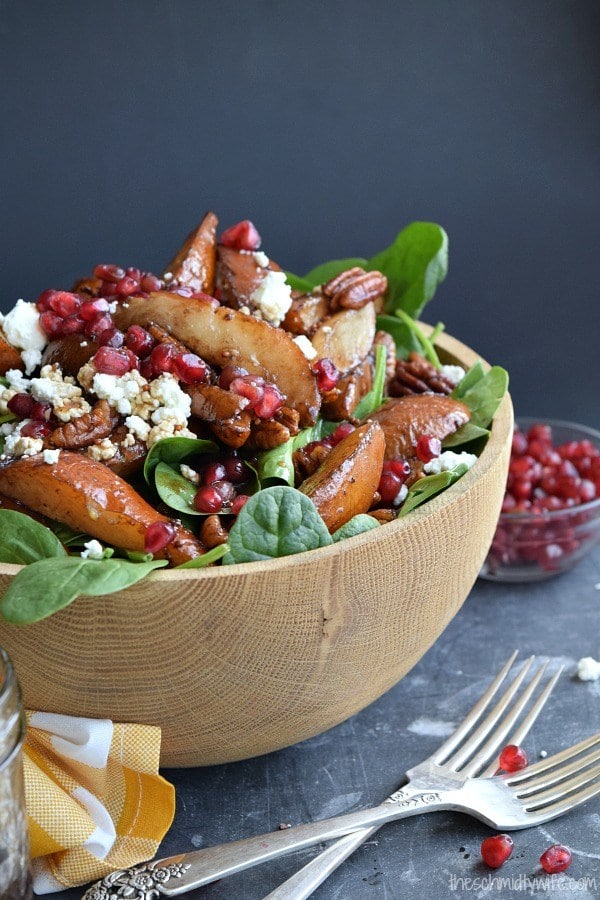 Roasted Pear Pecan Salad from The Schmidty Wife
Prep Time: 10 minutes Cook Time: 20 minutes Total Time: 30 minutes
Ingredients: olive oil, balsamic, maple, whole grain mustard, salt and pepper, bosc pears, pecans, pomegranate seeds, baby spinach, goat cheese.
I feel like this salad would be amazing even if the pears aren't roasted, but roasting the pears really takes this salad to the next level!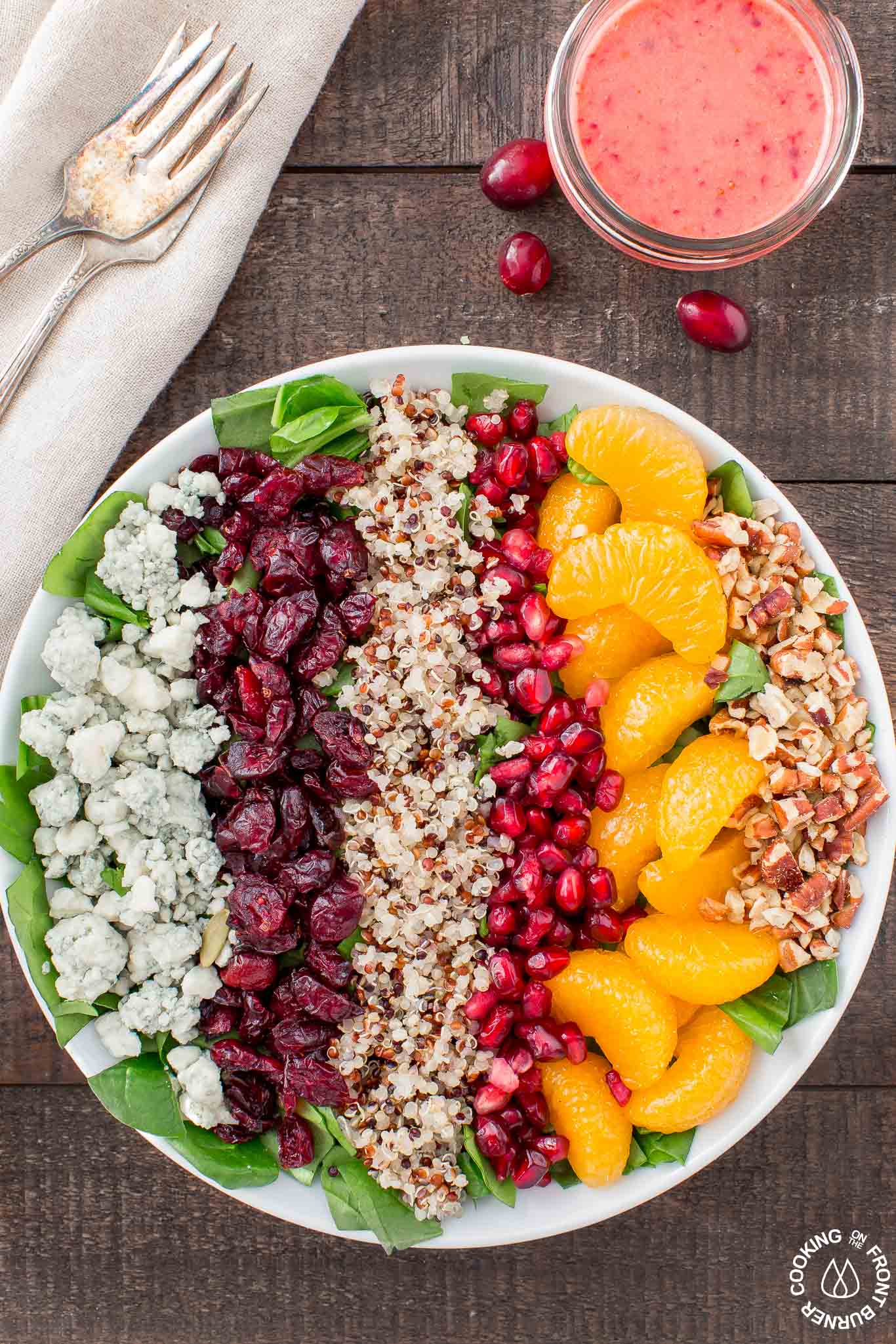 Chopped Spinach Winter Salad from Cooking on the Front Burners
Prep Time: 15 minutes Cook Time: 15 minutes Total Time: 30 minutes
Ingredients: quinoa, spinach, pomegranate seeds, (canned) mandarin oranges, dried cranberries, blue cheese, pecans, olive oil, fresh cranberries, mandarin zest and juice, champagne vinegar, honey, pepper, salt, Dijon mustard.
This salad has tons of winter goodness in it- dried cranberries, blue cheese, quinoa, pomegranates, citrus and spinach. I love canned mandarin oranges but you could also definitely substitute with fresh citrus too, since you are already using mandarin zest and juice in the dressing you can just grab a few mire and segment them!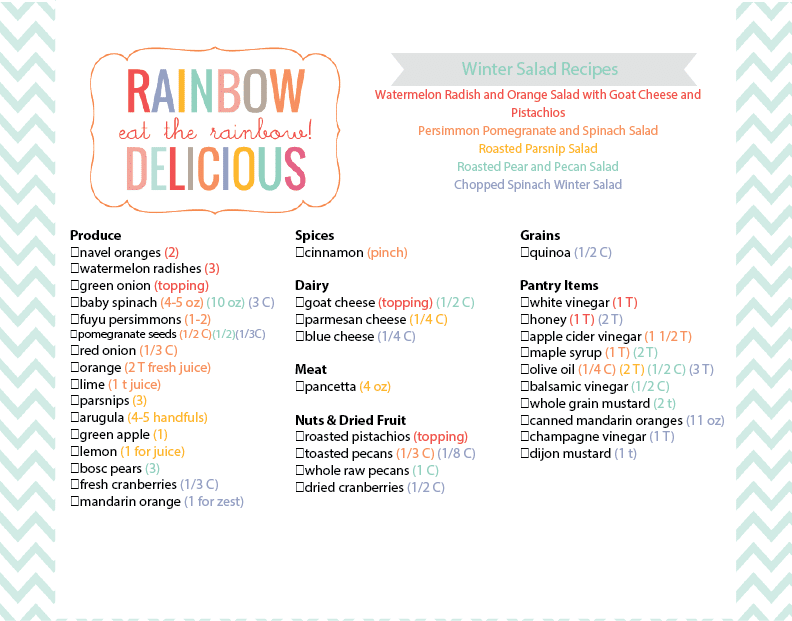 If you make any Winter Salad Recipes to Start Your Year off Right please share on instagram using hashtag #rainbowdelicious & and tag me at @rainbowdelicious , I'd love to see what you are up to in your kitchen!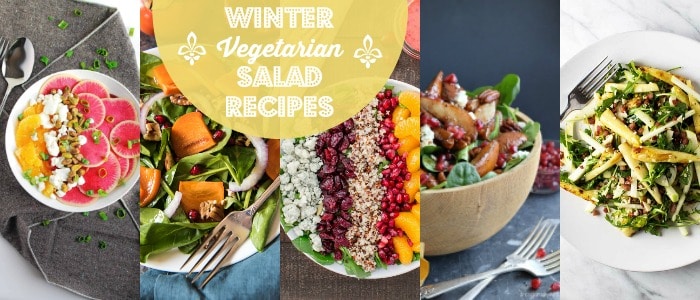 Some links on this site are affiliate links and I may earn a small commission at no cost to you. Thank you!
(Visited 1,090 time, 1 visit today)