This week I'm excited to share with you this winter eats meal plan with Brussels  and mushroom lasagna, pear quesadillas, broccoli cheddar soup, arugula prosciutto pizza and curried cauliflower bites. Last month's salad menus were great and all but aren't you ready to get back to heartier, more comforting recipes? I am! This meal plan is hearty but it still includes colorful produce that you can always rely on being in Rainbow Delicious meal plans- this week's seasonal produce includes Brussels sprouts, mushrooms, pears, arugula, broccoli, cauliflower, baby spinach and more. Click here for this week's grocery list and have an amazing week eating the rainbow!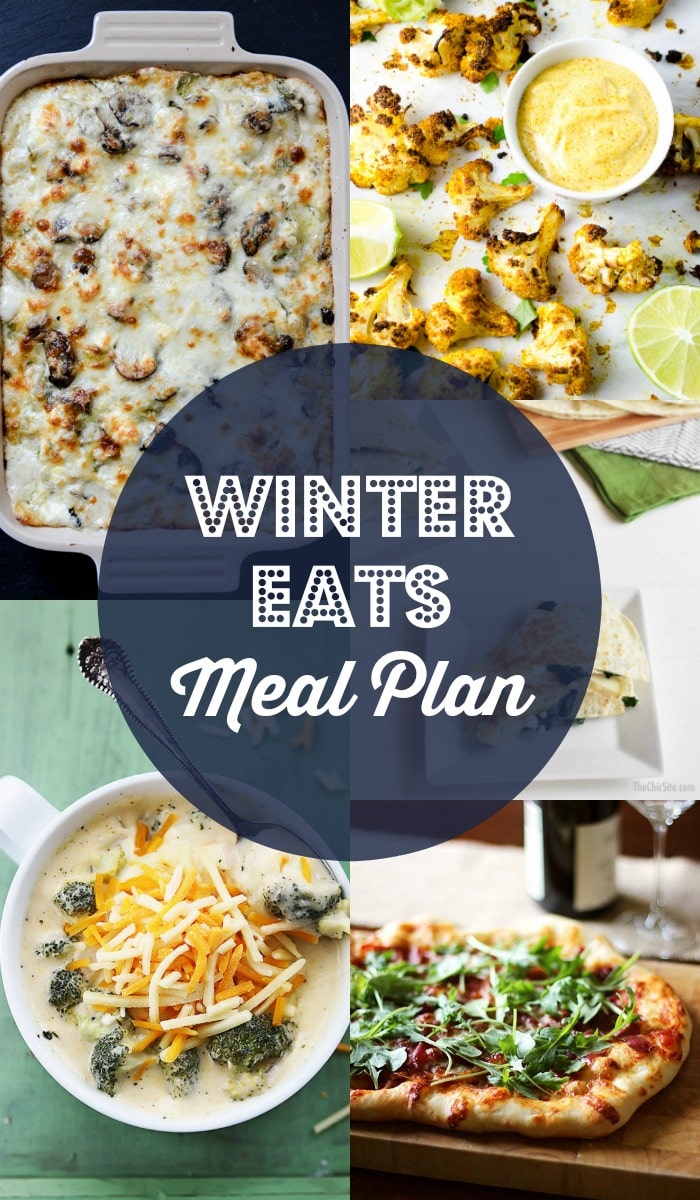 Winter Eats Meal Plan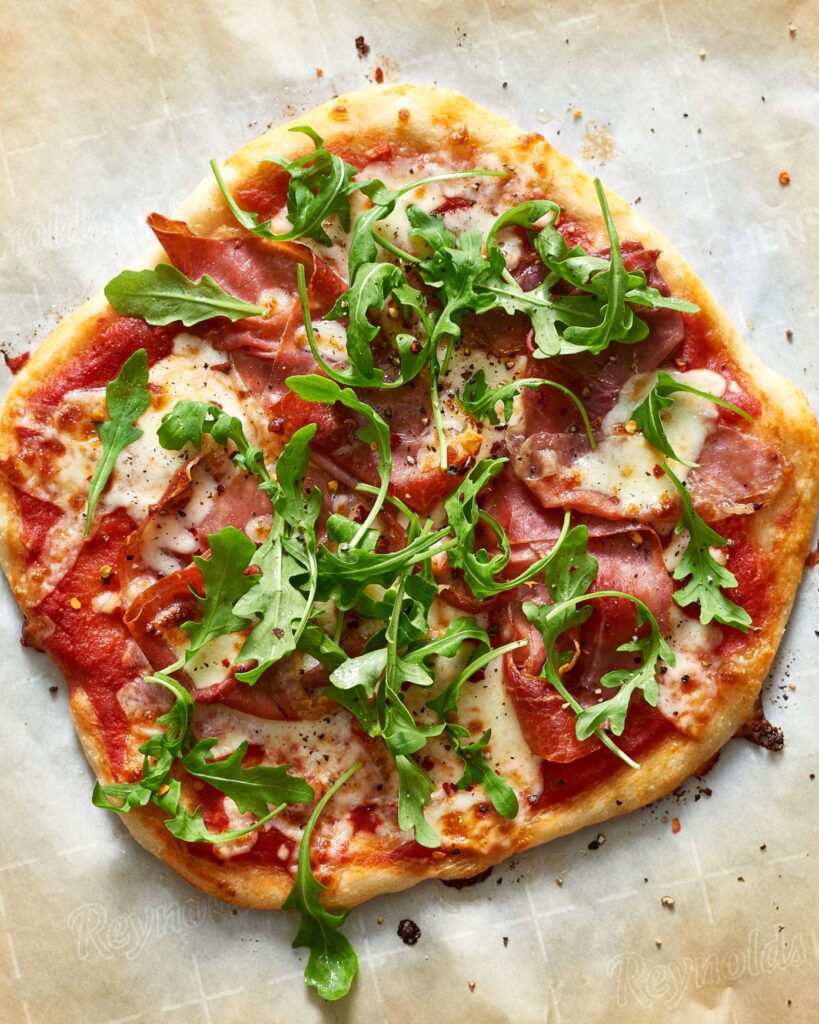 Prosciutto and Arugula Pizza from The Kitchn
Prep Time: 5 minutes Cook Time: 36 minutes Total Time: 41 minutes
Ingredients: pizza dough, olive oil, tomato sauce, mozzarella, prosciutto, arugula.
This is one of my favorite pizzas to date… I really love prosciutto and arugula together.  I made a couple adaptations to the recipe by using ricotta instead of tomato and adding a little fresh mozzarella and parmesan as well. Delicious. Sometimes I make my own pizza dough, but when I don't feel like it I buy the one from Trader Joe's.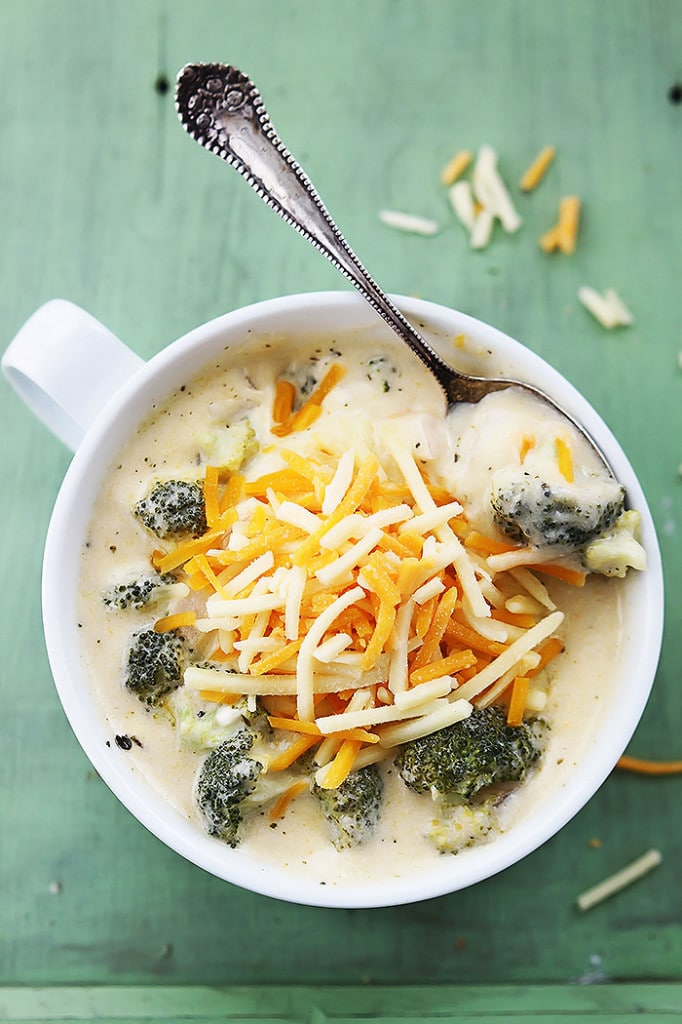 Slow Cooker Broccoli Cheddar Soup from Creme De La Crumb
Prep Time: 15 minutes Cook Time: 4 hours Total Time: 4 hours 15 minutes
Ingredients: butter, flour, milk, chicken or vegetable broth, onion, broccoli, garlic, Italian seasoning, cream cheese, sharp cheddar, salt, pepper.
I love crockpot meals and this soup was a reminder that I really should make them more often.  I used cornstarch instead of flour in the soup which made it gluten free. I used vegetable broth, substituted one cup of milk with cream and forgot to add the cream cheese.  I also used my immersion blender to make it a smooth instead of chunky soup. I served it with a side of  bread from Tartine bakery and it was fantastic. For more broccoli recipes check out this broccoli recipe round-up.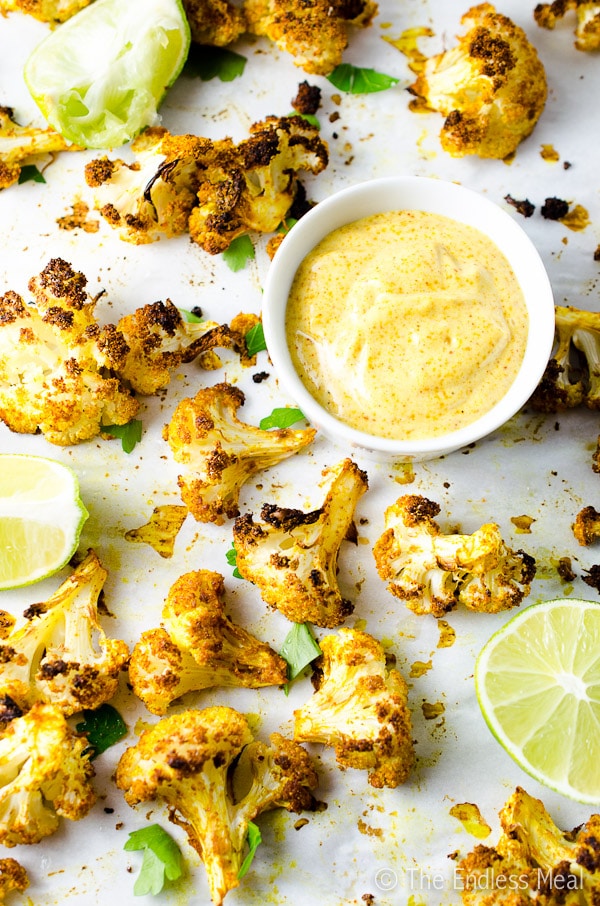 Curried Lime Cauliflower Bites with Curry from The Endless Meal
Prep Time: 5 minutes Cook Time: 30 minutes Total Time: 35 minutes
Ingredients: cauliflower, olive oil, lime, curry, cumin, coriander, turmeric, cayenne, sea salt, mayonnaise, sugar, parsley or cilantro.
These cauliflower bites are full of flavor and I liked them even without the mayo dipping sauce.  I made these with parsley but next time will try cilantro. For more cauliflower recipes check out this cauliflower round-up.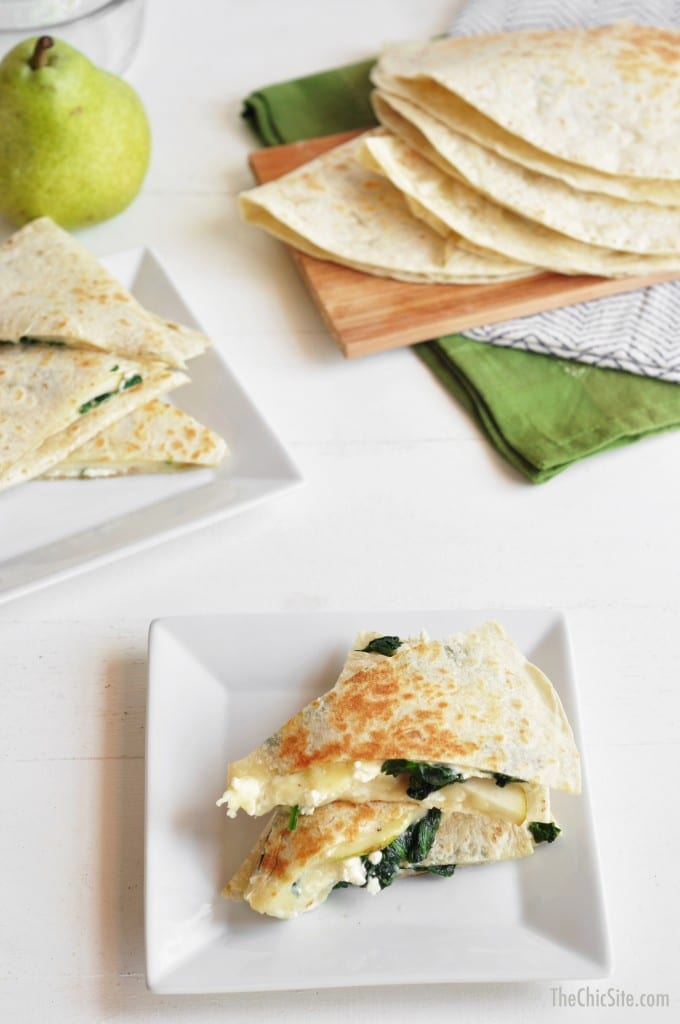 Spinach, Pear and Feta Quesadillas from The Chic Site
Prep Time: 10 minutes Cook Time: 10 minutes Total Time: 20 minutes
Ingredients: flour tortillas, baby spinach, monterey jack cheese, feta, pears, black pepper.
These quesadillas are simple but flavorful. I was lazy and didn't even cook the baby spinach and just threw it in the quesadillas fresh.  I love the combo of the sweet pears and the salty feta. For more quesadilla recipes check out these quesadilla recipes and vegetarian quesadilla recipes.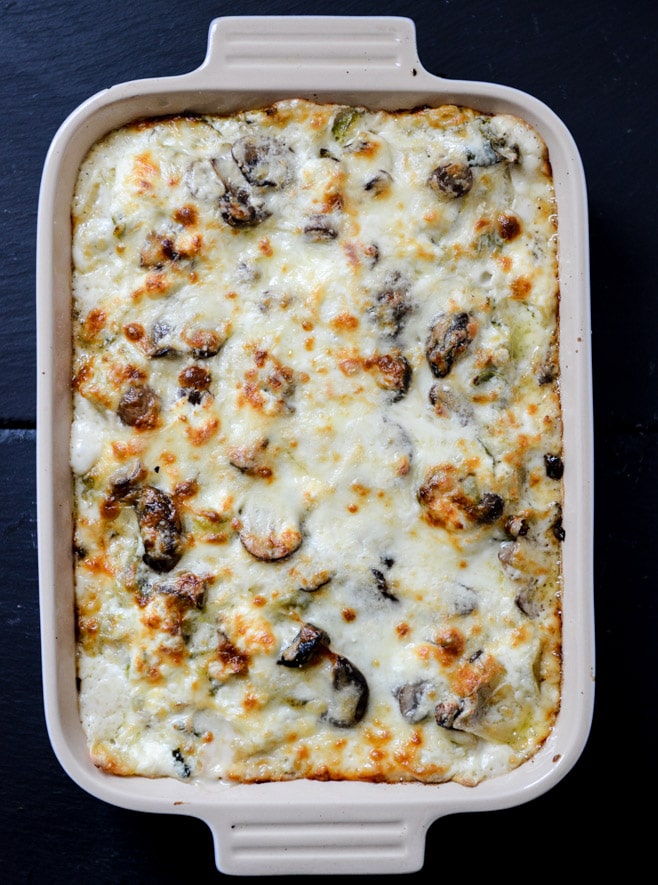 Cheesy Brussels Sprouts and Mushroom Lasagna from How Sweet It Is
Prep Time: 10 minutes Cook Time: 50 minutes Total Time: 1 hour
Ingredients: no-boil lasagna, olive oil, brussels sprouts, shallot, diced, salt, pepper, balsamic vinegar, cremini mushrooms, shitake, garlic cloves, unsalted butter, flour, milk, nutmeg, provolone, ricotta, pecorino romano cheese.
I think I'm slowly converting my mushroom-hating family to tolerate mushrooms! We all enjoyed this lasagna and it made amazing leftovers too. I used regular lasagna noodles instead of whole wheat noodles. For more Brussels sprouts recipes check out this Brussels sprouts round-up.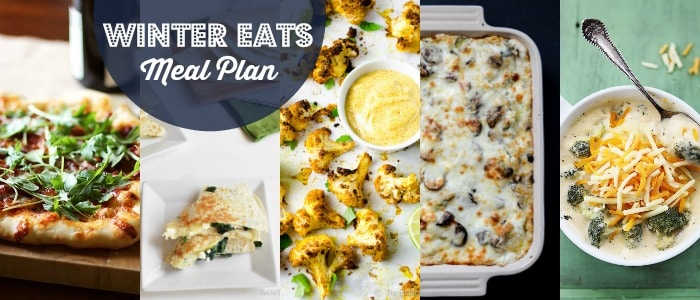 If you make any  recipes from this winter eats meal plan please share on instagram using hashtag #rainbowdelicious & and tag me at @rainbowdelicious , I'd love to see what you are up to in your kitchen!
Some links on this site are affiliate links and I may earn a small commission at no cost to you. Thank you!
(Visited 1,441 time, 1 visit today)