This week's winter family dinners meal plan has five comforting dinner recipes perfect for this time of year. The menu includes an amazing pasta, pizza, tacos, quesadillas and roasted citrus chicken. I guess winter makes me crave more meat than usual, as you can see by all the bacon, chicken and even pork…. not my normal! For easier preparation you can make a big batch of bacon once to use in all three recipes, and one batch of caramelized onions to use in both recipes. Click here for this week's grocery printable.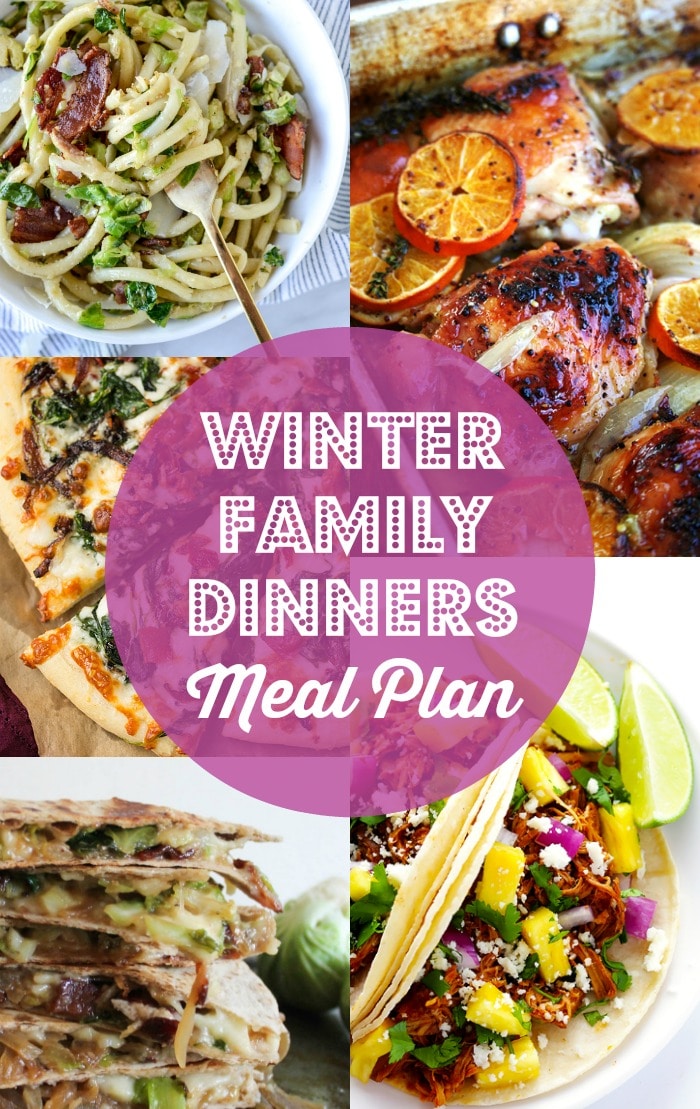 Winter Family Dinners Meal Plan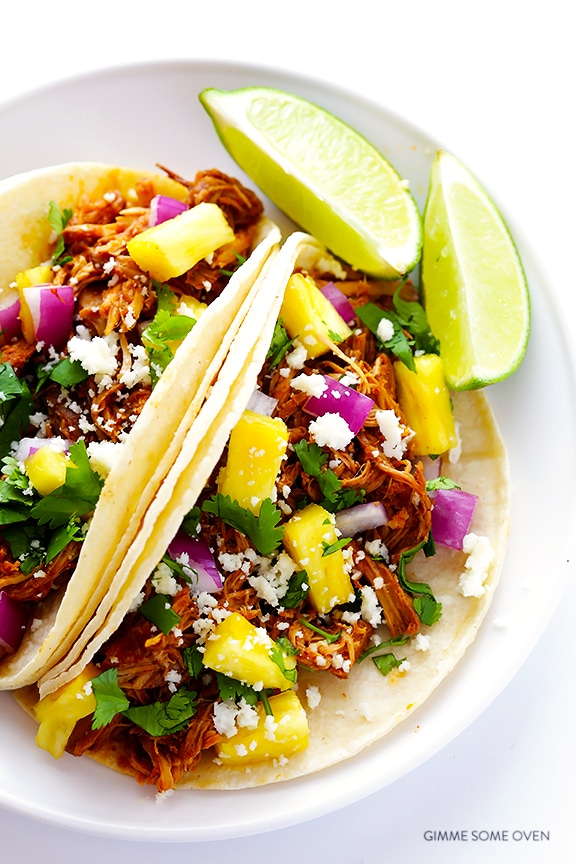 Slow Cooker Tacos Al Pastor from Gimme Some Oven
Prep Time: 10 minutes Cook Time: 4-6 hours Total Time: 4-6 hours 10 minutes
Ingredients: boneless pork shoulder (I used pork roast), bottle of beer, chipotles in adobo, pineapple, red onion, chili powder, lime juice, white vinegar, salt, cumin, black pepper, corn tortillas, cheese (goat or cotija), red onion, avocado, cilantro.
I love al pastor tacos from Mexican restaurants and while these didn't really taste like authentic al pastor tacos to me they still gave me my taco fix and were pretty easy to make thanks to the crockpot. I left out some of the pineapple from the sauce and saved it to garnish the tacos. We used cotija cheese instead of goat and served with lots of cilantro. If you love tacos you might like my favorite chicken tacos, these ten amazing tacos, these 10 vegetarian tacos and this whole 30 taco salad.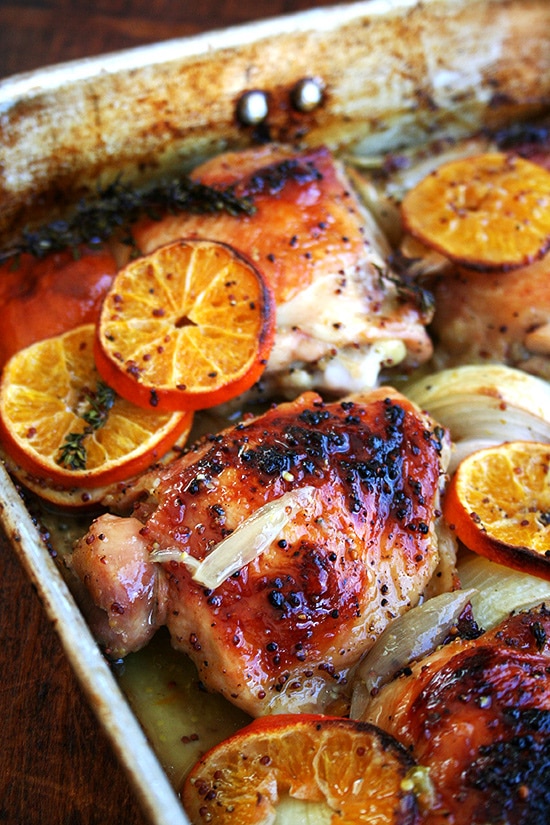 Roasted Chicken with Clementine from Alexandra's Kitchen
Prep Time: 15 minutes Cook Time: 1 hour Total Time: 1 hour 15 minutes
Ingredients: arak (or ouzo, pernod or I used white wine), olive oil, squeezed orange (or clementine) juice, lemon juice, grainy mustard, brown sugar or honey, kosher salt, ground pepper, bone-in skin-on chicken pieces, clementines, thyme sprigs, onions or felle, fennel seeds (optional).
This recipe is adapted from the cookbook Jerusalem which I always peruse in cookbooks but still need to buy because the recipes look incredible.  I'm a little embarrassed to admit this but this is my first time cooking with skin-on chicken! I have always been intimidated by chicken skin for some reason but it was easy peasy.  I substituted arak with white wine, used fennel bulbs instead of onions, and left out the fennel seeds. My family enjoyed this, although Rick preferred it with barbecue sauce, which cracked me up.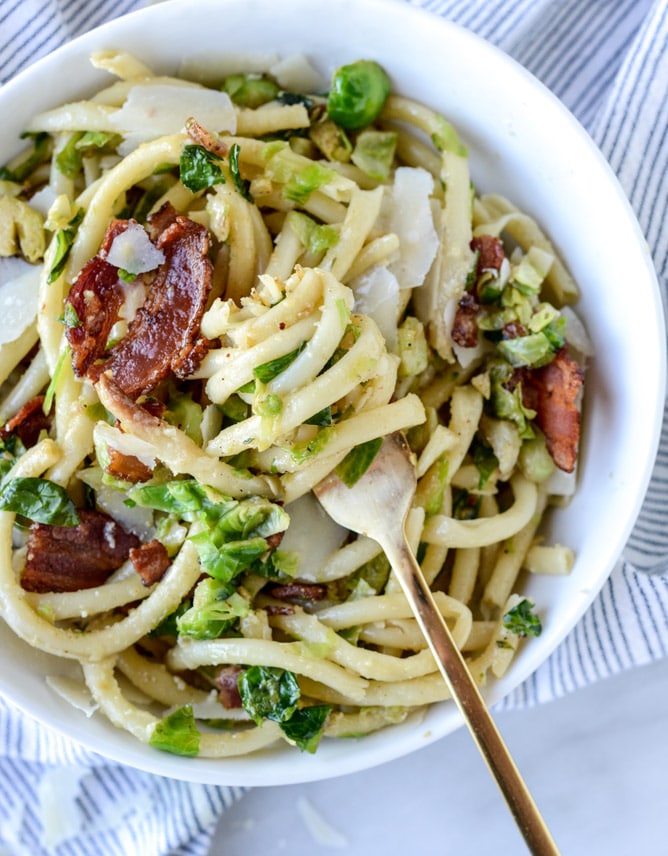 Bacon Egg and Brussels Carbonara from How Sweet Eats
Prep Time: 10 minutes Cook Time: 35 minutes Total Time: 45 minutes
Ingredients: thick-cut bacon, brussels sprouts, black pepper, garlic cloves, bucatini, parmesan cheese, salt.
This week I really faced my kitchen fears! First using bone-in skin-on chicken, and then putting egg in my pasta! I have seen this egg-on-everything from toast to pizza on pinterest but have yet to really experiment with playing around with eggs in recipes myself. Maybe partly because after my whole-30 attempt where I over-ate eggs I have become a little less excited about eggs in general. But this pasta is changing my tune because it is delicious.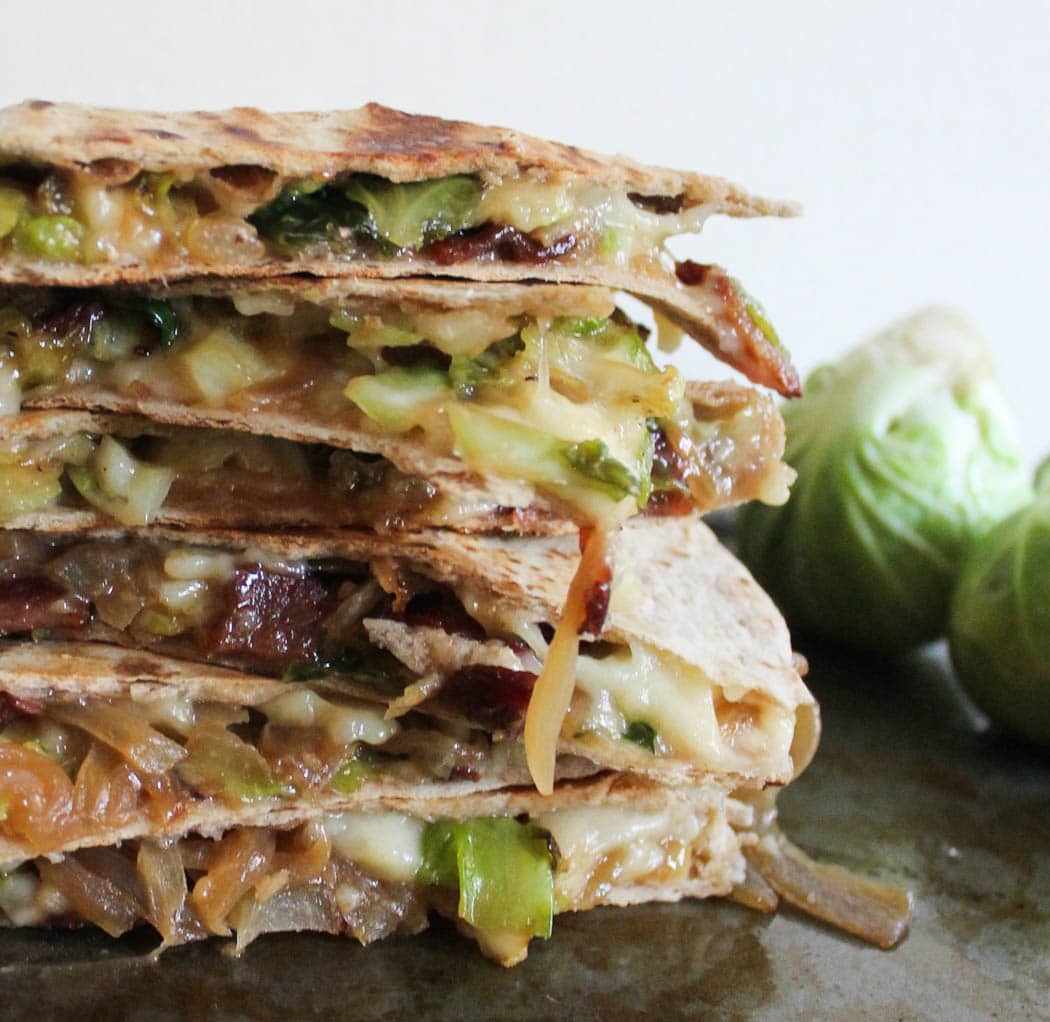 Brie Quesadillas with Brussels Sprouts, Bacon and Beer-Glazed Onions from Domesticate Me
Prep Time: 5 minutes Cook Time: 25 minutes Total Time: 30 minutes
Ingredients: olive oil, yellow onion, beer (I used white wine instead), thick cut bacon, brussels sprouts, maple syrup, whole wheat tortillas, brie cheese.
My daughter loves brussels so I have been having fun trying out recipes with them for her. These quesadillas are unique, filling and rich. I used white wine instead of beer just because I had some on hand I wanted to use up. For more quesadilla recipes check out these ten faves and these vegetarian quesadillas.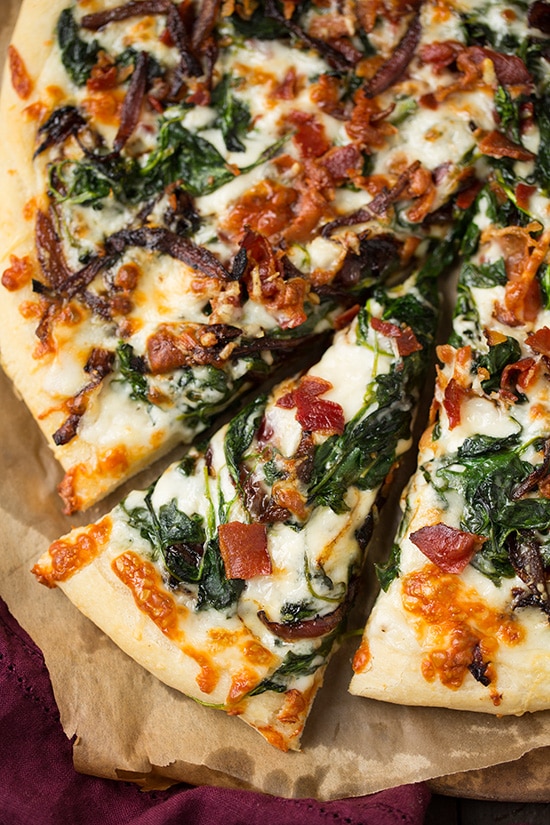 Caramelized Onion, Bacon and Spinach Pizza from Cooking Classy
Prep Time: 10 minutes Cook Time: 30 minutes Total Time: 40 minutes
Ingredients: pizza dough, bacon, olive oil, baby spinach, red onion, salt, sugar, balsamic vinegar, butter, garlic, flour, milk, mozzarella cheese, parmesan cheese.
You can never go wrong with bacon spinach pizza! This was a little more work than your generic pizza but worth it in my opinion! It would even be good without the bacon for vegetarians. This pizza has a lot of components going on so I simplified by omitting the cream sauce and just throwing the garlic in with the spinach a couple minutes before it was done sautéing and just brushing a little olive oil over the crust before topping the pizza.
I hope you enjoy this winter family dinners meal plan and have an awesome week!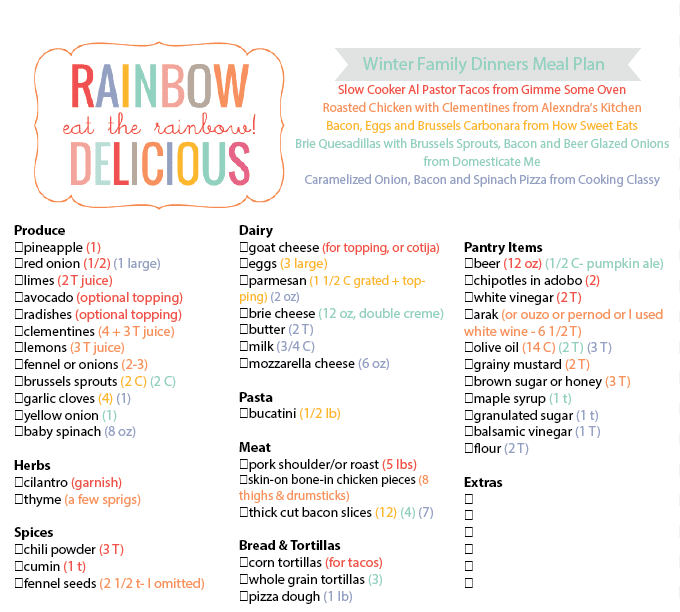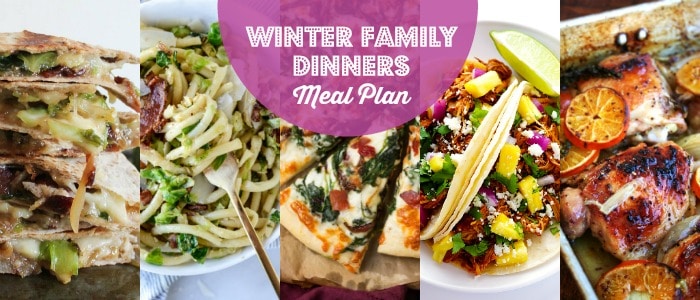 If you make any recipe from this winter family dinners meal plan please share on instagram and tag me @rainbowdelicious, I'd love to see what you are up to in your kitchen!
Some links on this site are affiliate links and I may earn a small commission at no cost to you. Thank you!
(Visited 6,361 time, 1 visit today)