This salad ideas meal plan is colorful salad inspiration to help you eat the rainbow this week! There is so much amazing available produce available this time of year in California, and hopefully where you live too! This meal plan takes advantage of Brussels, pomegranates, apples, citrus, avocado, beets, grapes and strawberries. I hope you enjoy any or all of these salads and have a fantastic week eating the rainbow! Click here for this week's grocery printable! Click here for grocery shopping printable.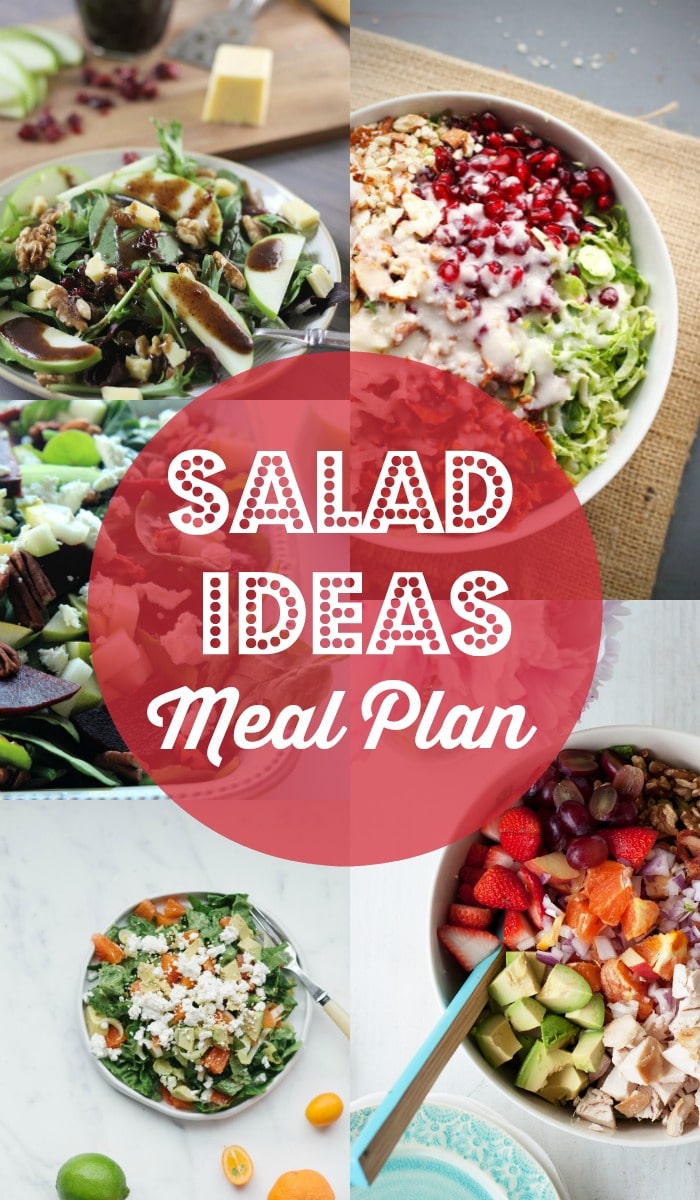 Salad Ideas Meal Plan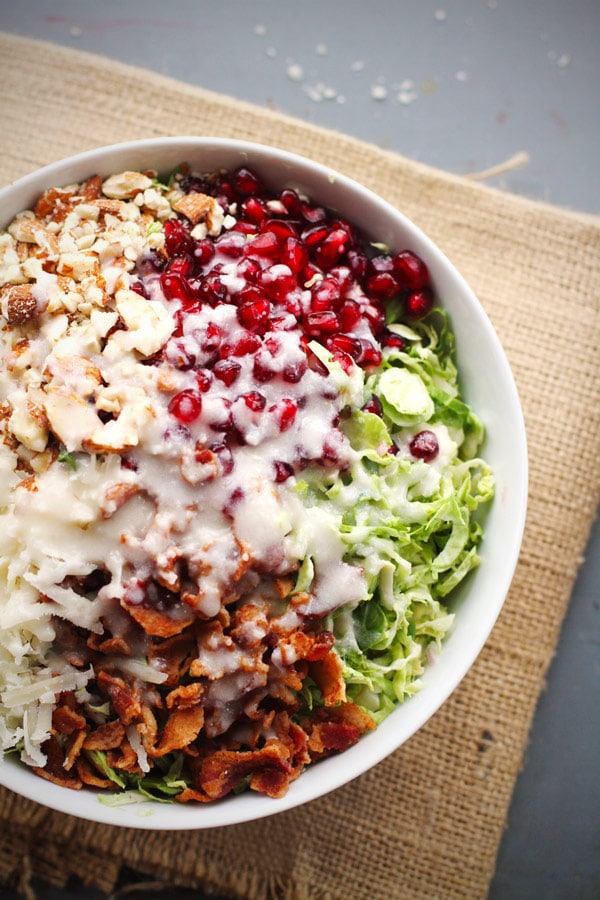 Chopped Brussels Sprouts Salad with Creamy Shallot Vinaigrette from Pinch of Yum
Prep Time: 10 minutes Cook Time: 15 minutes Total Time: 25 minutes
Ingredients: brussels sprouts, bacon, pomegranate, almonds, pecorino romano cheese, shallot, orange, lemon, salt, honey, greek yogurt, oil, water.
I weirdly love salads with brussels sprouts as their base… it is better than it sounds, I promise! Plus, there is bacon in it so you're welcome. If you are loving Brussels sprouts this season, you might want to check out more Brussels recipes here.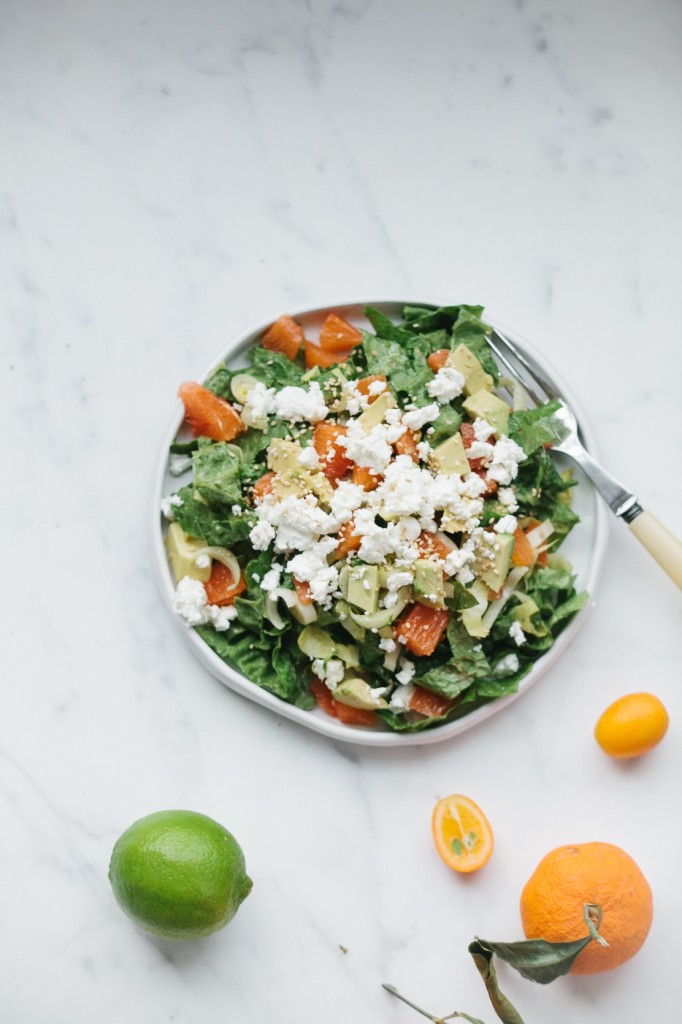 Cara Cara Orange, Avocado and Feta Salad from Not Without Salt
Prep Time: 10 minutes Total Time: 10 minutes
Ingredients: cara cara oranges, romaine lettuce, endive (optional),
cara cara oranges are so amazing in general and are delicious in this salad! If you can't find cara cara oranges any orange variety can work (I'm in love with satsuma mandarins this season, too). The combo of citrus and avocado is amazeballs.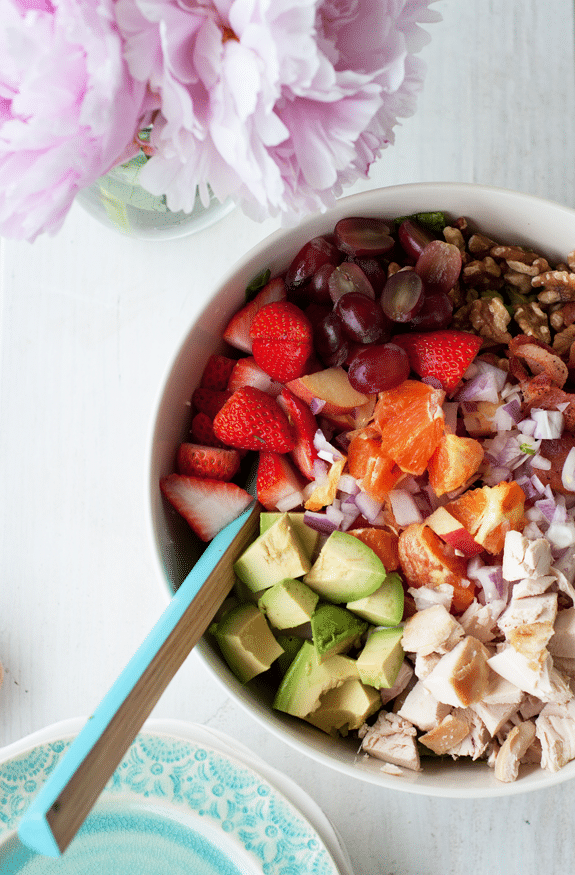 Best Chopped Salad from Cup of Jo
Prep Time: 15 minutes Total Time: 15 minutes
Ingredients: romaine, strawberries, avocados, gorgonzola, walnuts, cooked chicken, cooked bacon, apples, red onion, grapes, oranges, lemon, garlic, olive oil, red wine vinegar, honey, dijon, sea salt.
I think this may be one of my favorite salads of all time and I make it every year. If you can't find strawberries in season where you life then just leaves those out and the salad is still amazing!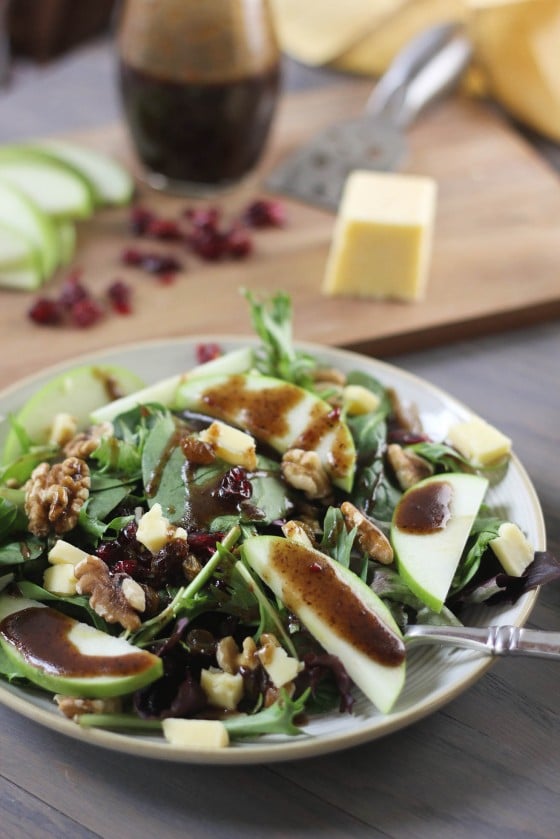 Cheddar Apple Winter Salad with Balsamic Feta Vinaigrette from Bake Your Day
Prep Time: 15 minutes Total Time: 15 minutes
Ingredients feta, olive oil, balsamic vinegar, black pepper, onion powder, garlic salt, mixed greens, granny smith apples, dried cranberries, golden raisins, sharp white cheddar cheese, toasted walnuts.
I have loved the combo of cheddar and apples ever since my best friend introduced me to eating apple sauce on the side of macaroni and cheese as a kit. I prefer all cranberries and no raisins and like candied walnuts in this salad.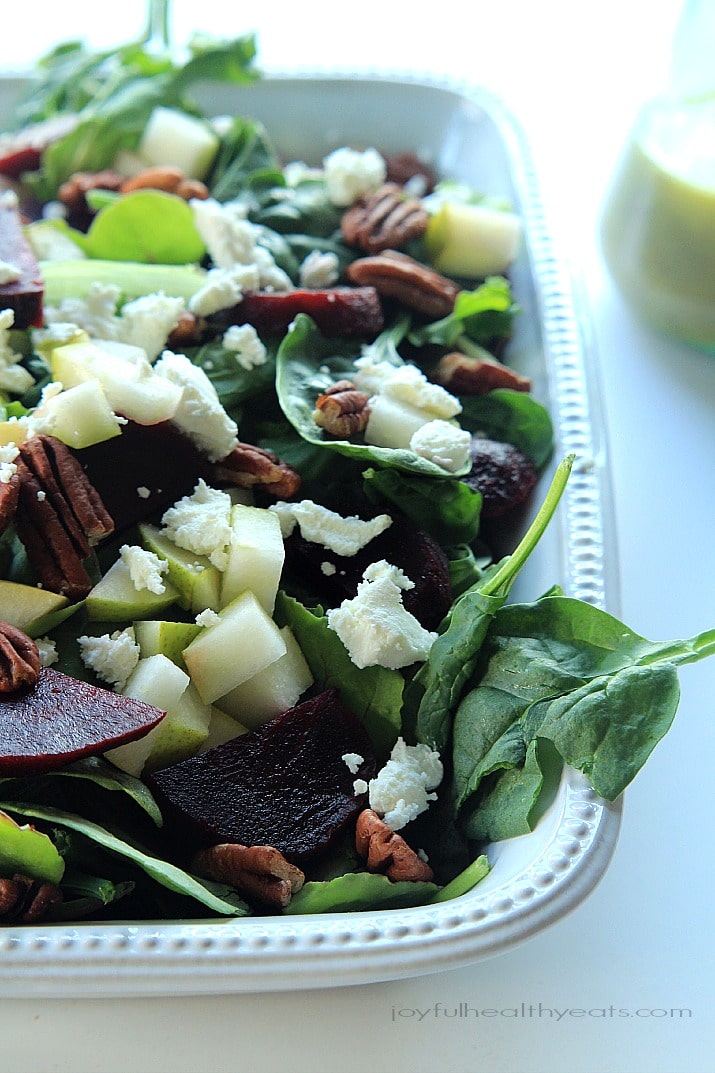 Goat Cheese, Pear & Beet Salad with Honey Vinaigrette from Joyful Healthy Eats
Prep Time: 15 minutes Total Time: 15 minutes
Ingredients: spring mix, beets, goat cheese, pecans, Asian pear, mustard, vinegar, olive oil, dried basil, honey, salt and pepper.
I'm personally a beet lover so I love this type of salad. You can use an asian pear or regular pear. I prefer white balsamic vinegar and regular dijon mustard. If you love beets you might like these beet recipes too.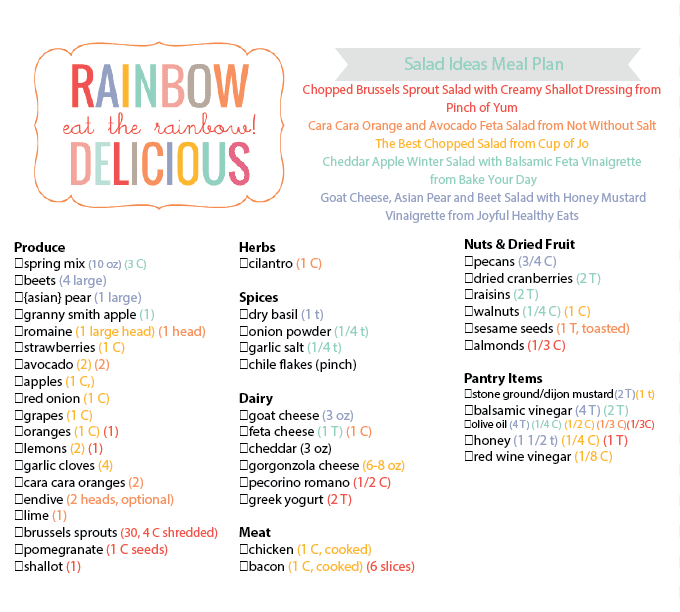 If you make a recipe from this salad ideas meal plan please share on instagram using hashtag #rainbowdelicious and tag me @rainbowdelicious, I'd love to see how it turns out!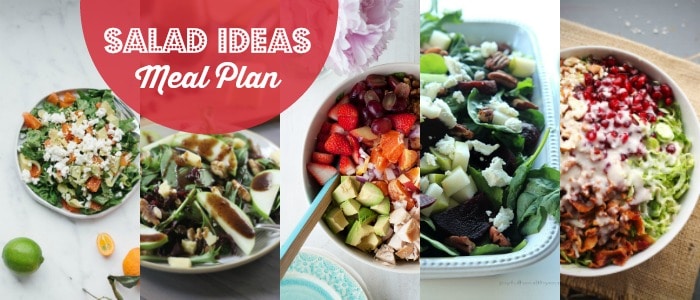 Some links on this site are affiliate links and I may earn a small commission at no cost to you. Thank you!
(Visited 1,677 time, 1 visit today)