I hope you love all the winter meal plan ideas I'm sharing this week as much as I do.  This meal plan includes an amazing citrus and sweet potato salad, butternut squash enchiladas, a lemony pasta, a mushroom pasta and a hearty bean chili.  As I often do, I made some minor changes to some of the recipes so keep reading to see what those are and click here for this week's free winter meal plan ideas grocery shopping list. Have a great week and don't forget to eat the rainbow!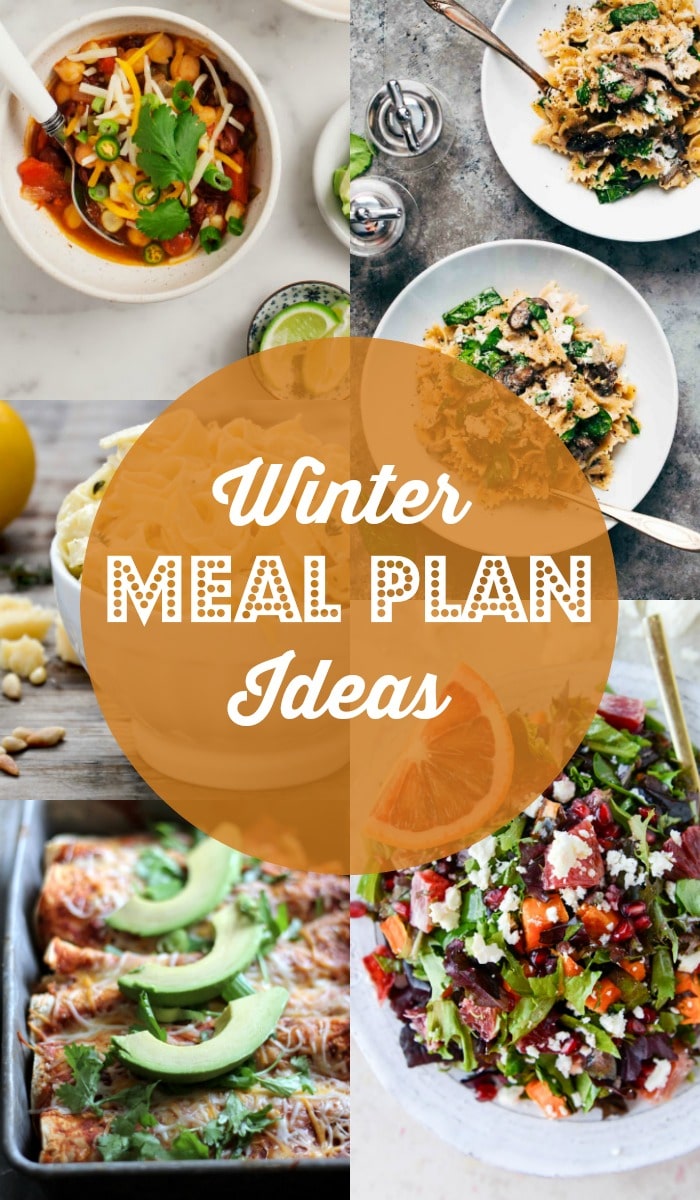 Winter Meal Plan Ideas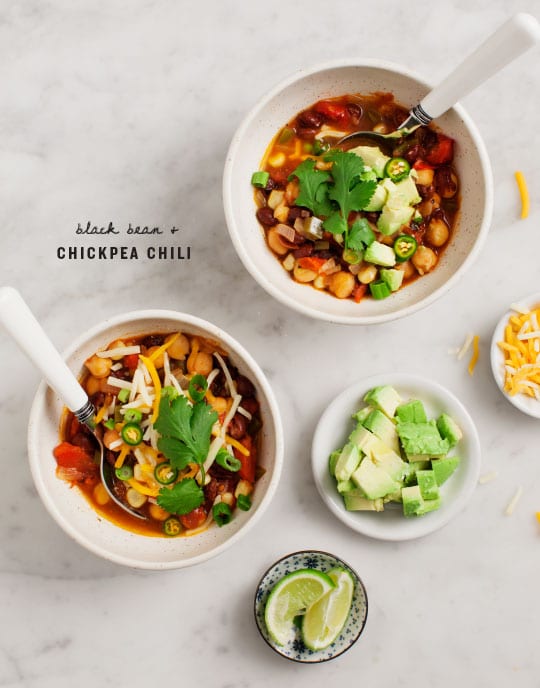 Easy Black Bean and Chickpea Chili from Love and Lemons
Prep Time: 10 minutes Cook Time: 30 minutes Total Time: 40 minutes
Ingredients: olive oil, white onion, garlic, green pepper, fire roasted tomatoes, water, black beans, chickpeas, adobo sauce from chipotles in adobo, frozen corn, lime, salt and pepper.
Instead of adding adobo sauce from chipotles in adobo I substituted with 1 1/2 T of chili powder and 1/2 T coriander.  I actually really loved the flavor of this. This chili tastes great served with avocado, sour cream, cilantro and cheese.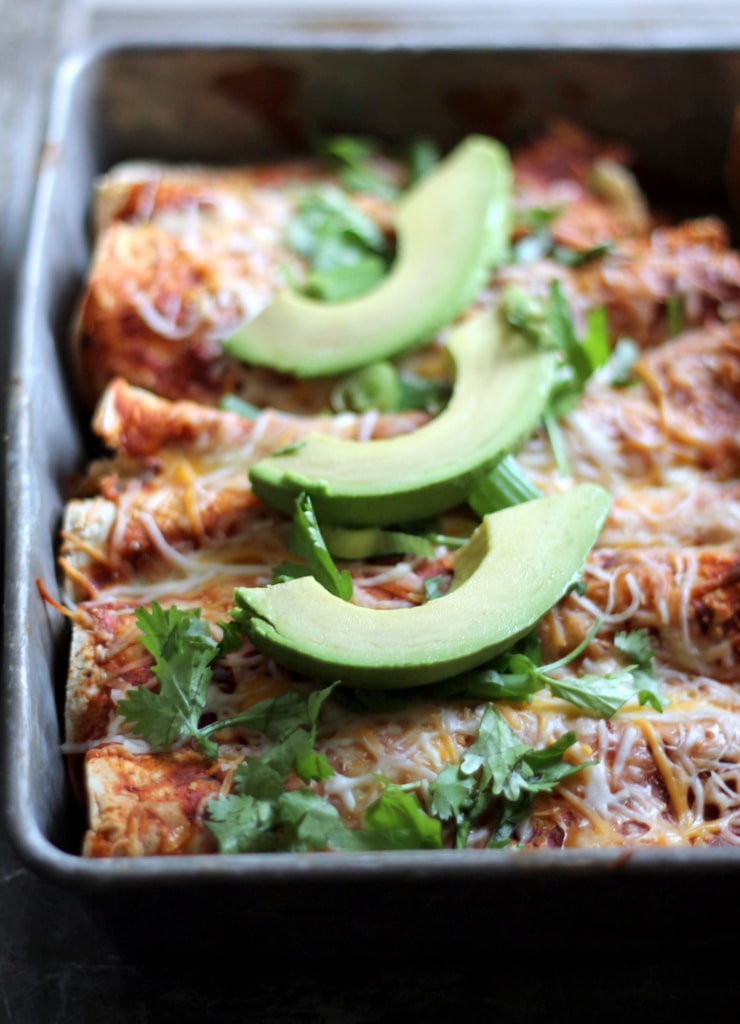 Black Bean and Butternut Squash Enchiladas from Ambitious Kitchen
Prep Time: 20 minutes Cook Time: 3o minutes Total Time: 50 minutes
Ingredients: enchilada sauce (tomato sauce, chipotle peppers in adobo, greek yogurt, garlic, chili powder), olive oil, yellow onion, garlic, butternut squash, black beans, corn, salt and pepper, colby jack cheese, corn tortillas.  For serving- greek yogurt, cilantro, avocado, green onions.
I made this for a family dinner and it was a hit.  I am sure the homemade enchilada sauce would be pretty spectacular but I didn't want to be stressed so I just bought some pre made enchilada sauce from Trader Joe's.  I used flour tortillas and didn't put any sauce in with the filling and reserved it all for on top. Sour cream, avocado and cilantro were great toppings on this dish.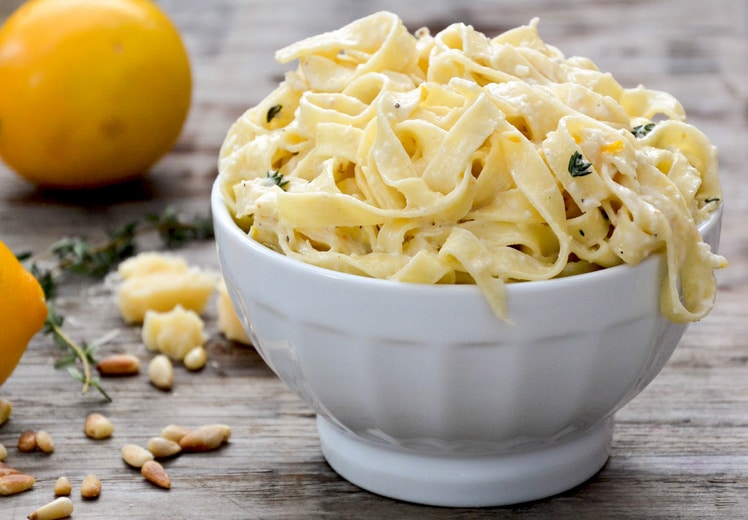 Meyer Lemon and Pine Nut Fettuccine
Prep Time: 5 minutes Cook Time: 15 minutes Total Time: 20 minutes
Ingredients: pine nuts, shallot, lemons, fettuccine, heavy cream, parmesan, salt, pepper, fresh thyme.
This pasta is so lemony and delicious! I ended up adding a little extra cream and definitely used some of the pasta water for the sauce.  I served with lots of extra parmesan and really enjoyed this dish. If you love lemons you might also enjoy these lemon recipes.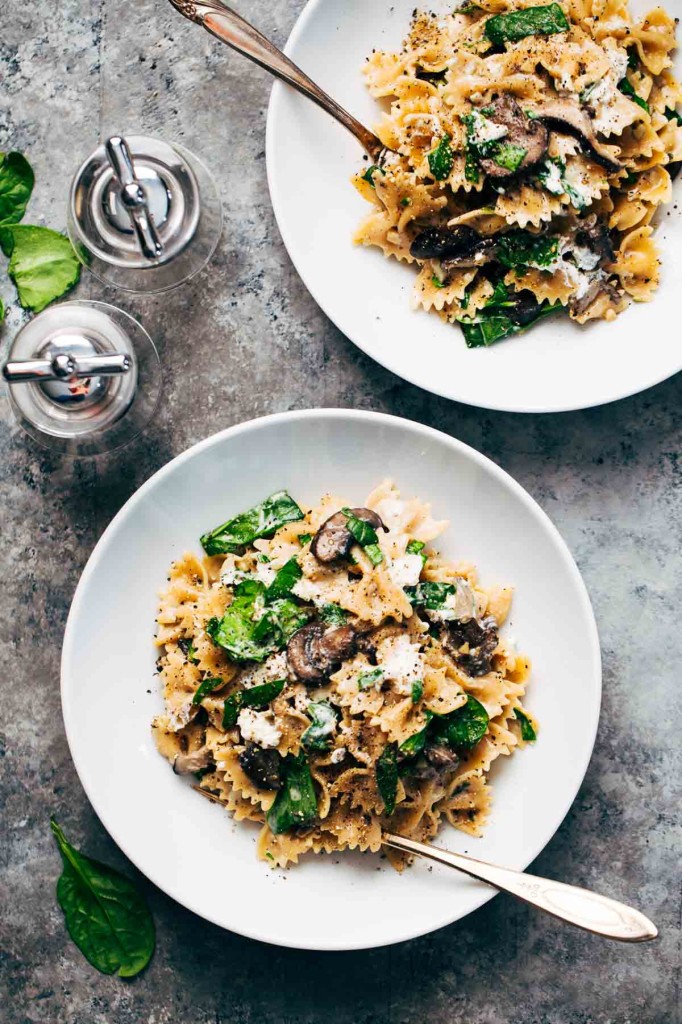 Mushroom Pasta with Goat Cheese from Pinch of Yum
Prep Time: 10 minutes Cook Time: 20 minutes Total Time: 30 minutes
Ingredients: whole wheat farfalle pasta, butter, oil, mushrooms, garlic, shallots, white wine, cream, salt, broth, parmesan, spinach, goat cheese.
I am the only person in my little family who likes mushrooms, but wow I love them and don't know why I don't cook with them more often.  This dish was simple to prepare and I thought it tasted great.  I just used regular pasta (not whole wheat and not faralle) and I threw a little truffle salt in with it. It tastes great with lots of freshly cracked pepper.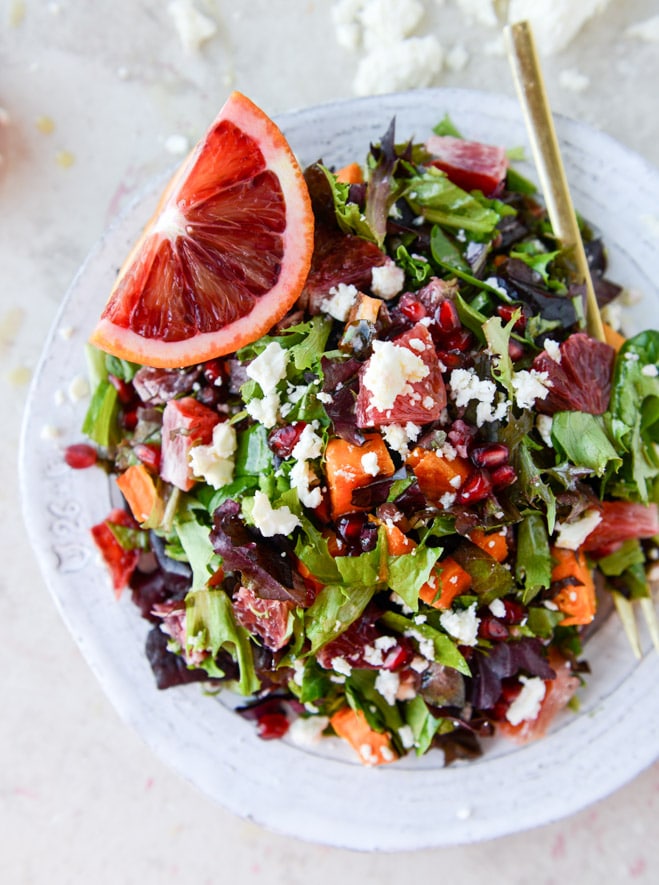 Winter Chopped Salad with Roasted Sweet Potato and Blood Orange Vinaigrette from How Sweet It Is
Prep Time: 10 minutes Cook Time: 25 minutes Total Time: 35 minutes
Ingredients: sweet potato, olive oil, maple, paprika, garlic powder, romaine, blood oranges, pomegranate, feta, blood orange juice, white balsamic vinegar, garlic, salt, pepper.
This salad was seriously so amazing. I loved the dressing and I used white balsamic vinegar instead of golden. Sweet potatoes are one of my produce faves, what about you? For more sweet potato recipes check out this post.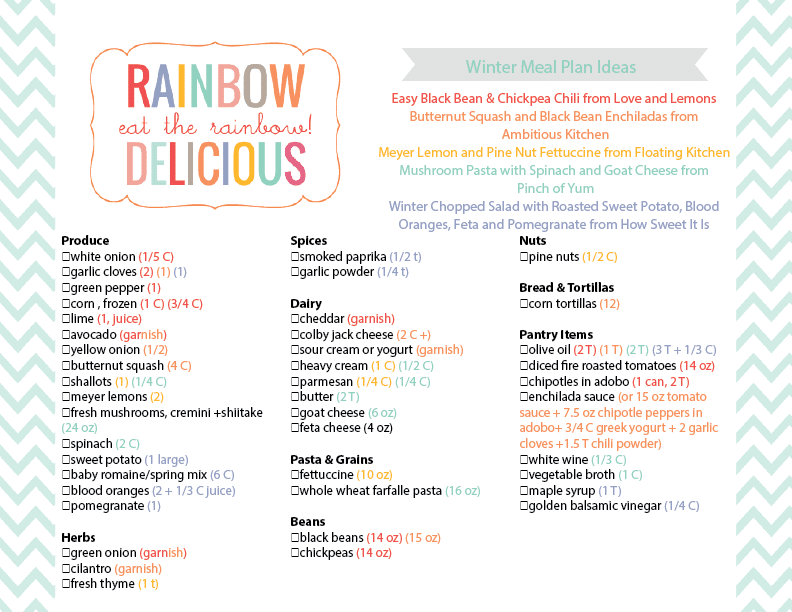 If you make any recipes from this winter meal plan ideas post please share on instagram using hashtag #rainbowdelicious and tag me @rainbowdelicious, I'd love to see what you are up to in your kitchen!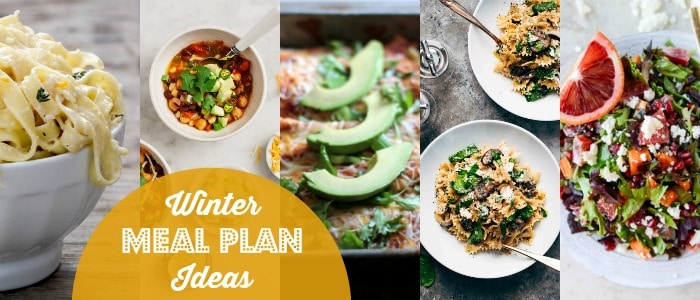 (Visited 3,133 time, 1 visit today)