Happy Meal Plan Monday! This week's healthy weekly meal plan & shopping list features recipes from the blog My Kitchen Love by Samantha.
Samantha blogs about making everyday family meals extraordinary and posts scrumptious photos on instagram. She's a mom, wife, and always hungry. She's obsessed with recipes that let her lead life more simply, nutritiously, and deliciously.
Connect with Samantha on instagram + twitter + facebook + pinterest
This week's healthy meal plan features amazing Fall produce like persimmons, watercress, butternut squash, sage, cauliflower and more. Enjoy and have a great week!
Click here for this week's grocery shopping list.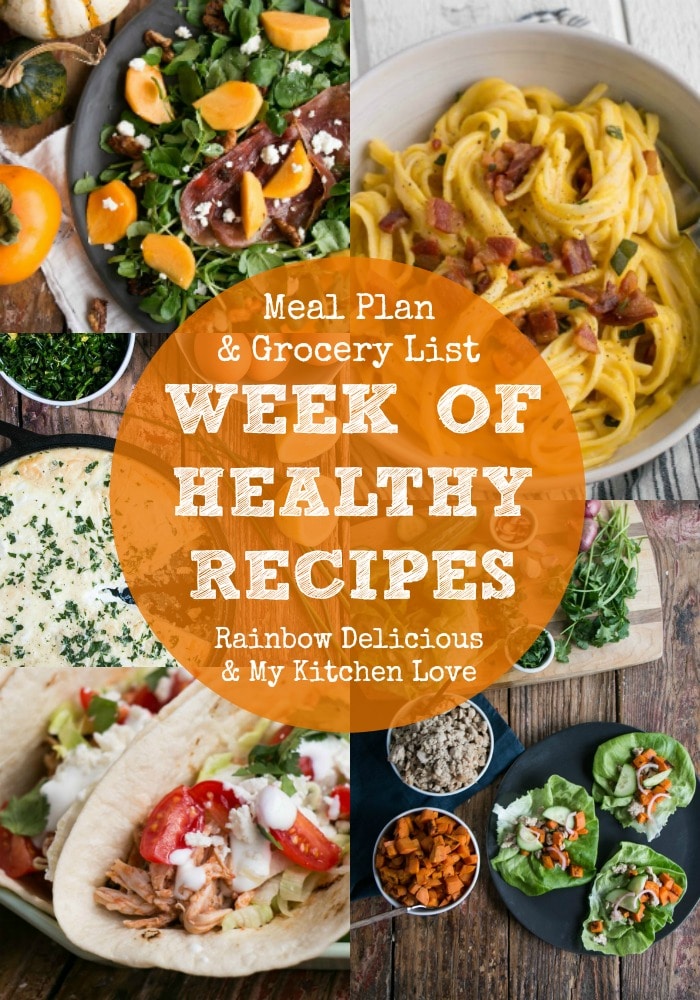 Healthy Weekly Meal Plan with My Kitchen Love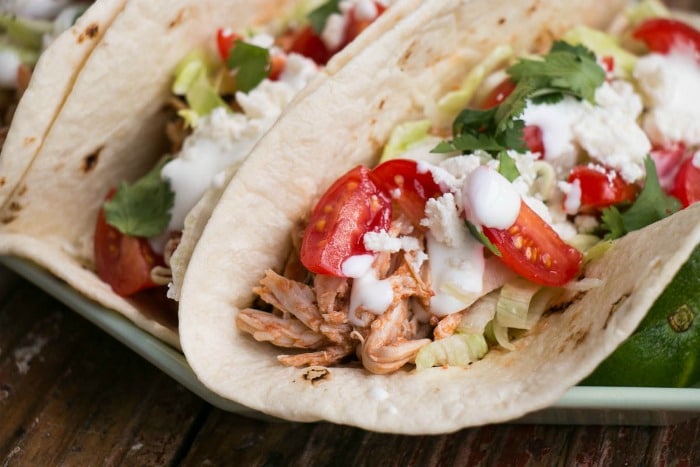 Chicken Tanga Slow Cooker Tacos from My Kitchen Love
Prep Time: 15 minutes Cook Time: 3 hours 30 minutes Total Time: 3 hours 45 minutes
Ingredients: chicken, peeled whole tomatoes,  chipotle peppers in adobo sauce, large onion, garlic cloves, dried thyme leaves, dried basil, salt and pepper, iceberg lettuce, tomatoes, sour cream, milk, salt, lime, flour tortillas. Optional garnishes: cheese, red onion, jalapeno, cilantro.
The recipes calls for a whole chicken but I always use chicken breasts because it's what is in my freezer. I love that this recipe is made in a slow cooker, so convenient for busy weekdays (here is a whole week's worth of them you might want to check out).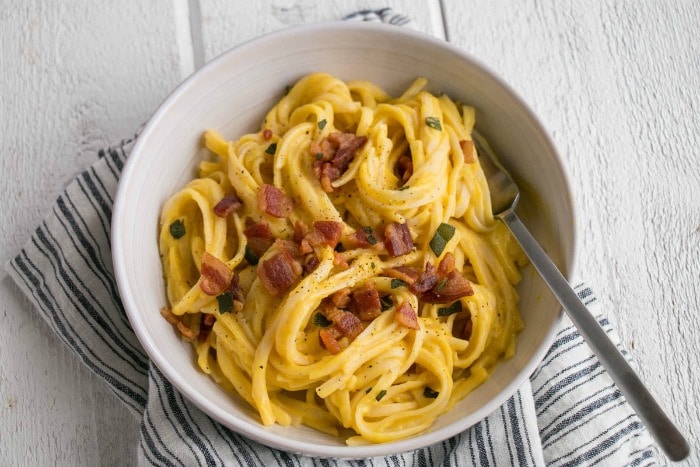 Squash Carbonara with Crispy Prosciutto and Sage from My Kitchen Love
Prep Time: 5 minutes Cook Time: 25 minutes Total Time: 30 minutes
Ingredients: olive oil, prosciutto, sage, butternut squash, onion, garlic, broth, fettuccine or linguine, Pecorino cheese.
Nothing screams Fall quite like butternut squash pasta with sage. The crispy prosciutto adds a nice crisp touch, but you could definitely substitute with bacon as well. The pecorino cheese is optional but I wouldn't skip it! Parmesan would be great on it too.
(Check out my other favorite butternut squash pasta recipe.)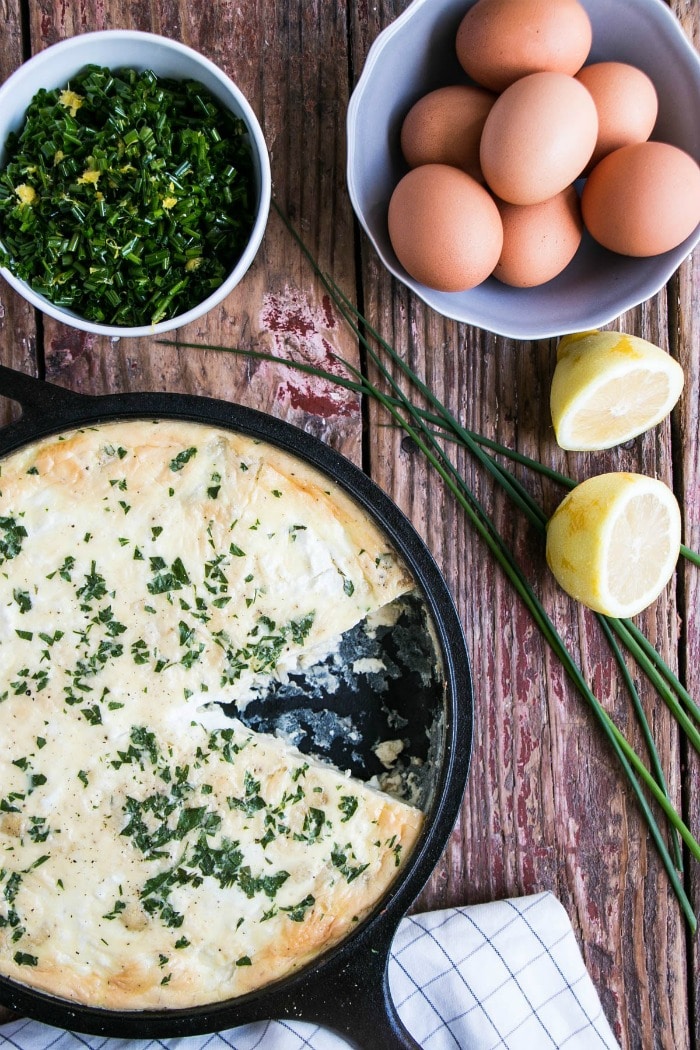 Cauliflower and Goat's Cheese Frittata with Chive Gremolata by My Kitchen Love on Peaks & Harbours
Prep Time: 10 minutes Cook Time: 50 minutes Total Time: 1 hour
Ingredients: eggs, cream, milk, olive oil, cauliflower, water, goat cheese, chives, lemon.
This recipe works best with a cast iron skillet and has some of my favorite flavors- cauliflower, goat cheese, chives and lemon. It is filling but refreshing and light all at once.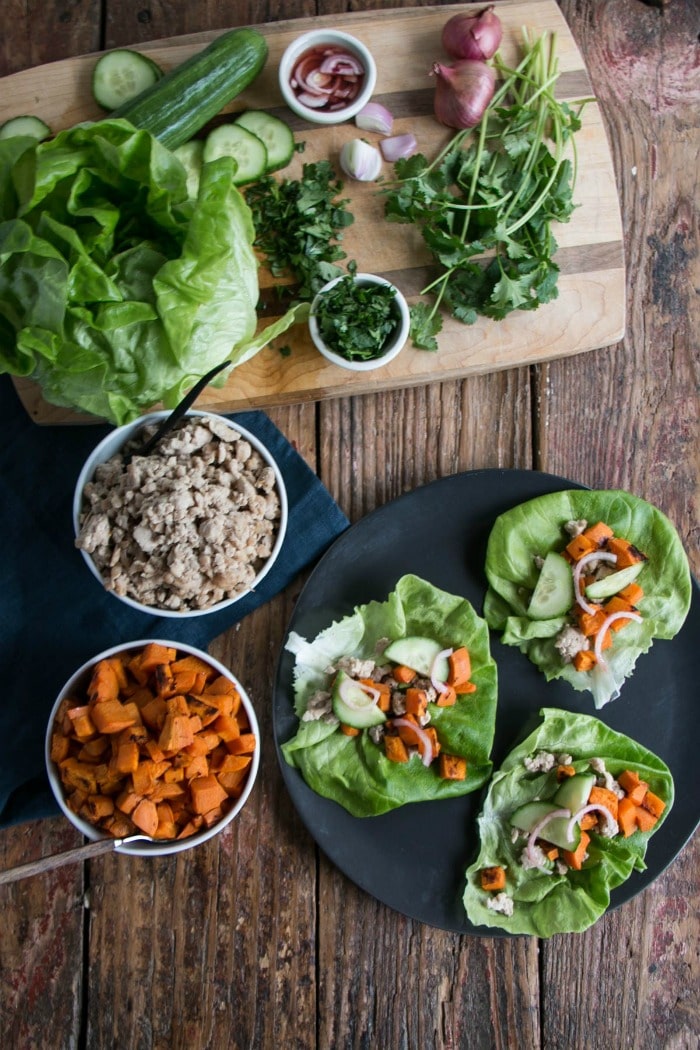 Sweet Potato Lettuce Wraps from My Kitchen Love on Peaks & Harbour
Prep Time: 10 minutes Cook Time: 30 minutes Total Time: 40 minutes
Ingredients: sweet potatoes, ground chicken meat, lettuce, shallot, red vinegar, thai peanut sauce. Garnishes (optional): cucumber, cilantro, diced tomatoes, bell pepper, avocado, carrot slices.
My kids always get a kick out of lettuce wraps, there is just something fun about them. This recipe is refreshing, tangy and delicious. Don't skip out on the toppings, they make this! You could definitely use ground turkey instead of ground chicken for this (I feel like it is easier to find).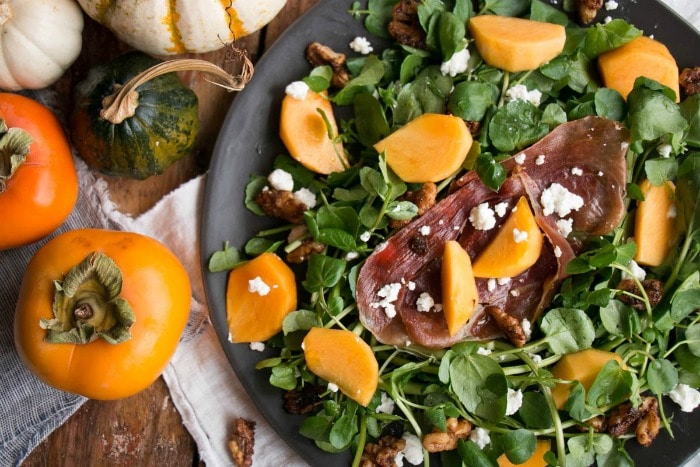 Persimmons and Watercress Salad with Candied Walnuts and Goat Cheese from My Kitchen Love
Prep Time: 10 minutes Total Time: 10 minutes
Ingredients: persimmon, watercress, walnuts, brown sugar, whiskey, cayenne, goat cheese, prosciutto, olive oil, champagne vinegar.
Persimmon season is my favorite! If you haven't tried persimmons yet this is the perfect salad to give it a go. If you have a hard time finding watercress (or don't like it) you can replace with any greens.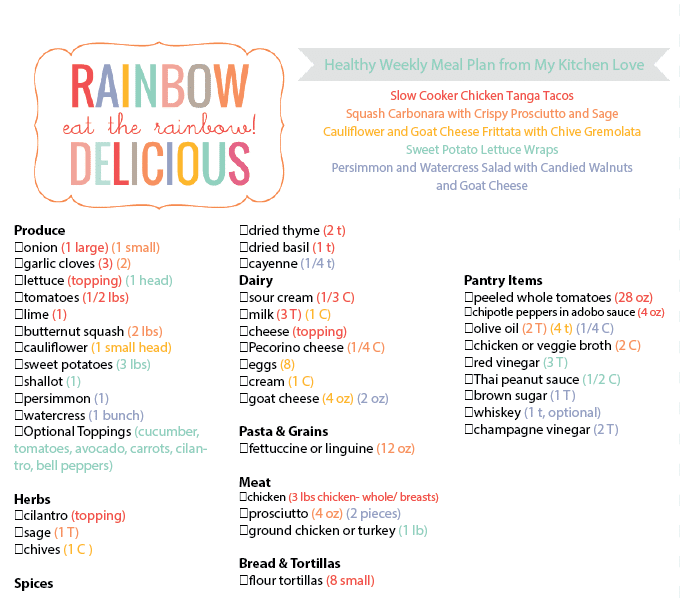 If you make any weeknight recipes from this week's Rainbow Delicious meal plan featuring my kitchen love please share on instagram using hashtag #rainbowdelicious & #mykitchenlove and tag us at @rainbowdelicious and @mykitchenlove, We'd love to see what you are up to in your kitchen!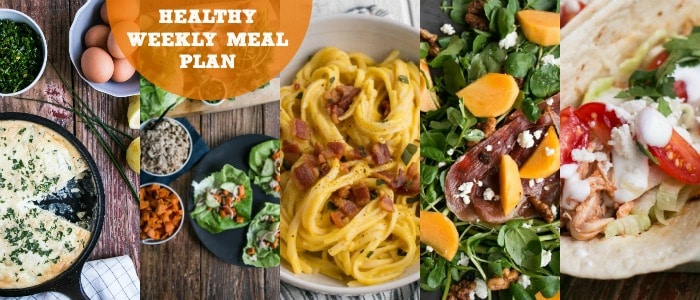 Some links on this site are affiliate links and I may earn a small commission at no cost to you. Thank you!
(Visited 2,527 time, 1 visit today)