This week's easy spring recipes meal plan includes spinach, strawberries, avocado, radishes and peas! I've been enjoying the spring produce this season but also love that summer produce is starting to pop up too. The menu this week is kind of a cross over between spring and summer flavors.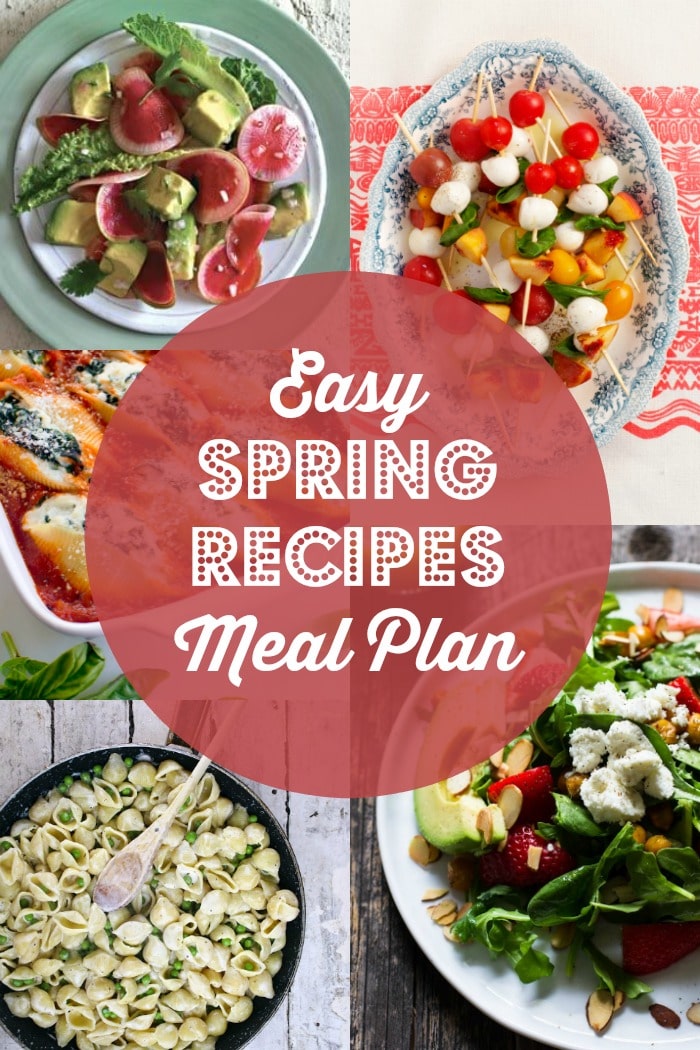 On the menu: two delicious pastas, two salads, and Caprese skewers: Click here for the easy spring recipes meal plan grocery shopping list printable.
Easy Spring Recipes Meal Plan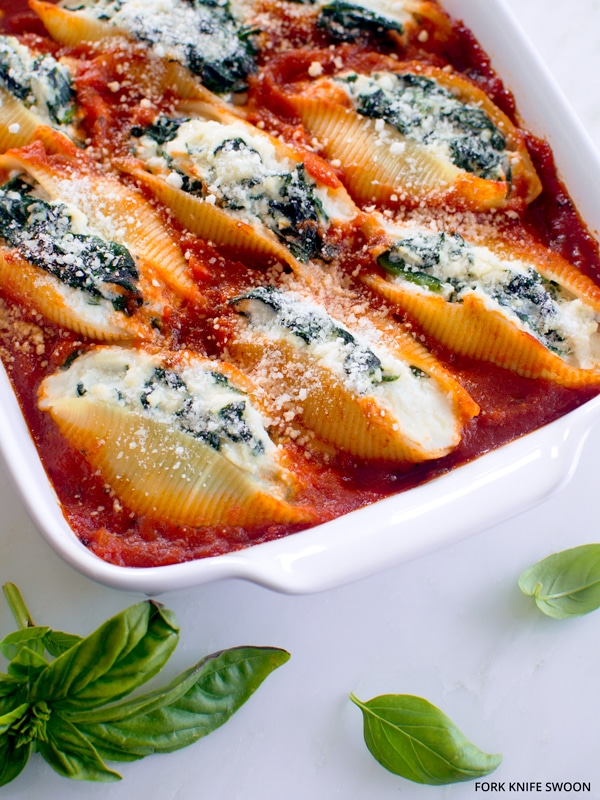 Spinach Ricotta Stuffed Shells from Fork Knife Swoon
Prep Time: 15 minutes Cook Time: 35 minutes Total Time: 50 minutes
Ingredients:  jumbo shell pasta, olive oil, fresh garlic, fresh spinach leaves, ricotta, mozzarella, parmesan, egg, basil, salt, black pepper, marinara.
Jumbo shells can sometimes be tricky to find in the store, but they have them online too. Stuffed shells are a family favorite that even the kids will enjoy without complaint. I added a little extra garlic and also doubled the recipe and froze one batch for later. I highly recommend this recipe, it was fun to make, relatively easy and tasted great.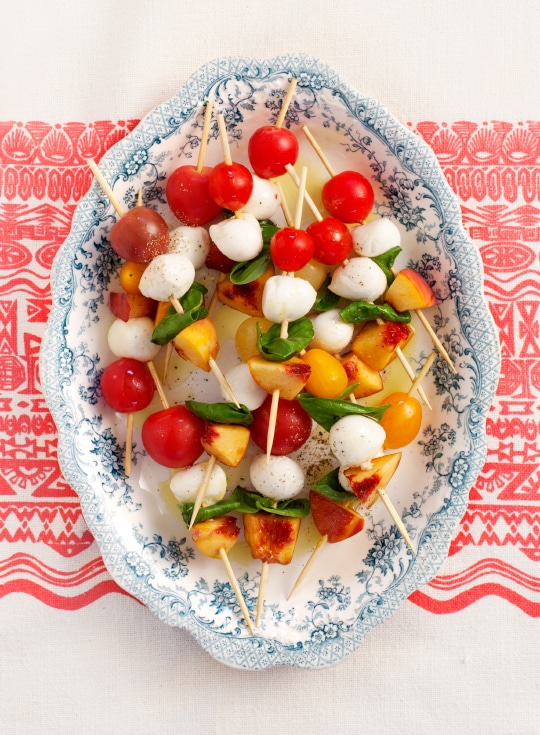 Tomato Basil Peach Skewers from Love and Lemons
Prep Time: 15 minutes Cook Time: 30 minutes Total Time: 45 minutes
Ingredients:  cherry tomatoes, mozzarella balls, chopped peaches, basil leaves, olive oil, jalapeno, garlic cloves, lime juice, orange juice, salt and pepper.
I have made these several times and sometimes I just use balsmic and olive oil instead of the jalapeno lime oil, but either choice is a winner. If you can't find peaches yet in your area you can use fresh strawberries instead. If you love unique caprese recipes you might enjoy this caprese recipe round-up, or this unique watermelon caprese salad.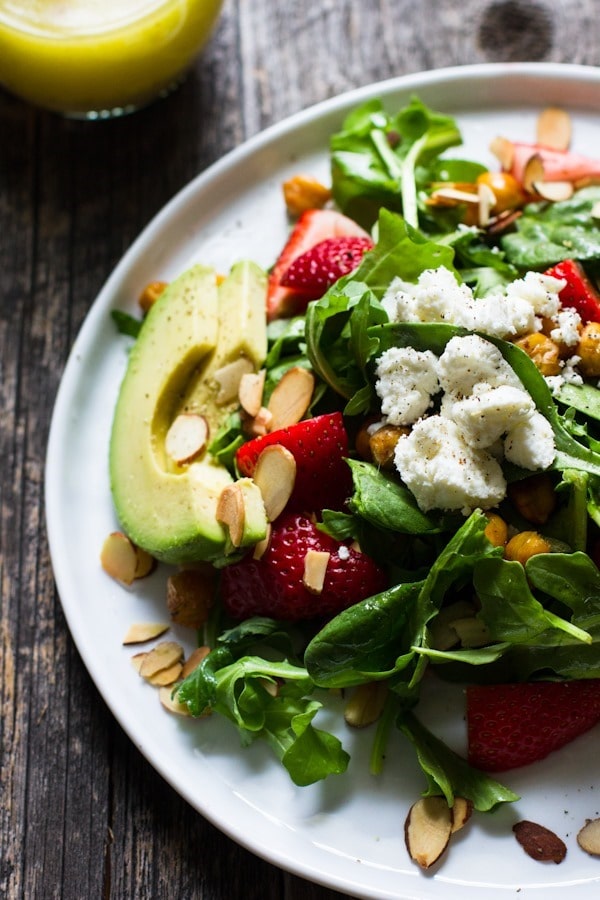 Strawberry Spring Salad with Lemon Roasted Chickpeas from Edible Perspective
Prep Time: 10 minutes Cook Time: 35 minutes Total Time: 45 minutes
Ingredients:  chickpeas, fresh lemon juice, olive oil, salt and pepper, lemon zest, shallots, honey, arugula, strawberries, avocado, sliced almonds, coat cheese.
This is one of my favorite spring salads! The lemon roasted chickpeas are to die for (sometimes I made a double batch so I have some to snack on), although I like mine a little tender so I don't bake them as long as the directions state. I use baby greens instead of arugula.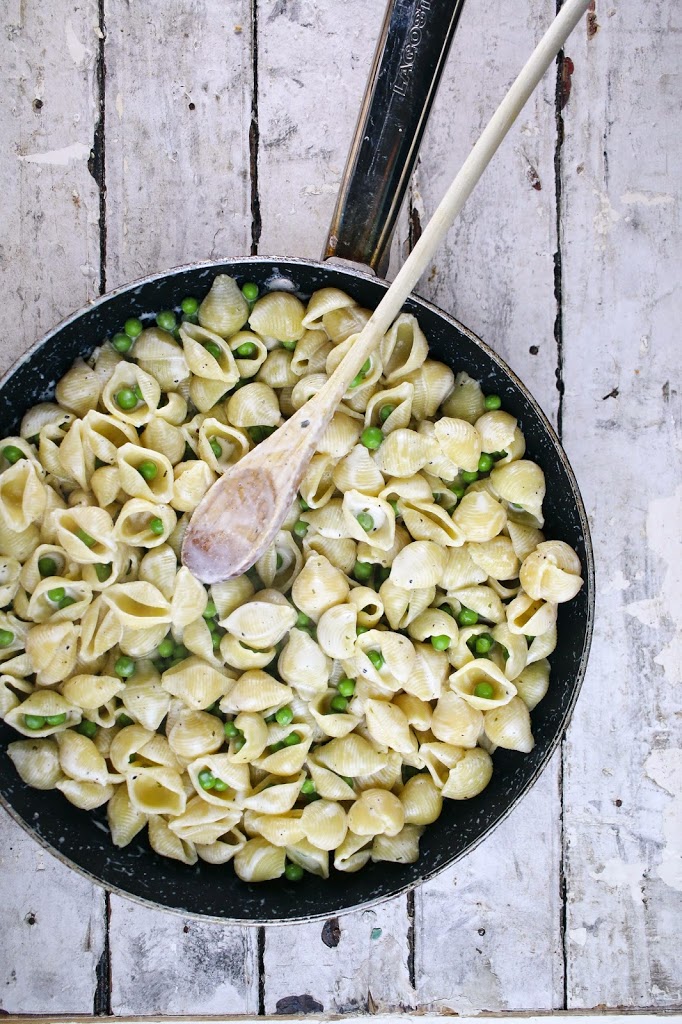 Boursin Pasta with Spring Peas featured on Cup of Jo by I Will Not Eat Oysters
Prep Time: 5 minutes Cook Time: 15 minutes Total Time: 20 minutes
Ingredients:  medium shell pasta, garlic and fine herb Boursin, fresh or frozen peas, salt, pepper, lemon zest.
Boursin is one of my favorite appetizer cheeses so when I spotted this recipe that used it as a cheese sauce I knew I had to try it. The link is for buying at amazon and is way overpriced, I find it at my local Trader Joe's for under $4. This recipe is so quick and my kids even liked it (although I left off the lemon zest for them). I will definitely make this again when I am in a pinch for dinner and need something quick and delicious.

Watermelon Radish Salad with Avocado Vinaigrette from Williams-Sonoma
Prep Time: 15 minutes Cook Time: 35 minutes Total Time: 50 minutes
Ingredients:  shallot, lemon juice, white wine vinegar, salt, avocado, olive oil, romaine, watermelon radish, cilantro.
This salad is light and so beautiful! I used a mandolin to thinly slice the watermelon radishes. I used two watermelon radishes and 1 head of romaine lettuce instead of 2. This pasta is a great side for either of the pastas in this week's meal plan. For more awesome salad recipes check out these vegan salad recipes.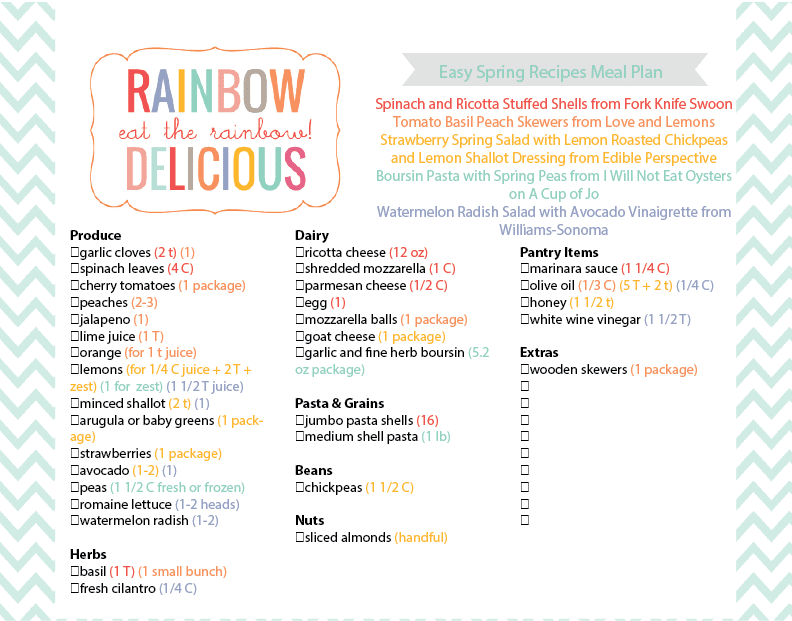 If you make any recipes from this easy spring recipes meal plan please share on instagram using hashtag #rainbowdelicious & and tag me at @rainbowdelicious , I'd love to see what you are up to in your kitchen!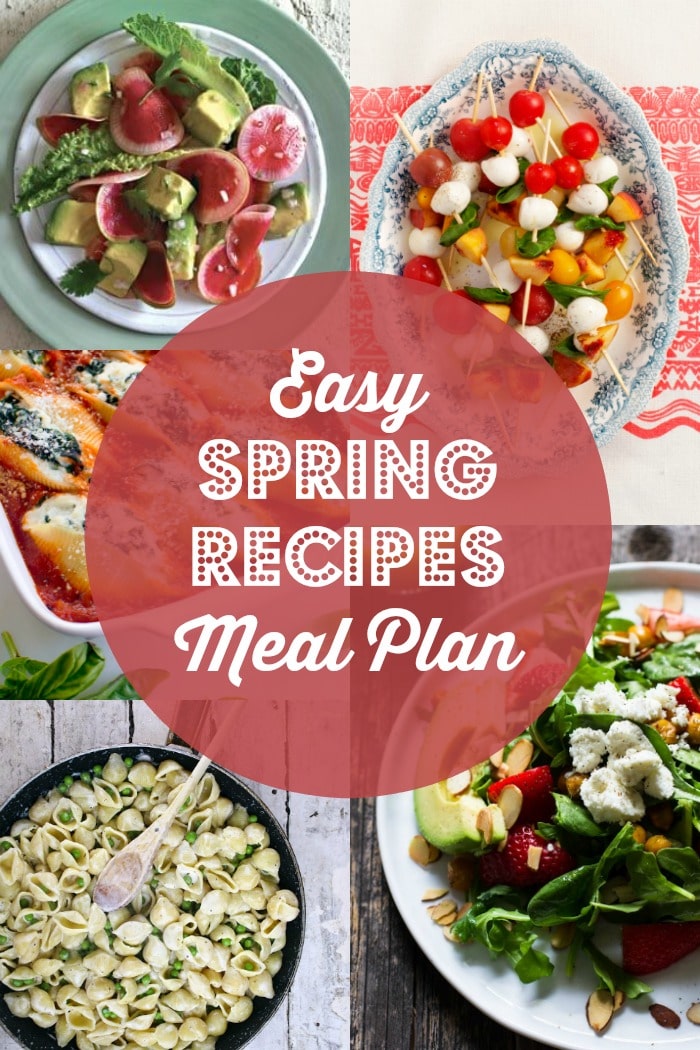 Some links on this site are affiliate links and I may earn a small commission at no cost to you. Thank you!
(Visited 1,436 time, 1 visit today)