The healthy easy dinner recipes in this week's meal plan are perfect for outdoor dining with your family and friends. I'm definitely enjoying eating outdoors a little more with the summer weather lately, what about you? It's a win-win, the stove is used less when you switch over to the grill, there is less sweeping to do after meals when you eat outdoors, and there is just something so wonderful about enjoying a meal with people you love under the open sky. The colorful menu this week includes grilled Caprese chicken, sweet potato and black bean tacos, pineapple chicken kebabs, black bean radish and jicama salad, and grape shallot chicken kebabs. Have a great week and enjoy eating the rainbow! Click here for the healthy easy dinner recipes grocery shopping list. Healthy Easy Dinner Grocery List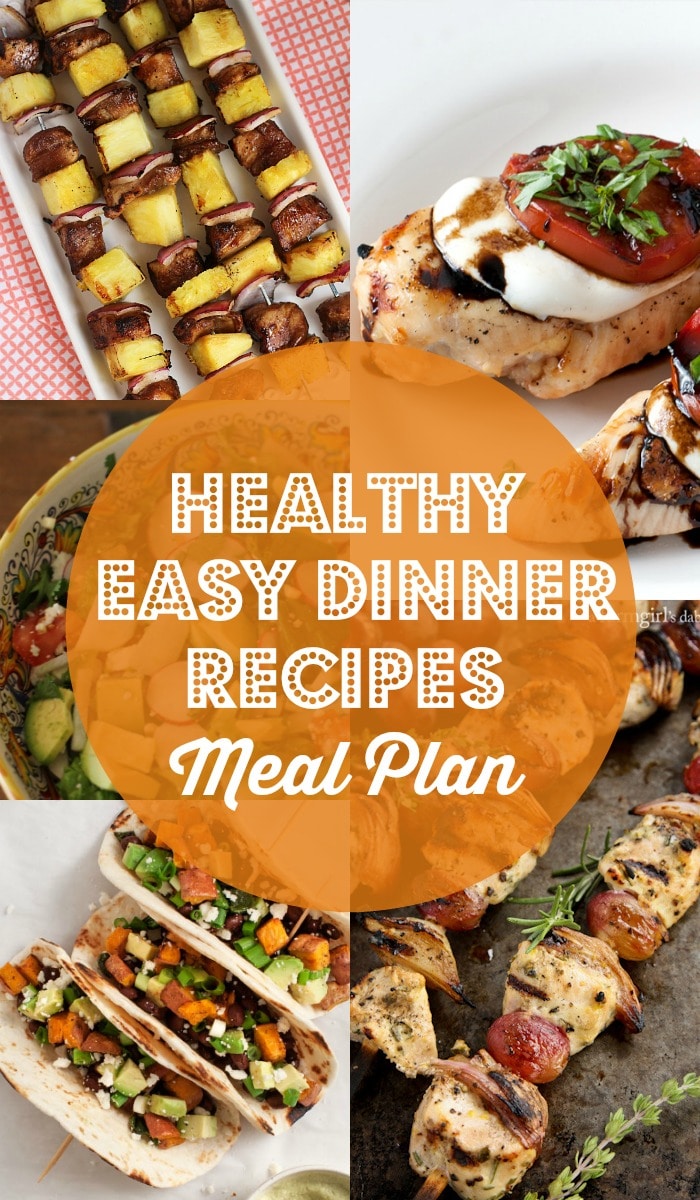 Healthy Easy Dinner Recipes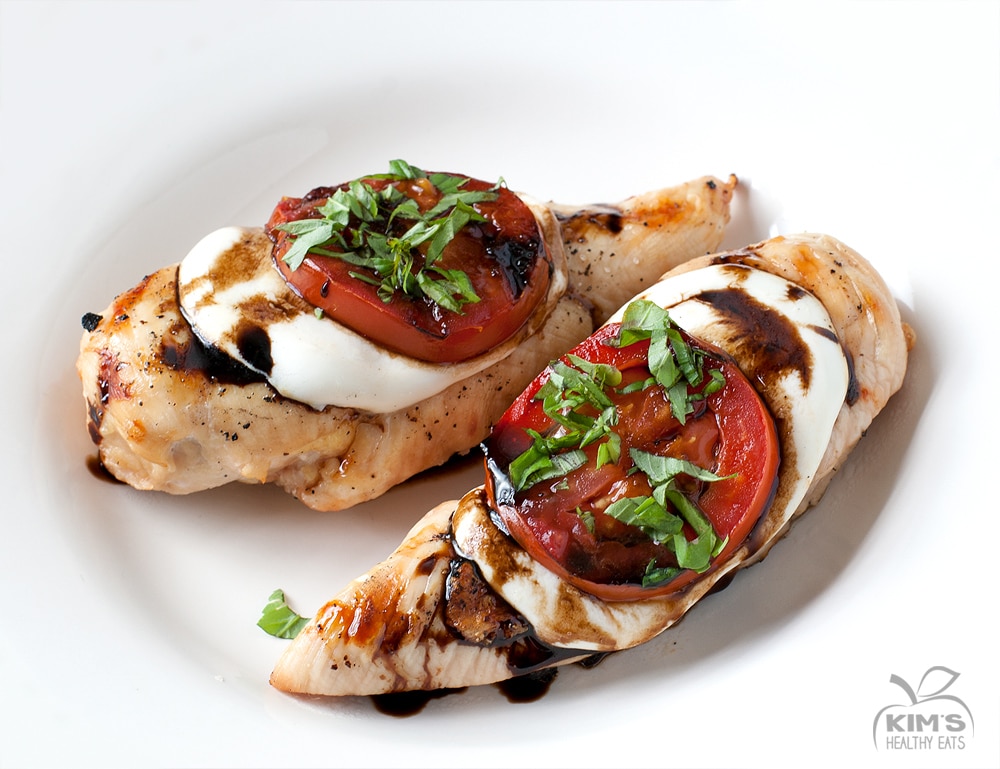 Grilled Caprese Chicken from Kim's Healthy Eats
Prep Time: 10 minutes Cook Time: 20 minutes Total Time: 30 minutes
Ingredients: chicken breasts, salt and pepper, fresh mozzarella, tomato, basil, balsamic vinegar.
This grilled chicken is quick and simple to prepare and if you love caprese salads and chicken then you will love this winning combo.  Be careful not to burn the balsamic reduction and don't skip that step, it is the best!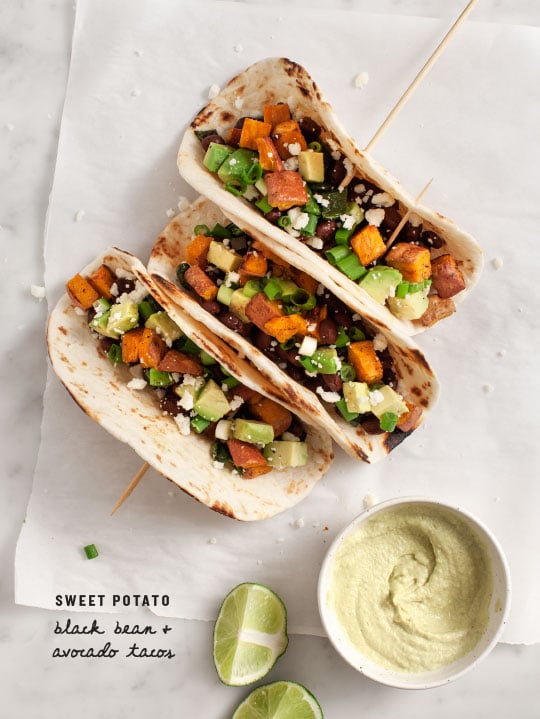 Sweet Potato, Black Bean and Avocado Tacos with Avocado Yogurt Sauce from Love and Lemons
Prep Time: 20 minutes Cook Time: 20 minutes Total Time: 40 minutes
Ingredients: sweet potato, olive oil, chile powder, black beans, avocado, scallions, salt and pepper, tortillas, cotija or feta cheese, greek yogurt, garlic, lime.
Who doesn't love the combination of black beans, roasted sweet potato and avocado? The yogurt sauce is simple and is amazing added to the tacos. I used corn tortillas. If you love taco recipes check out my favorite chicken tacos, these tacos and these vegetarian tacos.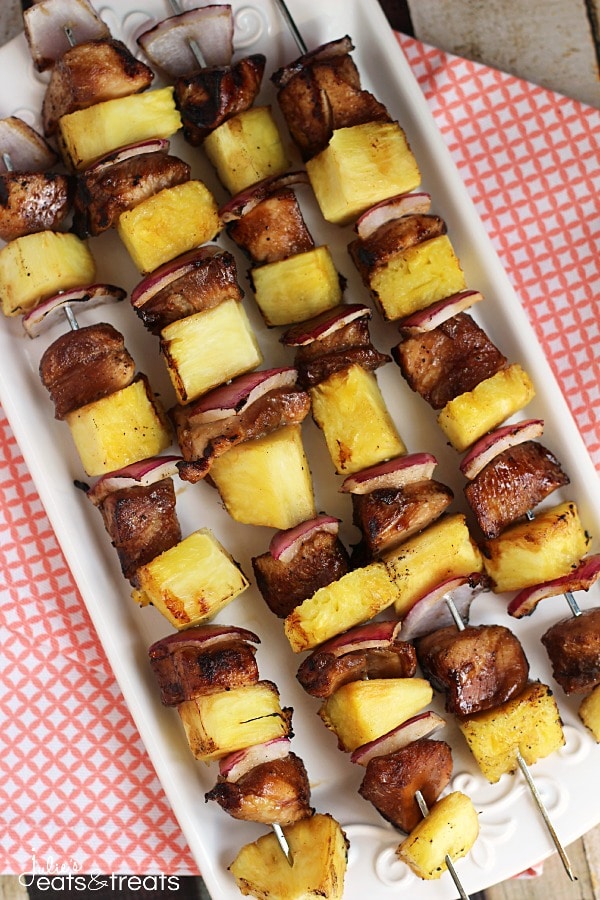 Pineapple Chicken Kabobs from Julie's Eats and Treats
Prep Time: 5 hours Cook Time: 15 minutes Total Time: 5 hours 15 minutes
Ingredients: chicken breasts, pineapple, red onion, garlic powder, brown sugar, ground ginger, black pepper, canola oil, water, soy sauce.
These kebabs are simple and super good. You are supposed to let the chicken marinade for 4-5 hours but I did about half of that time and they still turned out great. I made extra skewers using extra pineapple and cinnamon sprinkled on them… so good.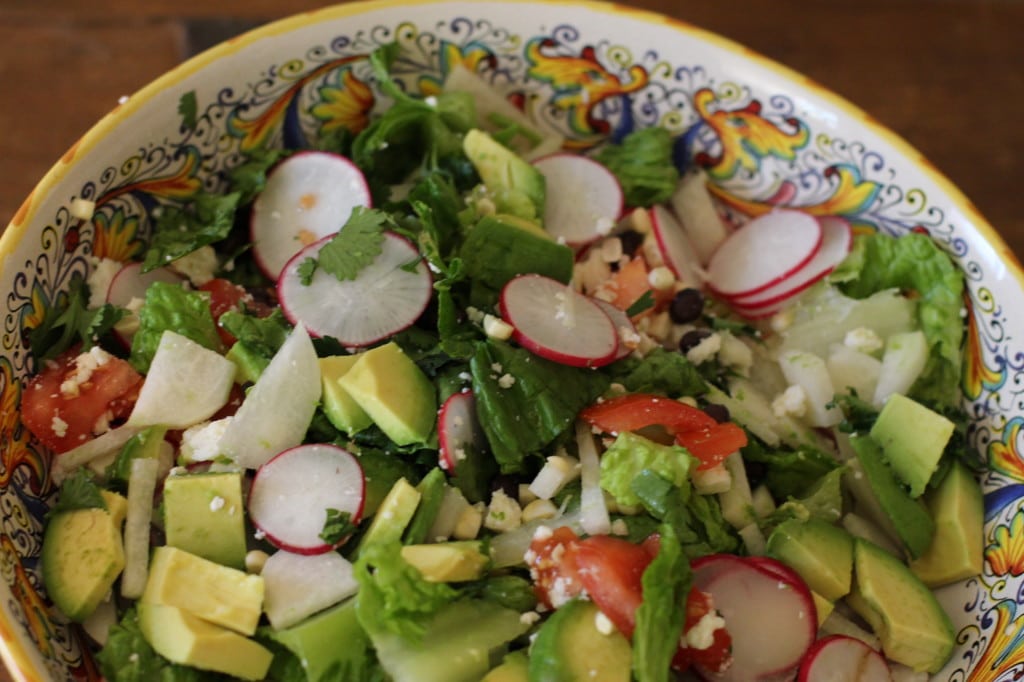 Black Bean, Radish, Jicama and Avocado Salad from Rainbow Delicious
Prep Time: 5 hours Cook Time: 15 minutes Total Time: 5 hours 15 minutes
Ingredients: romaine lettuce, cilantro, tomato, corn, radishes, jicama, cotija, black beans, avocado, garlic, balsamic, olive oil, honey, salt and pepper.
This is one of my favorite salads and we make it quite a bit. I especially love the added texture from radishes and jicama.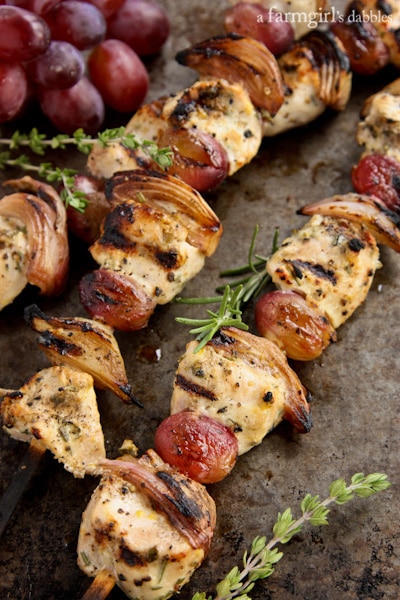 Herby Grilled Chicken Kebabs with Grapes and Shallots from A Farmgirl's Dabbles
Prep Time: 2 hours 30 minutes Cook Time: 15 minutes Total Time: 2 hours 45 minutes
Ingredients: greek yogurt, olive oil, garlic, lemon, thyme, rosemary, chicken, balsamic vinegar, honey, shallots, red grapes, salt and pepper.
My friends and family absolutely loved these kebabs. I left out the greek yogurt, lemon and thyme (and added extra rosemary) and they were seriously fab… I was skeptical about the roasted grapes but combined with the balsmic shallots and chicken they were so good.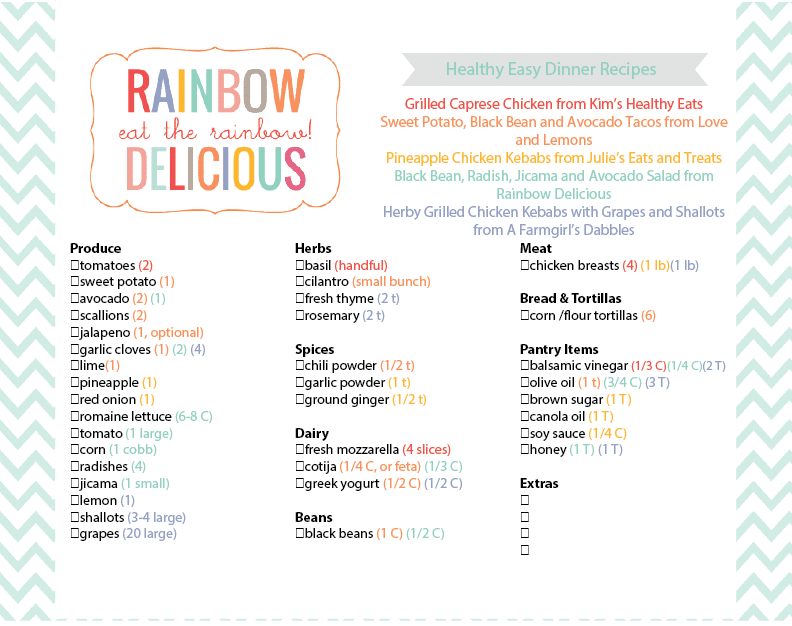 If you make any healthy easy dinner recipes from this week's meal plan please share on instagram using hashtag #rainbowdelicious & and tag me at @rainbowdelicious , I'd love to see what you are up to in your kitchen!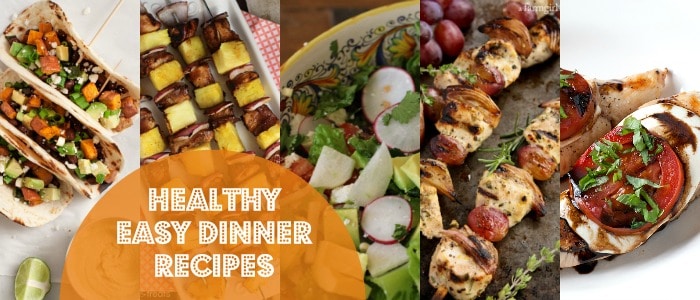 (Visited 3,591 time, 1 visit today)