I hope you enjoy the line-up this week's recipes which includes three healthy chicken dinner recipes and two salads: chicken and quinoa enchiladas, crockpot chicken tacos, chicken caprese lasagna, strawberry caprese and grape arugula salad.
This past week I visited my brother Kevin and his family in Utah for Spring Break. My SIL, Rachel, has a newborn and two other beautiful children, and it was such a treat to spend a week with all five of them, my kids especially had a blast. Isn't my brand new niece just the cutest?!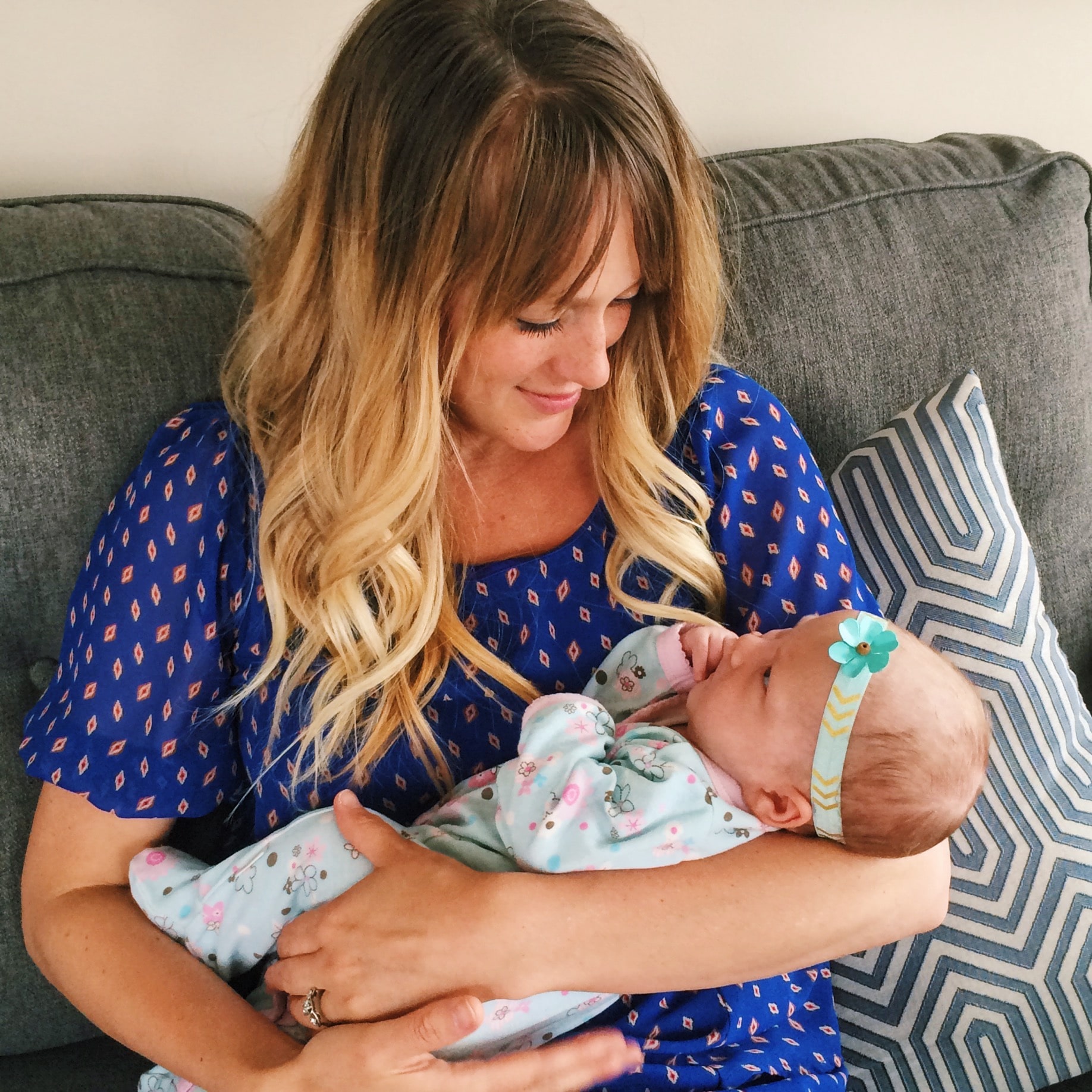 Since food is my love language the first thing I did when I got to Utah was made a meal plan and went grocery shopping. Their family enjoys healthy chicken dinner recipes and light salads so I made three healthy but filling healthy chicken dinner recipes and two salads. We had lots of mouths to feed yet still had leftovers most days so you might want to count on that, too.
Healthy Chicken Dinner Recipes & Salads
Click here for this week's shopping list.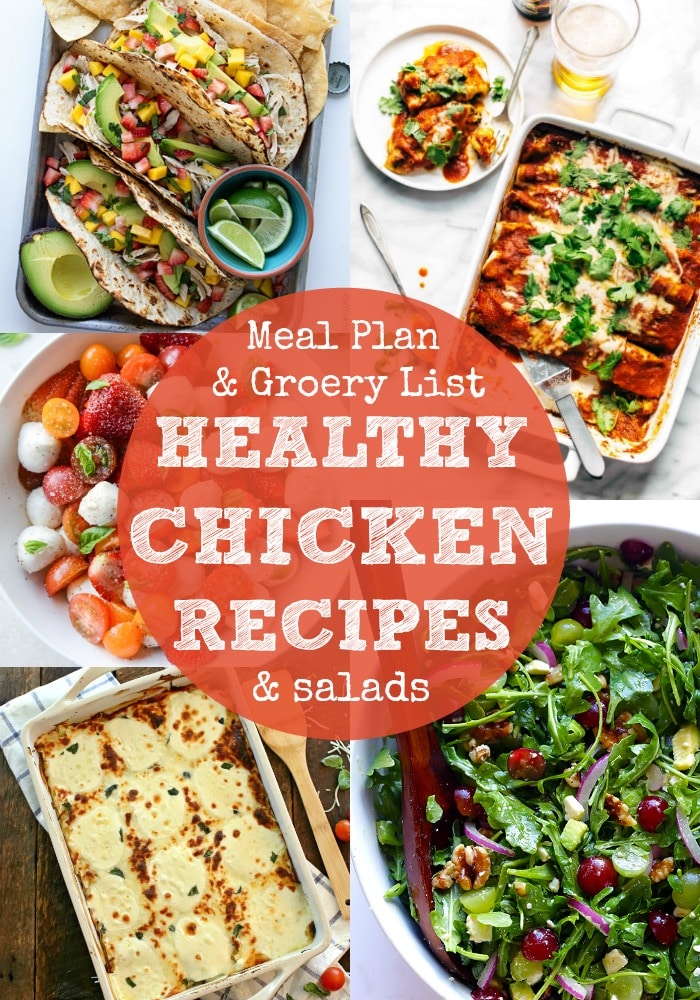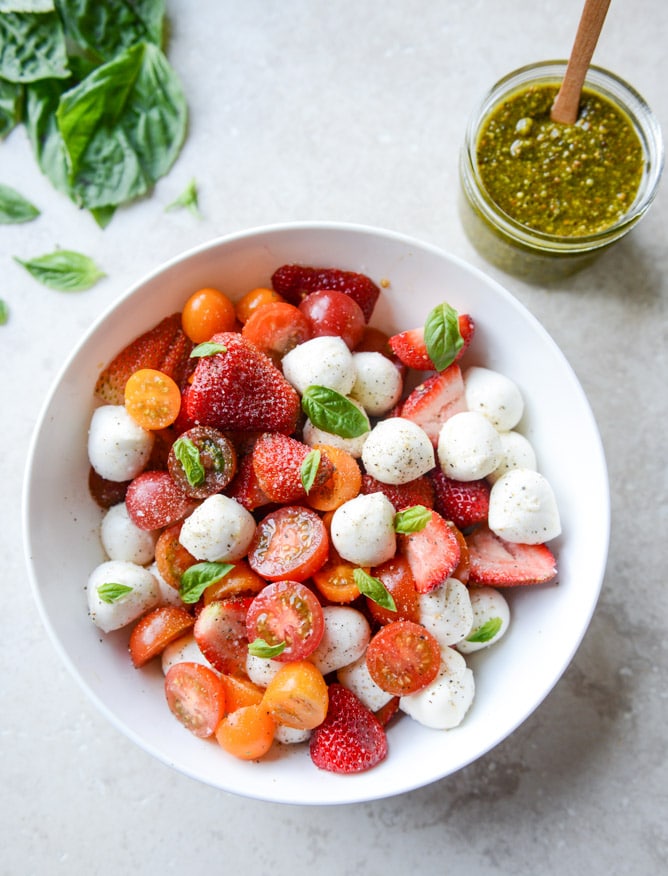 Strawberry Caprese Salad with Pistachio Pesto from How Sweet Eats
Total Time: 30 minutes
Ingredients: cherry tomatoes, strawberries, mozzarella balls, salt, black pepper, basil, pistachios, basil leaves, mint leaves, garlic, pecorino romano cheese, olive oil, salt.
You know by now that I'm obsessed with unique caprese salads and this particular one is perfect for Spring! I love the addition of strawberries and pistachio and mint, so refreshing!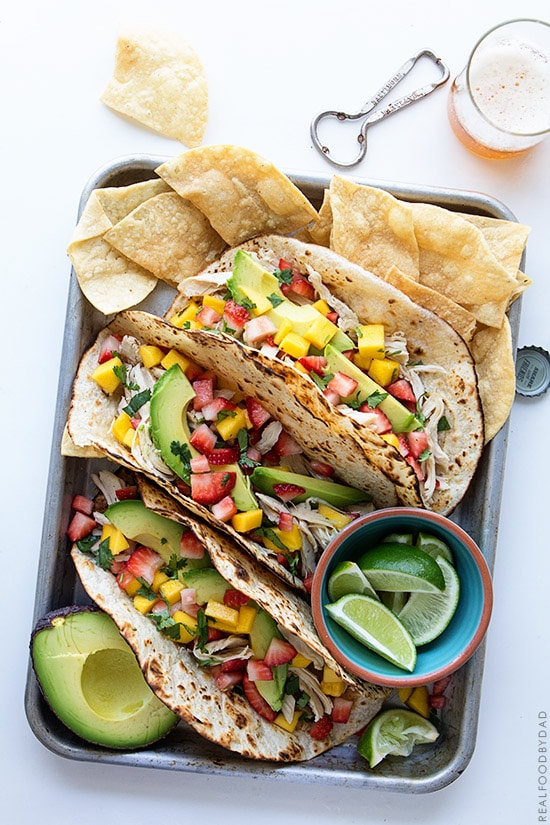 Slow Cooker Chicken Tacos by Real Food By Dad
Prep Time: 15 minutes Cook Time: 6 hours Total Time: 6 hours 15 minutes
Ingredients: chicken, salt and pepper, mango, red bell peppers green onions, cilantro olive oil, strawberries, cilantro, lime, jalapeno, tortillas, avocado garnish (optional).
I'm really into healthy crockpot recipes lately and I always love taco recipes so this was a perfect marriage of the two. These tacos were unique and probably the freshest crockpot recipe I've ever tried. I used frozen mango for the chicken but fresh mango for the salsa. I made the salsa ahead of time and kept it in the fridge until dinnertime. Along with the salsa we garnished the tacos with fresh avocado.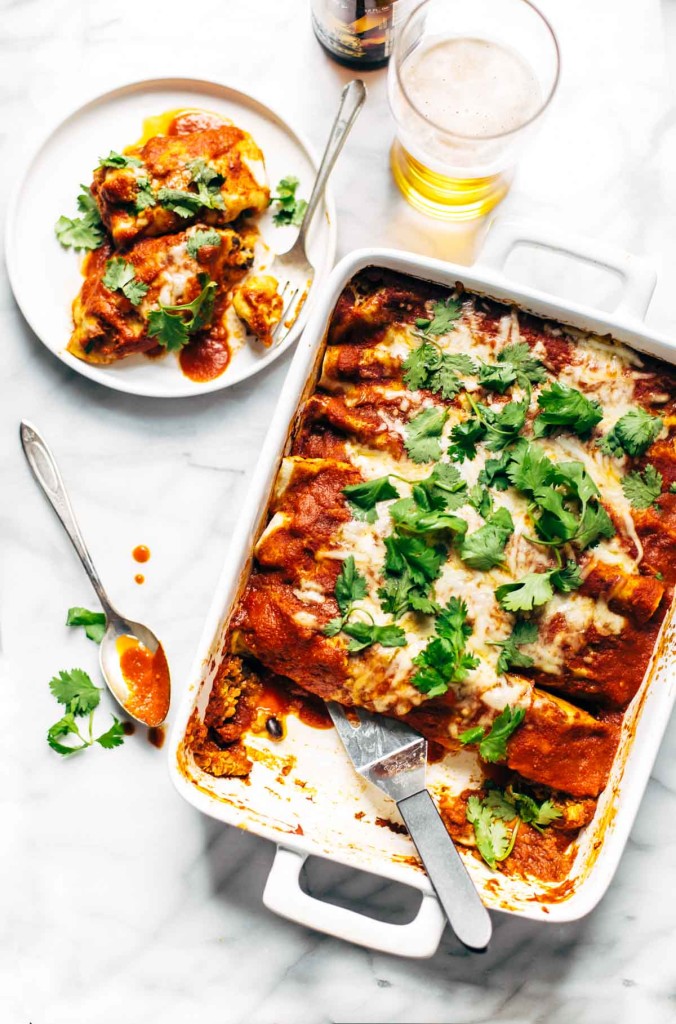 Lazy Girl Chicken and Quinoa Enchiladas from Pinch of Yum
Ingredients: quinoa, broth, chicken breasts, black beans, shredded cheese, enchilada sauce, flour tortillas, optional garnishes: cilantro, avocado, sour cream.
These enchiladas are quick to put together but the exact cooking time will depend on if you use a rice cooker or crockpot. I used a crockpot and it took 4 hours on low before the quinoa started to look like it might burn, so just keep an eye on if it you use a crockpot. For more of my favorite enchilada recipes, check out this post.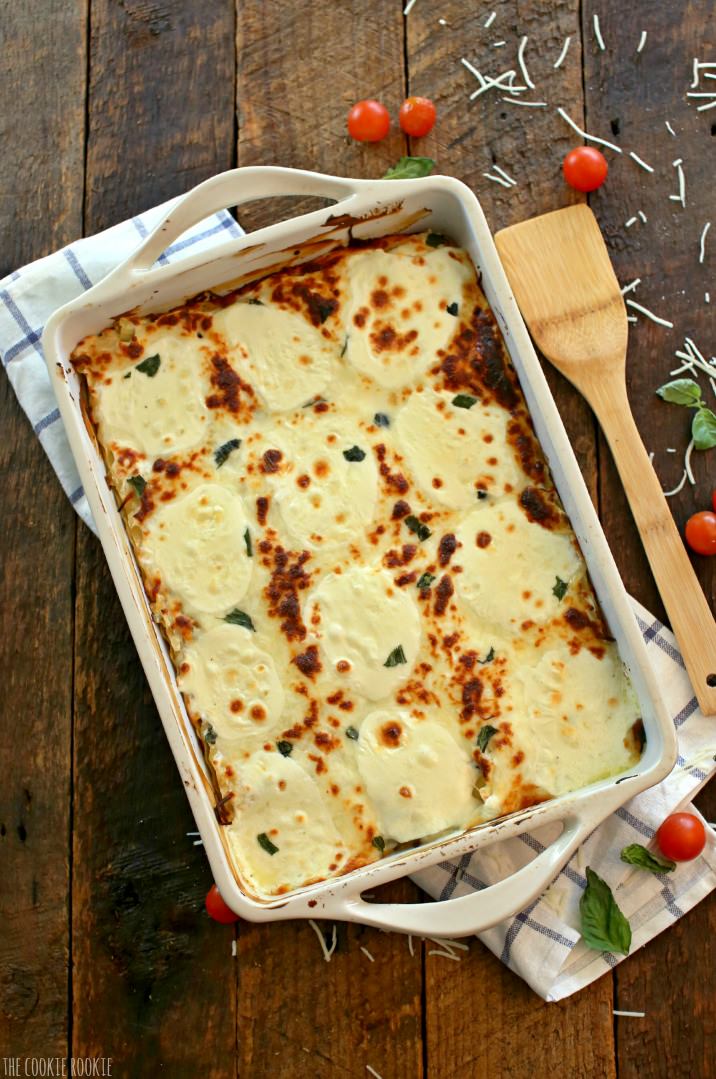 Creamy White Chicken Caprese Lasagna from The Cookie Rookie
Prep Time: 20 minutes Cook Time: 25 minutes Total Time: 45 minutes
Ingredients: shredded chicken, artichoke hearts, mozzarella cheese, parmesan cheese, sun-dried tomatoes, cream cheese, half & half, garlic, salt and pepper, fresh basil, lasagna noodles, whole milk mozzarella.
These lasagna is rich and creamy and delicious. The recipe recommends rotisserie chicken but I just cooked and shredded chicken breasts. I used a little extra garlic and no-cook lasagna noodles (which I don't know if I would recommend because it was a little dry and I had to add a little extra half and half to help them cook through). I used fresh mozzarella for the top and everyone really enjoyed this dish.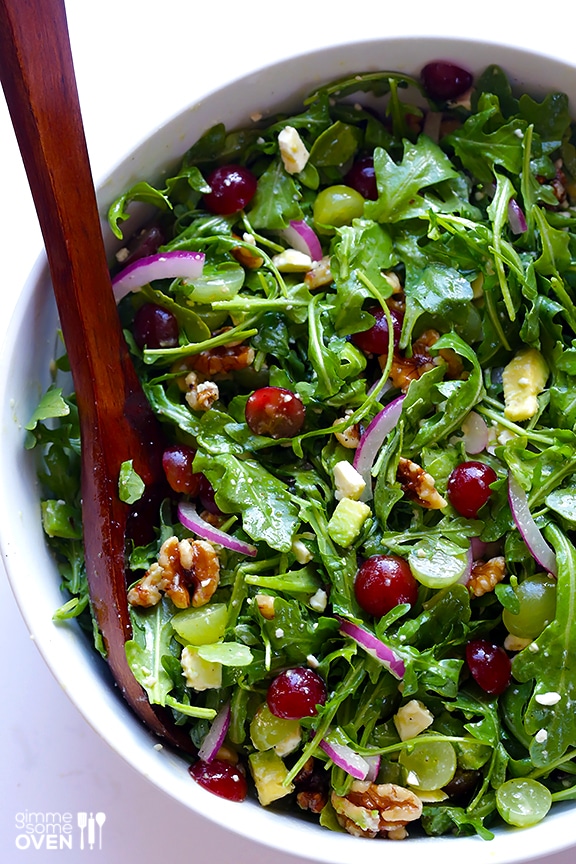 Grape Avocado Arugula Salad from Gimme Some Oven
Total Time: 10 minutes
Ingredients: arugula, grapes, avocado, crumbled goat cheese, walnuts or pecans, red onion, olive oil, white balsamic (or regular), honey, sea salt, black pepper.
My SIL Rachel and I really enjoyed this salad. It is quick to put together and more filling than I expected, probably because of the goat cheeses and nuts. You can make it a meal by throwing grilled chicken on it or use it as a light lunch of side salad.
If you make any of the healthy chicken dinner recipes or salads from this week please snap a photo and share on instagram using hashtag #rainbowdelicious and tag me @rainbowdelicious, I'd love to see what you are up to in your kitchen!

(Visited 1,483 time, 1 visit today)