This week you can eat the rainbow and do less dishes with this one pot wonder pastas meal plan. I love cooking but that often leaves me with a lot of dishes at the end of the night, can you relate? Thats why I really appreciate a one-pot recipe that still gives the satisfaction of home-cooking without the disastrous mess. Do you have any favorite one pot dishes? Please share in the comments, I'm always looking for more! Click here for this week's one pot wonder pastas meal plan grocery shopping list.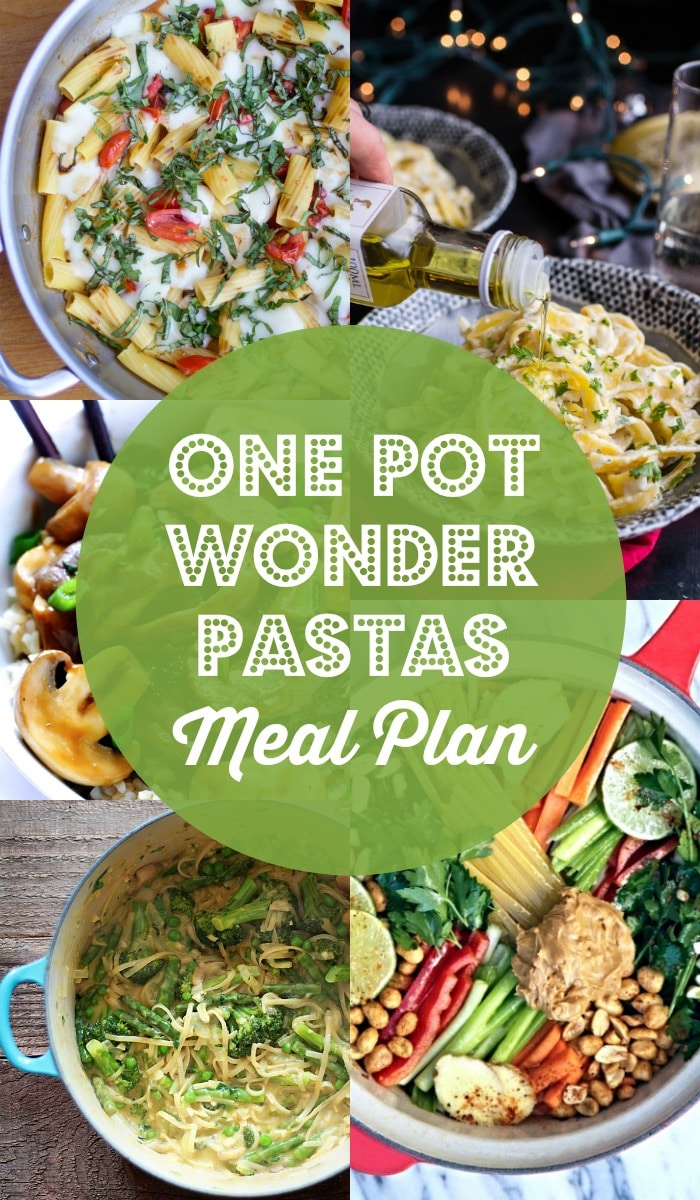 One Pot Wonder Pastas Meal Plan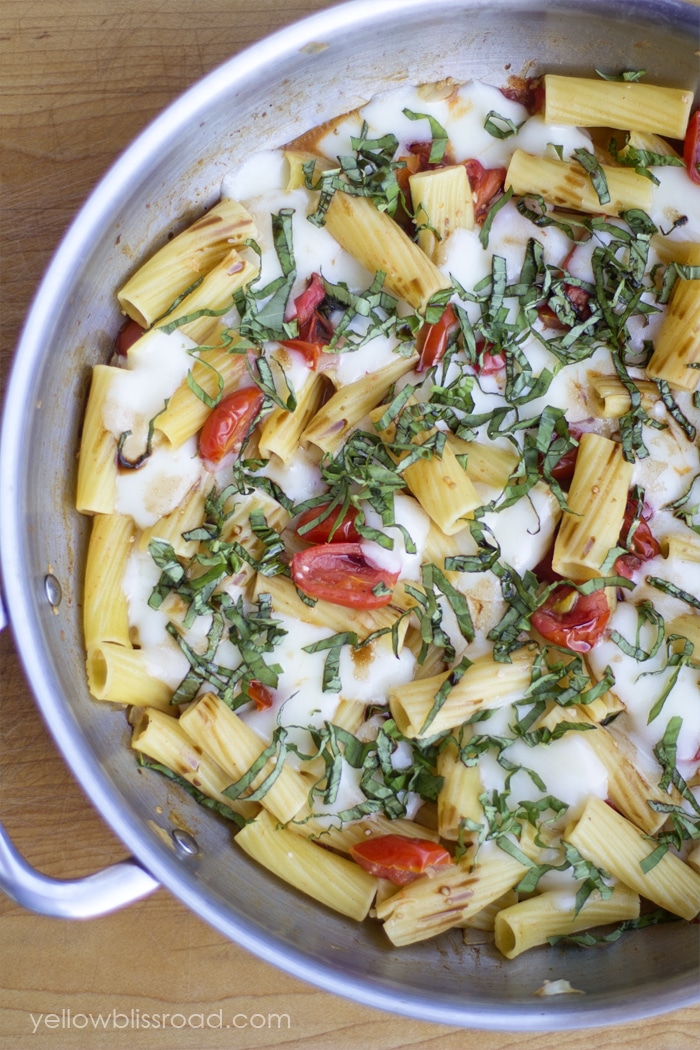 One Pan Caprese Pasta from Yellow Bliss Road
Prep Time: 10 minutes Cook Time: 20 minutes Total Time: 30 minutes
Ingredients: white onion, olive oil, pasta, grape tomatoes, basil leaves, minced garlic, water, salt, black pepper, fresh mozzarella, balsamic vinegar, chopped basil.
I used cherry heirloom tomatoes, reduced my balsamic vinegar before pouring it over (technically making it a tw0-pot wonder), and added a little parmesan cheese.  This is one of my favorite one pot dishes I've made to date. The whole family enjoyed it, although the kids refused to eat the "squishy" tomatoes. Typical.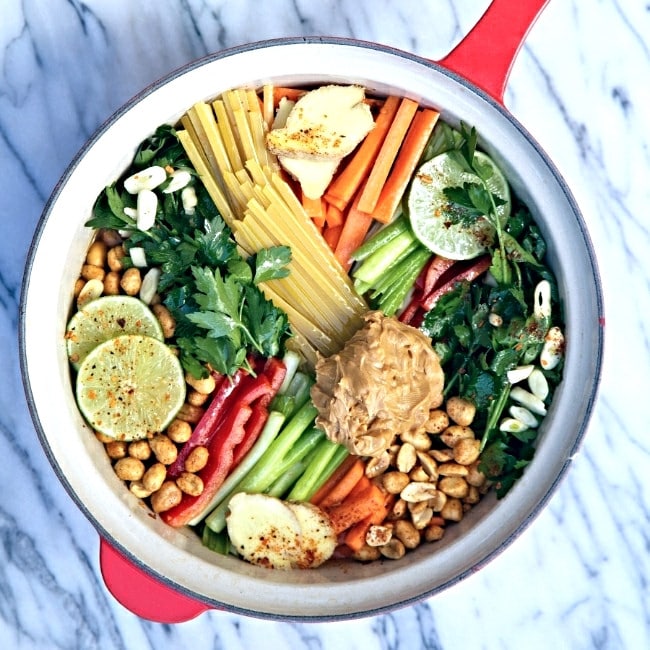 One-Pot Wonder Thai Style Peanut Pasta from Apron Strings Blog
Prep Time: 10 minutes Cook Time: 15 minutes Total Time: 25 minutes
Ingredients: linguine, vegetable broth, water, brown sugar, garlic, tamarind paste, soy sauce, red pepper flakes, ginger root, carrot, red bell pepper, green onions, roasted salted peanuts, peanut butter, cilantro, lime.
This pasta was very flavorful. My pickiest little eater, Mav, loved this dish and ate it up. Tamarind brings a unique flavor to this dish.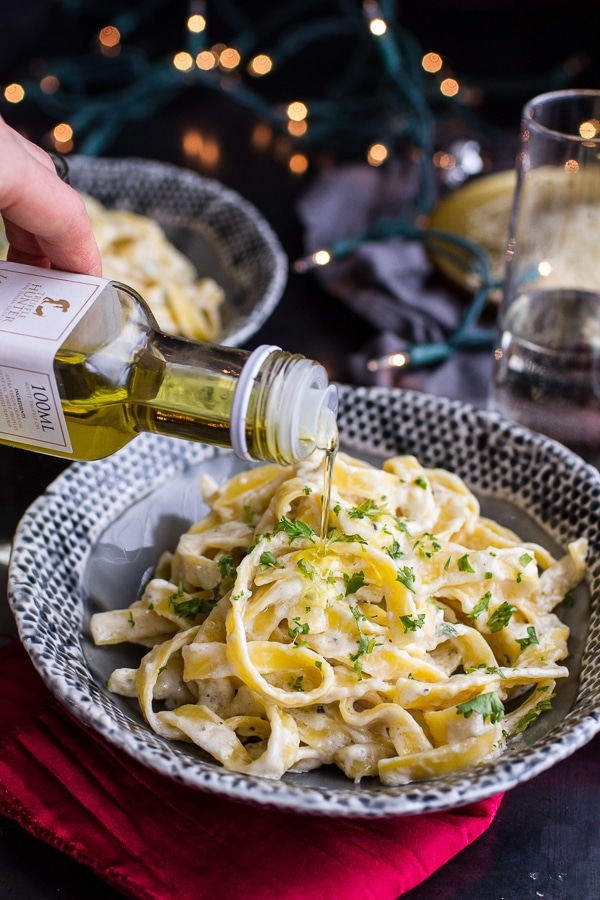 One Pan Baked Champagne Cream Fettuccine with Truffle Oil
Prep Time: 15 minutes Cook Time: 20 minutes Total Time: 35 minutes
Ingredients: unsalted butter, garlic cloves, sage leaves, cream cheese, heavy cream, champagne or broth, grated parmesan, gorgonzola, nutmeg, fettuccine, parsley, truffle oil.
Now cream, cheese, truffle oil… can you go wrong? This dish is so rich, creamy and dreamy and if you are in an indulgent mood this will hit the spot. I used broth instead of champagne and used dried nutmeg instead of freshly grated. I really love truffle oil (or truffle butter) but if you don't have any on hand this pasta would still be good in my opinion (it can be little pricey and sometimes hard to find).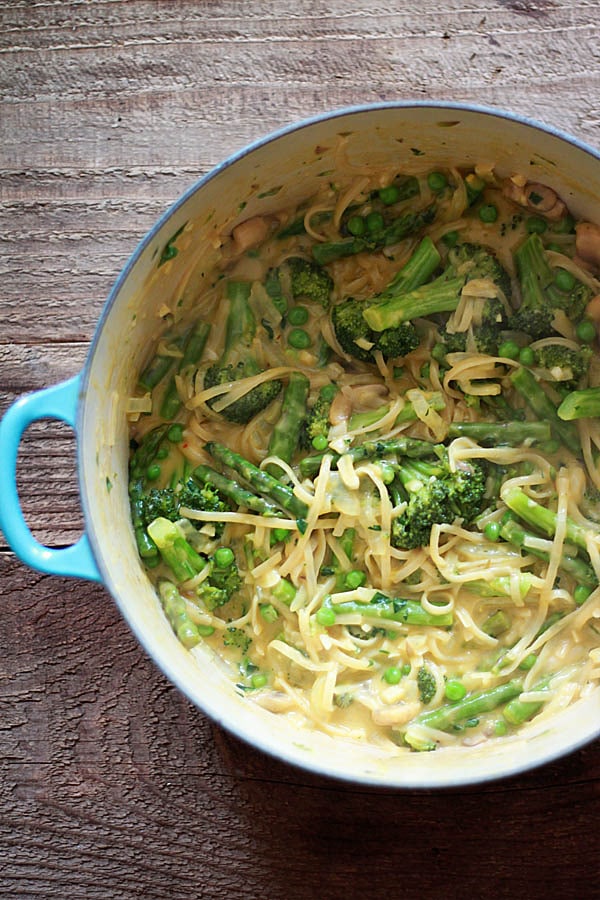 One Pot Pasta Primavera from Oh My Veggies
Prep Time: 10 minutes Cook Time: 10 minutes Total Time: 20 minutes
Ingredients: vegetable broth, linguine, onion, broccoli crowns, asparagus, white button mushrooms, garlic cloves, red pepper fakes, kosher salt, ground black pepper, olive oil, frozen peas, parsley, whipping cream, parmesan, lemon zest.
My whole family loved this dish! I sautéed the onions and garlic a little bit before adding any of the other ingredients to the pot, I added extra peas and I forgot to add in the parsley. It turned out so fab! I definitely plan to make this dish again in the future; it also made great leftovers. If you love broccoli like I do here are some more broccoli recipes you might enjoy.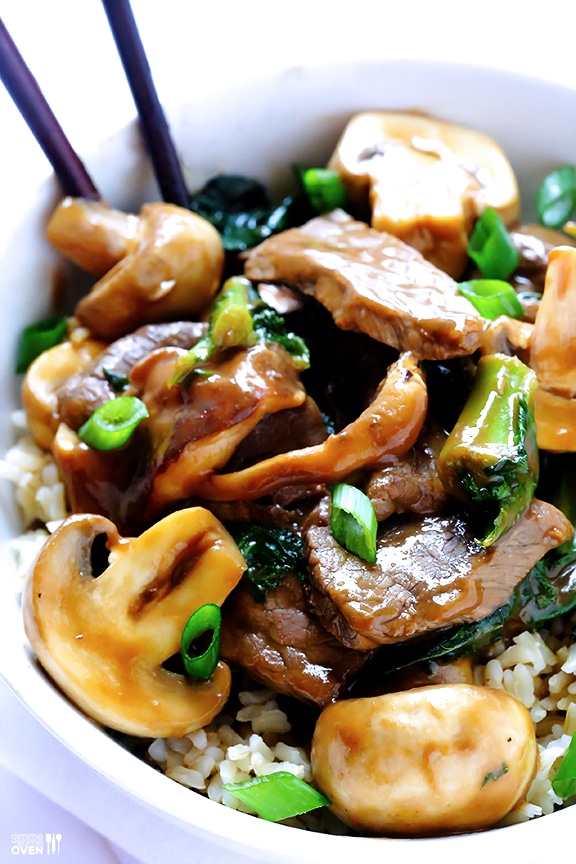 Ginger Beef, Mushroom and Kale Stir Fry from Gimme Some Oven
Prep Time: 5 minutes Cook Time: 25 minutes Total Time: 30 minutes
Ingredients: soy sauce, vegetable broth, rice wine vinegar, corn starch, ground ginger, black pepper, flank steak or sirloin, garlic cloves, olive oil, button mushrooms, shiitake mushrooms, kale, green onions.
This dish is pretty gingery, so keep that in mind and adjust the amount if you don't like too much ginger. Not technically a one pot wonder meal because it is recommended to make rice to go with it!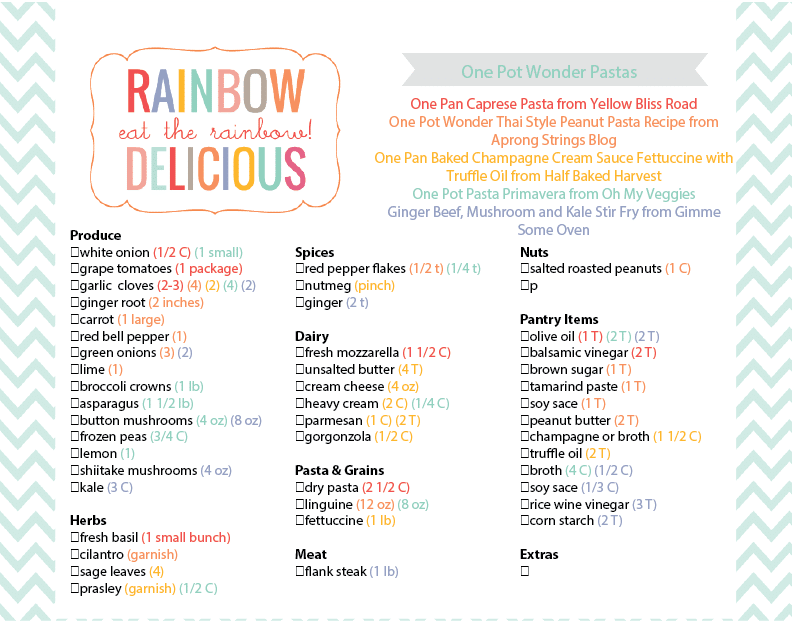 If you make any recipes from this week's One Pot Wonder Pastas Meal Plan please share on instagram using hashtag #rainbowdelicious & and tag me at @rainbowdelicious , I'd love to see what you are up to in your kitchen!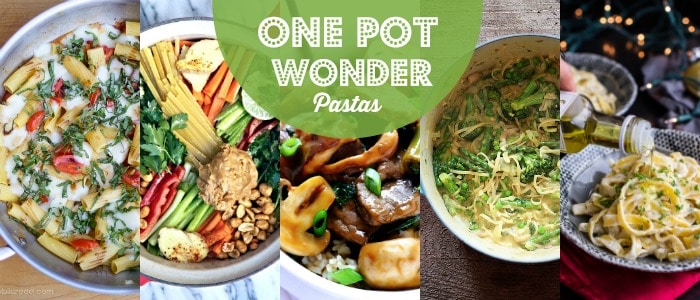 Some links on this site are affiliate links and I may earn a small commission at no cost to you. Thank you!
You'll Also Love These Posts
Sun-Dried Tomato Pasta Recipe with Broccoli
(Visited 1,568 time, 1 visit today)