This week's easy spring dinner ideas meal plan features five delicious and colorful recipes that scream spring and includes colorful produce like strawberries, asparagus, sweet potatoes and spinach. I hope you enjoy this vibrant menu and have an amazing week! Click here for the easy spring dinner ideas meal plan grocery shopping list printable
San Diego Friends: I will be at the Pinners Conference in Del Mar on April 13th teaching a kombucha making class at 6:30 pm. Please come if you can, it will be informative and fun! Use Code RAINBOW for 10% off your ticket price!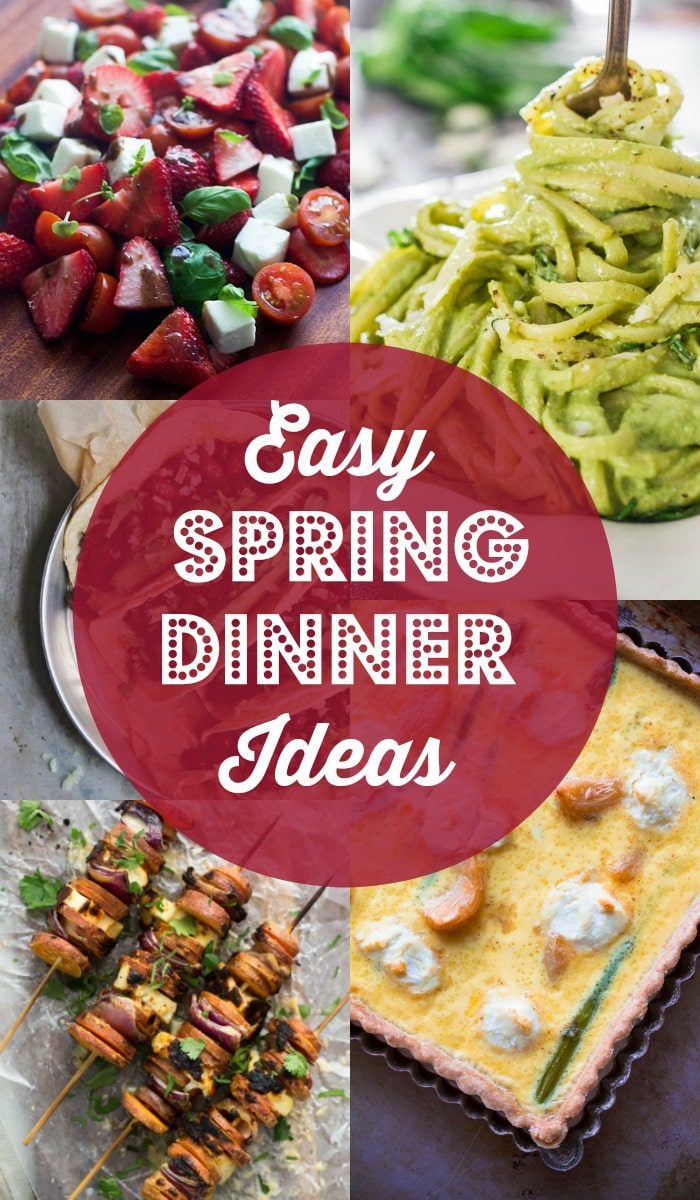 Easy Spring Dinner Ideas Meal Plan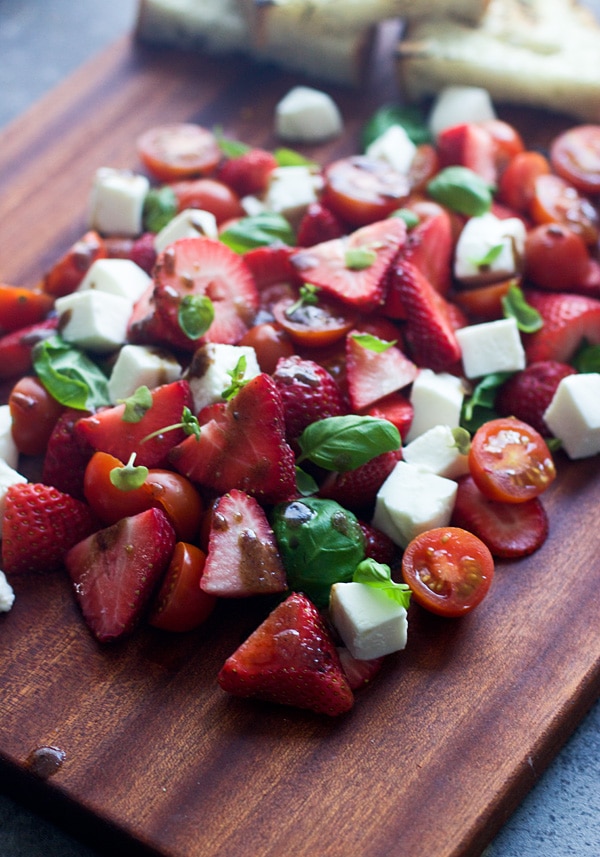 Strawberry Caprese with Brown Butter Vinaigrette from Cooking for Keeps
Prep Time: 5 minutes Cook Time: 10 minutes Total Time: 15 minutes
Ingredients: strawberries, cherry tomatoes, fresh mozzarella, butter, balsamic vinegar, honey, dijon, salt & pepper, basil.
Creative caprese salads are my fave and I especially loved the brown butter vinaigrette on this one. I used quartered pearl tomatoes and ciliegine mozzarella balls. When I mixed the viniagrette with the salad it kind of turned a weird texture (I think because the mozzarella and strawberries were really cold still).  When I make it again I might let all of the ingredients sit at room temperature a little longer before I add the vinaigrette so the presentation is a little nicer.  However, the flavor was still amazing anyway.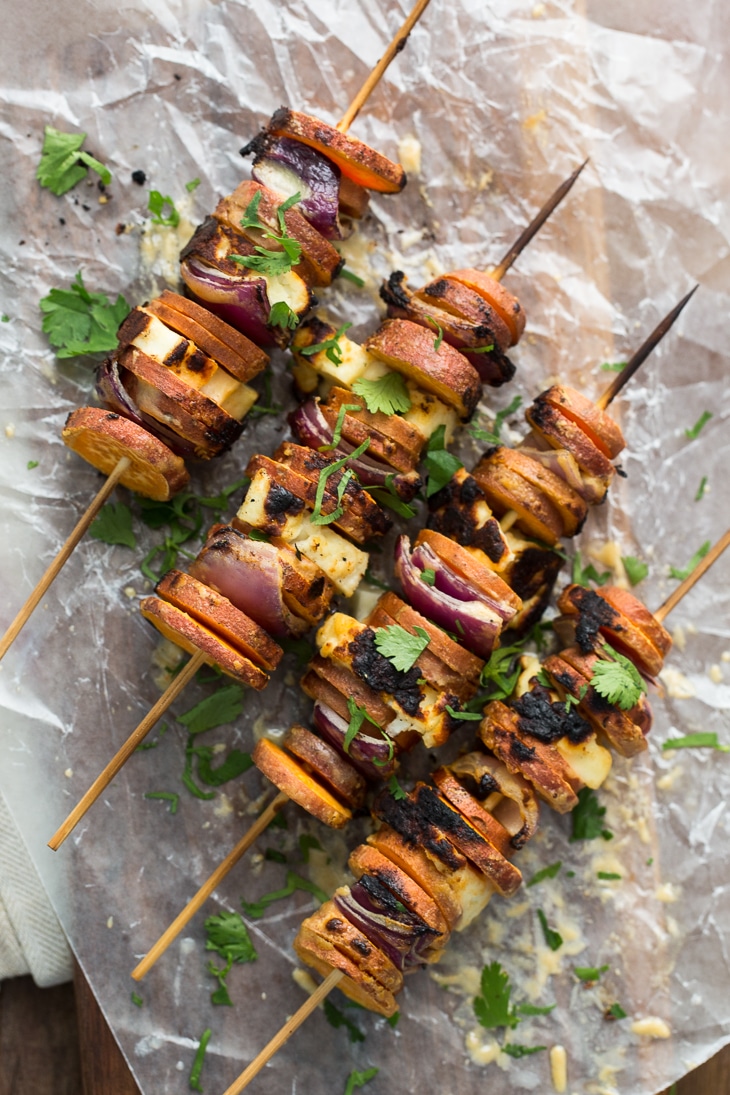 Grilled Sweet Potato Skewers with Halloumi from Naturally Ella
Prep Time: 15 minutes Cook Time: 15 minutes Total Time: 30 minutes
Ingredients: sweet potatoes, red onion, halloumi, tahini, olive oil, lime, siracha, sea salt, cilantro.
I have a slight obsession with halloumi and so I obviously love this recipe.  These skewers were fun to make and tasted delicious and served as a great reminder that I need to use my grill more! The recipe recommends that you steam the sweet potatoes and I skipped that step (I was being lazy) and regretted it because the sweet potatoes were a little too raw… so learn from my mistake and follow the directions! I doubled the recipe in the shopping list to serve four.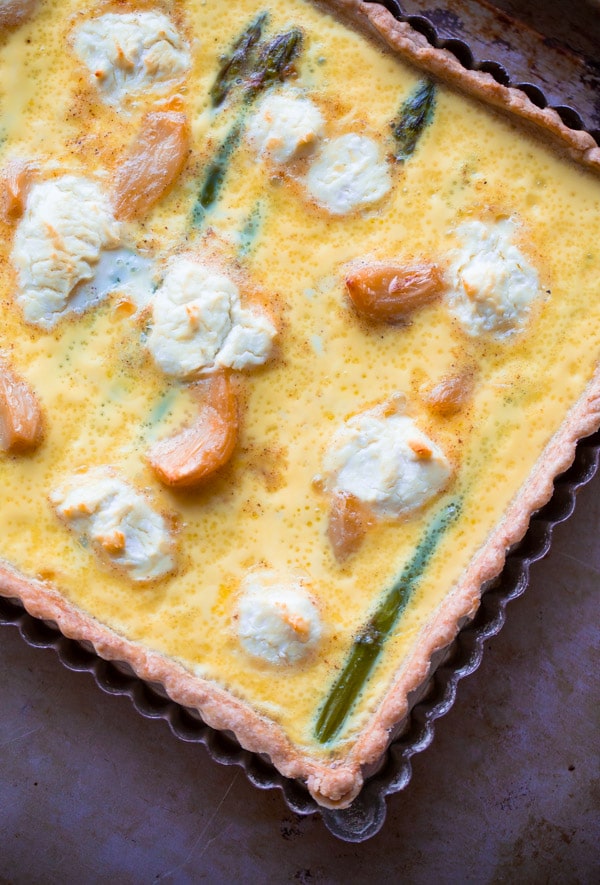 Spring Asparagus and Goat Cheese Quiche from A Beautiful Plate
Prep Time: 15 minutes Cook Time: 2 hours Total Time: 3 hours
Ingredients: crust, asparagus, roasted garlic cloves, eggs, whole milk, salt, nutmeg, soft goat cheese.
Asparagus quiche is just a perfect spring meal. I made a few adaptations by using a pre-made crust and leaving out the garlic. I also cooked it at 350F for more like 45 minutes. It turned out delicious!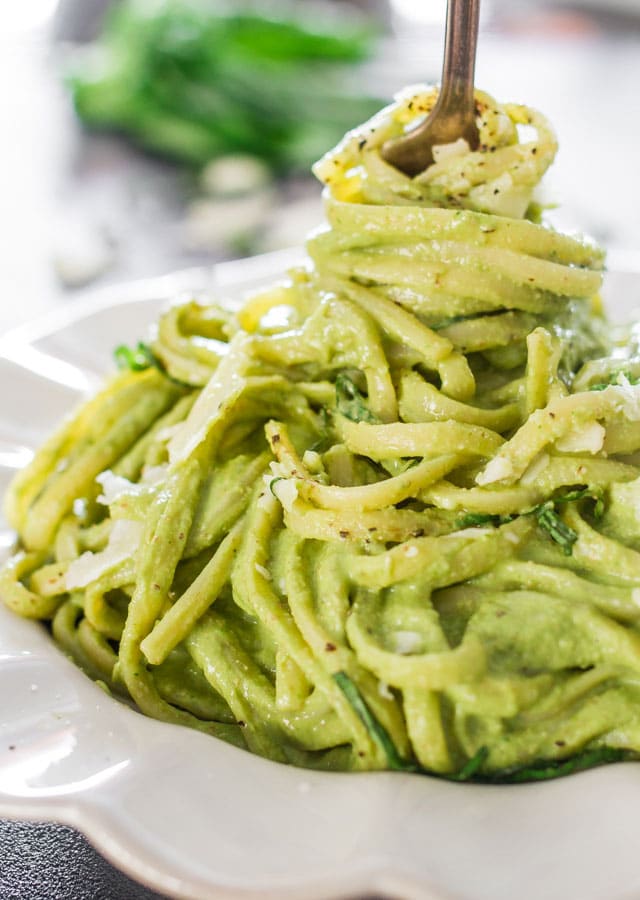 Creamy Avocado and Spinach Pasta from Jo Cooks
Prep Time: 10 minutes Cook Time: 12 minutes Total Time: 22 minutes
Ingredients: spaghetti or fettuccine, garlic, avocado, spinach, pecans, basil, lemon juice, salt and pepper.
Simple pastas are the best! This dish comes together quickly and is fresh and filling. I used fettuccine and garnished the pasta with quartered pearl tomatoes. I used the full cup of pasta water and generously salted the sauce.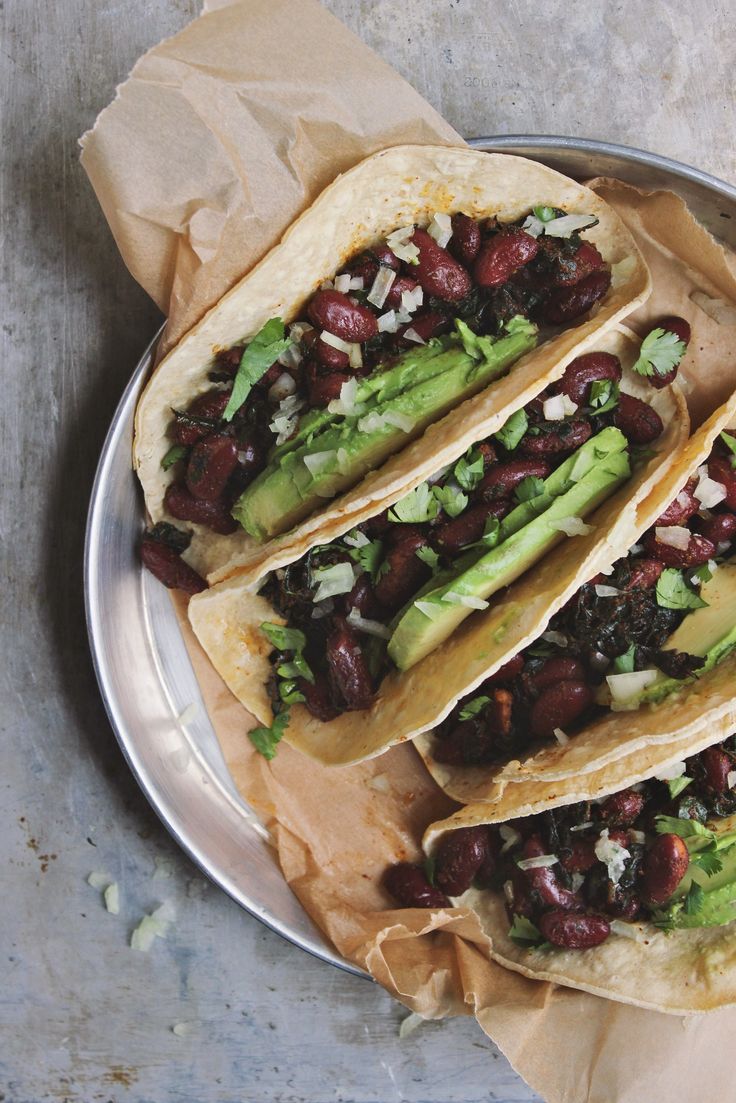 Classic Beans and Greens Tacos from With Food And Love
Prep Time: 5 minutes Cook Time: 15 minutes Total Time: 20 minutes
Ingredients: olive oil, garlic, kale, kidney, black or pinto beans, chili powder, cumin, coriander, sea salt, corn tortillas, raw onions, cilantro, avocado, hot sauce.
For these tacos I used spinach instead of kale (only because I had a ton of spinach I had to use, I think kale would be better), and I garnished with radishes and feta. I brushed olive oil and salt on the tortillas and broiled them for a couple of minutes to add a little extra texture and flavor.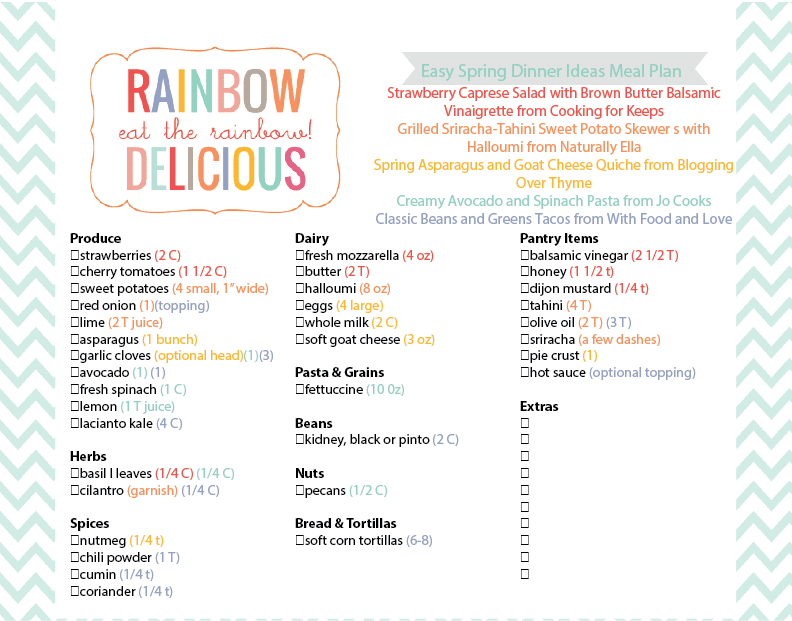 You might also love these weekly meal plans:  Simple vegetarian recipes from the Forest Feast, vegetarian recipes from Budget Bytes, and kale salad recipes meal plan.
If you make any recipes from this easy spring dinner ideas meal plan please share on instagram using hashtag #rainbowdelicious & and tag me at @rainbowdelicious , I'd love to see what you are up to in your kitchen!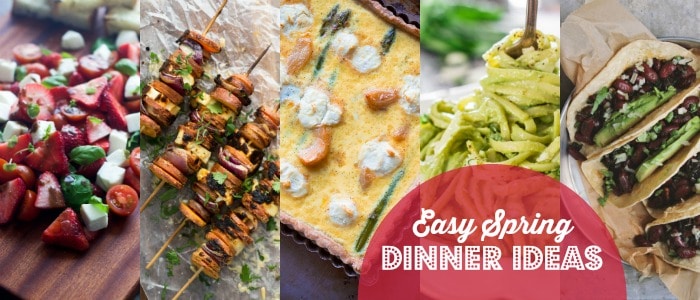 Some links on this site are affiliate links and I may earn a small commission at no cost to you. Thank you!
(Visited 12,989 time, 1 visit today)