I hope you enjoy this meal plan with five delicious summer recipes: A creamy caprese quinoa bake, peach and balsamic pizza, herbed goat cheese zucchini blossoms, BBQ chicken salad, and roasted veggie tacos. Delicious, right?! Summer seems to be winding down and while part of me is ready for soup and pumpkins we still have some time to enjoy the flavors of summer before then! For this week's Delicious Summer Recipes grocery shopping list click here.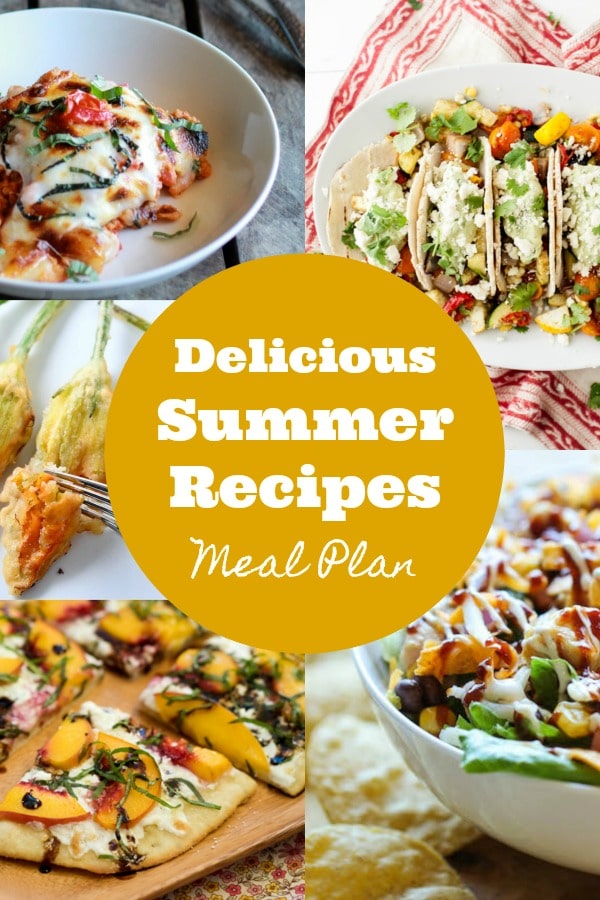 Delicious Summer Recipes
Creamy Caprese Quinoa Bake from Half Baked Harvest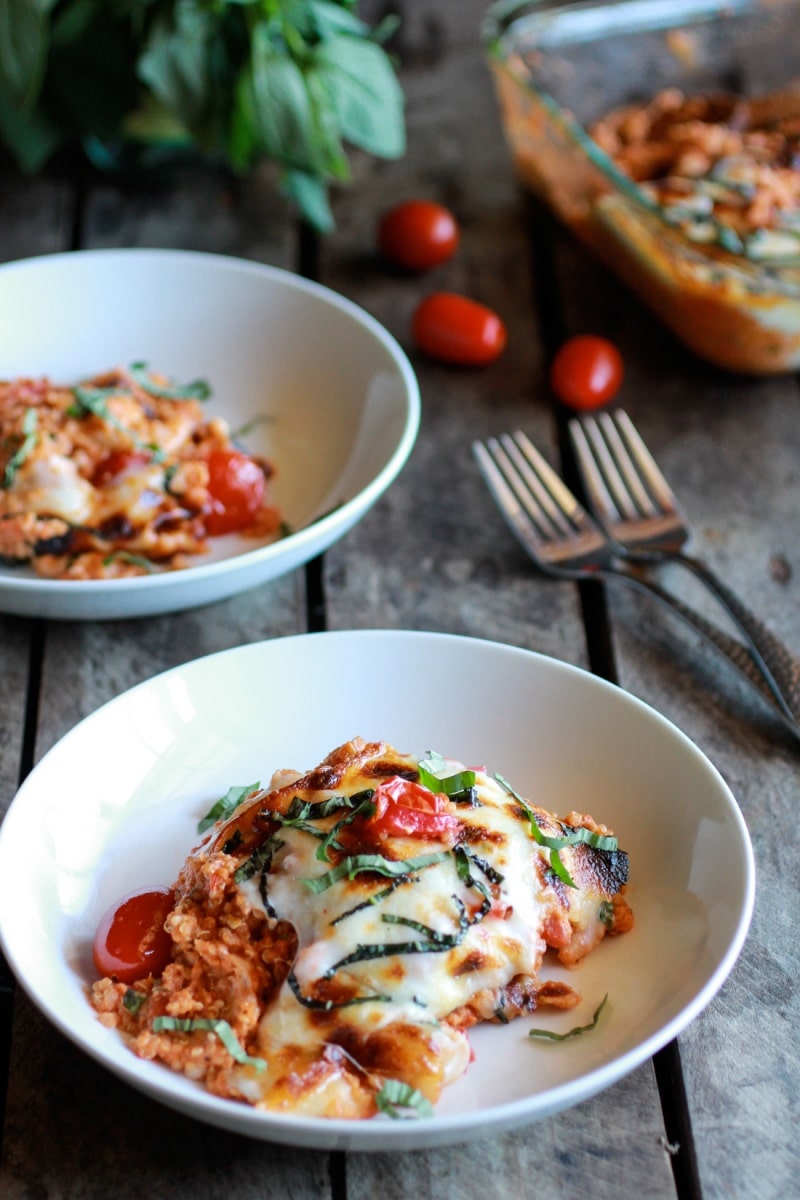 Prep Time: 10 minutes Cook Time: 15 minutes Total Time: 25 minutes
Ingredients: quinoa, pasta sauce, tomato paste, heavy cream, parmesan,  mozzarella, grape tomatoes, fresh basil, crushed red pepper, salt, pepper.
I'm pretty in love with this quinoa dish.  It was featured in the Summer 2013 Week  7 meal plan and I was excited to make it again this year.  My whole family enjoys it and I love that the recipe calls for an entire bunch of basil, yum.
Summer Peach and Balsamic Pizza from Love and Olive Oil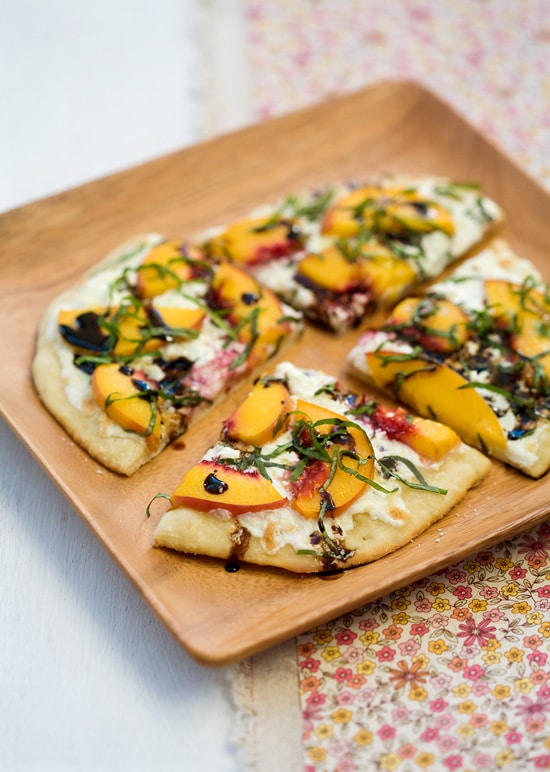 Prep Time: 10 minutes Cook Time: 30 minutes Total Time: 40 minutes
Ingredients: pizza dough, balsamic vinegar, olive oil, fresh mozzarella, soft goat cheese, peaches, basil.
This is one of my favorite summer pizzas and when I see peaches at the farmer's market this is the first recipe I think of.  I told the sweet ladies at the peach stand about this recipe and they all looked at me like I was crazy. Then they suggested that I only thought it was good because I am pregnant with weird cravings… I assured them I liked it even before I was pregnant and now I plan to print out the recipe and bring it to them next Saturday.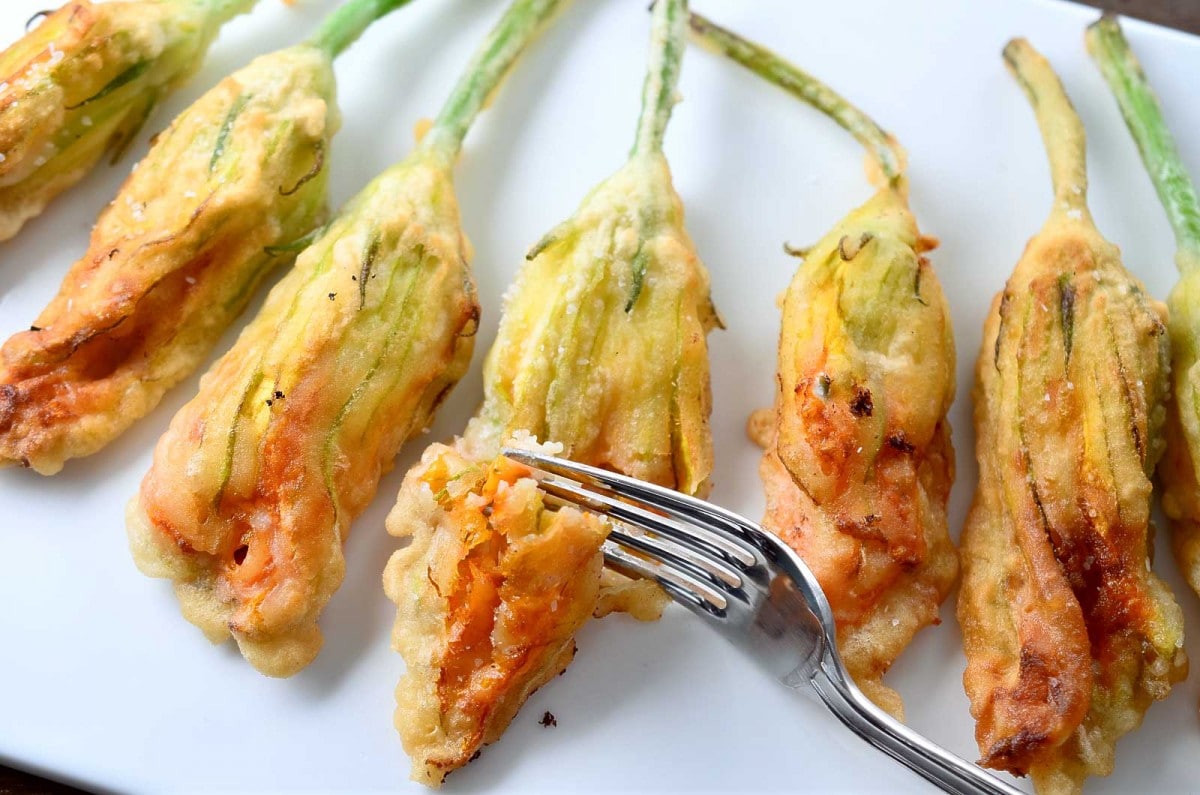 Herbed Goat Cheese Stuffed Zucchini Blossoms from Life's Ambrosia
Prep Time: 10 minutes Cook Time: 5 minutes Total Time: 15 minutes
Ingredients: herbed goat cheese, zucchini blossoms, oil, all purpose flour, ice water, salt.
I've always been intrigued by stuffed zucchini blossoms and was happy to try them out finally. They are delicious! You can buy herbed goat cheese, or you can just mix in herbs into the goat cheese, whatever you prefer.  I felt a little sad for emasculating the male zucchini blossoms but it was worth it.  My sister was eating with us so we used gluten free flour and they still turned out wonderful.
BBQ Chicken Salad from Damn Delicious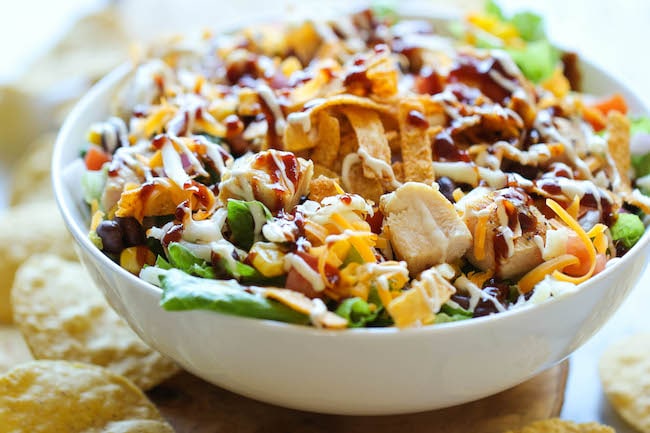 Prep Time: 10 minutes Cook Time: 5 minutes Total Time: 15 minutes
Ingredients: olive oil, chicken breasts, romaine lettuce, Roma tomato, corn kernels, black beans, red onion, monterey jack cheese, cheddar cheese, ranch dressing, bbq sauce, tortilla strips.
Even though this recipes states it serves two, I found that it fed our whole family… if you are worried about it being enough feel free to double it.  I don't know where you can find tortilla strips so I just bought tortilla chips and crushed them into bite size pieces.
Roasted Vegetable Tacos with Avocado Cream and Feta from Naturally Ella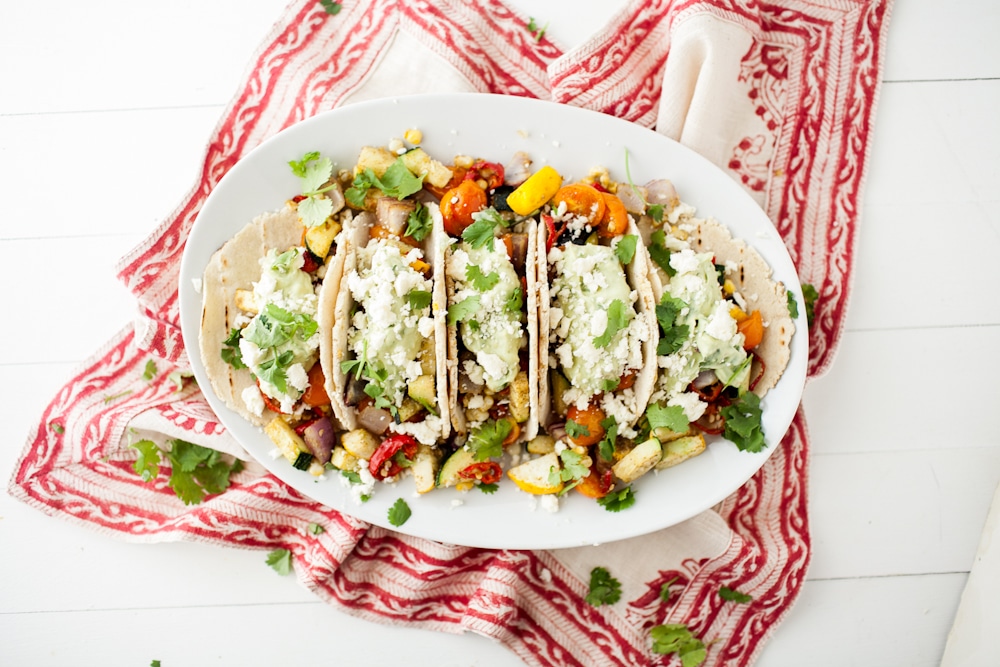 Prep Time: 10 minutes Cook Time: 30 minutes Total Time: 40 minutes
Ingredients: zucchini, summer squash, red onion, sweet corn, cherry tomatoes, medium red pepper, olive oil garlic, cumin, salt, avocado, plain greek yogurt, cilantro, lime, feta or goat cheese, corn tortillas.
These tacos are A-M-A-Z-I-N-G! The cumin roasted vegetables have great flavor and have a sweet taste to them, I ended up roasted them about 25-30 minutes.  The avocado cream and feta topping were also delicious.  I will definitely be making these again in the future.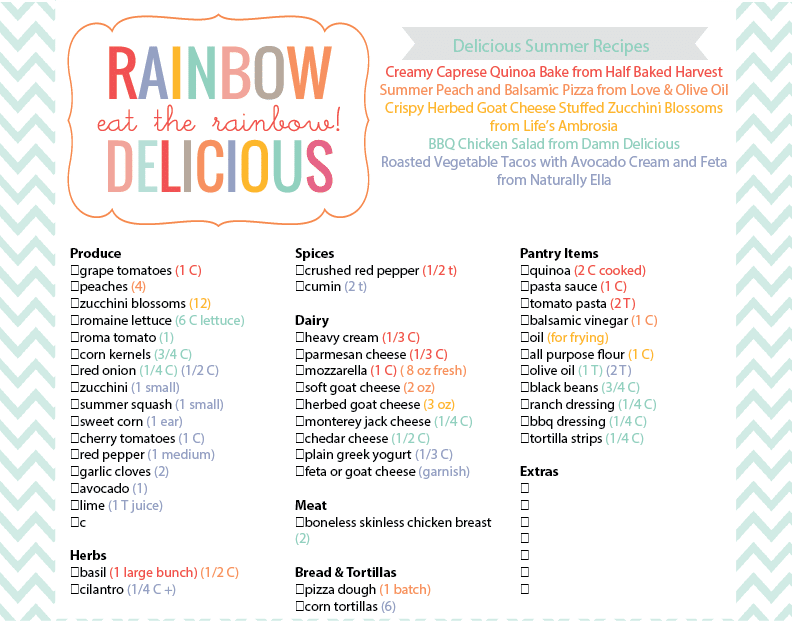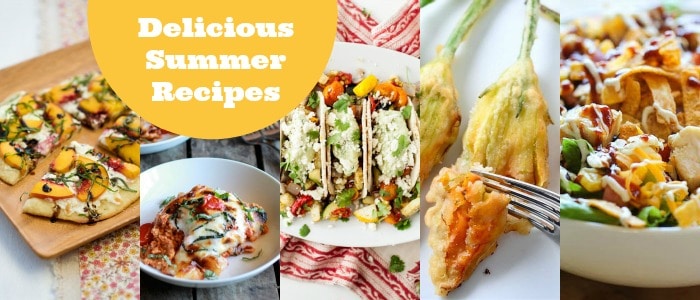 When you make any of these delicious summer recipes please share on instagram using hashtag #rainbowdelicious & and tag me at @rainbowdelicious , I'd love to see what you are up to in your kitchen! 
(Visited 1,312 time, 1 visit today)