Happy almost-August! I can't believe summer is flying by so fast. I've compiled five of my favorite healthy salad recipes for all of us to incorporate into our menus this week. Three of the salads are vegetarian, two have a little meat (prosciutto and chicken) and all are fresh and delicious. These salads would make a great addition to any meal, some are hearty enough to work for dinner (the blackened chicken salad) and all would work well as lunches. I hope you enjoy this week of healthy salad recipes!
Click here for this week's grocery shopping list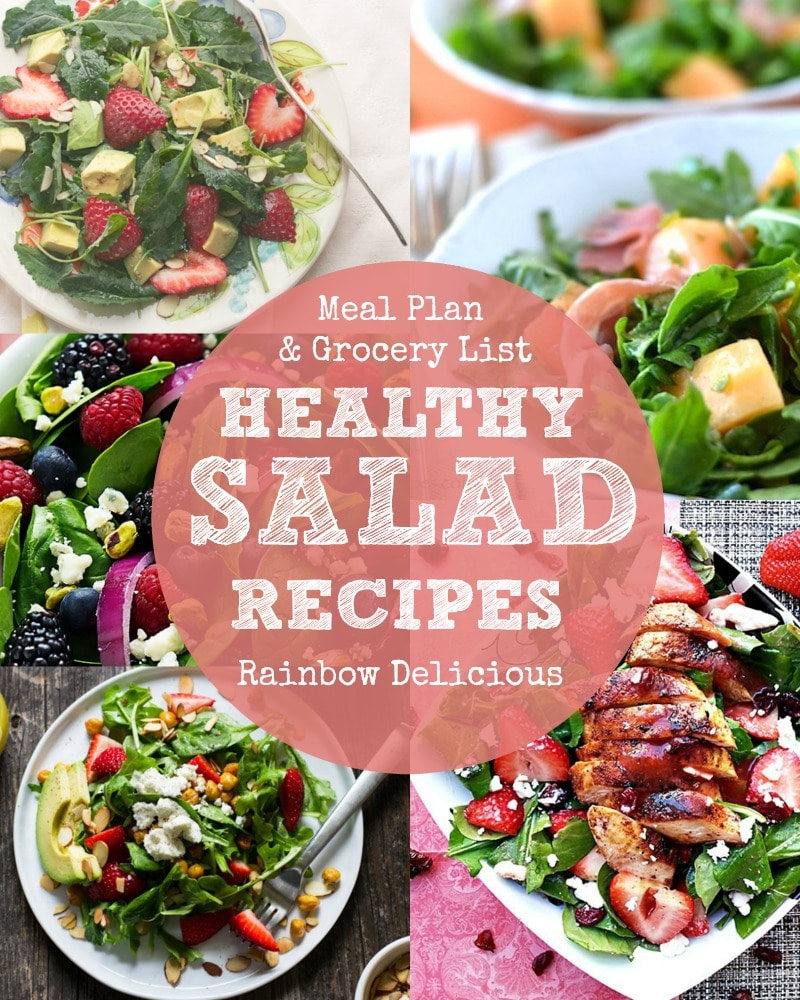 Healthy Salad Recipes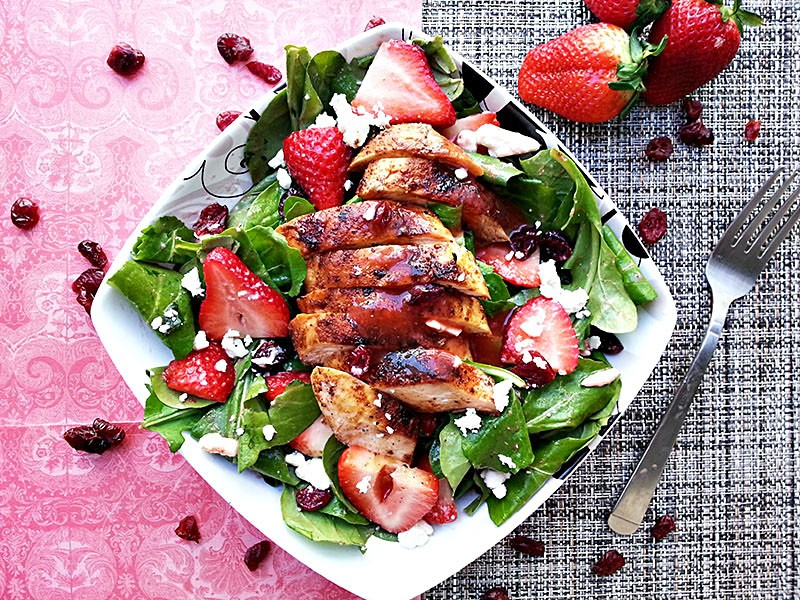 Blackened Chicken and Strawberry Salad from Cherry On My Sunday
Prep Time: 10 minutes Cook Time: 15 minutes Total Time: 25 minutes
Ingredients: chicken breasts, paprika, oregano, cayenne, cumin, salt, black pepper, onion powder, olive oil, spinach, crumbled feta, dried cranberries, strawberries, sugar, lemon juice, balsamic vinegar.
This salad is fresh and delicious! For the dressing I just threw a handful of strawberries in a blender with a little honey instead of sugar, lemon juice, balsamic and olive oil and blended until it was a good consistency. I'm sure the dressing recipe linked is delicious, but it looked like more effort than I was in the mood for, so I improvised. Mine turned out great, and not too sweet. For the chicken I used the seasonings as a rub and grilled them. I made some chicken with just salt and pepper on the grill for my kids since they don't like spicy chicken. Instead of using dried cranberries I used cucumber slices.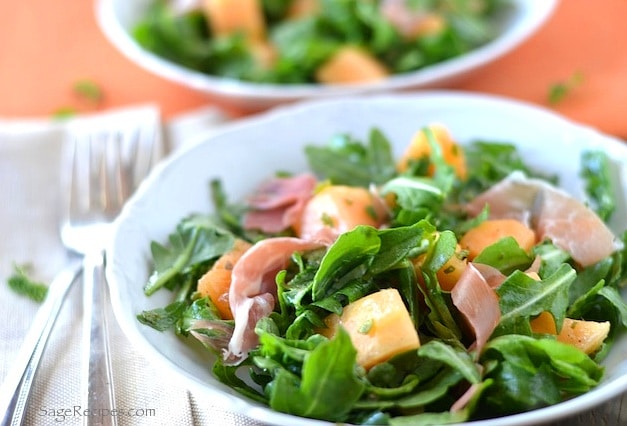 Cantaloupe Salad with Arugula and Prosciutto from Sage Recipes
Prep Time: 10 minutes Cook Time: 5 minutes Total Time: 15 minutes
Ingredients: dijon, white wine vinegar, olive oil, salt, ground pepper, cantaloupe, arugula, chopped mint, prosciutto.
This salad is on point. I crisped up the prosciutto in a frying pan and also added a little burrata that I had on hand and it was delicious. This would make a great salad to take to work and eat for lunch.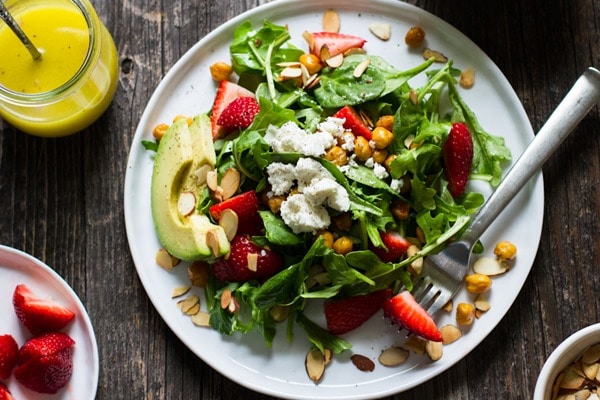 Strawberry Spring Salad with Lemon Roasted Chickpeas from Edible Perspective
Prep Time: 10 minutes Cook Time: 35 minutes Total Time: 45 minutes
Ingredients: chickpeas, fresh lemon juice, olive oil, salt and pepper, lemon zest, shallots, honey, arugula, strawberries, avocado, sliced almonds, coat cheese.
This is one of my favorite spring salads! The lemon roasted chickpeas are to die for (sometimes I made a double batch so I have some to snack on), although I like mine a little tender so I don't bake them as long as the directions state. I sometimes use baby greens instead of arugula.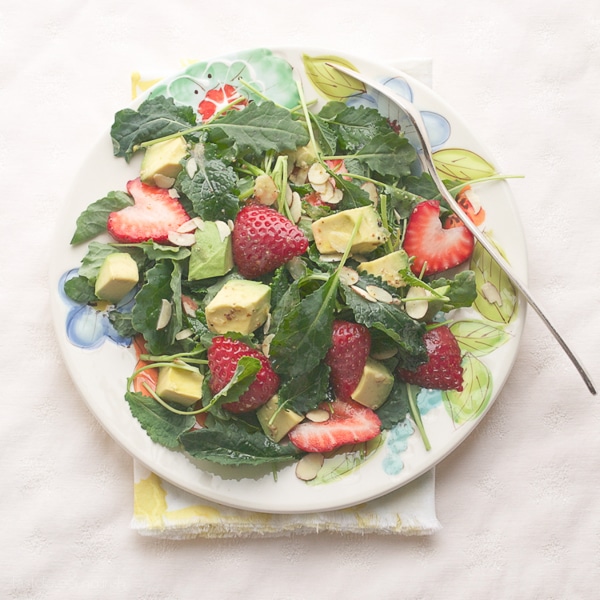 Baby Kale Salad with Strawberry and Avocado from Taste, Love and Nourish
Prep Time: 10 minutes Total Time: 10 minutes
Ingredients: baby kale, avocado, strawberries, sliced toasted almonds, lemon, olive oil, dijon mustard, honey, salt, pepper.
Simple salads are my fave. This one is delicious, quick to prepare and you could easily throw on some grilled chicken or whatever else you are in the mood for. I especially love the combo of avocado and strawberries.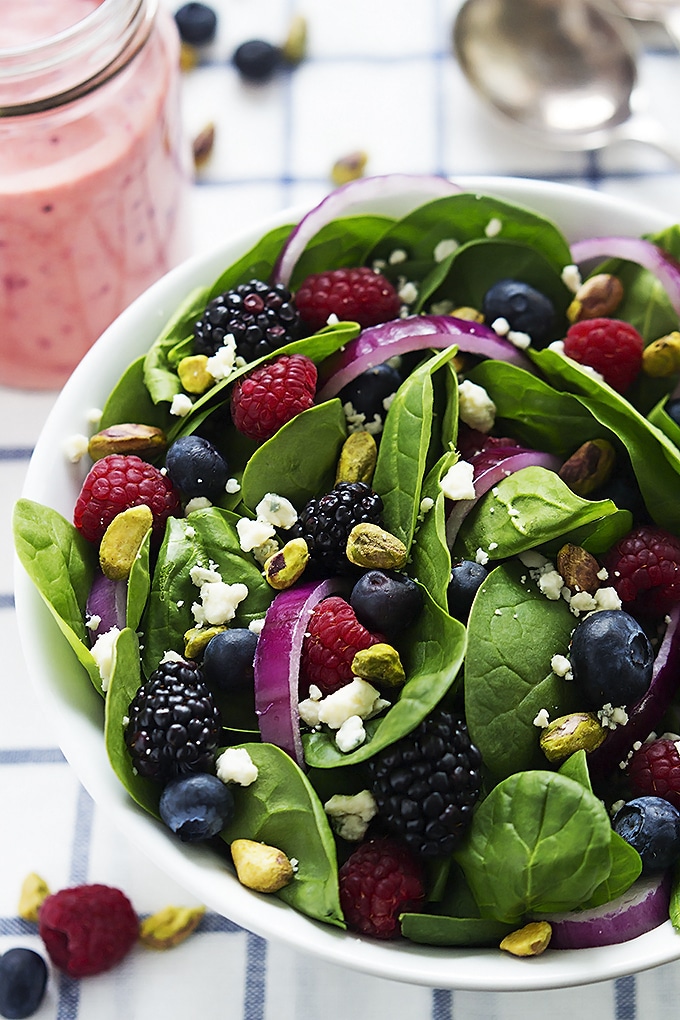 Berry Pistachio Spinach Salad with Berry Vinaigrette from Le Creme de La Crumb
Prep Time: 10 minutes Total Time: 10 minutes
Ingredients: spinach, berries, red onion, blue cheese or feta crumbles, pistachios, olive oil, apple cider vinegar, Italian seasoning, salt, black pepper, honey.
The salad dressing really makes this salad. I used feta instead of blue cheese and oregano and basil instead of Italian seasonings. I loved the addition of pistachios and added a little extra.
NOTE: I'm lucky to live in California where my farmer's market currently has a lot of berries available, if that is not the case where you live you can try substituting with whatever fruit is in season… or just save this meal plan for when berries are locally season!
If you make any recipe from Rainbow Delicious meal plans please share on instagram using hashtag #rainbowdelicious and tag me @rainbowdelicious, I'd love to see what healthy salad recipes you are making in your kitchen!
Every Monday I post five colorful, veggie-filled healthy recipes with a free printable color-coded grocery shopping as part of my Meal Plan Monday Series and this week happens to be five healthy salad recipes! Each recipe is inspired by a color of the rainbow, encouraging you to eat the unique nutrients available from a colorful menu. I've been doing this since 2012 and I enjoy sharing tried and true recipes with you!
Some links on this site are affiliate links and I may earn a small commission at no cost to you. Thank you!
(Visited 12,516 time, 1 visit today)