This week's easy spring dinner ideas meal plan includes a a chicken enchilada skillet, a tortilla soup, a spinach pancetta salad, a salmon fajita salad, and a strawberry chopped salad. I hope everyone had a wonderful weekend and that those who celebrated Easter enjoyed the holiday!  This week's meal plan is  delicious and most of the recipes have relatively fast preparation times, all under 1 hour. Click here for this week's grocery shopping list.
San Diego Friends: I will be at the Pinners Conference in Del Mar on April 13th teaching a kombucha making class at 6:30 pm. Please come if you can, it will be informative and fun! Use Code RAINBOW for 10% off your ticket price!
Easy Spring Dinner Ideas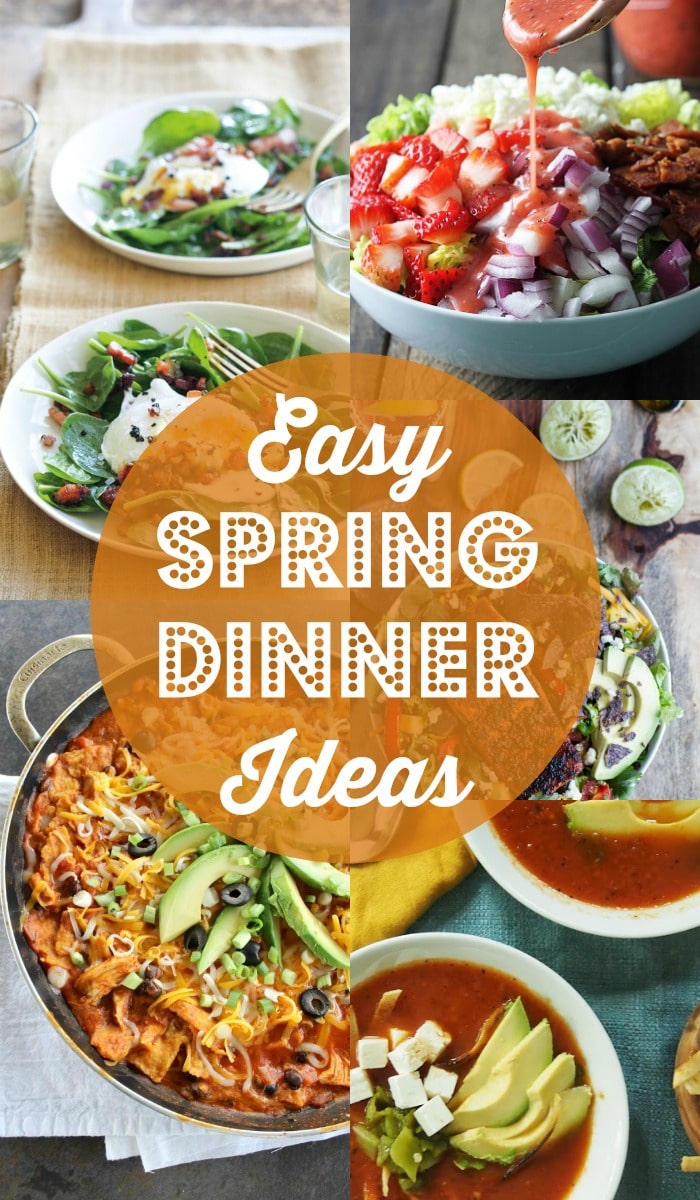 Tortilla Soup from An Avocado A Day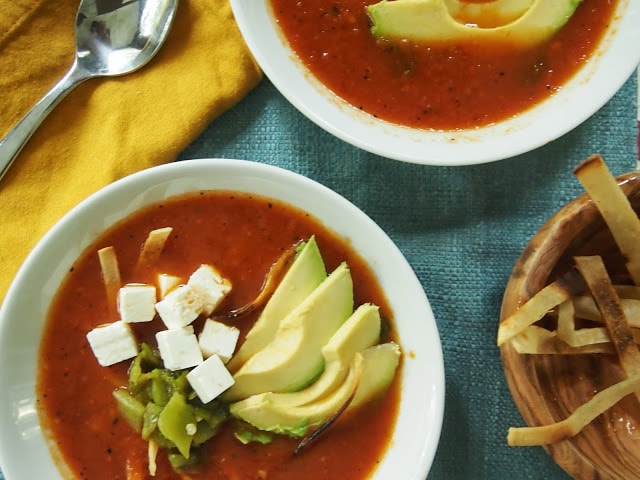 Prep Time: 15 minutes Cook Time: 30 minutes Total Time: 45 minutes
Ingredients: plum tomatoes, garlic, onion, vegetable stock, canola oil, cilantro, corn tortillas, hatch chili, avocado, crumbled feta or queso fresco.
I always love a good tortilla soup and this was no exception.  I used olive oil instead of canola oil, left out the hatch chili and used queso fresco.
Chicken Enchilada Skillet from Good Dinner Mom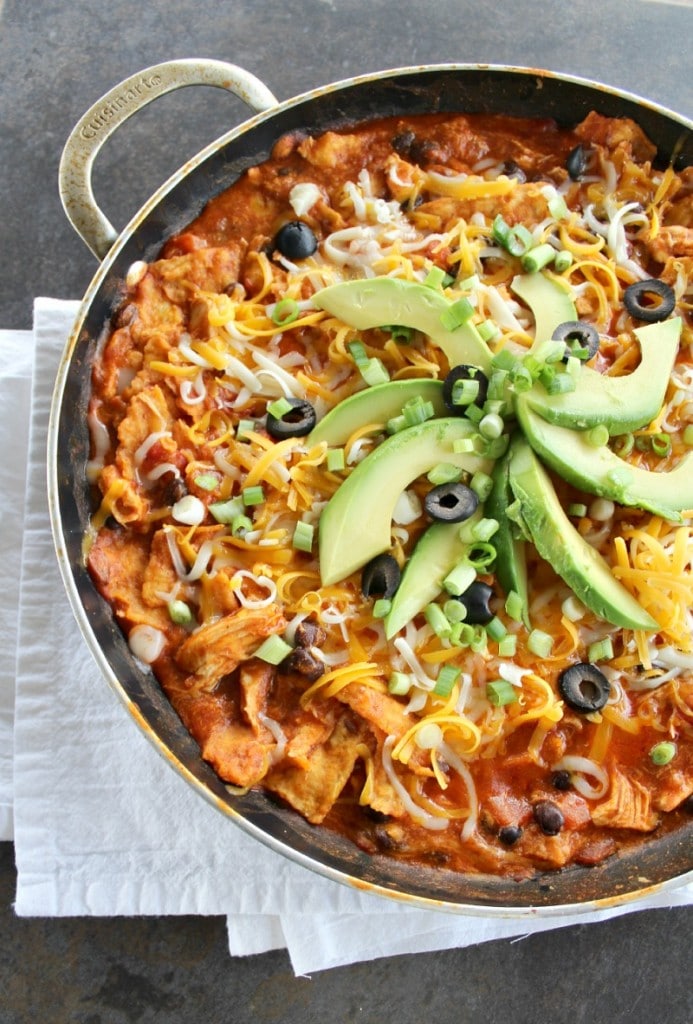 Prep Time: 10 minutes Cook Time: 5 minutes Total Time: 15 minutes
Ingredients: tortilla chips, chicken breast, black beans, diced tomatoes and green chiles, red enchilada sauce, tomato sauce, cheddar, monterey jack, avocado, green onions, black olives, sour cream, hot sauce, cilantro-optional.
Talk about a quick and easy recipe! Our whole family thought it was great. We garnished ours with lots of sour cream, extra avocado and tons of cilantro.
Spinach Salad with Poached Eggs and Pancetta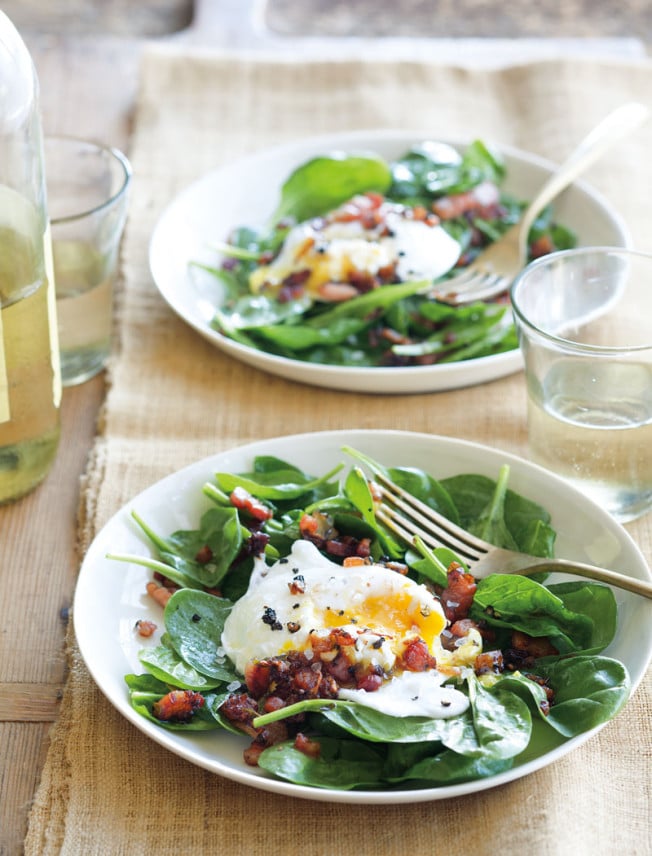 Prep Time: 5 minutes Cook Time: 10 minutes Total Time: 15 minutes
Ingredients: olive oil, pancetta, red wine vinegar, fresh thyme leaves, sugar, shallot, salt & pepper, eggs, spinach.
I was drawn to this recipe because it has pancetta, my new favorite ingredient.  We thought this salad was pretty great.  I fried my eggs instead of poaching them and  doubled the ingredients so it would serve four.
Chile Lime Salmon fajita Salad with Cilantro Lime Vinaigrette from Half Baked Harvest

Prep Time: 15 minutes Cook Time: 15 minutes Total Time: 30 minutes
Ingredients: salmon, olive oil, chile powder, smoked paprika, cumin, brown sugar, limes, salt and pepper, red pepper, spring greens, mango, jalapeño, black beans. avocados, sharp cheddar cheese, queso fresco or cajita cheese, cilantro, tortilla chips, honey.
We are trying to eat more fish but if you aren't into fish you could always substitute grilled blacked chicken for this recipe.  This dish is so fresh and filling at the same time and we loved it.
Strawberry Poppyseed Bacon Chopped Salad from Le Creme de la Crumb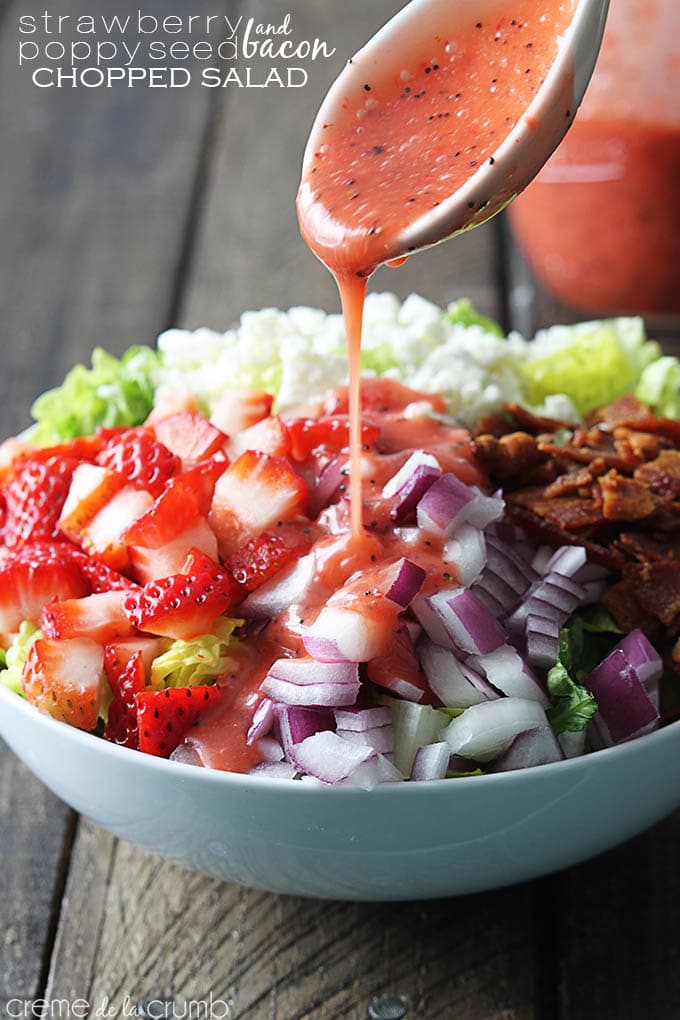 Prep Time: 15 minutes  Cook Time: 10 minutes Total Time: 25 minutes
Ingredients: romaine lettuce, strawberries, bacon, onion, crumbled feta, garlic, red onion, sugar, white vinegar, strawberries, olive oil, salt, poppyseeds.
I made this salad for a family dinner and everyone, myself included, enjoyed it.  The dressing is so quick and easy to make in a blender.  I didn't add poppyseeds to the dressing because they had been stored in my pantry for a while and I thought their freshness may have been compromised. The salad was still great even without them thought. For more amazing salad ideas check out this salad meal plan  and these kale salads.
For another spring ideas meal plan click here!
If you make any recipes from this easy spring dinner ideas meal plan please share on instagram using hashtag #rainbowdelicious & and tag me at @rainbowdelicious , I'd love to see what you are up to in your kitchen!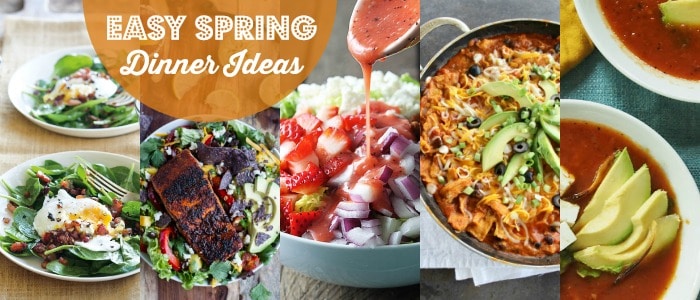 Some links on this site are affiliate links and I may earn a small commission at no cost to you. Thank you!
(Visited 5,975 time, 1 visit today)