Beat the heat with these amazingly delicious dragon fruit popsicles! Pitaya popsicles are an easy, fast, and refreshing dairy free, gluten free treat. Ingredients include dragon fruit / pitaya, raspberries, orange juice, lime juice, coconut water, and sugar (optional).
Jump to Recipe
Jump to Video
The star of this delicious popsicle recipe is dragon fruit, also known as pitaya. It is a fruit related to the cactus pear and is grown in Israel, Southeast Asia, Mexico, Central, South America, and select states in North America. There are so many amazing dragon fruit recipes; they are a great addition to smoothies, acai bowls, and homemade popsicles. You can buy the fruit whole in some markets, or in the frozen fruit isle. I purchased mine from Costco in the freezer section.

The first time I had dragon fruit was when I was ordering an acai bowl in Huntington beach on vacation. I was intrigued and started noticing it pop up more often after that, and began adding it to my smoothies, smoothie bowls and popsicles. I love the vibrant color of the tropical fruit and how it's sweet, seed-speckled pulp is so versatile.

Dragon fruit is the star of this homemade popsicle recipe and combines beautifully with raspberry, citrus and coconut water for a vibrant and flavorful popsicle. I hope you love it as much as I do!
Ingredients for Dragon Fruit Popsicles
Only six ingredients are needed to make this gorgeous homemade popsicles.

Dragon Fruit is a tropical fruit that tastes similar to a cross between kiwi and pear. The fruit is also known as pitaya, red dragon fruit, pitahaya, or strawberry pear can be found in the fruit section of many grocery markets, or in the frozen fruit section. I used the bright pink frozen version by Pitaya Foods for this popsicle recipe (purchased from Costco), but any dragon fruit variety would work! Dragon fruit is knowns as a superfood, full of antioxidants and vitamin C.
Raspberries add sweet and tart flavor to this popsicle recipe and help to keep this popsicle brightly colored. You can use fresh or frozen raspberries in this popsicle recipe.
Freshly Squeezed Orange Juice adds some acidity, tartness, and sweetness to these healthy popsicles.
Freshly Squeezed Lime Juice adds more acidity and a fun flavor to the dragon fruit mixture.
Coconut water is used to help blend up the mixture, I added about 1/2 cup but you can add more or less depending on the texture and flavor you want. I used my favorite brand, Harmless Harvest, purchased from Costco, but any coconut water should do!
Sugar is an optional ingredient in these dragon fruit popsicles, but it helps to make the texture a little softer, while also adding extra sweetness.

Supplies Needed for Dragon Fruit Popsicles
Popsicle Molds I love these silicone molds, but there are so many great options to choose from that would all work great for dragon fruit popsicles.
Wooden popsicle sticks can be purchased on amazon, or some popsicle molds, like this one come with the popsicle sticks attached.
Blender most blenders should work for this recipe, I use my vitamix.

You will also need access to a freezer for this dragon fruit popsicle recipe!
How to make Dragon Fruit Popsicles

These homemade popsicles take hardly any prep time and are so easy to make. Simply combine ingredients in your blender, pour into popsicle molds, add popsicle sticks, and freeze for 4-6 hours or until completely frozen. Remove dragon fruit popsicles from mold and enjoy! Store in the freezer in air tight containers.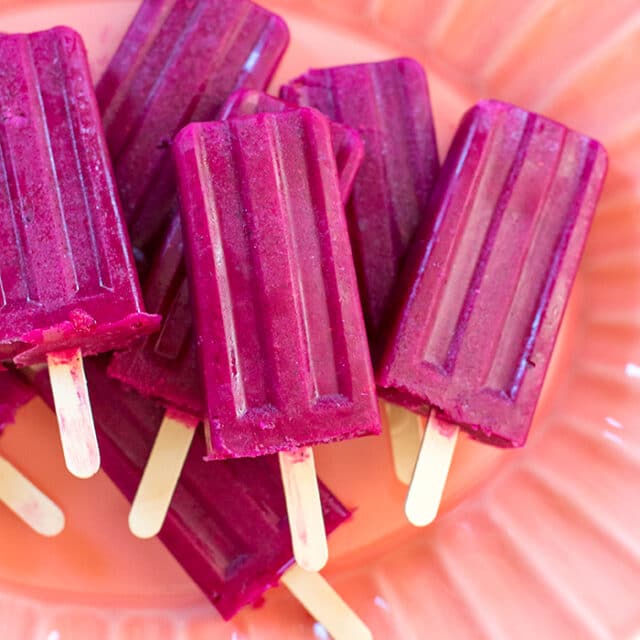 Dragon Fruit Popsicles
Beat the heat with these amazingly delicious dragon fruit popsicles! Pitaya popsicles are an easy, fast, and refreshing dairy free, gluten free treat. Ingredients include dragon fruit / pitaya, raspberries, orange juice, lime juice, coconut water, and sugar (optional).
Total Time
4
hours
5
minutes
Ingredients
3

cups

dragon fruit

frozen or fresh

1

cup

raspberries

frozen or fresh

2

oranges, juiced

1

lime, juiced

1/2

cup

coconut water

1/2

cup

sugar or sugar syrup

optional
Instructions
Combine all ingredients in blender until fully blended. Add extra coconut water if needed to get desired consistency. Optionally, add up to 1/2 cup sugar for desired sweetness level.

Pour dragon fruit mixture into popsicle mold and add wooden popsicle sticks. Freeze for 4-6 hours, or until fully frozen.

Remove popsicles from mold and enjoy!
Recipe Video
Recipe Notes
Nutrition Info
Any nutritional information on RainbowDelicious.com should only be used as a general guideline. This information is provided as a courtesy and there is no guarantee that the information will be completely accurate. The nutritional labels are a product of online calculators such as (but not limited to) Verywellfit.com   Although RainbowDelicious.com attempts to provide accurate nutritional information, these figures should be considered only as estimates. Varying factors such as product types or brands purchased, natural fluctuations in fresh produce, and the way ingredients are processed change the effective nutritional information in any given recipe.
Nutrition Facts
Dragon Fruit Popsicles
Amount Per Serving
Calories 175
Calories from Fat 1
% Daily Value*
Fat 0.1g0%
Sodium 11mg0%
Potassium 102mg3%
Carbohydrates 40.1g13%
Protein 2.5g5%
Calcium 59mg6%
Iron 2mg11%
* Percent Daily Values are based on a 2000 calorie diet.
FAQ

How long do homemade popsicles last stored in the freezer?
If stored correctly and kept at constant proper temperatures, homemade popsicles can be stored for 6-8 months in the freezer.
What is the best way to get popsicles out of their popsicle mold?
To remove popsicles from the mold, it can be helpful to run some warm water under the popsicle. It is helpful to remove all the popsicles from their molds at one time, and store extra popsicles in an airtight container for later.
What else can you make with dragon fruit?
Dragon fruit tastes amazing in a dragon fruit smoothie, dragon fruit ice cream, dragon fruit yogurt ice cream, or gelato, as an addition in your green smoothie, mixed with coconut milk in ice pops sweetened with maple syrup, and in acai bowls.
Why is dragon fruit not so popular in the US?
While I've noticed it seems to be gaining popularity, dragon fruit is not super accessible in the United States as it is currently only grown in California, Hawaii and Florida. However, it is also sold in the frozen fruit section of some grocery store chains, which makes it more accessible.

More Popsicle Recipes
If you love popsicle fruit recipes like these dragon fruit popsicles, check out these healthy popsicle recipes
creamy mango homemade popsicle recipe
yogurt & strawberry popsicles
matcha & banana fruit popsicles
golden milk popsicles
frozen yogurt sprinkle popsicles
coffee popsicles
You might also enjoy some of these dragon fruit recipes.

If you make these dragon fruit popsicles please snap a photo and share on instagram using hashtag #rainbowdelicious and tag me @rainbowdelicious, I'd love to see how it turns out! If you'd like to have more recipes and delicious content emailed to your inbox please subscribe with your email address in the sidebar!

Some links on this site are affiliate links and I may earn a small commission at no cost to you. Thank you!
(Visited 5,774 time, 1 visit today)