Banana Coffee Popsicles are a perfect and refreshing snack. This small batch is made with just six ingredients. These are high protein, high energy, low in calories, and delicious! There is zero refined sugar, as it is sweetened with blended banana.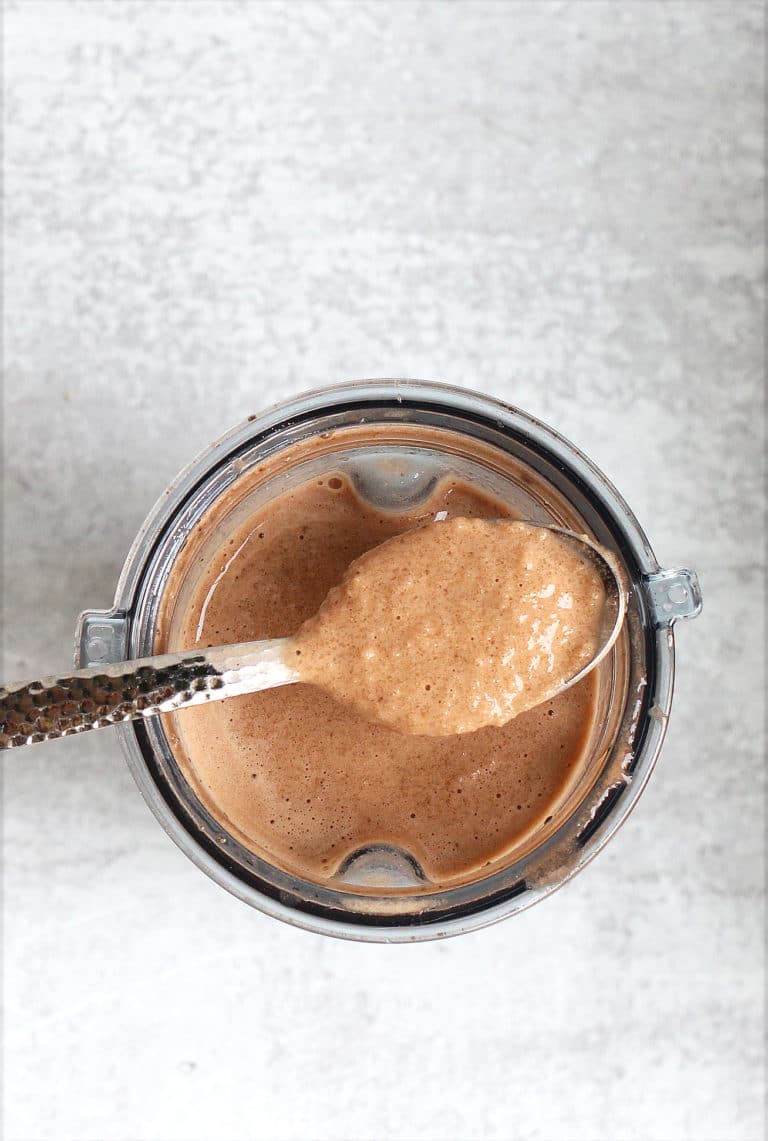 This recipe idea came from simply freezing one of my favorite morning smoothies, this cold brew coffee banana smoothie. It is essentially exactly the same as this popsicle recipe, except instead of freezing the blended ingredients in popsicle molds, just pour mixture in a cup and enjoy! For the smoothie I always use frozen banana, but for these popsicles using a regular banana vs. frozen won't really make a difference so you can use whatever you have on hand.
Ingredients for Banana Coffee Popsicles

Cold Brew Coffee You can purchase cold brew concentrate, or simply make your own by steeping 2/3 cup coffee ground and 4 cups water overnight and straining in the morning. You could also use regular coffee for this recipe if you prefer.
Almond Milk adds just a hint of almond flavor and creaminess. You could also substitute with other milks like dairy, hemp, oat, etc.
Frozen Banana adds thickness and sweetness. If you don't have a frozen banana and really want to make this recipe right now you can substitute with a non-frozen banana and just add ice, but using a frozen banana is recommended!
Collagen Powder adds a little protein to each popsicle. I like to use Vital Proteins Collagen Peptides, but any collagen powder will do. You could also substitute with other protein powders, but I personally think collagen powder is best because the flavor isn't too strong, especially when combined with coffee.
Chia Seeds add a little fiber and Oemga-3s.
Cocoa Power adds just a hint of chocolate flavor.
Popsicle Molds & Wooden Sticks are needed for this popsicle recipe which makes about ten 3 oz popsicles. I like to use this mold and order sticks in bulk, but you can use any molds you have on hand.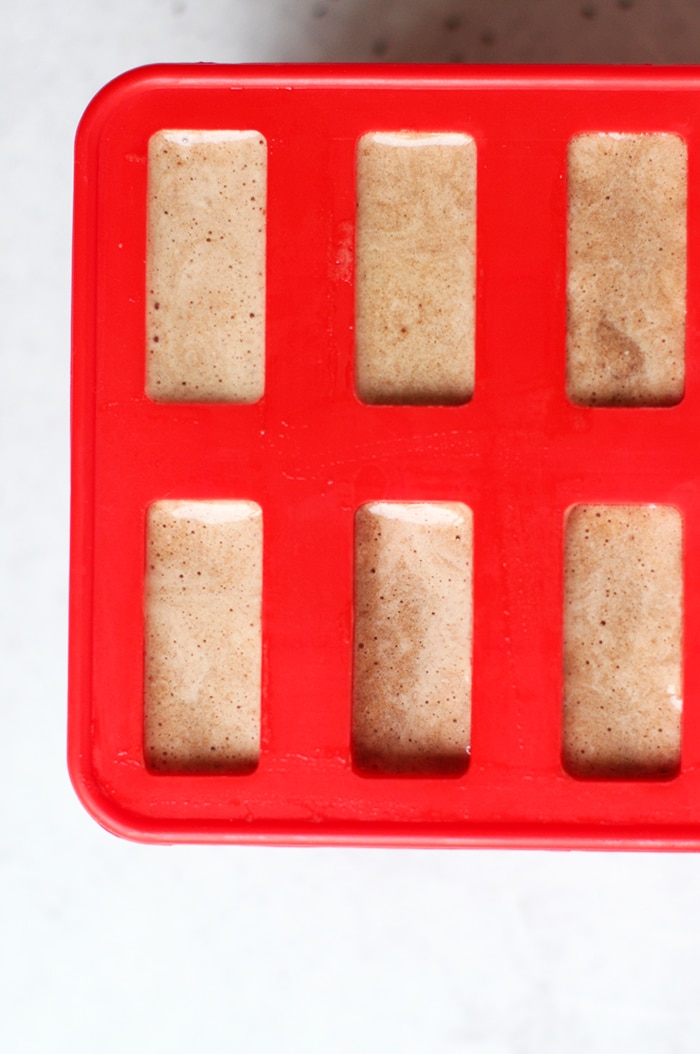 How To Make Cold Brew Coffee Banana Popsicles
To make these popsicles, simply blend all ingredients in your blender. I use a Vitamix blender, but any blender should do. First, gather your ingredients. Start by adding the cold brew and almond milk, and then add the banana, cocoa powder, collagen powder, and chia seeds. The reason for adding the liquids first is because I've learned from experience that if you add the dry powders or seeds first they never fully mix in and can stick to the bottom of the blender.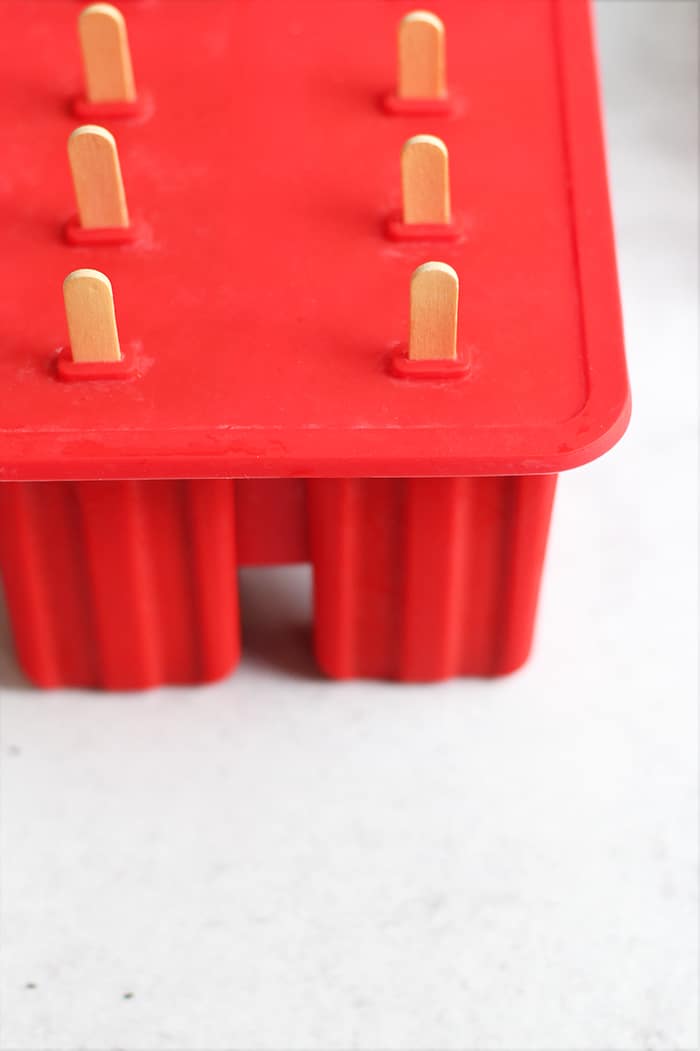 Once you have added all the ingredients in the correct order to your blender, simply blend until everything is fully mixed. Pour fully blended mixture into popsicle mold. It should make about 5 popsicles. Add wooden sticks and place in freezer for at least four hours, or until they are fully frozen. That's it. Feel free to play around with different milks and add-ins! The mixture separates a little as it freezes, with the coffee sinking to the bottom and the almond milk floating towards the top, that is what gives them their cool coloring.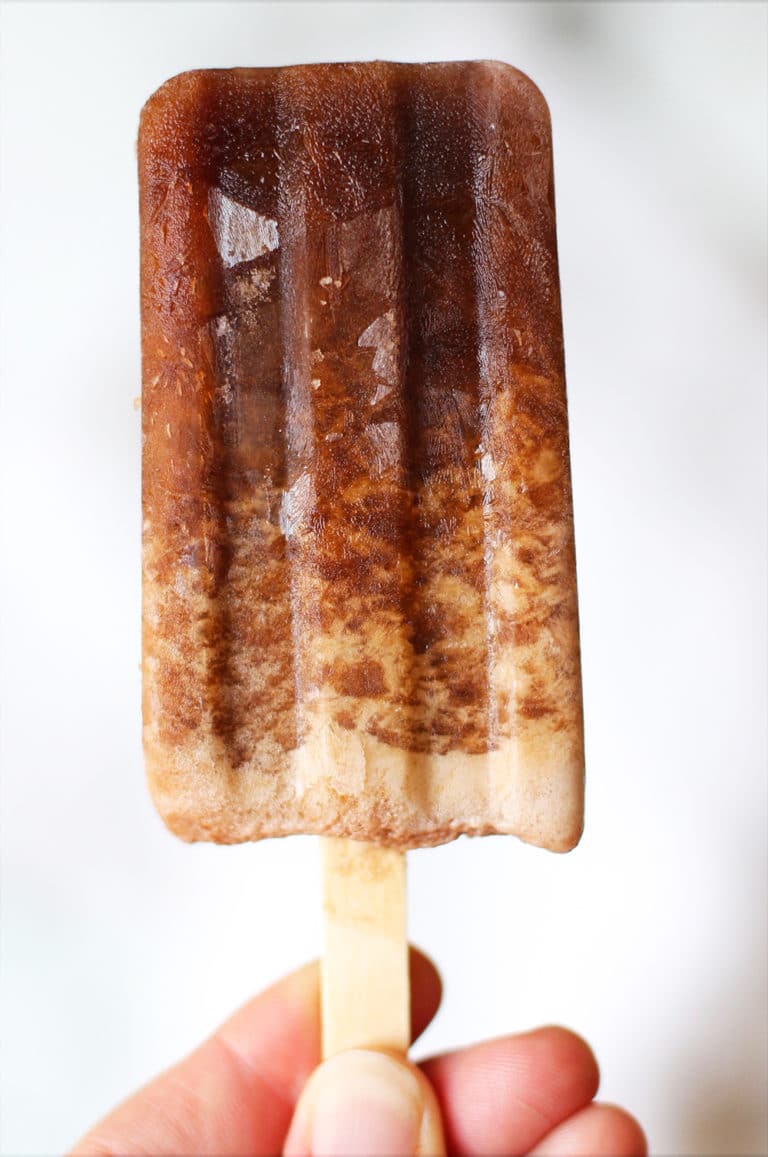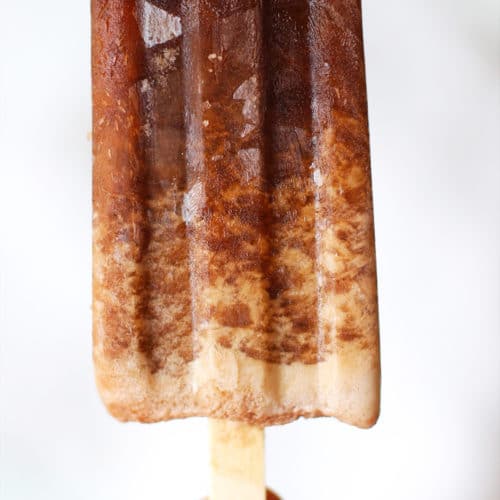 Banana Coffee Popsicles
Small batch of popsicles made with just six ingredients. These are high protein, high energy, low in calories, and delicious! There is zero refined sugar as these popsicles are sweetened with blended banana.
Total Time
4
hours
5
minutes
Ingredients
1/2

cup

cold brew coffee

1/4

cup

almond milk

2

scoops collagen powder

1

banana

1/2

teaspoon

chia seeds

1/2

teaspoon

cocoa powder
Instructions
Add cold brew coffee, almond milk, banana, collagen, chia seeds, and cocoa powder to blender. Blend until all ingredients are fully blended.

Pour mixture into popsicle mold. Add popsicle sticks and freeze for at least 4 hours, or overnight.

When they are fully frozen, pop the popsicles out of their mold and serve immediately.

This should make about 5-6 popsicles. You can also double this recipe to make 10 popsicles.
Recipe Video
Recipe Notes
Nutrition information is based on 1 popsicle. The recipe should make approximately 5 popsicles.
Any nutritional information on RainbowDelicious.com should only be used as a general guideline. This information is provided as a courtesy and there is no guarantee that the information will be completely accurate. The nutritional labels are a product of online calculators such as (but not limited to) Verywellfit.com   Although RainbowDelicious.com attempts to provide accurate nutritional information, these figures should be considered only as estimates. Varying factors such as product types or brands purchased, natural fluctuations in fresh produce, and the way ingredients are processed change the effective nutritional information in any given recipe.
Nutrition Facts
Banana Coffee Popsicles
Amount Per Serving
Calories 43
Calories from Fat 5
% Daily Value*
Fat 0.6g1%
Sodium 61mg3%
Potassium 108mg3%
Carbohydrates 5.9g2%
Protein 4.1g8%
Calcium 35mg4%
* Percent Daily Values are based on a 2000 calorie diet.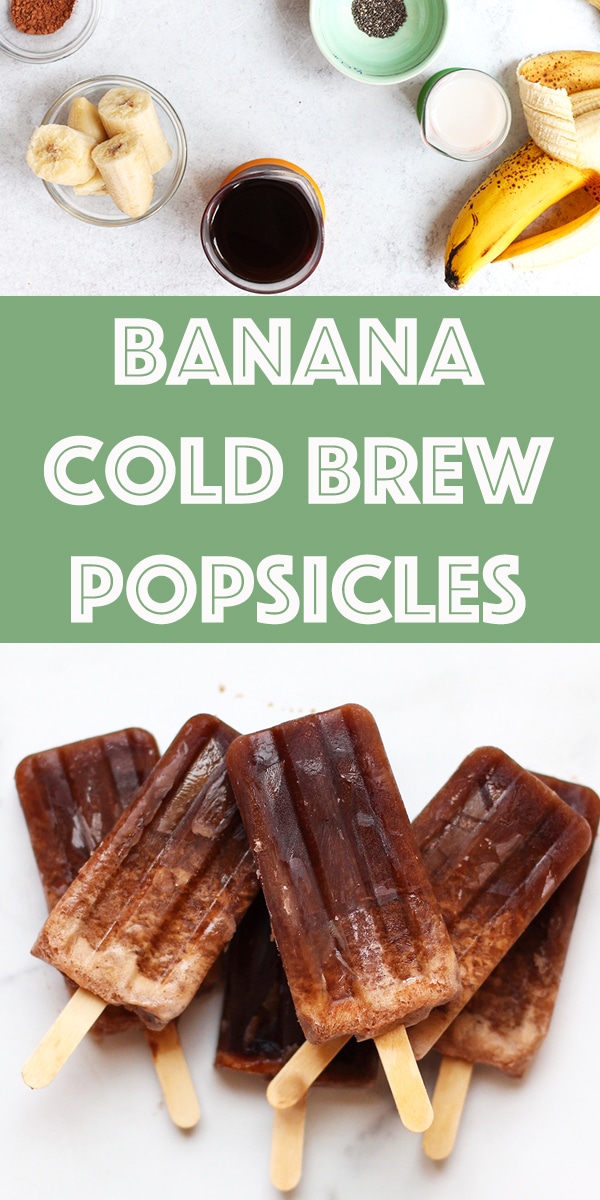 Other Posts You'll Love
Golden Milk Coconut Popsicle Recipe
Frozen Yogurt Popsicle Recipe with Sprinkles
If you make these banana coffee popsicles please share on instagram using hashtag #rainbowdelicious & and tag me at @rainbowdelicious , I'd love to see what you are up to in your kitchen!
Some links on this site are affiliate links and I may earn a small commission at no cost to you. Thank you!
(Visited 2,043 time, 1 visit today)