You will love these halloumi recipes! Halloumi is the best grilling cheese ever and tastes amazing when added to salads, burgers and even pasta! Here are 34 halloumi recipes for you to enjoy: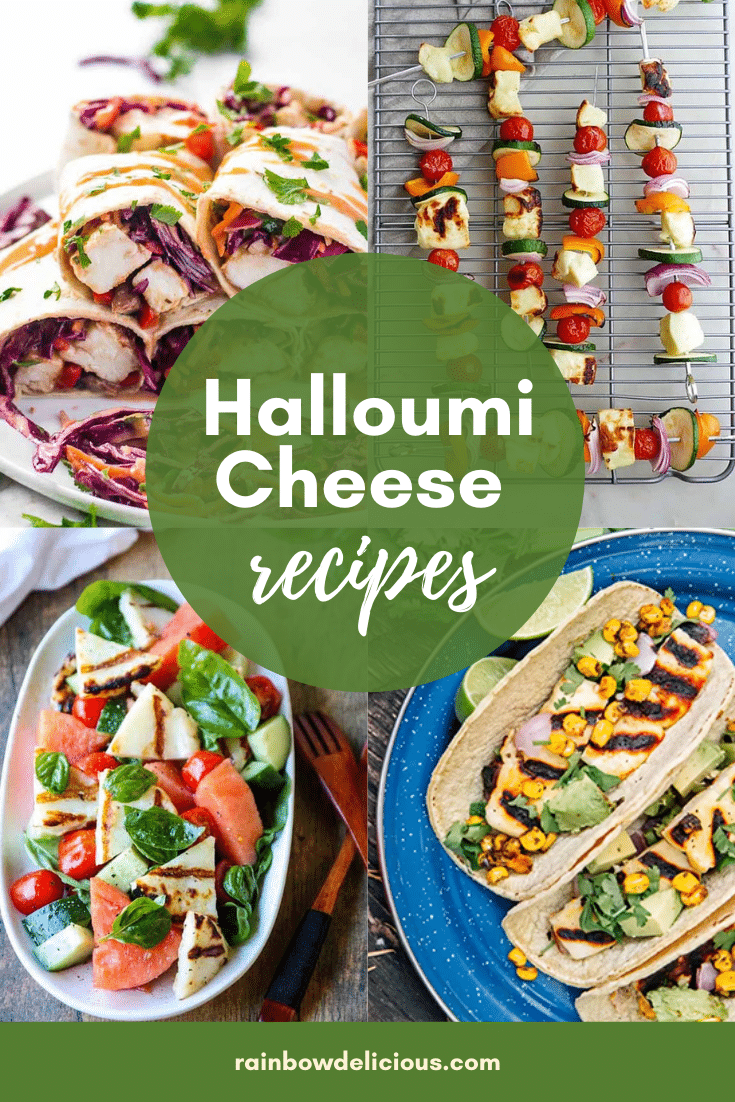 This post was originally published in 2015 and has been completed revamped and updated for accuracy and comprehensiveness.
Halloumi Recipes
Halloumi Salads
1. Halloumi Watermelon Salad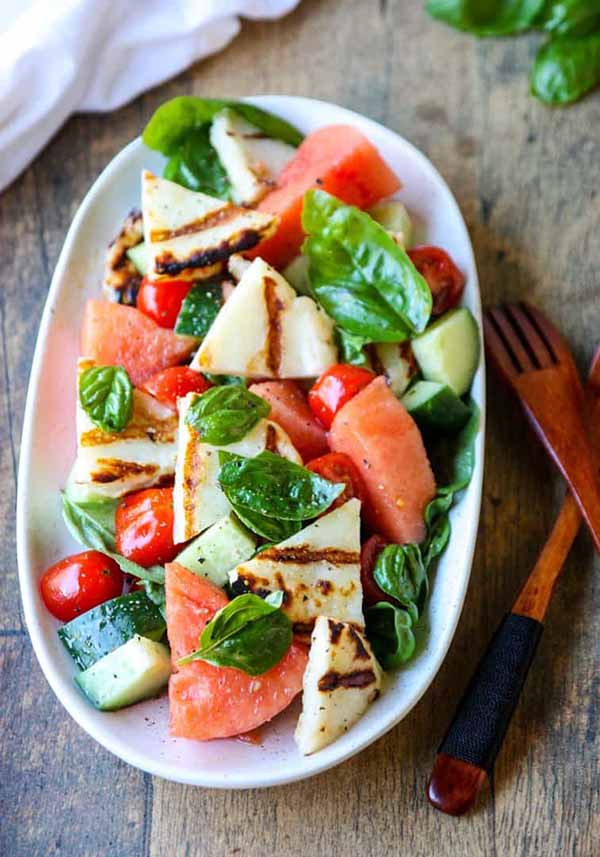 Halloumi is perfect for the grill and this summer salad with grilled halloumi and watermelon from The Food Blog is a delicious meal on its own or as a side dish.
2. Grilled Halloumi Salad with Tomatoes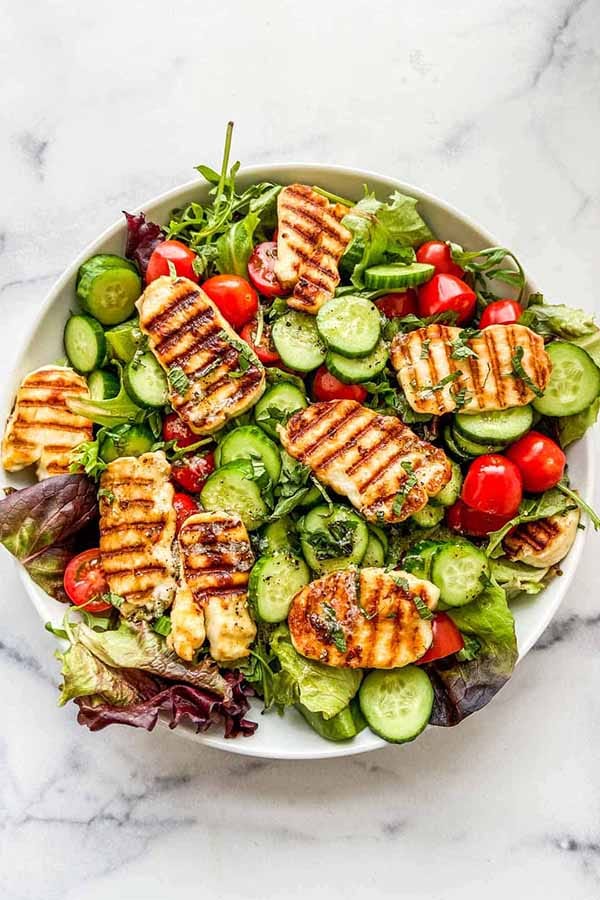 This grilled halloumi salad from This Healthy Table is a tasty, savory recipe! It's paired with fresh and juicy tomatoes and cucumbers for a crunchy vegetable bite.
3. Grilled Halloumi and Sweet Potato Salad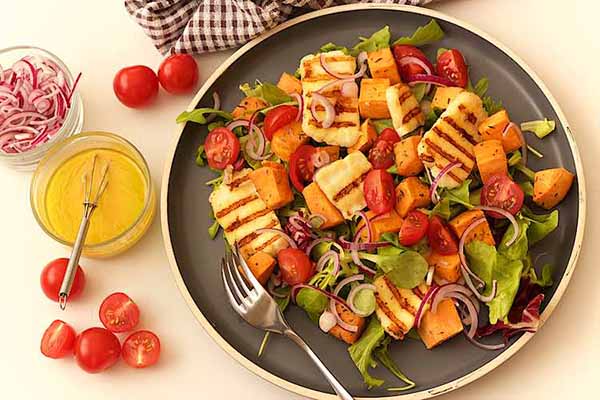 This vibrant salad from The Tasty Chilli features roasted sweet potato and pan-grilled halloumi cheese tossed in a tangy tahini dressing.
4. Halloumi Asparagus Salad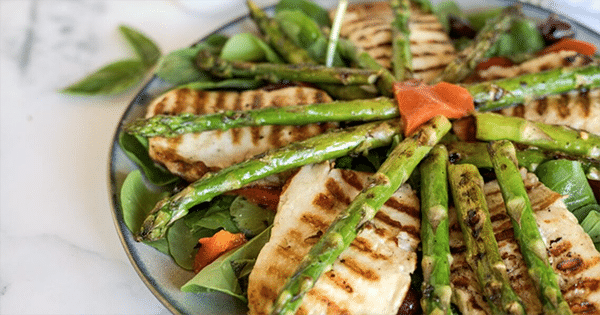 This asparagus salad from Keto Vegetarian Recipes is a tasty combination of grilled cheese and vegetables.
5. Grilled Fennel Salad with Halloumi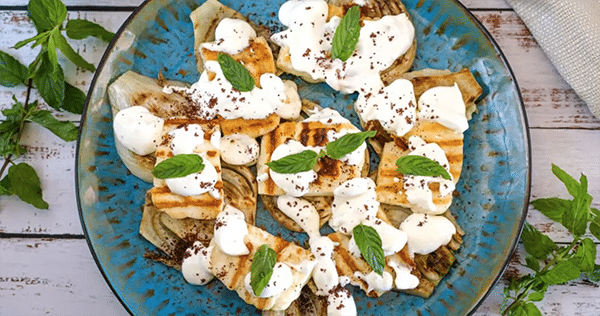 The slight aniseed flavour of fennel goes very well with the creamy saltiness of halloumi cheese in this fennel salad from Keto Vegetarian Recipes.
6. Giant Couscous Halloumi Salad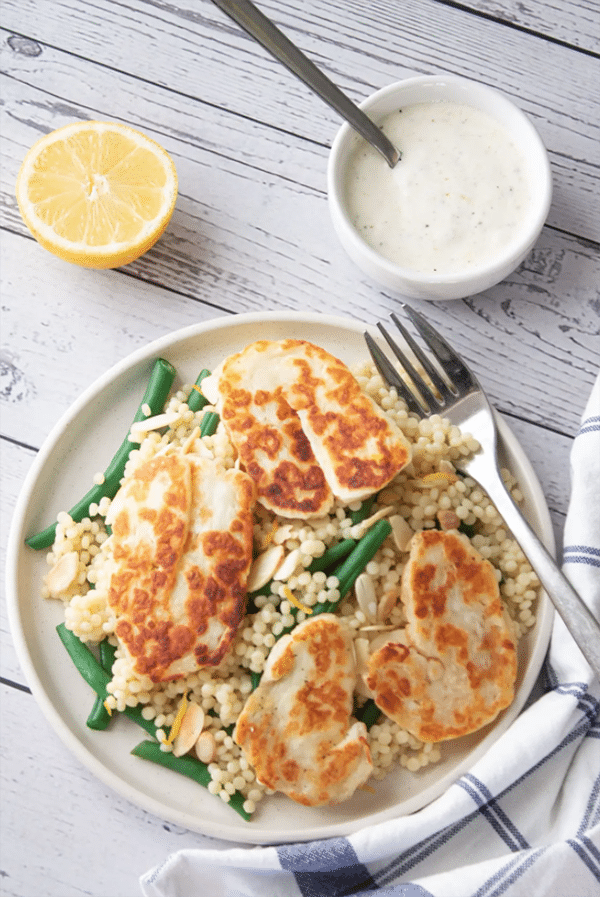 Can't go wrong with this giant couscous halloumi salad from Knife and Soul. A tasty and satisfying salad with warm and creamy halloumi, soft and chewy giant couscous, green beans and crunchy flaked almonds with a garlicky yogurt dressing.
7. Grilled Corn and Halloumi Salad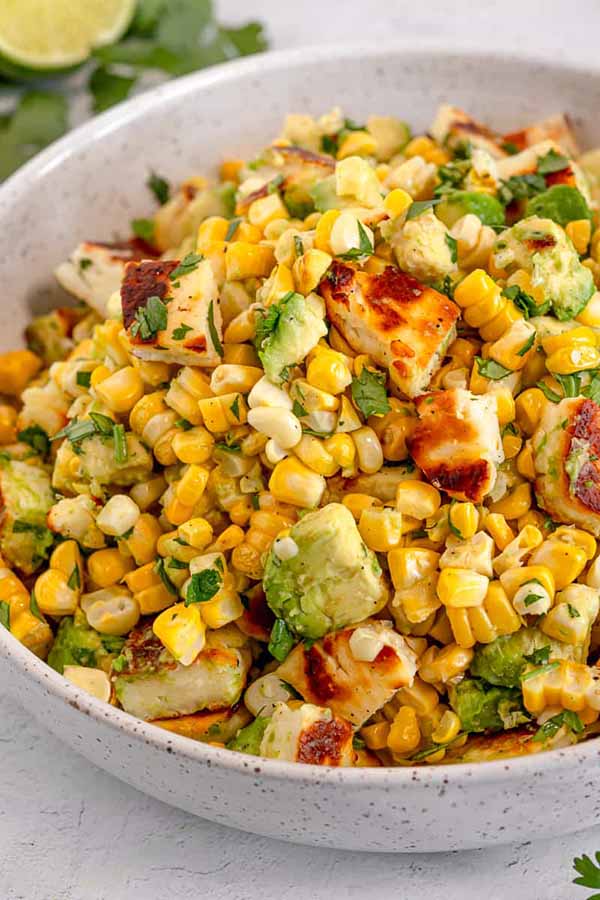 Tender grilled corn, delicious grilled halloumi cheese, avocado, cilantro, and lime. This delicious halloumi salad from Girl with the Iron Cast uses minimal ingredients, but is full of flavor.
8. Canary Melon Salad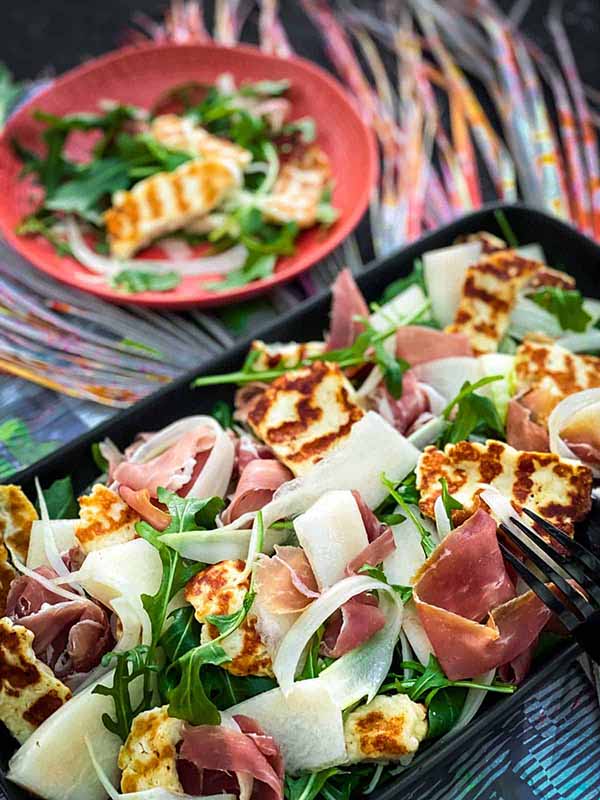 Easy salad with halloumi balanced perfectly with sweet canary melon, salty prosciutto, peppery rocket and crunchy shaved fennel. A great refreshing salad from The Devil Wears Salad to lift the summer vibes.
9. Nectarine Halloumi Salad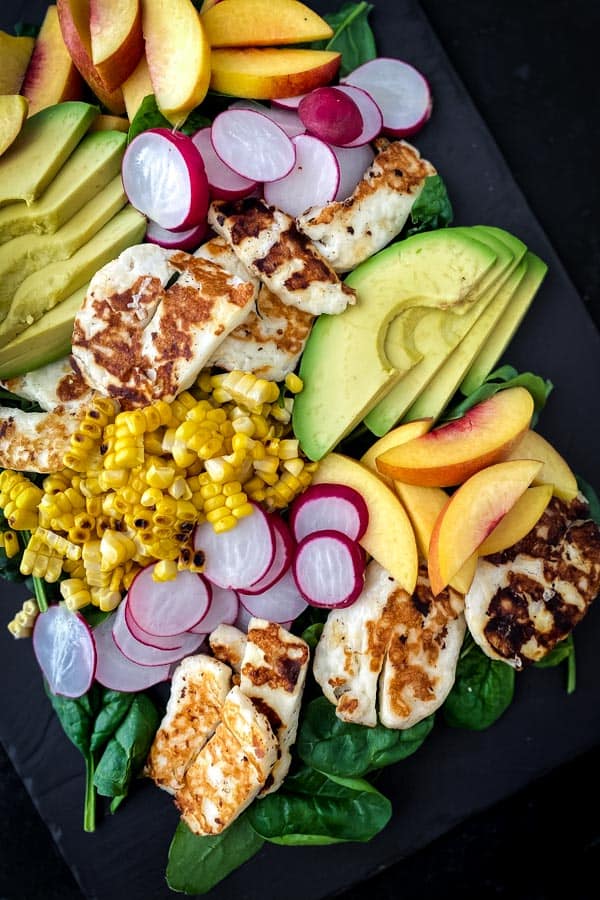 The combination of salty grilled halloumi, creamy avocado, peppery radishes alongside sweet charred corn, and in season nectarines makes this vegetarian salad from the Devil Wears Salad super refreshing and so easy to prepare.
10. Cumin Roasted Carrots with Halloumi and Dill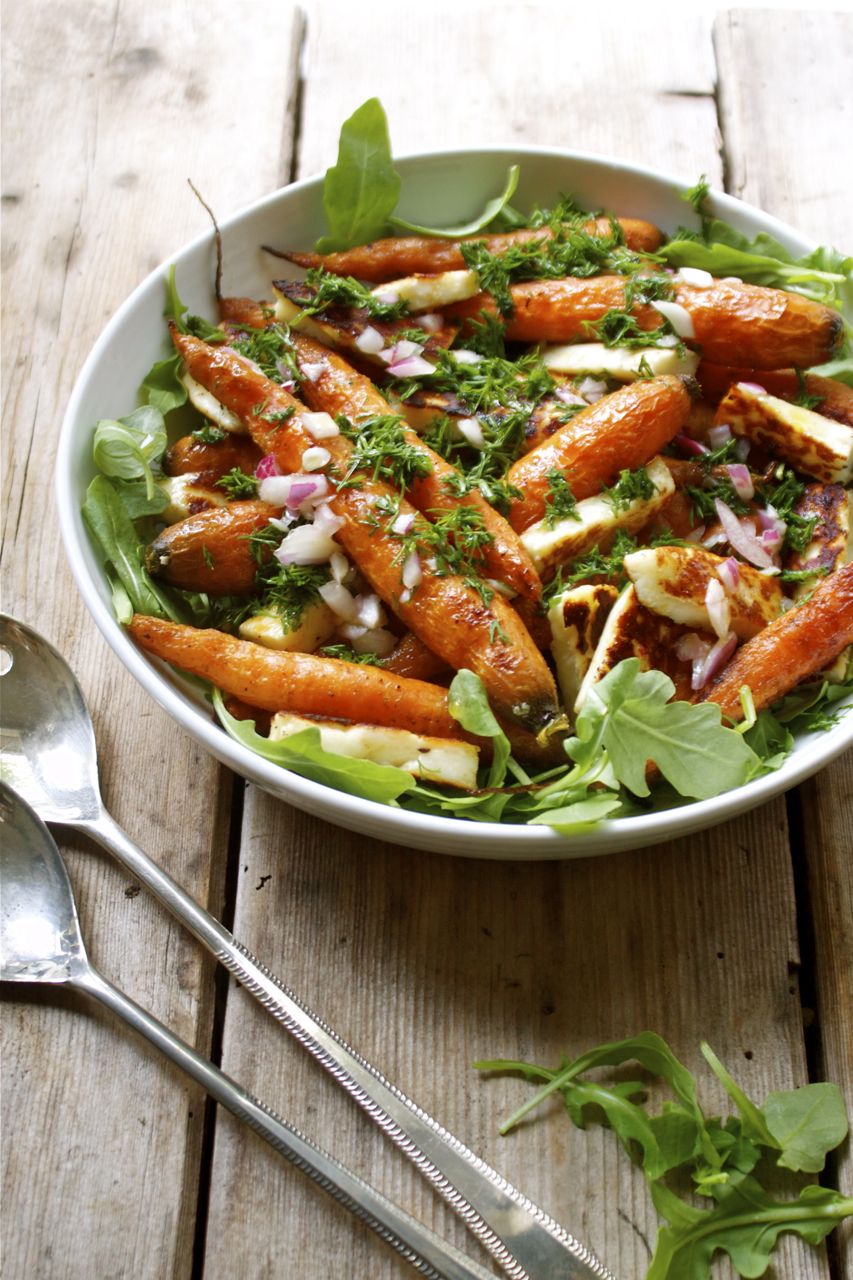 These Cumin Roasted Carrots with Halloumi and Fresh Dill from In Pursuit of More would make the perfect light weeknight meal.
11. Watermelon Halloumi Arugula Salad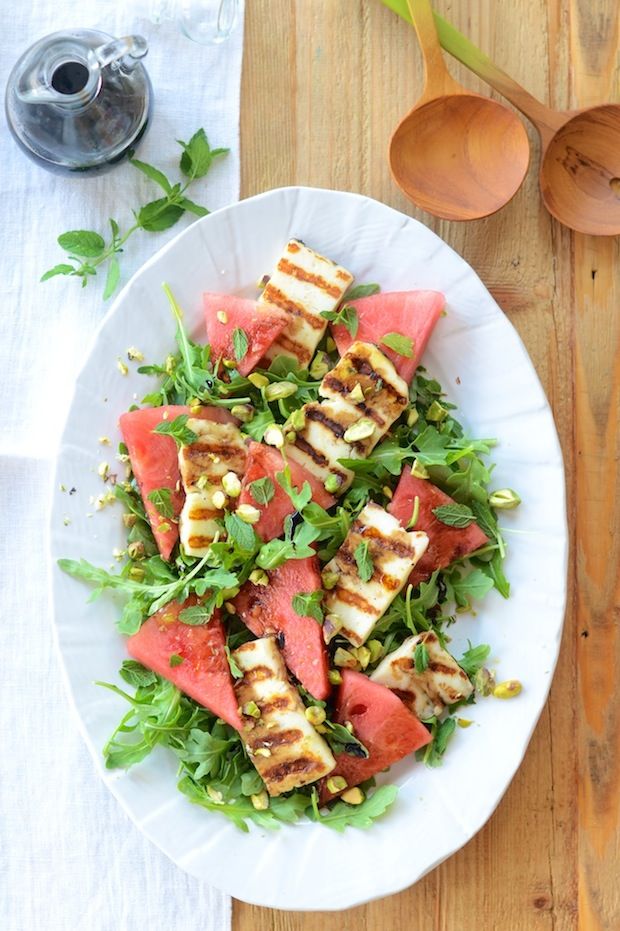 Another Halloumi and Watermelon Salad from Camille Styles because those two flavors just together so wonderfully!
Halloumi Burgers, Sandwiches, and Wraps
12. Cajun Halloumi Burger with Yogurt Sauce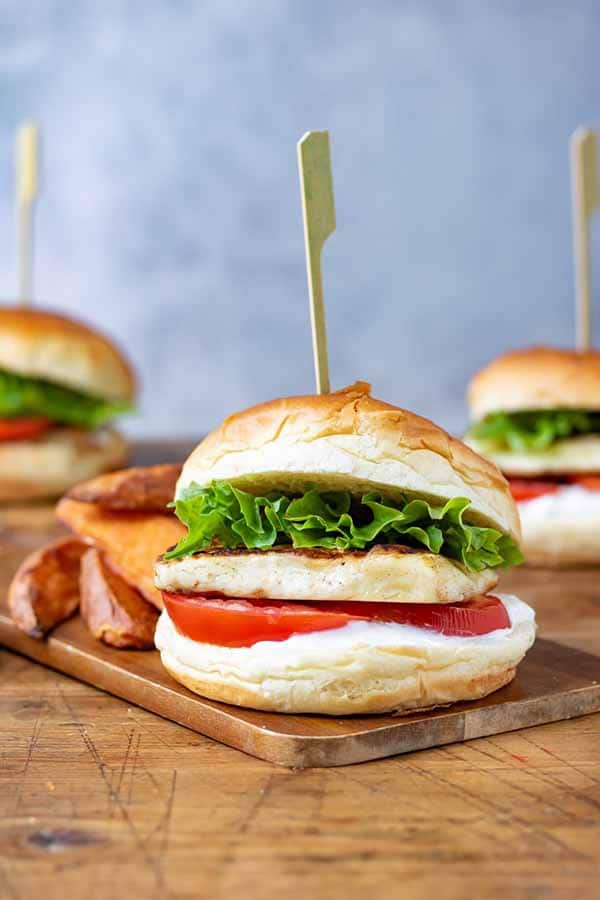 This Cajun Halloumi Burger from Veggie Desserts is a tasty veggie burger – and it's super quick to make in just 10 minutes! The halloumi gets wonderfully crispy on the outside and soft on the inside.
13. Grilled Eggplant Halloumi and Pesto Burgers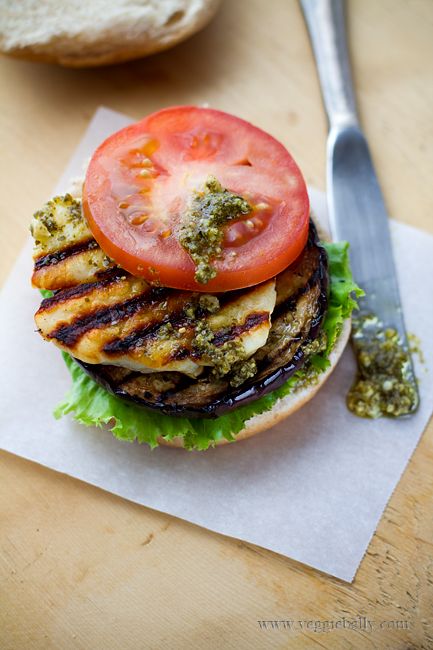 These Grilled Eggplant Halloumi and Pesto Burgers from Veggie Belly are such a delicious and filling vegetarian meal,
14. Halloumi Zucchini Burgers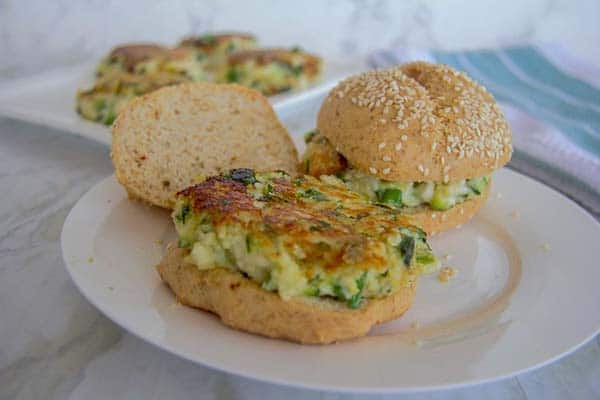 Halloumi burgers with zucchini from Divalicious Recipes are a great addition to any BBQ.
15. Grilled Halloumi Lamb Burger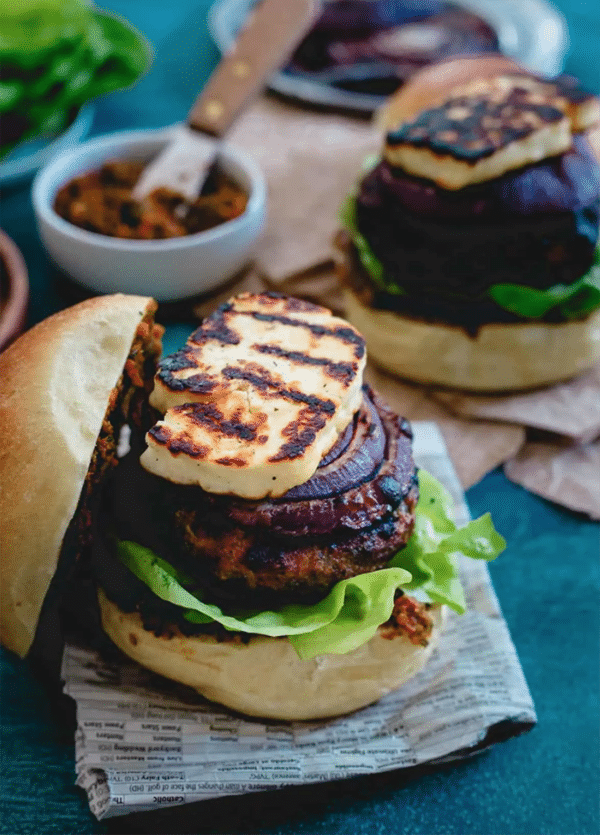 This grilled halloumi lamb burger from Running to the Kitchen is packed with fresh herbs, topped with red onions caramelized on the grill until sweet and a thick layer of sun-dried tomato pesto spread making each bite burst with delicious Mediterranean flavors.
16. Halloumi Sandwich with Avocado Pesto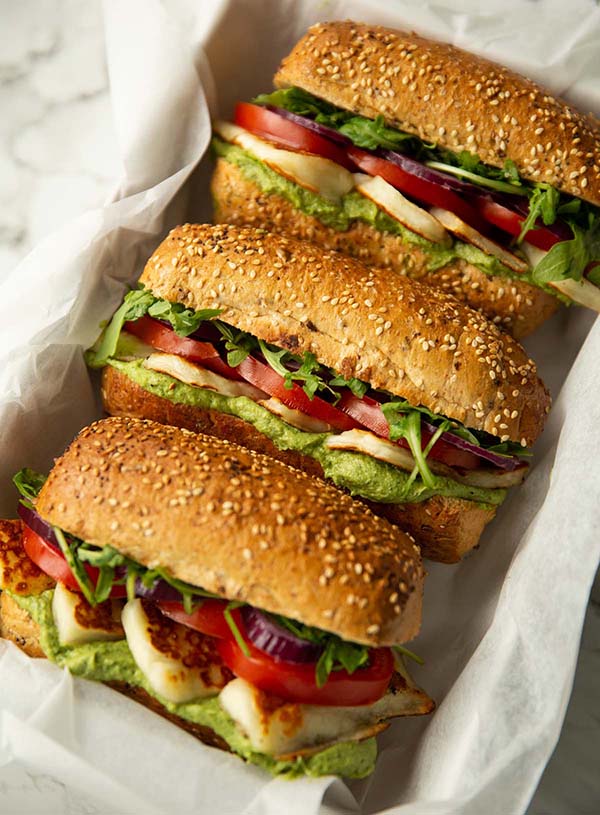 It's so easy to whip up this Halloumi Sandwich from Something About Sandwiches. Served with a quick and easy Avocado Pesto, these Halloumi Sandwiches make the perfect lunch!
17. Grilled Halloumi Sandwich with Sriracha Mayo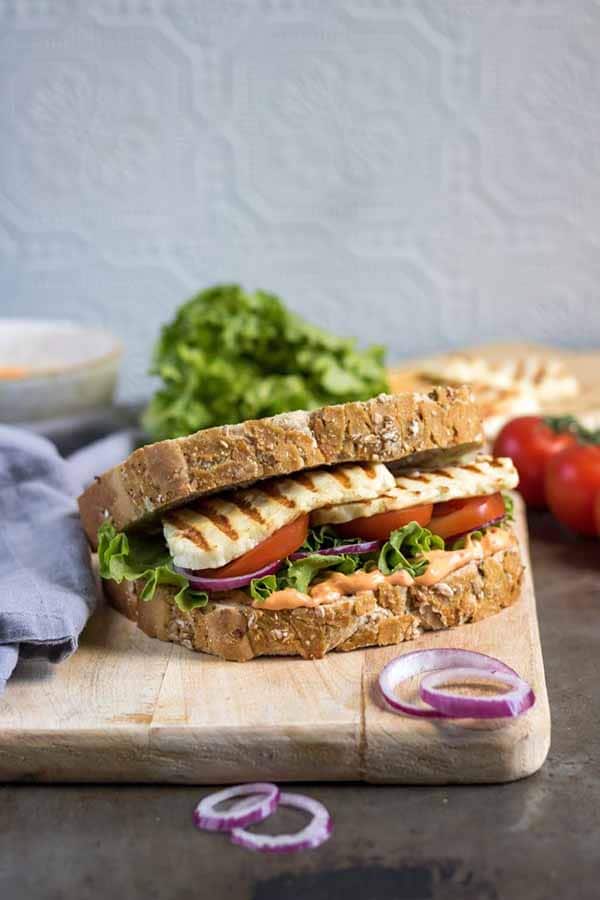 This easy Halloumi Sandwich recipe from Veggie Desserts is a hit for lunch or dinner and comes together in only 15 minutes! Enjoy grilled halloumi cheese in a delicious classic sandwich spread with a homemade Sriracha mayo for a spicy kick.
18. Grilled Halloumi Breakfast Sandwich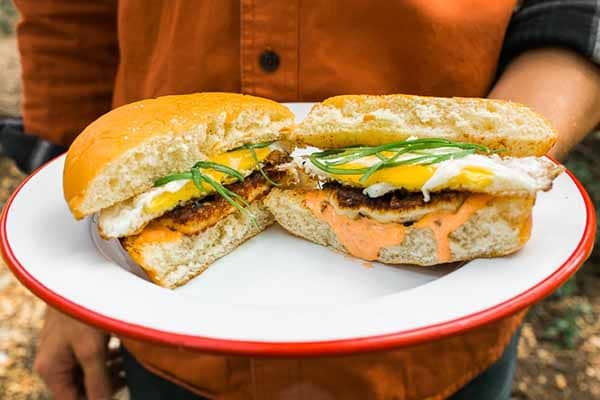 Grilled halloumi cheese, sweet Hawaiian rolls, a fried egg and spicy mayo come together to make a fantastic quick and easy camping breakfast from Fresh of the Grid.
19. Halloumi Bagel Sandwich

Fiery harissa, salty halloumi, peppery rocket, sweet tomato salsa and creamy mayo: this halloumi bagel from A Mummy Too is a sandwich you'll want to eat again and again.
20. Satay Halloumi Wraps

Fusion halloumi wraps with sweet chili satay sauce from Happy Veggie Kitchen! These protein packed wraps are full of different flavors and textures for a satisfying vegetarian lunch, hot or cold.
21. Halloumi Quinoa Wraps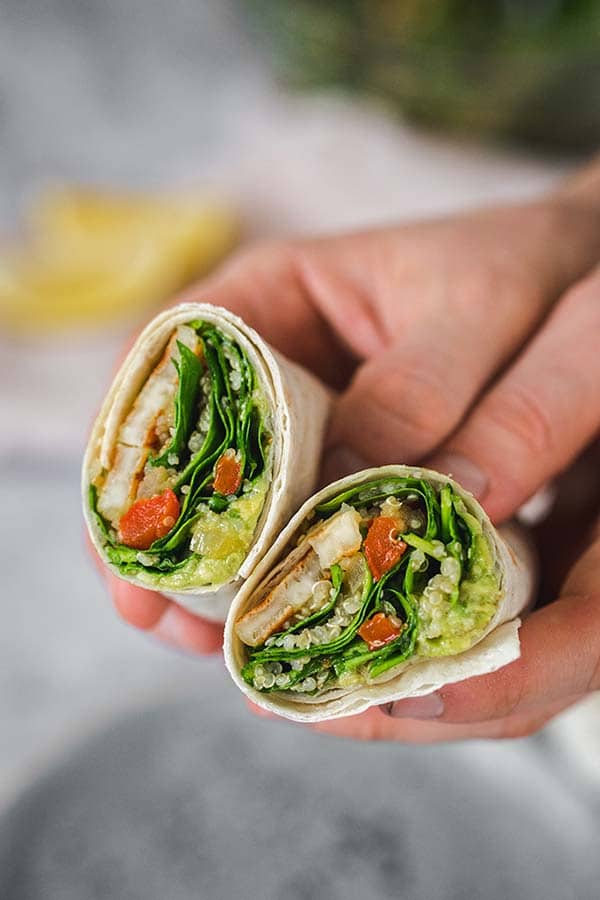 These halloumi wraps from Healthy Addiction are literally an all-around powerhouse of nutritious things and they taste so good you will be hooked immediately. Halloumi, quinoa, spinach, avocado, bell pepper, and a secret ingredient – fig mustard!
Skewer Halloumi Recipes
22. Grilled Vegetable Skewers with Halloumi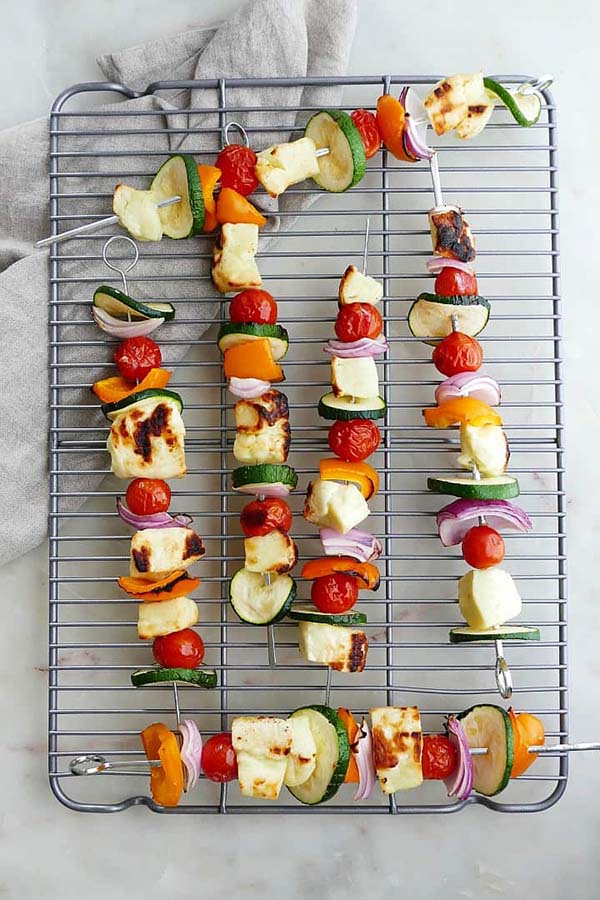 These delicious halloumi skewers from Its A Veg World After All feature fresh vegetables and an easy marinade!
23. Grilled Peach and Halloumi Skewers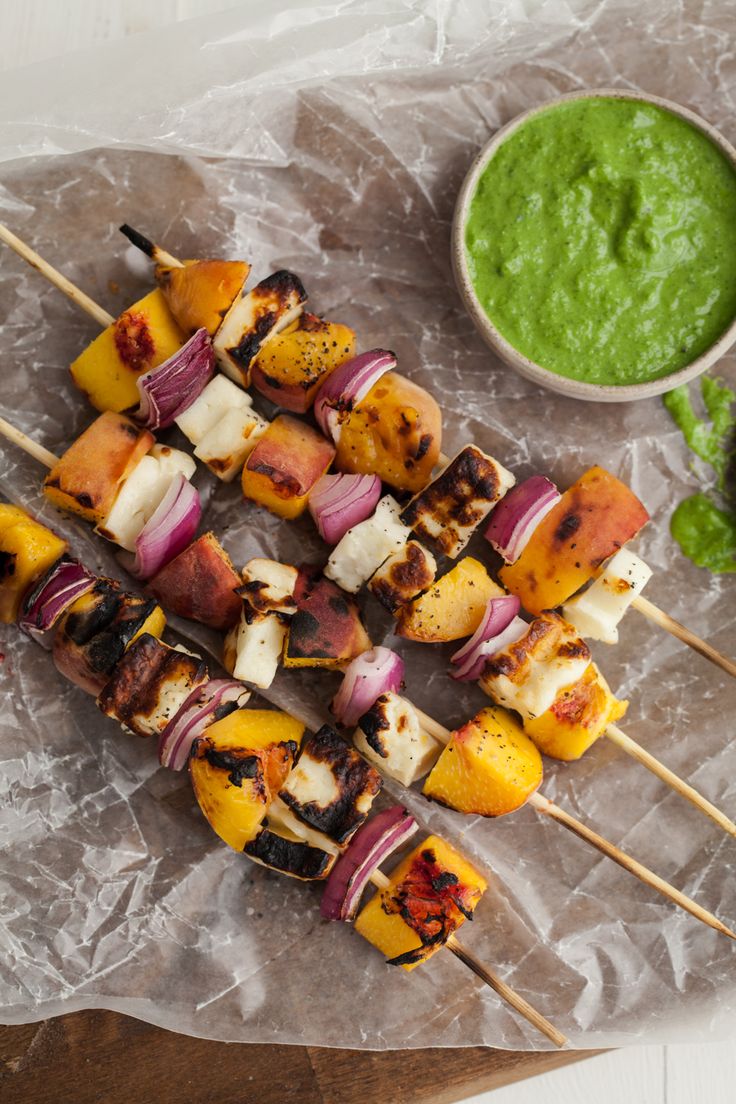 Next time you fire up the grill you need to add these Grilled Peach and Halloumi Skewers with Basil Jalapeno Sauce from Naturally Ella to your menu!
24. Watermelon Halloumi Skewers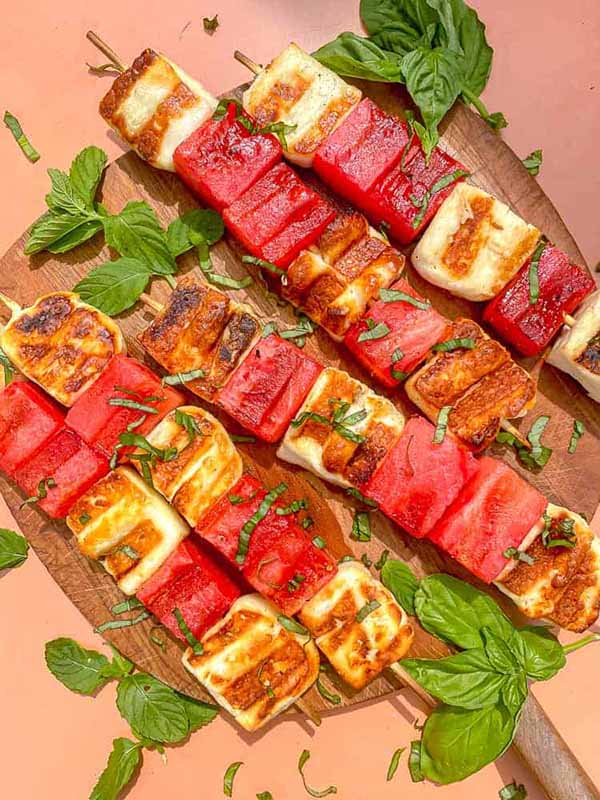 Caramelized watermelon and crispy halloumi cheese pairs together in this skewer recipe from Girl with the Iron Cast for the perfect salty and sweet bite.
25. Zucchini Halloumi Artichoke Skewers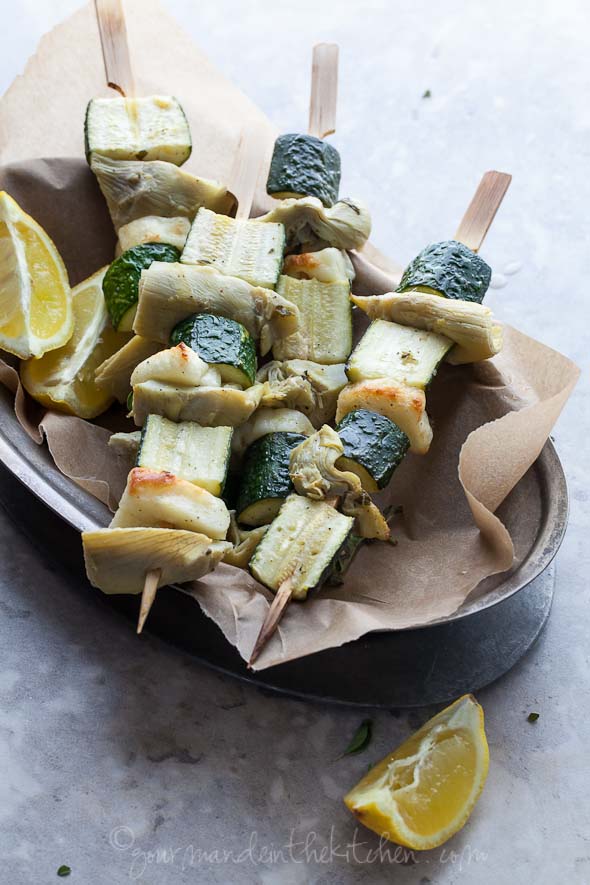 Zucchini, artichokes and halloumi team up with a zesty lemon oregano marinade and hit the grill in these easyGreek inspired vegetable skewers from Gourmande in the Kitchen
Pasta Halloumi Recipes
26. Halloumi Pasta in Simple Tomato Sauce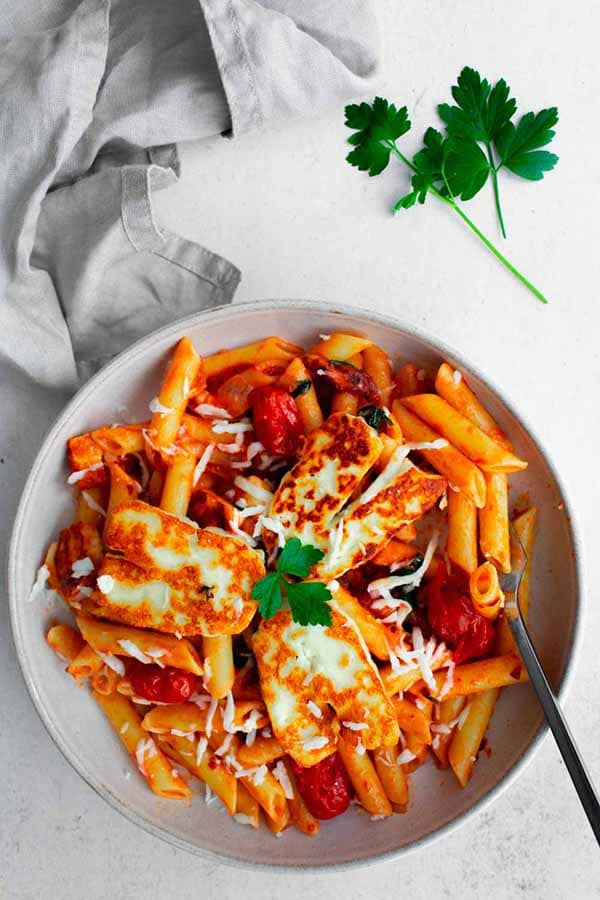 In this pasta dish from Kitchen on the Avenue, the natural flavors of halloumi cheese are highlighted by tomatoes, garlic, and herbs in a simple tomato sauce. The halloumi cheese is perfectly complemented by the flavors of basil and cherry tomatoes, and every bite is a delight.
27. Halloumi Pasta Salad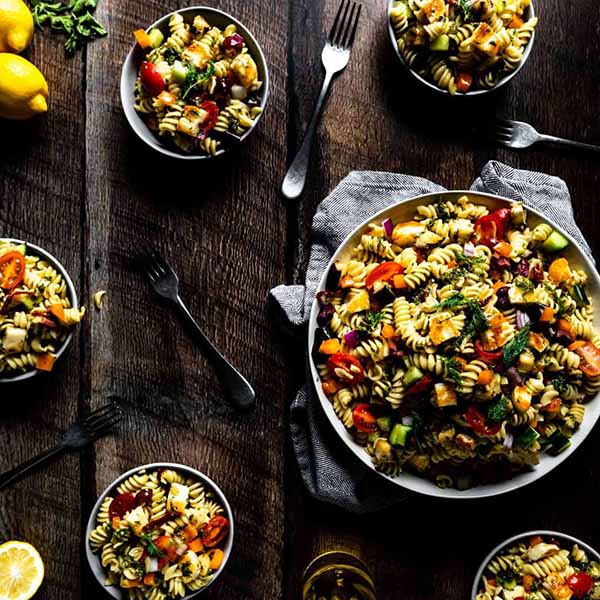 This Halloumi Pasta Salad recipe from Food Worth Feed is a delicious and colorful addition to any Summertime spread! Pasta, lots of veggies, olives, grilled eggplant and pan-seared halloumi cheese make this easy recipe so crave worthy!
28. Halloumi Walnut Mushroom Pasta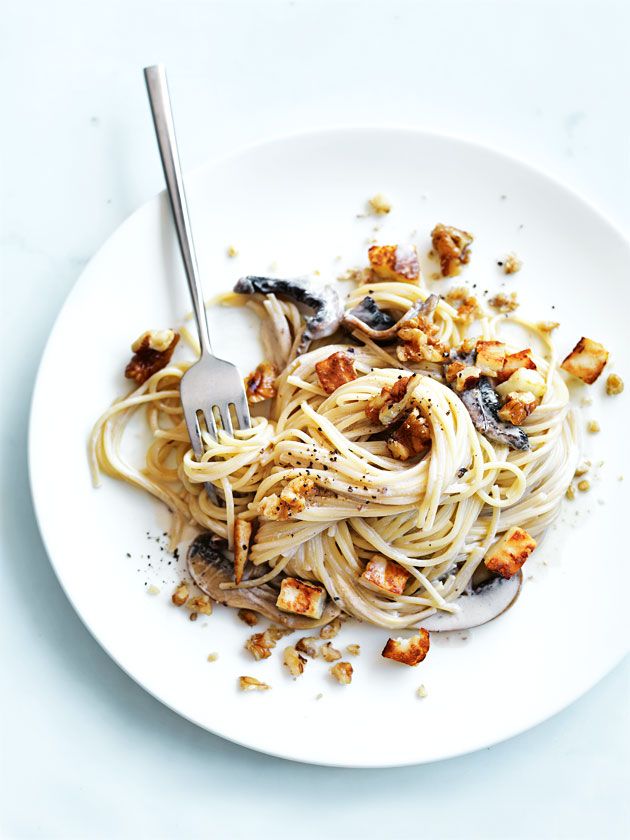 If you love mushrooms, pasta and halloumi you need to try this Halloumi and Mushroom Pasta from Donna Hay for a quick weeknight dinner soon!
Taco & Fajita Halloumi Recipes
29. Halloumi Tacos with Pineapple Mango Salsa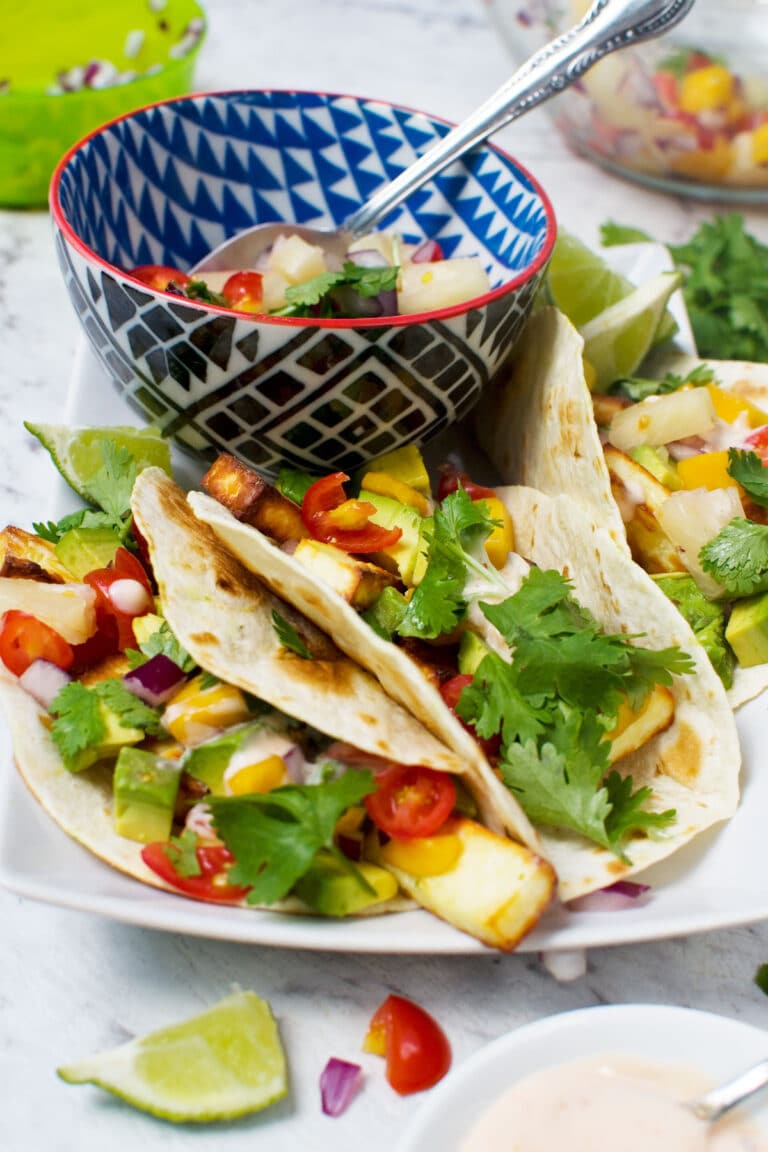 Love Greek food? Love Mexican food too? You're in luck with these delicious crispy halloumi tacos with an easy pineapple mango salsa from Scrummy Lane. The contrast of sweet and salty flavours could be a talking point when you're next entertaining, or serve them for a quick lunch at home
30. Grilled Halloumi Tacos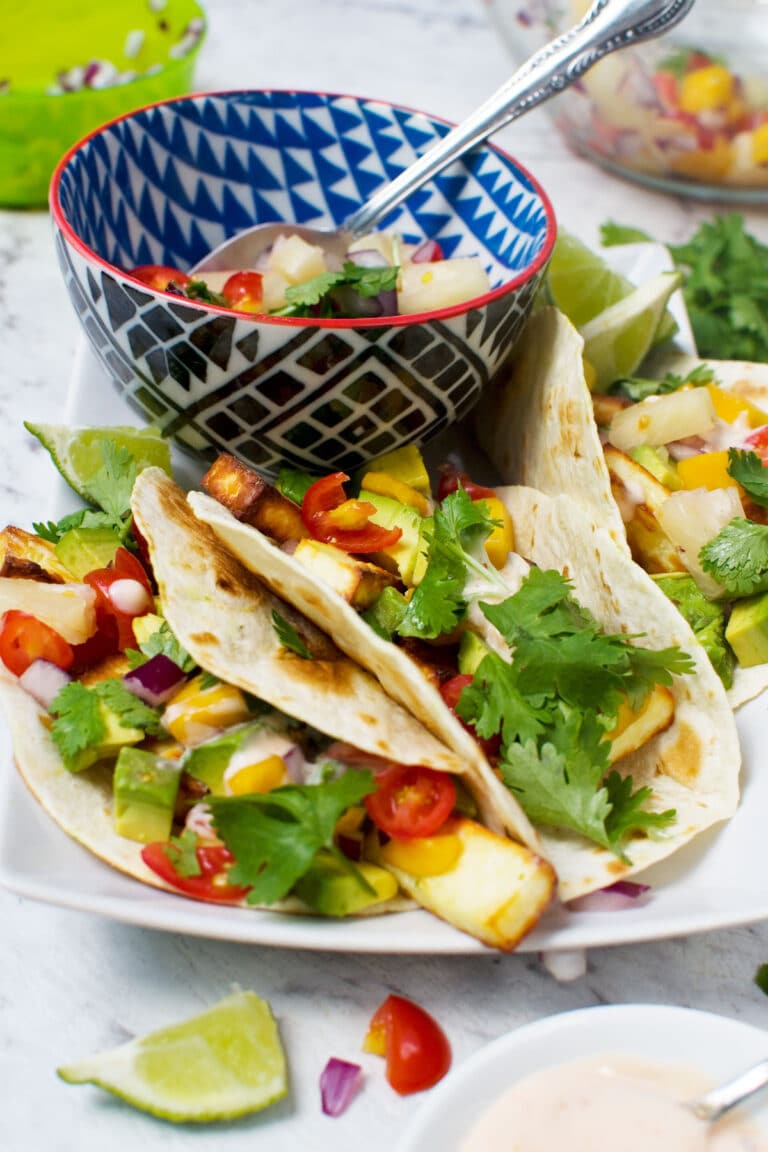 Roasted peppers, blistered red onions, and grilled halloumi cheese. Get the grill fired up and try out these delicious vegetarian tacos from Fresh Off the Grid the next time you go camping.
31. Halloumi Sheet Pan Fajitas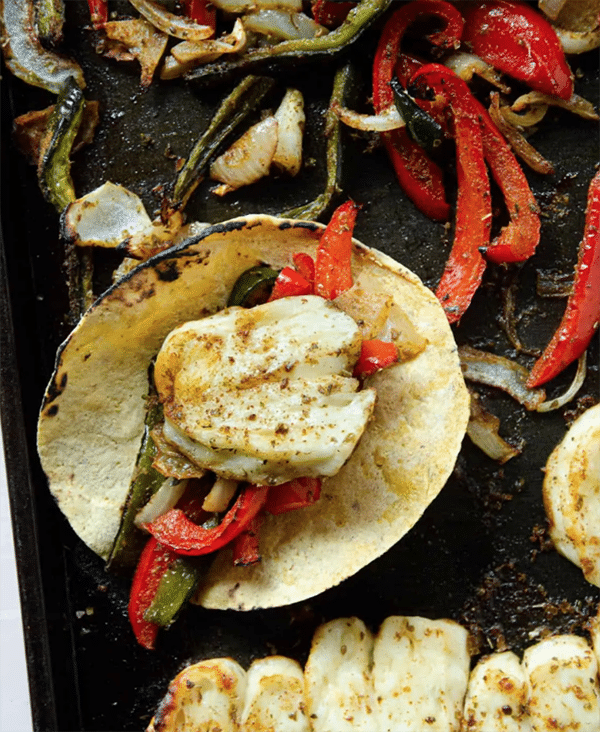 These halloumi fajitas from Elise Tries to Cook are easy, vegetarian and delicious! Roasted on one sheet pan for the quickest 30-minute meal. Homemade fajita seasoning, loaded with vegetables, and so good even the pickiest of eaters will love it!
32. Easy Halloumi Fajitas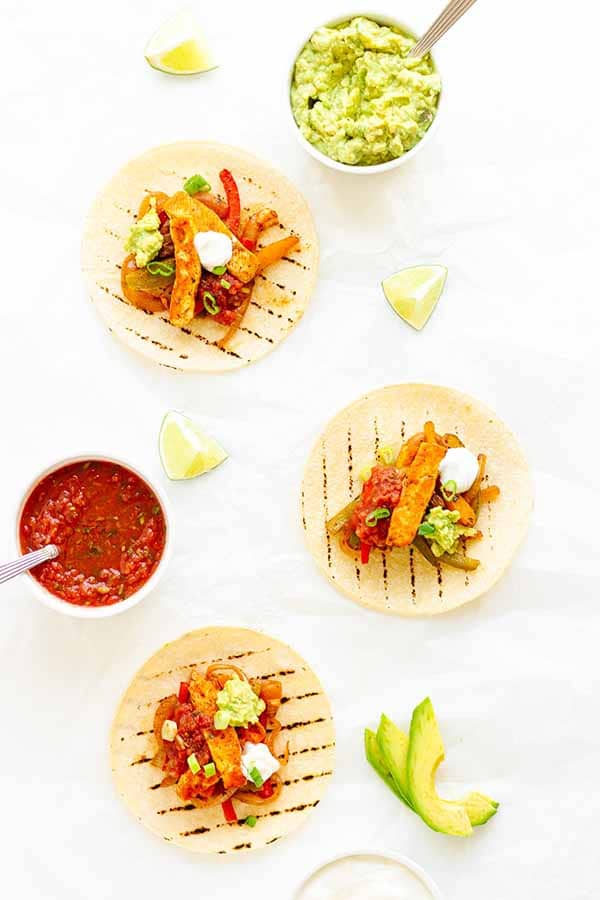 These Halloumi Fajitas from Maple and Mango are an easy and delicious weeknight meal that the whole family will love. Loaded with colorful fajita veggies, seasoned pan fried halloumi and all your favorite toppings. This vegetarian fajita recipe can be on your dinner table in 30 minutes!
Other Halloumi Recipes
33. Crispy Marinated and Fried Halloumi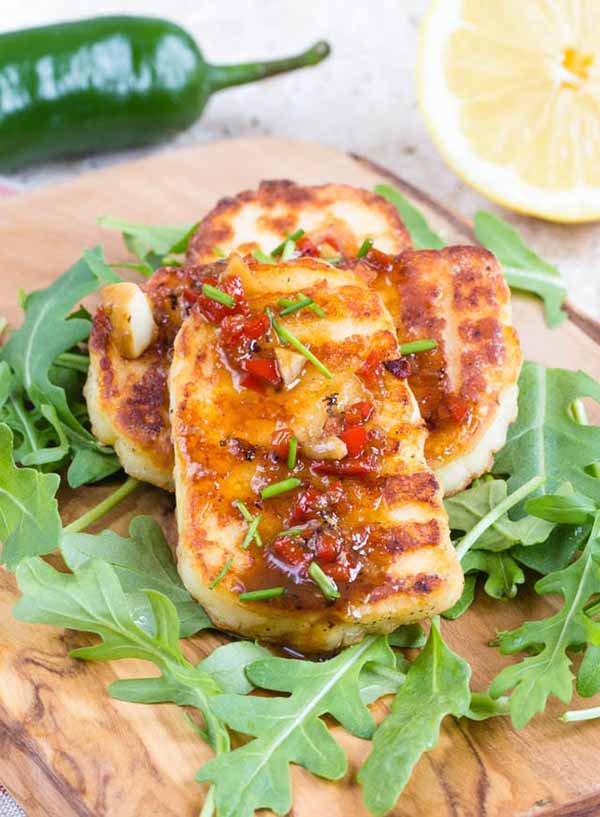 This Cajun Halloumi Burger from Fuss Free Flavours is a tasty veggie burger – and it's super quick to make in just 10 minutes! The halloumi gets wonderfully crispy on the outside and soft on the inside.
34. Hallloumi Stuffed Peppers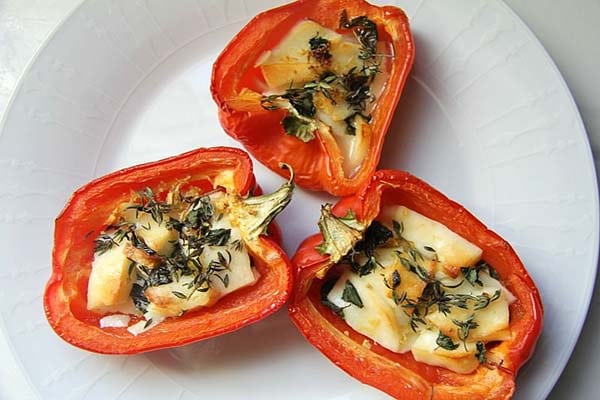 These halloumi stuffed peppers with fresh herbs and lemon rom Divalicious Recipes make a great summer dish.
If you are still hungry for more halloumi recipes check out and follow my Halloumi Love pinterest board!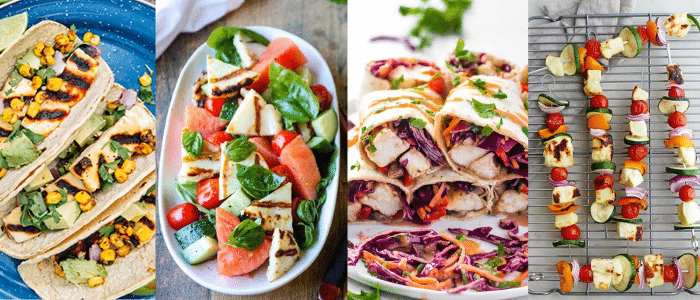 You'll Also Love These Recipes
If you love this collection of halloumi recipes, you need to check out the following recipes too:
If you make any of these halloumi recipes please share on instagram using hashtag #rainbowdelicious & and tag me at @rainbowdelicious , I'd love to see what you are up to in your kitchen!
Some links on this site are affiliate links and I may earn a small commission at no cost to you. Thank you!
(Visited 4,304 time, 1 visit today)