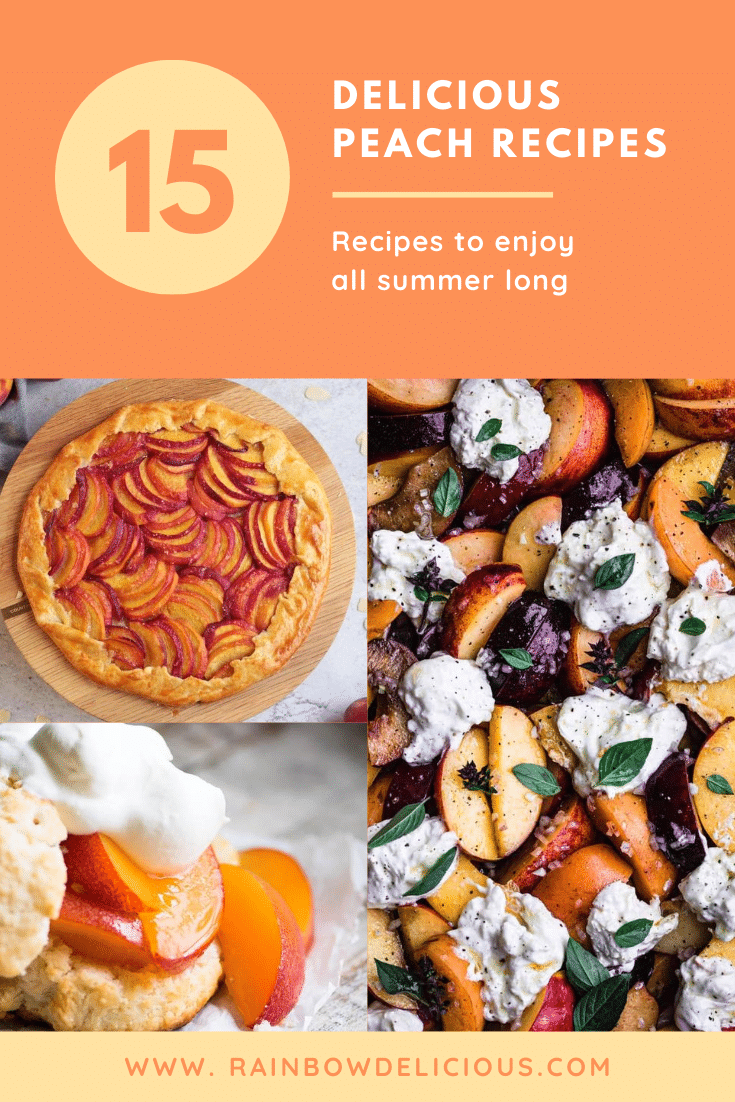 If you love peaches then you will love this collection of delicious peach recipes! Peaches taste amazing in everything from oatmeal, to salads, to desserts, and I hope you enjoy making these peach recipes a part of your summer!
Breakfast Peach Recipes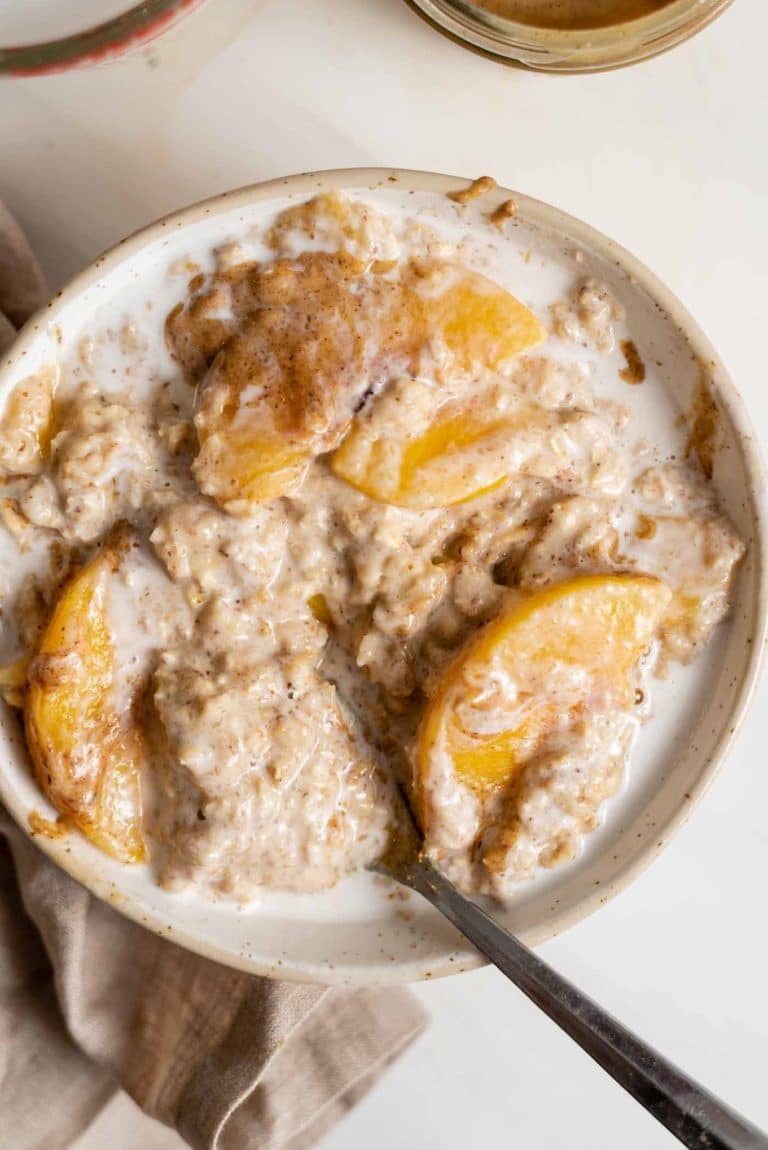 This vegan peaches and cream oatmeal from Running on Real Food is a great way to start your day.  This healthy, filling and delicious breakfast takes only ten minutes on the stove.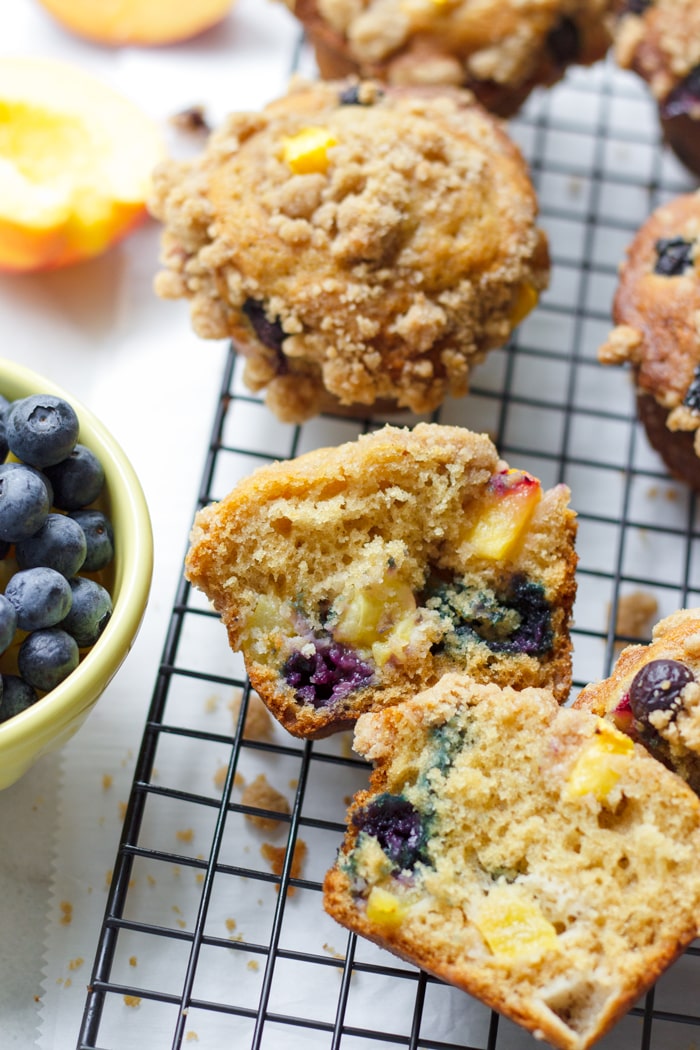 How good do these Blueberry Peach Muffins from Cooking for my Soul look?! These easy bakery style muffins rise beautifully and are filled with fresh blueberries and peaches.
Savory Peach Recipes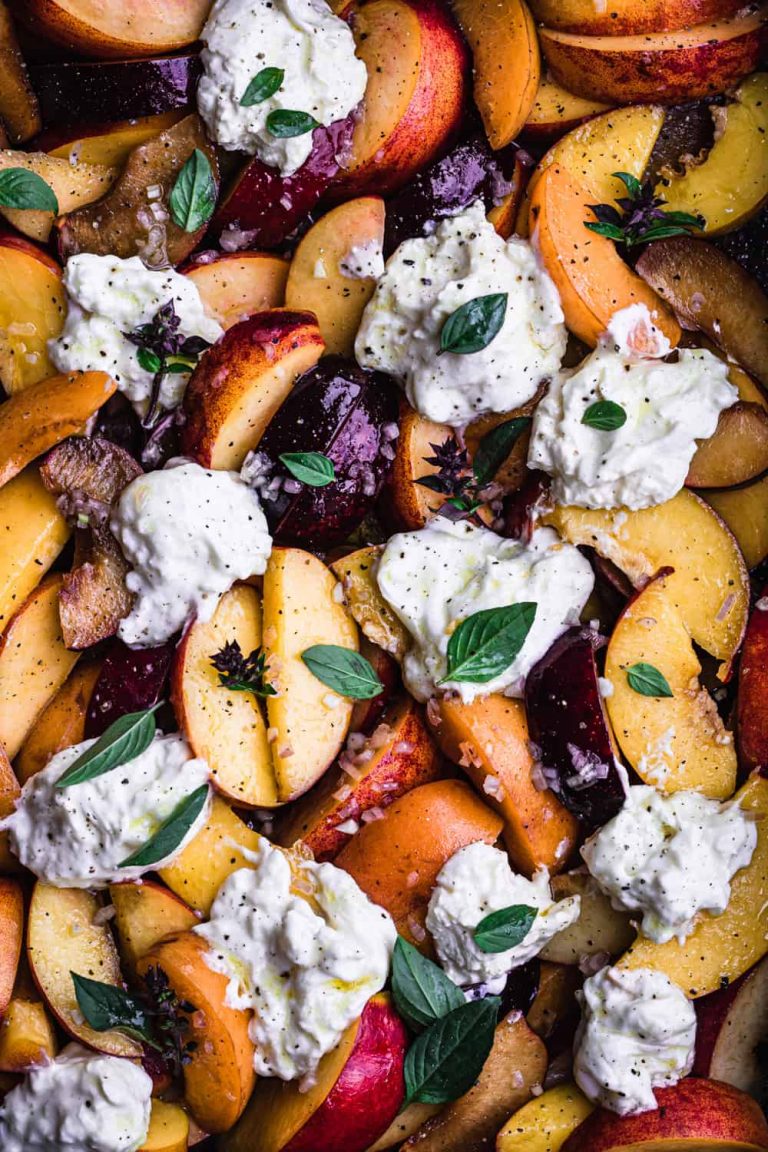 This very colorful stone fruit and burrata salad from Waves in Kitchen that easily comes together in under 20min.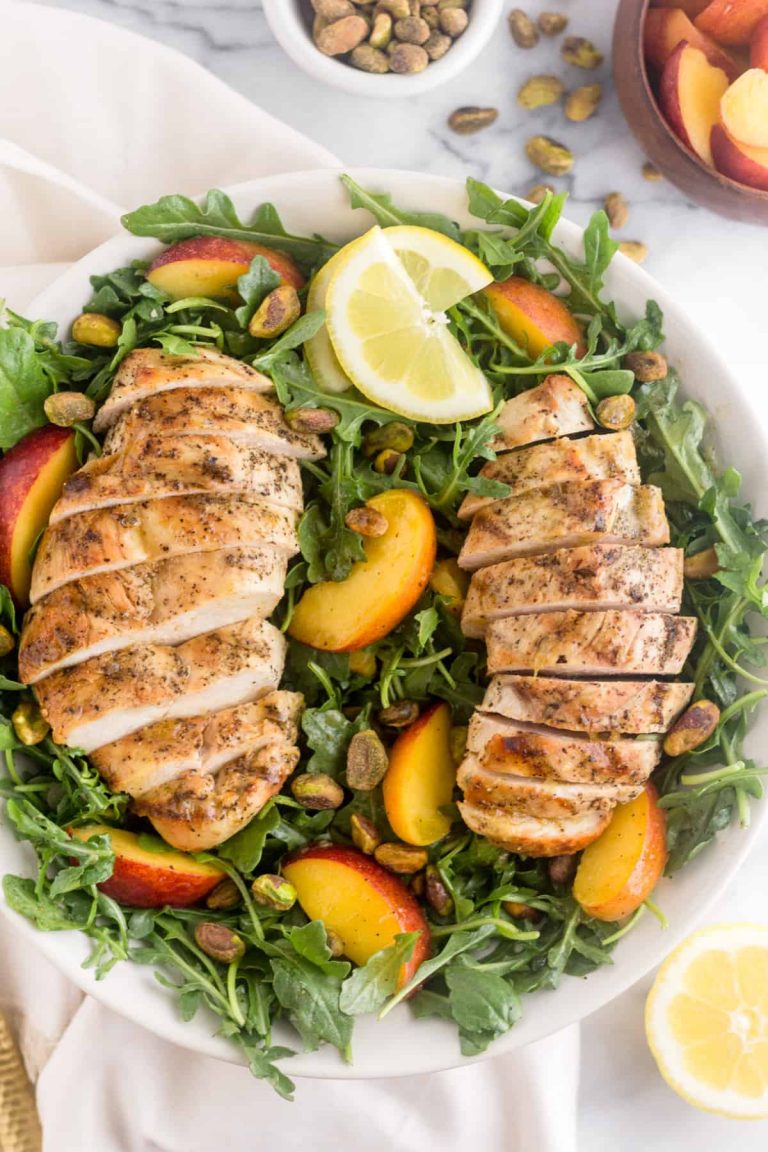 This delicious peach and pistachio salad with grilled chicken from Eat the Gains only requires 10 ingredients and is paleo, gluten free, dairy free, and low carb!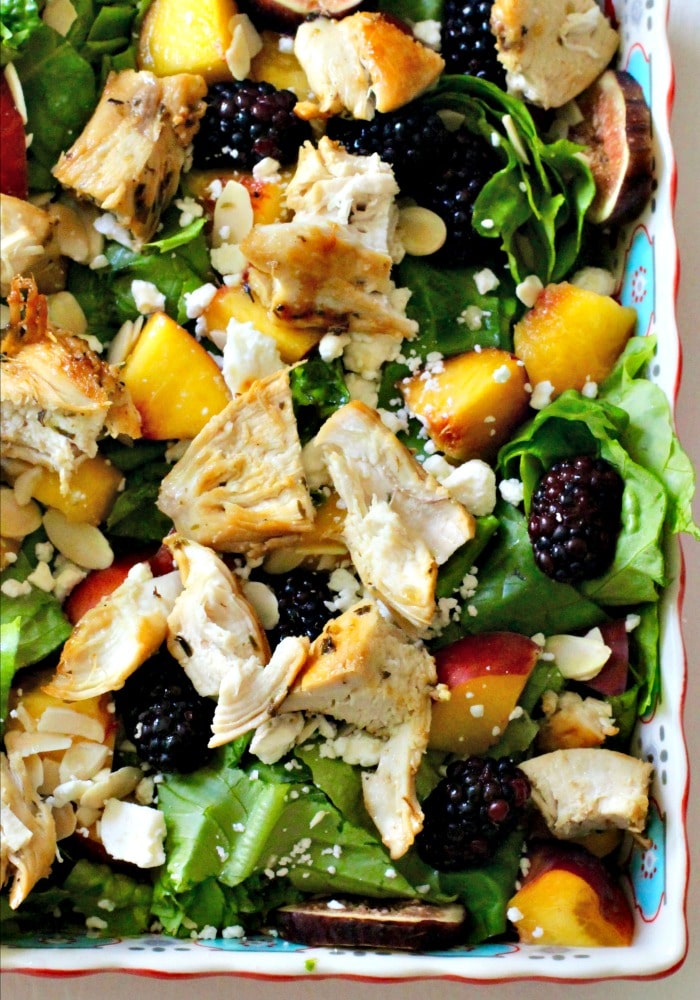 This peach, blackberry and fresh fig salad with grilled chicken, almonds and feta is the perfect summer salad! Bring to your next potluck or next time you host a summer dinner with friends.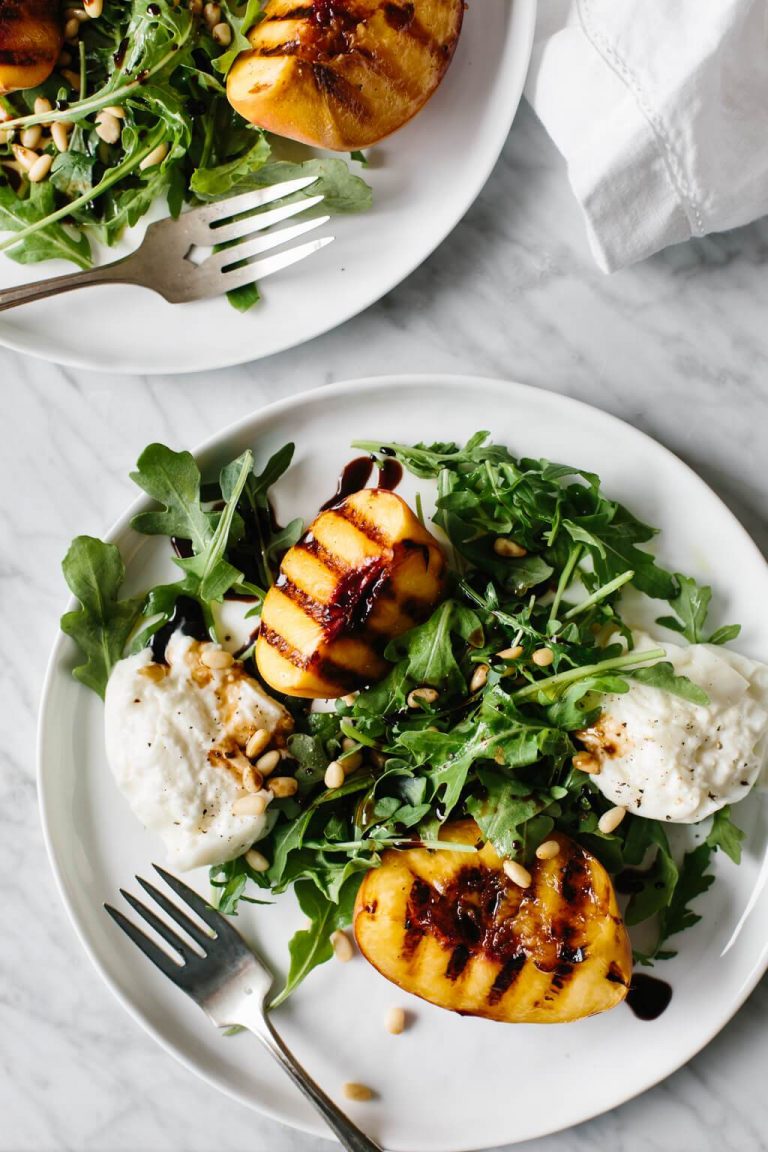 This Grilled peach and burrata salad from Downshiftology is summertime on a plate. The mix of grilled peaches, creamy burrata, arugula, pine nuts and balsamic is perfection.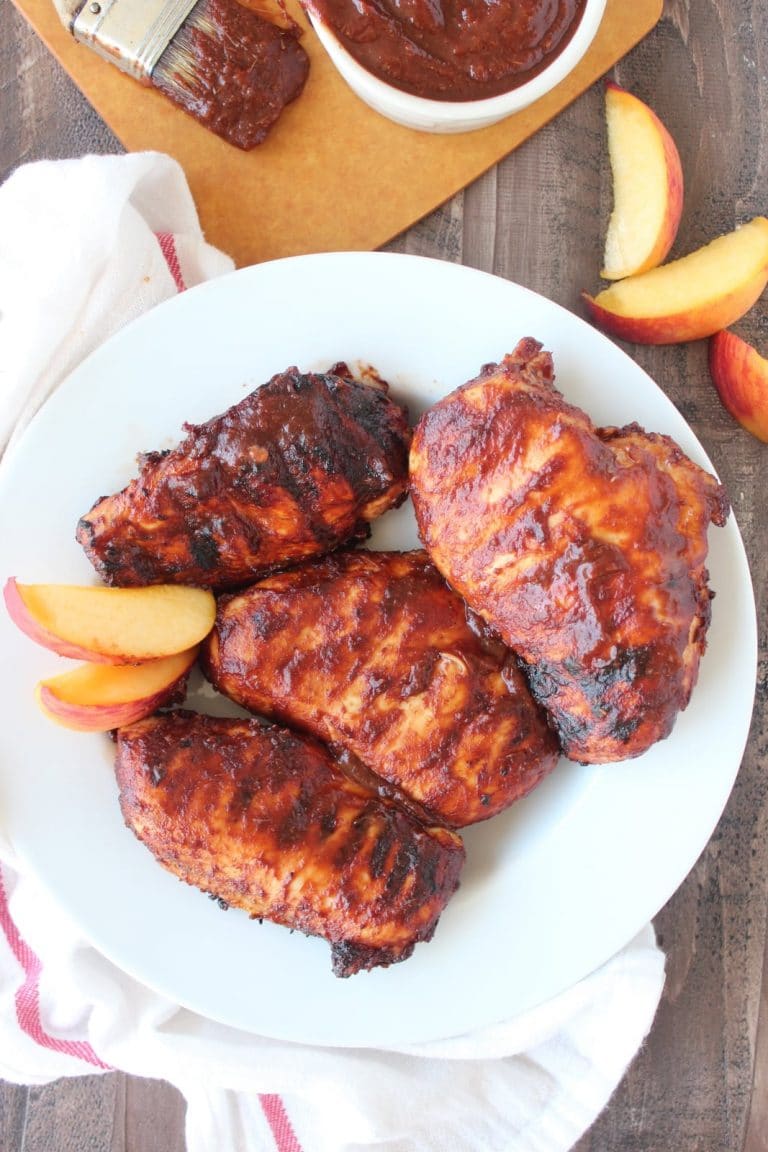 Grilled peaches and balsamic vinegar add tons of flavor in this Grilled Peach Balsamic BBQ Chicken recipe from Whitney Bond.
Chilled Peach Recipes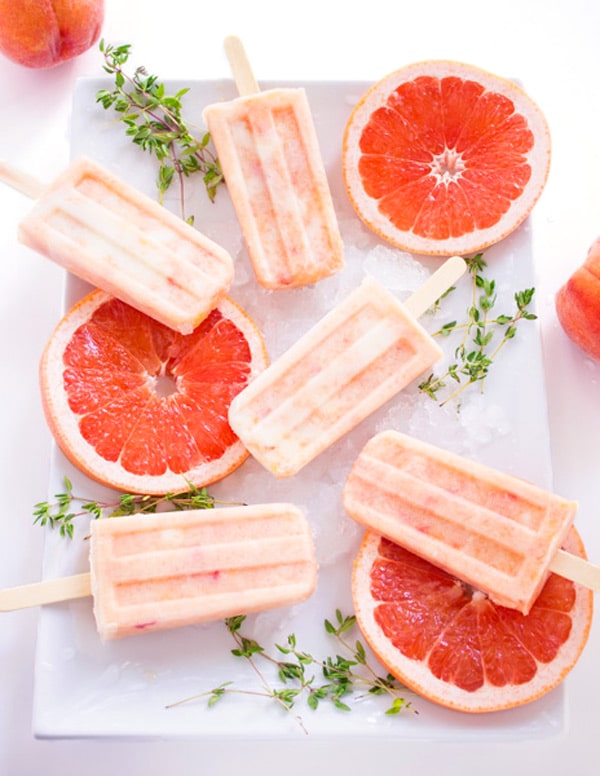 Chill out with one of these grapefruit peach popsicles with maple and thyme from Pass Me Some Tasty.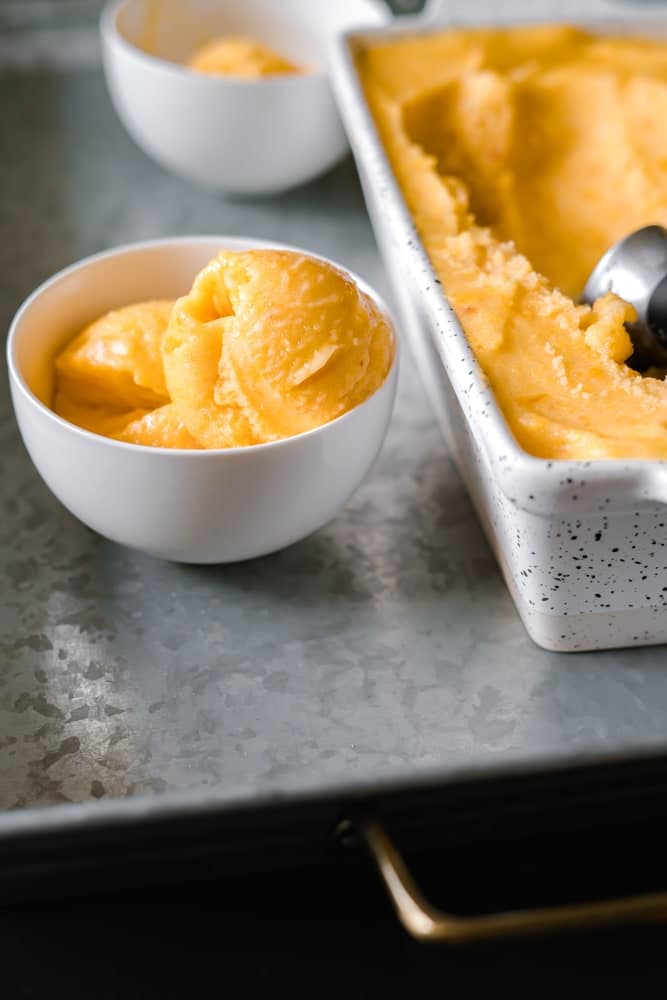 This Basil Peach Sorbet Recipe from The Delicious Spoon is creamy and tangy with a slight herbaceous note – the perfect combo for a sweet summer treat!
Sweet Peach Recipes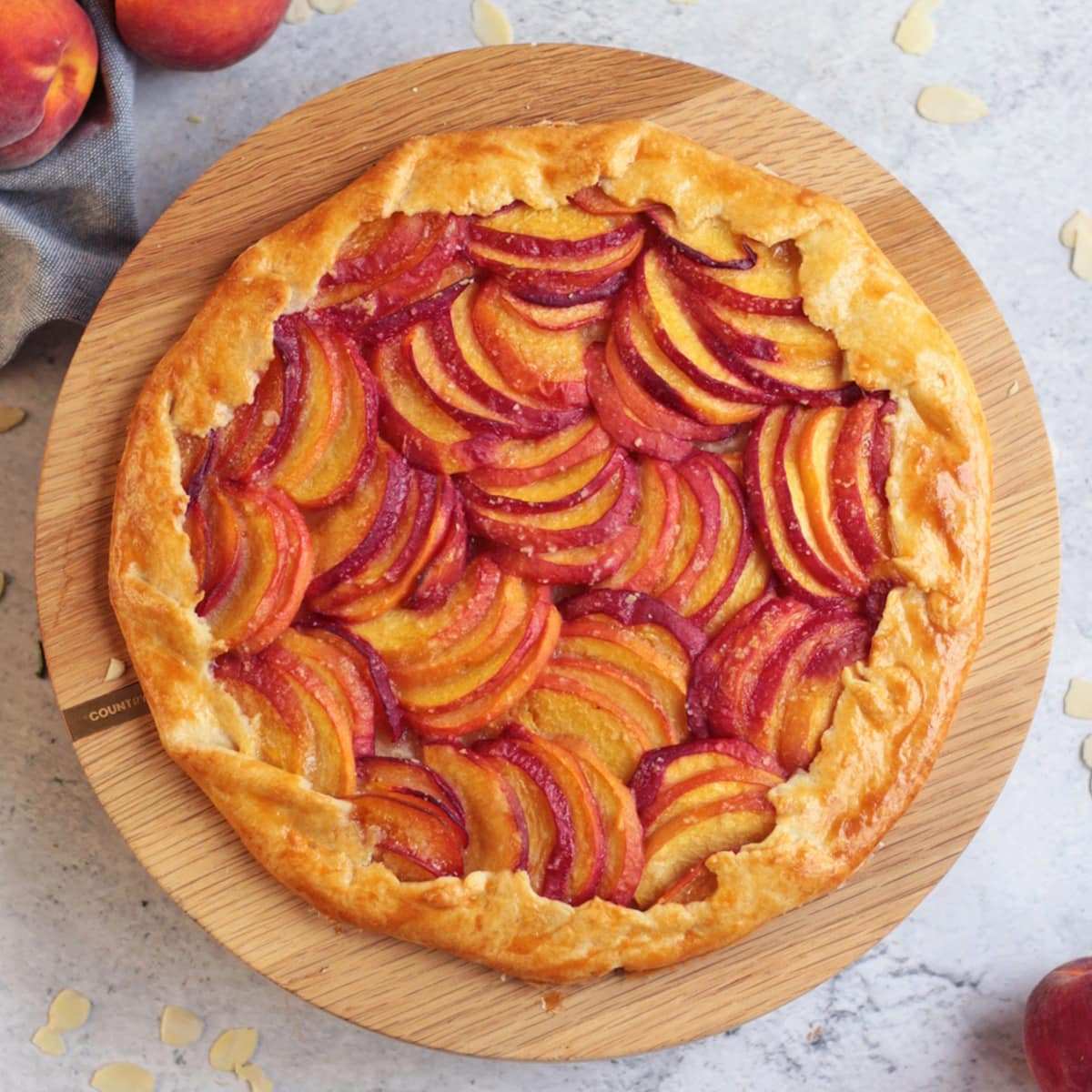 Nothing says 'Summer Time' like this super easy Easy Peach Galette with Almonds from A Baking Journey.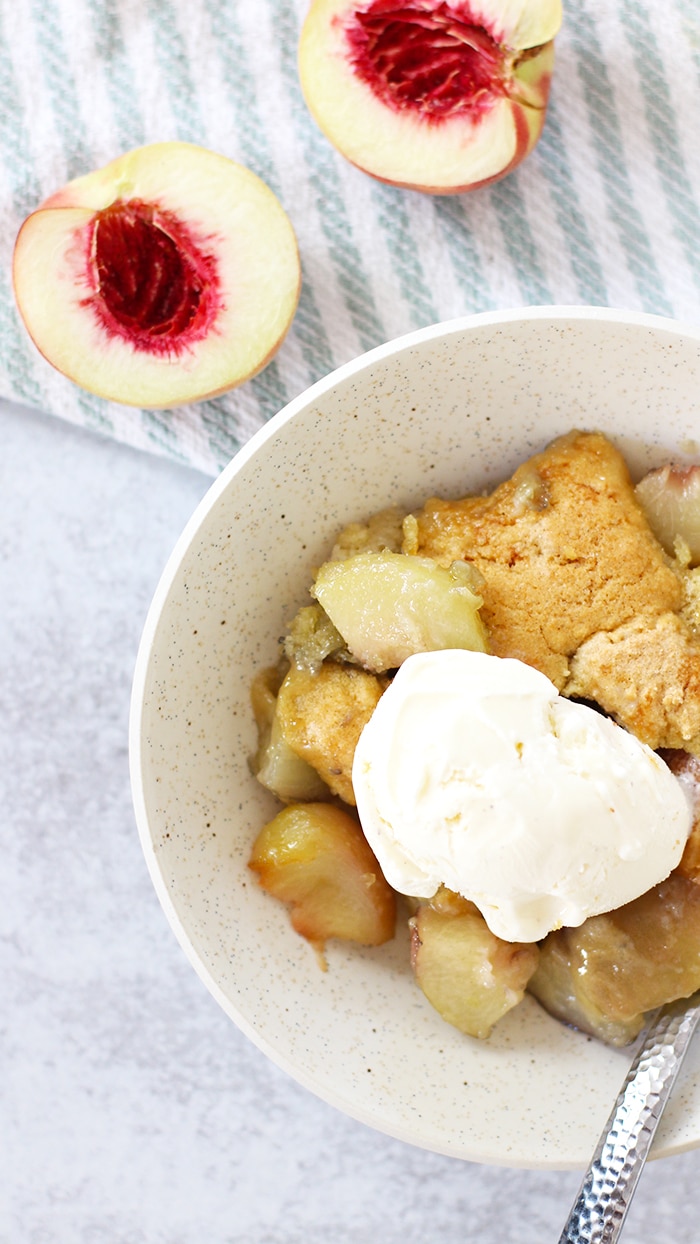 This easy peach cobbler recipe is so easy and the perfect dessert during summer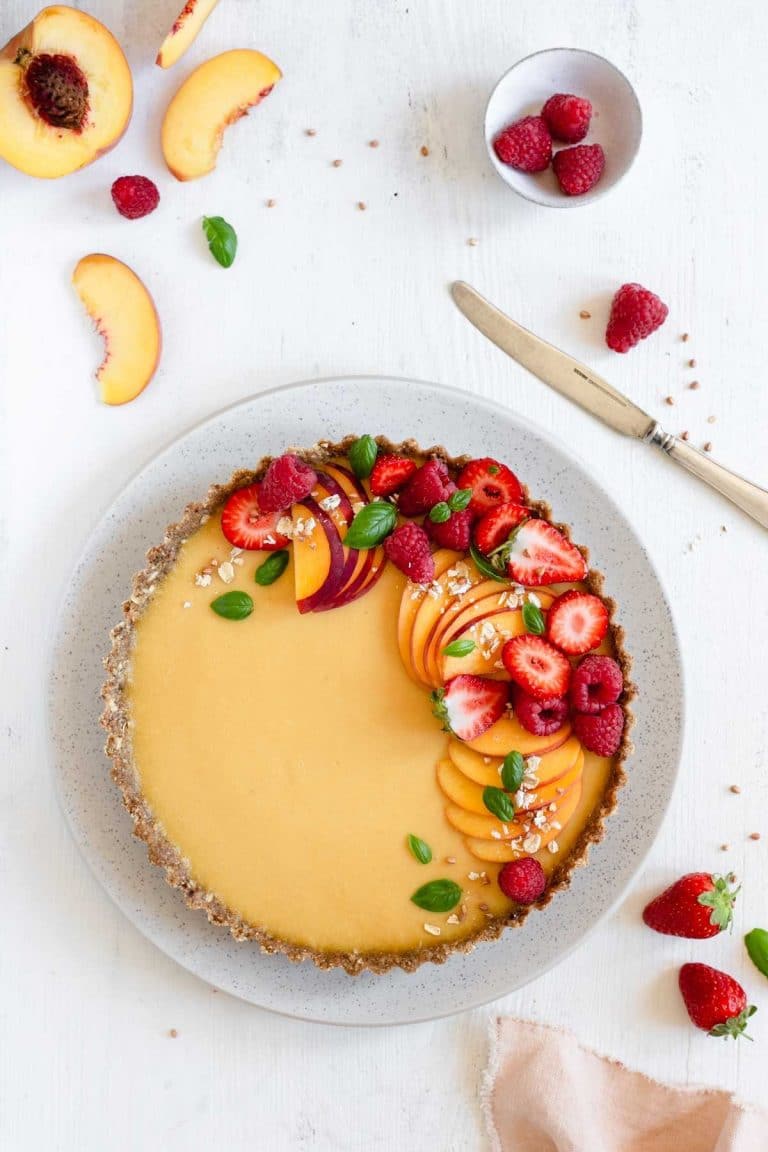 This summer peach tart from Anna Banana is your ideal sweet treat for hot, summery days! It's a no-bake recipe, made with fresh, juicy peaches and summer berries. It's also vegan, gluten-free and refined sugar free!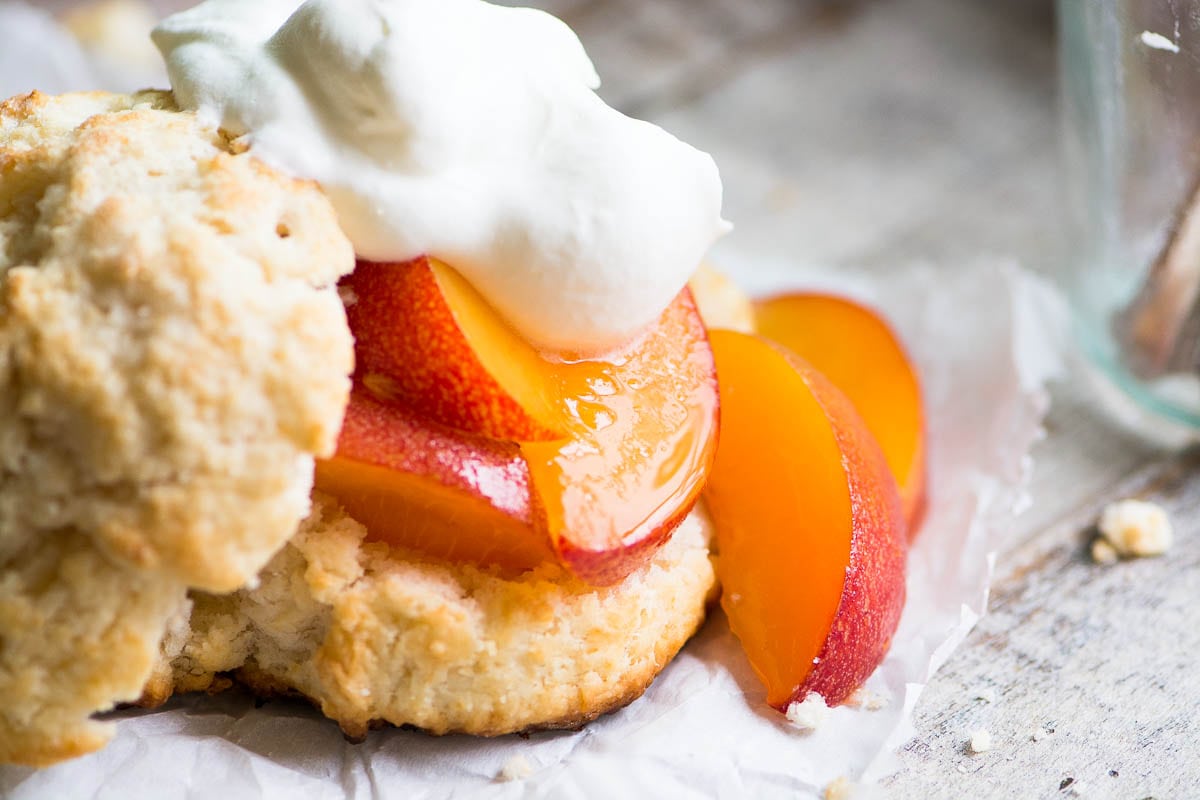 How Gorgeous is this Fresh Peach Shortcake by View from Great Island?! Made with fluffy buttermilk biscuits topped with ripe juicy peaches and homemade whipped cream.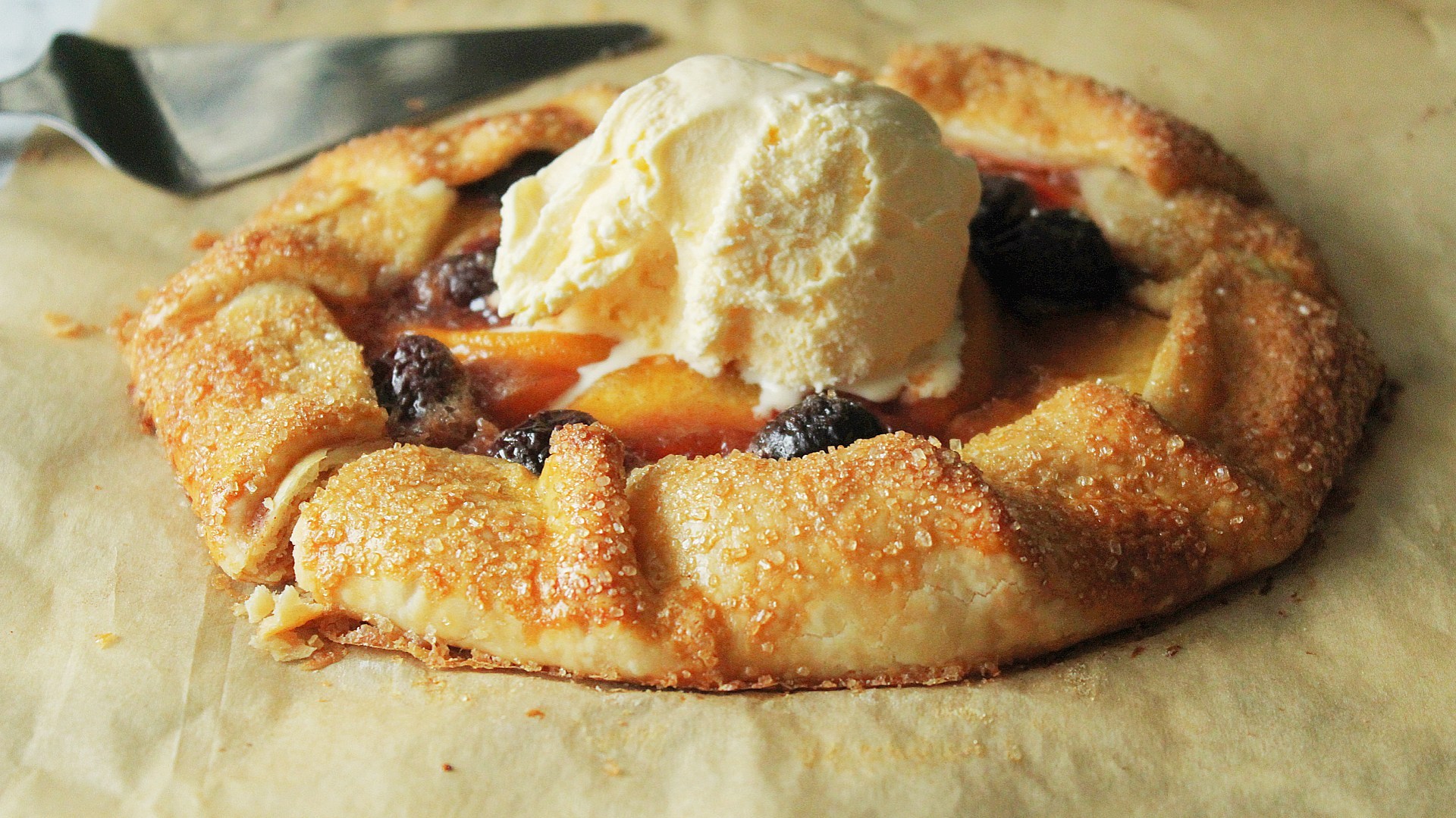 You can't go wrong with this cherry peach galette from Chenée Today with a scoop of ice cream on top!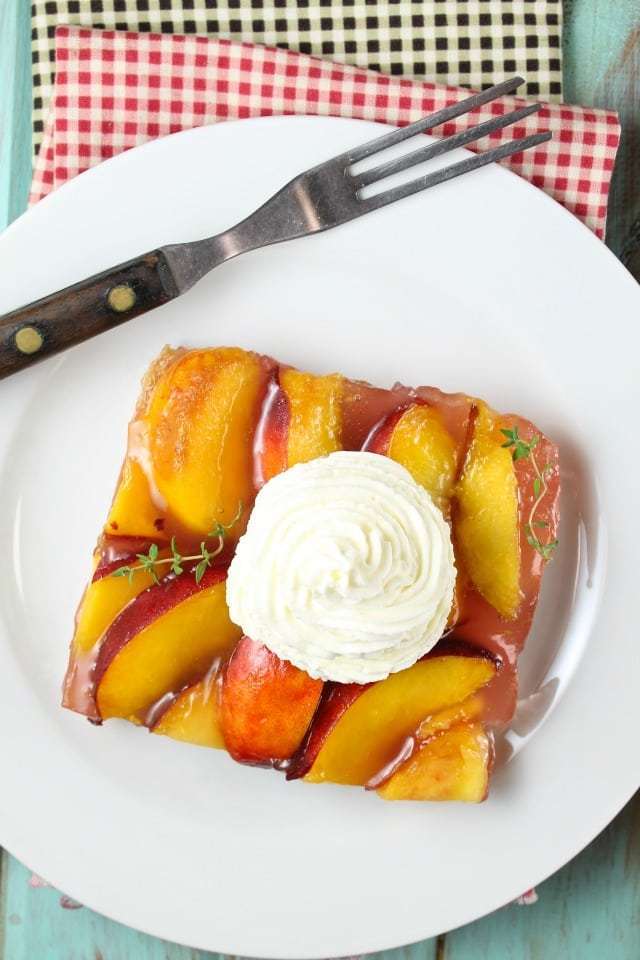 This peach slab pie from Miss in the Kitchen is a real crowd pleaser, made with fresh peaches and jello!
Other Recipe Round-Ups You Will Love!
If you make any of these amazing peach recipes please share on instagram using hashtag #rainbowdelicious & and tag me at @rainbowdelicious , I'd love to see what you are up to in your kitchen!
Some links on this site are affiliate links and I may earn a small commission at no cost to you. Thank you!
(Visited 504 time, 1 visit today)