I'm so excited to share with you my list of 10 Cartagena restaurants to check out when touring this beautiful city in Columbia. Cartagena is the walled old town by the sea, with cobblestone streets, colorful colonial buildings, tropical climate, brightly painted buildings, and delicious restaurants.  Visiting Cartagena was the highlight of my summer and I'm excited to share my fave Cartagena restaurants and other trip highlights.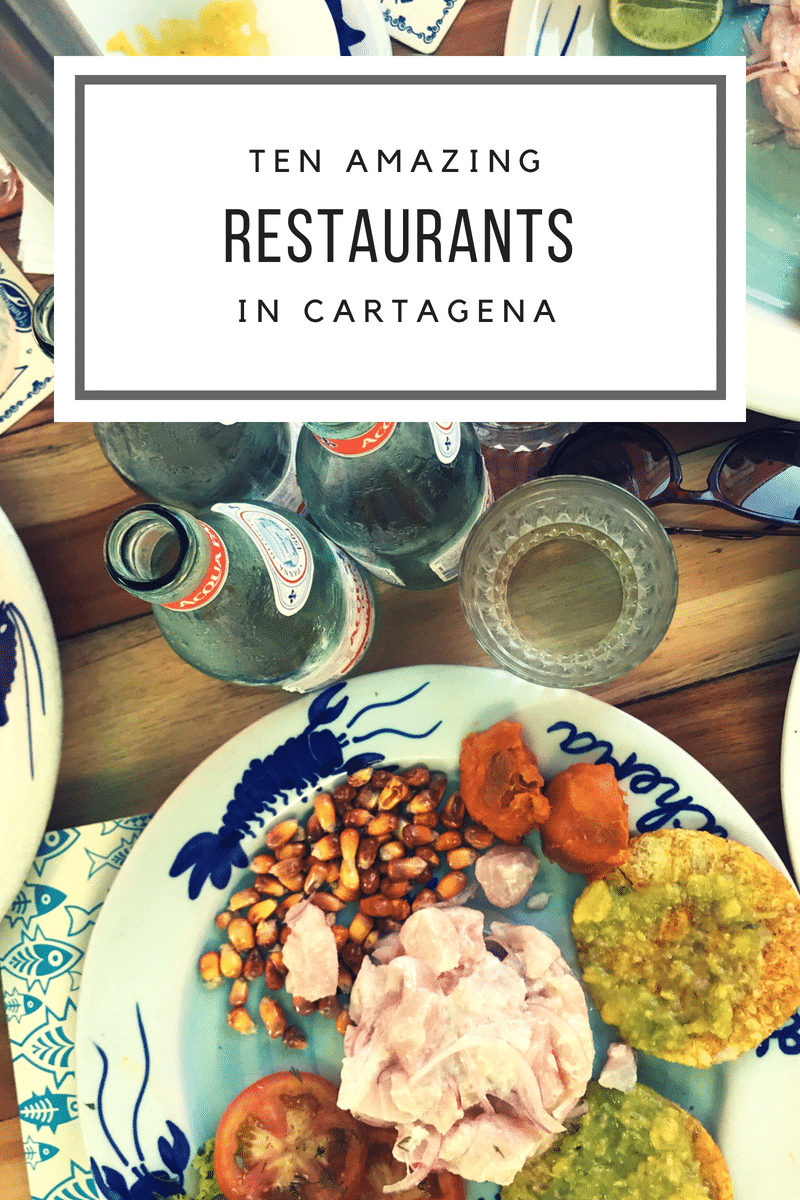 My trip to Cartagena, Columbia was for five days to celebrate the upcoming wedding of my friend, since middle school, Chanel (pictured below).  There were eight of us total on this bachelorette getaway, and leading up to our adventure, some of my friends and family started questioning our decision to travel to Columbia. I began having anxiety that maybe it wouldn't be safe; but as soon as we got to Cartagena all of my anxieties went away and I thoroughly enjoyed the lovely people, beautiful culture, and delicious food there.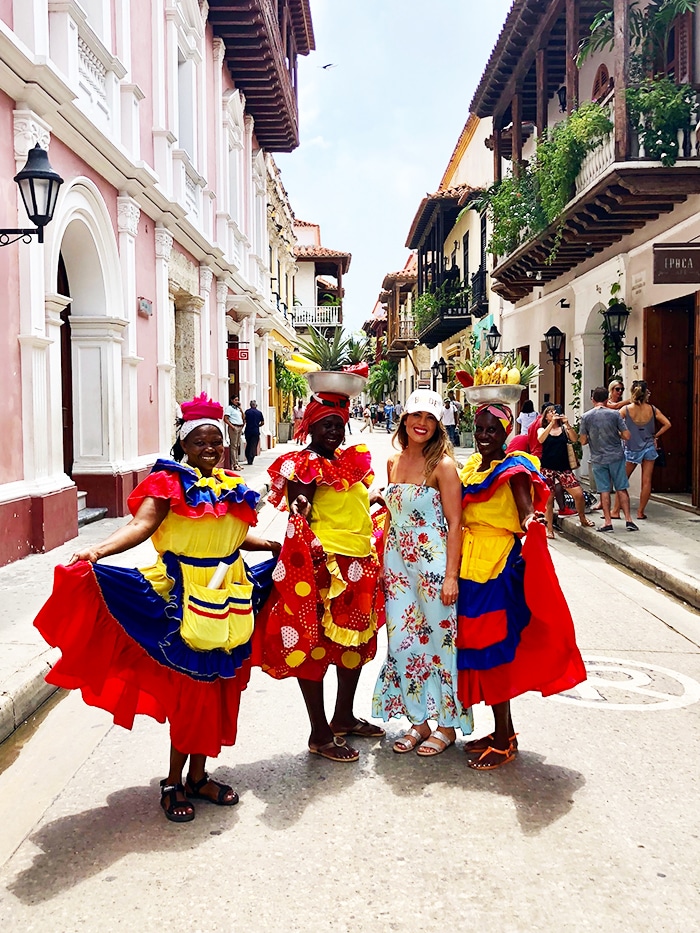 We followed common sense travel tips, and felt very safe the whole time. My friend, Janine, was the master planner behind our itinerary, so really she gets all the credit for the following list of 10 restaurants to visit in Cartagena. Janine was so thorough, she even laminated little tour guide books she made herself with historical facts for a walking tour through Cartagena the first day #travelguidegoals.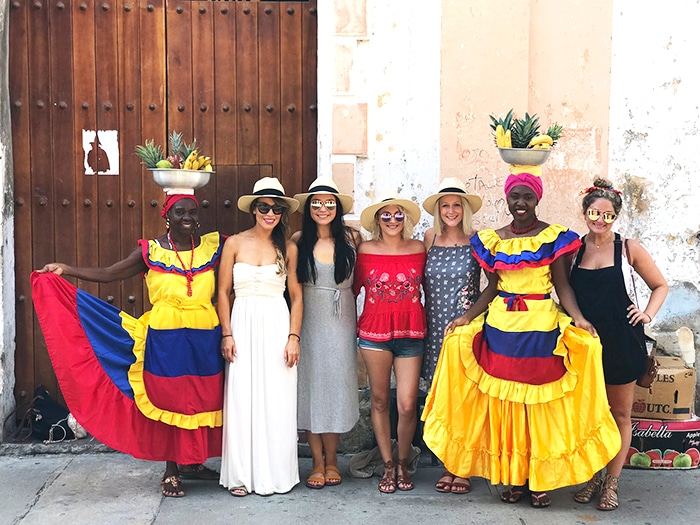 If you are planning a trip to Cartagena, I'm so excited for you, you will love it. And if you don't have a trip planned, add it to your travel bucket list. You won't regret it.
10 Cartagena Restaurants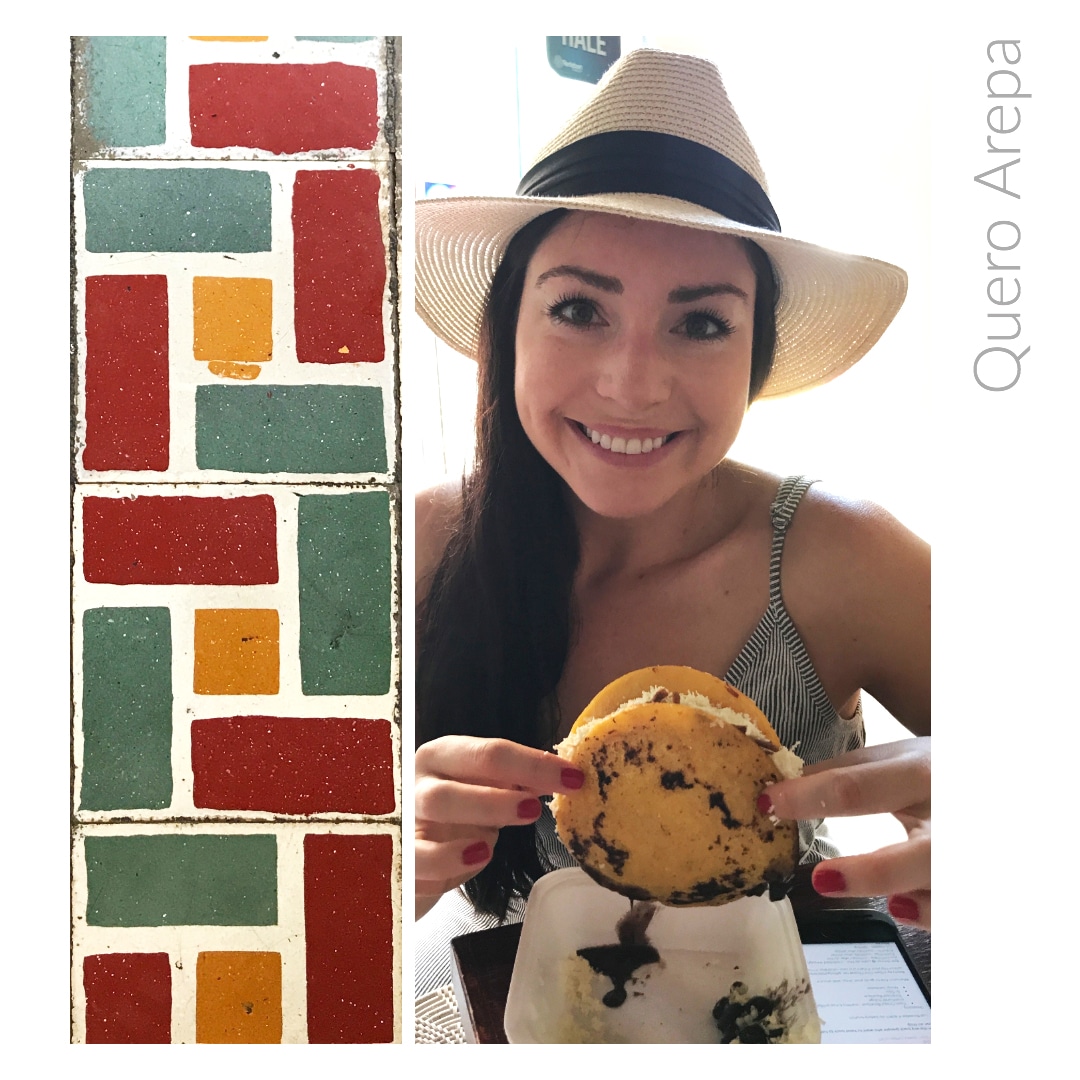 1. Quero Arepa: This restaurant is small and not super fancy, but has a great menu, and cool floor tiles. I tried a variety of arepas here but my favorite was definitely the 'Pabellón'  which was filled with black beans, ripe banana, shredded beef, and cheese. This is my friend Janine, the amazing tour guide.

2.  Epoca Espresso Bar: This cafe is a perfect brunch spot that takes their coffee-making and their toast pretty seriously. I got their bacon, egg and cheese sandwich and a latte and it was the perfect meal after a red-eye flight. I loved their black and white checkered floor and their textured wall, dotted with live plants. Everyone loved their drinks here… the little biscuits that come with their lattes were heavenly.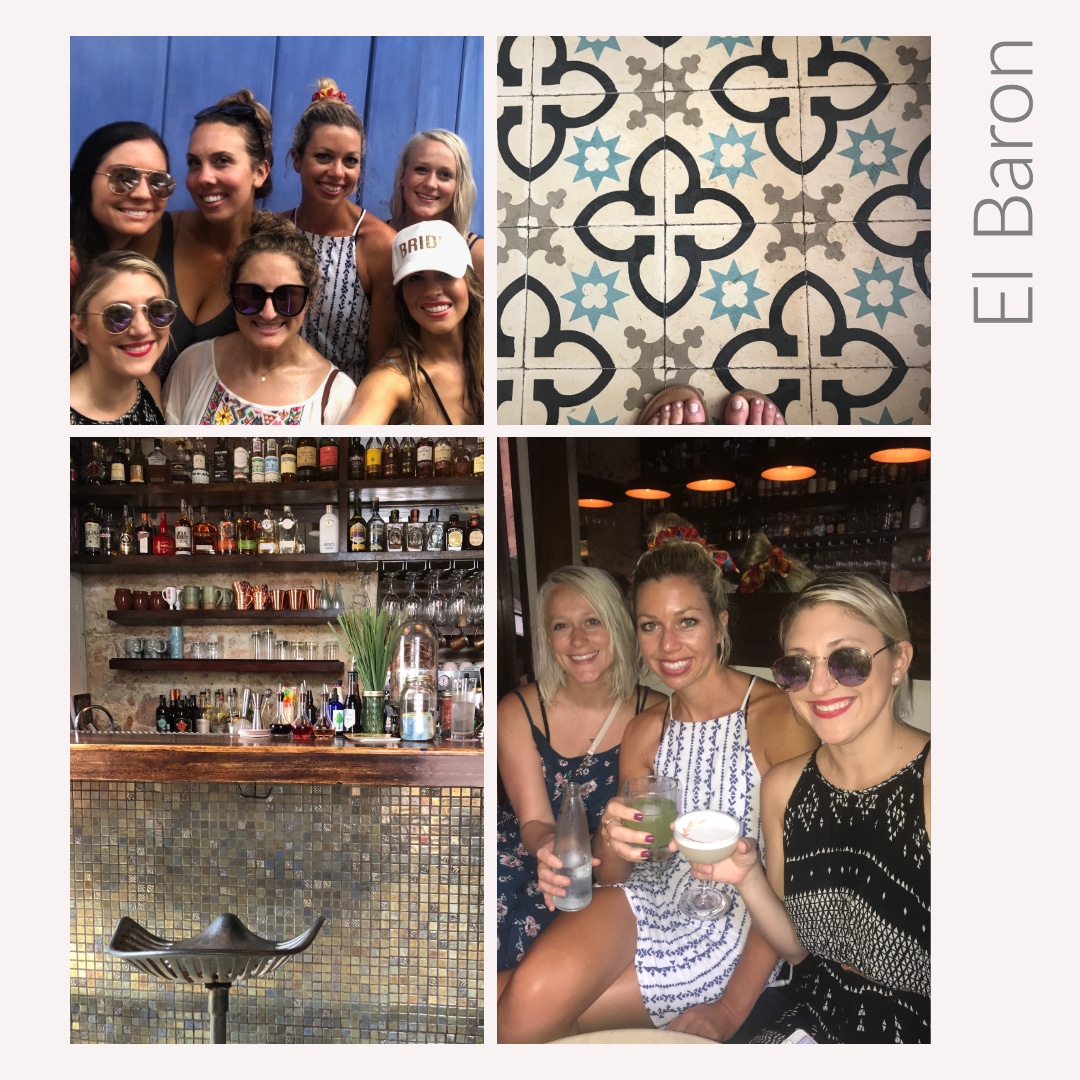 3. El Baron: We ended up taking an afternoon break during a little tropical rainstorm in this adorable bar near town square. This bar has really creative and beautifully crafted drinks and I loved the tile and barstools.

4. Townhouse Rooftop: This rooftop bar has a gorgeous view, really fun vibe, limited menu and a couple of rooftop pools for cooling off.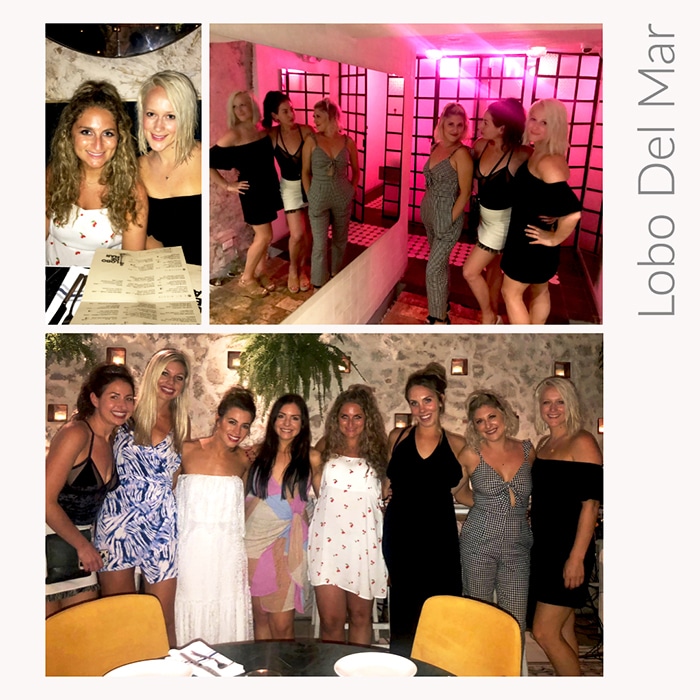 5. Lobo Del Mar: This restaurant has a lot of personality and delicious food! The decor was on point and the live music was so relaxing.. I ordered the steak with chimichurri sauce as my entree, and the ham croquettes + burrata with tomatoes as appetizers… everyone in our group loved their drinks and dinner here.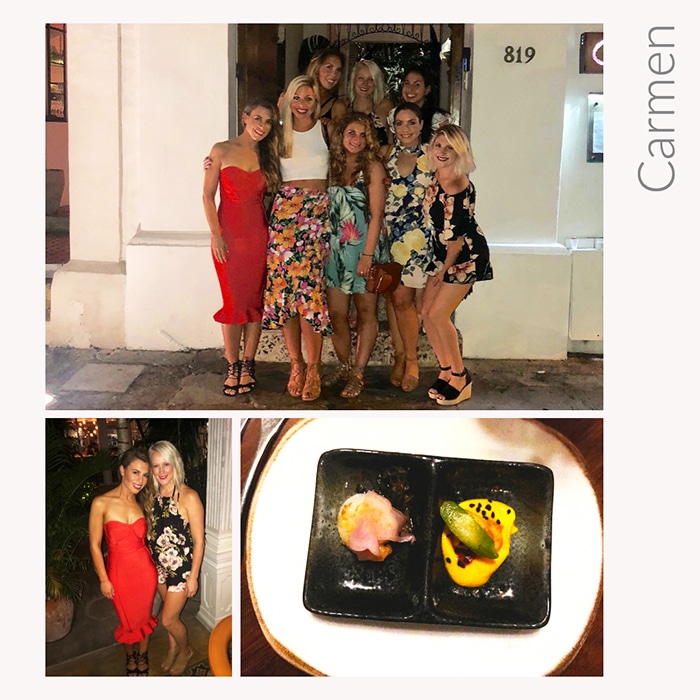 6. Carmen restaurant: This modern restaurant celebrates local flavors and is definitely worth checking out. Our table shared a variety of appetizers, and I ordered a beef risotto that was super rich and probably the best risotto I've ever had.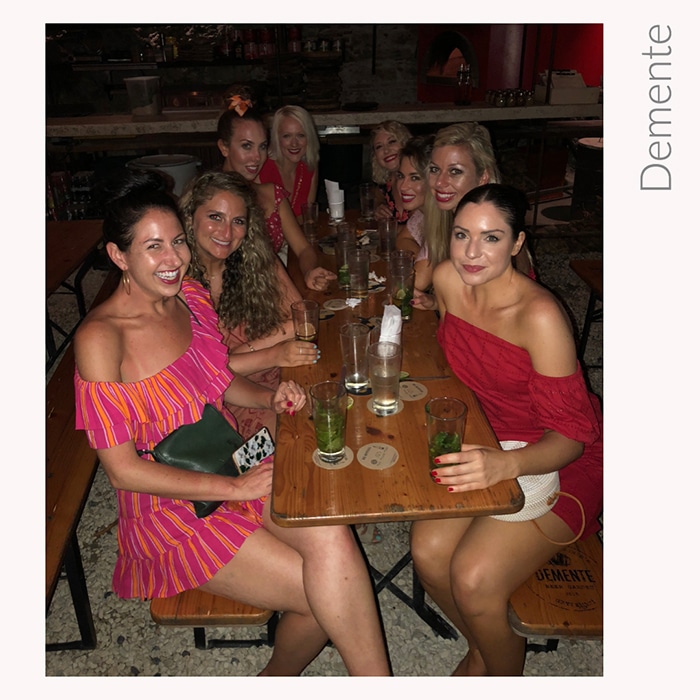 7. Demente: Casual dinner spot with phenomenal pizza in Getsemani. Great atmosphere, cool bench style wood tables, and excellent service. We all coincidentally packed red outfits and decided to wear them out the night we went to Demente.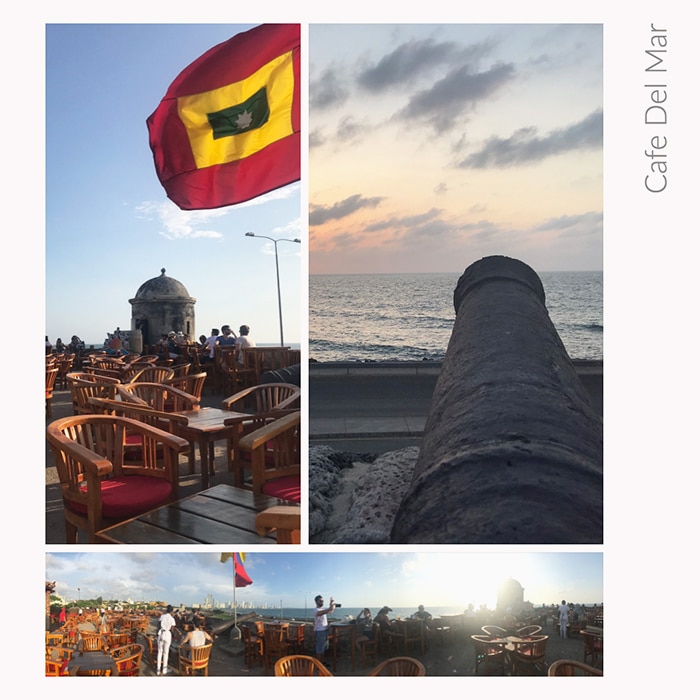 8. Cafe del Mar: You've got to go here for the stunning views. We enjoyed drinks in their outdoor seating area at sunset and it doesn't get much better than that.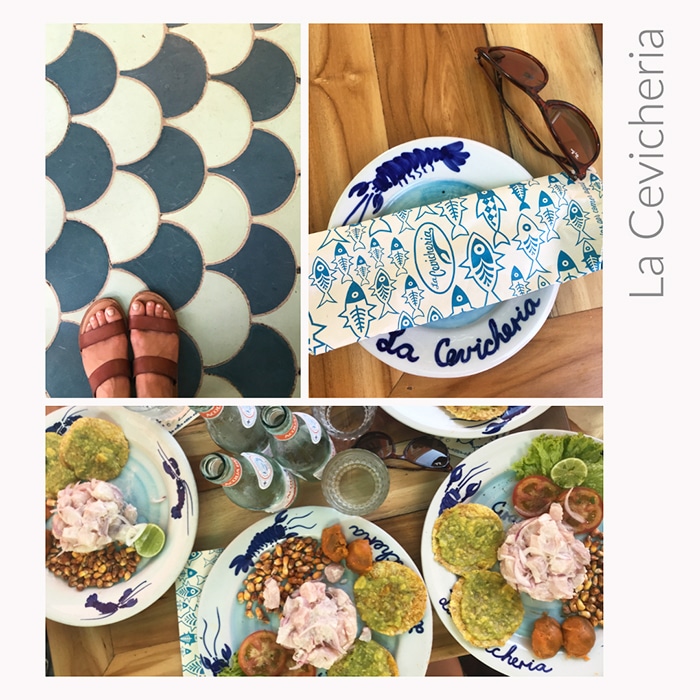 9. La Cevicheria: This restaurant is supposed to have the best ceviche and seafood in Cartagena and it's claim to fame is that Anthony Bourdain visited and loved it in 2008. The Peruvian fish ceviche on their menu was amazing and I loved the fun blue scalloped tiled floor inside their restaurant.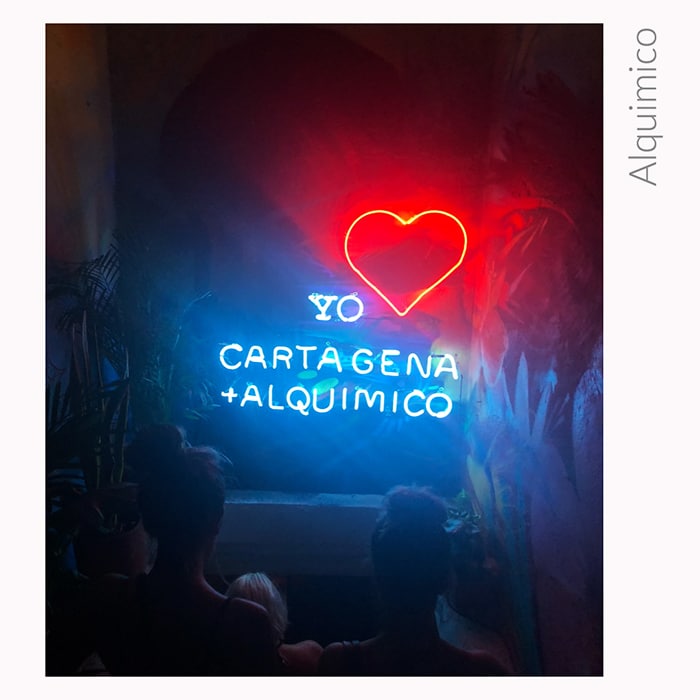 10. Alquimico: The rooftop of this bar is painted with colorful murals and offers creative drinks and a small menu. Great music and cool vibes.
Other Cartagena Highlights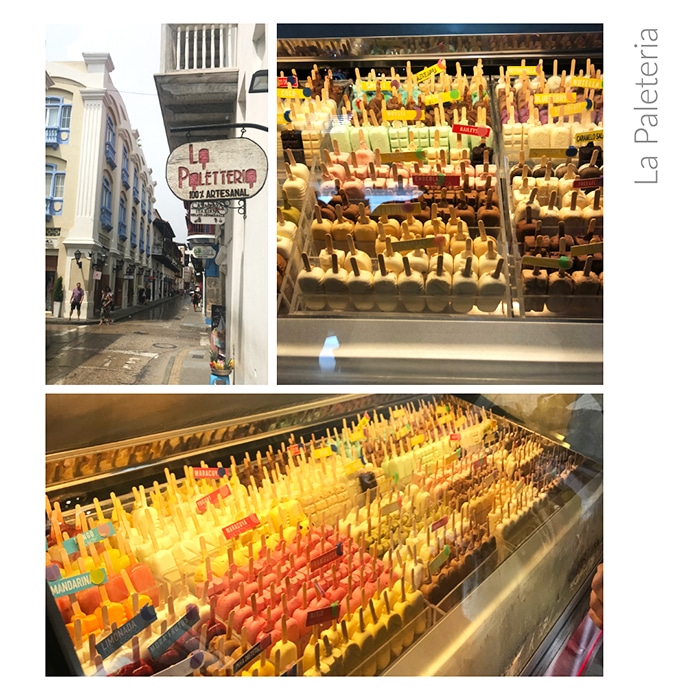 La Paleteria:   You absolutely must stop here to pick out a delicious popsicle or two. There are so many flavors to choose from and these frozen treats are made with fruit and cream, fruit and water, or fruit and yogurt.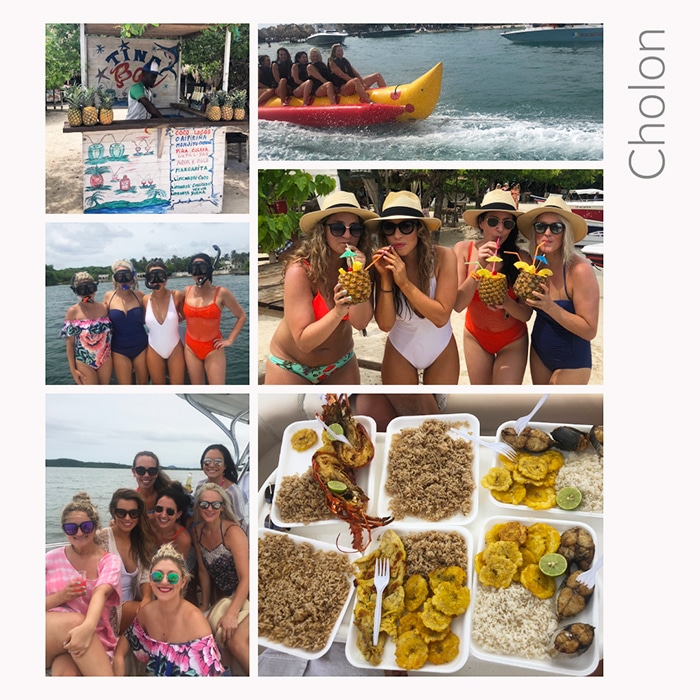 Cholon: One day we went boating and stopped for a lobster + chicken lunch with pina coladas at Cholon. The coconut rice and fried plantains that came with our lunch were so good! We also took a little ride on a banana boat near the island, and not too far from Cholon we snorkeled and found supposedly one of Pablo Escobars sunken planes.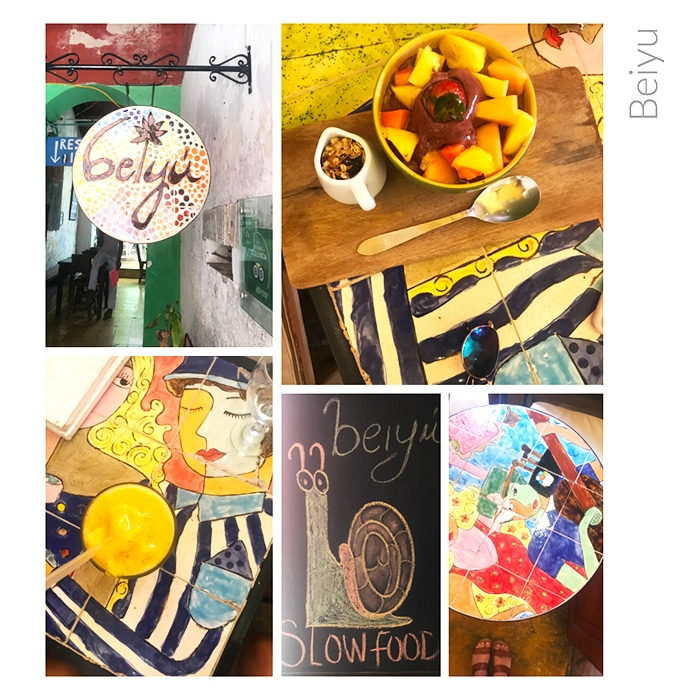 Beiyu: We took a break from checking out the incredible grafiti art in Getsemani, and stopped at Beiyu for some refreshing drinks to help beat the heat and humidity. This quaint establishment offers lots of fresh juice combinations, smoothies, and cafe eats. I got a passion fruit smoothie and loved it.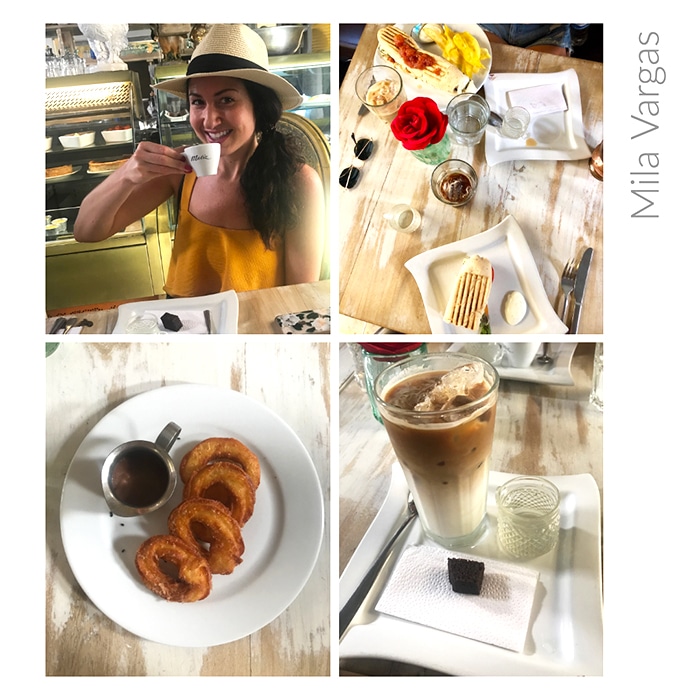 Mila Vargas: This shabby chic pastry shop is adorable and had a delicious menu and beautiful pastries… definitely worth stopping by!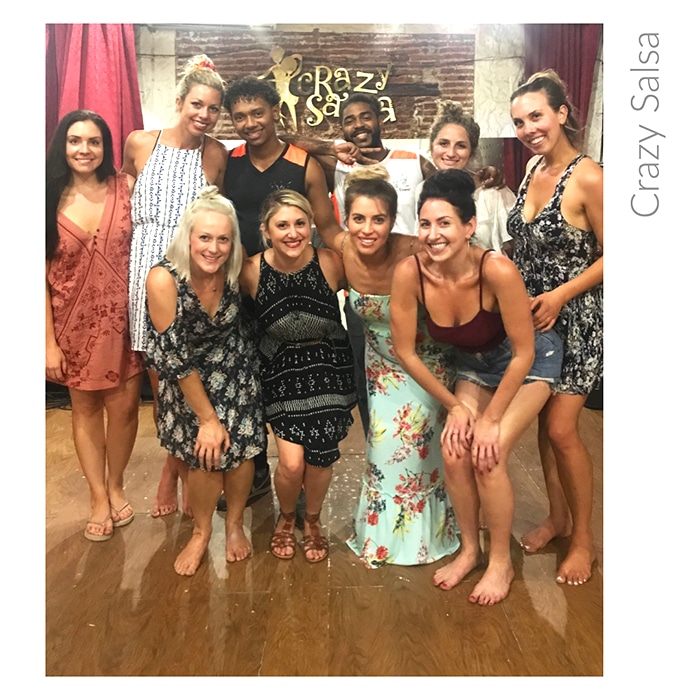 Crazy Salsa: We attended a private salsa class here the first night and it was so much fun! The salsa teachers were helpful and energetic and then we were prepped to go dancing 🙂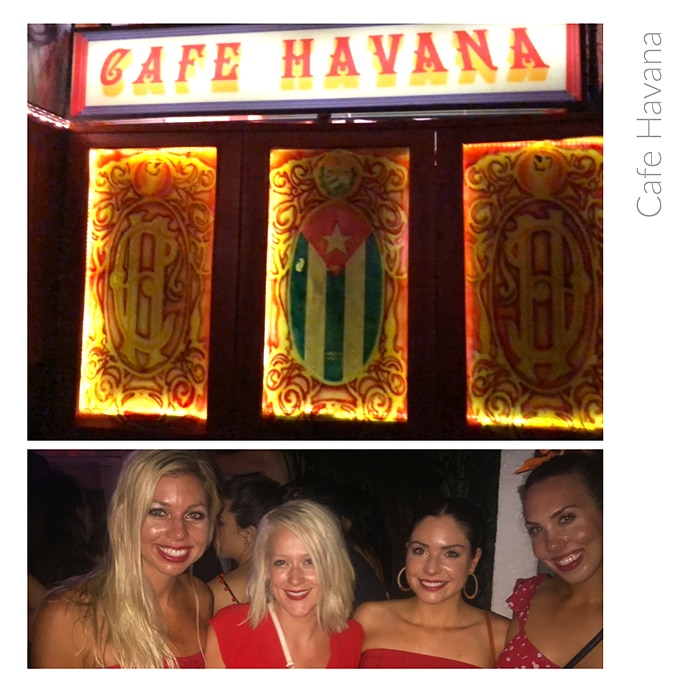 Cafe Havana: This cuban salsa bar was a crowded, but enjoyable, spot to salsa dance to live music. It was hot in there but we still we danced a lot, as you can tell.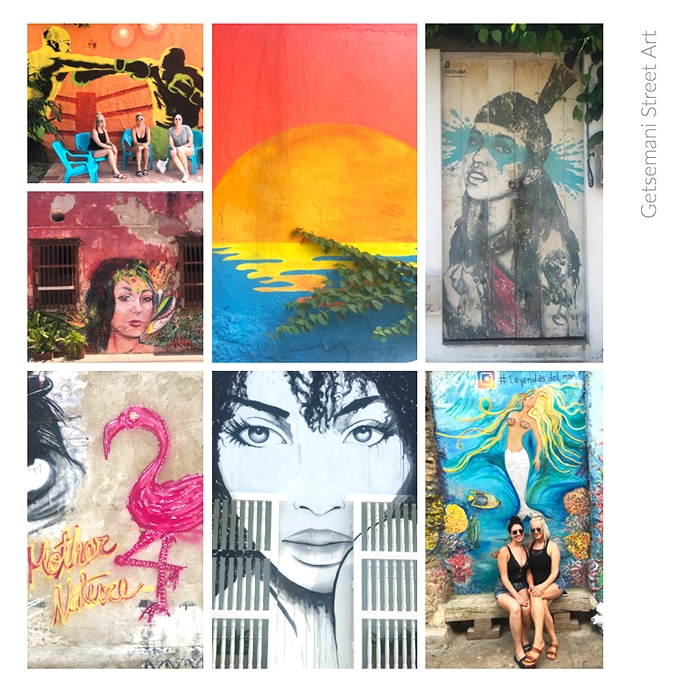 Getsemani Grafiti: The street art in Getsemani was so bright and creative. We self-toured through Centenario park and I highly recommend spending some time taking all the art in.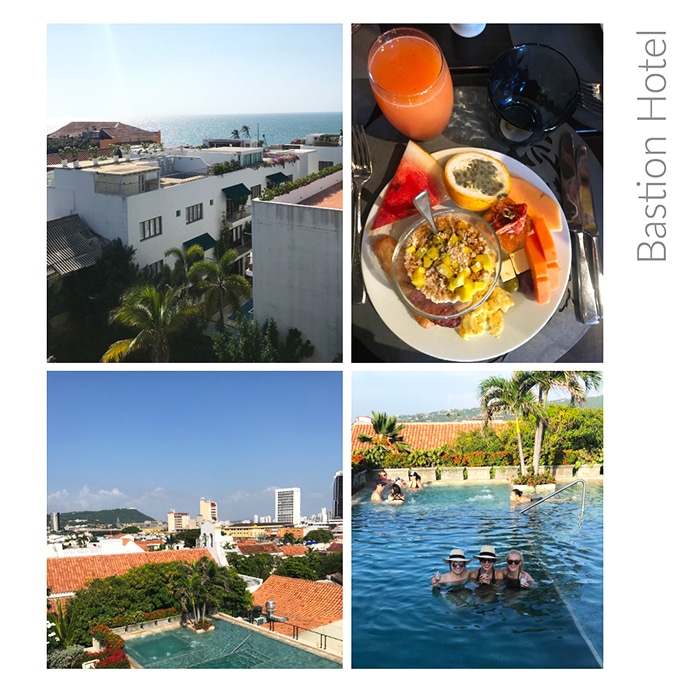 Hotel Bastion: We stayed in this hotel and enjoyed our stay. There were multiple security gates, very friendly staff, a delicious breakfast buffet, comfortable beds, and a rooftop pool.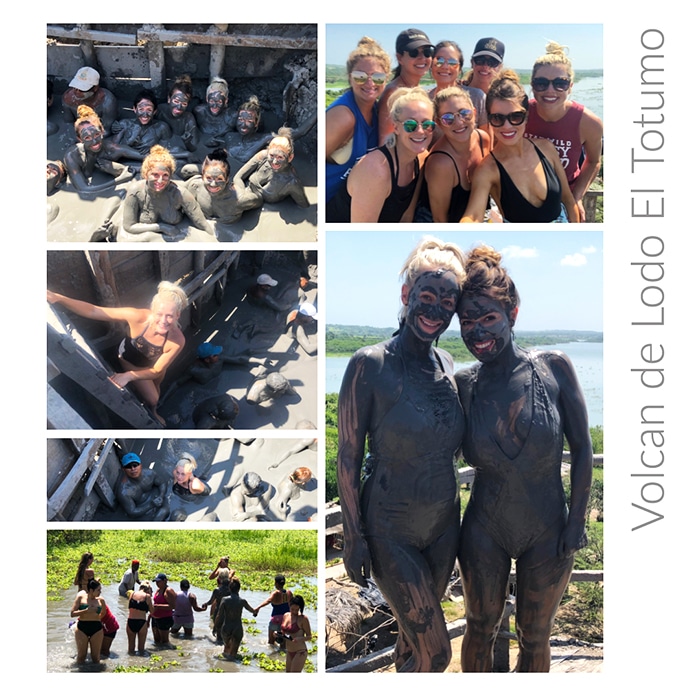 Volcan de Lodo El Totumo (Mud Volcano): This was definitely a unique experience. You wear your swimsuit and are led to the top of the volcano where there is a ladder going down into the volcano center where all the mud is. You basically just float around in the mud for a while. Bring cash because you are charged for picture taking, massages in the mud, and being washed off after in a nearby pond. It was an adventure for sure and if I'm honest it sort of grossed me out, as you can probably tell by my face at times, but I was also glad we checked it out.
I hope you enjoyed this list of Cartagena restaurants + other destination highlights If you travel to Cartagena please let me know your favorite Cartagena restaurants, because I want to go back!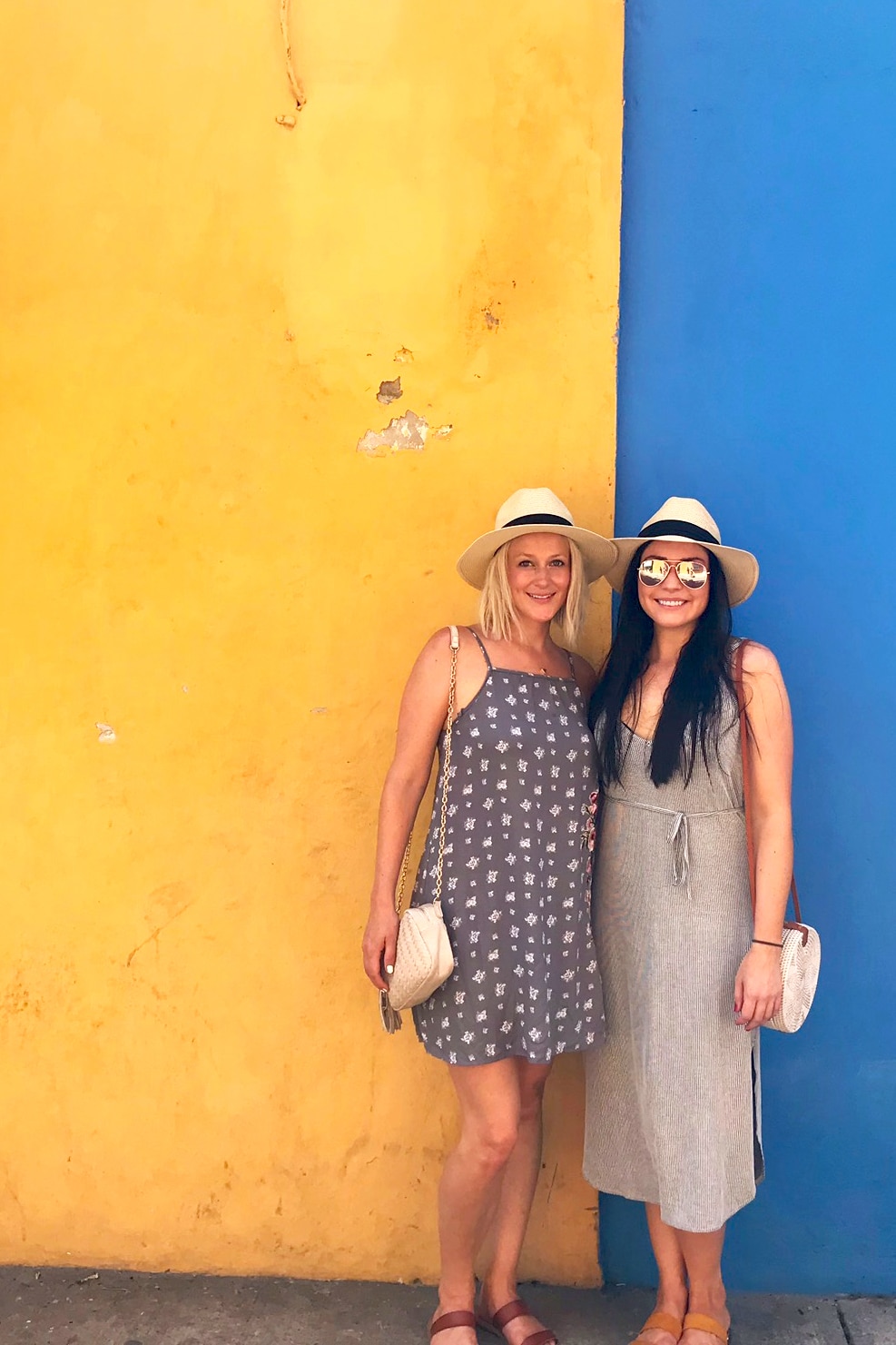 Thank you Janine for always taking us to nice places 🙂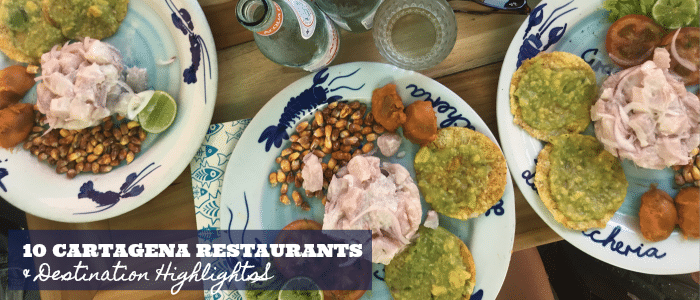 (Visited 503 time, 1 visit today)