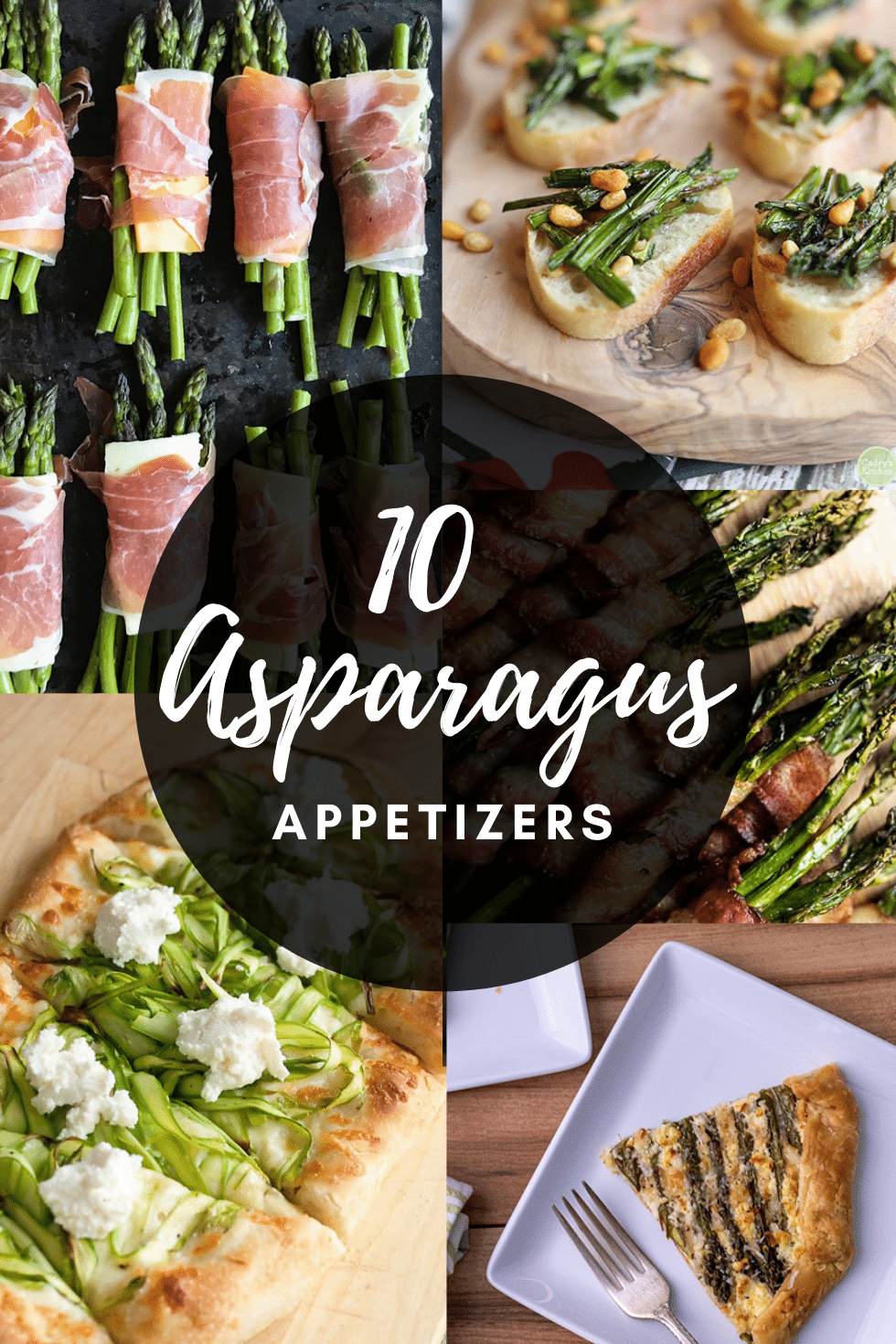 If you are looking delicious asparagus appetizer recipe ideas, you are in the right spot. There are so many creative and flavorful asparagus appetizers to make during asparagus season including prosciutto wrapped asparagus, asparagus and goat cheese galette, asparagus ricotta pizza, and more. Enjoy 10 of the best asparagus appetizer recipes around!
Asparagus Recipes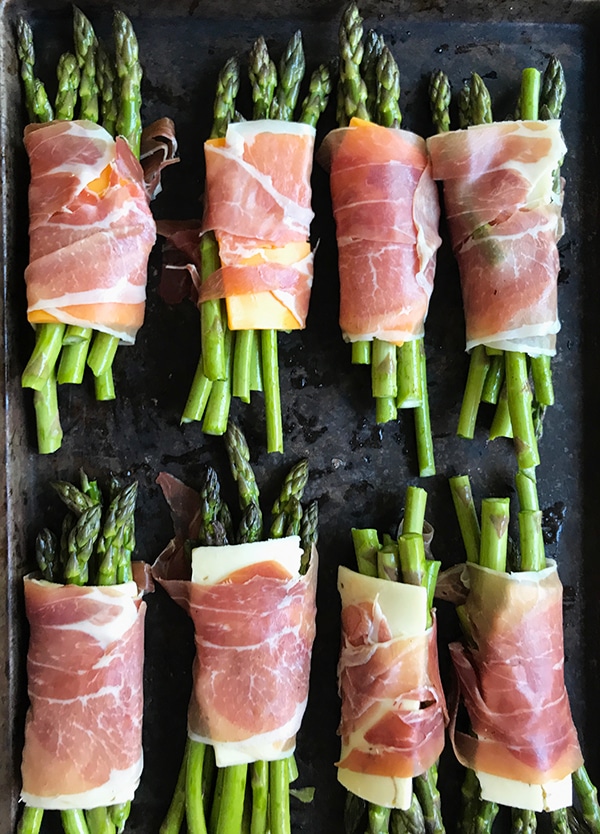 Prosciutto wrapped asparagus is a simple and delicious spring appetizer. All you need is asparagus, cheese and prosciutto! This recipe comes together in just minutes and you cook them using the broiler in your oven.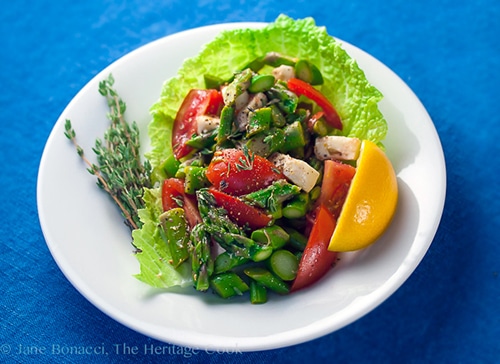 The flavors of spring are in every bite of this asparagus salad with lemon vinaigrette from The Heritage Cook, tantalizing and refreshing. Perfect for brunch, lunch, or dinner and best of all it is delicious and naturally gluten-free!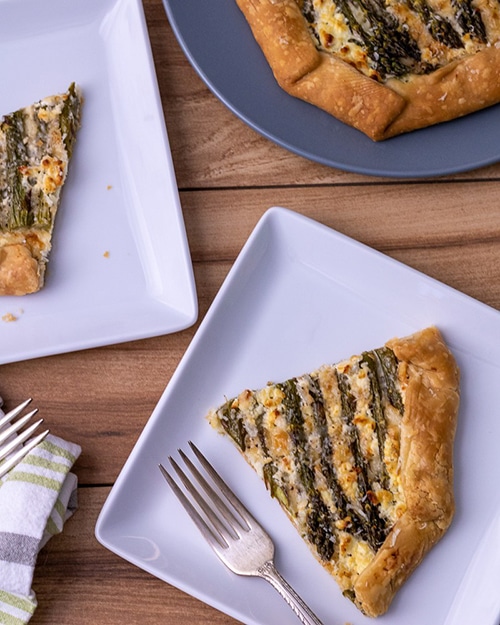 This Asparagus and Goat Cheese Savory Galette from Smack of Flavor is an easy vegetarian appetizer for almost any occasion; a fancy brunch, party or even just for dinner. Caramelized asparagus pairs well with the creamy goat cheese and flaky pie crust. If you're a galette fan be sure to also check out these savory galette recipes and these dessert galettes.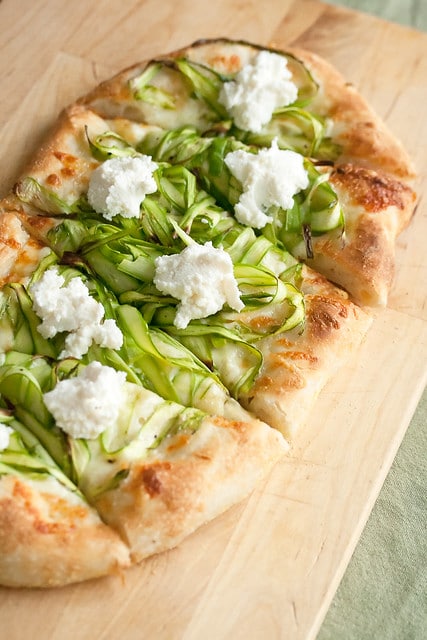 This delicious homemade pizza topped with shaved asparagus and dollops of ricotta from Cumb Blog is full of spring flavor. Cut it into bite-sized squares to make an easy yet elegant starter for a dinner party.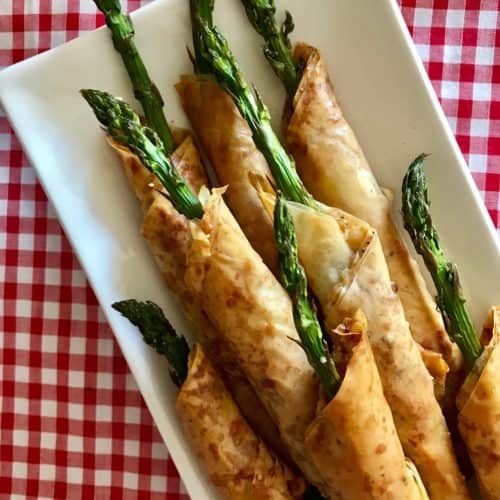 These Asparagus and Parmesan Filo Rolls from It's Not Complicated are a simple to prepare appetizer full of flavour.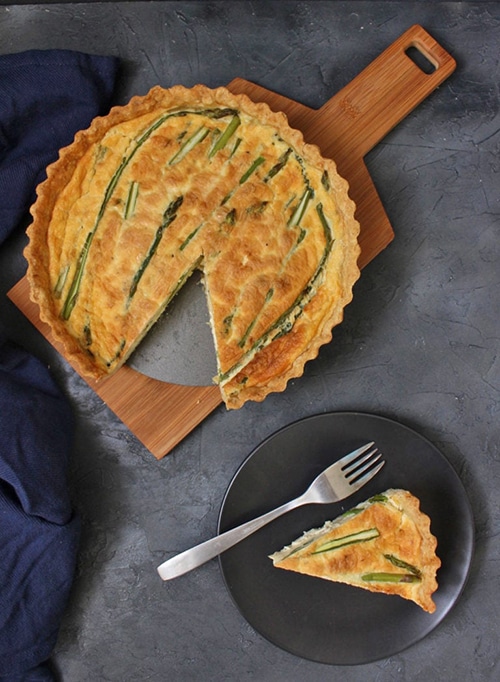 This Asparagus and Feta Quiche from A Baking Journey is a great brunch recipe that can be enjoyed for breakfast, lunch or dinner, and will make a delicious appetizer for your next party! Light, flakey, creamy and packed with flavors, this Asparagus Quiche with Feta Cheese is the perfect Spring dish.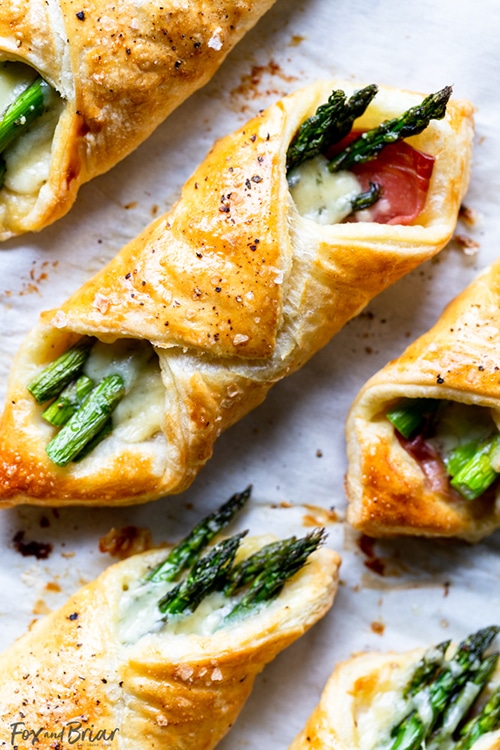 These Prosciutto Asparagus Puff Pastry Bundles from Fox & Briar are an easy and elegant appetizer or brunch idea!  Perfect for Easter, Mother's Day or any other spring brunch! Who can so no to puff pastry!?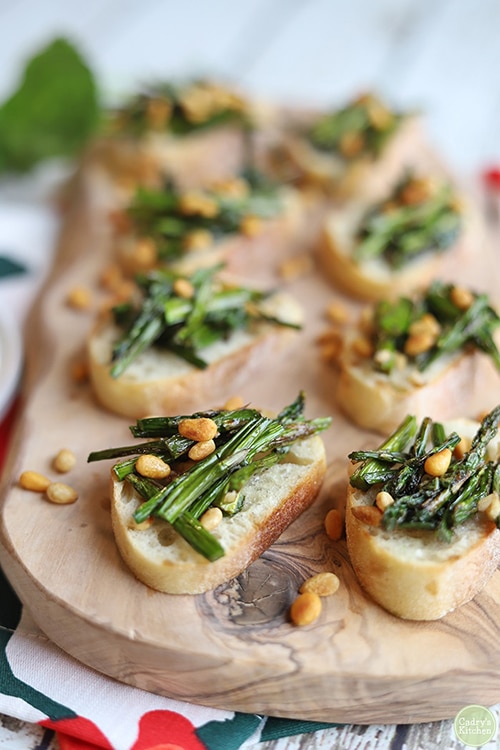 For this Asparagus Bruschetta starter from Cadry's Kitchen, roasted asparagus is tossed with balsamic vinegar, extra virgin olive oil, garlic, and fresh basil. It's served warm on toasted baguette, and topped with toasted pine nuts for crunch. It makes an excellent appetizer for a spring soiree or brunch.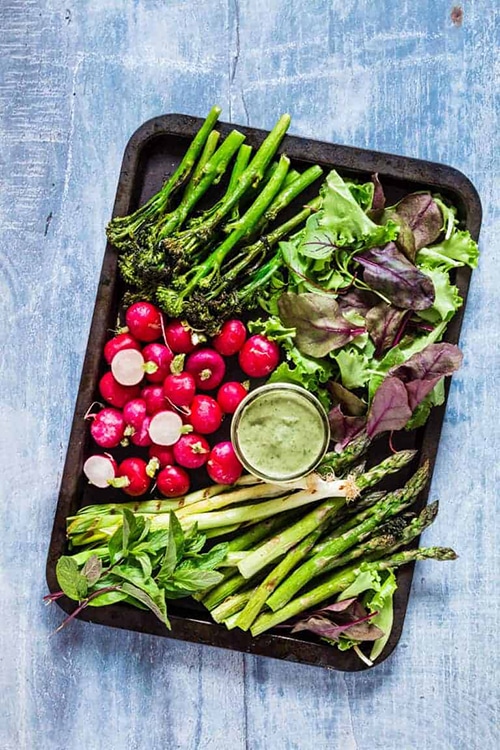 This Spring Vegetable Platter And Avocado Green Goddess Dip by Recipes from a Pantry is supremely easy and quick to put together as well as easy and a fresh way to enjoy asparagus. The asparagus pairs beautifully with other fresh veggies for a satisfying and nutritious appetizer.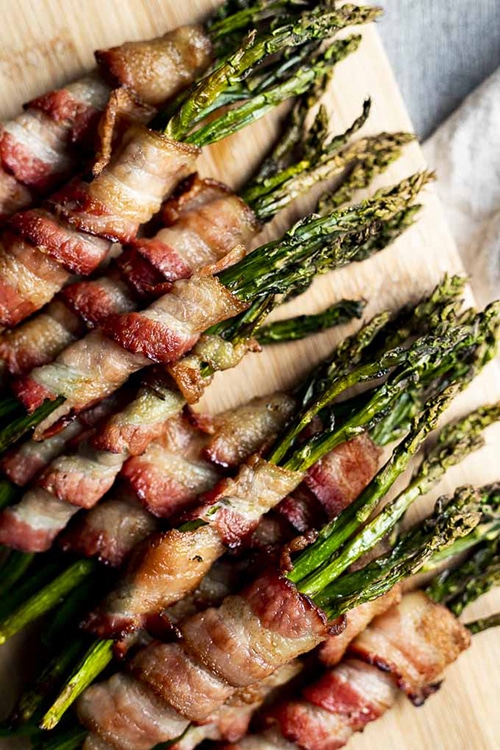 This oven Bacon Wrapped Asparagus Recipe from Went Here 8 This is super easy to make right in the oven for perfectly crispy bacon and tender asparagus packed with that deliciously salty and meaty bacony flavor. These will definitely be a crowd pleaser at your next gathering!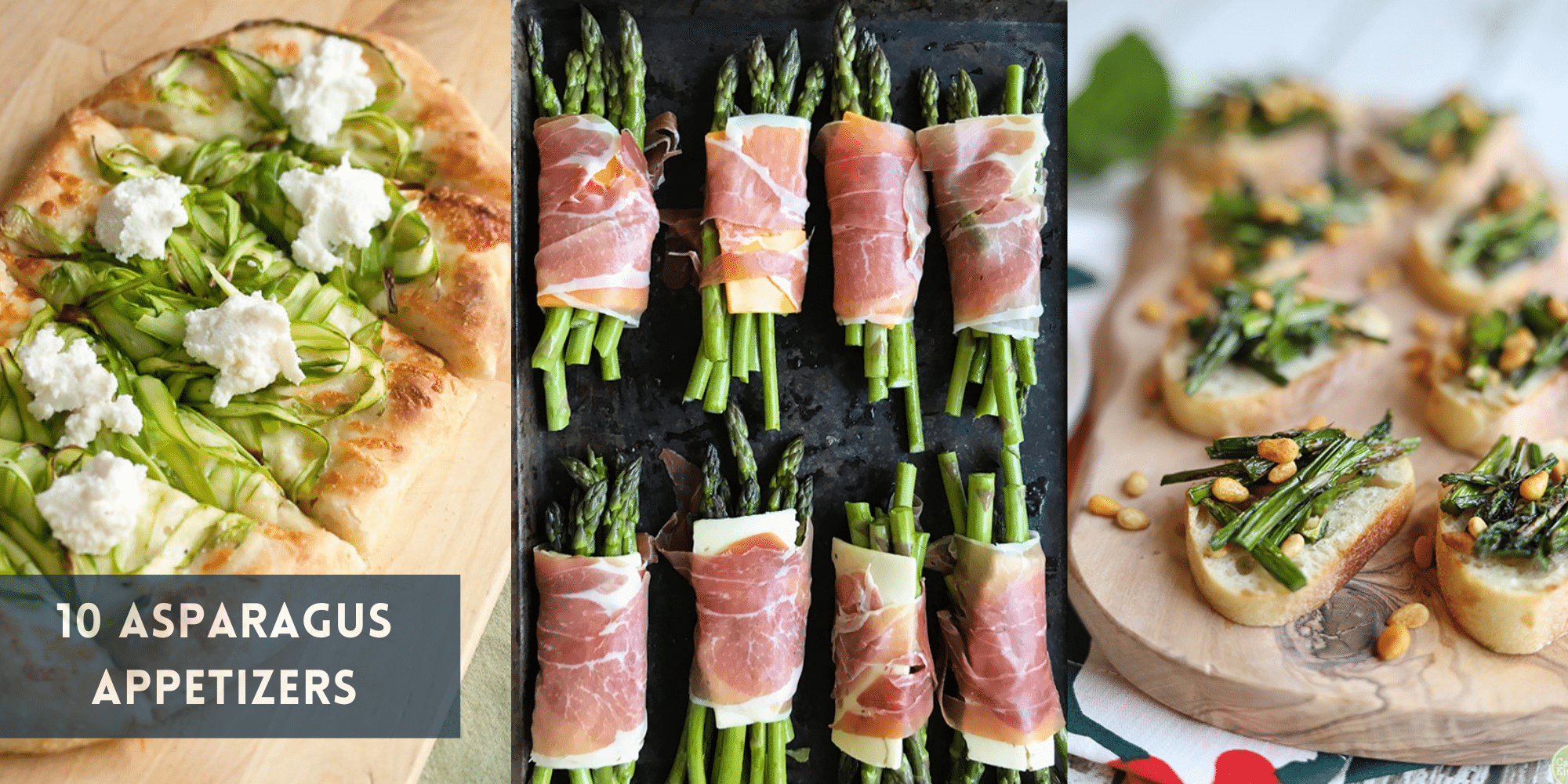 When is Asparagus in Season? Asparagus is in season from February to June, and April is the peak of asparagus season. You'll know that asparagus is fresh if it is a bright green and smooth with no signs of shriveling. The tips are tender, but should not be mushy.
Still Looking for an Appetizer Recipe? Check These Recipes Out
Fig Burrata Caprese Appetizer
Grape Fontina Rosemary Skewers
Peach and Tomato Caprese
Cowboy Caviar Dip
Avocado Caprese Salad
Cilantro Guacamole
You'll Also Love These Recipe Round-Ups
Top 10 Salsa Recipes
10 Unique Caprese Salad Recipes
10 Breakfast Parfait Ideas
10 Game Day Party Snacks
If you make any of these asparagus appetizer recipes please share on instagram using hashtag #rainbowdelicious & and tag me at @rainbowdelicious , I'd love to see what asparagus recipes you are cooking up to in your kitchen!
Some links on this site are affiliate links and I may earn a small commission at no cost to you. Thank you!
(Visited 2,509 time, 1 visit today)