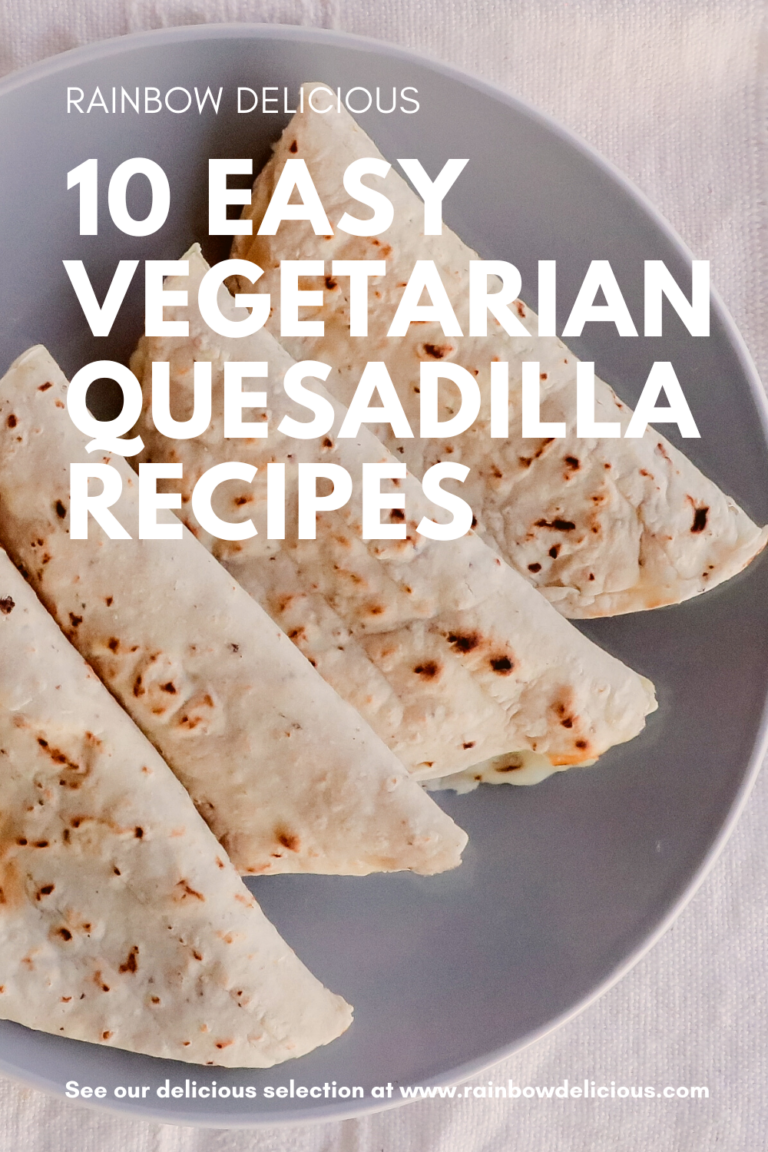 Get ready for some delicious and easy vegetarian quesadilla ideas! When I hear the word quesadilla my first thought is simple: cheese + tortilla, but they can be so much more than that! Even when quesadillas have complex flavors added into the mix they are still quite simple to make.  Enjoy this list of ten delicious vegetarian quesadillas for your enjoyment! 
What is a Quesadilla?
A quesadilla is simply a tortilla filled with cheese and heated. You can spruce up vegetarian quesadillas by adding additional toppings including beans, vegetables, herbs, and more.
What Veggies are Good for Quesadillas?
Most vegetables can work in a quesadilla, but common vegetables for vegetarian quesadillas include ones that don't have too much moisture or that have been sautéed, allowing the quesadilla to keep its form without getting soggy. Corn, olives, bell pepper, avocado, mushrooms, and zucchini are all great options. You can even add fruit into your quesadillas… strawberries and apples are included as toppings in this round-up of recipes.
Tips for Making Vegetarian Quesadillas
Use large tortillas so you can fill them to the brim with your vegetarian toppings! Leave an inch border around the edges so that the toppings stay inside the tortillas and don't spill over during melting.
Shred your own cheese because it melts better without the additives that are found in pre-shredded cheeses. Play around with different cheeses!
If you add vegetables that have a high water content, don't forget to saute them before adding them to your quesadillas.
Have fun experimenting with easy vegetarian quesadilla ideas… the sky is the limit!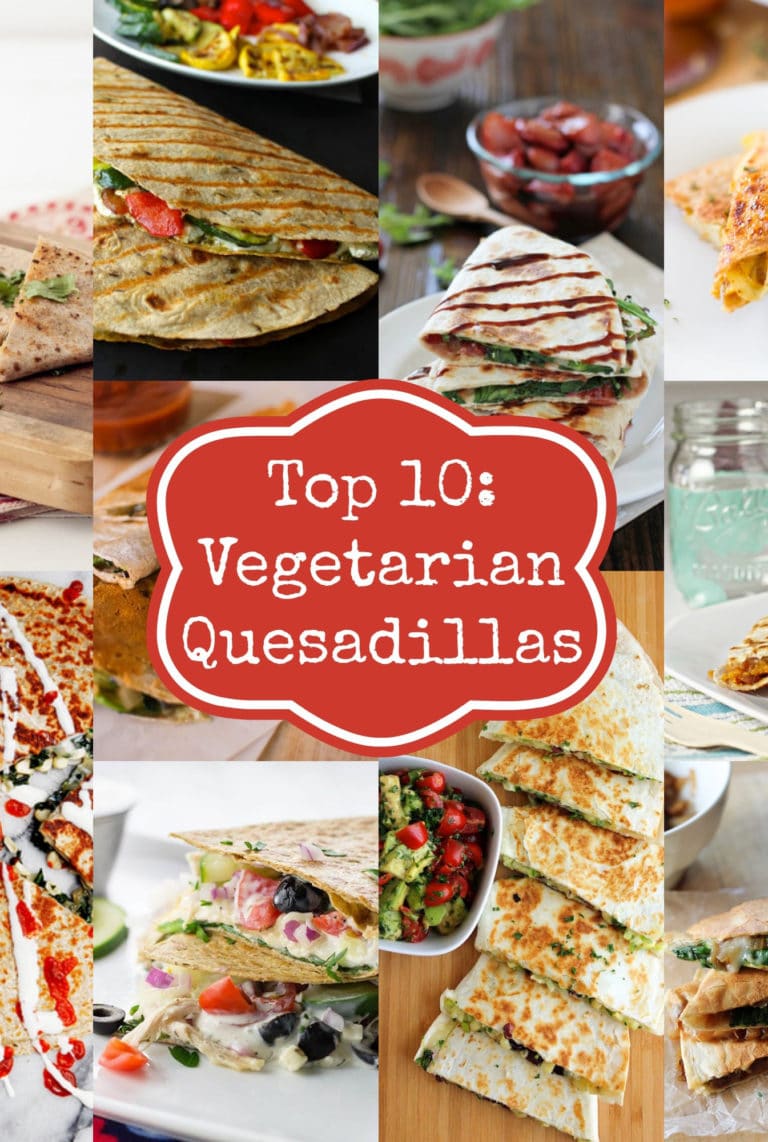 Easy Vegetarian Quesadilla Ideas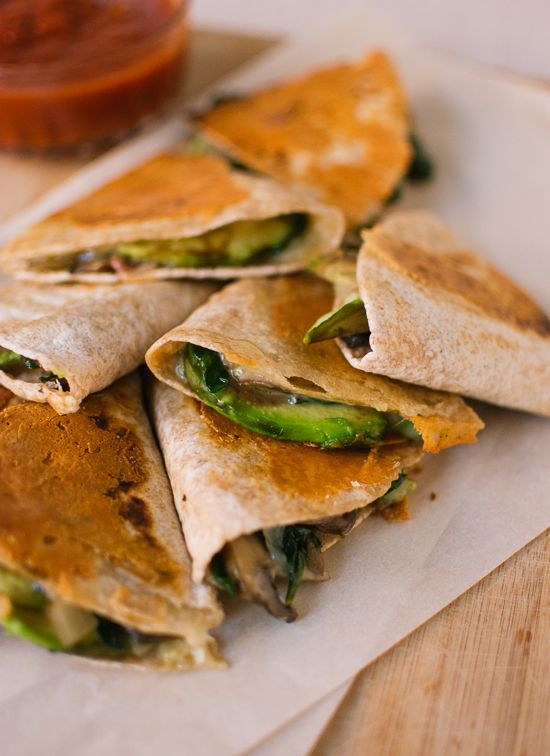 These Crispy Mushroom, Spinach and Avocado Quesadillas from Cookie and Kate are so delicious! You can never go wrong adding avocado to a quesadilla, such creamy goodness!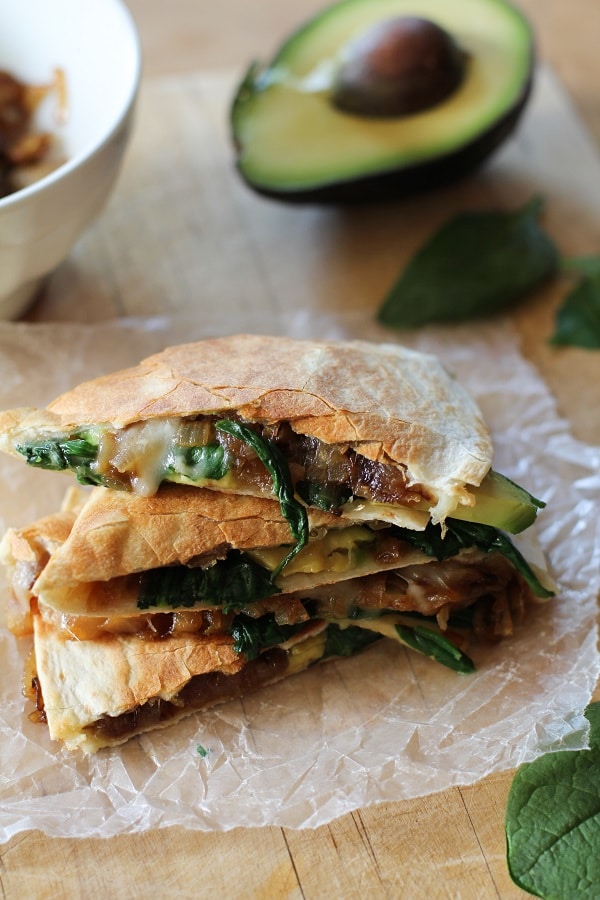 Yes please to these Caramelized Onion, Spinach and Avocado Quesadillas from Oh My Veggies. Caramelized onions are sometimes a labor of love, but always worth it!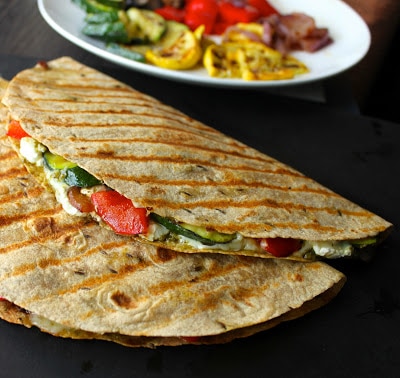 These Grilled Vegetable Quesadillas with Goat Cheese and Pesto from Domesticate Me are unique as a more typical melty cheese is replaced with goat cheese. Trust me, it is worth a try!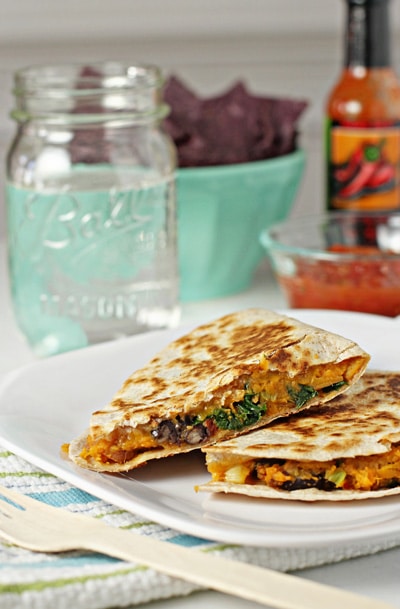 You'll love the combo of sweet potatoes and black beans in these Sweet Potato, Black Bean and Kale Quesadillas from Cookie Monster Cooking. These are unique and satisfying! As far as vegetarian quesadillas go, these are definitely unique and super filling!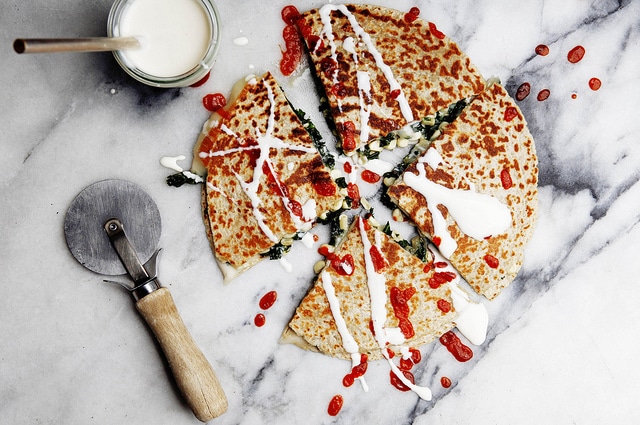 Sometimes simple is best when it comes to vegetarian quesadillas, and these veggie-centric Kale and Corn Quesadillas from Food52 are a great way to use your next kale bunch from the farmer's market haul or CSA box!

If you are a fan of Greek salad and vegetarian quesadillas, then you will also love these Greek Quesadillas from Skinny Mom!
Apple, Gouda and Caramelized Onion Quesadillas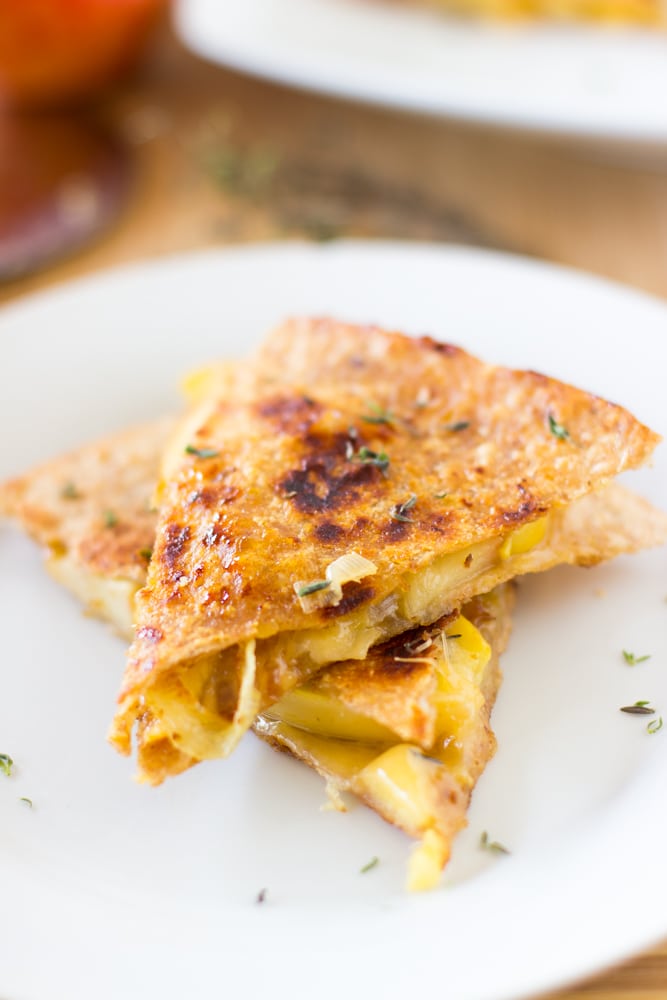 if you are a fan of apple + cheese then you'll love these Apple, Gouda and Caramelized Onion Quesadillas from Jessica in the Kitchen! The flavor combo in these vegetarian quesadillas is to die for!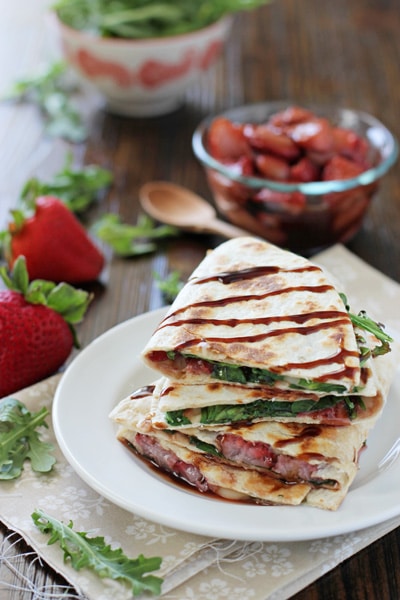 These Roasted Strawberry, Brie and Arugula Quesadillas from Cookie Monster Cooking are so unique and flavorful! The combo of strawberries and arugula is always a hit!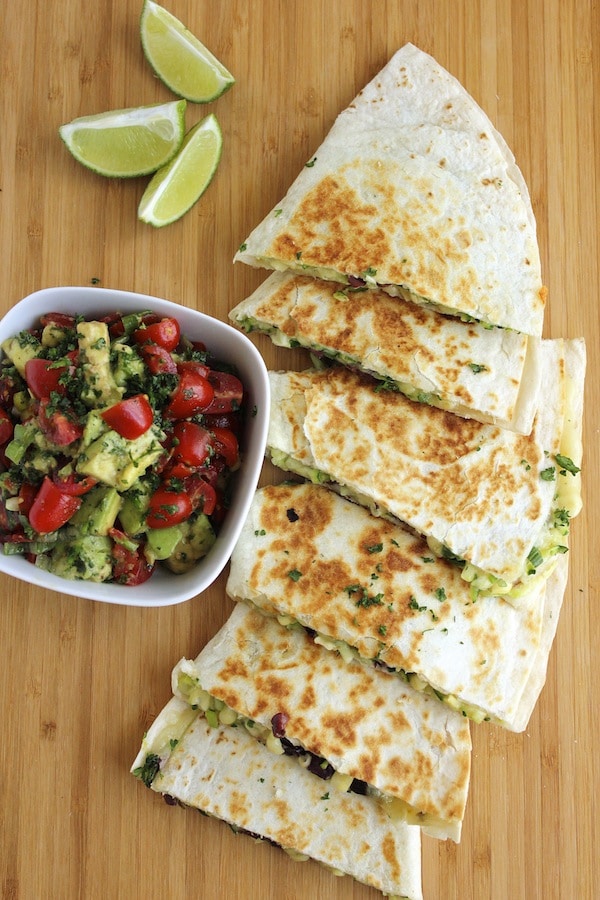 if you want quesadillas that taste like summer be sure to try these Zucchini, Corn and Olive Quesadillas from Green Valley Kitchen!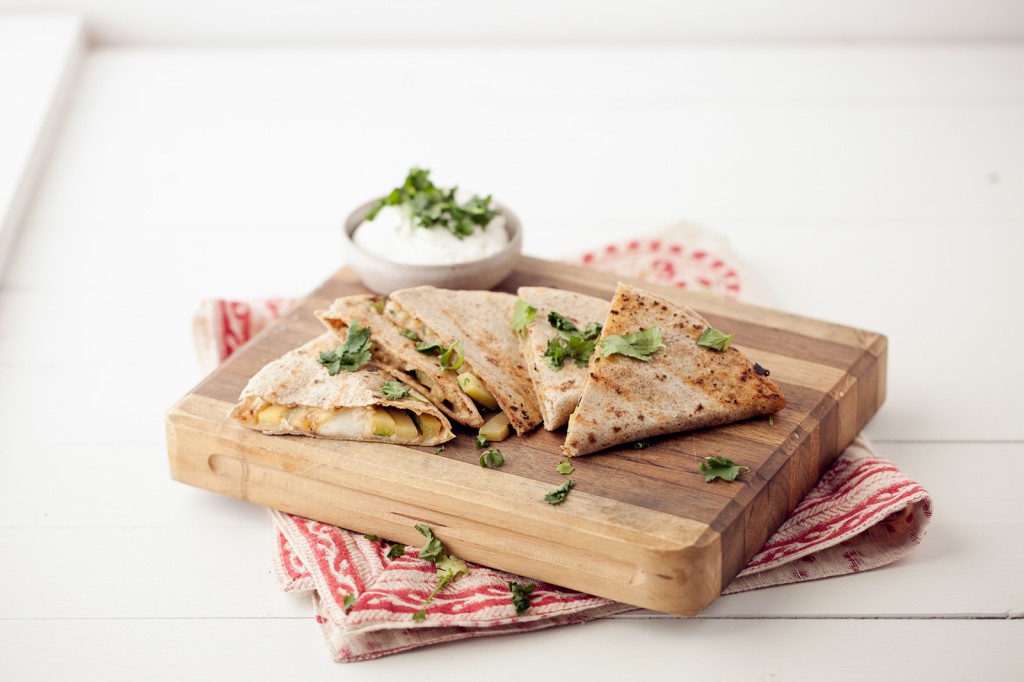 These Grilled Cumin Lime Zucchini Quesadillas from Naturally Ella are a great way to use up the zucchini surplus in your home garden!
Check out my quesadilla pinterest board for even more delicious recipes!
When you make any of these Easy Vegetarian Quesadilla Ideas please share on instagram using hashtag #rainbowdelicious & and tag me at @rainbowdelicious , I'd love to see what you are up to in your kitchen! 
You'll Also Love These Posts
(Visited 7,852 time, 1 visit today)