I'm excited to share with you these simple summer recipes: Lemon pasta, blackberry pizza caprese sandwiches, peach pizza and tomato soup.
Happy Labor Day! Do you have anything fun planned today? For the last few years we have made a tradition of going beach camping Labor day weekend but since I should be having a baby right about now this year we don't really have any plans.  I'm hoping that since today is "labor day" I will finally go into labor… fingers crossed!! I hope you enjoy this week's meal plan that features two pizzas, a salad, a soup and a sandwich.  Click here for this week's grocery shopping list.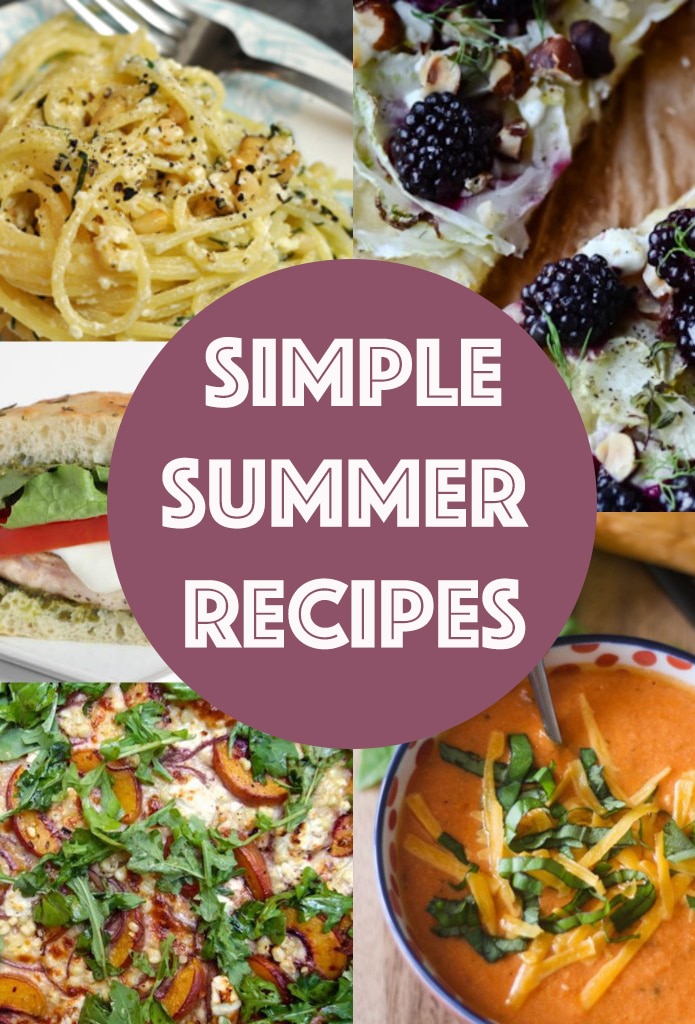 Simple Summer Recipes
Tomato Basil and Cheddar Soup from More Fruit Please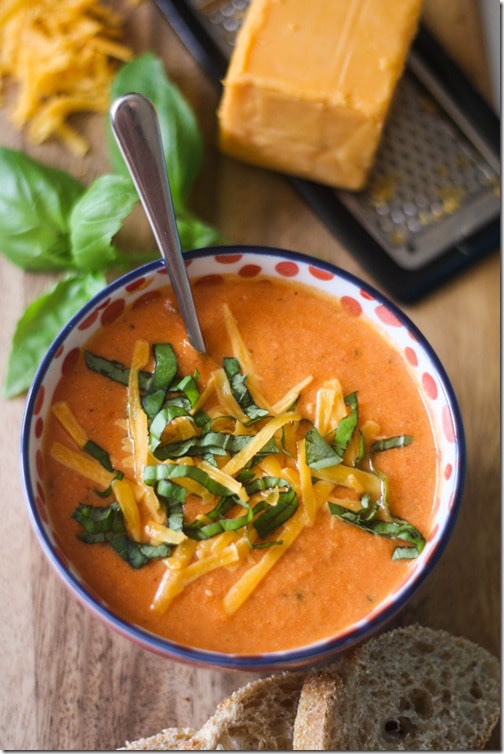 Prep Time: 10 minutes  Cook Time: 20 minutes Total Time: 30 minutes
Ingredients: diced tomatoes, yellow onion, garlic, olive oil, vegetable broth, greek yogurt, cheddar cheese, basil, oregano, sugar, salt and pepper.
I feel like tomato soup is a dish I enjoy in winter or summer, I just never get sick of it! I ended up using this recipe more as a guide and made quite a few changes; I used a red onion instead of white, lots of fresh oregano instead of 2 teaspoons of dried, I doubled the garlic and used 2 cups of cream instead of 1 c of greek yogurt.  I used an immersion blender and ended up letting the soup simmer for longer than needed because I made the soup in the late afternoon.  We had leftovers and it was even more delicious the next day.
Peach, Corn and Arugula Pizza from Shutterbean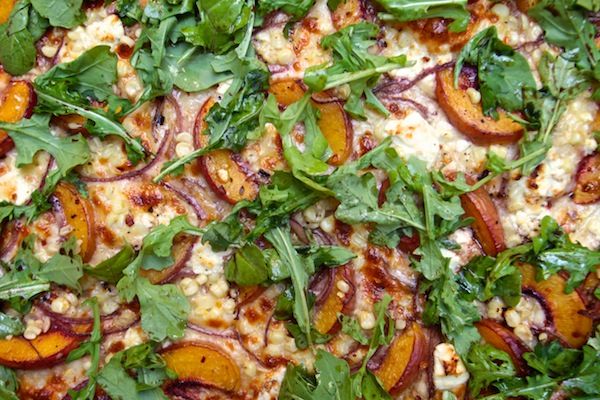 Prep Time: 10 minutes  Cook Time:  15 minutes Total Time: 25 minutes
Ingredients: pizza dough, peaches, fresh corn, shredded mozzarella, goat cheese, salt & pepper, red pepper flakes, arugula.
I obviously really love peach pizza and have featured them in earlier meal plans this summer here and here and this one is also delicious!
Garlic Lemon Spaghetti from I Nom Things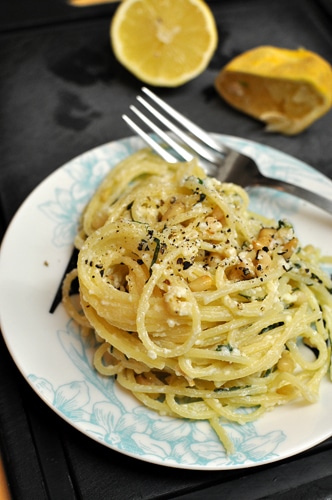 Prep Time: 5 minutes  Cook Time:  15 minutes Total Time: 20 minutes
Ingredients: spaghetti, grated parmesan, olive oil, garlic, lemon, pine nuts, basil.
I love how quick and flavorful this pasta is, and make it whenever I'm in a pinch and need to make a quick weeknight meal that I know my kids with eat and have featured this recipe in my lemon recipe round-up.  I used lots of basil from my garden and left out the pine nuts this week.  I also doubled the ingredients in the shopping list so it is enough to serve four instead of two.
Grilled Chicken Pesto Sandwich from Spoonful of Flavor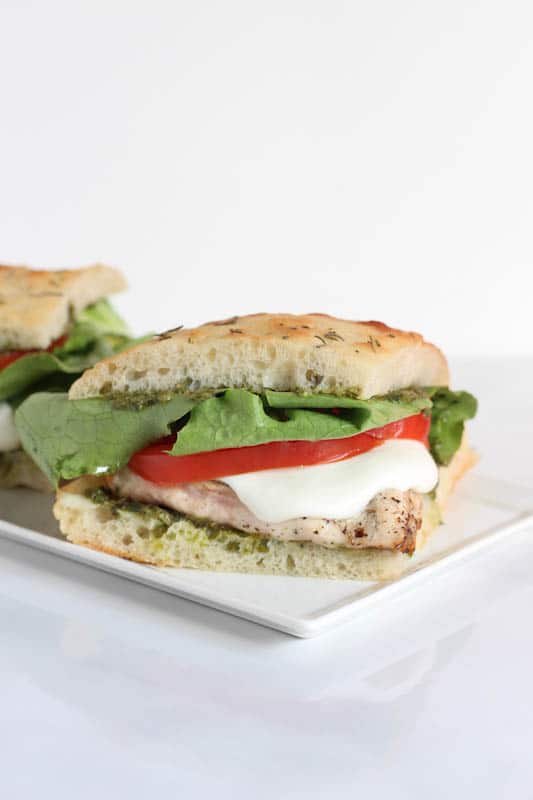 Prep Time: 10 minutes  Cook Time: 15 minutes Total Time: 25 minutes
Ingredients: chicken breasts, olive oil, salt & pepper, mozzarella, focaccia, basil pesto, tomato, romaine lettuce.
I never get sick of chicken pesto sandwiches… yum.  This is a quick meal to put together and would taste great with spinach instead of romaine lettuce and if you wanted to get fancy you could always add some balsamic reduction in the sandwich as well.
Blackberry Fennel Pizza from Scaling Back Blog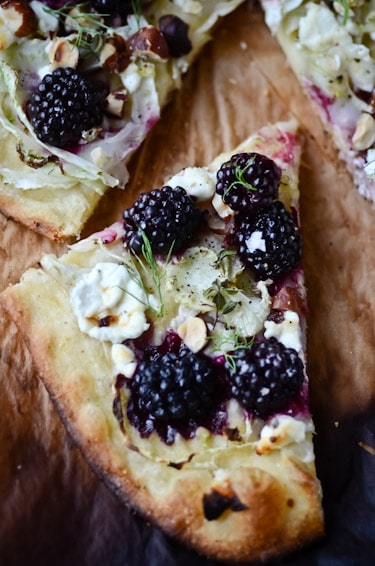 Prep Time: 8 minutes  Cook Time: 12 minutes Total Time: 20 minutes
Ingredients: pizza dough, blackberries, fennel, goat cheese (or brie or gorgonzola), hazelnuts, tyme, salt & pepper, honey.
I featured this recipe before in my fennel recipe round-up; it has great flavor combinations. This recipe includes a pizza crust recipe if you want to try it out (flour, cornmeal, instant yeast, salt, olive oil), but I just used another batch of pre-made dough (thanks Trader Joe's!)  This pizza id unique and a great way to enjoy more blackberries before their season ends.
When you make this Simple Summer Recipes please share on instagram using hashtag #rainbowdelicious & and tag me at @rainbowdelicious , I'd love to see what you are up to in your kitchen! 
(Visited 7,843 time, 1 visit today)