My kids are out of school now so summer is in full swing! For summer I love recipes that come together relatively quickly (or can be made ahead) but still have fresh and fun flavors! This week's easy summer recipes meal plan has five no fuss recipes that are a hit during the warm summer months in our household. Chicken, black bean and veggie enchiladas are perfect after a long day at the pool.  The southwestern pasta salad is a great side or an easy lunch to take with you to the park. The charred corn tacos are perfect for outdoor dining and have amazing flavor- I was surprised the first time I made them how much I enjoyed these tacos! The slow cooker salsa verde chicken tostadas are great, especially with avocado on them. The blueberry brie sandwiches are unique but I'm telling you they taste like summer- don't leave out the basil!
 Click here for Easy Summer Recipes Meal Plan grocery shopping list.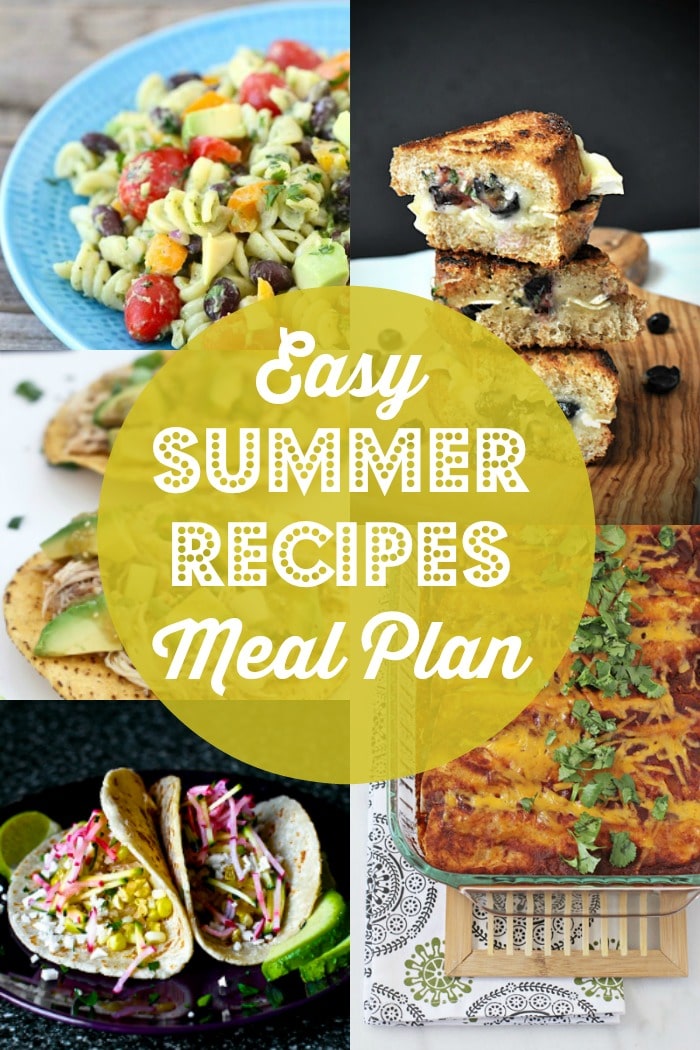 Easy Summer Recipes Meal Plan
Chicken, Black Bean and Vegetable Enchiladas from Cookie Monster Cooking
Prep Time: 20 minutes  Cook Time: 45 minutes Total Time:  1 hour 5 minutes
Ingredients: olive oil, onion, zucchini, corn, chicken breast, black beans, crumbled queso fresco, salt & pepper, whole wheat tortillas, freshly shredded cheddar, cilantro. Enchilada sauce (you can buy your own or make the recipe linked): olive oil, onion, garlic, chili powder, cumin, sugar (or honey), canned tomato sauce, chicken or vegetable broth, salt & pepper.
These enchiladas were so good! I definitely recommend them. You can probably use any enchilada sauce but I highly recommend making your own using this recipe also by Cookie Monster Cooking.  I recommend doubling the enchilada sauce if you like your enchiladas saucy, I forgot to this time and felt a little more sauce would have been good.  If you are a vegetarian I think this recipe would still be just as delicious without the chicken breast.
If you love enchiladas check out these vegetarian enchilada recipes, these meaty enchilada recipes and these zucchini, corn and poblano pepper enchiladas.
Southwestern Pasta Salad with Creamy Avocado Dressing from Two Peas and Their Pod
Prep Time: 10 minutes Cook Time: 10 minutes Total Time: 20 minutes
Ingredients: pasta, black beans, grape tomatoes, red bell pepper, orange or yellow bell pepper, red onion, sweet corn, avocado, salt and pepper, lime, cilantro, greek yogurt, buttermilk, garlic, cilantro, green onions, jalapeño, cumin.
This is one of my new favorite pasta salads ever and I feel like I'll be making this multiple times this summer.  I used gluten free brown rice noodles, added extra cilantro in the dressing and forgot to add the jalapeño.  The recipe makes a good amount of dressing, just use as much as you like- we used the whole amount and it was way more saucy than the picture above but we loved it that way.
Charred Corn Tacos with Zucchini Radish Slaw from Smitten Kitchen
Prep Time: 10 minutes Cook Time: 35 minutes Total Time:45 minutes
Ingredients: red radishes, zucchini, limes, salt, corn, unsalted butter, olive oil, white onion, garlic, epazote (or cilantro or parsley), cotija, chili powder, soft corn tortillas.
These tacos are fresh and unique and I enjoy the process of charring the corn.  I ended use cotija and cilantro as toppings. This recipe uses a mandolin…this is the mandolin I have and I love it. Just be careful when using, I've had a few close calls!
Slow Cooker Salsa Verde Chicken Tostadas from Bake Your Day
Prep Time: 10 minutes Cook Time: 8 hours Total Time: 8 hours 10 minutes
Ingredients: chicken thighs, chicken breasts, salt, pepper, yellow onion, green onions, cilantro, garlic, jalapeño, salsa verde, chicken broth, tostada shells or corn tortillas, avocado.
We absolutely love this recipe and will definitely be making them again. I make the tostada shells myself by brushing corn tortillas with olive oil on each side, sprinkling with sea salt and broiling until slightly browned. I leave out the green onions and offer sour cream, cheese and shredded lettuce as optional toppings. I also usually use chicken breast in place of the chicken thighs.
Blueberry and Brie Grilled Cheese from Whisked by Illana Freddye
Prep Time:  5 minutes  Cook Time: 10 minutes Total Time:  15 minutes
Ingredients: fresh blueberries, whole wheat french bread, brie slices, basil leaves, butter, honey, salt and pepper.
I love a good unique grilled cheese sandwich and this combo is pretty exceptional.  I doubled the ingredients in the shopping list to make four sandwiches instead of two.  If you are not a big fan of brie I think using fontina could work too.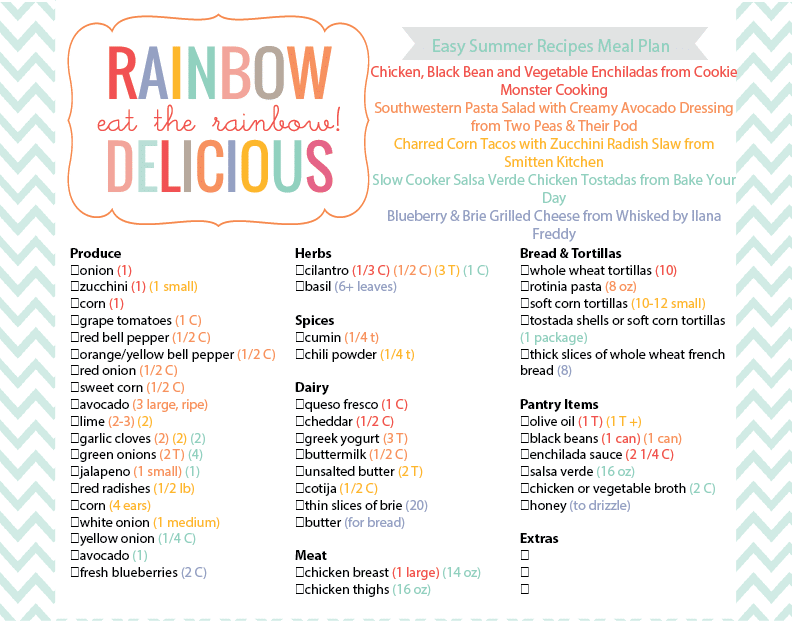 If you make any recipes from this easy summer recipes meal plan please share on instagram using hashtag #rainbowdelicious & and tag me at @rainbowdelicious , I'd love to see what you are up to in your kitchen!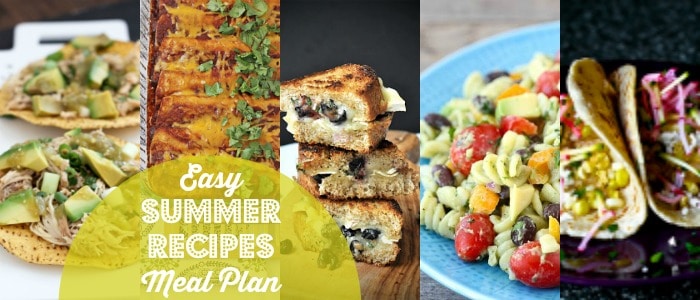 Some links on this site are affiliate links and I may earn a small commission at no cost to you. Thank you!
(Visited 3,760 time, 1 visit today)