Happy May everyone! This week I'm excited to share with you five May spring dinner recipes that are fresh, delicious and healthy. May is my favorite month because the weather starts really warming up, I get to plant my garden, we get to celebrate Mother's day, and it is my birthday month ( I'm turning 30 next week!)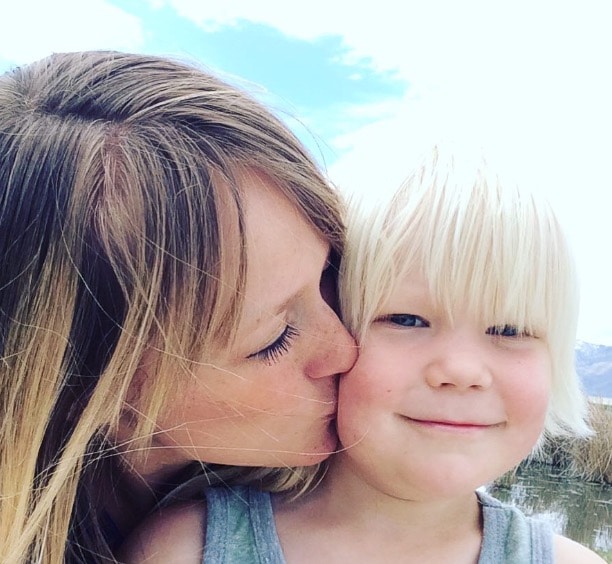 Whenever I hit a milestone birthday I evaluate my life and write out changes and goals. It feels more personal to do this life assessment around my birthday, instead of on New Years. Do you do that too? Whether you are a birthday goal-maker or a New Year's resolution person, what are you current life goals and intentions?
As I enter this next decade of life I'm hoping to live in a more minimalistic way (thanks Marie Kondo for helping me only keep/buy what brings me joy), eat more home cooked meals (Michael Pollan lays down why that's important), drink more water, prioritize experiences over things, and focus on intentional, present parenting. I'm going to wear more sunscreen and sun hats, try to purchase clothing made in sustainable and ethical ways (just watched the documentary 'True Cost'), get more sleep (Thank you, Arianna Huffington), and I'm very excited to start a new chapter on this blog.
I've loved cooking up and then sharing weekly meal plans with you every Monday but Im feeling the urge to cut back on those specifically so I can spend some of that time and energy on other posts that I think you are going to love. You can still count on a post from me every Monday; I will continue to share a colorful and seasonal meal plan the first Monday of each month. The other Mondays I am excited to share new recipes, how-to kitchen tutorials, recipe round-ups, original videos, gift guides, holiday menus, sponsored content and more, so stay tuned!
If you have any particular post ideas that you would like to see, please share your ideas in the comments or email me at [email protected] because you are what makes this blog great and I want to share content that is relevant and exciting for you!
I love the community that is building at Rainbow Delicious and appreciate all of your emails, comments and engagement on facebook, instagram, and pinterest. Please continue to share your comments and follow if you aren't already! And if you aren't an email subscriber yet, please plug in your email below to get colorful recipe inspiration emails each Monday.
And now, on to a week of May Spring dinner recipes! Click here for grocery list.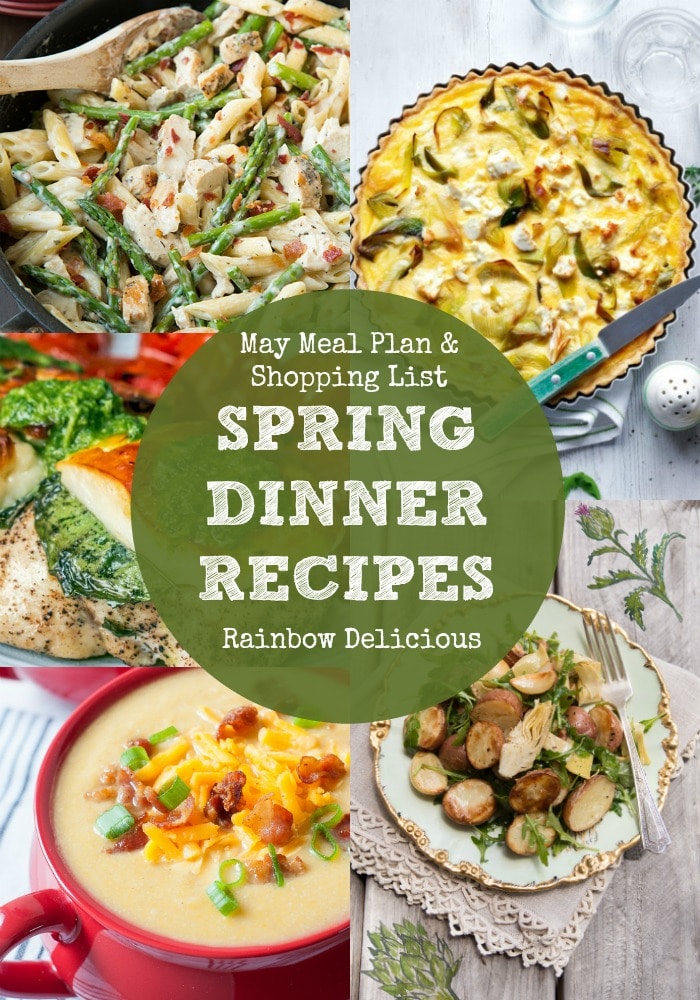 May Spring Dinner Recipes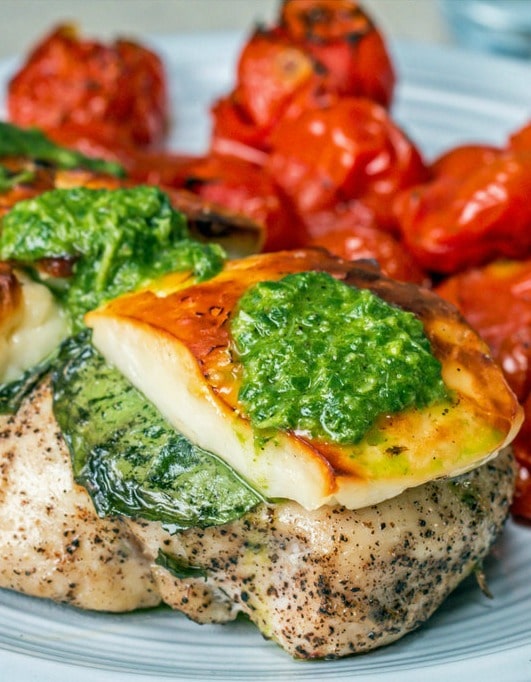 One-Pot Basil Halloumi Chicken from Buzzfeed
Prep Time:  15 minutes Cook Time: 35 minutes Total Time: 50 minutes
Ingredients: chicken, halloumi, red cherry tomatoes, basil leaves, salt, pepper, olive oil, garlic, lemon.
A friend shared this recipe on facebook and I knew that I had to try it because halloumi is a favorite cheese of mine (click here for more halloumi recipe inspiration) You can find halloumi in most grocery stores in the specialty cheese section but I sometimes call ahead and ask if it is in stock just to be safe. Trader Joe's sells it for the cheapest price that I've seen, but they only carry it part-time so when I see it I stock up. Halloumi is on the expensive side, but in my opinion, so worth it! There is a video that shows how to execute this recipe (linked above) so you know exactly what you are getting into.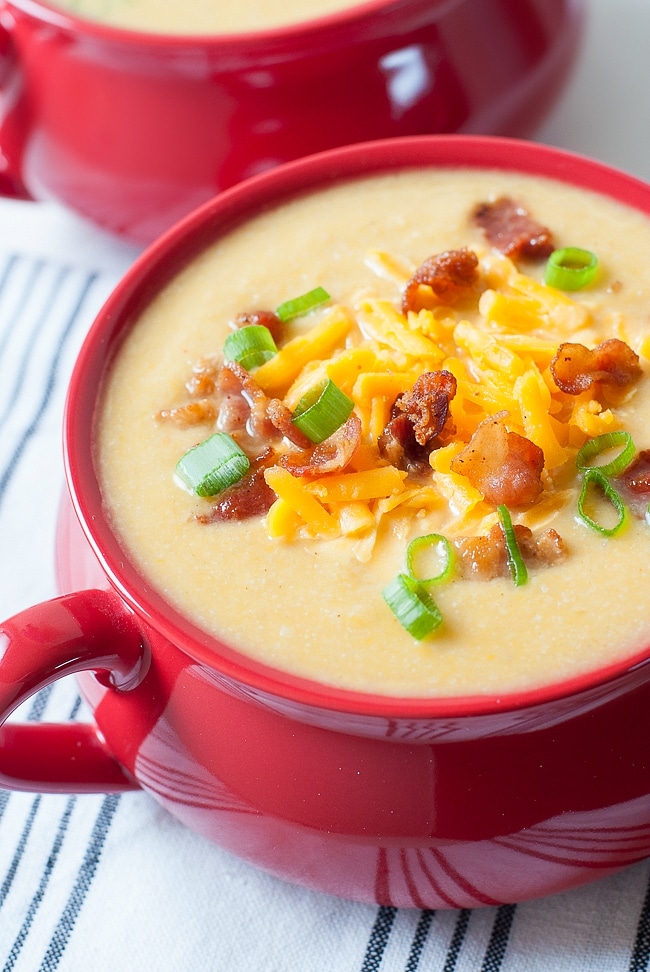 Slow Cooker Sweet Potato and Cauliflower Soup from Peas and Crayons
Prep Time: 5 minutes Cook Time: 5 hours Total Time: 5 hours 5 minutes
Ingredients: cauliflower, sweet potato, vegetable broth, onion, garlic, green onion, dried thyme, paprika, red pepper flakes, salt, milk, cream cheese. Optional Toppings: bacon, green onion, cheese, croutons, red pepper flakes, hot sauce.

I've been trying to make a crockpot recipe once a week lately because it is so simple, and usually there are leftovers for my husband to take to work. I used my immersion blender which makes pureeing the soup so simple, but if you don't have one you could always use your blender. (click here for a week of crockpot recipes)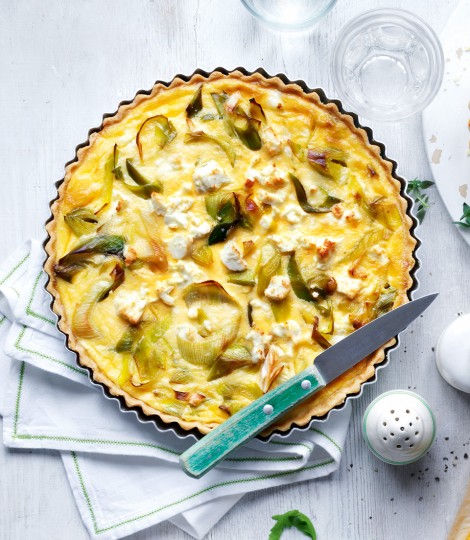 Leek and Feta Tart from Delicious
Prep Time: 10 minutes Cook Time: 35 minutes Total Time: 45 minutes
Ingredients: pie crust, butter, leeks, feta, cream, whole milk, eggs.
This recipe is from the UK so you will need to make some temperature and measurement adjustments. I rounded up and baked mine at 350 degrees F, used 1/2 C feta, 1 C cream and 1/2 C milk.  For the "knob" of butter I used about 1 T. I used a pre-made crust and my whole family enjoyed this quiche.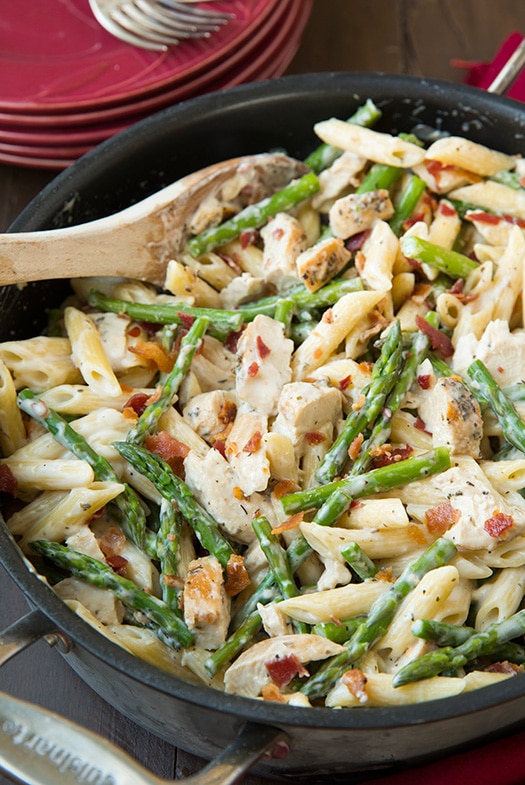 Creamy Chicken Asparagus Pasta from Cooking Classy
Prep Time: 15 minutes Cook Time: 20 minutes Total Time: 35 minutes
Ingredients: chicken breasts, olive oil, basil, oregano, dried thyme, penne pasta, asparagus, butter, flour, garlic, milk, cream, cream cheese/Neufchatel cheese, parmesan, bacon.
Creamy pastas always go over well in my household and we especially loved the asparagus and bacon combo. We added a little fresh basil on top too.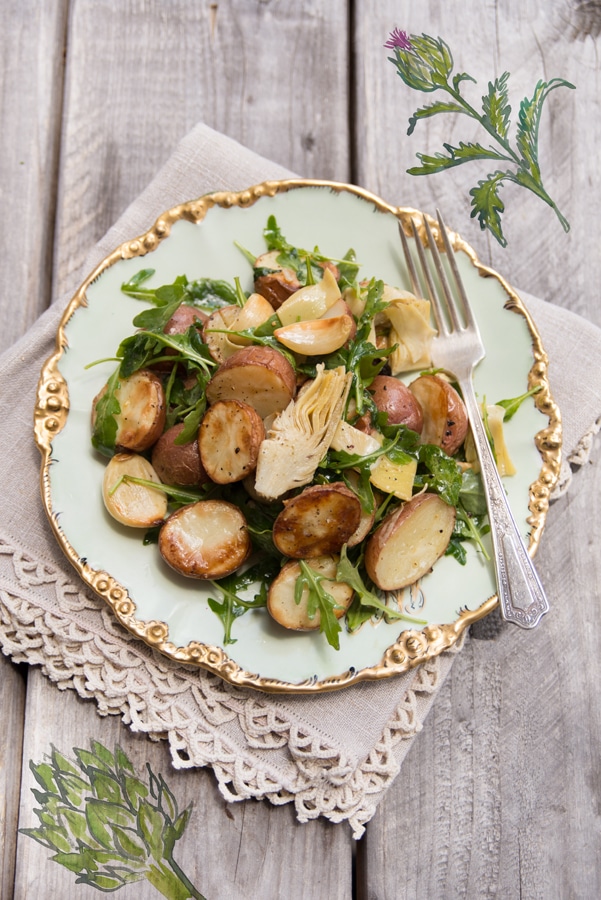 Artichoke Potato Arugula Salad from The Forest Feast
Prep Time: 10 minutes Cook Time: 25 minutes Total Time: 35 minutes
Ingredients: red mini potatoes, garlic cloves, olive oil, salt, pepper, artichoke hearts, arugula, vinaigrette.
This salad reminds me a little of my roasted potato and feta arugula salad but it has the lovely addition of artichoke hearts. I think a little parmesan or feta would be a welcome garnish for fellow cheese lovers.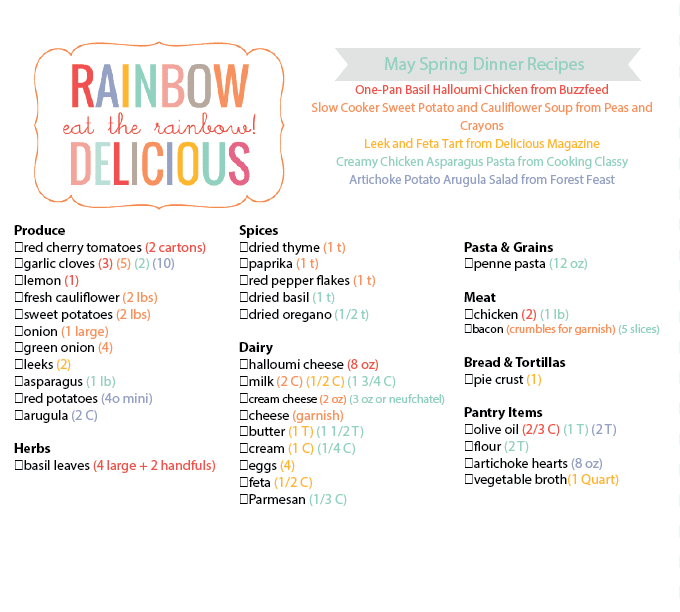 If you make any May spring dinner recipes from this week's Rainbow Delicious meal plan please share on instagram using hashtag #rainbowdelicious and tag me @rainbowdelicious, I'd love to see what you are up to in your kitchen!
(Visited 1,983 time, 1 visit today)