Disclosure: This post is sponsored by ZICO Coconut Water.
I'm so excited to share with you a delicious and guilt-free no-bake raw vegan mango raspberry cheesecake recipe.
Lately I've been trying to cut back on flour, dairy products and refined sugar in an effort to reduce inflammation and simply transition to healthier choices. I still crave desserts that taste delicious without giving me guilt which is why I enjoy making raw, vegan "cheesecake" recipes using ingredients that I trust. I'm always amazed by how healthy ingredients can transform into rich and delicious guilt-free desserts! When it comes to our food #InsideisEverything matters since you are what you eat, right?
No-Bake Raw Vegan Mango Raspberry Cheesecake Recipe Ingredients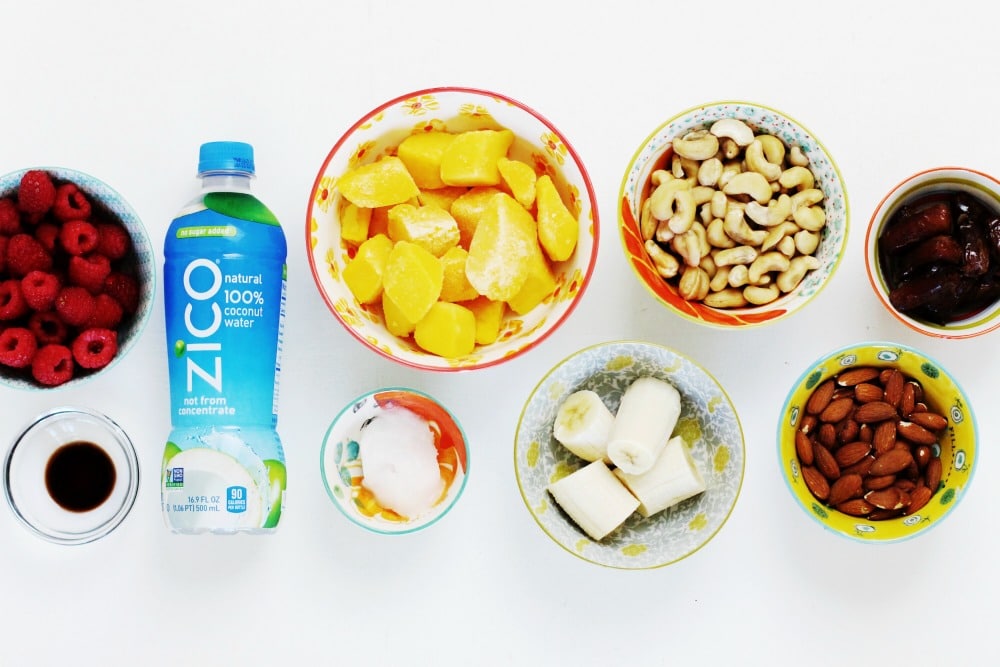 Almonds: Almonds make a great base for a cheesecake crust and provide vitamin E, copper, magnesium, and high-quality protein.
Medjool Dates: Dates are an awesome way of sweetening a dessert without using natural sugar and are loaded with many vitamins and minerals. I always buy pitted but be sure to check each one before you add it into your recipe because sometimes there is a rogue pit in one of them.
Coconut Oil: Coconut oil is notable for its abundance of vitamin E which is especially beneficial for your hair and skin, and it adds a nice subtle flavor and texture to recipes.
Cashews: These nuts are the perfect choice for making creamy desserts and they are loaded with vitamins, minerals and antioxidants including vitamins E, K and B6.
Mangoes: Mango is one of my family's favorite fruits and I always have frozen mango on hand for my kids to snack on. One cup has 100% of your daily need for vitamin C and also provides vitamin A, folate, vitamin B-6, vitamin K and potassium.
Bananas: Who doesn't love bananas? These sweet fruits provide vitamin B6, manganese, vitamin C, potassium, dietary fiber, protein, magnesium and folate.
ZICO Natural Coconut Water: Contains 5 naturally-occurring electrolytes including, potassium and magnesium, and is a great addition to more than just smoothies! It adds a nice hint of coconut flavor to the cheesecake. I love that ZICO Natural Coconut Water is 100% not from concentrate, with no sugar added – it's one ingredient only!
Vanilla: There's not much vanilla in this recipe but it is a powerful antioxidant and adds flavor.
Raspberries: The tartness of the raspberries on this cheesecake is the perfect balance to the sweet mango filling. Plus, raspberries contain strong antioxidants.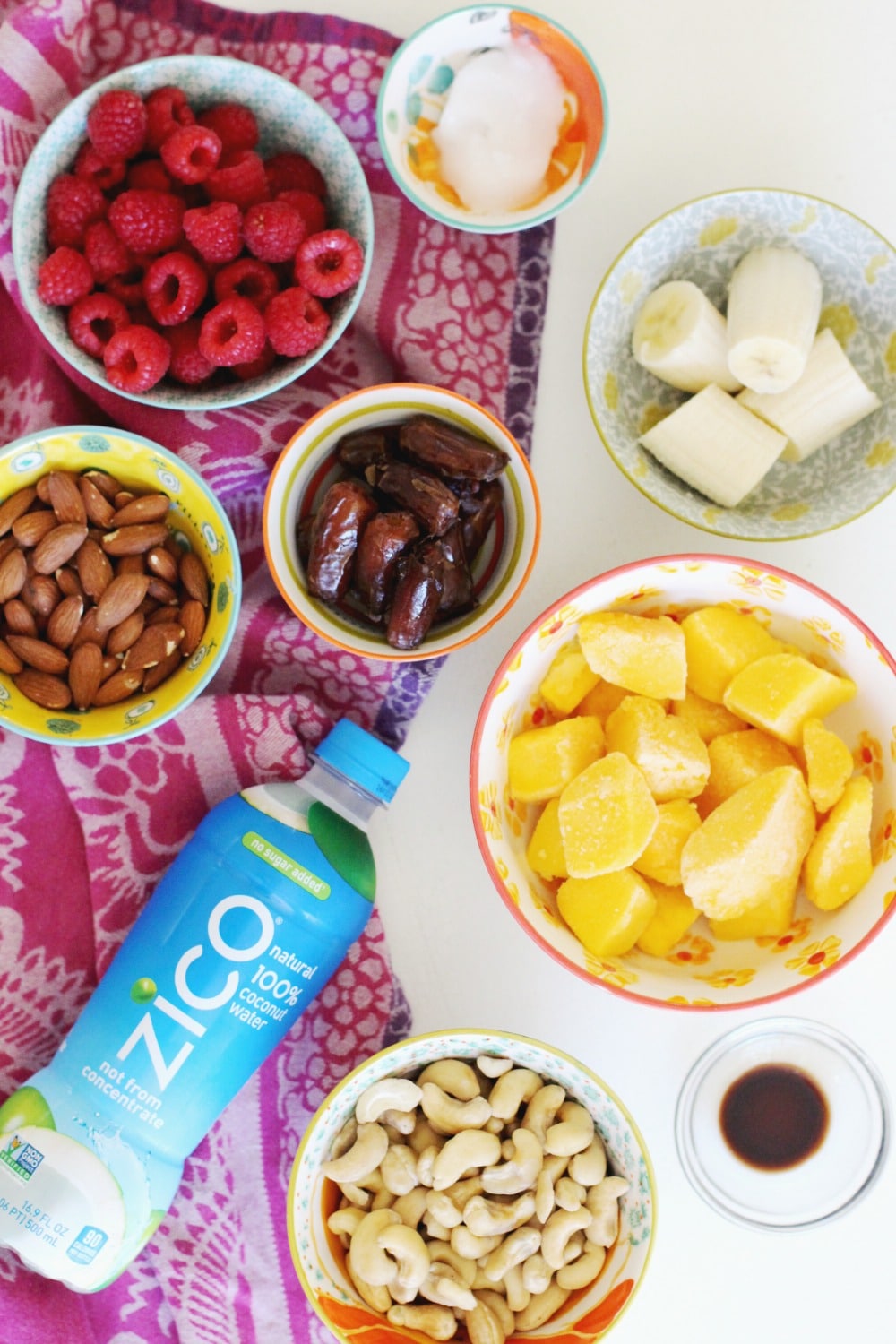 No-Bake Raw Vegan Mango Raspberry Cheesecake Recipe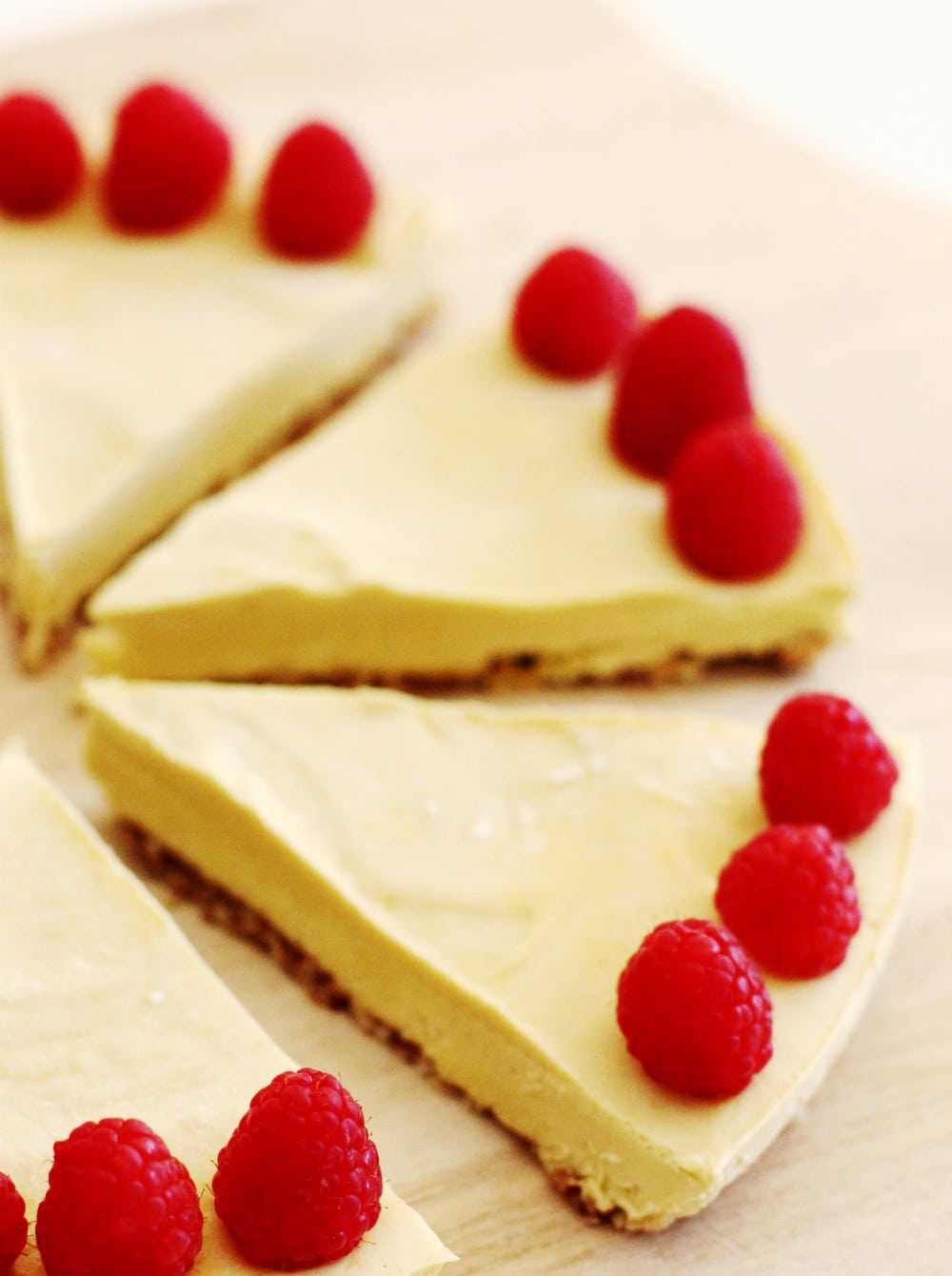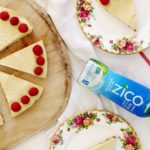 No-Bake Raw Vegan Mango Cheesecake Recipe with Raspberries
This no-bake raw vegan mango cheesecake is delicious topped with raspberries.
soaking time & freezing
7
hours
Total Time
7
hours
30
minutes
Ingredients
1/2

C

almonds

10

Medjool dates

6

T

coconut oil, divided

2 T for the crust, 4 T for the filling

1

C

cashews

soaked 4 hours or overnight in water and then drained

2

C

mango chunks, frozen or fresh

1

banana

optional, adds extra sweetness

1/4

t

vanilla

1

package

fresh raspberries
Instructions
Soak you cashews in water for at least 4 hours or overnight in preparation for this recipe. Drain before using.

To make the crust combine the almonds, Medjool dates and 2 T coconut oil in a food processor until coarsely ground.

Press crust mixture into a springform pan or cake tin in an even layer. Set aside.

In a blender combine the presoaked and then drained cashews, mangos, banana, ZICO Natural Coconut Water, vanilla, and 4 T coconut oil until completely blended and smooth. 

Pour filling into pan on top of the crust. Cover and freeze for 3 hours or overnight. 

After your cheesecake is sufficiently frozen take it out of the freezer, garnish with raspberries, slice and serve immediately.
Nutrition Facts
No-Bake Raw Vegan Mango Cheesecake Recipe with Raspberries
Amount Per Serving (1 slice)
Calories 304
Calories from Fat 136
% Daily Value*
Fat 15.1g23%
Sodium 38mg2%
Potassium 629mg18%
Carbohydrates 42.6g14%
Protein 3.6g7%
Calcium 44mg4%
Iron 1mg6%
* Percent Daily Values are based on a 2000 calorie diet.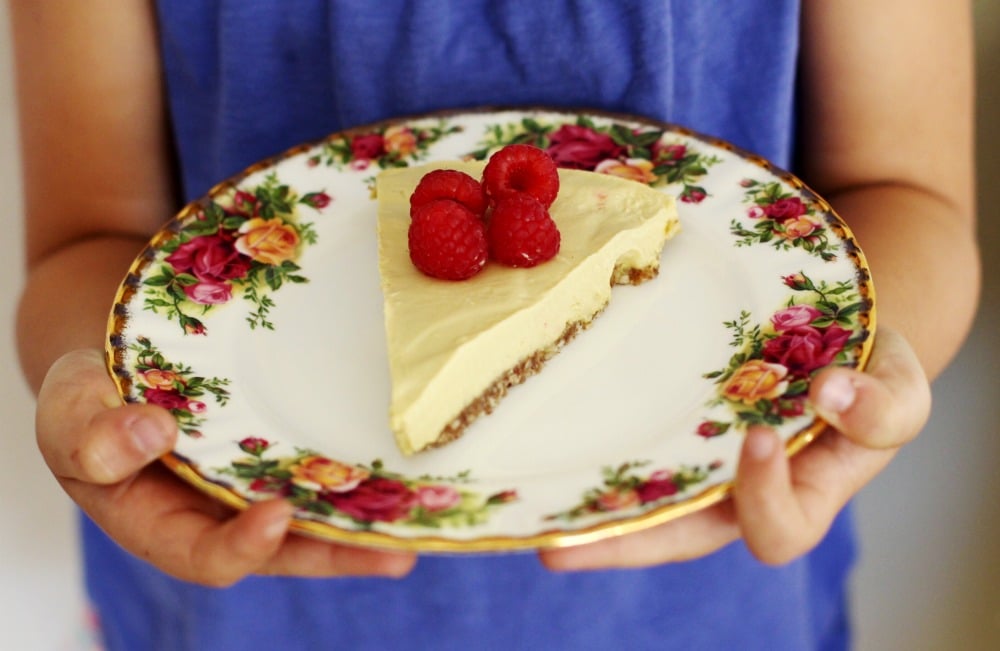 Some links on this site are affiliate links and I may earn a small commission at no cost to you. Thank you!
(Visited 1,923 time, 1 visit today)