As always, the last week of each season I post a meal plan of favorite healthy dinner recipes that have been included in meal plans throughout the season so if you didn't get a chance to try them you can now! This week's meal plan includes an amazing maple butternut pork enchiladas (the meat is easy to make in a slow cooker) from Sweet Peas and Saffron, butternut orzo chicken soup from Inquiring Chef, brussels and bacon carbonara from How Sweet Eats, mushroom spinach and goat cheese pasta from Pinch of Yum and a brussels and cabbage pizza from Oh My Veggies.  Click here for this week's shopping list. I hope you enjoy these recipes and come back next week for delicious Spring recipes and a new meal plan!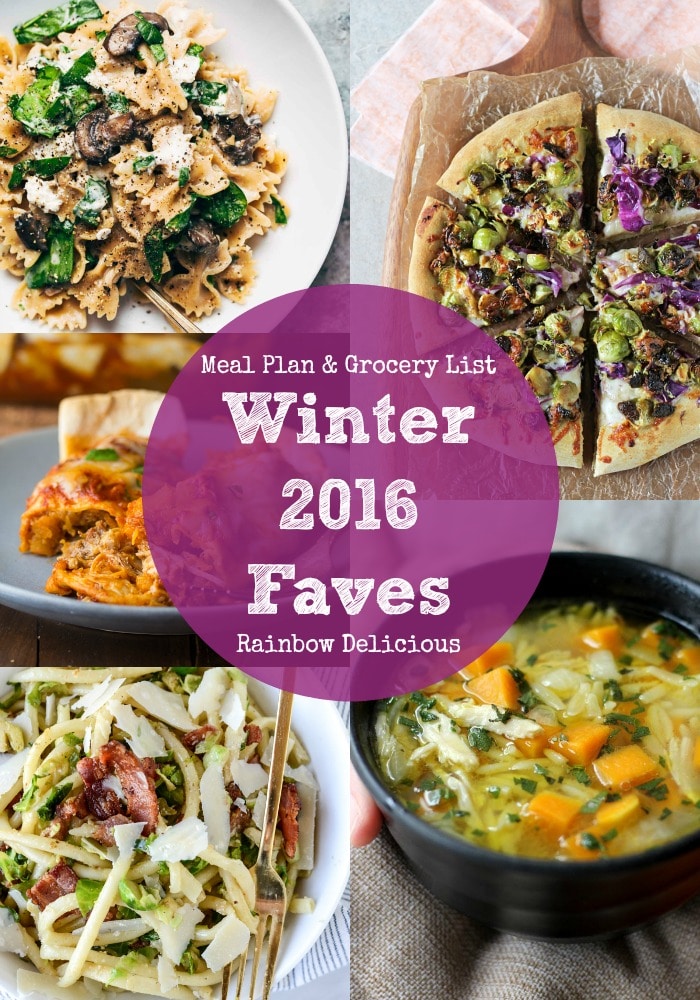 Healthy Dinner Recipes: Winter Faves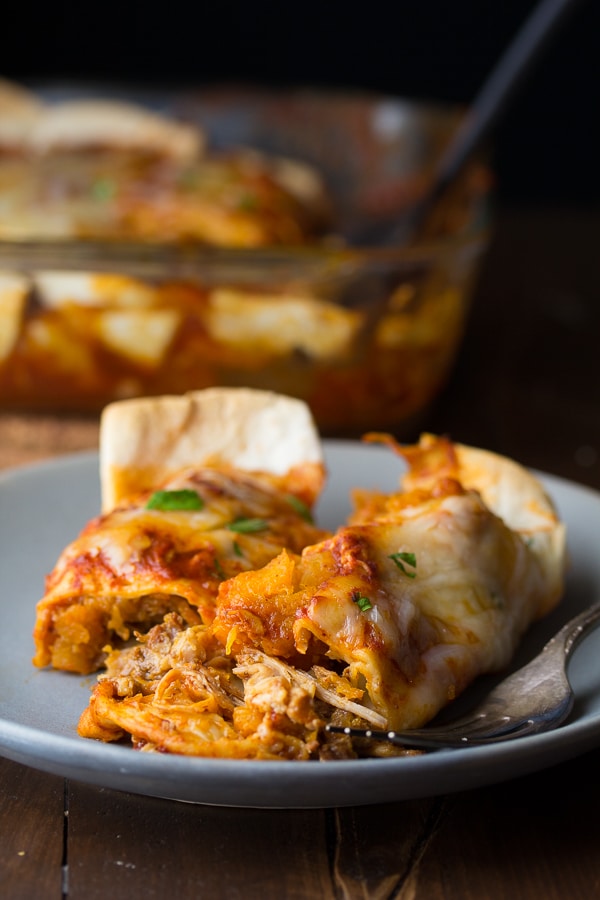 Maple Pork Butternut Squash Enchiladas from Sweet Peas and Saffron
Ingredients: olive oil, butternut squash, chili powder, water, enchilada sauce, shredded cheese, pork shoulder, onion, maple syrup, apple cider vinegar, salt.
Prep Time: 25 minutes Cook Time: 8 hours + 35 minutes Total Time: 9 hours
These enchiladas are super delicious and pretty easy to make. You make the maple pork recipe in a crockpot and combine it with butternut squash to make unique enchiladas. Feel free to top with whatever you want, we used sour cream, cilantro and avocado.
Chicken Butternut Orzo Soup from Inquiring Chef
Prep Time: 15 minutes Cook Time: 20 minutes Total Time: 35 minutes
Ingredients: olive oil, onion, butternut squash, sage, water, chicken stock, orzo, shredded chicken, salt and pepper.
I decided to make this soup in my crockpot instead and loved the way it turned out. I placed the chicken in the bottom, drizzled a little salt and pepper and olive oil, poured water and broth over the top, added some dried sage and cooked on low for six hours. About twenty minutes before I wanted to serve dinner I took out the chicken, let it rest for ten minutes, shredded it, and then put it back in the crockpot. I added freshly chopped sage, egg noodles (instead of orzo) and a little freshly squeezed lemon as well at this point. I thought this soup turned out delicious. My son Mav is rebelling against all soups lately so I strained his portion and he ate broth-less chicken, noodles and squash.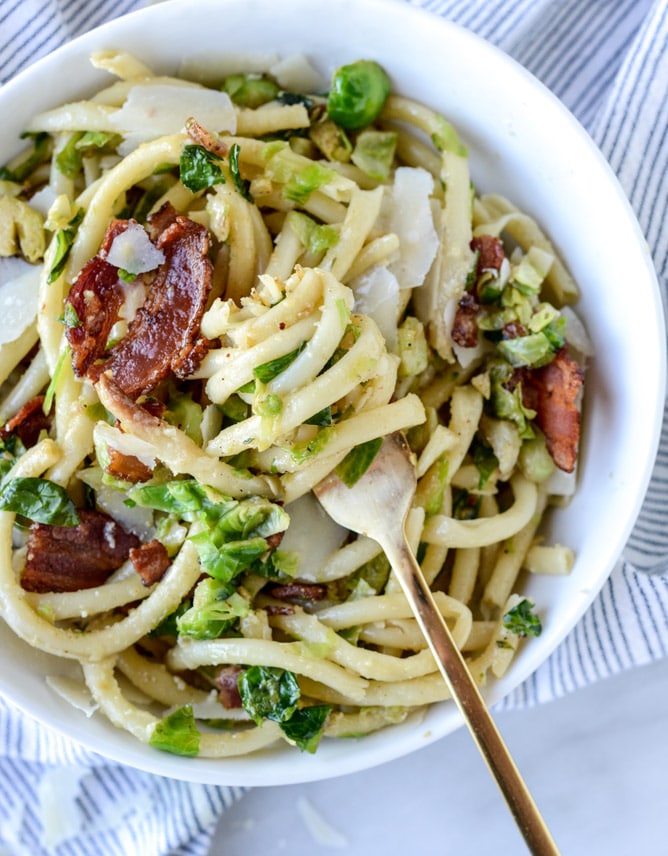 Bacon Egg and Brussels Carbonara from How Sweet Eats
Prep Time: 10 minutes Cook Time: 35 minutes Total Time: 45 minutes
Ingredients: thick-cut bacon, brussels sprouts, black pepper, garlic cloves, bucatini, parmesan cheese, salt.
I have seen this egg-on-everything from toast to pizza on pinterest but have yet to really experiment with playing around with eggs in recipes myself. Maybe partly because after my whole-30 attempt where I over-ate eggs I have become a little less excited about eggs in general. But this pasta is changing my tune because it is delicious.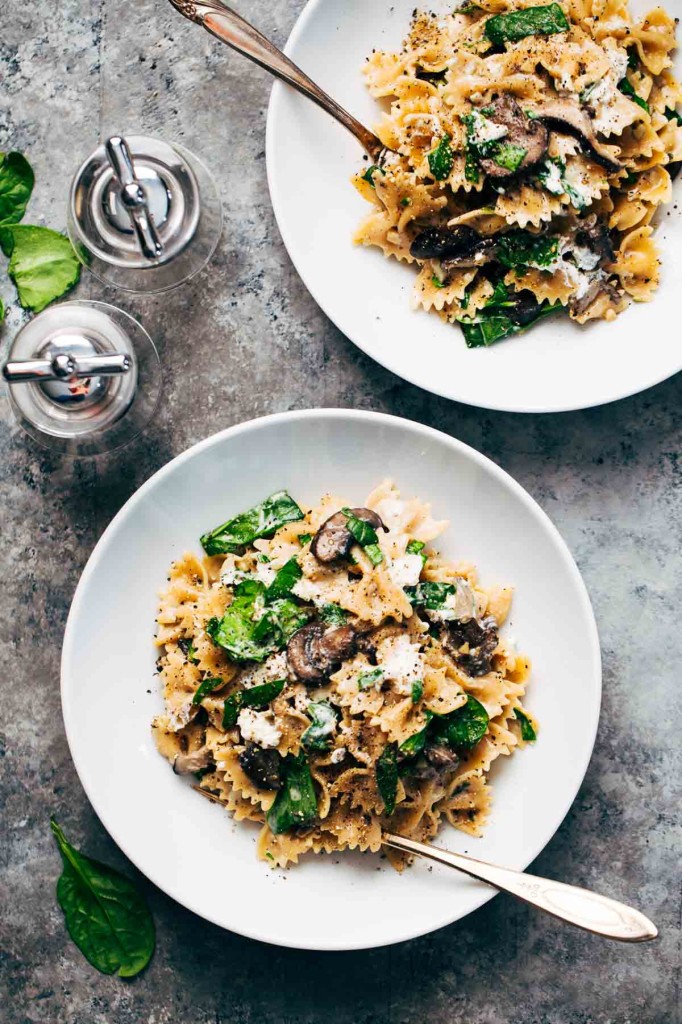 Mushroom Pasta with Goat Cheese from Pinch of Yum
Prep Time: 10 minutes Cook Time: 20 minutes Total Time: 30 minutes
Ingredients: whole wheat farfalle pasta, butter, oil, mushrooms, garlic, shallots, white wine, cream, salt, broth, parmesan, spinach, goat cheese.
I am the only person in my little family who likes mushrooms, but wow, I love them and don't know why I don't cook with them more often. This dish was simple to prepare and I thought it tasted great. I just used regular pasta (not whole what and not faralle) and I threw a little truffle salt in with it. It tastes great with lots of freshly cracked pepper.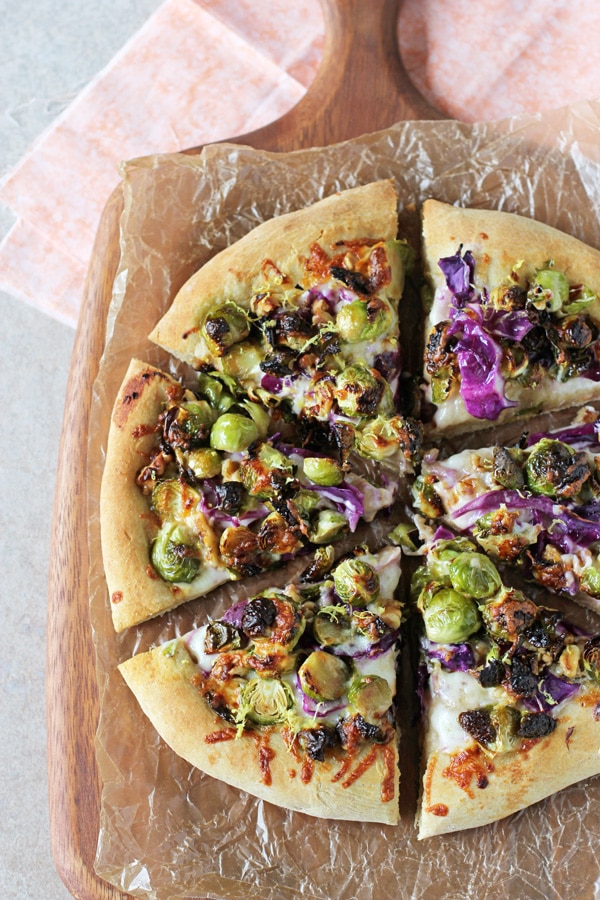 Roasted Brussels Sprouts and Red Cabbage Pizza from Oh My Veggies
Ingredients: brussels sprouts, olive oil, honey, garlic, salt, red pepper flakes, pizza dough, cornmeal, olive oil, mozzarella, red cabbage, toasted walnuts, lemon zest.
Prep Time: 20 minutes Cook Time: 25 minutes Total Time: 45 minutes
I was the only one in my family who really liked this pizza but I thought it was a unique way to incorporate Brussels sprouts. I left out the honey while roasting the sprouts and omitted the walnuts as well. I used my Emile Henry pizza stone for this pizza and love the way the crust turned out.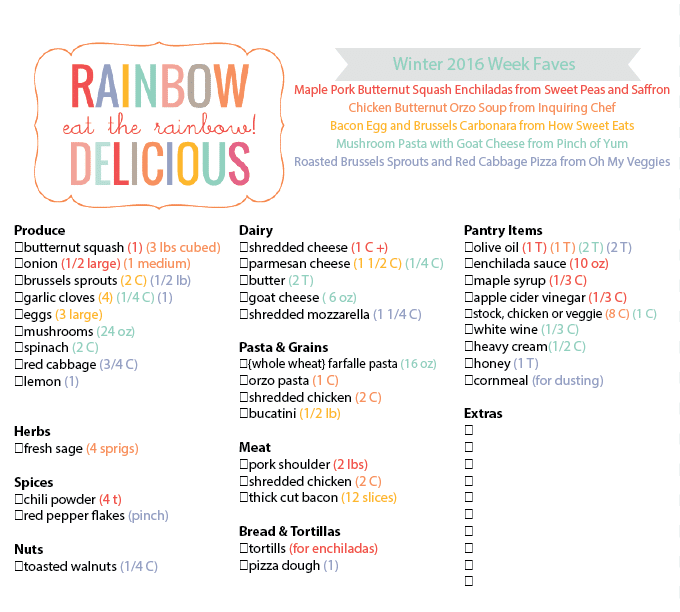 If you make any healthy dinner recipes from Rainbow Delicious meal plans want to recommend a recipe for an upcoming meal plan please share on instagram using hashtag #rainbowdelicious & #winter2016faves and tag me @rainbowdelicious, I'd love to see what healthy dinner recipes you are making in your kitchen!
Some links on this site are affiliate links and I may earn a small commission at no cost to you. Thank you!
(Visited 703 time, 1 visit today)