This week I was able to participate in an episode of the #mumboss podcast where Rachel and I discuss meal planning, self care and incorporating healthy dinner recipes and snacks into your kid's diets as well as your own. Please take a listen and let me know what you think! I'd also love to hear any tips you have for staying on top of getting food on the table each night!
I hope you are ready for a week of delicious healthy dinner recipes because that's what I have in store for you below! This week's meal plan and free printable grocery shopping list includes a butternut squash pizza from Alexandra Cooks, lentil chili from Taste, Love and Nourish, citrus avocado salad from The Forest Feast, butternut bacon quiche from Martha Stewart, and Apple Cranberry Salad from Cooking Classy.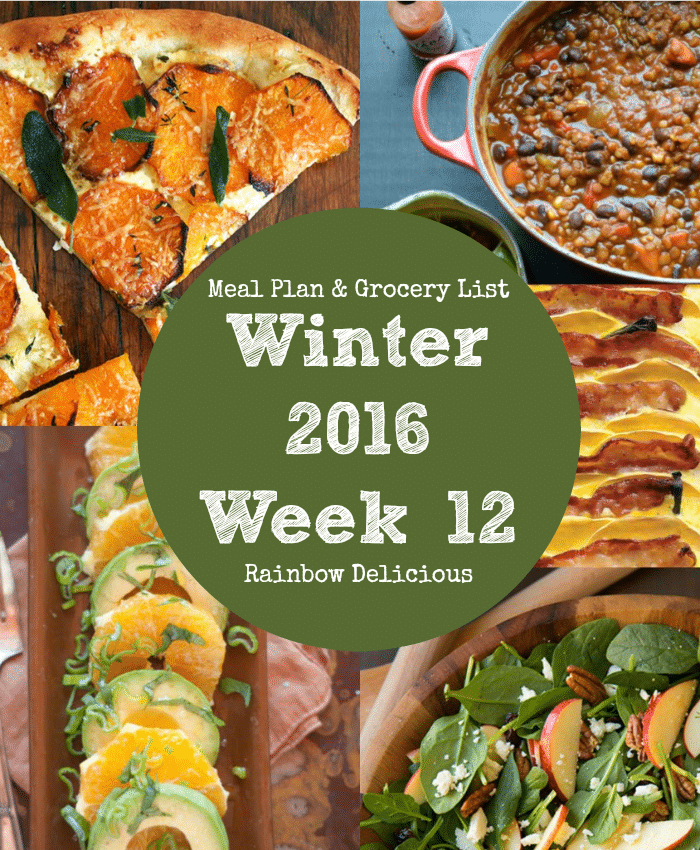 Healthy Dinner Recipes: Winter 2016 Week 12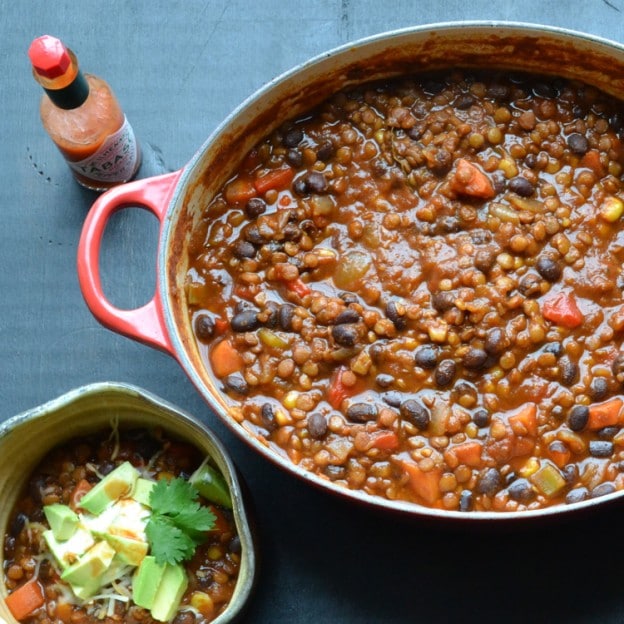 Black Bean and Lentil Chili from Taste Love and Nourish
Prep Time: 15 minutes Cook Time: 1 hours Total Time: 1 hour 15 minutes
Ingredients: olive oil, sweet onion, celery, carrots, garlic, chili powder, paprika, chipotle chili powder, allspice, cumin, bay leaf, vegetable broth, lentils, tomato sauce black beans, sweet corn kernels, roasted red peppers, tabasco, honey, salt and pepper. Toppings: tobasco, sour cream, avocado, cheddar, cheese, lime, cilantro.
My family and I love this chili and I appreciate how it uses lentils instead of your typical chili beans. For toppings we used sour cream, cilantro and avocado. I really love the addition of sweet corn in this dish too.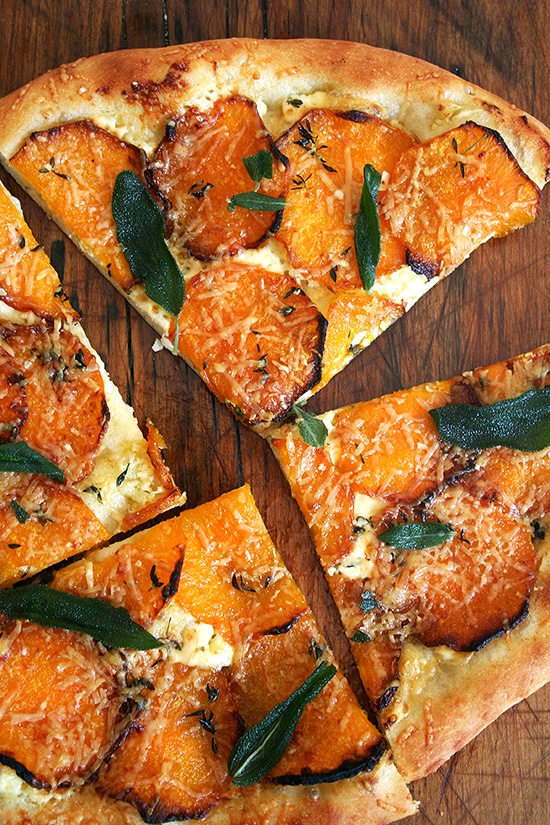 Butternut Squash and Crispy Sage Pizza from Alexandra Cooks
Prep Time: 20 minutes Cook Time: 25 minutes Total Time: 45 minutes
Ingredients: pizza dough, butternut squash, olive oil, salt, garlic, ricotta cheese, sprigs thyme, parmigiano reggiano, sage, canola oil.
This pizza is incredibly delicious and really easy if you simplify it by using premade pizza dough and store-bought ricotta which is what I did. I also used my mandolin (very carefully!) for slicing up the squash and I just love the way this pizza turns out, such a beautiful presentation!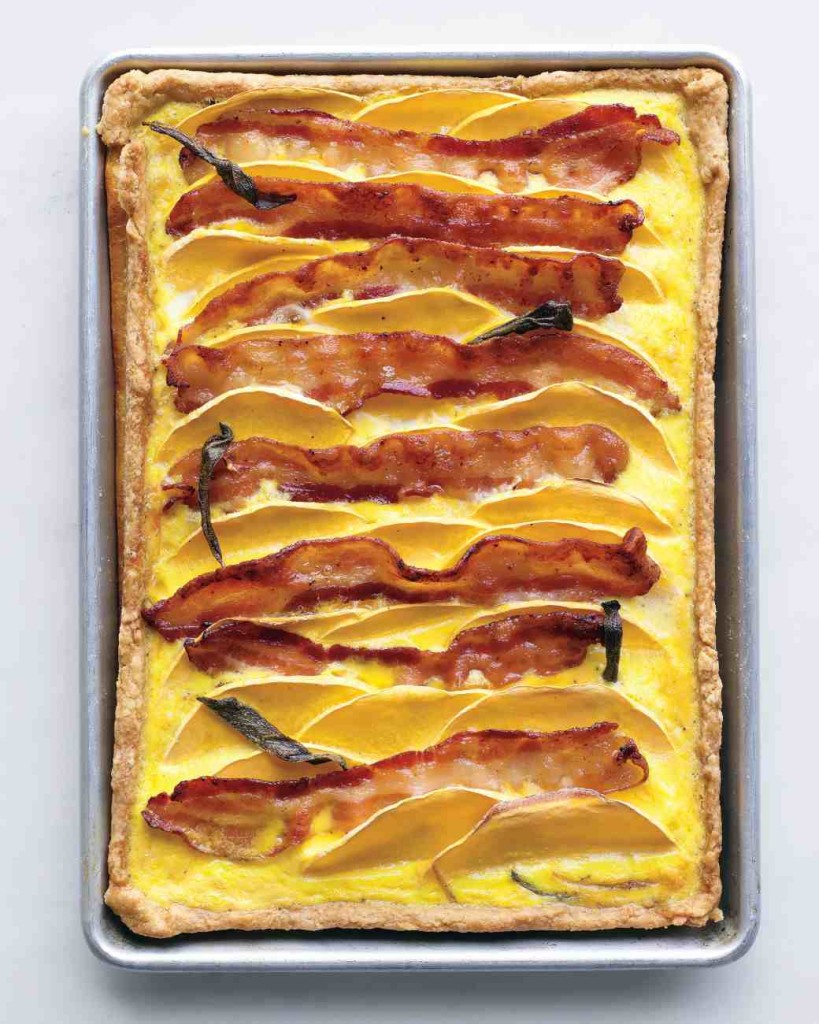 Butternut Squash and Bacon Quiche from Martha Stewart
Prep Time: 35 minutes Cook Time: 1 hour 40 minutes Total Time: 2 hours 15 minutes
Ingredients: pie dough, bacon, yellow onion, salt and pepper, butternut squash, eggs, whole milk, heavy cream, sage.
This quiche recipe is featured in the butternut squash recipe round-up. I loved loved loved this quiche and it has become a family favorite. I adapt the recipe a bit by baking the bacon and then crumbling it, and used my mandolin (it got a lot of action this week!) to thinly slice the squash. I also added a little parmesan cheese on the top.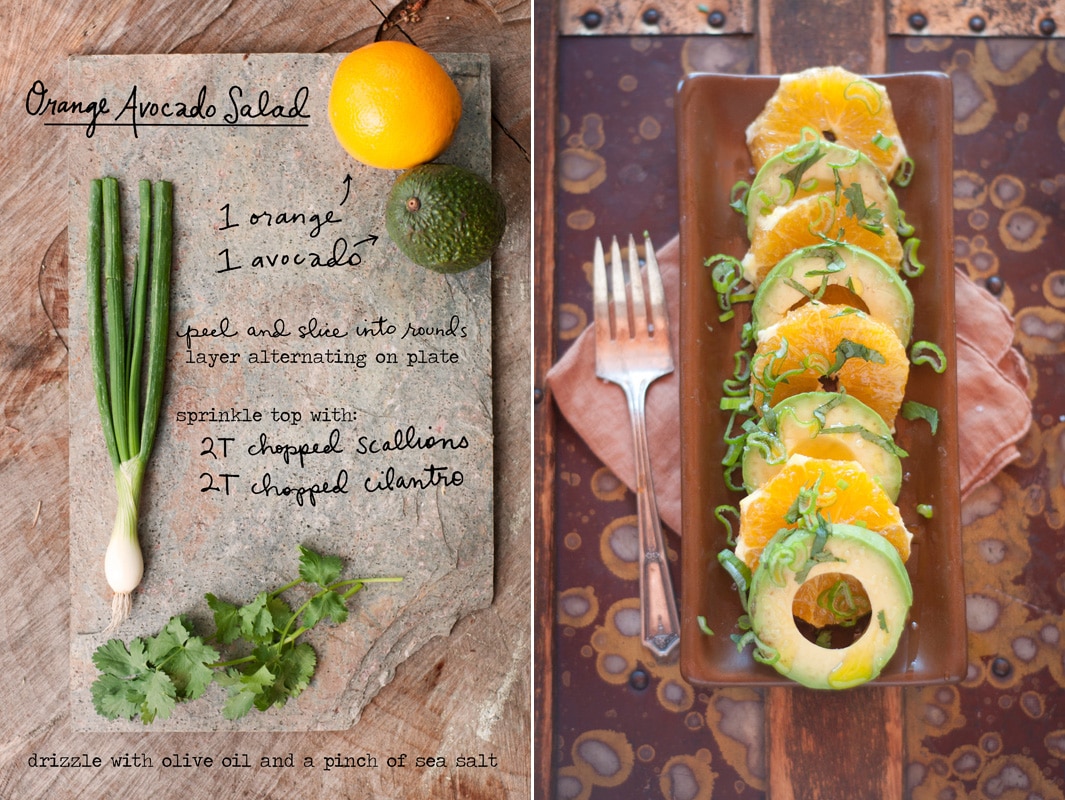 Orange and Avocado Salad from The Forest Feast
Prep Time: 35 minutes Cook Time: 1 hour 40 minutes Total Time: 2 hours 15 minutes
Ingredients: orange, avocado, cilantro, green onions.
Sometimes simple is best don't you think? I love that this recipe is so simple but tastes amazing, that's how all of the recipe's from The Forest Feast seem to be… I own Erin's cookbook and meal planning sheets and absolutely love them! (Her children's cookbook & paper place-mats are on my wishlist!)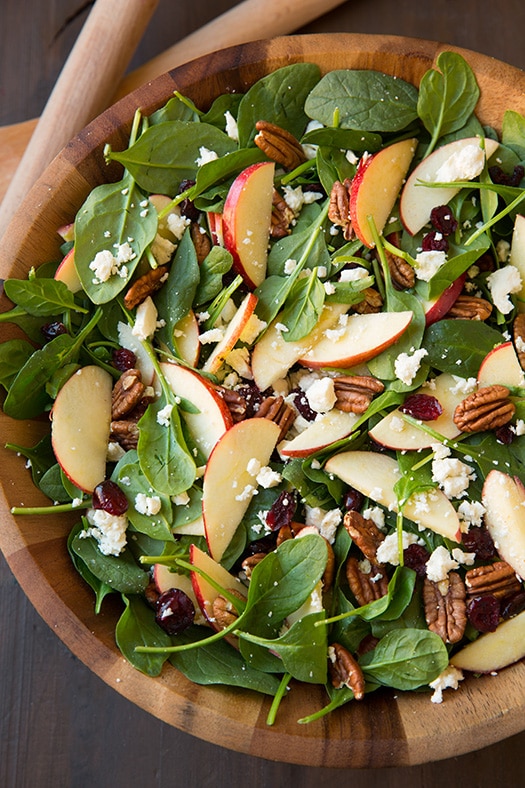 Apple Cranberry Pecan Feta Spinach Salad from Cooking Classy
Prep Time: 15 minutes Total Time: 15 minutes
Ingredients: baby spinach, gala apples, pecans, feta, dried cranberries, bacon, red onion, olive oil, apple cider vinegar, maple syrup, dijon, salt, fresh pepper.
I used candied pecans, and have made this salad both with or without bacon and it is great either way.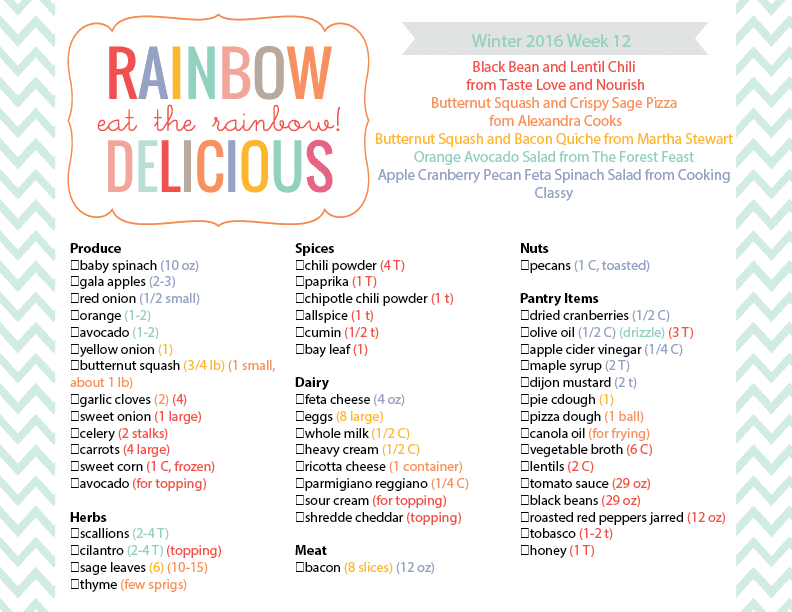 If you make any healthy dinner recipes from Rainbow Delicious meal plans want to recommend a recipe for an upcoming meal plan please share on instagram using hashtag #rainbowdelicious & #winter2016week12 and tag me @rainbowdelicious, I'd love to see what healthy dinner recipes you are making in your kitchen!
(Visited 1,057 time, 1 visit today)