I hope this week's dinner recipe menu and grocery list is helpful to you in balancing your busy life and still getting healthy dinner recipes on the table. I know personally that meal planning makes life more manageable and I recently shared some tips on the basics of meal planning over at The Baby Cubby Blog, please go check it out! The blog has helpful parenting tips and is connected to their adorable online shop.
This week's meal plan is one includes five dinner recipes that my family really enjoyed. It features amazing enchiladas from Sweat Peas and Saffron, squash and kale lasagna from Vanilla and Bean, A fennel and apple quiche from Foxes Love Lemons, roasted chicken with potatoes and Brussels sprouts from Girl Gone Gourmet, and roasted Brussels and red cabbage pizza from Oh My Veggies.
Click here for this week's grocery shopping list.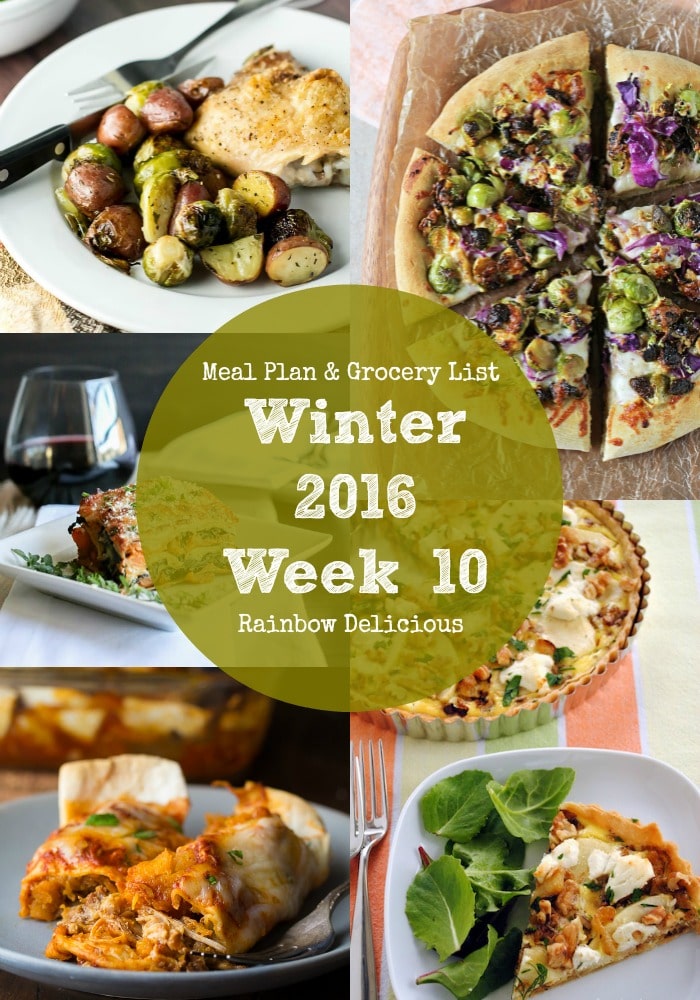 Healthy Dinner Recipes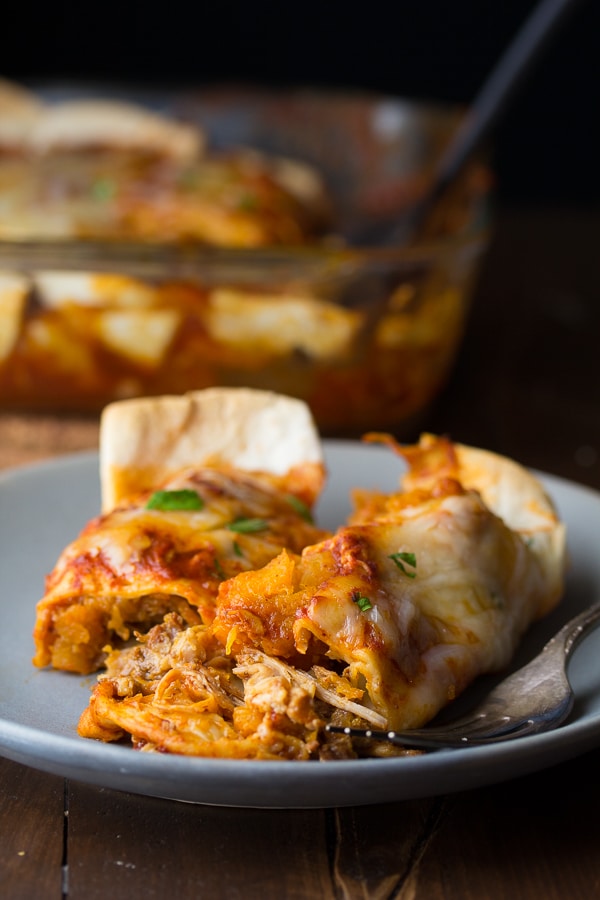 Maple Pork Butternut Squash Enchiladas from Sweet Peas and Saffron
Ingredients: olive oil, butternut squash, chili powder, water, enchilada sauce, shredded cheese, pork shoulder, onion, maple syrup, apple cider vinegar, salt.
Prep Time: 25 minutes Cook Time: 8 hours + 35 minutes Total Time: 9 hours
These enchiladas are super delicious and pretty easy to make. You make the delicious maple pork recipe in a crockpot and combine it with butternut squash to make unique enchiladas. Feel free to top with whatever you want, we used sour cream, cilantro and avocado.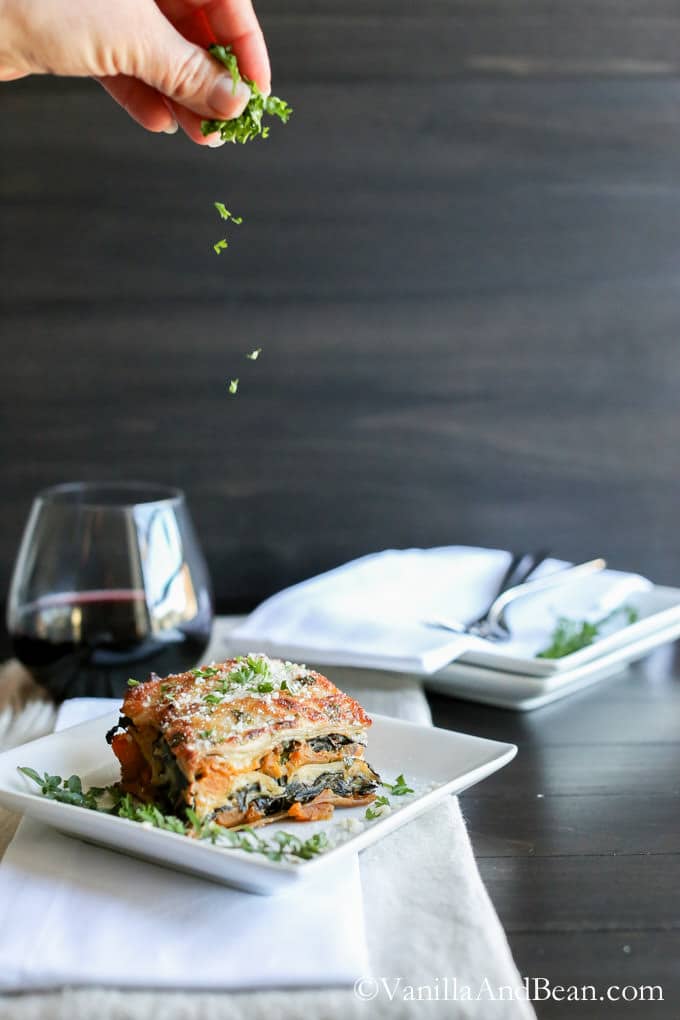 Butternut Squash and Kale Lasagna from Vanilla and Bean
Ingredients: coconut oil, butternut squash, sea salt, dried sage, garlic, onion, water, kale, whole milk, bay leaf, thyme, flour, pepper, nutmeg, red pepper flakes, whole wheat lasagna noodles, fontina cheese, parmesan (garnish), thyme.
Prep Time: 1 hour Cook Time: 2 hours 30 minutes Total Time: 3 hours 30 minutes
So as you can see this lasagna is a time consuming labor of love but it turned out worth every minutes. I made two and gave one to a friend to make it a little more worth it. I used no-cook lasagna noodles, and used baby kale instead of a bunch of kale. I have finally started caramelizing onions (like for this recipe) and fennel (in the recipe below) using this Lodge cast iron pan that my mom gave me for Christmas… using cast iron really takes caramelizing to the next level, I was surprised to be honest.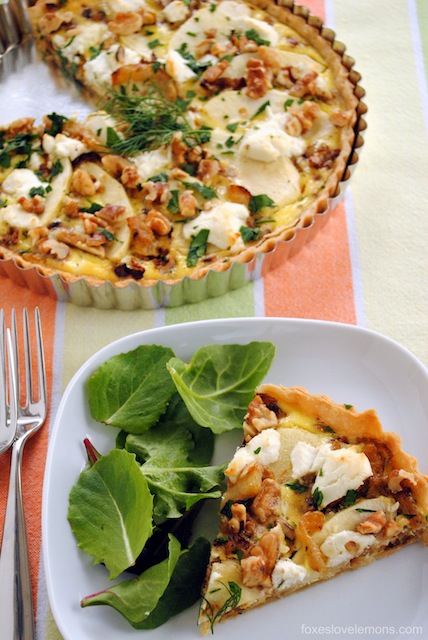 Caramelized Fennel and Apple Tart from Foxes Love Lemons
Ingredients: olive oil, fennel, sugar, thyme, salt, pie crust, eggs, heavy cream, granny smith apple, goat cheese, walnuts.
Prep Time: 15 minutes Cook Time: 1 hour 15 mintues Total Time: 1 hour 30 minutes
As you can tell from last week's menu I'm really digging the combo of granny smith apples and fennel… who would have thought? This quiche has unique flavors and turned out beautiful. I made a couple of changes in mine by omitting the sugar, using ricotta instead of goat cheese and ommitting the walnuts. I use this apple corer (one of my family's favorite kitchen gadgets!) to make the apple slices uniform and peeled, and also to keep the kids happy and snacking on apples while the quiche was in the oven.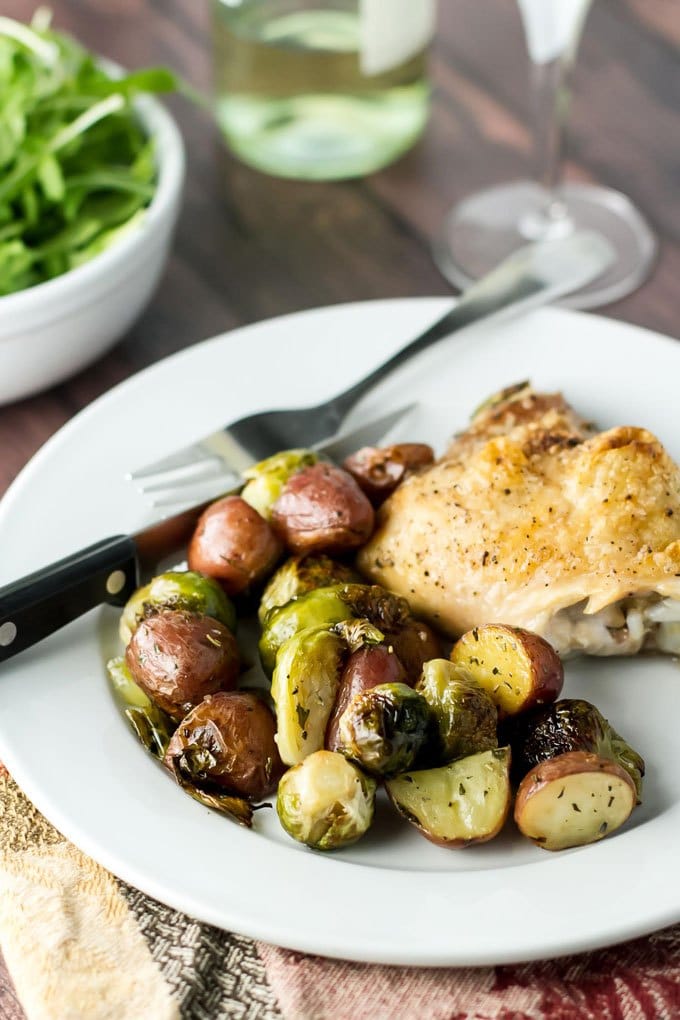 One Pan Roasted Chicken and Veggies from Girl Gone Gourmet
Ingredients: chicken thighs, Brussels sprouts, red potatoes, olive oil, Herbs de Provence, salt and pepper.
Prep Time: 10 minutes Cook Time: 30 minutes Total Time: 40 minutes
I love meals like this: it only takes 30 minutes to cook, it is healthy, moist and has great flavor. I used an herb mix with rosemary and garlic in place of Herbs de Provence.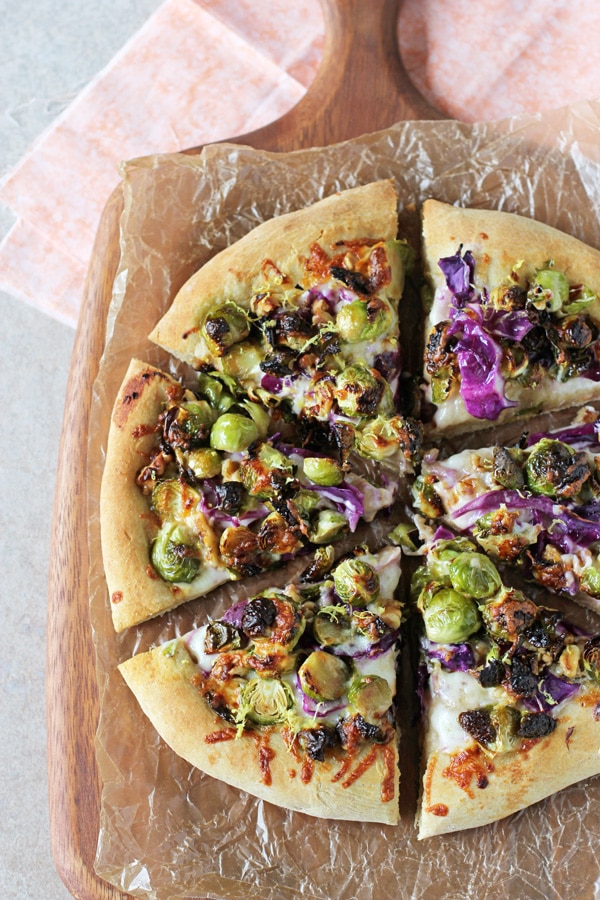 Roasted Brussels Sprouts and Red Cabbage Pizza from Oh My Veggies
Ingredients: brussels sprouts, olive oil, honey, garlic, salt, red pepper flakes, pizza dough, cornmeal, olive oil, mozzarella, red cabbage, toasted walnuts, lemon zest.
Prep Time: 20 minutes Cook Time: 25 minutes Total Time: 45 minutes
I was the only one in my family who really liked this pizza but I thought it was a unique way to incorporate Brussels sprouts. I left out the honey while roasting the sprouts and omitted the walnuts as well. I used my Emile Henry pizza stone for this pizza and love the way the crust turned out.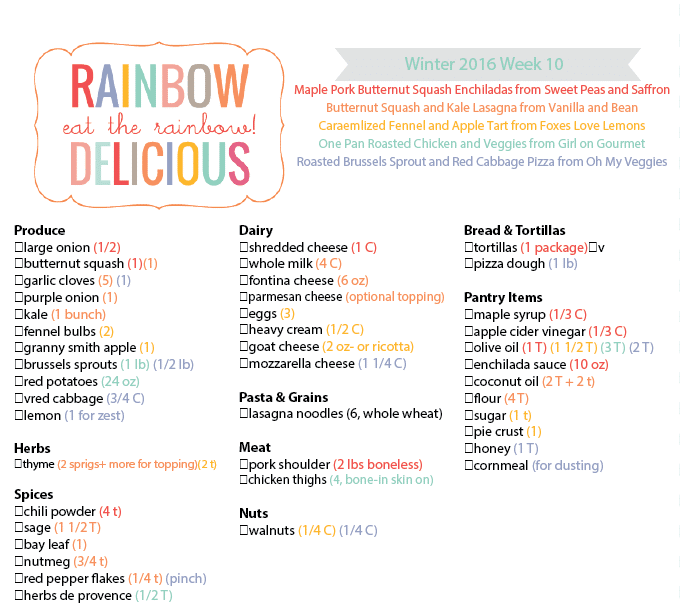 If you make any dinner recipes from Rainbow Delicious meal plans  please share on instagram using hashtag #rainbowdelicious & #winter2016week10 and tag me @rainbowdelicious, I'd love to see what healthy dinner recipes you are making in your kitchen!
(Visited 1,004 time, 1 visit today)