This week's line up features five delicious and healthy dinner recipes from incredible food blogs: Chicken tortilla soup from Foodtastic Mom, Orange Ricotta Ravioli from Food52, Fennel and Apple Salad from Floating Kitchen, Easy Creamy Chicken Enchiladas from Well Plated and Warm Lentils with Sweet Potatoes, Fennel & Halloumi from Yummy Beet.
Click here for this week's printable grocery shopping list.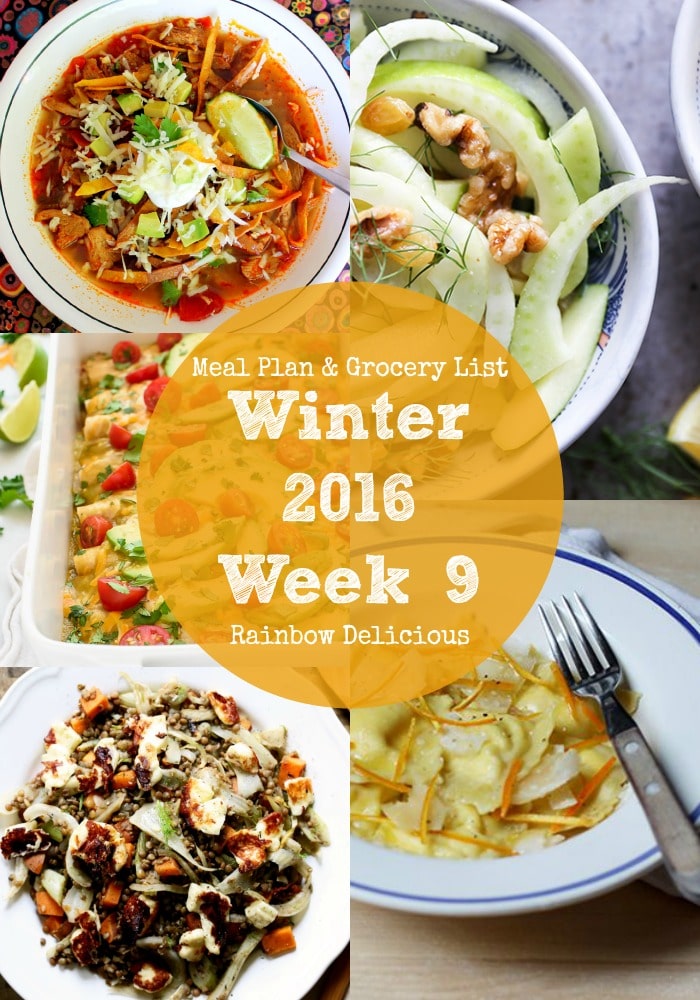 Healthy Dinner Recipes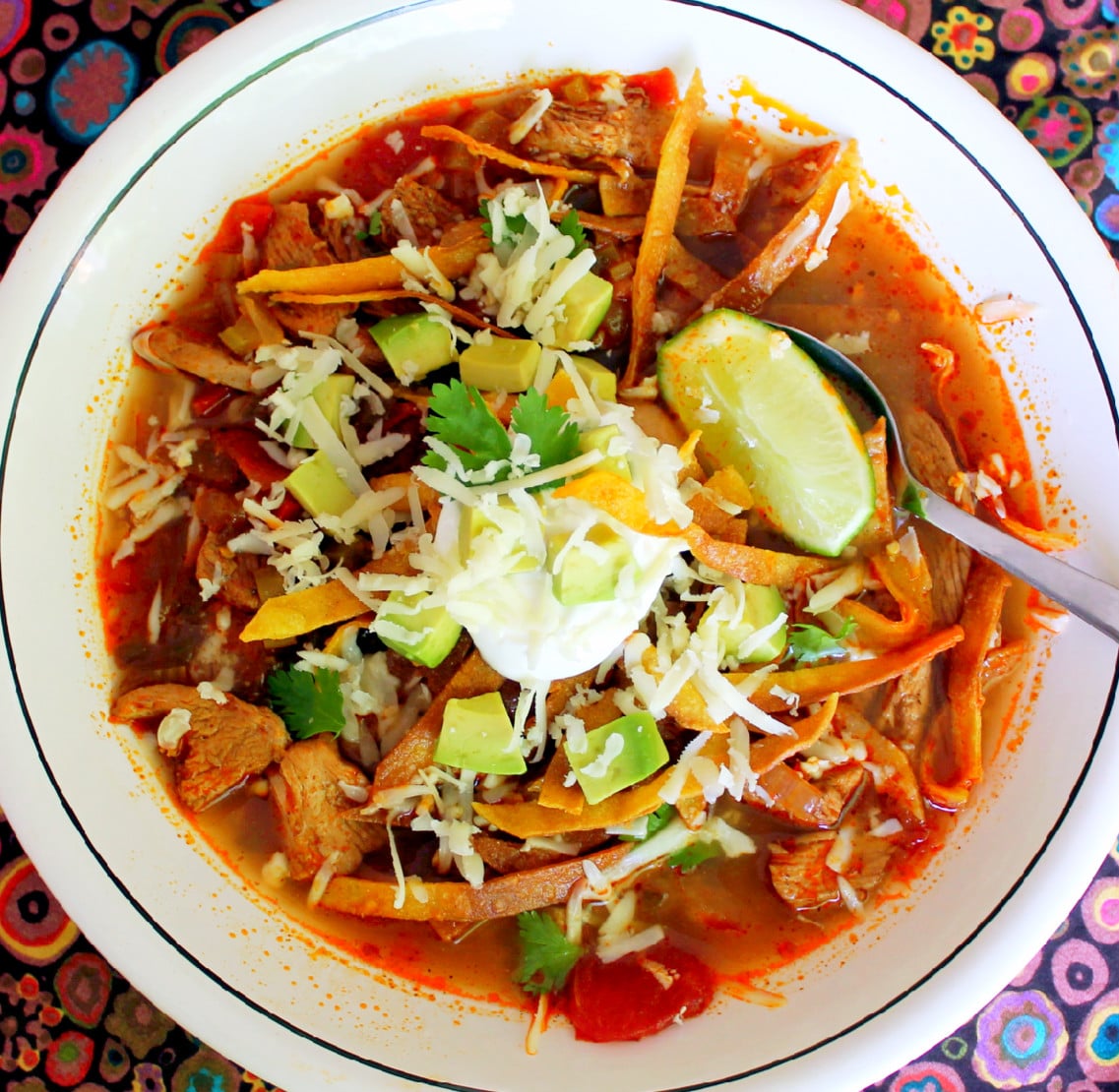 Chicken Tortilla Soup from Foodtastic Mom
Ingredients: Roma tomatoes, olive oil, onion, celery, jalapeno pepper, garlic cloves, chicken broth, lime, cayenne pepper, chili powder, cumin, smoked paprika, salt, bay leaf, chicken breasts.
Prep Time: 10 minutes Cook Time: 1 hour Total Time: 1 hour 10 minutes
Don't let the cooking time of this dish fool you, it is pretty easy to throw together. A lot of that cooking time is the roasting of tomatoes in the oven and the simmering of the soup so it doesn't take too much manpower and you end up with an amazing tasting soup. If you don't want to make your own tortilla strips (I understand!) just buy tortilla chips instead. This is great served with avocado, sour cream, cheese and cilantro.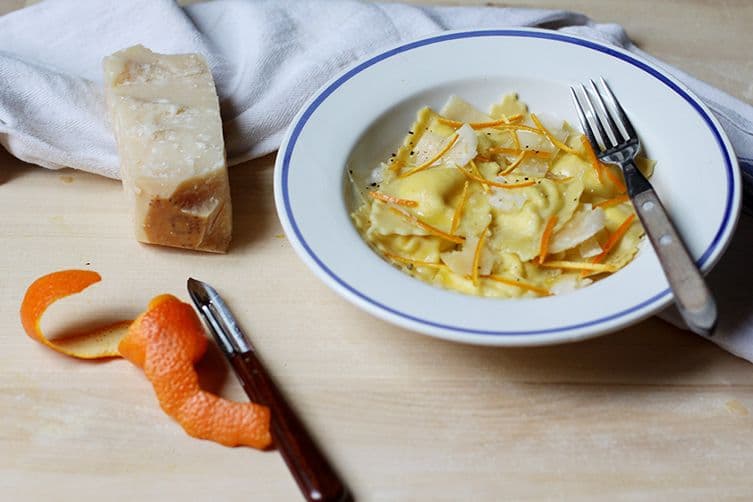 Orange and Ricotta Ravioli from Food52
Ingredients: flour, eggs, salt, fresh ricotta, Parmesan, orange zest, orange juice, olive oil.
Prep Time: 1 hour 15 minutes (30 minutes for dough to rest, 45 minutes for mixing + rolling out into sheets + filling, although timing can be quicker or longer depending on your speed and experience) Cook Time: 5 minutes Total Time: 1 hour 20 minutes
I've recently become intrigued with making my own ravioli. I have a ravioli form my husband got me for Christmas a few years back and am putting it to good use. This ravioli is mild tasting and is easy as far as ravioli goes. I used cara cara oranges but you could really use any citrus that you have on hand. You can save time in this recipe by buying fresh pasta sheets (or even won-ton wrappers) instead of making the dough yourself. When I have the time I love to make the pasta sheets with my kids using this pasta machine, they think it is the coolest thing.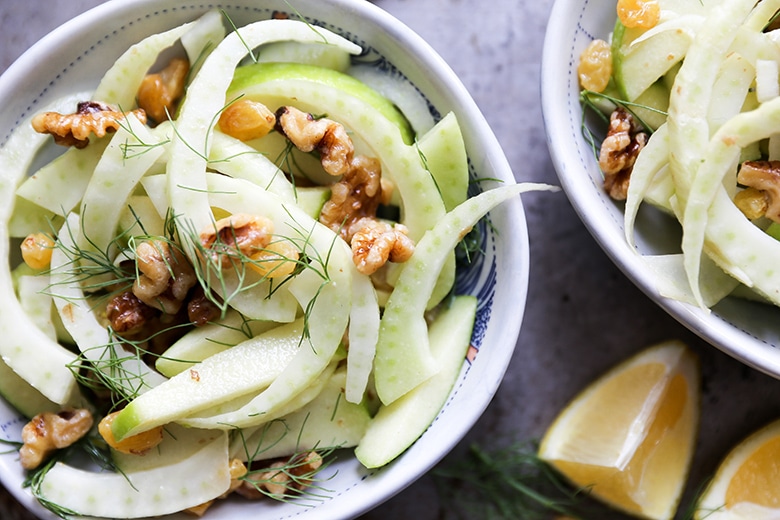 Fennel & Apple Salad from Floating Kitchen
Ingredients: apple cider vinegar, olive oil, lemon, dijon, sugar, salt, black pepper, fennel, walnuts, golden raisins.
Prep Time: 15 minutes Total Time: 15 minutes
I love this unique winter salad. I'm always a little bit cautious about raisins in recipes but the golden raisins balance this dish out just perfectly. The apple fennel combination is spot on. I use my mandolin to get my fennel and apples super thin.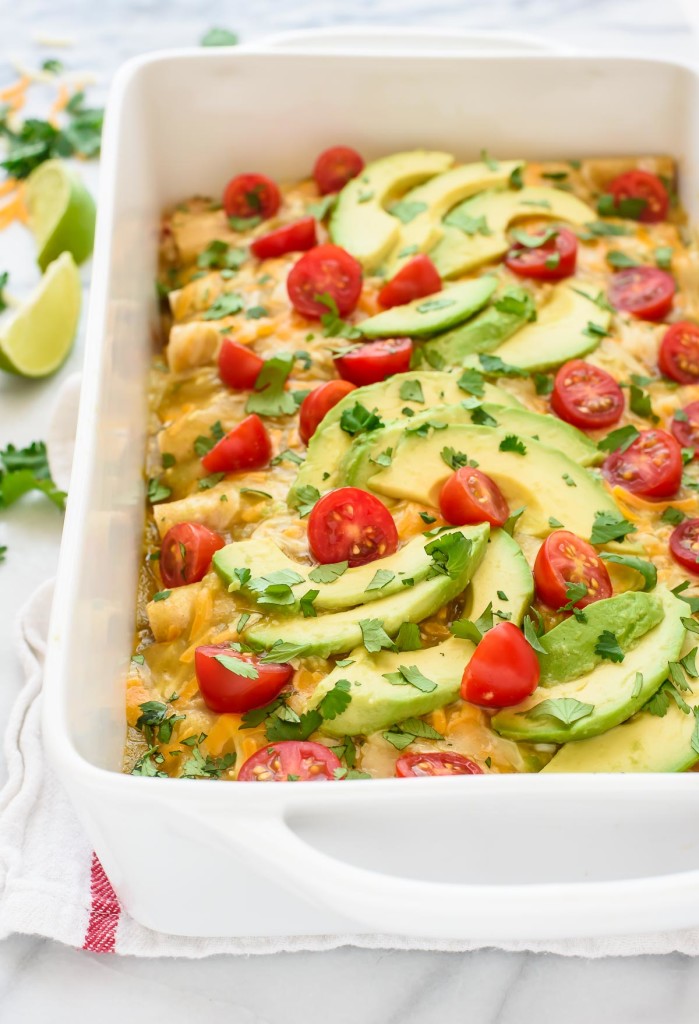 Easy Creamy Green Chili Chicken Enchiladas from Well Plated
Ingredients: chicken, salt, olive oil, bell peppers, onion, chili powder, garlic powder, cumin black pepper, shredded cheese, plain Greek yogurt, diced green chiles, whole wheat flour tortillas, enchilada sauce, tomato, cilantro, avocado, red onion.
Prep Time: 25 minutes Cook Time: 35 minutes Total Time: 1 hour
These enchiladas have a spiced greek yogurt filling with chicken and sauteed veggies that my whole family really enjoyed. They turned out a little bit spicier than expected though so we served them with a lot of sour cream to tone them down a notch, especially for my kids.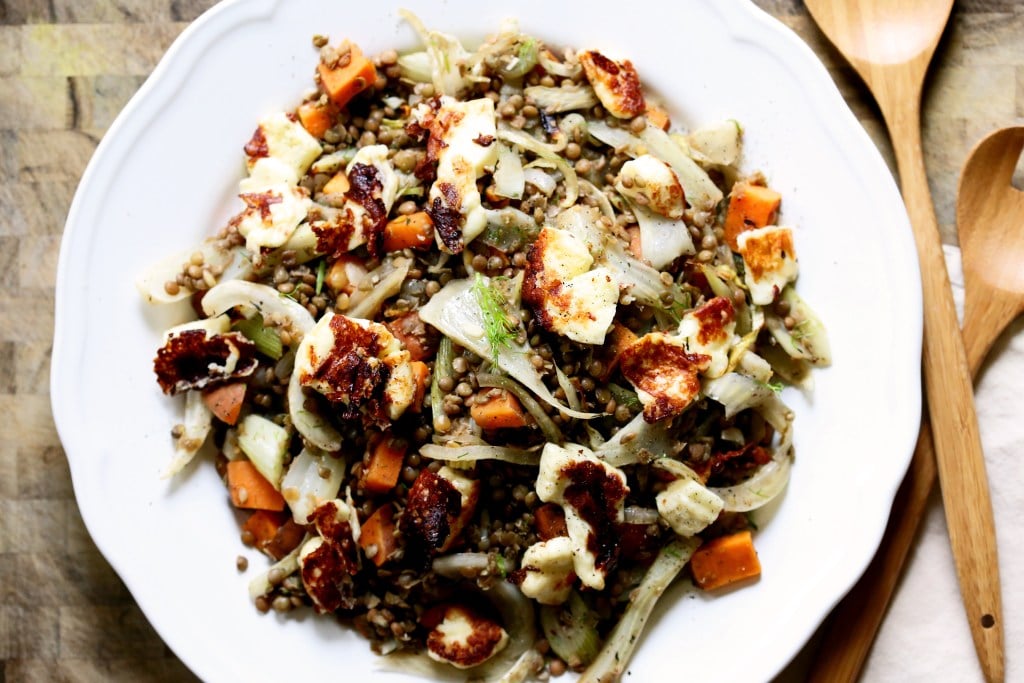 Warm Lentils with Sweet Potato, Fennel and Halloumi from Yummy Beet
Ingredients: lentils, fennel, onion, sweet potatoes, olive oil, sea salt, pepper, thyme, balsamic vinegar, garlic, halloumi.
Prep Time: 10 minutes Cook Time: 1 hour Total Time: 1 hour 10 minutes
My sister put this recipe together for our family and it was so amazingly delicious and filling. Normally I make recipes like this just as an excuse to eat the halloumi (my very favorite cheese!) but in this case I was more into the the roasted sweet potatoes, fennel and lentils than the halloumi which is just crazy. I can't say enough good things about this recipe… I feel like it would also make great lunch leftovers although ours didn't last that long.
If you make any of this week's healthy dinner recipes share on instagram using hashtag #rainbowdelicious & #winter2016week9 and tag me @rainbowdelicious, I'd love to see what healthy dinner recipes you are making in your kitchen!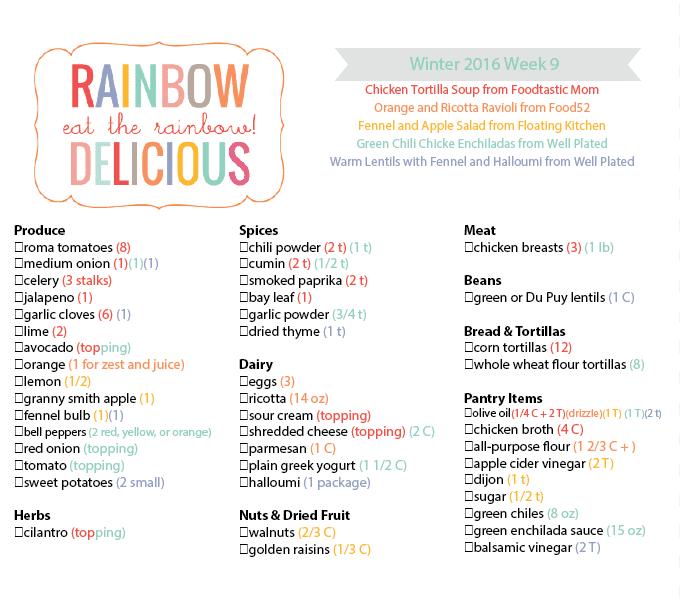 (Visited 2,334 time, 1 visit today)